When people think of underdog European runs resulting in unprecedented victories, the last and biggest shock for most would be Porto's run in 2004. A run that propelled Jose Mourinho into the footballing stratosphere.
For a team in a league outside the top 5, even if it was just outside in 6th, this victory was enough to raise eyebrows around the world.
But as impressive a run as Porto's was, just 13 years earlier Red Star Belgrade became the only Yugoslavian team to win a European Cup.
Whilst the odds for a Belgrade victory at the time aren't known, it's safe to say they'd be similar to the chances of Red Star Belgrade winning the upcoming 2023/24 Champions League can find out the best odds available for another Red Star upset at The Punters Page.
This was a team made entirely of homegrown players as well. Such a victory probably won't ever happen again, and to make things even more unbelievable, the Yugoslavian side was in the midst of a full-scale civil war as their country was ripped apart.
A Contender From the Start
Going into the tournament, the big Western sides knew little of the Yugoslavian players, bar experiences facing their national side.
While the public opinion of Eastern European football was that of a robust, hard-working unit that ground opposition down, this Red Star side was far removed from such a stereotype.
They secreted class, a rich vein of talent imbuing a side playing in a style decades ahead of its time.
The Gegenpress may have only come to light over the last decade, but this team of Yugoslavians were the true trailblazers of the tactic. Adopting a fast-paced, attacking press with a high line, they dominated opponents with exciting high-energy football.
Add the player's individual talent to the mix, alongside a telepathic understanding of one and another, and you have an unstoppable side.
The side even featured players who had won the European Cup before, yet still, Western teams overlooked them.
One of football history's great Liberos, Miodrag Belodedici, had helped Steaua Bucharest to European Cup glory. In 1986 the Romanian side became the first Eastern European side in the competition's history to win it.
Ironically, Belodedici had actually defected to Yugoslavia due to Nicolae Ceaușescu's hardline communist regime, as life in Romania became more and more bleak.
He'd move in 1988, just a couple of years before Yugoslavia would also fall apart.
By defecting he was found guilty of treason, which had he returned to Romania, would have seen him face 10 years in prison.
Belodedici was a classic Beckenbauer type. Like all world-class libero's he soon found himself with a nickname befitting of his athletic prowess and footballing intelligence.
Donned 'The Deer', Belodedici quickly became the beating heart of this Red Star side.
There was elite talent throughout the side, however.
Robert Prosinečki was the side's playmaker, possessing sumptuous technique and a refined ball-playing ability. In conjunction with attacking duo Dejan Savićević and Darko Pančev, the three proved an unstoppable force.
Savićević even went on to play for AC Milan, but his performances in 1991 earned him joint runner-up in that year's Ballon d'Or voting.
The man he'd tied with? The lethal finisher and aforementioned teammate, Darko Pančev. 
Besides possessing a fantastic name, the man was one of Europe's most formidable strikers between 1988 and 1992.
With 97 goals in 115 across all competitions during his time at Red Star, he utterly terrified defenders and goalkeepers.
In the European Cup winning season alone, he scored 40 in 43…
But for all their talent, the manager, Ljubo Petrovic, was arguably the biggest star, fostering incredible team cohesion and work ethic, whilst playing exciting football that was way ahead of its time.
The First Two Rounds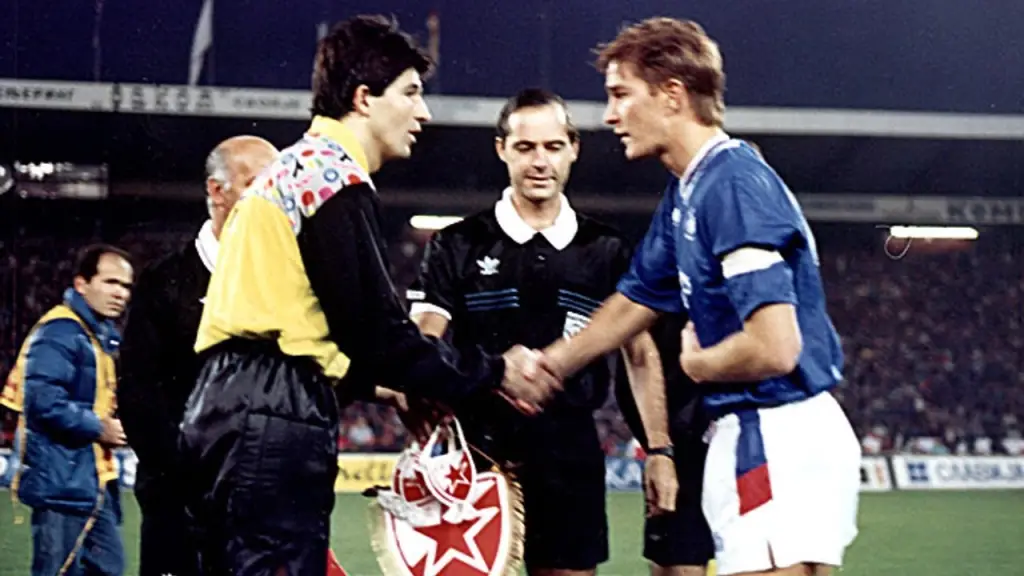 Their inaugural tie of the 1991 European Cup saw the Yugoslavian champions face Swiss side FC Grasshopper.
Things wouldn't get off to the best start, however. As is the case with many unlikely cup runs, the first showing of the tournament's 'Dark Horses' was a little underwhelming.
In front of their passionate fans in Belgrade, they'd sputter to a 1-1 draw at home.
While few outside of Yugoslavia would have taken note of the performance, Belgrade certainly surprised a few come the reverse fixture as they'd pick apart Grasshopper on their home soil in Zurich.
A 4-1 victory, helped by two Prosinečki penalties, saw the side progress comfortably to the next round, where Graeme Souness' Glasgow Rangers side awaited them.
Before the tie, as is expected of any team, Souness sent assistant manager, Walter Smith, to watch Red Star in preparation for the next round.
His scout report consisted of just two words.
"We're F****d".
He'd soon be proven right.
Going into the tie, many would have seen the game as a battle of two big fishes in small ponds, but the Yugoslavian league was not a small pond in the slightest. On the contrary. It was a loch.
Redstar blew them away in the home leg, Pančev scoring and Prosinečki scoring for a second match in a row as the side from the then Republic of Serbia ran out 3-0 winners.
Rangers fared better back at home for the second leg, but a 1-1 draw saw Belgrade progress 4-1 on aggregate, Pančev scoring for a 3rd game in a row.
Yes, they'd played well, but with many still seeing them as a lesser team from a lesser league, beating the Scottish and Swiss champions wasn't enough for the world to sit up and take notice.
The Quarter Final
The Quarter-Final draw smiled upon them somewhat, as they dodged Real Madrid, Bayern Munich and Marseille, facing East German champions Dynamo Dresden.
Dresden, for the uninformed, would surely be a step too far for the Yugoslavians.
The doubters were swiftly proved wrong…
A 3-0 drubbing in front of 73,000 home supporters finally saw the rest of Europe stand up and take notice, as Belgrade again played their opposition off the park.
It was like the games got easier for them as the competition went on.
Just 3 minutes in to the second leg, Dresden was awarded a penalty which they swiftly converted, giving the East Germans hope of a comeback.
After an incredible performance from Dresden keeper Thomas Köhler, keeping a Red Star onslaught out in the first half, the score remained 1-0 going into the break.
Things soon changed…
An equaliser came as Dejan Savićević evaded four defenders in an incredible run, before firing past a fifth from close range to tie the game in the 51st minute.
Then twenty minutes later, they took the lead. Darko Pančev, broke free on goal to fire the ball between Köhler's legs.
At 2-1 tensions amidst the 10,000 home fans boiled over. After a corner was awarded to Red Star with 15 minutes left, the Dresden fans began hurling objects at both the Red Star kicker and the assistant referee.
The fans were incensed, and after a futile effort to calm them, the game was abandoned, Red Star received a default 3-0 win, though that was the least they deserved from the game anyway.
Now in the Semi-finals, and facing West-German sides Bayern Munich, a European giant. Surely this was when the brave Eastern European side would finally fall.
Earning Western Respect
While 99.9% of managers would be tempted to cave and drop deeper against a side perceived as so much better, Petrovic knew the side was capable of going head-to-head without adopting a more defensive style.
His decision paid off.
A brilliant 2-1 away victory, with swift counter-attacking goals from Pančev and Savićević, the two beautifully linking up for both goals, gave Belgrade an advantage heading into the second leg at home.
But as good as Red Star had proven themselves to be, you can never write off Bayern Munich.
Despite taking a 1-0 lead after 25 minutes, Bayern did brilliantly to fight back to level the tie on aggregate, with two quick goals that silenced The Marakana Stadium.
With minutes remaining extra-time was looming, but as if fated by the footballing gods, a most bizarre goal would decide the tie, with minutes to go.
A hopeful Mihajlović cross was intercepted by Bayern captain Klaus Augenthaler, who struggled with his clearance, his touch going backwards towards the Bayern keeper.
It wasn't a difficult deflection to deal with, however, the ball slowly looping up in the air, looking like a comfortable take for the keeper.
Yet on one of football's biggest stages, the goalkeeper would completely missjudge the ball. 
To win trophies even the best sides need a bit of luck. As anti-climactic a goal it was,  the roar around the stadium that followed told you everything about how little the nature of the goal mattered to the fans and Red Star players.
The Greatest Tactical Masterclass in European Cup History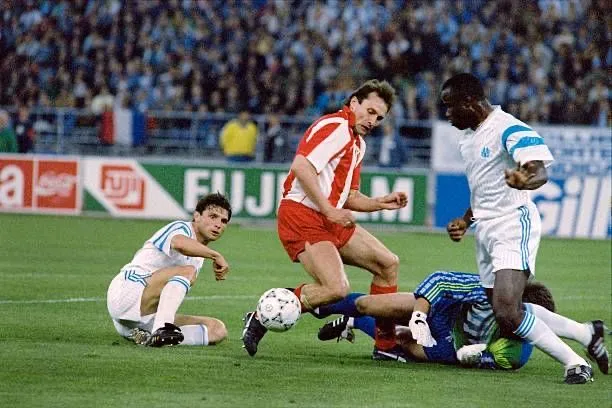 They were in the final, facing a Marseille side that was home to not just Europe's best but the players in the world.
Abedi Pele, Jean-Pierre Papin, Eric Cantona, Chris Waddle and even former Belgrade player Dejan Stojkovic, who signed for Marseille the previous summer.
This was a true final boss, Marseille were one of the favourites going into the tournament and had comfortably dispatched Spartak Moscow in the Semi-Final.
For all the talent they'd shown, and the success their playing style had given them, Petrovic had figured out a way to ensure victory.
Addressing the squad as he discussed the team's chances in the final, he'd suggest a drastic shift in tactics, leaving it up to the players to decide whether to change things or not.
Goalkeeper Stojanovic would recall "We'd played eight matches before that in  a very attractive style, scoring goals, playing great football, But our coaching staff had watched Marseille closely."
"Our boss Ljupko Petrovic said, 'Do you want to play the final the way I think we should and win, or do you want to play the way we have so far, but then I can't promise you the cup?' Of course, we all wanted that trophy."
"Petrovic told us we were not supposed to score. He said, 'It ends 0-0, Stojanovic will save a penalty in the shootout and we are the champions of Europe'.
After a complete tactical 180, Red Star ground out a 0-0 draw and won 5-3 on penalties, Stojanovic saving the final penalty.
It was ugly. It was the type of football many expected of Red Star going into the tournament.
But they'd proven the rest of Europe wrong. They'd made it to the final playing incredible football, and when it mattered most, they shut up shop and went the distance.
Never will such a feat be replicated. A team dealing with the consequences of war, unsure of the future of their home nation. 
A team written off every round and proving the world wrong time and time again, even with the horrors going on in their home country.
This is football's greatest-ever shock. And it was pulled off by one of the greatest footballing sides in history.