Garrincha was one of the best ever footballers to play for Brazil, a high enough accolade in itself, but he was also one of the world's best dribblers. He is one of the select band of 21 players who have won two World Cups, and was the first to win the Golden Boot, player of the tournament and win the World Cup at the same competition. Feted on the field, his life was sadly blighted by alcoholism off it.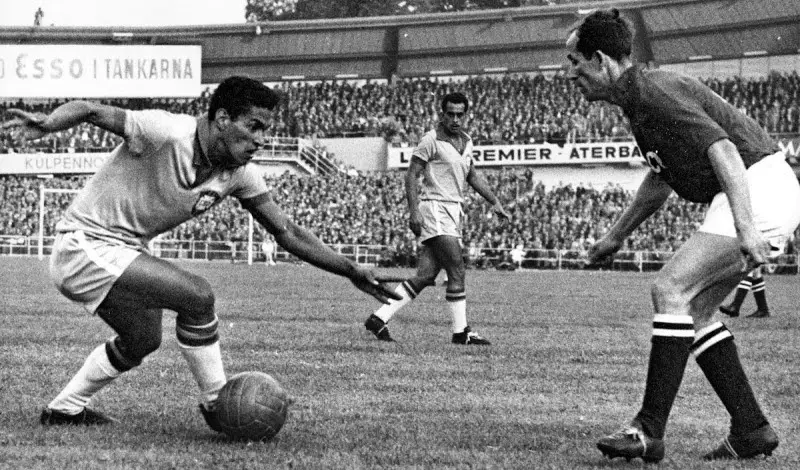 Born Manuel Francisco dos Santos in October 1933, in Pau Grande, Mage, a district of Rio de Janiero, he had a tough start to life. His spine was bent in an S shape. His right leg was six centimetres shorter than his left; his right leg was turned inwards and his left leg was turned outwards, causing doctors to brand him as a cripple. His father was an alcoholic, a trait which he sadly inherited. He was much smaller than children of his own age and his sister Rosa called him Garrincha, the Portuguese word for a Little Wren, or Little Bird, and the name stuck for the rest of his life. He was also known as Mane (short for Manuel) Garrincha.
His unusual gait meant that he could mesmerise opponents with his dribbling ability with a football and he began his career with his local team, Esporte Club Pau Grande, making his debut for them in 1947 when aged just 13. Five years later he joined Cruzeiro and had a year with Serrano before arriving for a trial with Botafogo, one of the biggest clubs in Brazil and based in Rio, in 1953. A year before he had married Nair Marques and had the first of eight daughters with her.
A glorious career begins
At his first training session he ran rings around Brazilian international Nilton Santos, who at the time had 16 international caps and went on to win 75 including two World Cups. He implored his club to sign the new star immediately, but they didn't realise how old he was as he was so small in stature. When they discovered he was 19 they were delighted and signed him. Garrincha could not read or write, and so scribbled what passed as a signature on a blank piece of paper!
He played a friendly against Avelar and scored the winner as they won 1-0. He was chosen for his first team debut in July 1953 and typically scored a hat trick from his position on the right wing, a position he remained in for all of his career, as they thrashed Bonsucesso 5-0. He continued to impress and scored 20 goals in 26 appearances in his first season, which was actually the best of his career in terms of goalscoring. He came onto the radar of the national team, and just missed out on selection for the 1954 World Cup, in which Brazil were beaten by Hungary in the quarter finals.
He made his debut for the national team in a friendly against Chile in September 1955 in Rio, but it was eighteen months before he played again. He continued to wow the fans in Brazil with his flamboyant style.
International football beckons
In 1957 he became more of a regular for the national team, playing in the South American Championship, and helped Botafogo to the state championship for the first time in nine years. Garrincha was then chosen for the 1958 World Cup squad in Sweden. It may be hard to think why nowadays, but national football in Brazil was in the doldrums, they had lost the 1950 World Cup in the final in their own country and failed to perform well enough in Switzerland in 1954.  They took a psychologist with them and replaced all of the female staff in the team hotel with men, so as not to distract the players. The players underwent IQ and psychology tests, and although Garrincha failed both, he remained in the squad.
Ten days before the tournament started Brazil played a warm up v Fiorentina, one of the best club sides in the world at the time, in Italy. Garrincha scored a famous goal, dribbling past four defenders and the goalkeeper before standing on the goal line with the ball. He waited for a defender to race back, dribbled past him, and slipped it into the net before picking the ball up and taking it back to the centre circle. The fans loved it, but his coaches did not, and ended up leaving him out of the team for the first two games in the World Cup for indiscipline.
World Cup stardom
Brazil defeated Austria 3-0 and then drew 0-0 with England, the first ever goalless draw in World Cup history, and faced the Olympic champions Soviet Union in their final game. Defeat for Brazil would almost certainly knock them out and a deputation of players implored the management to pick Garrincha and an unknown 17-year-old called Pele for such an important game. They picked them and the start of the game is still revered as the 'best three minutes of football ever played', and they have a fair few to choose from!
From the kick off Garrincha beat three men and fired a shot against the post, within a minute he set up a chance for Pele, who hit the crossbar, then Vava scored in the third minute. Brazil won 2-0 to progress. In the quarter finals they beat Wales 1-0 and Welsh defender Mel Hopkins said, "Garrincha's body faced one way and his legs the other, so it looked as if he would struggle to walk, but he could certainly play football. To me he was more dangerous than Pele because you had no idea what he was going to do next, and he had a ferocious shot."
They breezed past France 5-2 in the semi-finals and then faced host country Sweden in the final.  Sweden took the lead but Garrincha set up two goals for Vava before half time with trademark crosses. They eventually won the trophy for the first time, 5-2, and Garrincha was voted in the team of the tournament. He was initially bemused that Brazil had won it because he thought they had to play everybody twice like in a league. To be fair the 1950 tournament in Brazil was played on a league basis, so maybe he was thinking along those lines.
The country went into party mode which Garrincha didn't need convincing of. His drinking became more excessive and he put on weight, and in May 1959 he was dropped for a game against England. A few weeks later he went on tour to Sweden with Botafogo and got a local girl pregnant. When he returned to Brazil he was driving home after a heavy night and ran over his father Amaro. He failed to stop and was chased by an angry mob, who found him almost comatose with the effects of alcohol and no idea what he had done.  In August 1959 his wife gave birth to his fifth daughter just as one of his mistresses, Iraci, announced that she was pregnant as well. He often had heavy drinking sessions the night before a game, but it didn't affect his performances, and so was tolerated.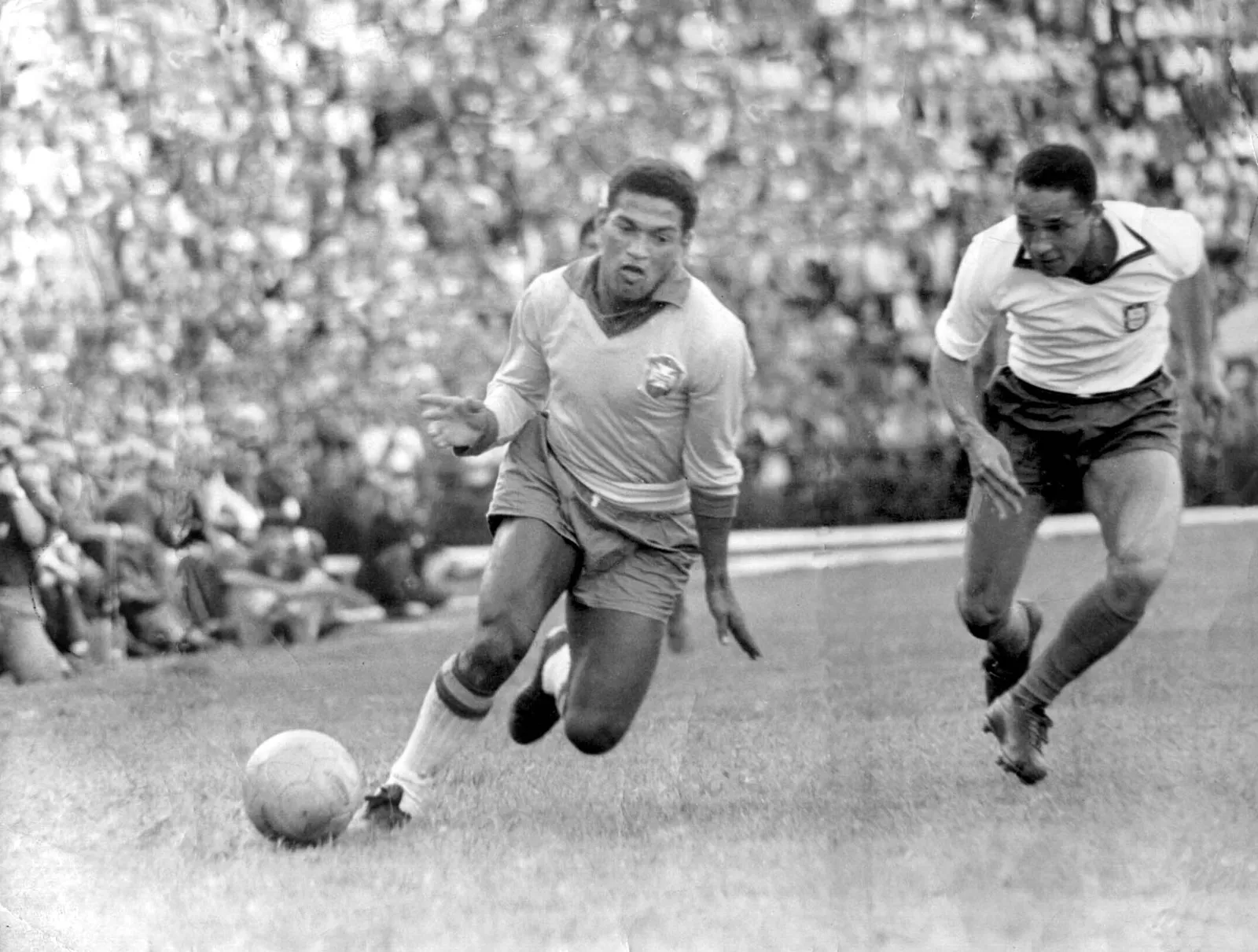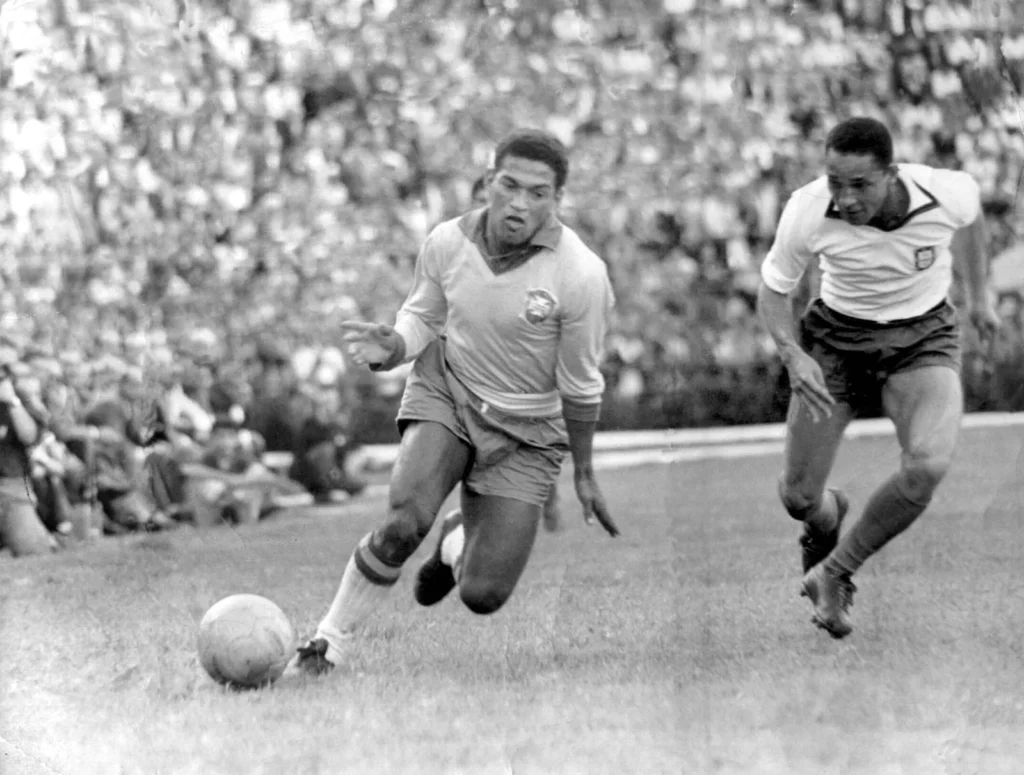 Career high point
The zenith of Garrincha's career came in the 1962 World Cup in Chile. Brazil were fancied to retain the trophy but when Pele was injured in the second match, someone had to assume the mantle of being the star player and Garrincha stepped up. Five minutes from the end of the third game v Spain, which was 1-1, Garrincha took the ball on the right flank, dribbled past a defender and paused. Then he dribbled past the same man and another defender, and sent a cross over to Amarildo, who scored to win the match. In the quarter finals v England he scored twice, one of which was with a 'banana shot' from 20 yards which curled into the net.
He scored twice more in the semi-final against hosts Chile, who opted to stop him with continual fouling. In the 83rd minute he retaliated and was sent off, meaning that he would miss the final. The Chilean president and the public petitioned for him to be allowed to play, which was granted. In the event Garrincha was suffering from a severe fever, but still played in the final which Brazil won 3-1 v Czechoslovakia. They were only the second team to retain the trophy, after Italy in 1938, and no one has done it since. Garrincha was also top scorer (with 5 others).
Decline sets in
In 1965 he left his wife, Nair, and had an affair with samba singer Elza Soares, a move that cast him as the villain in the press. In 1966 Garrincha left Botafogo after scoring 101 goals in 323 appearances to join Corinthians.
By the time the 1966 World Cup came around, Garrincha's career was in decline and he had a long-term knee injury caused by his deformed legs rubbing against each other whenever he played. He was named in their squad though, and scored a bending free kick in their first game v Bulgaria. In the second game Brazil lost 3-1 to Hungary, the only time they ever lost with Garrincha in their side. He didn't play in the third game, another 3-1 defeat which knocked them out, by Portugal, and he never played for his country again. He had made 50 appearances, scoring 12 goals.
In 1968 he joined Colombian side Atletico Junior, but only played one game before returning to Brazil with Flamengo. His drinking was getting worse and he had several road crashes, including one in 1969 with a lorry that tragically killed his mother-in-law. In 1972 he moved to Brazilian club Olaria, but decided to retire from football in 1973, partly because he had just become a grandfather at the age of 40, and didn't feel it was right to play football as a grandfather.
In December 1973 there was a farewell match for him at the Maracanã Stadium where 131,000 turned up to see a Brazil XI play a FIFA XI. He left the field in the first half to thunderous applause. His marriage broke up in 1977, and it turned out that he had fathered 14 children by 5 different women.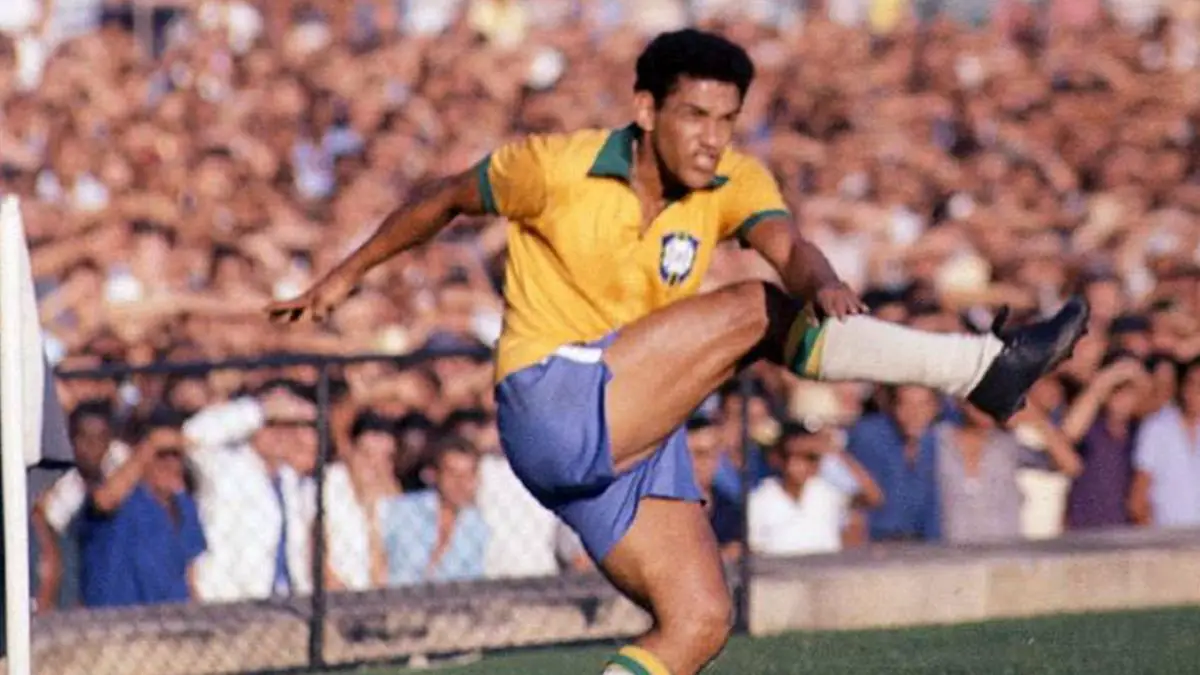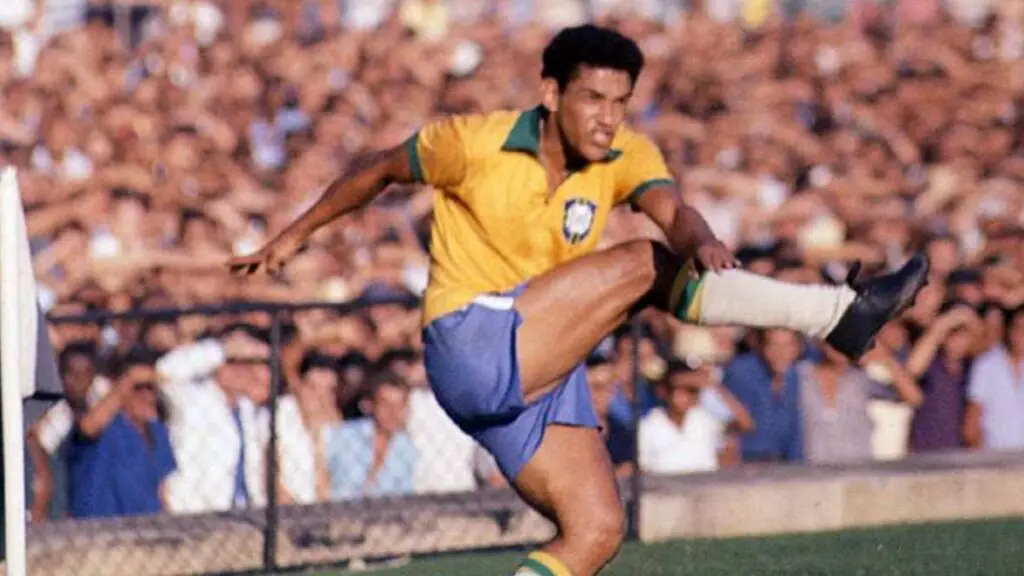 A sad ending
The drinking got worse and in 1982 he was hospitalised eight times and was a physical and mental wreck when he died from cirrhosis of the liver at the age of just 49 in January 1983.
Millions lined the streets for his funeral in Rio the next day, (a Brazilian tradition), and traffic was gridlocked for 16 miles with many being forced to walk long distances. It was the biggest funeral ever held in Brazil, the numbers topping even that of Pele in 2023. Garrincha was buried in Pau Grande.
Many books have been written about his career and a film was made in 2003, called "Lonely Star". A Stadium in the capital, Brasilia, was renamed the Estadio Nacional Mane Garrincha in his honour and there is a golden bust in the Maracanã Stadium in Rio.
He certainly had a very colourful career!