Herbert Chapman is considered one of the greatest English managers from the pre-war era. He is mainly known for his successful managerial spells with Huddersfield United and Arsenal. He has a special place in footballing history as his considered one of the earliest managers to introduce tactics in the game.
Herbert Chapman Early Years
Chapman was born in Kiveton Park, a small mining village located in the Borough of Rotherham, in South Yorkshire, England. His father was a coal miner. However, the young Chapman was too bright to follow in his father's footsteps. He earned himself the opportunity to study for a Diploma in Marine Engineering at Sheffield Technical College (later became the University of Sheffield).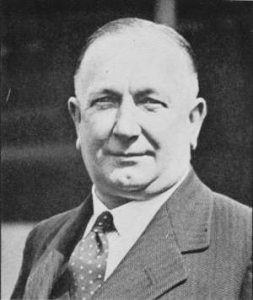 Chapman did get his love for football from his family. He was one of eleven children, and love for sports ran deep in his family. A couple of his brothers also turned out to be professional footballers. The most notable being his younger brother Harry Chapman, who won multiple trophies with Sheffield Wednesday in the 1900s.
Herbert couldn't find much success in his career, and he played as an amateur for most of it. Hence, he often had to find a job to supplement his football career. Chapman played for several amateur sides such as Kiveton Park, Ashton North End, Stalybridge Rovers, and Rochdale before getting his first taste of professional football when he signed for Second Division side Grimsby Town in 1898. Despite playing at a professional level, Herbert Chapman was still an amateur and had to work at a firm of solicitors. His time at Grimsby Town proved unsuccessful as he found himself out of the side by the end of the season. He once again dropped back to non-league football by signing with Swindon Town. However, this spell also didn't last long as Chapman could not find a supplement job in the area.
He soon returned to his hometown and resumed his studies at Old Firth College. Simultaneously, he turned out for Worksop Town in the Midland League. First-team opportunities were still hard to come by for Chapman, but he caught the attention of Northampton Town while playing against them in 1901.
As A Professional Soccer Player
He signed a contract with the Cobblers and turned into a professional footballer for the first time in his career. He was the top scorer for his new side with 14 goals in the 1901-02 season. In a FA Cup tie, his performance against Sheffield United led the Blades to sign him ahead of the next season. However, he found it hard to find a place for himself in the team full of internationals and was sold to Notts County for £300 ahead of the 1903-04 season. In 1904-05, he joined his old side Northampton Town on loan from Notts County, and eventually, in 1905-06, he moved to Tottenham Hotspur for £70.
The North London side were playing in the Southern League at the time. Harry Chapman scored eleven goals for them in 05-06, but he couldn't keep his place next season and only scored three goals.
At this point, Chapman had decided to retire from football, but a series of incidents led to the birth of his legendary managerial career. In 1907, Chapman recommended his former club Northampton Town sign his Tottenham teammate Walter Bull as their new manager. But Walter changed his mind and instead suggested Herbert take the position.
Herbert Chapman Becoming Player-Manager
Chapman, who was planning to draw curtains on his career, took up the position of player-manager at Northampton Town instead. The club was in the dumps when he took the reins as they had finished bottom of the Southern League for two seasons. However, it didn't take him long to turn around the tide.
He famously introduced tactics into the game. At the time, teams rarely used tactics, and players were expected to think on the pitch. But Chapman introduced pre-game tactics and gave his players specific tasks to perform on the pitch. He also noticed that teams often would put all their players behind the ball to defend in numbers. So Chapman devised a way of drawing defenders out and hitting the opposition on a counter-attack. During his time with the Cobblers, he developed a highly effective counter-attacking framework, unlike anything the footballing world had seen.
Identifying Talent
Herbert Chapman also had a knack for identifying talents. During his managerial career, he discovered several talents who went on to make a name for themselves. He famously said about finding players: "I am always sorry for clubs who have to act hurriedly in seeking a new player, for, under the most favorable conditions, it is a tricky business and demands the closest consideration. It is not enough that a man should be a good player. There are all sorts of other important factors which have to be taken into account. This takes time. The longer I have been on the managerial side of the game, the more I am convinced that all-around intelligence is one of the highest qualifications of the footballer."
Read about the Spanish equivalent of Herbert Chapman, who went on to win 3 European Cups as a soccer manager.
Harry Chapman played his last game as a player against Watford in January 1909 and managed his team to the Southern League title in the same season. Harry wanted to take the club into the top league, but this was not feasible due to the absence of promotions and relegations. He rallied to add two more divisions underneath the two divisions of the Football League. Harry's proposal was turned down (it was eventually implemented in 1920).
While managing Northampton Town,  Leeds City started circling. He signed for them in 1912. Chapman's time at Leeds City was marred by allegations of paying amateur footballers during WW1. These allegations eventually brought the downfall of Leeds City and the birth of Leeds United.
Coaching Success
Chapman went on to manage Huddersfield Town and Arsenal. He won two league titles and one FA Cup with each of them. Furthermore, many of Arsenal's historic successes in the 1930s can be attributed to Herbert Chapman's time at the club in the 1920s.
There is little doubt that Chapman was a visionary of his time, and he played a significant part in the game's evolution. One can argue that it's hard to envision modern football without the impact of Champan. He is still considered a legend at clubs like Arsenal and Huddersfield Town, and his success with each club he managed only enforces his reputation.
Main Image and Portrait: Ronnie Macdonald