Jan Kosek started his career at Union Letna, as a promising striker. After impressing for the Czech side, he caught the eye of the Slavia Prague selectors and they made an approach to sign him for the following season. He made his debut for Slavia Prague in February in 1903, against CAFC Vinohrady.
He impressed the local media and fans alike, scoring some impressive goals in the process. He was publicly announced as a Slavia signing in April 1903, despite playing numerous games beforehand. In these games journalists would give Jan many names such as; 'Onrdricek', 'Kocian' and probably the most famous, 'Jenda' and he would often use the final name of the list, when competing in athletics tournaments. 
In his first season at Slavia, as a 19 year old, he would leave European defenders distraught as he scored 64 goals in 19 international friendlies and 89 goals in 25 games in total. The following year, Jan would replicate his extraordinary goal tally and one of his most notable games came against First Vienna, an already established giant of Austrian football.
Despite this, the task at hand didn't faze him. Jan pierced the net on 9 occasions during this match, against Karl Pekarna who at the time was the best continental goalkeeper around. With all of this taken into consideration, Jan had palpably shown early signs of becoming one of the best footballers on the European continent.
Transfer to Sparta
At the end of 1904, Jan had completed a transfer to Slavia's rivals Sparta, in order to seek better education after the tragic loss of 3 family members. He carried on his unthinkable goal scoring form for Sparta Prague and from November 1904 to November 1905, he netted 75 goals in 25 games. Although, his best was yet to come.
Record Breaker
The year 1906 had arrived and this would be the year that Jan wrote his name in the history books of football. He broke the record for the most goals scored in a single season with 149 goals in 44 games. He held this record for 48 years, only bettered by the great Sandor Kocsis, with 170 goals in 80 games, in the year 1954. Furthermore, Jan casually picked up 31 hat-tricks that year, with 13 of these coming in consecutive games. During October, Jan would score his 300th goal for Slavia, despite not reaching the 100 game mark. 
Shipped to Europe?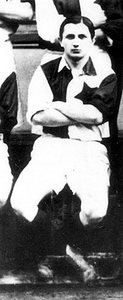 1907 was the year that he was knocked off his pedestal, by the infamous Josef Belka. 
In this year, Jan scored his 400th goal for Slavia in 131 games, an average of a hat-trick a game. Jan scored 77 goals for Slavia this year, but was beaten by Belka who scored 22 goals more. 
Kosek, in 1908, had a mediocre season for his ability, scoring only 45 goals and was second again to Belka, who scored 55. It looked as if Belka would replace Kosek, as he received an offer from English champions Newcastle United.
Another year went by, and this time Kosek proved to be a better forward than Belka with the striker not getting as much game time as would've liked at Slavia Prague in 1909. At the end of the year Belka requested to go back to Sparta after Kosek outperformed him again, scoring 58 goals for Slavia and 67 in all competitions.
3-Peat
1910 would be the year when Kosek would grasp his hands on his first piece of silverware, the Czech 'Charity Cup'. 
The Charity Cup was the first sense of real competition for Czech teams. This season, Jan was close to beating his own goal record, scoring an other-worldly 135 goals for Slavia. This year, Jan reached his 200th game, in which the game beforehand he had scored 576 goals with an average of 2.89 goals a game. 
In late May, Kosek scored a goal in a 5-2 victory against SK Smichov which would crown the red and white of Slavia's first team champions of the Charity Cup for the first time. 
In 1911, Kosek made it back-to-back years for him scoring over 100 goals with him netting 102 goals in just one season. In a game against Aberdeen, Kosek scored his best goal out of the 819 he'd scored for Slavia, taking the ball on the half turn and rifling it into the top right corner, whilst fending off two defenders in the process. 
Another Charity Cup in 1911, meant that Slavia with two, had equalled the record for the most Charity Cup wins, thanks to Kosek's marvellous feats. 1912 saw Kosek's unfathomable abilities, unfortunately start to wane. Despite this, he managed to score another 68 goals and his final brilliant year was tipped off with a third Charity Cup and a first Silver Cup.
End of an era
What a despairing year 1913 was for Slavia fans, with the premature end to what was an unheard of career for Jan Kosek. On occasions, he would join the Slavia first team, in highly competitive games but at the end of the year, Kosek switched careers and decided to become a referee for Czech football games.
Yet, in 1914, because of the lack of Slavia players, Kosek made a return to first team football, scoring 8 in 6. For the rest of Jan's career one would find the enigmatic striker either maintaining his levels of fitness when refereeing games, or rolling back the years with Jindrich Baumruk, in the Slavia Old Boys team.
International Years
He made his international debut for Bohemia in April 1903. Despite a 2-1 loss against Hungary, Kosek performed well. Kosek did not play for Bohemia again, until 1906, in another game against the formidable Hungarians. This game ended in a tight 4-4 draw, with Kosek scoring once. 
Bohemia played twice the following year, however Kosek only played in one of those outings. In the game he played in, he scored 4 goals against Hungary, for the third time. 
Many other sources mention that Belka scored two and Kosek getting just a hat-trick. Despite this, 'Sport a Hry' had Kosek scoring 3, but the final goal of the game came as a joint effort from both Kosek and Belka. 
The Bohemia-Hungary fixture unofficially became an annual occurrence, and in April of 1908, Hungary dominated the game. A hat-trick from Jenn Karoly and Kosek unusually ghosting throughout the game meant Hungary picked up a 5-2 triumph. Bohemia would not play an official game until 1911, due to FIFA cruelly banning them from the 1908 Olympics. 
Since their last fixture, their team changed almost unrecognisably. The 1911 Grand Tournoi Européen in Roubaix proved to be the restoration of what was once one of the strongest international teams on the mainland. Bohemia played only 2 games in the Grand Tournoi Européen, however the win had a huge impact on the Czech football scene.
The reason for this is because of how many people thought England would destroy any team they'd face due to their monumental record against Central European teams. Bohemia's first fixture was against the A-team of France and in this game Kosek scored once again for Bohemia. An expected final saw Bohemia face the daunting English team that boasted strong AFA players.
No matter how well the English played, they were still pipped by two goals in quick succession by Bohata and none other than Jan Kosek. Jan Kosek captained the Czech team to an unexpected win of the Grand Tournoi Européen. Kosek would also play many unofficial games for the Bohemian, Czech and Prague national team, continuing his marvellous goal record.
Style of Play
Kosek would dominate defenders all over Europe, with his physical and piercing style of play. He was quicker than any other man in Czechia, running 100 yards in only 10.2 seconds which was a Czechia record. His blistering speed, would strike a fear in defenders that no man could recover from.
He was also aerially the best in the country, receiving the majority of crosses from Jindrich Baumruk. Despite a myth saying that his link up play was not good, he totalled 62 assists for Slavia Prague. 
Kosek was compared to the likes of Steve Bloomer with the great G.O.Smith commenting that; "Kosek would certainly be in competition with our English professionals." with his 44 goals in 34 games against British teams proving this to be true.
One problem was that in his early years he would tend to rely on his left foot, for the vast majority of his goals. In 1905 Johnny Madden would change this. Madden changed Kosek into the most well-round and eminent player of mainland Europe.