With Neymar and Mbappe in the squad, it's quite the nightmare for any coach in the world, both desperate to score goals, both equally skilled from the spot. On top of that, In the 2021 transfer window, PSG signed Sergio Ramos and Lionel Messi, both former captains of elite soccer clubs, both well known to possess composure and precision from the spot. 
While these transfers have strengthened the team, it leaves us with an important question; Who takes penalty kicks for PSG?
The safest answer is Kylian Mbappe, as he's one of the best penalty takers in the world. But, PSG possess 3 more players who could be described in the same way.  
Who is the PSG Penalty Taker?
The primary penalty taker of PSG is Kylian Mbappe. However, if PSG are awarded a second penalty in the same match, it's usually taken by Neymar.
Messi occasionally takes penalties for PSG. However, after missing the penalty against Thibaut Courtois in the UCL match against Real Madrid, he hasn't taken many penalties for PSG.
Mbappe vs Neymar: Battle for Penalties
Last year, on the 13th of August, Kylian Mbappe took a penalty in Ligue 1 and, unsurprisingly, he scored. 
They were awarded another penalty just 20 minutes later, and this time the captain selected Neymar for the penalty kick. Neymar scored, matching Mbappe's performance. 
But the problem started when Neymar reacted to a few posts on Twitter that expressed the desire to see him as the main penalty-taker. 
Despite Neymar making his desire to take penalties public, manager Christoph Galtier would state he had "no particular preference" for the main penalty taker, suggesting he was in no rush to make a definitive call. 
Later that season, PSG were taken to penalties. Mbappe went first, and Neymar followed. Galtier, thought it was perfectly logical for Neymar to go second but mentioned that he'll consider him for the first penalty taker position. 
A few days later, Neymar took a crucial penalty against AS Monaco and scored to bring them level. 
After this, rumours began to circle that Neymar might become the main penalty taker for the club. Nevertheless, whether on merit or due to his influence over the club, Mbappe remained the primary penalty taker
With Messi and Ramos also proven from the spot, it wouldn't be surprising if they also had ambitions of being PSG's main man from the spot.
But both have kept themselves out of this debate as they are happy to let Mbappe and Neymar handle the penalty duties.
Will Neymar Become the Main Penalty Taker?
There are speculations that Mbappe will leave for Real Madrid once his contract expires. If that transfer goes through, no doubt Neymar will become the main penalty taker of PSG.
Statistically, Neymar has the highest goal-scoring rate of 82.%, closely followed by Mbappe at 80%. Messi isn't far behind as he has a success rate of 77.6%. 
PSG's Penalty Controversies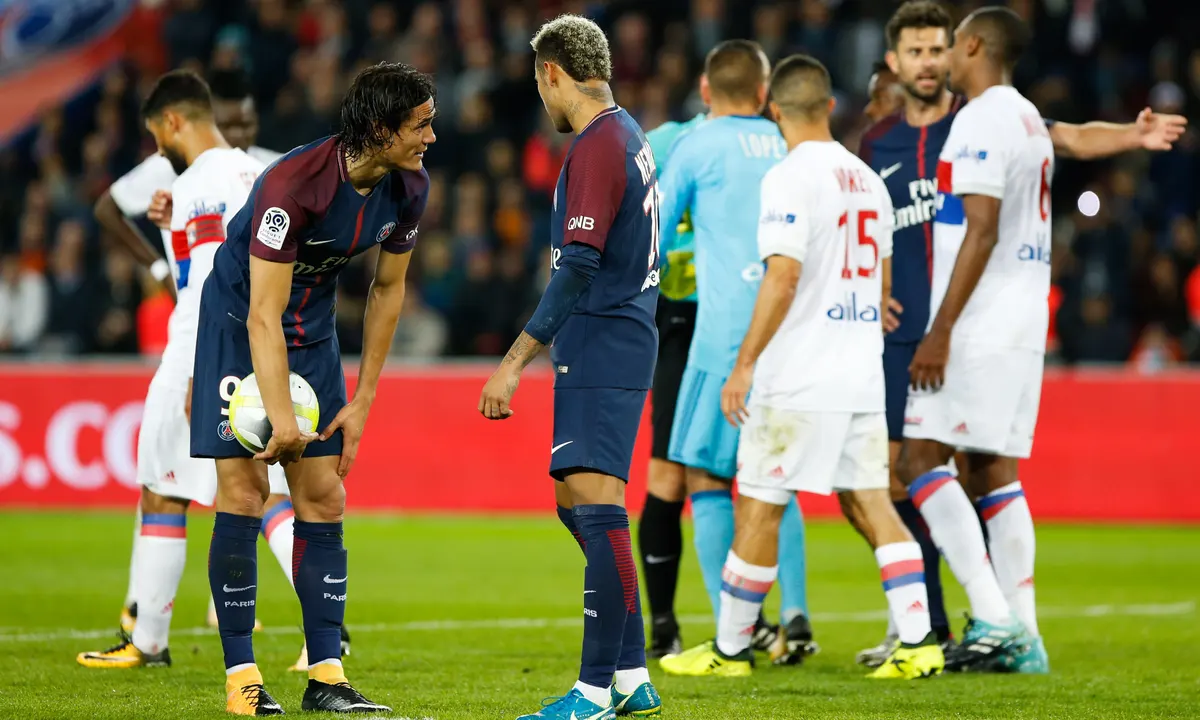 PSG has a long history of penalty related controversies. It all started with the feud between Cavani and Neymar. Cavani refused to let Neymar take a penalty  in Neymar's first season, leading Neymar to unfollow Cavani on social media platforms. The two engaged in a brief feud, before Cavani left PSG for Manchester United. 
The trouble wasn't over yet. Mbappe began to outshine Neymar through his world class performances and wanted to become the primary penalty taker. 
During a Ligue 1 match against Montpellier, Kylian missed a penalty. However, when the French giants were awarded another penalty, Kylian stepped up to take the second one. 
However, Neymar took it upon himself to take the shot, converting the penalty, to Mbappe's chagrin. This incident sparked rumors that the relationship between the two players had frayed. 
After the incident, Christophe Galtier revealed in a press conference that they had a session the very next day to address the incident and the issue had been resolved. 
Right now, Mbappe takes the penalty kicks for PSG and he will continue to do so as long as he's in PSG. But things can change quickly at the club as Mbappe hasn't committed his future to the club yet. With Messi, Neymar and Mbappe futures all in question, it's anyone's guess who will be taking penalties for PSG next season