Zico is one of Brazil's greatest ever footballing superstars, and had the nickname "The White Pele" besides being known as the best ever Brazilian never to win the World Cup. He also holds the record for scoring direct from a free kick, totalling a mind boggling 101. Following the end of his playing career he became a successful manager.
How it all began
Arthur Antunes Coimbra was born in Quintino Bocaiuva, a suburb of Rio de Janeiro in Brazil, in March 1953, the youngest of six children. Football was huge in Brazil as he was growing up as they won the World Cup in both 1958 and 1962, and like many youngsters he skipped school just to play the game. His talent was obvious from a young age and many turned up to see him run rings around the older children.  He began playing for Juventude, a local futsal team run by friends and on Sundays he played for River Futebol Club.
His family called him Arthurzinho (Little Arthur), which became Arthruzico and Tuzico, before his cousin Ermelinda Rolim called him just Zico which stuck through the rest of his life. In 1967 he had arranged to go for a trial at America (a Brazilian team where two of his brothers were professionals), but before then he scored nine goals in one game for River, and a radio reporter convinced his father to take him to Flamengo, who played at the iconic Maracanã stadium, instead.  Zico was quite happy with that as that was the club he supported.
Almost an early end
Being slight of build and only 4ft 9ins tall, he went on a body building programme, which was very successful and he scored 81 goals in 116 games for the youth team before turning professional in 1971. 1971 was also the year he represented Brazil for the first time, not in a full international, but in qualifiers for the 1972 Olympics.  Zico played five times and scored the winner as an attacking midfielder v arch rivals Argentina but then he was left out of the final tournament party for the games in Munich.
Zico took that badly and told his father that he wanted to give up football, almost ending his career before it had started. He went missing from Flamengo for ten days before he calmed down and was convinced to carry on with his career. He helped Flamengo to win the Rio state championship in 1972 and 1974 whilst gaining a reputation for scoring from direct free kicks. Zico's unique free kick technique, which saw him place significant importance on his standing foot, often saw him lean back and raise his knee at a very high angle when hitting the ball with his instep, thus enabling him to lift it high over the wall, before it dropped back down again.
In 1975 he married Sandra Carvalho de Sá and they went on to have three children. He was chosen to play for the full Brazilian side for the first time v Uruguay in February 1976 and scored the winner six minutes from time in a 2-1 victory. He scored six times in his first nine internationals and instantly became a regular.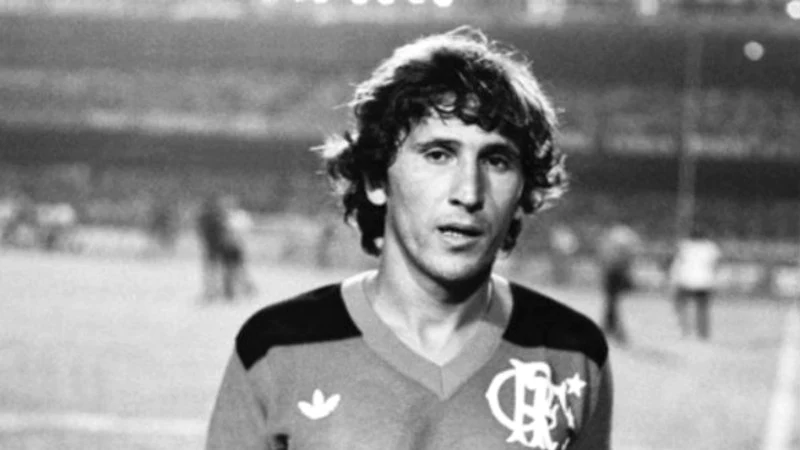 The World Cup
He was chosen in the Brazil squad for the 1978 World Cup in Sweden and was involved in one of football's most unusual moments in the first game against Sweden. With the score at 1-1, Zico headed home a corner in the last minute but referee Clive Thomas said he blew for time as the ball came over. Such an incident has never happened since and probably never will again. Brazil reached the second round, which was a group stage and were pipped to a place in the final by Argentina on goal difference. Brazil finished in third place.
World Club Champions
In 1979 Zico scored a career best 65 goals in just 51 games as Flamengo won the state title for the fourth time in eight years, and he also helped Brazil to finish third in the South American Championship. Flamengo were in their golden period and won the Brazilian championship for the first time in 1980. That qualified them to play in the 1981 Copa Liberatores, a competition for all South American title winners and Flamengo reached the final. Two goals from Zico gave them a 2-1 lead in the first leg of the final v Cobreloa, from Chile, but they lost a violent second leg 1-0. That meant a third game on a neutral ground in Uruguay and two first half goals from Zico gave them a 2-0 win that saw them declared South American Champions.
That saw them qualify for the Intercontinental Cup, a game against the European Cup winners which was Liverpool. It was played in Tokyo in December 1981 and a brilliant performance by Zico saw Flamengo win 3-0 to become unofficial World Club Champions.
In 1982 Brazil seemed to have their best team since the great 1970 side and were hot favourites to win the World Cup for the fourth time. In the group stage they won all three games, Zico scoring once v Scotland and twice v New Zealand. In the second round, also a group stage, Zico opened the scoring as Brazil beat rivals Argentina 3-1, but then they were surprisingly beaten 3-2 in one of the all-time classic games by Italy for whom Paolo Rossi scored a hat trick.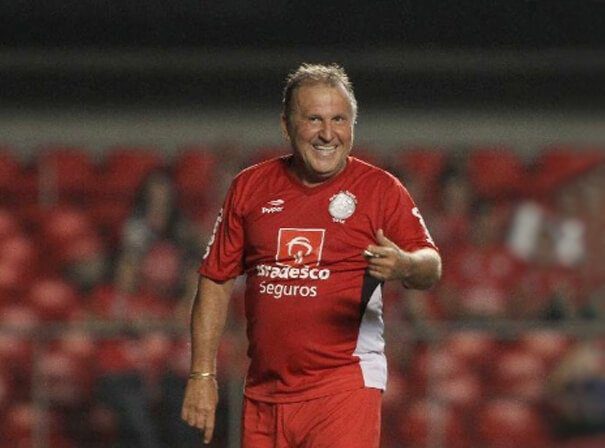 A surprise move to Italy
Flamengo won the Brazilian title in 1982 and 1983 and AC Milan and Italian champions Roma both put bids in for his services. The football world was stunned though when he joined Udinese instead for four million dollars. Udinese were not one of the top Italian clubs, never having won the league and the cup just once in their history. 5,000 fans turned up at the airport to meet Zico and they sold over 26,000 season tickets as the city went crazy with expectation.
His first game was a friendly against Flamengo and he scored twice on his league debut in a 5-0 victory at Genoa, the second goal being a stunning 25-yard free kick. Zico scored 24 goals in his first season, but one man doesn't make a team and they finished only 9th, whereas they were sixth the season before, as their new superstar missed five of the last nine games with injury.
The 1984/85 season didn't go well as Zico missed 14 games through injury and suspension, mainly for having a go at referees and also having a go at the Udinese board for relying on him too much. He was also charged with tax evasion, which carried a large fine and a possible jail sentence, so he opted to return to Brazil. His final home game attracted a sell out crowd because the visitors were Napoli, with their superstar, Diego Maradona. Both the superstars scored free kicks before Udinese then led 2-1. Two minutes from time a Napoli effort rebounded off the bar which Maradona seemingly headed in to make it 2-2 but later replays showed that he had knocked it in with his hand, something he famously did in the World Cup a year later. Zico was incandescent with rage at the referee but the goal stood, a sad end to his career there before going back to Flamengo.
Return to Brazil and retirement
After only being back for one month, Zico badly injured his knee after a violent tackle by Bangu's Marcio Nunes which sidelined him for several months and threatened his participation in the 1986 World Cup. He wasn't really fit but they took him to the tournament and he was only used as a second half substitute in three of their five games. In the quarter final v France, Zico won a penalty when he was brought down, but had his spot kick saved. The game went to a penalty shoot-out and Zico scored his penalty, but Brazil lost 5-4. It was his last appearance for his country, his 71st, in which he had scored 48 goals.
He recovered to help Flamengo to a state title in 1987 but then announced that he would leave Flamengo in 1989. Typically in his last game, he scored a free kick in a 5-0 victory over Fluminese. Altogether he scored 508 goals for Flamengo in 731 games, and he also still holds the record for the number of goals scored at the Maracanã Stadium, 333 in 435 games.
Japan come calling
His next move was into politics after being appointed as the Brazilian Minister of Sport in 1990. A year later he went back to playing for Sumitomo Metals in the newly formed J League in Japan. Typically, he scored a hat trick in his first game, a 5-0 win over Nagoya Grampus. The team were rebranded as Kashima Antlers, one of the smaller clubs in Japan, but Zico helped them to win the league in 1993, before retiring from playing in 1994. He was feted in Japan and a statue was built in his honour outside of the stadium.
He then played Beach Soccer in Brazil, winning the World Cup in 1995 and became a technical adviser to Kashima Antlers. He was technical co-ordinator to Brazil in the 1998 World Cup and then took over as manager of the Japan national team in 2002. They won the Asia Cup in 2004 and then reached the World Cup Finals in 2006. They failed to win a game though and Zico resigned after the tournament.
Managerial merry go round
In July 2006 he became manager of Fenerbache in Turkey, and won the league in 2007. In 2007/08 they reached the quarter finals of the Champions League, still the furthest they have ever got in the competition.  In June 2008 he resigned and applied for the job as Newcastle United manager but failed to get it. His next move was to coach FC Bunyodkor in Uzbekistan where they won the league and cup, and then he had a short spell in charge of CSKA Moscow.
In 2009 he took over as manager of Olympiakos in Greece, and took them into the knock out stages of the Champions League. He was sacked after a poor run of results in 2010 and after five months as Flamengo's director of football, had spells in charge of Iraq, Al-Gharafa in Qatar, and FC Goa in India. He was Goa's first head coach, as they were only formed in 2014, and they did well during his three years there.
In 2015 he stood for the presidency of FIFA but lost out to Gianni Infantino, and then in 2018 went back to his role as technical advisor of Kashima Antlers, a role he still fulfils as of May 2023.