Eusebio is a name synonymous with footballing greatness and a man who sits amongst the elite legends of the game. The goalscoring powerhouse often features in the 'top ten' of lists that judge the "best of all-time."
He was nicknamed 'The Black Panther' because of his strength in play and 'The Black Pearl' due to his elegance on the field. The forward became the first Portuguese national to win a Ballon d'Or and remains the only Benfica player to have claimed the prize.
Eusebio. The Black Panther. The Black Pearl.
Prowess In Portugal
Eusebio finished eight points ahead of his nearest rival, Inter Milan defender Giacinto Facchetti, in the race for 1965's Ballon d'Or and over 20 points clear of third placed Italian midfielder Luis Suarez.
The Portuguese maestro scored a remarkable 48 goals for Benfica in only 36 games across all competitions in 1964/65. It marked the second best tally of his career and only beaten by a total of 50 strikes in 1968.
In Primeira Divisao, Portugal's top flight during the 1960's, Eusebio netted 28 goals in just 20 league appearances, finishing five goals ahead of Benfica teammate and fellow forward Jose Torres.
He helped drive the club to their fourth league success in five seasons, a 14th overall title ended the campaign five points ahead of second place Porto.
King Of Europe
Also known as "O Rei" or The King of Portugal, Eusebio was in majestic form and yet still faced stiff competition on his way to Ballon d'Or glory.
Runner-up was Inter Milan left-back Giacinto Facchetti and the Italian side's midfielder Luis Suarez finishing third. Both men had been integral to an Inter side who had enjoyed a domestic double, winning Serie A and European Cup.
However, during the 1965 European Cup and with the eyes of a continent upon him, Eusebio would outperform the two of them. He struck nine goals in as many European matches and became the competition's joint-top scorer alongside Benfica teammate Jose Torres.
Eusebio scored three times against Luxembourg's Aris in the Preliminary Round and once more vs Swiss club La Chaux-de-fonds in round one.
The Portuguese genius scored three more against the might of Real Madrid during their Quarter final both home and away before hitting a brace vs Hungary's Vasas ETO Gyor in the last four.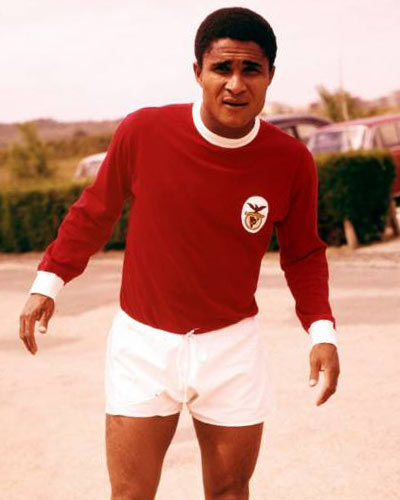 Ultimately, Benfica lost 1-0 in the final to Inter Milan but Eusebio's performances across the tournament were enough to convince Europe of his immovable quality. He had produced a stunning season yet again.
Eusebio ended the year with seven goals in seven caps for Portugal with World Soccer magazine naming him in their prestigious World XI for 1965.
His legendary career brought Eusebio some eye-watering statistics. He scored 473 goals in 440 appearances for Benfica over fifteen seasons and is the club's all-time leading goal scorer.
The forward won over thirty domestic honours with the Portuguese side including eleven league titles, five national trophies and the 1962 European Cup.
On the international stage, he netted 41 goals in just 64 caps and powered his country into a third place finish at the 1966 World Cup.
It was somewhat of a mystery how the Portuguese superstar had failed to win the Ballon d'Or before and he would never claim the award again. 1965 will always be remembered for Eusebio's brief moment as officially the finest player on the planet.
1965 Ballon d'Or Top 20
No
Name
Country
Pos
League
Club
1
Eusébio
Portugal
FW
Portugal
Benfica
2
Giacinto Facchetti
Italy
DF
Italy
Internazionale
3
Luis Suárez
Spain
MD
Italy
Internazionale
4
Paul Van Himst
Belgium
FW
Belgium
Anderlecht
5
Bobby Charlton
England
MD
England
Manchester United
6
Flórián Albert
Hungary
FW
Hungary
Ferencváros
7
Gianni Rivera
Italy
MD
Italy
Milan
8
Georgi Asparuhov

Sandro Mazzola

Valery Voronin

Bulgaria

Italy

Soviet Union

FW

MD

MD

 

Bulgaria

Italy

Soviet Union

Levski Sofia

Internazionale

Torpedo Moskva

11
Denis Law
Scotland
FW
England
Manchester United
12
Karl-Heinz Schnellinger
West Germany
DF
Italy

Italy

Roma

Milan

13
Jim Baxter

 

Ferenc Puskás

Scotland

 

Hungary

MD

 

FW

Scotland

England

Spain

Rangers

Sunderland

Real Madrid

15
Mario Corso

Lev Yashin

 

Italy

Soviet Union

MD

GK

Italy

Soviet Union

Internazionale

Dynamo Moscow

17
Amancio

Franz Beckenbauer

Ferenc Bene

Mário Coluna

Milan Galić

Philippe Gondet

Andrej Kvašňák

Slava Metreveli

Spain

West Germany

Hungary

Portugal

Yugoslavia

France

Czechoslovakia

Soviet Union

MD

DF

 

FW

MD

FW

FW

MD

 

 

MD

Spain

West Germany

 

Hungary

Portugal

Yugoslavia

France

Czechoslovakia

 

Soviet Union

Real Madrid

Bayern Munich

 

Újpest

Benfica

Partizan

Nantes

Sparta Prague

 

Dinamo Tbilisi

20
Ivor Allchurch

 

Wales
FW
Wales
Cardiff City

Swansea Town
Trivia
Eusebio scored more than forty goals in a single season a total of five times throughout his career at Benfica.
Giacinto Facchetti was a one-club man, playing only for Inter Milan between 1960 and 1978. He featured a total of 629 times for Inter which remains the third-highest number for the Italian side.
Only twelve months prior, Spaniard Luis Suarez finished as Ballon d'Or runner-up behind eventual winner, Manchester United and Scotland striker Denis Law.