Soccer is the most popular sport in the world. There is no doubt about it. However, it continues to struggle for the limelight with more popular sports in the United States of America. As per statistics on how many people play soccer, it is the fourth most popular sport, and its popularity is declining.
The country hosted the FIFA World Cup in 1994, which was expected to be the launching pad for the game in the country.
However, even though the game's popularity has increased in the country since then, it still pales compared to other major sports, such as Basketball and American Football.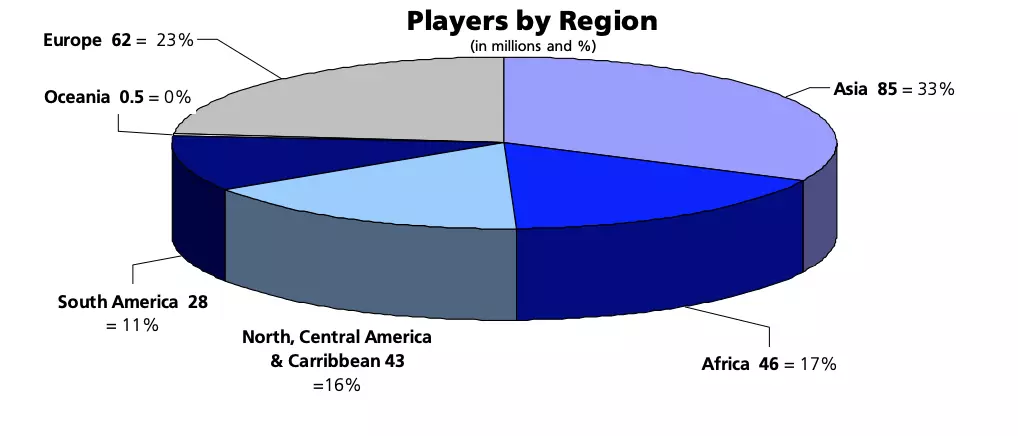 This feature will look at significant facts about soccer participation statistics and soccer popularity in America. We will also compare soccer to other major sports in the United States.
How Many People Play Soccer In The US
24,472,778 is the number of Americans who play soccer at some level, according to the FIFA Big Count on World Football. FIFA surveyed 207 countries for this study.
It confirmed that soccer has remained the number one sport in the world. The number of soccer players (male and female) is now 265 million worldwide.
The game is extremely popular throughout certain parts of the country, especially in the south. Others don't have as much interest in the game.
Soccer Participation in the US – Indoor and Outdoor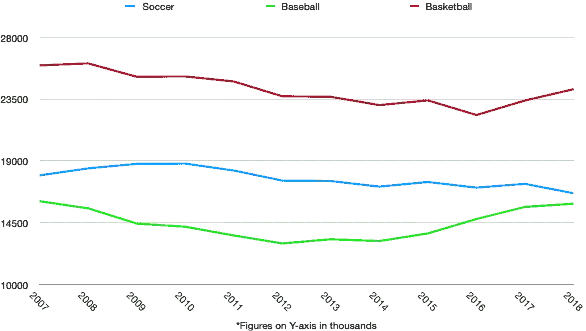 As evident from the graph above, Soccer in the United States has witnessed a decline in recent years after its peak in 2009-10. The 1990s and the 2000s were the golden decades as it reached new heights of soccer popularity in the US.
This rise in the popularity of soccer in America can be attributed to the Major League Soccer (MLS) success and the success of both national teams – men and women.
However, the same hasn't been replicated in on-pitch participation among US soccer fans, especially in the last decade.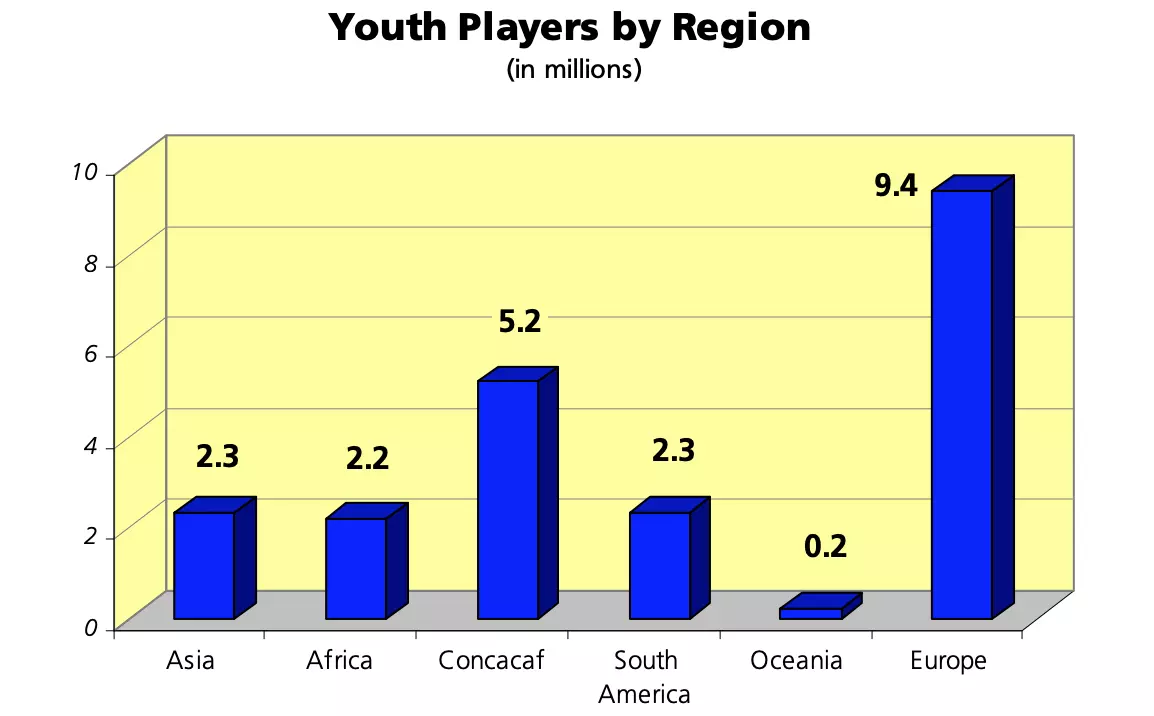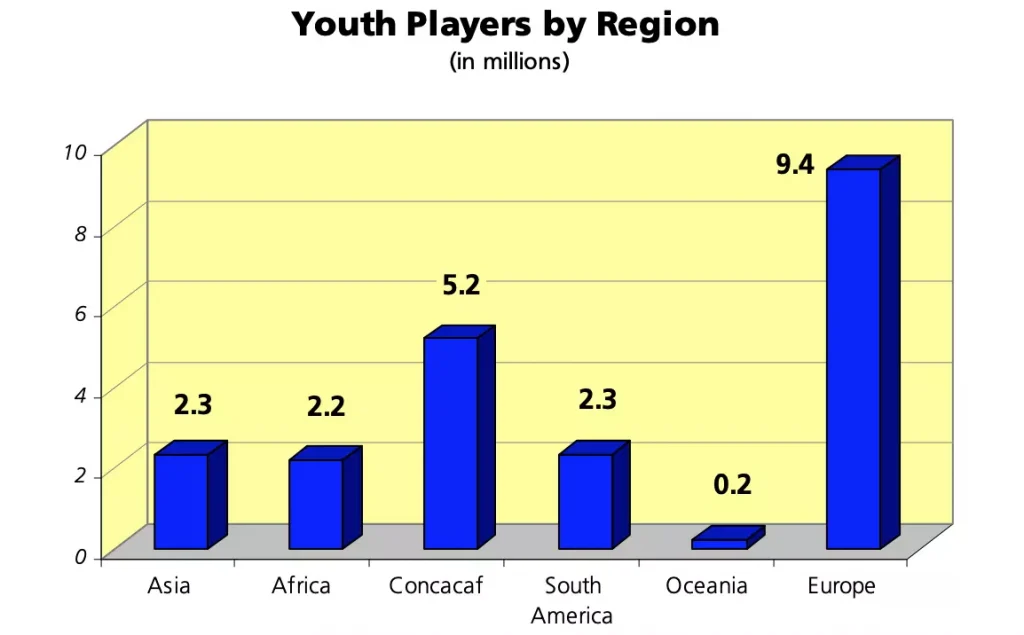 Soccer Popularity In USA Declining
A NY Times report in 2018 mentioned that between 2015 and 2018, the participation rate among 6-12-year-olds dropped by 14%.
The report explores that the birth of the 'pay-to-play' culture has made the game inaccessible to many of the population, especially in underprivileged communities. Furthermore, there is also a lack of structure at the youth level.
"My family would not have been able to afford to put me in soccer if I was a young kid today," Hope Solo, the former US goalkeeper, admits. "That alienates many communities, including Hispanic communities, black communities, rural communities, and underrepresented communities. Soccer, right now, has become a rich, white kid sport." [1]
Soccer would be more popular if the right pathways and finances were in place for kids to play. The cost of playing soccer at a high level can be pretty high. Annual fees for ECNL (Elite Clubs National League) teams range from $8,000 to $10,000.
Even so, gaining exposure to recruiters, coaches, and college teams is worthwhile. In some cases, even professional soccer teams.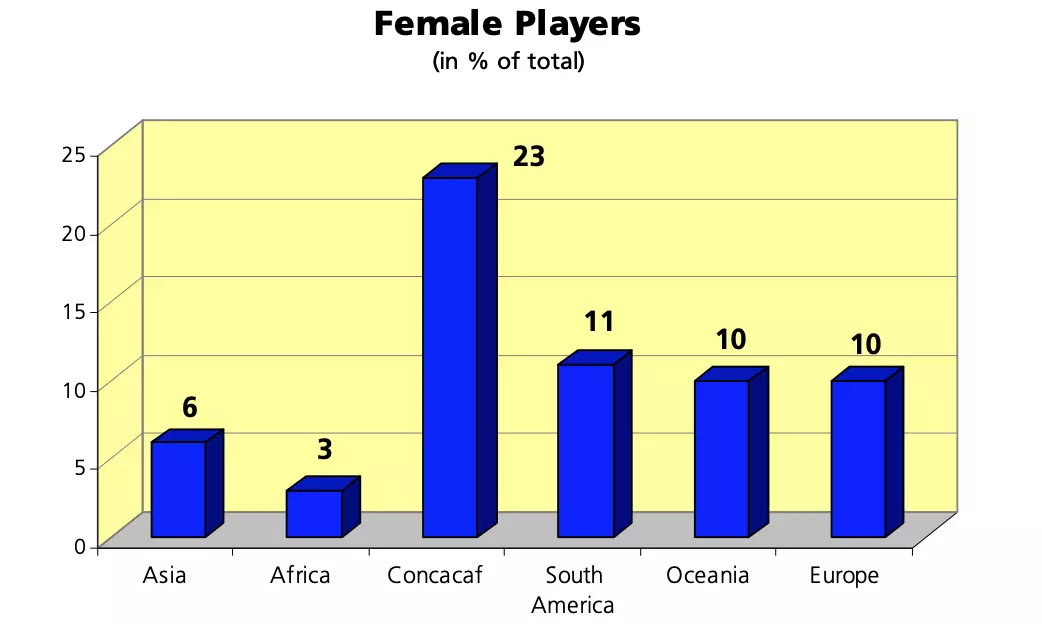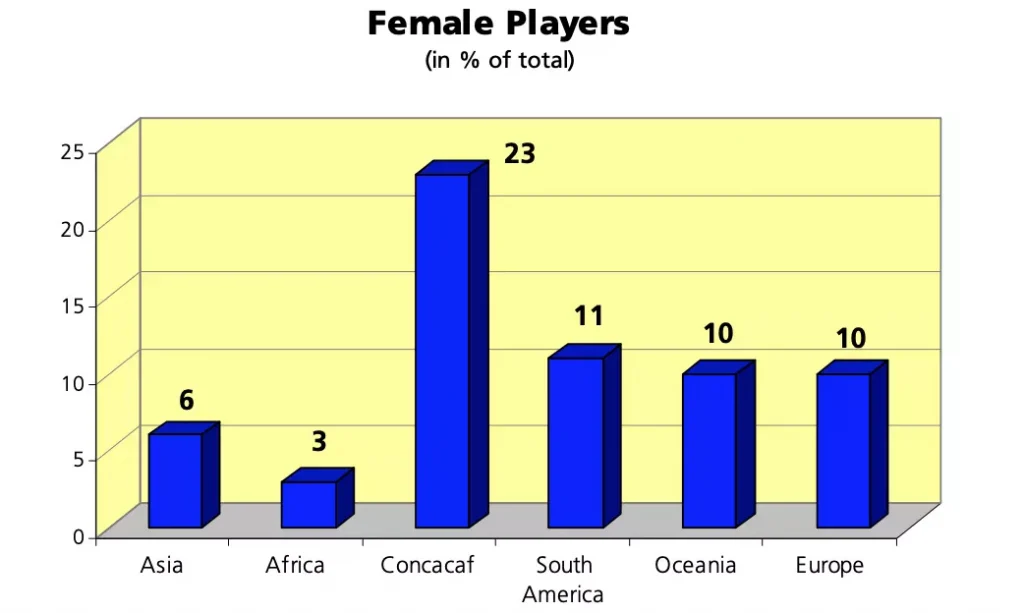 Another plausible reason for the decline in soccer popularity is the general decline of interest in outdoor sports among the youth. A study from the Aspen Institute claims that the interest in outdoor sports is at an all-time low in the United States.
It is very evident in the above graph that even basketball has witnessed a steep decline in numbers during the period. On the other hand, baseball has broken the trend as it has seen a steady increase since 2015.
However, this increase has come after a long period of gradual decline.
Indoor Soccer vs. Outdoor Soccer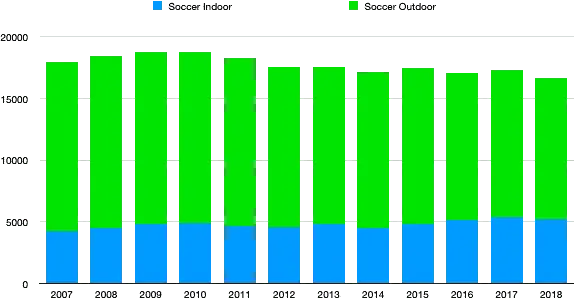 In the Indoor Soccer vs. Outdoor soccer comparison, outdoor participation has decreased gradually since 2008-09.
In 2008, outdoor soccer participation topped at 13,960,000. And in 2018, it dropped to 11,405,000. This means that the number of participants has reduced by more than 18% in the period.
Regarding the share of the entire population, the figure has dropped from 5% to 3.8%.
The numbers for indoor soccer have seen a gradual increase. In 2007, 4,803,000 (1.5%) people played indoor soccer. In 2018, this figure increased to 5,233.000 (1.7%)
US Youth Soccer Statistics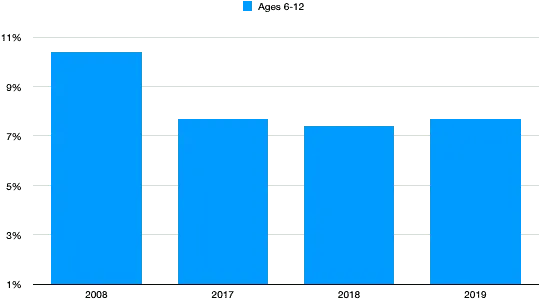 From the State of Play 2020 report from the Aspen Institute, we see that the share of kids aged 6-12 who regularly play soccer has gone down in the last decade. 10.4% of kids aged 6-12 regularly played soccer in 2008.
Despite a decline to 7.4% in 2018, the figure slightly rebounded in 2019, reaching 7.7%.
Regardless, it's a decrease of 26% from 2008 to 2019. In actual numbers, 2,216,000 kids aged 6-12 regularly played soccer in 2019.
Ages 13-17 Playing Soccer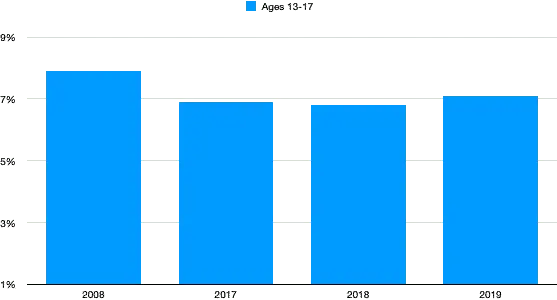 When we look at the age group 13-17, the decline is still present. However, it's not as drastic as it is for kids aged 6-12. In 2018, 7.9% of kids aged 12-16 regularly played soccer.
This figure went down to 6.8% in 2018 and then increased to 7.1% in 2019. So it's only a drop of 10%, which is relatively less than the drop we see for ages 6-12.
Hence, the decline in youth soccer participation statistics has been felt more in the age group 6-12 than in the group 13-17.
High School Participation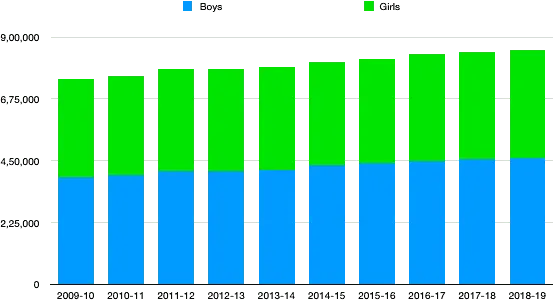 According to data from the NFHS High School Athletics Survey, participation has steadily increased among high school students. In 2009-10, 3,91,839 boys and 3,56,116 girls participated in soccer at the high school level.
Overall, 7,47,955 high school kids played soccer.
Read: Check out our wide range of articles on women's soccer.
In 2018-19, 4,59,077 boys and 3,94,105 girls played soccer in high school. The boys participation increased by 17.2%, and the girls' participation increased by 10.7% Overall, the number has increased to 8,53,182 – an increase of 14%.
Cost of Playing Soccer in the US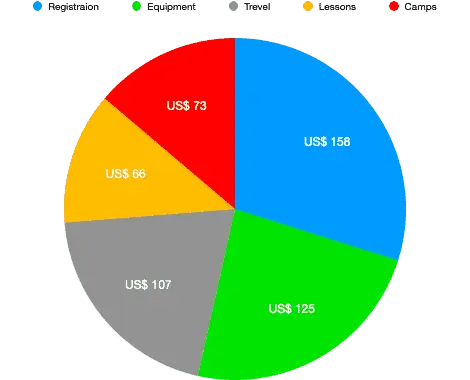 According to another study from Aspen Institute, on average, a family spends $537 per kid in soccer. This comprises various costs such as soccer registration, equipment, travel, lessons, and camps.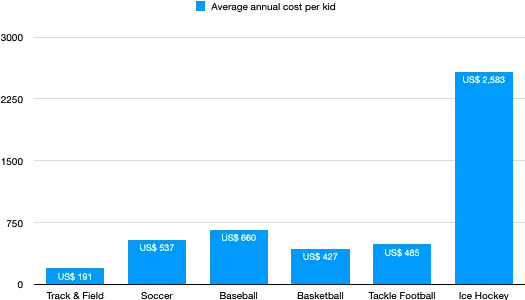 Is soccer popular in America? Soccer lies somewhere in the middle when we compare it to other major popular sports in the US. It is more expensive than basketball, tackle football, and track & field events.
However, it is slightly cheaper than baseball and significantly cheaper than sports like Ice Hockey.
Soccer Fans In The US
Thirty-two percent of U.S. adults characterized themselves as soccer fans, including 7% who described themselves as "avid fans."
According to a July 2019 survey, neither of those figures has changed significantly since then, suggesting the Coronavirus pandemic hasn't adversely affected interest in the sport.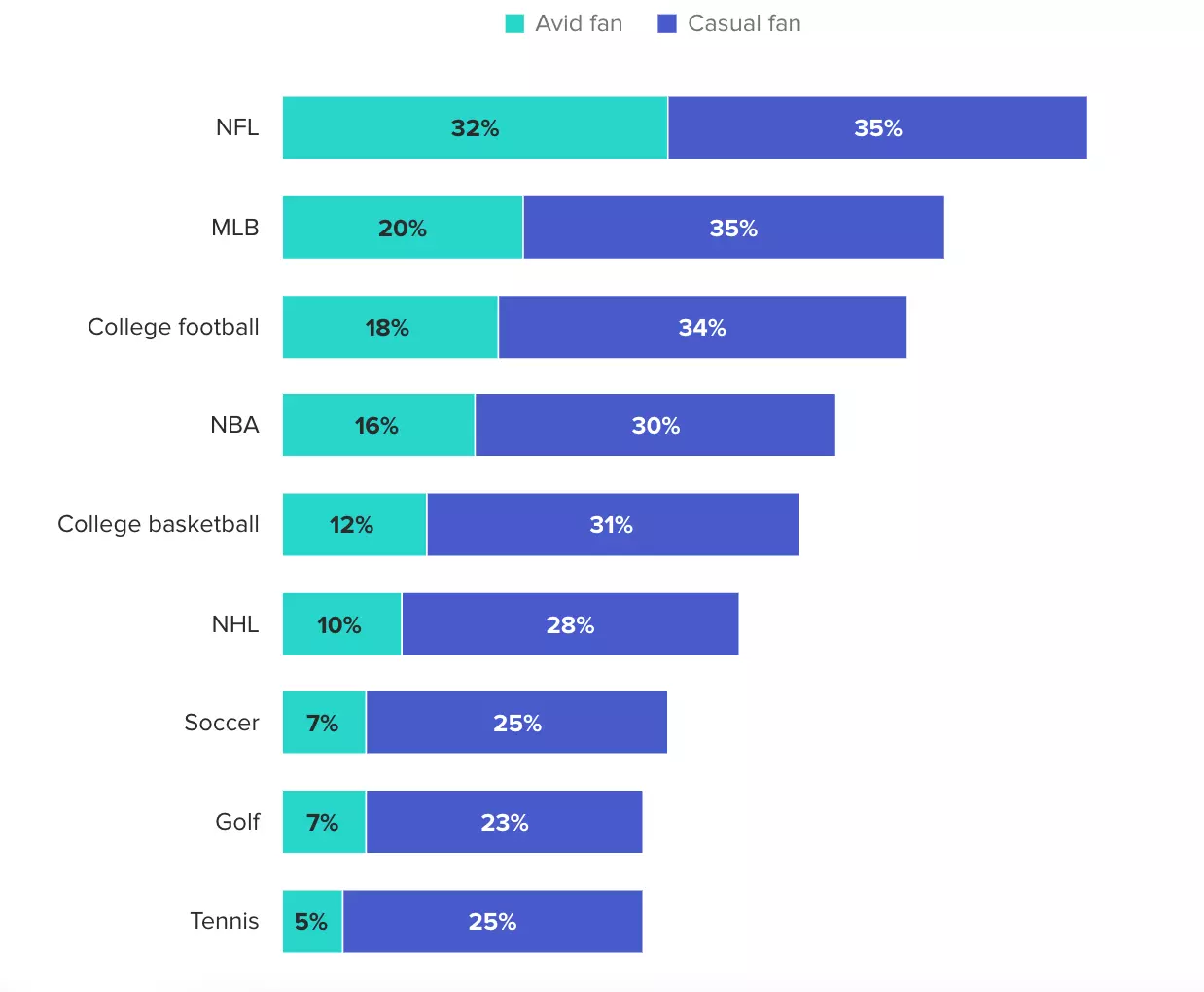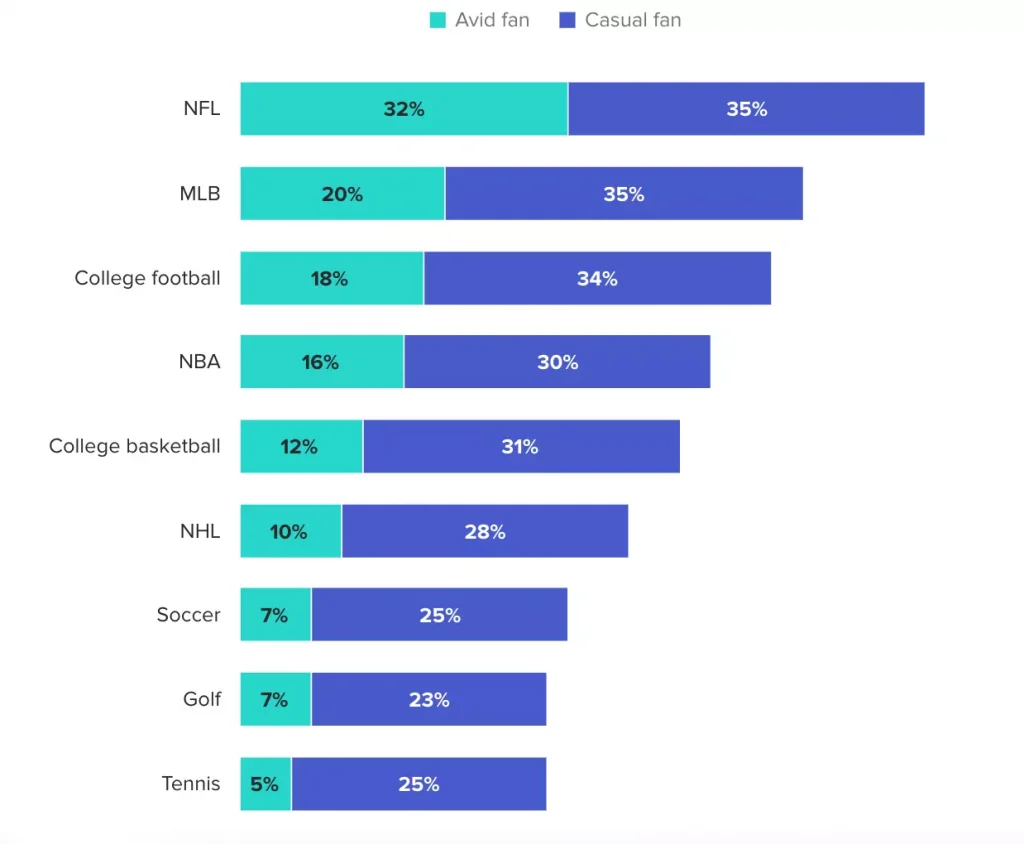 In terms of popularity, Professional Football, Baseball, College Football, Basketball, College Basketball, and Ice Hockey all ranked higher than Soccer.
Soccer fans were more than half (54%) under 45. That was more than any of the other sports included in the survey. NBA Basketball was next at 51%, followed by the National Football League at 46%.
Apple TV+ will live stream all MLS games starting in 2023 until 2033. Apple's agreement with the MLS creates a digital center for younger and more tech-savvy soccer fans, who are more likely to view live soccer games online.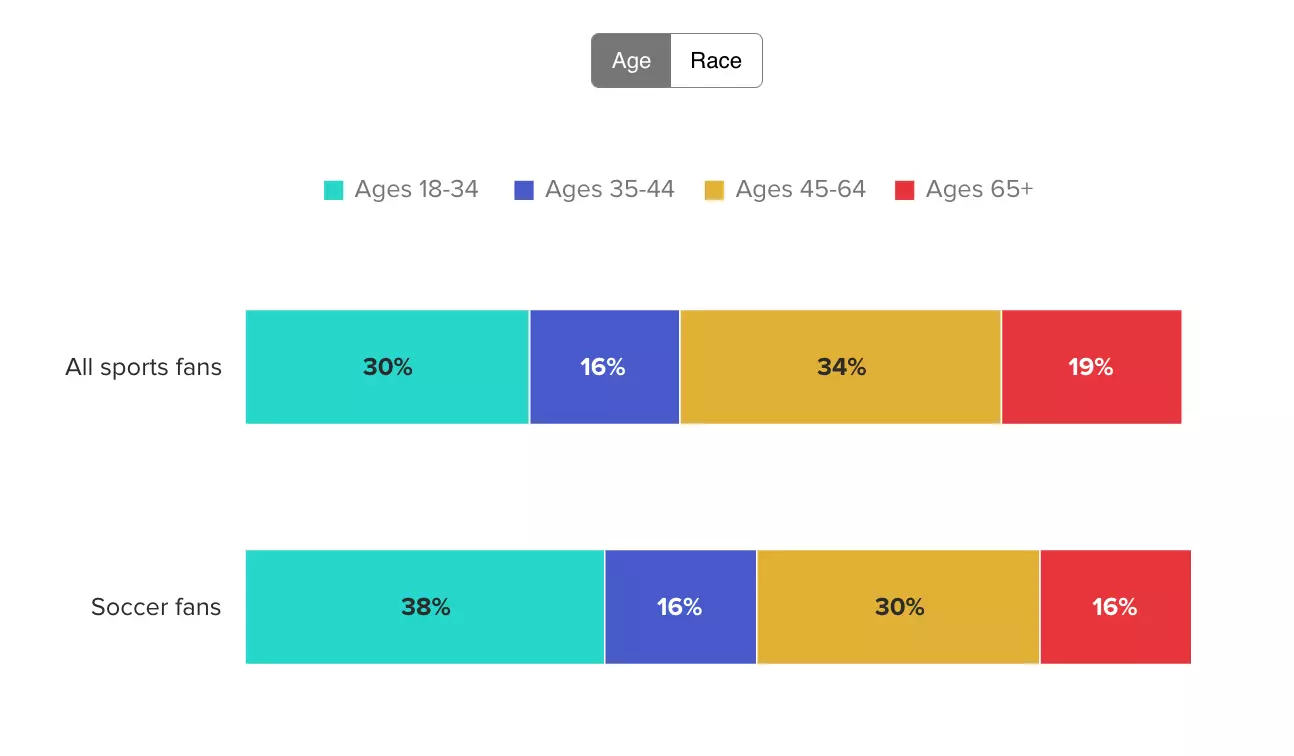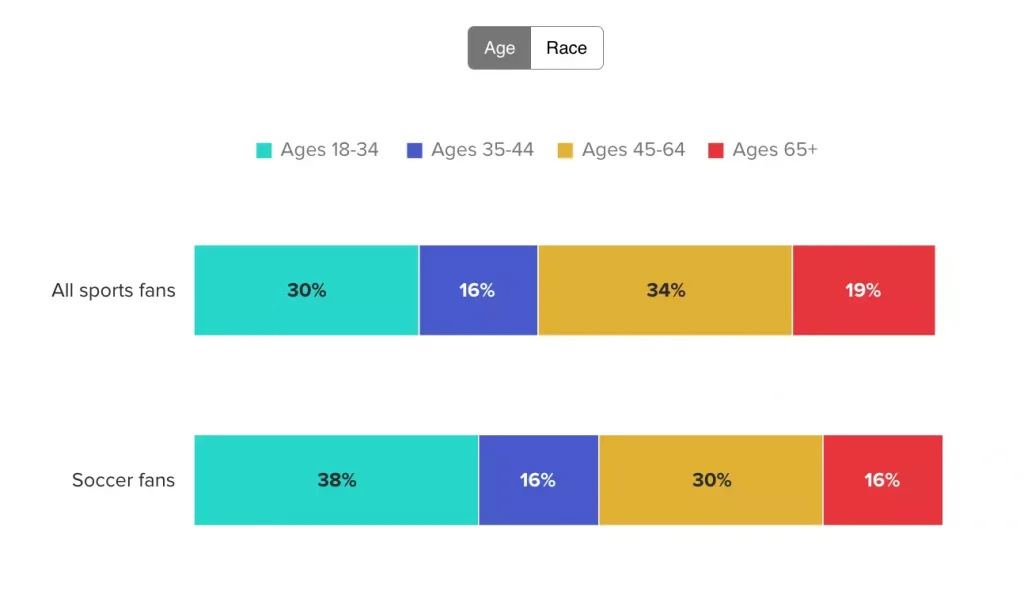 In addition to soccer's diversity, 40% of fans of color support the sport. Hispanics formed more than a quarter (27%) of soccer fans in the U.S. Fans of the National Basketball Association are about as diverse as soccer fans, with 39% being people of color.
40% of young adults ages 18-34 consider themselves soccer fans, which is higher than the general population. According to the more focused sample of Generation Z adults, 47% are soccer fans, placing it above all other sports in the country.
More than half of Hispanic Americans (55%) say they're soccer fans, compared to only 33 percent of Black adults, 31 percent of white adults, and 43 percent of other races.
The Impact
It's clear to see that the beautiful game is on the rise among younger and Hispanic demographics. However, the question remains: which leagues and organizations can tap into this potential growth?
Unlike other sports where the top North American leagues dominate, soccer enthusiasts have a wide range of options for following the sport, from Major League Soccer, Liga MX, and several major European leagues, to international competitions.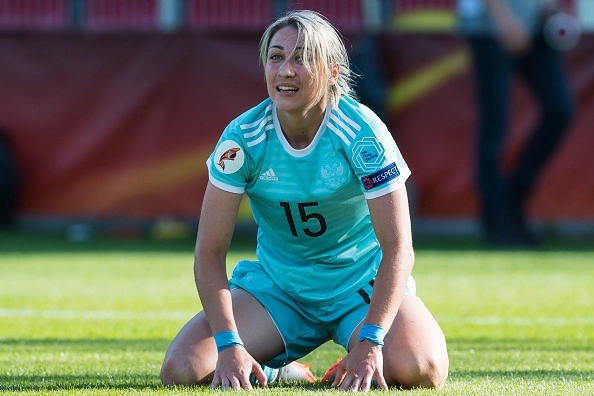 While MLS has seen a steady increase in attendance, reaching over 20,000 per game and expanding to 29 markets, its TV viewership has faced challenges due to competition from other leagues.
But this could all change in 2023 when Apple TV starts broadcasting, giving millions of Americans access to every Major League Soccer match.
Read more on USA soccer players.
How Many People Play Soccer Summary
After a period of gradual success, it seems like soccer's popularity in the United States is going through a moment of crisis. The interest levels among kids have gradually decreased during the last decade. Furthermore, playing soccer has become expensive in the country.
Compared to other sports, the cost of playing soccer is still not astronomical. However, the game is more prevalent in the nation among underprivileged communities such as Hispanics and Blacks.
This has harmed the game's development because it has become inaccessible to many kids in these communities. In the year before Covid, we witnessed an uptick in the interest in the game in the community.
This report also claims that soccer participation is again on the rise in the United States.
Soccer's most prestigious tournament, the 2026 FIFA World Cup will be staged in Canada, Mexico, and the United States. Will this give the participation numbers a boost as they did in 1994? Let's wait and see.
USA Soccer Facts And Statistics
Founded in 1913, the United States Soccer Federation is the largest soccer federation in the world. In the same year, it became a member of FIFA, the world governing body.
In 1914, the first official national championship tournament was held. Among the oldest cup competitions in the world, it is the predecessor to the US Open Cup.
At the first FIFA World Cup in 1930, the USA competed against 12 other nations.
During the 1950 tournament, the American team upset England 1-0, one of the biggest upsets in soccer history.
A Men's World Cup was held in the United States in 1994. The Women's World Cup was held twice in the USA in 1999 and 2003.
There have been four victories for the US Women's Team at the World Cup.
The are 54,082 high school soccer team registered in 2022. That is 811,238 players.
The number of female soccer players in the US exceeds forty percent.
College women's soccer is the most popular sport.
How many people play soccer under 18? The answer is that seventy-eight percent of Americans who play soccer are under 18.
There were $153 million dollars worth of soccer ball sold in America in 2021.
Globally, 40-52 million soccer ball are produced and sold each year. This number increases to 60-70 million soccer balls during World Cup years.
The wholesale sales of soccer team uniforms in the United States totaled just under $160 million.
References:
https://morningconsult.com/2022/04/12/world-cup-us-soccer-fans/
[1] https://www.nytimes.com/2018/07/14/sports/world-cup/soccer-youth-decline.html
Images:
Getty Images