Although it may seem like yesterday to some, it is over 50 years since the 1970 Brazil team wrote itself into the history books by winning the Jules Rimet trophy for the third time.
Not only did they win the World Cup, but they also did it in considerable style, producing some of the most breathtaking and flamboyant football ever seen. Mario Zagalo's outrageously talented side defeated Italy 4-1 in Mexico City's Azteca Stadium on 21 June 1970 to fulfill the destiny of a team and a whole nation.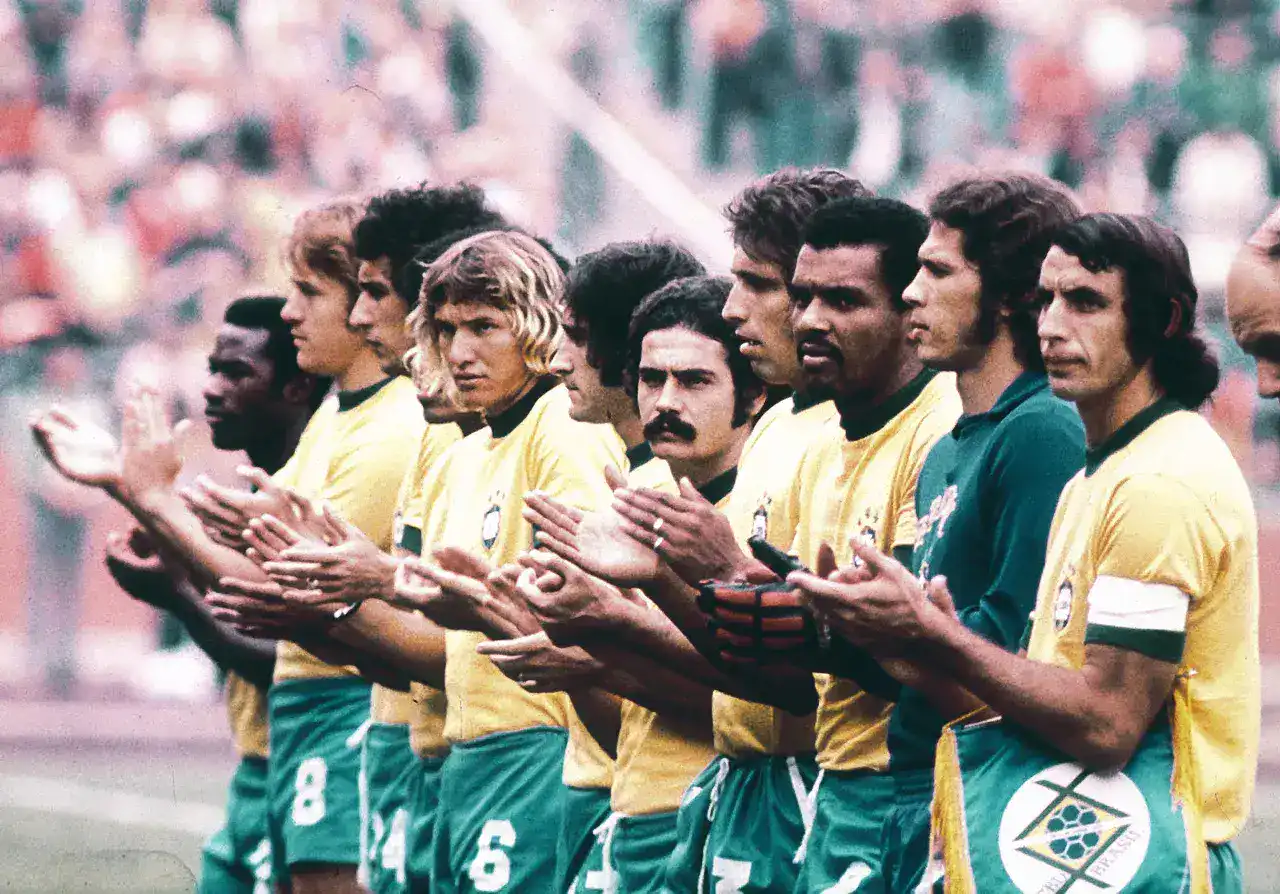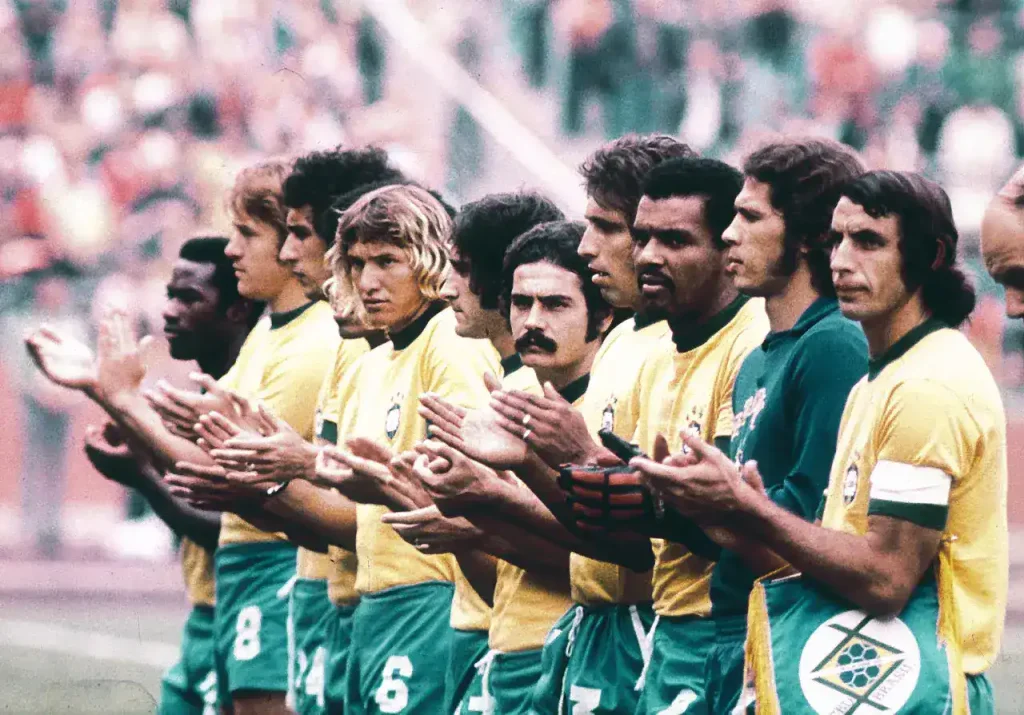 1970 Final
Brazil – Italy 4-1 (1-1)
21 June, Azteca Stadium, Mexico City.- 107,000 spectators.- Referee: Glockner (DR Germany).
Brazil: Felix; Carlos Alberto, Brito, Piazza, Everaldo, Clodoaldo, Gérson, Jairzinho, Tostão, Pelé, Rivelino.
Italy: Albertosi; Cera, Burgnich, Bertini (Juliano), Rosato, Facchetti, Domenghini, Mazzola, de Sisti, Boninsegna (Rivera), Riva.
Goals: 18′ Pelé 1-0, 37′ Boninsegna 1-1, 65′ Gérson 2-1, 70′ Jairzinho 3-1, 86′ Carlos Alberto 4-1.
The trophy was theirs to keep, and the victory symbolized the team's desire to prove that Brazilian football was still the best after disappointing performances in England four years earlier. Following successes in 1958 and 1962, the Brazil team had lost its way, relying too heavily on older players.
"In 1966, we went to England with the Brazilian people expecting us to win the trophy for the third time, but the team was not strong enough, and our preparation was poor.
It made us all the more determined to succeed in Mexico," recalls Jairzinho. "The 1970 Brazil team trained for over three months in Rio before going to Mexico, two sessions per day. In the morning, we would work on our fitness and stamina, and in the afternoon, we worked with the ball."
Gerson had first seen the advantage of the Europeans in fitness and physical strength in 1966. "We knew how to play. They knew how to run," he adds with an arch of an eyebrow.
In Brazil's preparations for Mexico, which included observing NASA astronauts, technique and conditioning became the twin religions.
Gerson lived in Niteroi, acting as sports secretary for the local city hall and heading Projeto Gerson, a charity that helps the legions of homeless children in the area. His outspoken opinions have also made him a popular television and radio pundit.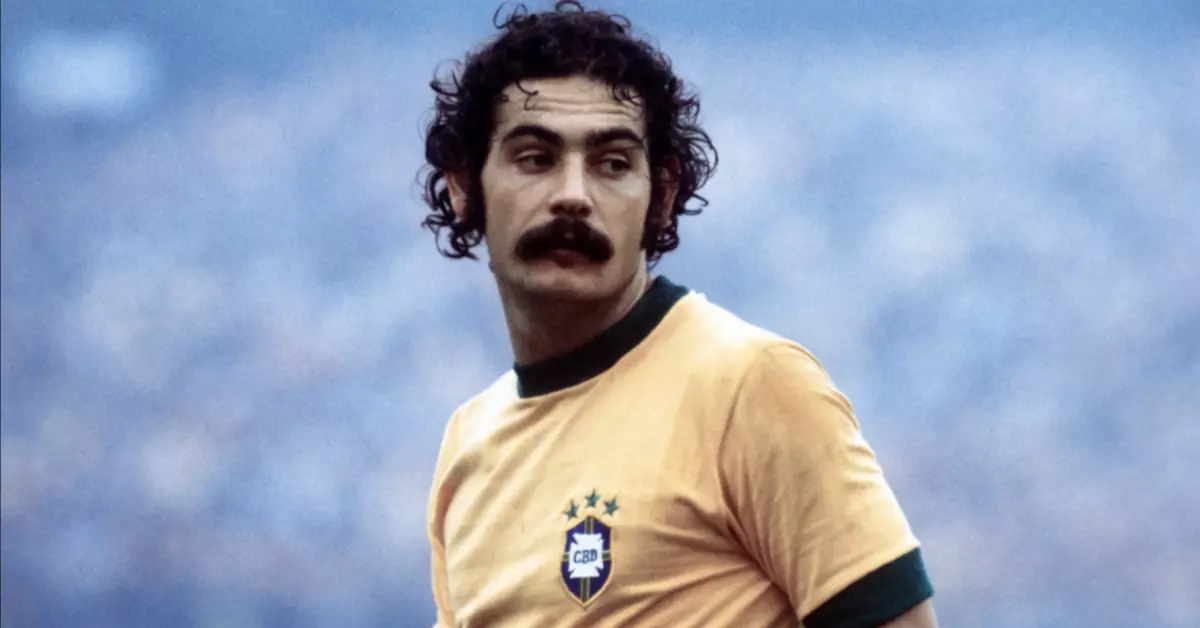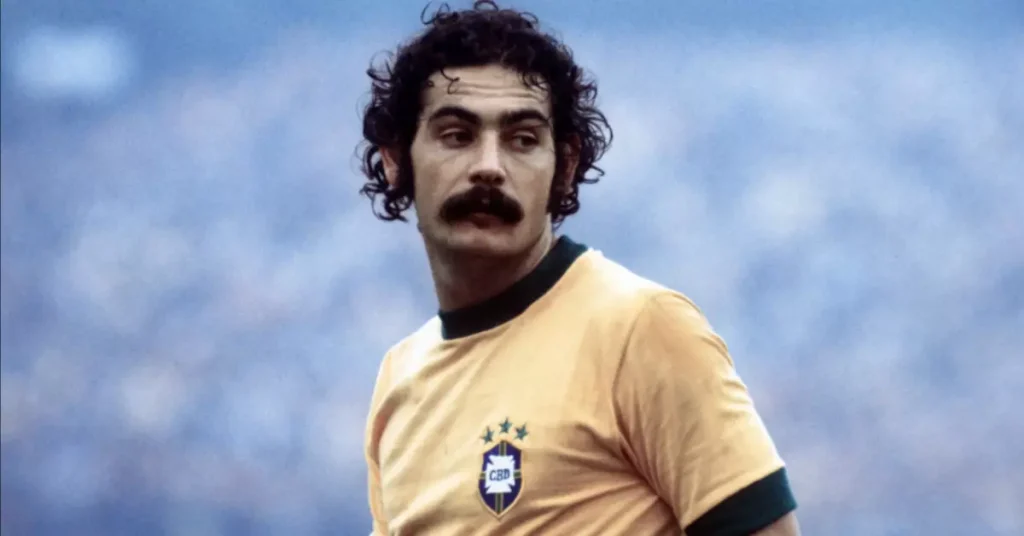 Fate Smiles On Rivelino
Another familiar face on Bandeirantes Television was Gerson's team-mate Roberto Rivelino. Sporting his trademark mustache, the former midfielder devoted his time to the Roberto Rivelino Football School and played regularly on the veteran's circuit.
However, Rivelino's inclusion in the team was unlikely because the Brazilian Federation decided to change the coach early in 1970.
João Saldanha had regarded him as little more than a substitute, but Zagalo replaced him through pressure from the government.
Saldanha had certainly not endeared himself to the military regime: soon after his arrival in power, President Medici had invited the team for lunch at the Presidential Palace, but Saldanha refused to alter the training schedule to allow the players to attend.
However, in March 1970, after a match against Argentina, he committed his gravest error of judgment. Asked by a reporter why he had not included Dario in the side, an irritated Saldanha replied that he thought Roberto of Botafogo and Tostão were better.
When reminded that Dario was Medici's favorite, Saldanha said, "I don't choose the President's ministry, and he can't choose my team."
His reply proved as concise as it was suicidal, and Rivelino is in no doubt that he would not have been on the team without the change of coach.
"Zagalo changed the formation of the 1970 Brazil team. He wanted three attackers, and luckily he included me," he remembers. Thus, with a new coach – and the mass support of the Brazilian media – Rivelino emerged as a cornerstone of Zagalo's plans.
Zagalo, a member of the 1958 and 1962 winning teams, had always wanted to be the national team coach. Nilton Santos, his team-mate from his early days, recalls: "Mario was always very dedicated to football – he can't live without it – and importantly, his experience as a player meant that he immediately had the respect of the players."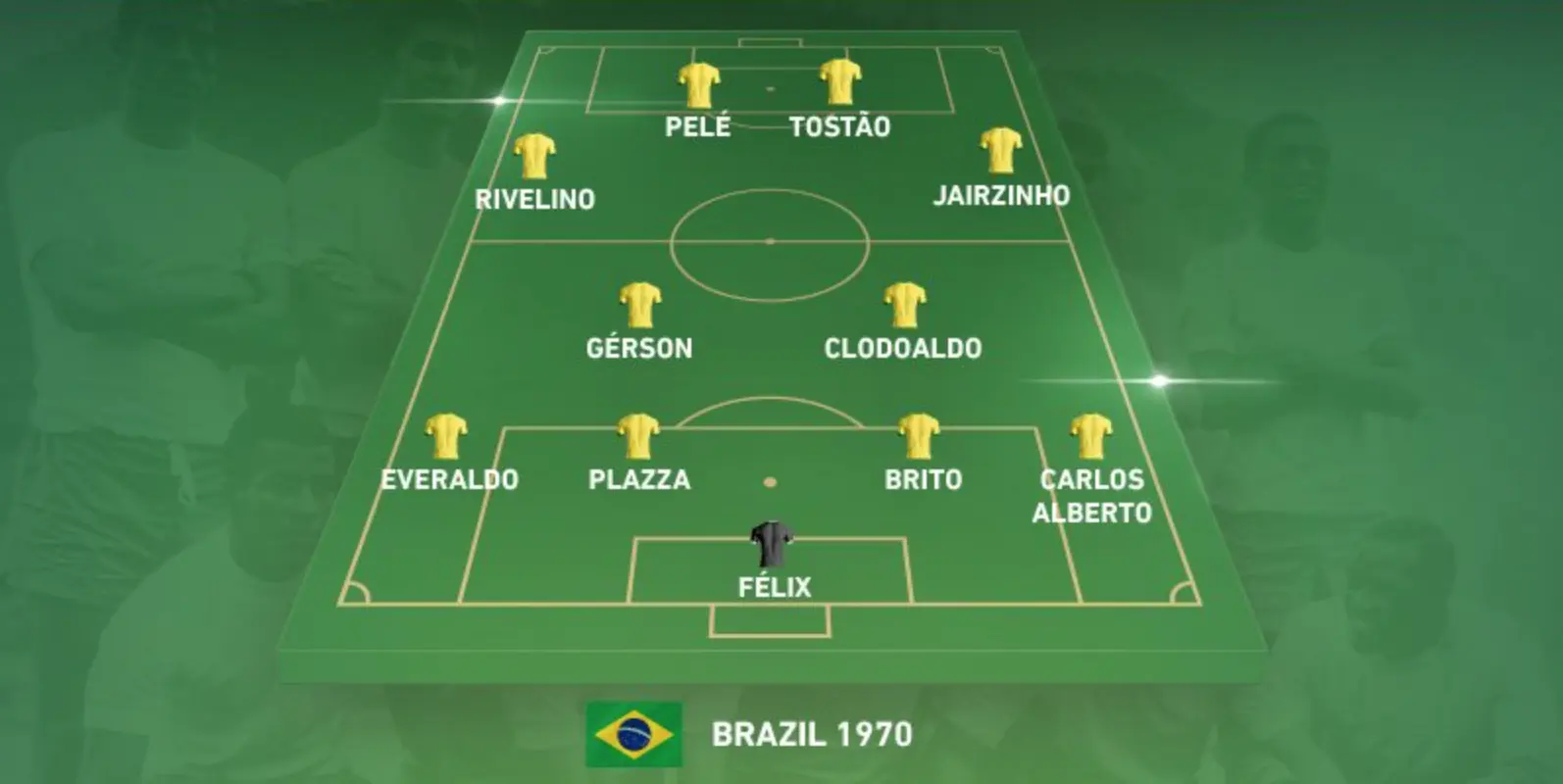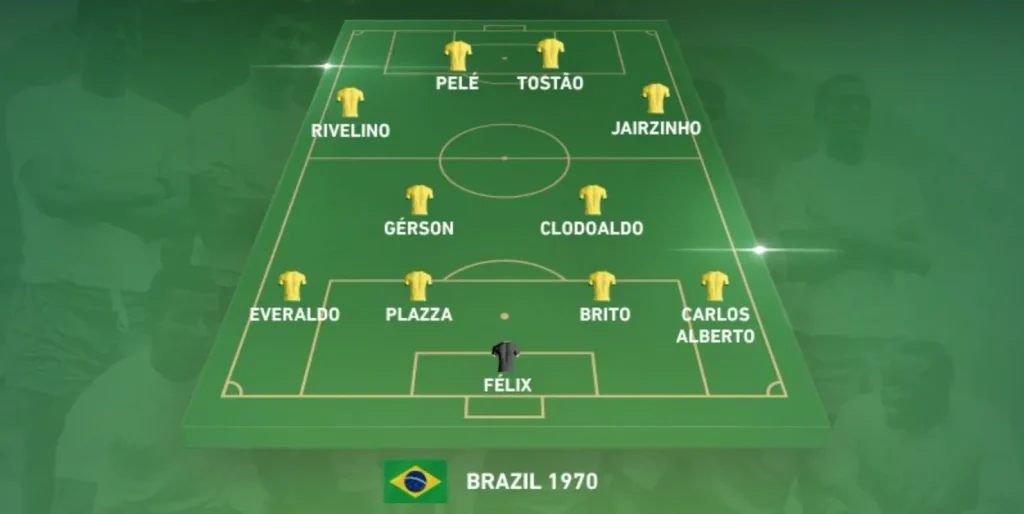 1970 Brazil Team Had Point To Prove
And so it was that they traveled to Mexico, better prepared than any previous Brazilian team and highly motivated to bring the Jules Rimet trophy back with them.
But the Brazilian press was very skeptical of the team's chances, and in particular, they criticized the choice of goalkeeper. Felix, who now helps to run the family garage in São Paulo, was Zagalo's no.1. Still, Saldanha, who worked in the media after his retirement, accused Felix of being "too frail to play against Europeans, poor on crosses, and unable to play wearing gloves." In the 1970 World Cup Final, the keeper would wear gloves to prove a point.
Felix describes the pressure that he felt in Mexico. "The newspapers said, 'yes, we have a team, but we don't have a goalkeeper.' I was very hurt by that but didn't let it show.
I felt it was me against the whole world." He was also conscious of the new age of live television coverage, with millions of viewers around the globe tuning in. "I was very nervous in the first match against Czechoslovakia," he says. The Czechs took a surprise lead before Brazil took control of the match, winning 4-1.
In the aftermath of their opening match, the atmosphere in the dressing room was euphoric. Wilson Piazza, the midfielder moved into defense by another of Zagalo's astute tactical changes, remembers: "It was Pelé who was the first to speak in the dressing room after the match.
He clapped his hands and said it was good, but we must improve. Then he sat beside me and said quietly, 'if we don't say these things, some will think that we are already champions."
Piazza revealed another detail about the team's preparation. "When we arrived in Guanajato to complete our acclimatization, we decided to pray regularly.
It was not a question of asking God to help us to win the Cup: we prayed for many different things, for the sick, for the poor, or those in prison. There was a spiritual force. It made us feel united as a group, a kind of family."
Since retiring, Piazza became a successful businessman in Belo Horizonte and is also the head of an organization that tries to help players – and their families – when the glory days end.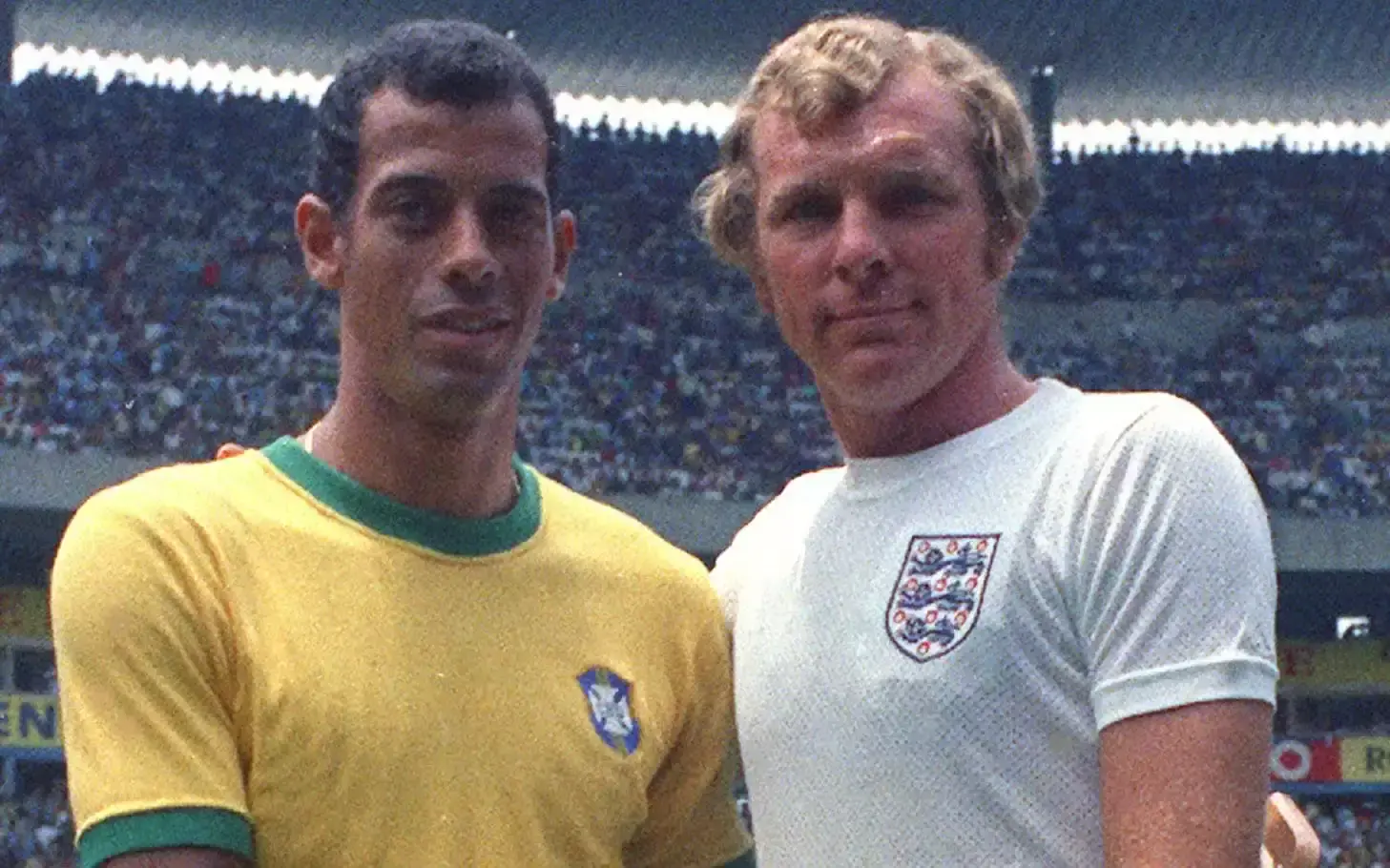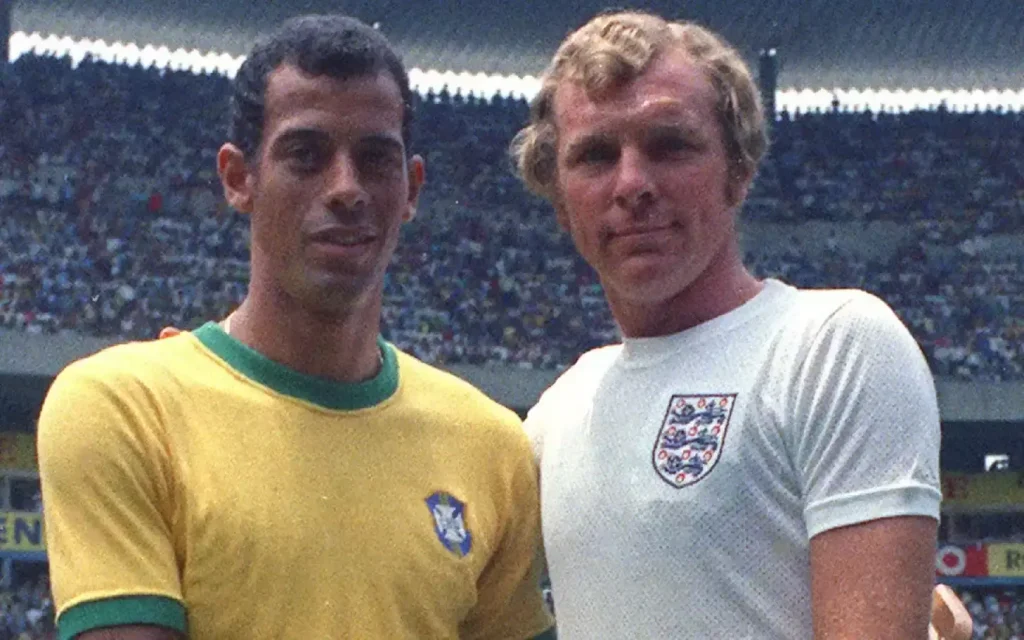 1970 Brazil Team Meet England
In the second match of their World Cup campaign, the 1970 Brazil team met reigning champions England in the searing heat of Gudalajara. Piazza looks back: "We knew this would be a real test for us. It was a close match with only Jairzinho's goal to separate two excellent teams."
Following a 3-2 victory over Romania, Brazil qualified as group winners for the quarter-finals, where they faced Peru, coached by Brazilian legend Didi. An exciting game ended in a 4-2 victory, with Jairzinho maintaining his record of scoring in every game. Revenge is sweet.
The semi-final provided the Brazilian team with a chance to settle a score against an old adversary, Uruguay. The most famous meeting between these two sides took place in the last match of the 1950 World Cup at the Maracana Stadium in Rio.
Taking On Arch Rivals
The 1970 Brazil team was confidently expected to win their first World Cup, but the Uruguayans stunned their hosts with a 2-1 victory. No defeat in history has been taken so badly.
Brazil did not play as an international team again for almost two years afterward. It was four years before they could return to Maracana, and the white shirts worn that day were never worn again.
After 18 minutes of their match in Guadalajara, Uruguay's hold over Brazil might be about to deny them yet again. Confusion between Felix and Piazza allowed Cubilla's mis-hit shot to spin over the line.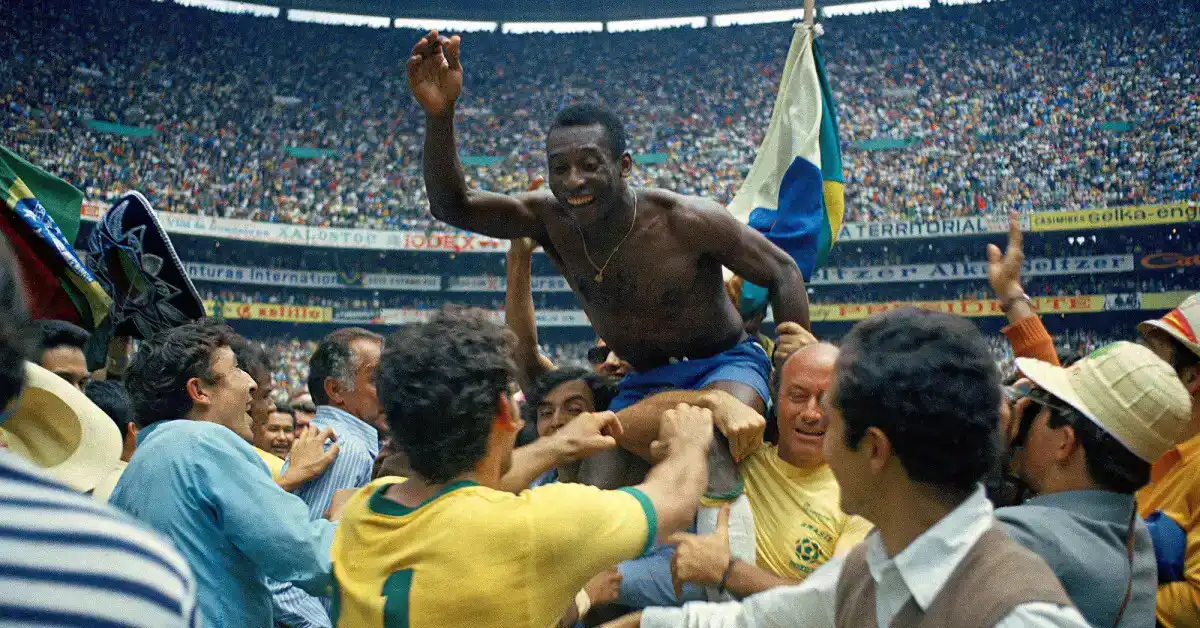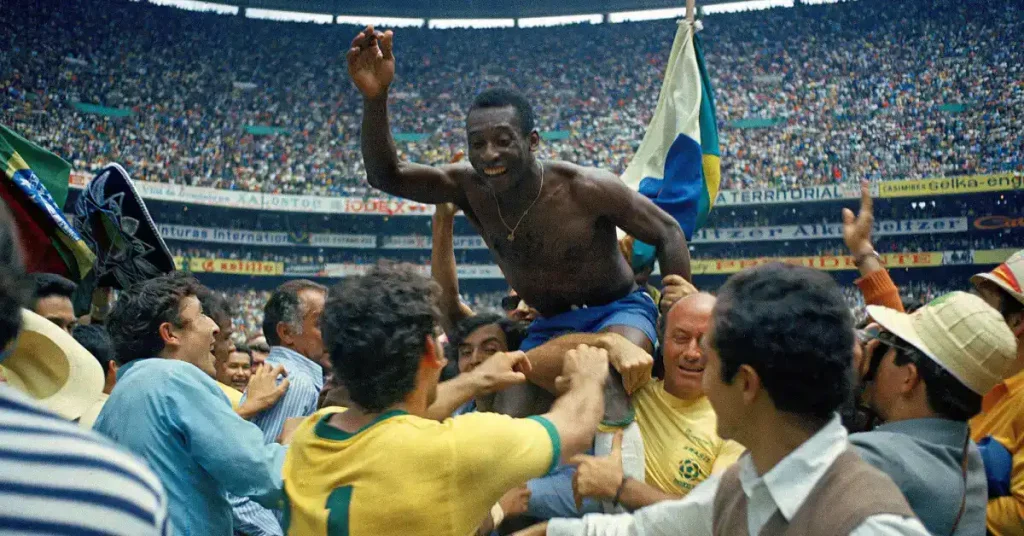 For a few moments, Felix lay on the floor holding his head. As the Uruguayan fans chanted, "we repeat Maracana," Brazil stared into the abyss.
But then a 21-year-old former altar boy drew them back from the brink. Clodoaldo was born in the northern town of Aracaju, the youngest of ten children. When he was six years old, his parents were killed in a car accident.
From the age of nine, he worked in a coffee warehouse and played football in the street whenever he could. As his love of football developed, Santos noticed him, and the coaches encouraged him to skip work to concentrate on his training.
In response to his waning interest, his bosses sacked him from the coffee warehouse. He then turned to the Catholic Church for salvation. The church had offered guidance when his world had been shattered, and he had performed duties as an altar boy for years.
Clodoaldo considered a life of the cloth, but Santos offered him a remarkable alternative before he could make up his mind. The club allowed him to live at the Vila Belmiro stadium, and for the next two years, it became his "orphanage," offering security he had never known.
"I had lost my job and had no means to support myself. I had no salary, but at least there at the Vila Belmiro, I had somewhere to sleep and somewhere to eat."
His life revolved around the Santos ground for the next two years. After retirement from football, he became vice president of the club, a position he shared with his former teammate Pelé.
He has also maintained his devout faith, and it is no surprise that he gave his No. 5 shirt from the Final to a church at Aparecida do Norte, one of Brazil's holiest shrines.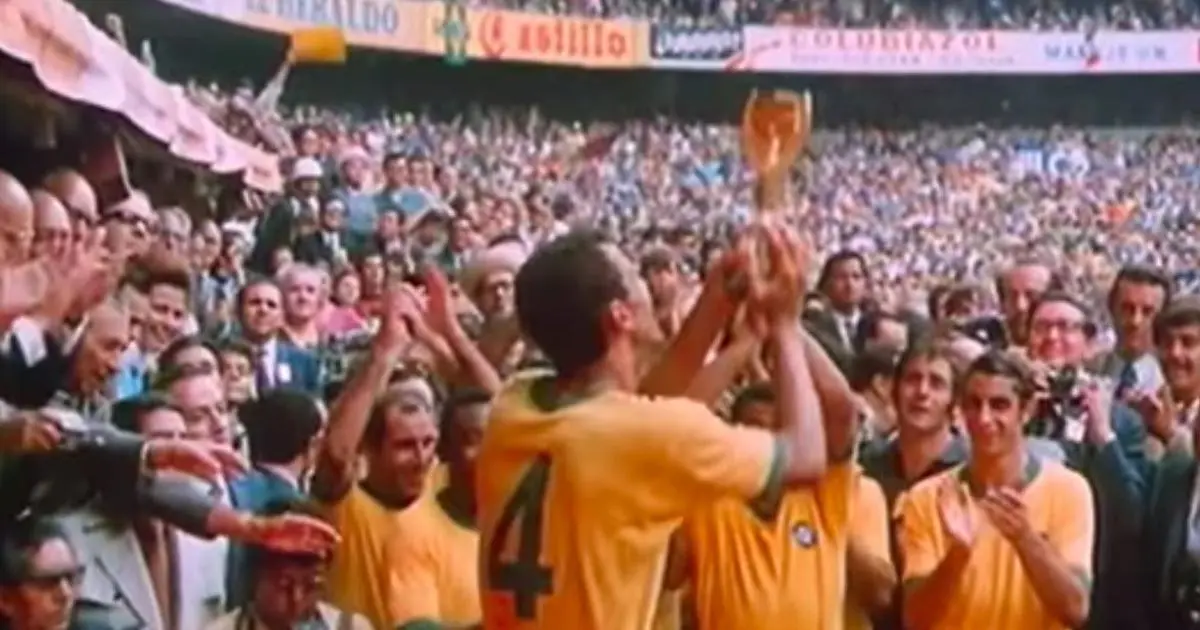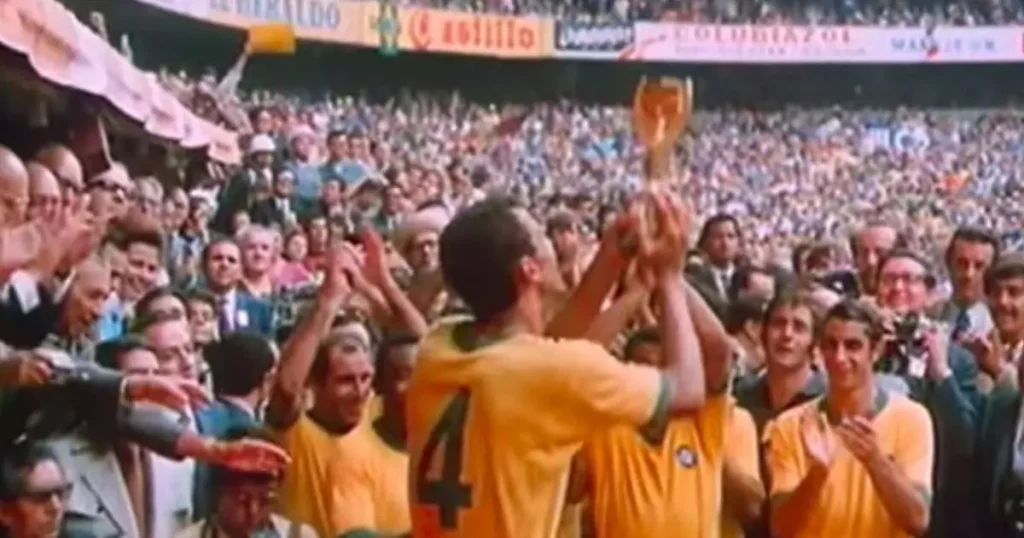 Tears Of Frustration And Joy
Goal-getter: Jairzinho
Midfield maestro: Tostão
Goal-scorer: Gerson
As half-time approached in Guadalajara, a minute of injury time had already been played when Clodolado broke forward on the left to crash in a crisp right-foot volley.
Back in the 1970 Brazil team dressing room, Clodoaldo found himself mobbed by his teammates. Then, as he remembers it, the extraordinary spectacle of Zagalo crying brought the celebrations to an abrupt ending.
The sight of his team's limp capitulation proved too much for the coach, and he went on to make his most impassioned speech of the campaign. By the time he had finished, his were not the only tears on the dressing-room floor. The team returned to the pitch to sweep Uruguay aside, Jarzinho scoring his sixth goal before Rivelino sealed the match with a third.
Sunday, 21 June 1970, had dawned to torrential rain and thunderstorms. As the team boarded the coach for the journey to the stadium, keeper Felix remembers, "Clodoaldo asked me how I thought it would go, and I replied that we came to Mexico with no one in Brazil expecting us to stay longer, but there we still were, and in second place already!" But second place was not to be their destiny.
Brazil produced some of the most exhilarating football ever seen in a World Cup Final. Jairzinho, still the only player to score in every match of a World Cup soccer tournament, lived up to his nickname of "Furacão" (Hurricane) to blow Italy away with his seventh goal in six games.
Pelé and Gerson claimed two more before captain Carlos Alberto smashed in the fourth to seal the victory.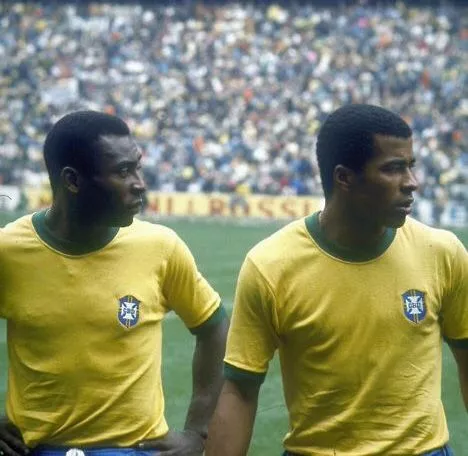 One man who did not see that goal was "the little coin" Tostão. He freely admits that "after the third goal by Jairzinho, I knew we had won, and I began to cry with joy. I played the last fifteen minutes with tears in my eyes."
His eyes had been the subject of great concern before the competition: he had suffered a detached retina during a game in September 1969 and the eye had required potentially risky surgery.
He had been doubtful until just two weeks before the teams left for Mexico. After the Final, Tostão gave the surgeon who saved his sight his medal as a token of thanks. Sadly, his eye problems returned five years later, and he retired from football on medical advice.
He became a doctor and cut himself off from football until 1997 when he gave up medicine and began to write about the game. His media columns had a wide readership in Brazil.
When the final whistle blew, colorful and chaotic celebration scenes were beamed worldwide by live television. Tostão was seen being stripped down to his pale blue underpants as fans rushed to claim a souvenir from the historic day.
The following day the 1970 Brazil team traveled home to join a nationwide party that had started the previous afternoon and would last for a whole week. When they arrived in Rio, Jairzinho remembers that "the journey from the airport to Copacabana took five hours. I have never seen so many people. It was the party of a lifetime."
However, no sooner had Carlos Alberto brought the Jules Rimet trophy back to Rio than it was stolen from its cabinet, never to be seen again. So perhaps we shall never see another "Beautiful Team" either.