A short history of NASL games on television, with as much ratings information as I can dig up.
CBS Starts the Ball Rolling
CBS was the television home of the National Professional Soccer League in its first season of 1967, with Jack Whitaker and Danny Blanchflower behind the mics on Sundays. The network's marketing slogan was "Just for Kicks!" but it could have been "Just for Commercials!" as referees were instructed to call fouls and delay play to allow CBS to insert commercials into the action.
In 1968, Mario Machado replaced Blanchflower (who was deemed to be a little too frank in his assessment of the quality of play) on CBS' telecasts of the newly-renamed North American Soccer League. He and Whitaker called games weekly, usually on Sundays.
CBS got back into the game by televising Pele's debut with the New York Cosmos in an exhibition on June 15, 1975, with Frank Gleiber and Ben Wright on the telecast from Downing Stadium on Randall's Island in New York.
An audience of 10 million saw the Black Pearl score a goal and added an assist in a 2-2 draw. Unfortunately, they didn't see either play live – CBS was in a commercial for the assist and in a replay for the goal. CBS also carried another Cosmos match and Soccer Bowl '75.
What was supposed to be a new three-year contract with the NASL started with the June 6, 1976, game between the Cosmos and Tampa Bay Rowdies, seen by some 3.3 million households. CBS also showed Soccer Bowl '76 and was to broadcast six games in 1977 and nine in 1978. Unfortunately, the second and third years of the "contract" never materialized.
TVS Tunes In 1977-78
TVS was an ad-hoc network of stations that carried syndicated sports programming (perhaps their biggest coup was bringing the University of Houston's upset of UCLA in basketball in 1968), and they latched onto the NASL for the 1977 and 1978 seasons.
TVS carried seven games, including the Soccer Bowl, in 1977. TVS' main NASL announcer (along with the by-then-ubiquitous Gardner) was Jon Miller, who would go on to have a great career as a baseball broadcaster.
Unfortunately for the NASL, many stations in big markets didn't carry the TVS games, and some that did shunted them off to 11:30 pm on Monday nights, well after they had been played. So a reasonably consistent, live, major network television package would elude the NASL for another year.
The post-Pele boom must have convinced someone that soccer was the new hot thing because the NASL would take a quantum (yet short-lived) leap after the 1978 season.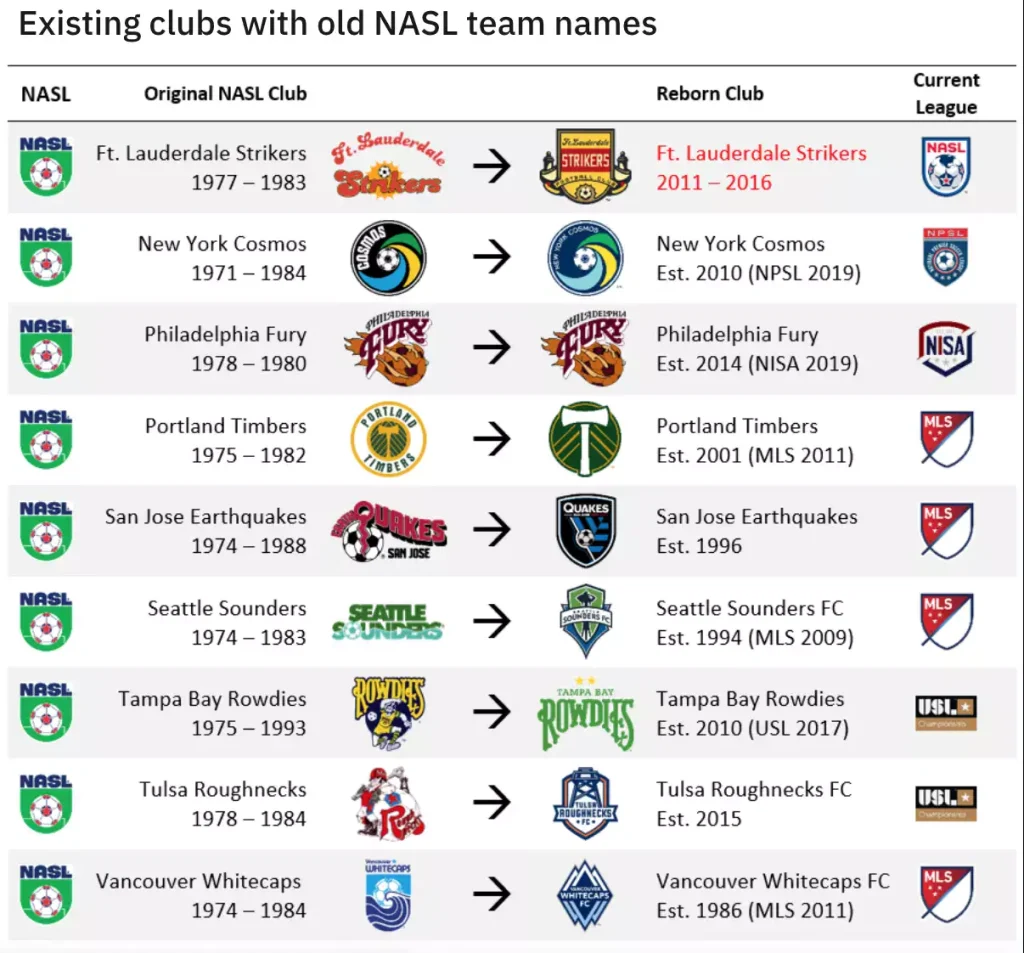 The ABC Years 1979-81
In 1979, the NASL landed a contract with ABC that called for nine telecasts of league games, including the playoffs and Soccer Bowl. Below is a list of the games that ABC carried that year, with play-by-play announcer Jim McKay and color analyst Paul Gardner.
The ratings were far below what ABC expected out of the "Sport of the '80s," and they (primarily) bailed out of the contract after carrying several games in 1980.
I have been able to find some information on NASL ratings:
A comment from former ABC Sports executive Jim Spence in the film "Once in a Lifetime" notes that ABC averaged a 2.7 rating for its telecasts in 1979, "representing about 2 million homes."
An article on July 15, 1980, New York Times, says the 1980 games averaged a 2.6 rating (the same as 1979) and a ten share (up from a nine share in 1979).
It also mentions that the 1980's first telecast did a 2.1 rating, while a Cosmos-Washington Diplomats game on June 1 did a 3.1.
The December 1, 1980 issue of Sports Illustrated noted that ratings for the six ABC games in 1980 averaged a "dismal" 2.6.
Major League Soccer would love to have those numbers today as they struggle to get a million households to watch their championship game, MLS Cup.
The Soccer Bowl showed up on ABC in 1980 and 1981 (though the 1981 game was tape-delayed until late that night in Chicago in favor of a Love Boat re-run and wasn't seen in New York until the next day), but that was the last gasp for the league on ABC.
In the last few years of its existence, the NASL did manage to get some games on a new cable sports network that had begun in 1979 called ESPN. In addition, the new USA Network also carried games, usually on Wednesday nights. However, it was too little, too late, as the forces were already well in motion that would lead to the league's demise.
The final NASL game ever played was also its last one ever telecast. On October 3, 1984, the Chicago Sting won the NASL title by defeating the Toronto Blizzard 3-2 at Varsity Stadium in Toronto. A crowd of 16,821 saw the game in person, while back in Chicago, they watched on SportsVision, a new pay-per-view channel.
Unfortunately, it was far from the most important sports story in Chicago that day: the Chicago Cubs beat the San Diego Padres that afternoon in the second game of the National League Championship Series. The Sting's victory ended up on Page 7 of the sports section in the next day's Chicago Tribune.