There is a County Football Association in England named Sheffield And Hallamshire FA. The Sheffield Football Association was founded in 1867, making it and is the second-oldest football governing body after the Football Association (FA).
Sheffield Rules were adopted by its teams until 1878 when they were combined with the FA's rules. Among its members are clubs Sheffield and Hallam, which are two of the oldest soccer teams in the world.
Initial Development Of The Modern Game
It is generally accepted that the initial development of the modern soccer game took place in England in the early and middle years of the nineteenth century.
This modern form was developed from existing folk games – loosely organized local contests often held irregularly, usually between unequal teams – primarily by the boys of Eton, Winchester, Harrow, Charterhouse, Shrewsbury, and Rugby.
The embryonic forms of association and rugby football were subsequently spread into the broader society during the 1850s. The first clubs explicitly formed to allow their members to play the newer forms of football were founded around this time. While the vast majority were based in London and the surrounding area, many were initiated in the Sheffield region.
Indeed, by the mid-1850s, organized football was being played on a limited scale, and the Sheffield And Hallamshire FA boasts the existence of the world's oldest recorded footballing organization, Sheffield Football Club. Sheffield FC was formed on 24 October 1857.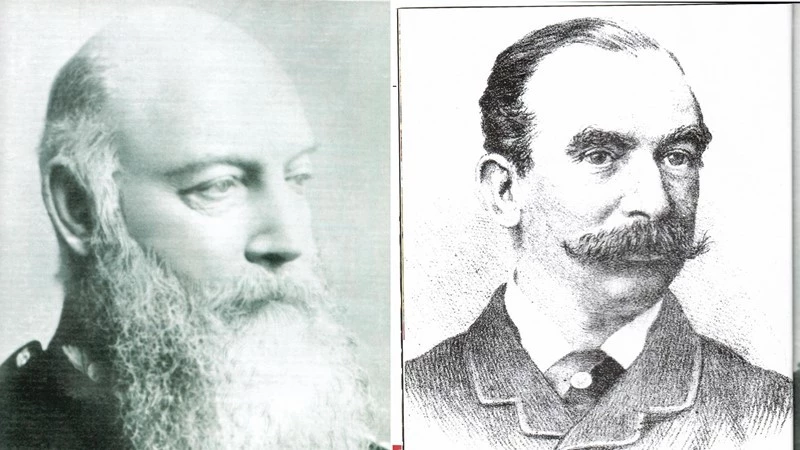 Nathaniel Creswick And William Prest
However, there is slim evidence that the club was founded in 1855, as the first written signs of a constitution and set of regulations do not appear until two years later. The co-founders of the Sheffield club are generally acknowledged as having been Nathaniel Creswick and William Prest.
Creswick had attended Sheffield Collegiate School, a Church of England institution catering to local middle-class boys, from April 1839 to June 1847. Prest originated from York and lived on Collegiate Crescent, near the school.
Interestingly, William Prest had a brother who had attended both Eton and Cambridge and was thus probably familiar with the Eton Field Game and football as it was played in Cambridge at that time. This may partly explain why Sheffield football resembled an embryonic association form, as both these types of football leaned towards a kicking and dribbling style.
However, it seems likely that Nathaniel Creswick was the more influential of the two men. Evidence supports this in the positions ascribed to these individuals at the club's formation; Creswick was appointed honorary secretary and treasurer, while Prest merely served on the committee.
Therefore, it also seems likely that during discussions over the framing of the first rules, Nathaniel Creswick, along with the others present, would have brought to bear their previous experiences of and preferences in playing football. We can assume that the honorary secretary/treasurer would have exerted the most influence.
It has been suggested that Creswick and Prest decided to write to each major public school requesting a set of rules, using the preferred points of each to determine a set of regulations for the Sheffield And Hallamshire FA.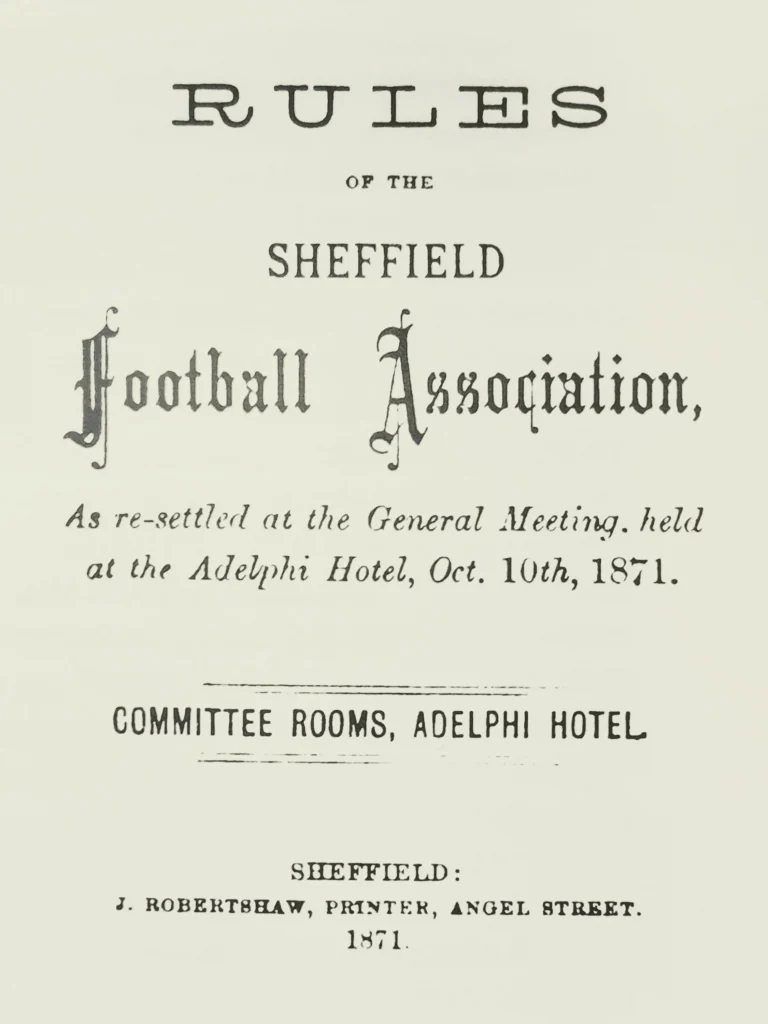 Sheffield FC And Hallam Battles
Within three years, Sheffield FC had rivals in the form of Hallam Football Club. They followed a similar route to other local clubs in growing from an existing cricket side.
They were initially known as Hallam and Stumperlowe Club, the latter part of the name being included out of courtesy towards several members of the team from the nearby hamlet of that name. Founded by Thomas Viteam members, both ex-Sheffield FC members, Hallam played its first game against its local rival.
Matches between the sides were often tempestuous affairs, none more so than the encounter on 29 December 1862 at Bramall Lane. A newspaper columnist commented that "At one time it appeared likely that the match would be turned into a general fight."
At this point, the game in the city was still dominated by middle-class characters from the Sheffield sporting scene. Two such individuals were the brother's John Charles Clegg and William Edwin Clegg. These able and admired brothers have been rightly lauded by historians of the game in Sheffield and nationally. They were both involved in the setting up the Sheffield And Hallamshire FA.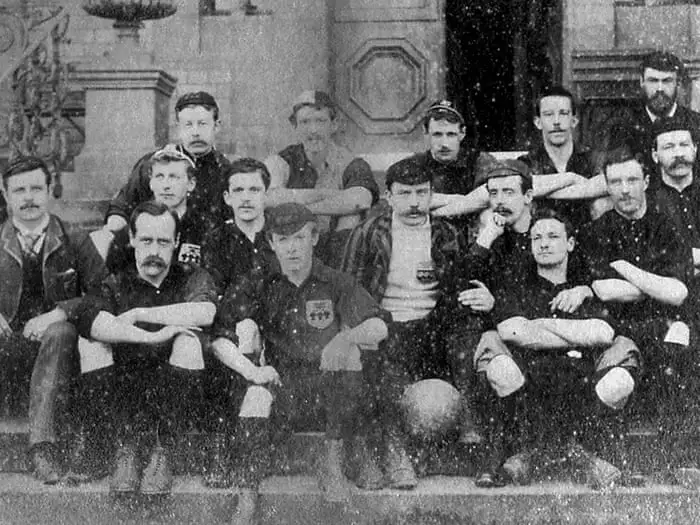 John Marsh
One prominent individual who has perhaps not received comparable credit and someone who may hold a partial key to explaining the development of Sheffield's distinctive form of football was John Marsh. He was born in Thurlstone, a village some 15 miles northwest of Sheffield, in 1843.
Having involved himself in the Sheffield football scene, he became one of the founders of the Wednesday Football Club – eventually to become the present-day Sheffield Wednesday – when that institution began life on 4 September 1867. He was elected as secretary and captain at the first meeting and remained a prominent member for some years.
He captained the Sheffield Football Association team in the initial encounters with London in 1871 and Glasgow in 1874, leading them through perhaps their most successful era.
He became secretary and captain of his local club, which sometimes played under the name Thurlstone Crystal Palace.
In February 1876, he suffered a fall during a game for Thurlstone against Fir Vale, resulting in a broken arm that never fully mended. Despite traveling to London to have the break re-bound, he appears to have slipped and died on 21 April 1880, aged 37.
His sporting obituary appeared in the Sheffield Daily Telegraph. "The activities of the footballers in Marsh's native village of Thurlstone may provide an important clue to the origins of Sheffield's playing preferences and early rules." It seems that the men of Thurlstone and Penistone undoubtedly had at least an indirect influence on rules-related discussions in the early years.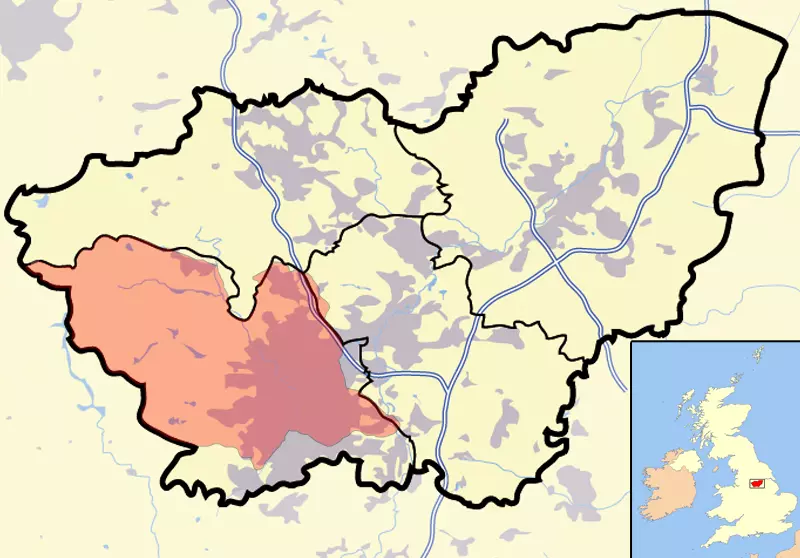 Early Professionalism
As the footballing sub-culture in Sheffield developed, it should come as no surprise to find evidence of early professionalism in the city. Some historians have argued that the first professional player plied his trade in Sheffield.
Indeed, in James J. Lang, a native of Glasgow, there is a genuine candidate for this honor. It would probably be impossible to trace the first person to play football for financial reward. However, Lang could undoubtedly be described as the first importation from another country enticed by a monetary gain to play the game.
He represented several teams in Sheffield, though he played for the Wednesday club for the vast majority of his career, at times being imported for special one-off cup-ties. Indeed, the late 1870s were halcyon days for football in Sheffield & Hallamshire FA.
William (Billy) Mosforth
The city produced a rash of excellent players, a very competitive inter-association representative side, and two exponents in particular who could compete with the best the country had to offer. William Mosforth was not only one of the most brilliant wingers ever to have played the game, but he was also something of a character.
The general suspicion was that he earned a reasonably substantial income from football. William Mosforth was born in Sheffield in January 1858 and died there in July 1929, having played successfully in the area for many years. He probably earned a good deal of money from various sources in the game but never appeared to have been consistently rewarded for his efforts.
Although he represented several clubs like many others, his first regular appearances were made for the Albion club in the city before joining Wednesday, for whom he played for most of his career. Billy Mosforth transferred his allegiance quite publicly to the Wednesday club during October 1880.
In failing to represent Albion in the Wharncliffe Cup tie against Hallam on 20 October 1880, he ensured that he was available to play for Wednesday in subsequent rounds of the competition. The matter appeared in the local press, as no doubt feelings ran high concerning the sudden switch.
No reasons for the parting of ways were given, and we are left to speculate on the motives involved. Billy Mosforth was by trade an engraver, though he is recorded in the 1881 Census as an unmarried publican, managing the Royal Oak public house in the city's center.
Later he played for Lockwood Brothers, a successful works team formed by disaffected Wednesday players unhappy at the latter club's stance against professionalism. During the same dispute, William Mosforth was instrumental in developing the Sheffield Rovers club, an openly professional organization.
He was an outstanding athlete. He gained nine international caps for England, the first of which came at 19 when he was the only player in the team not to have attended university or public school. While Mosforth was almost certainly involved in selling his considerable football skills for money, he never transferred his allegiances to other geographical areas. Therefore, he was not a part of another form of emergent professionalism that was based on importation.
John Hunter
John (Jack) Hunter was another Sheffield footballer with similar attitudes to Billy Mosforth. He was born in Sheffield in 1851 and played his initial football in the city, following the typical career of a footballer in representing multiple clubs. He was involved with the Crookes, Exchange, Heeley, and Wednesday clubs.
The latter two on a more regular basis. Jack Hunter became heavily embroiled in activities linked with early football professionalism that saw him suspended and in dispute with the Sheffield FA.
He appears to have deliberately moved to Lancashire in a conscious attempt to alleviate this problem, almost certainly being engaged professionally by Blackburn Olympic with whom he won the FA Cup in 1882-83.
He moved, it would seem, to an area with a more lenient view of payment for playing football or, at least, where administrators of clubs had found and accepted ways and means of facilitating the practice. Hunter seemingly settled in East Lancashire for in the Census of 1891, he described himself as a 'professional footballer/turner.'
At 49 years of age, it is doubtful that he was still playing the game for money, but it is undoubtedly of interest that he should be depicting himself as a wage earner from football.
Sheffield & Hallamshire Football
Although the late 1870s marked something of a high point in Sheffield And Hallamshire FA, 1877 was a watershed in terms of the association's independence. Despite being longstanding members of the Football Association, the players of the Sheffield Association still competed under their own rules.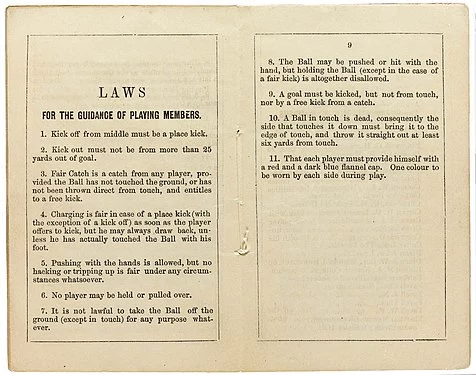 However, they came under pressure to accept a nationally recognized code. Stuart G Smith, captain of the Manchester Association Football Club, lamented "the inconvenience of having two different codes of Association rules.. where if a club adopt one, no matter which, it is obliged to get matches with other clubs playing the other, and has to play different rules when away from those which it plays on its own ground."
WS Bambridge of Marlborough noted that the Sheffield rules differed in two important respects – offside and the action of returning the ball in from touch – from those of the Football Association.
He went on, "The question is a simple one, 'Is it desirable that all Association clubs in England and Scotland should play the same code of rules?' At this point, the footballers of Sheffield finally accepted the hegemony of the London-based FA and agreed to recognize the new rules.
Further tales of professionalism surfaced in the city between 1879 and 1882 when a set of enterprising individuals formed a team named the Sheffield Zulus and began playing matches dressed as members of the Southern African tribe.
As the novelty became more popular, they began to charge entrance fees from which they seemingly rewarded themselves. The local association cut short the practice, and a good number of players were banned, though they were quickly re-instated following appropriate apologies.
Professional Footballers
Although the Football Association accepted professionalism in July 1885, the Sheffield Association refused to do so until two years later, continuing to stand aloof from events in the rest of the country.
Nevertheless, the amount of influence Sheffield Association and Sheffield footballers have had on developing the game in England has been remarkable, especially during the sport's early years.
As well as boasting the world's oldest football club, in 1871, Sheffield hosted the first inter-city match against London. Its legislators subsequently introduced a fixed crossbar together with rules governing the corner kick and the free kick.
In 1876 they established the first provincial cup competition. In 1878 Bramall Lane, the city's most prominent sporting venue hosted what is thought to have been the first-ever football match under floodlights.
The Sheffield and Hallamshire FA is the second oldest governing body behind the Football Association (FA). This association is quite different from other English County FA's. Normally local teams are affiliated if they are in the county of that association.
The Sheffield Association covers teams that are within a radius of 20 miles from the Sheffield Cathedral. This radius covers most of South Yorkshire, and parts of Nottinghamshire, West Yorkshire, and Derbyshire. Today the Sheffield And Hallamshire FA is still impacting the future of soccer.
It currently has over 50,000 registered players, 2000 coaches, and 900 referees. It's the largest junior league throughout Europe.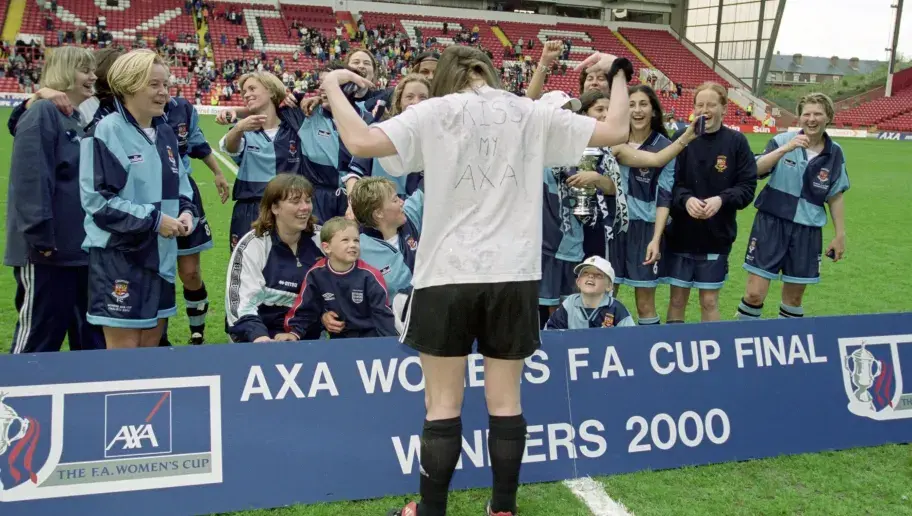 Sheffield And Hallamshire FA Today
Within a 20-mile radius of Sheffield Cathedral, there are three professional men's football clubs. Sheffield Wednesday, Sheffield United, Barnsley, Rotherham, and Doncaster Rovers are the teams.
In this region, there is only one professional women's team. They are Sheffield United Ladies. Prior to the Hallamshire women's teams becoming professional, Doncaster Rovers Belles was the dominant women's soccer team in this area.
As one of only three non-London teams to win the FA Women's Premier League National Division in 1992 and 1994, they are one of English women's football's most famous and successful clubs. As well as winning the FA Women's Cup six times and reaching the finals seven times, the team was founded in 1969 by lottery ticket sellers at Belle Vue.
Since the 1860s, the Sheffield & Hallamshire FA has run a Sheffield representative team, which played against select teams from London and Glasgow. The series against Glasgow ran from 1874 to 1960. The Sheffield And Hallamshire FA have fielded an Under 18 team in the FA County Youth Cup since 1944, winning the competition in 1953 and 1964.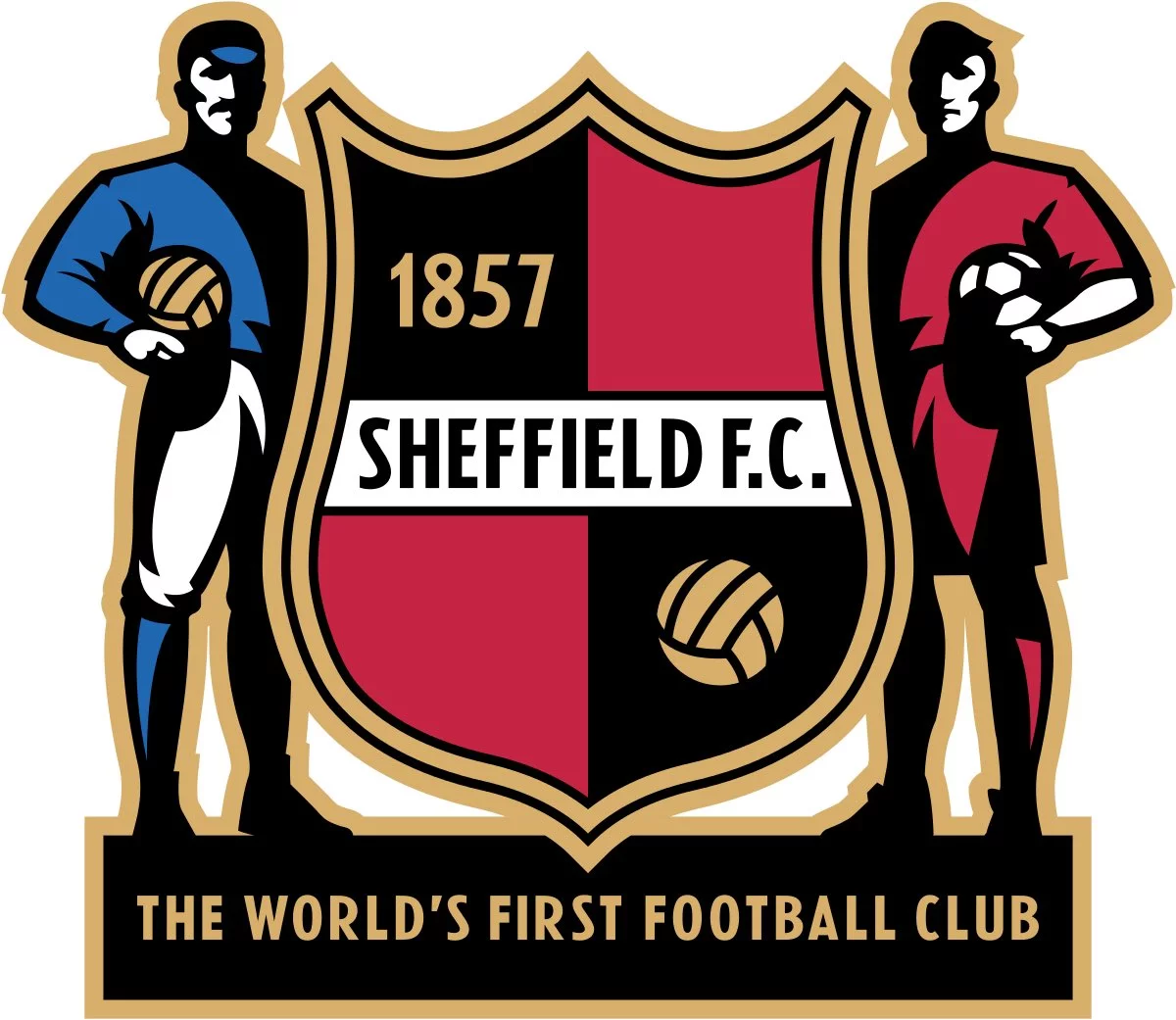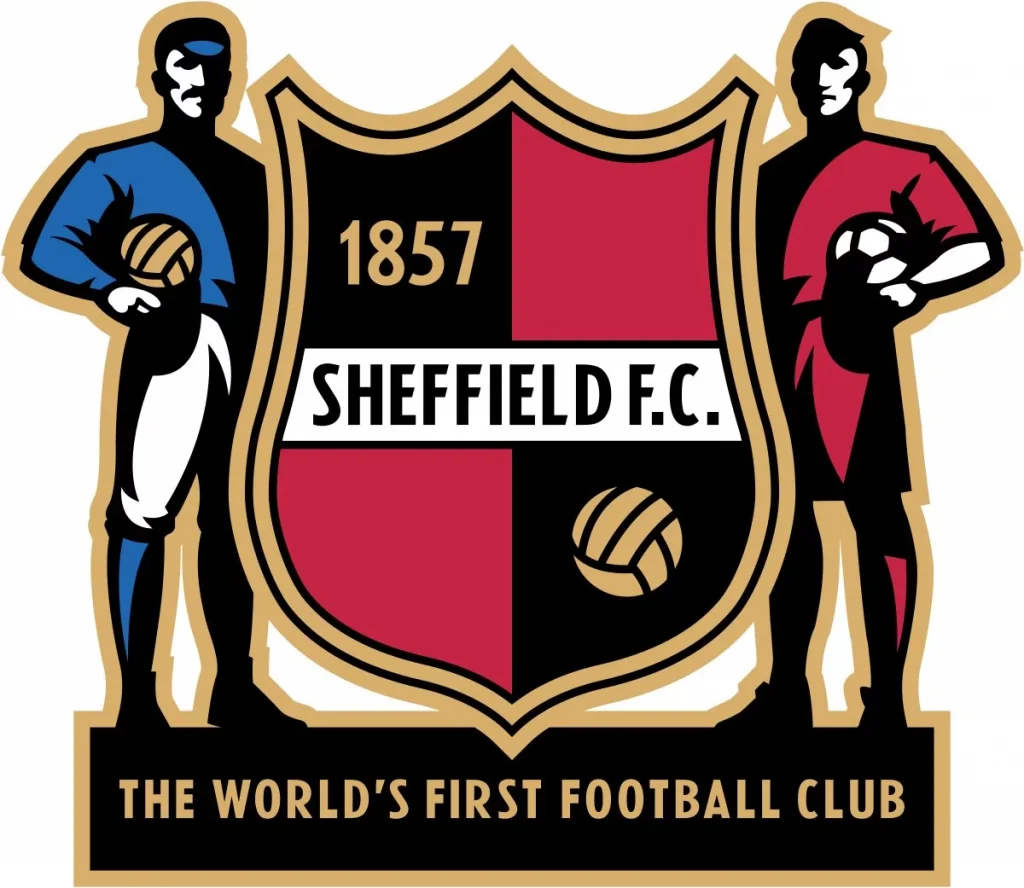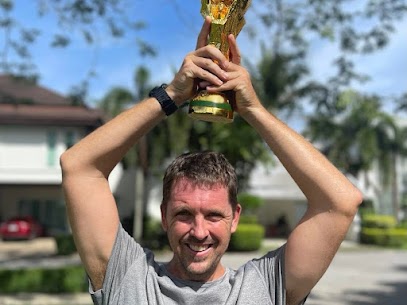 Rhett is an Australian-born, globe trotter who is a UEFA 'A' Licence Soccer Coach. With his family, he has traveled and coached soccer in more than 30 countries, while attending World Cups, European Championships, and some of the biggest local derbies in the world!