Olaf Thon recalls: "I still remember Peter Shilton not diving towards the corner until the previous penalties from Riedle, Matthaus, and Brehme had already gone in." So I said to myself: "Come on, son, just hit the target, nothing too precise, nothing too risky', and that's what I did. He went the right way, but he was too late."
Who is this former Germany international, animatedly reliving the penalty shoot-out in the 1990 FIFA World Cup Italy semi-finals against England and their keeper Peter Shilton? Step forward midfield maestro Olaf Thon, exclusively reviewing his remarkable career with The History Of Soccer.
Born on 1 May 1966, Thon appeared at the1986, 1990, and 1994 FIFA World Cups, winning the game's most famous trophy in 1990 and finishing as a runner-up in 1986. He spent his Bundesliga career with Schalke 04 and Bayern Munich. He scored 96 goals in 481 German top-flight appearances, and his honors tally at club level includes three league titles (1989, 1990, 1994), two German cup triumphs (2001, 2002), and the UEFA Cup (1997).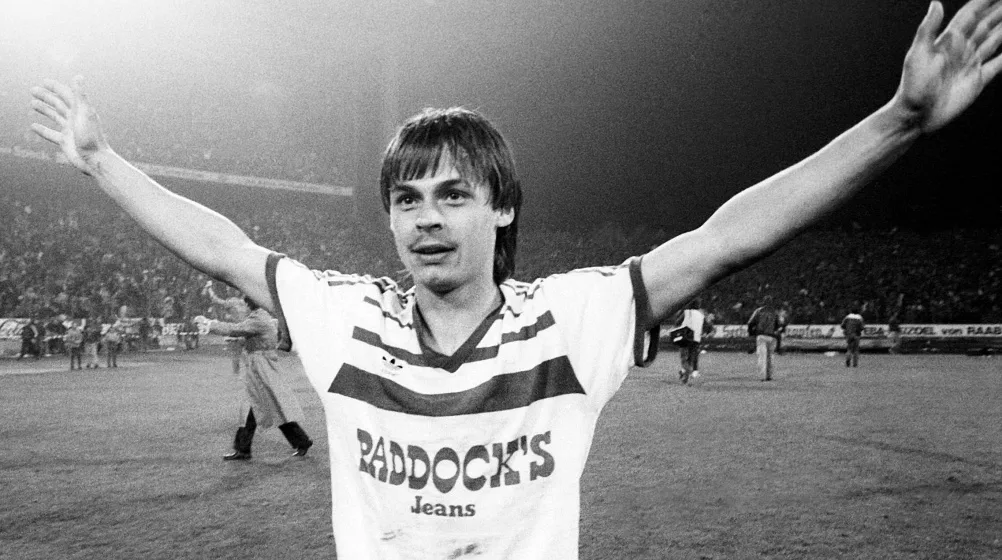 Unforgettable Moments
"I had lots of highlights during my career," Olaf Thon recalls. "My first Bundesliga title with Bayern Munich, and winning the UEFA Cup, when I got to hoist the trophy as captain – that was certainly something exceptional."
Asked to name his best-ever performance, the midfielder chooses a German cup encounter between Schalke and Bayern in May 1984, when the 18-year-old hopeful scored a hat-trick for the Gelsenkirchen side. "It ended 6-6 after extra time, and we lost the replay 3-2. But it's still the mother of all matches in the history of the German Cup."
Nicknamed the Professor, he always lived and breathed soccer. Even twenty years after hanging up his boots, he continues to do so, confessing he can hardly bear to watch certain scenes and incidents. "Nowadays, if it comes to a penalty shoot-out, in the cup, the EURO's, or the World Cup, I don't enjoy watching because I'm suffering with the penalty taker. Someone has to lose, and you see devastated players, great soccer players who fail from the spot."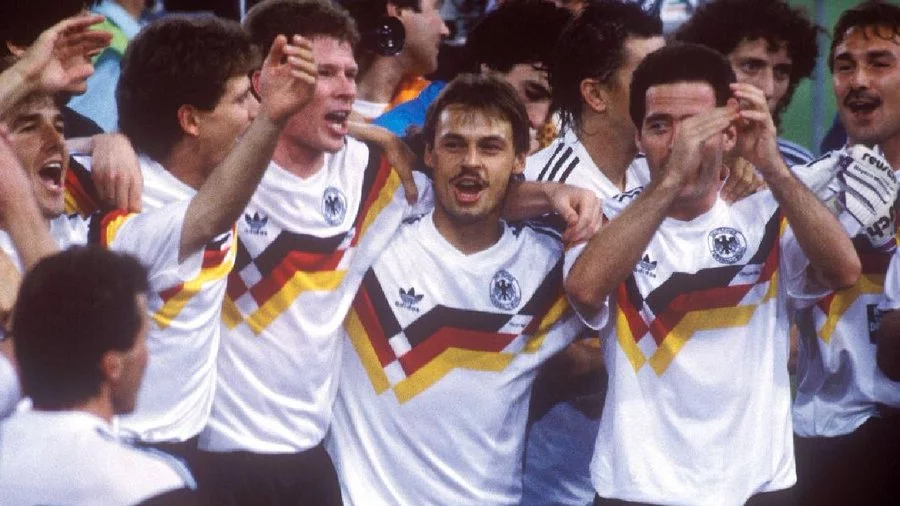 Failures
Failure is not often associated with Olaf Thon, but he too suffered his fair share of setbacks and bitter disappointment. Defeat in the EURO 1988 semi-finals to the Netherlands and missing out on the Bundesliga title with 'champions for four minutes' Schalke in 2001 were the worst moments, "but to achieve anything worthwhile, you also have to pick yourself up from defeat."
The former German international remains immersed in the world of soccer. He sat on the FC Schalke supervisory board from June 2005 to June 2008 before taking a position in the club's marketing section. "My goal was to stay at my club Schalke 04 for as long as possible."
Why did you not continue to coach after your time at VfB Hüls? "Although I'm qualified as a Fussballlehrer [the German FA's highest coaching qualification], I've put coaching to one side for the time being. Although I enjoyed my time with VfB Hüls, I enjoy commentating and writing about soccer."
Olaf Thon believes the current German national team can make a great leap forward in Qatar 2022. "Germany can win the World Cup with the new leadership team. Hansi Flick knows how to work with players so he can develop a winning strategy."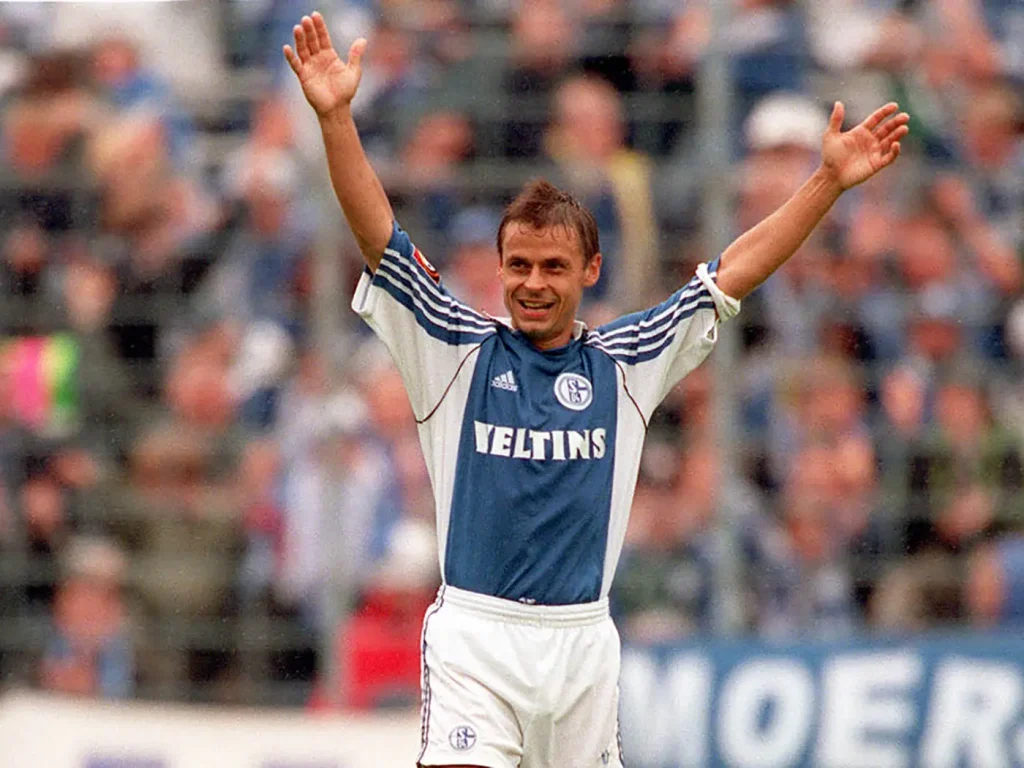 Olaf Thon Facts And Figures
Full Name: Olaf Thon
Birthdate: 01/05/19661
Birthplace: Gelsenkirchen, Germany
Position: Midfielder
Clubs:
FC Schalke 04 (1983-88 and 1994-2002)
Bayern Munich (1988-94)
Total Appearances: 481 appearances, 96 goals
National team: 52 caps (3 goals)
Playing Honors:
Schalke 04
1997 UEFA Cup winner
2001 and 2002 German Cup winner
Bayern Munich
1989, 1990, and 1994 Bundesliga Champions
1990 DFB-Supercup Winner
Germany
1986 FIFA World Cup Runners-Up
1990 FIFA World Cup Winners
Interesting Facts
Olaf Thon later played as a sweeper in the final years of his career.
Thon's professional career began with FC Schalke 04 when he was only 17 years old.
During the 1986 FIFA World Cup qualifiers in Malta, Thon made his debut on 16 December 1984 in the second half of West Germany's 3–2 win over Malta.
Due to injuries or arguments with coach Berti Vogts, he missed the 1994 World Cup and the Euro 1992 and 1996 tournaments.
In 1994, at the age of 28, he returned to Schalke, and in June 2002, at the age of 36, he retired.
As soon as he retired, Olaf Thon joined Schalke 04 as their marketing manager.
He managed NRW league club VfB Hüls for one season back in 2010.
His favorite player who he likes to watch since retiring is Franck Ribery.