This pioneer of soccer Arthur Kinnaird was born at 35 Hyde Park Gardens on 16 February 1847 and baptized at St. James's, Paddington, being educated at Cheam Preparatory School in the 1850s. Not only was he the first superstar in football history, but Arthur was also to become the first soccer player to become a Lord.
His parents moved to Pall Mall East, and he was a fifth-former at Eton in 1862. Before becoming a member of the House of Lords, Kinnaird's father, Arthur Kinnaird,  was a banker and Member of Parliament. His mother's name was Mary Jane Kinnaird.
But, unlike his family, he found a fresh outlet in sport. He won the 350-yards race at Eton School in 1864. While at school, all he was to do was play football on the school fields with his mates Alexander Bonsor, Alfred Lubbock, and Albert Thompson.
Arthur Kinnaird University Years
Arthur Fitzgerald Kinnaird was admitted to Trinity College, Cambridge, in June 1864 and enrolled the following year. He formed the Old Etonians Football Club as an undergraduate in 1867. Indeed, Arthur Kinnaird excelled in all he touched. While attending Cambridge University, he won the 50 and 100-yards sprints, half-mile swim, and lawn tennis versus Oxford University.
Kinnaird obtained his BA in 1869 (and MA in 1873). After university, his first job was working with his father at Ransom & Co. However, the young Arthur Kiddaird remained keen on sport. Thus he joined the Football Association (now known as the FA) committee and captained Scotland's national football team against England during the unofficial match at the Oval in 1870.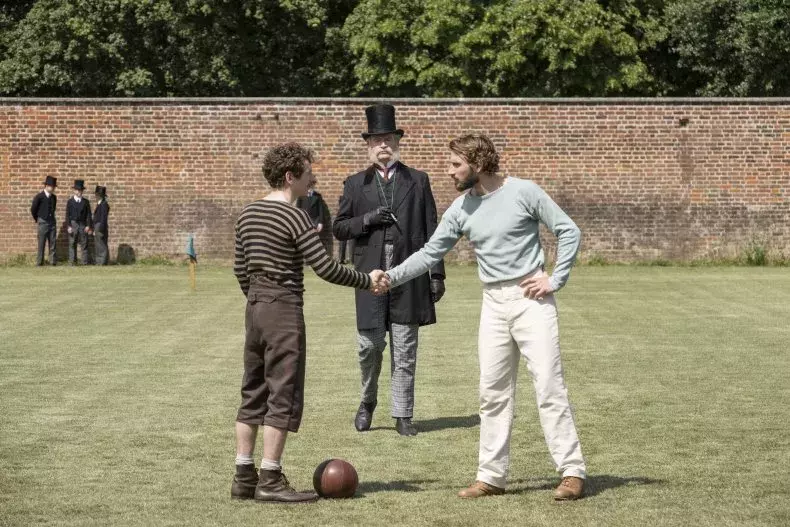 Early FA Cup Finals
Arthur Kinnaird did not play in the first Cup Final but made his mark the following year. He eventually appeared in nine FA Cup finals. (That's right! Not even Ryan Giggs played in nine FA Cup finals)
Indeed, Charles Alcock wrote of him in an annual football book in 1873: "Arthur Kinnaird is without exception the best player of the day, capable of taking any place in the field, is very fast and never loses sight of the ball, an excellent captain."
He appeared for Scotland at the Oval on 8 March 1873, losing 4-2. For his local team, The Wanderers, Kinnaird played in the FA Cup Final at Lillie Bridge on 29 March 1873. The team included five players from the first final. He was such a dominant figure in the game, scoring the second goal clinching a 2-0 victory over Oxford University.
Kinnaird was a single man at this time and resided with his parents at 2 Pall Mall East. He captained the Old Etonians team in the FA Cup final on 13 March 1875, although they lost to the Royal Engineers during a replay. This was the first time a replay had to be held.
Football Association Committee
He married his second cousin Mary Alma Victoria Agnew at Leswalt, north of Stranraer, on 19 August 1875. Her brother, Sir Andrew Noel Agnew, also attended Trinity College. The couple initially took up residence at 50 South Audley Street, Mayfair, on the corner of Grosvenor Square, and Arthur Kinnaird captained the Old Etonians in the FA Cup final head at the Oval on 11 March 1876. This year, they lost 3-0 to the Wanderers.
He remained on the Association Football committee from 1869-77 and was the treasurer in 1878-87. He became a business partner in Ransom, Bouverie & Co. in 1877. The family stayed at 50 South Audley Street and had seven children (two of whom died young). The soon-to-be Lord Arthur Kinnaird was to be lazy around the house and had eleven servants (the same number as a football team).
Meanwhile, Arthur Kinnaird returned to the winning side and won the Cup with the Wanderers in 1877 and 1878. He was the goalkeeper in the first victory but scored an own goal. He played the half-back position in the second cup final when he scored at the right end. Kinnaird won the Cup once again with the Old Etonians in 1879, after an epic quarter-final against Darwen. They have made a Netflix show about this season called 'The English Game'.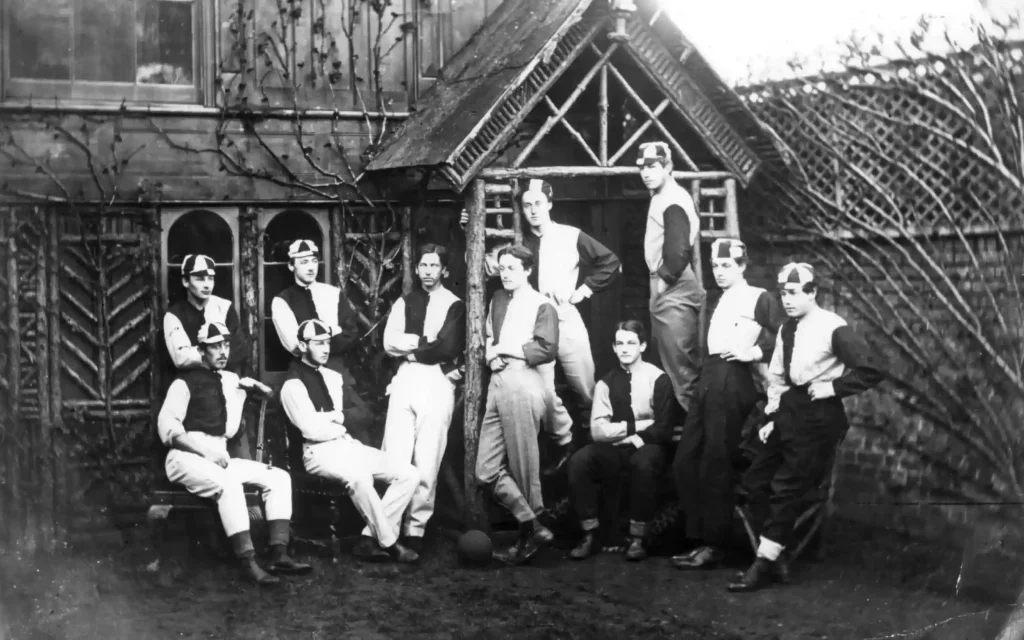 Professional Football Has Arrived
Football historians witnessed the arrival of professional clubs from the north of the country, and his successive Football Association Cup finals victory was especially sweet. He captained the Old Etonians against Blackburn Rovers at the Oval on 25 March 1882. In front of 6,500 spectators, the first football star and his team won by just a single goal to secure his fifth Cup Final victory.
Events so overcame him that he stood on his head in front of the Oval pavilion and undoubtedly caused considerable amusement. The celebrations needed to be enjoyed as this was the last amateur Cup final victory.
His ninth and last final was for the Old Etonians against Blackburn Olympic at the Oval in 1883. There was a crowd of 8,000 spectators and the amateurs took the lead. However, Arthur Kinnaird had a goal disallowed which went in (directly) from a free-kick.
The game was leveled, and Kinnaird agreed to extra time even though one man was off injured and another lame. His team might have won in a replay, but they lost 2-1 in extra time. Indeed, it was a most honorable decision to continue the match.
Lord Arthur Kinnaird
He became the 11th Lord Kinnaird in 1887 and inherited all the family estates, including Rossie Priory, Plaistow Lodge, and 1 to 2 Pall Mall East. As a result, he resigned as Association Football treasurer, but a new vacancy arose with the departure of Marindin, and he became the FA president in 1890.
Meanwhile, in terms of business, Barclay, Tritton & Bevan of 54 Lombard Street merged with Ransom, Bouverie by 1892. Lord Kinnaird became a director of Barclay & Co. He also moved to 10 St. James's Square, Piccadilly.
Arthur Kinnaird finished his football career in 1893, long after most of his contemporaries had given up, and was also a keen amateur cricketer. Meanwhile, he became an honorary colonel of the Tay Division of the sub-marine miners (a coast Battalion near Dundee), part of the Royal Engineers, that same year.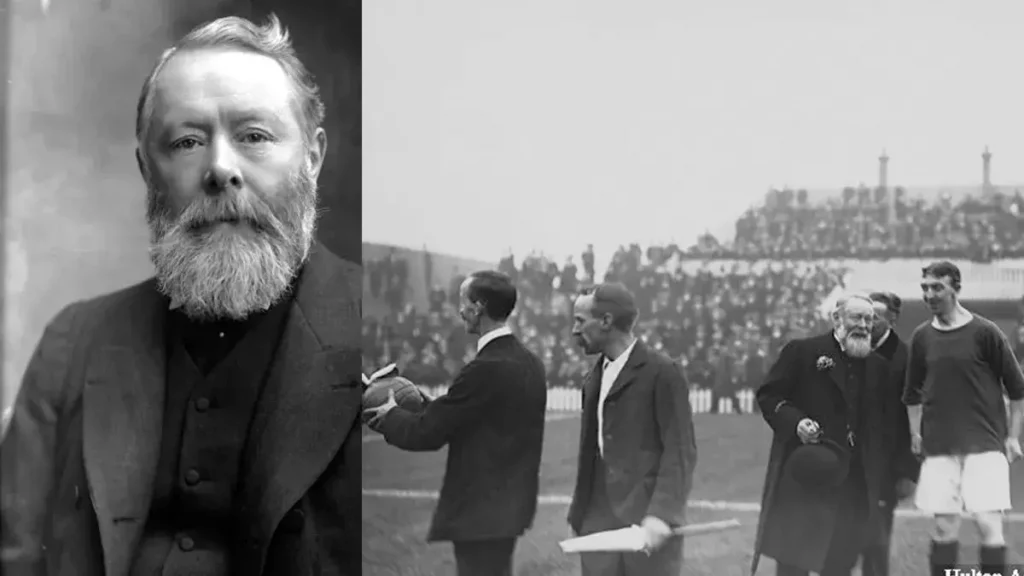 Progressing The Game
He initially worked with Charles Alcock at the Football Association, but there were further developments under Frederick Wall, the new secretary. The Oval was being used for competitive cricket and no longer suitable as a venue for the FA Cup final. After finals at Fallowfield in Manchester and Goodison Park in Liverpool, Britain's national sport moved to Crystal Palace in 1895.
Arthur Kinnaird then worked with Fredrick Wall to establish this purpose-built football arena, and finals took place over several years with crowds of over 100,000.
He sold Plaistow Lodge in 1896 and was responsible for the break-up of the estate for housing, while he resided at 10 St. James's Square in 1901 and lived there with his wife, three children, and eleven servants.
Other Contributions He Made
He supported evangelic religion like his parents and sisters (Louisa and Emily) and once traveled to India, speaking on behalf of missionaries. He became a Justice of the Peace in London and Perth, the YMCA president, and helped establish homes for poor boys.
Indeed, he was Lord High Commissioner of the Church of Scotland in 1907-09, but football was never far from his mind. The nine-time Cup final player once stated, "I believe that all right-minded people have good reason to thank God for the great progress of this popular national game."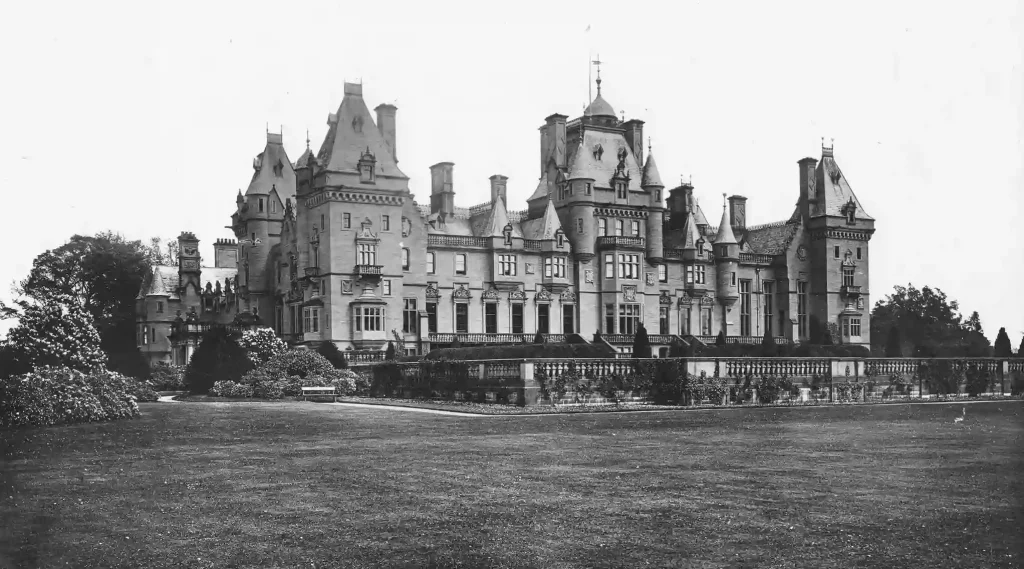 Lord Kinnaird continued to be a character, and there was a high jinx at New Cross in 1910. He was cordially invited to open Milwalls stadium, The Den but arrived (in error) at the Ilderton Road End. As a result, he was hauled and pushed over the wall, then rushed across the stadium, where he performed a brief ceremony and led the teams out onto the soccer pitch.
Arthur Kinnaird was greatly admired in the game and was presented with the second FA Cup finals trophy in 1911, having won the Cup final on five occasions. Unfortunately, he lost his sons Arthur Middleton Kinnaird and Douglas Arthur Kinnaird (of the Scots Guards) in the war. Although he maintained 11,900 acres at Rossie, the property at Pall Mall East was replaced by "Kinnaird House" in 1922.
Arthur Kinnaird Was Greatly Admired
He was pretty old when Wembley stadium was being built and missed the first final held there. Indeed, Arthur Kinnaird died at 10 St. James's Square soon after his wife on 30 January 1923.
There was a service for Lord Arthur Fitzgerald Kinnaird at St. Martin in the Fields. Lord Kinnaird's funeral was at Rossie Church, and a memorial was erected. His land and property estate were valued at £250,000.
His son Kenneth Fitzgerald Kinnaird was the 12th Lord and became Lord High Commissioner of the Church in 1936-37, while Patrick Kinnaird was a director of Barclays. The peerage became dormant-extinct in 1997, and Rossie Priory was then an exclusive hotel for corporate customers.
Arthur Kinnaird will be remembered in football history as a tough-tackling player, with enormous amounts of energy who loved the game of soccer.