Sir Robert 'Bobby' Charlton CBE, is one of the most revered and iconic English footballers of all time, arguably only behind Bobby Moore. He has his place indelibly linked in football history by being one of the eleven players who won the first, and so far only, World Cup for England.  He went on to hold the appearance and goal-scoring records for both Manchester United and England, records which have since been broken.
In the beginning
He was born in Ashington, Northumberland, in October 1937, in a family steeped with footballers. His mother's maiden name was Milburn, so he was related to the famous Newcastle United striker Jackie Milburn, George, Jim, Stan and another Jack, all Milburns who played league football.  Elder brother Jack also went on play for Leeds United and England.
His mother Cissie urged both of her sons to play football, no doubt influenced by her family, and Bobby was spotted playing for East Northumberland schools by Manchester United scout Joe Armstrong and he signed amateur forms for the club in January 1953 at the age of 15. Two months later he made his debut for England schoolboys in front of 93,000 at Wembley, scoring twice against Wales in a 3-3 draw as a winger. Soon afterwards he assumed his role of deep lying centre forward with a thunderous shot that he became well known for. He was part of the United team that won the FA Youth Cup in the 1953/54 season, and scored in the final as they retained it the following season.
Signing for Manchester United
Just in case football didn't work out he began an apprenticeship as an electrical engineer but he turned professional to become one of the revered 'Busby Babes' in October 1954, so called after manager Matt Busby.  He scored regularly for the youth and reserve sides as he progressed his career at the same time as doing his National Service at the Royal Army Ordnance Corps at Shrewsbury, Busby's idea so that he would be available to play football at weekends.
He made his debut ironically v Charlton Athletic in October 1956, scoring twice, and he scored 12 goals in 17 games that season, including a hat trick in the reverse game at Charlton. United won the league that season, but missed out on the double by controversially losing the FA Cup Final v Aston Villa in which Bobby played. He became more of a regular in 1957/58 but a dreadful incident in February 1958 changed his life for ever.
Tragedy at Munich
United were returning from a European Cup tie in Belgrade in which they had reached the semi-finals, and had to refuel in Munich. Snow and slushy conditions made conditions treacherous and the plane had two aborted take offs. Everyone was naturally nervous and Tommy Taylor and David Pegg, asked if they could swap seats with Bobby and Dennis Viollet. For Tommy and David, it was the worst decision imaginable.  The plane crashed at the end of the runway, 23 people were killed including 8 United players, and that included Taylor and Pegg.
Bobby was dragged out of the wreckage by goalkeeper Harry Gregg and was in hospital for a week with cuts and severe shock. He was the first of the injured passengers to leave hospital but the shock was the hardest part to get over. Brother Jack said in later years, "Bobby was a happy carefree young man, always smiling, but after that disaster he rarely smiled ever again."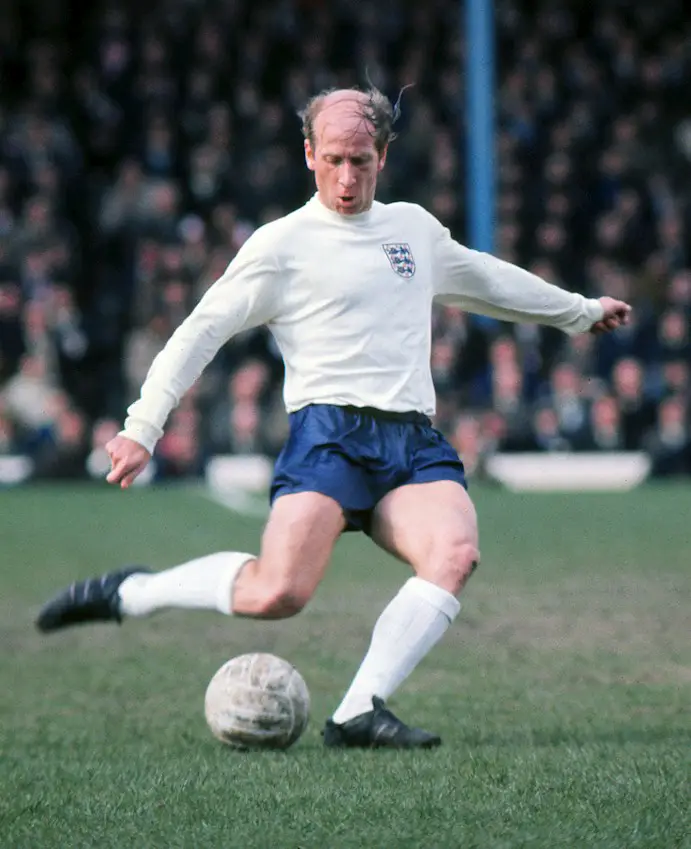 England come calling
United rebuilt their side to reach the FA Cup Final, losing to Bolton Wanderers, but Bobby was called up to the England squad in April 1958 for a game against Scotland at Hampden Park. Charlton roomed with Billy Wright, ironically the player who he would beat as the most capped player, and he played with his boyhood hero Stanley Matthew on one wing and Tom Finney on the other. England won 4-0, Bobby scoring the 3rd goal in the 66th minute with a 12 yard volley from a Finney cross. He became a regular member of the squad for the next 12 years, scoring twice v Portugal at Wembley in his second game. He as chosen in the squad for the 1958 World Cup in Sweden but didn't make an appearance.
Marriage, the FA Cup and a league title
He scored a career best 29 goals in 1958/59 to finish as United's top scorer but honours deserted him for a few years, although he did marry his wife Norma in 1961. He scored international hat tricks v USA and Mexico and in 1962 he was part of the England squad for the World Cup in Chile, losing in the quarter finals to Brazil. Back home Manchester United signed Denis Law and George Best, who along with Charlton became known as the 'Holy Trinity'. In the 1962/63 season United won the FA Cup, defeating Leicester City 3-1, to give Bobby his first Cup medal in his third final.
He continued to score regularly and in October 1963 a goal against Wales made him England's leading scorer with 31. United won the First Division title in 1964/65 and a year later came the moment that every English football fan remembers.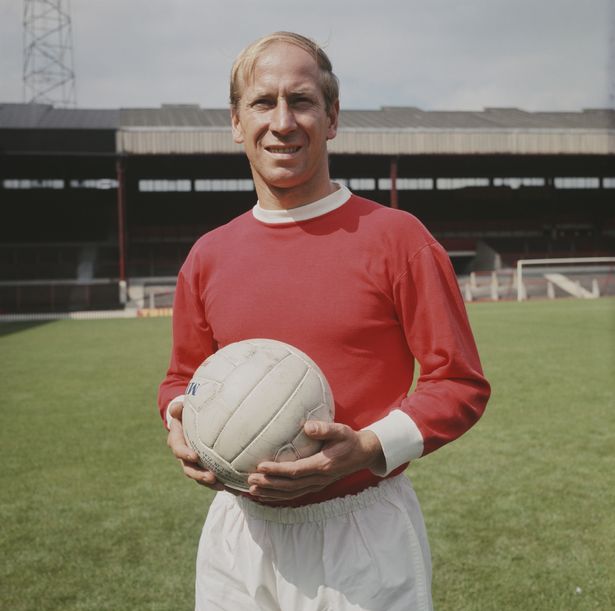 England's Glory
The 1966 World Cup was the first one to be held in England and three years earlier, manager Alf Ramsey had proclaimed that England would win it. Hopes were high as the hosts were supposedly the favourites, but the competition hadn't been won by a host country since Italy in 1934. The first game was a dour goalless draw with Uruguay and hopes sank. The next game against Mexico began in the same fashion but everything changed in the 38th minute when Bobby lashed a shot into the top corner from 30 yards, having first received the ball in his own half. England won 2-0 and then beat France 2-0 to move into the quarter finals.
To say that Argentina displayed the dark arts in the quarter final is the biggest understatement of all time.  England won a nasty, bruising game 1-0 and afterwards Ramsey called them 'animals'. Even Bobby was booked, for the first time in his career. He only picked up one more before retiring, a few years later v Chelsea for not retreating at a free kick.
The semi-final v Eusebio's Portugal saw England reach their only World Cup Final to date with a 2-1 win, and Bobby scored both goals. The story of the final is a much relayed one, suffice to say that England won 4-2 after extra time with Bobby and brother Jack in the side and their lives would never be the same again. That same year he won the Football Writers Player of the Year as well as the Ballon d'Or.
United conquer Europe
United won the league again in 1966/67 and in 1968 reached the European Cup Final, the first English side to do so. The opposition were Benfica at Wembley and captain Bobby delighted the majority of the 92,000 crowd by heading the first goal in the 53rd minute. The game went to extra time then United scored 3 times in 7 minutes, the last a shot from Bobby, and he proudly held the cup aloft ten years after the Munich disaster.
Later in 1968 he helped England to third place in the European Championships and then in 1969 he was awarded an OBE and was the subject of the TV programme This is Your Life with Eamonn Andrews.
The sad end of a record breaking time with England
In 1970 England were highly fancied to retain the World Cup in Mexico and in the friendly games beforehand Bobby scored in a 4-0 victory in Colombia, his 49th for his country. Little did he know that was to be his last international goal, but he held the record for 45 years, until first Wayne Rooney and then Harry Kane became the only players to beat his total. It was in Colombia that Charlton and Bobby Moore were arrested and accused of stealing a bracelet from a jeweller's shop. Charlton was released almost immediately but Moore was held for a few days and then not surprisingly also released.
England faced West Germany in the quarter finals and all was going well as they led 2-0 by the 65th minute. Ramsey then decided to replace the 32-year-old Charlton in the sapping heat to save him for the semi-final, but before they could make the change Franz Beckenbauer made it 2-1. Colin Bell came on for Bobby in the 70th minute and as we well know West Germany took it to extra time and won 3-2 in the end.
On the plane home both Bobby and brother Jack told Alf Ramsey that they would both end their England careers there and then. Bobby had won a record 106 caps, a total that has since been beaten six times, Peter Shilton being top of the tree with 125.
Manchester United were not in a good place, Matt Busby retired as manager in 1970 after 25 years in charge, Bobby fell out briefly with Denis Law, but had a major fall out George Best. Bobby was old school, preferring everything to be done by the book, whereas George was a party animal, sometimes missing training and spending time in pubs etc., great player though he was.
The final part of a glittering career
In April 1973, Bobby played his last game for Manchester United, at Chelsea, ironically the same day that brother Jack also ended his career with Leeds United. It was his 758th appearance for the Red Devils and he scored 249 goals. The appearance record has only been beaten by Ryan Giggs whilst just Rooney has passed the goals total.
He became manager of Third Division side Preston North End later in 1973 and donned his boots again for the 1974/75 season. He was also made a CBE in 1974.  He played his last Football League game, his 644th, at Port Vale in March 1975. He resigned from Preston a few months later and then played a few games in Ireland for Waterford and had a spell in Australia.  He later became a director at Wigan Athletic and had a short spell as caretaker manager in 1983. In 1984 Matt Busby stepped down from the Manchester United board, and requiring a club legend to fill the void, they offered the role to Bobby which he accepted, and it is a position he still holds.
Bobby was very proud to be knighted in 1994. A statue was unveiled outside Old Trafford of Charlton, Best and Law, the United Trinity, in 2008 and in 2016 the South Stand was renamed the Sir Bobby Charlton Stand.
Sadly, in November 2020 it was revealed that Sir Bobby had been diagnosed with dementia but he still attends many United games, the love of his life after Norma.
A scholar, a gentleman, and definitely one of the all time greats, no matter where you are from.