Diego Maradona died at the age of 60. The news of his passing was met with a tremendous outpouring of grief and disbelief around the world when they heard the news of Maradona's death.
The president of his native Argentina declared three days of mourning, illustrating just how much of an impact the man aptly nicknamed "God" had.
He was one of two joint winners of FIFA Player of the Century in the 20th century, widely considered one of the greatest players in soccer history. The small statue of Maradona combined with his vision, passing, and ball control skills made him easier to maneuver than other players because he had a low center of gravity.
While he would often be singled out by the opposition, his presence and leadership on the field greatly influenced his team's performance. He was also known as a free-kick specialist in addition to his creative abilities.
In recognition of his talent, Diego Maradona gained the nickname "The Golden Boy" ("El Pibe de Oro"), which stayed with him throughout his life.
Let's pay tribute to this giant of the game by remembering his most outstanding performances. His two masterstrokes against England at the 1986 World Cup, were the day he transcended soccer.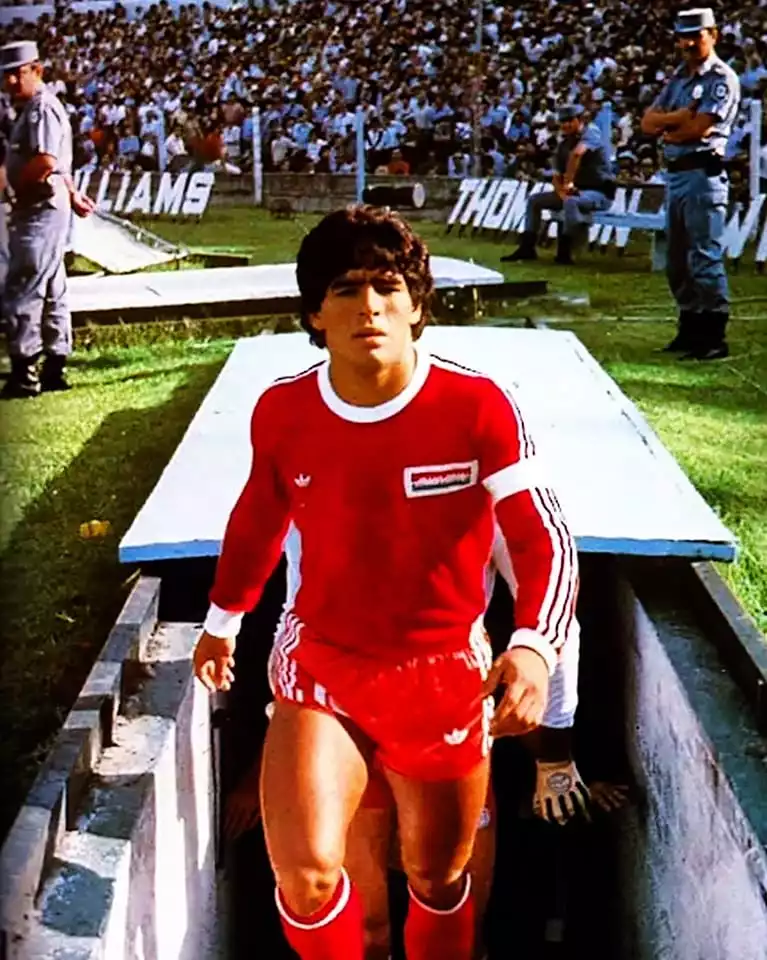 The Ultimate Entertainer
Diego Maradona was already a household name when Argentina traveled to Mexico for soccer's showpiece event. Revered in Naples for his exploits with SSC Napoli, he would lead Gli Azzurri to their first-ever league title the following year. He captained an unfancied, mediocre La Albiceleste side at the 1986 World Cup.
A global audience watched as El Pibe de Oro ascended to divinity. Diego Maradona starred as Argentina cruised to the knockout round with dazzling footwork, mind-boggling close control, and a seemingly inexhaustible fountain of creativity.
In the quarter-finals, he would take center stage, showing both sides of Diego Maradona. The pesky and the stunningly brilliant.
The Hand Of God
Just after halftime, with the game still scoreless, Diego Maradona drove through the midfield, picked out a teammate, and continued his run into the box.
The ball fortuitously found its way back to the diminutive magician, who leaped above legendary goalkeeper Peter Shilton and punched it into the back of the net. His transgression went unnoticed by the officials. The infamous "Hand of God" was born.
This iconic moment in soccer history perfectly encapsulates the polarizing aspect of El Diego.
He was a master of the dark arts, and made a habit of breaking the rules on and off the pitch—a debauchee with little time for moderation and a recusant with a bias for overstepping the line.
Diego Maradona's Goal Of The Century
Moments later, as he received the ball and took off on a marauding run once more, the world held its breath. Then, one by one, he bypassed the English backline with unsettling repose before rounding Shilton.
Within four minutes, Diego Maradona had brought England and their manager, Bobby Robson, to their knees. It felt as though the planet had come to a standstill. Disbelief palpably gripped the astonished spectators.
The "Goal of the Century" was Diego Maradona at his best. Pure and joyous, freedom personified. Inspired by their number ten, Argentina went on to win the World Cup, cementing El Diego's status as an all-time great. The curly-haired superstar had reached a level of deification hitherto unseen.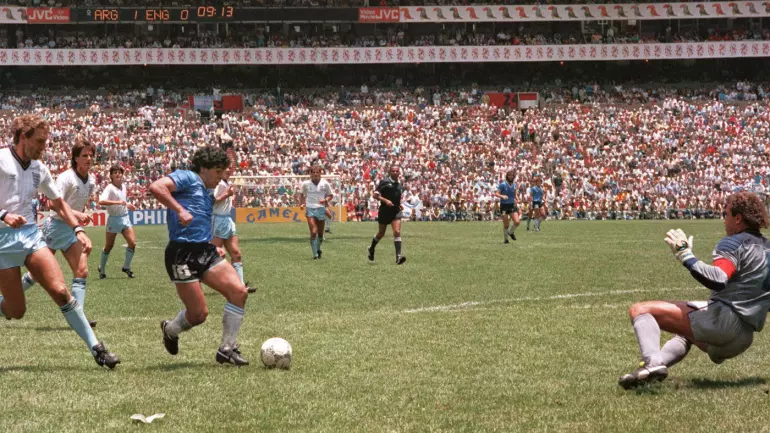 Seraphic on the pitch, yet painfully human off it. When he wasn't embroiled in escapades, Diego Maradona used his notoriety to fight for the oppressed. He touched the hearts of millions through football, his talent thrusting him into the spotlight, ordained to be the face of the world's most popular game.
Diego Armando Maradona was a mortal who attained immortality.
Lifting The 1986 World Cup Trophy
More than half of Argentina's shots throughout the World Cup came from Diego Maradona. He also attempted 90 dribbles during the tournament, three times as many as any other player.
Diego was fouled 53 times, winning Argentina twice as many free kicks as any other player. In the final, Maradona was involved in the winning goal and scored 10 of Argentina's 14 goals (71%) in the competition, living up to the reputation of one of the greatest names in football.
He was widely regarded as having won the World Cup virtually single-handedly after winning the Golden Ball as the best player of the tournament by a unanimous vote.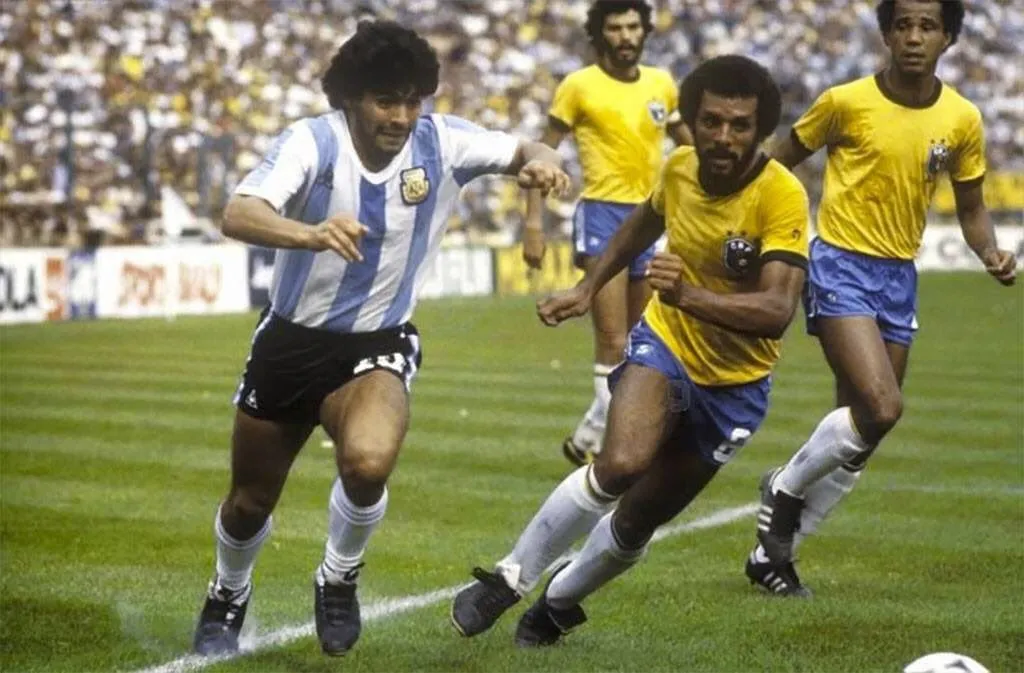 Diego Maradona Stats And World Cup History
Team Honours:
1979 FIFA World Youth Championship winner
1986 FIFA World Cup winner
1990 FIFA World Cup runner-up
1993 Artemio Franchi Trophy winner
Individual Honors:
1979 FIFA World Youth Championship Golden Ball
1986 FIFA World Cup Adidas Golden Ball
1990 FIFA World Cup Adidas Bronze Ball
FIFA Goal of the Century winner (for his second goal against England in the 1986 FIFA World Cup quarter-final)
FIFA World Cup Appearances
21 appearances, 8 goals, 12 wins; 4 draws; 5 losses
Spain 1982
Belgium 1-0 Argentina
Argentina 4-1 Hungary (2 goals)
Argentina 2-0 El Salvador
Italy 2-1 Argentina
Brazil 3-1 Argentina
Mexico 1986
Argentina 3-1 Korea Republic
Argentina 1-1 Italy (1 goal)
Argentina 2-0 Bulgaria
Argentina 1-0 Uruguay
Argentina 2-1 England (2 goals)
Argentina 2-0 Belgium (2 goals)
Argentina 3-2 West Germany (World Cup Final)
Italy 1990
Cameroon 1-0 Argentina
Argentina 2-0 USSR
Argentina 1-1 Romania
Argentina 1-0 Brazil
Argentina 0-0 Yugoslavia
Argentina 1-1 Italy
West Germany 1-0 Argentina (World Cup Final)
USA 1994
Argentina 4-0 Greece (1 goal)
Argentina 2-1 Nigeria
Club Career:
1976 – 1981: Argentinos Juniors
1981 – 1982, 1995-1997: Boca Juniors
1982 – 1984: FC Barcelona (Spain)
1984 – 1991: Napoli (Italy)
1992 – 1993: Sevilla (Spain)
1993 – 1994: Newell's Old Boys
Total Appearances: 491 matches, 259 goals
Club Honors:
UEFA Cup winner: 1989
Argentinian Championship winner: 1981
Italian Championship winner: 1987, 1990
Spanish Cup winner: 1983
Italian Cup winner: 1987
Italian Super Cup winner: 1991
Individual Honors:
FIFA Player of the Century
MasterCard World Team of the Century inductee
FIFA 100
South American Footballer of the Year: 1979, 1980
Argentinian Championship top scorer: 1979, 1980, 1981
Italian Championship top scorer: 1988

Quotes About Diego Maradona
"When Diego came to Argentinos Juniors for trials, I was really struck by his talent and couldn't believe he was only eight years old. In fact, we asked him for his ID card so we could check it, but he told us he didn't have it on him. We were sure he was having us on because, although he had the physique of a child, he played like an adult. When we discovered he'd been telling us the truth, we decided to devote ourselves purely to him."
Francisco Cornejo, the youth coach who discovered Diego Maradona
"Diego was capable of things no one else could match. The things I could do with a football, he could do with an orange."
Michel Platini, captain of France at Mexico 1986
"When Diego scored that second goal against us, I felt like applauding. I'd never felt like that before, but it's true… and not just because it was such an important game. It was impossible to score such a beautiful goal. He's the greatest player of all time, by a long way. A genuine phenomenon."
Gary Lineker, England striker at Mexico 1986
"And to think that before the World Cup people criticized me, saying Maradona wasn't qualified to be captain and that he still had to prove himself. One month later he completely dominated the tournament. It was a huge step for him in terms of fame, and a great reward for his work."
Carlos Bilardo, Argentina head coach Mexico 1986
"Diego is someone many people want to imitate – a controversial figure, both loved and loathed, and someone who provokes huge debate, especially in Argentina. In Mexico (in 1986), we had to stop him from training, otherwise, he would have been at it day and night. Bilardo wouldn't let him, as he said the altitude would take too much out of him. So the only conflict we had with Diego at that World Cup was with him wanting to do extra training."
Jorge Valdano, Argentine National Team team-mate at Mexico 1986
"Diego was an example to everyone, not just in terms of his quality, but also for his commitment. He was the first to tackle and dive in when we lost possession, so how could we not do the same? He was contagious. When it came to his play, however, trying to imitate him was impossible."
Hector Enrique, Maradona's team-mate at Mexico 1986
Everyone has an opinion on Diego Armando Maradona, and that's been the case since his playing days. His magnificent performances and extraordinary goals at Mexico 86 will live forever in the memories of all football lovers, myself included. My most vivid recollection is of this incredibly gifted kid at the second FIFA U-20 World Cup in Japan in 1979. He left everyone open-mouthed every time he got on the ball. And at the age of 50 he still has many years in which to keep showing us his talent."
FIFA President Joseph S. Blatter
"I asked myself, 'Who is this man? Who is this footballing magician, this Sex Pistol of international football, this cocaine victim who kicked the habit, looked like Falstaff and was as weak as spaghetti?' If Andy Warhol had still been alive, he would have definitely put Maradona alongside Marilyn Monroe and Mao Tse-Tung. I'm convinced that if he hadn't been a footballer, he'd've become a revolutionary."
Emir Kusturica, musician, film director and the maker of a documentary on the life of Maradona
"Diego is great friend and very noble too. There's also no question he's a wonderful athlete and has maintained a friendship with Cuba to no material gain of his own."
Fidel Castro, former leader of Cuba
"Even if I played for a million years, I'd never come close to Diego Maradona. Not that I'd want to anyway. He's the greatest there's ever been."
Lionel Messi, Argentinian footballer
"What Zidane could do with a ball, Maradona could do with an orange."
Michel Platini, UEFA President
"To my generation, he was the greatest we'd ever seen."
Pep Guardiola, Barcelona coach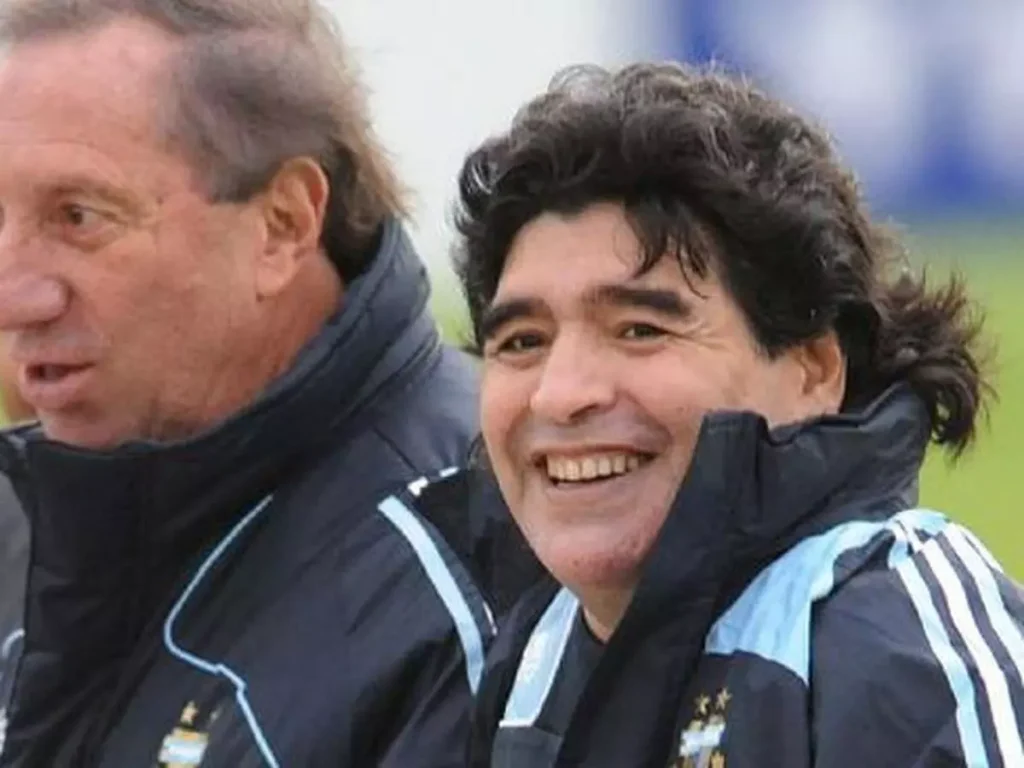 "Pele's my idol but I saw Maradona play. There's no question in my mind that he's the number one. He might have had his faults but he's shown on the pitch what real football is all about. My dream is to play with him one day, if only for a few minutes. I learned a lot just by watching him play."
Roberto Carlos, Brazilian footballer
"The greatest player I've ever seen, way ahead of everyone else, including [Michel] Platini, [Karl-Heinz] Rummenigge and the rest. Maradona was a cut above."
Paolo Maldini, former Italy international
"Diego has always been my idol. I remember when he invited me to his house for a game. It was a surprise and a dream for me. I never imagined we'd be kicking a ball around together."
Ronaldinho, Brazilian footballer
"He's given us a lot of entertainment, to me personally and to everyone who loves good football. I'm a fan of Maradona's and I'll remain one till the end of time."
Carlos Valderrama, former Colombia international
"He was my footballing hero. When I was young I tried to do the moves and score the goals he scored at Mexico 86. I've never admired any player as much as him."
Raul Gonzalez, Spanish footballer
"He's always been an idol. I wanted to emulate him when I started playing because of everything he did and conveyed out on the pitch. There's never been anyone better than him."
Luis Figo, former Portugal international
"Diego apologized to me after he scored the second goal against England. He could see me unmarked at the far post the whole way but he couldn't find a gap to get the ball to me. The fact is I felt offended. It was an insult to my profession. I mean, even on a run like that he still has the time to look up and see me. As a player, I was nothing compared to him. He was incredible."
Jorge Valdano, former Argentina international and a team-mate of Diego Maradona's at Mexico 1986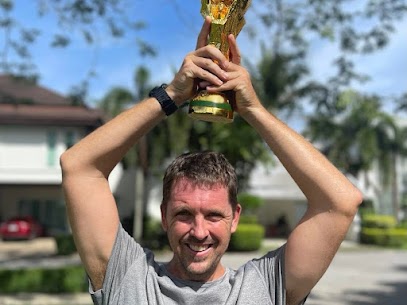 Rhett is an Australian-born, globe trotter who is a UEFA 'A' Licence Soccer Coach. With his family, he has traveled and coached soccer in more than 30 countries, while attending World Cups, European Championships, and some of the biggest local derbies in the world!