It is always hard to tell if Hope Solo is crazy like a fox or just a fox that can't stay out of trouble. She is doing something right because she has the unique skill of keeping herself in the news and soccer balls out of the net.
The former United States goalkeeper was generally regarded as the best in the world. After conceding two early goals to France at the Olympics, Solo and the US women went 255 minutes without giving up a goal.
So it's not as if Solo's appearances on "Dancing With The Stars" or her Twitter rants impact her day job. Instead, she was a dominant force in goal.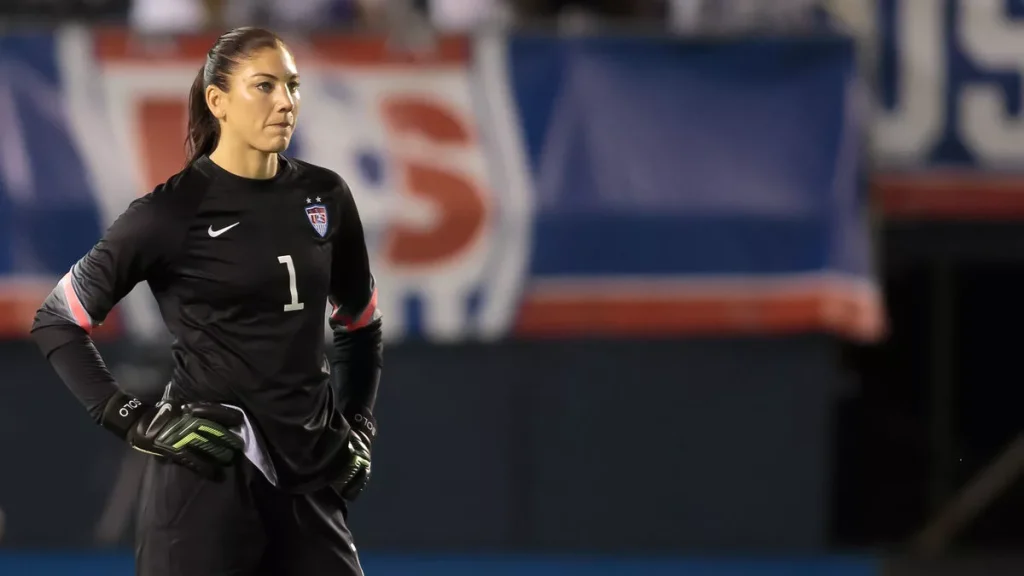 Hope Solo On Twitter
Hope Solo made her mark at London 2012 by lashing out, via Twitter, at NBC analyst Brandi Chastain, who had made a few minor critical comments about central defender Rachel Buehler following the American's 3-0 victory over Colombia.
Chastain is a former USA defender who famously took off her jersey top after scoring the winning penalty kick at the World Cup in 1999. In 100 years, people will mistakenly say that Chastain invented the sports bra.
Solo and Chastain are former teammates and not the best of friends since the former goalie followed up Chastain's comments about the defense by posting a Tweet that Chastain needed to educate herself about the game because it has changed a lot since Chastain retired.
In the Twitter world, that's called a kill shot because Solo not only wiped out Chastain but also took a little dig at pioneers like Mia Hamm and Julie Foudy. The worst-kept secret is that current group members are tired of hearing about the ladies of the 1990s and early 2000s.
And there's nothing wrong with that. You don't think Kobe Bryant and LeBron James feel the same way about the 1992 Dream Team?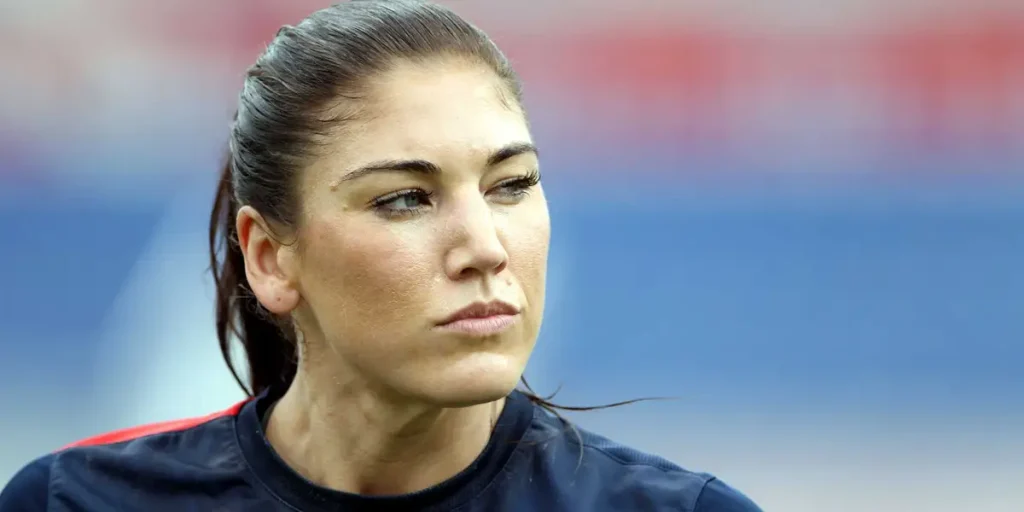 The Goalkeeper Involved In Controversy
Hope Solo created one of those controversies, which, in essence, isn't a controversy. Chastain, who is paid for her opinion, didn't go overboard in her criticism of Buehler.
And I know that Foudy called Solo's tweet "sad," but I thought it was a good thing. Solo was sticking up for a teammate. Was it transparent? Maybe. Did she do it to draw attention to herself? You can answer that one.
The comment made many folks in the soccer community and the women's sports movement uncomfortable. It was if they were saying, "now, girls, let's all behave and get along." And that's ridiculous.
If I'm Buehler, I'd like her American teammate and goalkeeper is my last line of defense and has my back. Moments like this galvanize a team.
And don't think for one minute that this doesn't go back to the 2007 Women's World Cup when Hope Solo was banished from the team after the Americans lost in the semifinals to Brazil.
Solo was the regular goalkeeper, but on a hunch, former head coach Greg Ryan started Briana Scurry, who was in the net at the 1999 World Cup. Some hunch. Scurry had an awful night as Brazil trounced the USA 4-0.
Afterward, Hope Solo publicly criticized the decision. Yes, she should have used better judgment, and she happened to be correct. However, what happened next was disgraceful.
The team voted to banish the former US soccer star from the third-place match. She couldn't eat with the team or fly home on the same charter. At that moment, Solo needed a teammate to defend her the way Solo stood up for Rachel Buehler.
That's what being a team is about.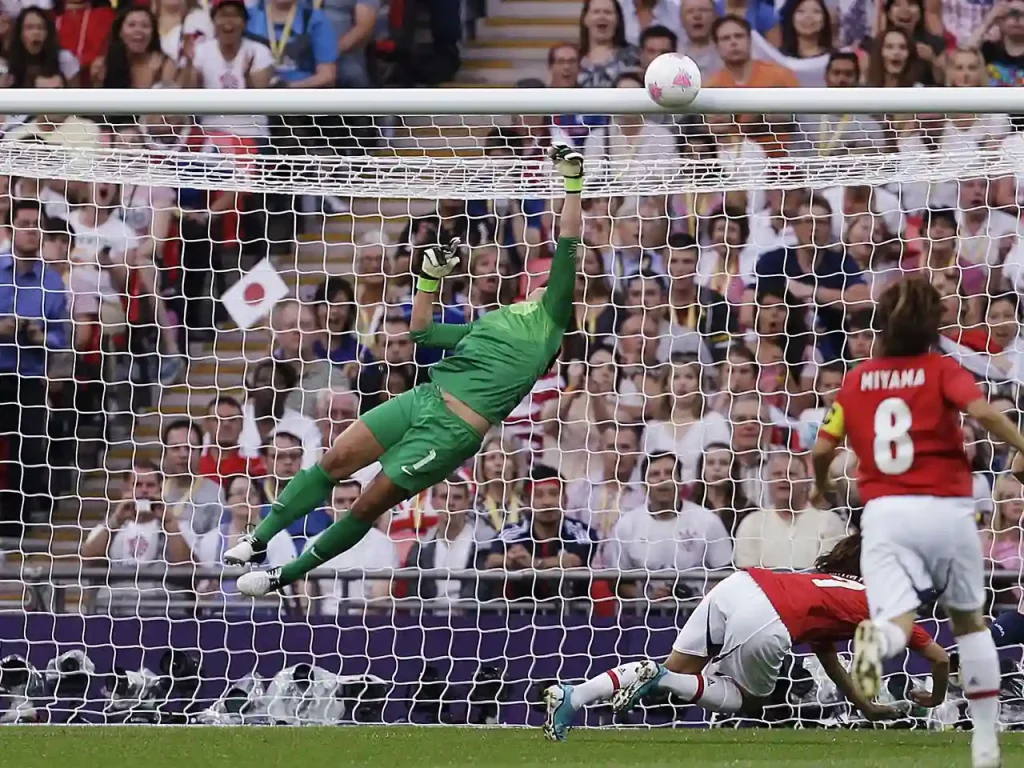 Interesting Facts About Hope Solo
Modeling: She appeared nude while watering a lawn in ESPN The Magazine's 2011 Body Issue, which depicts athletes in tastefully nude poses. Tweeted Solo: "Being naked outside is very liberating."
Dancing: The 5ft, 9in (175cm) former goalkeeper was a contestant on the 13th season of Dancing with the Stars in 2011 with dancing partner Maksim Chmerkovskiy. The pair was eliminated in the semifinals before actor J.R. Martinez, and his partner won the competition.
Depression: After being benched during the 2007 World Cup and cut from the team for her subsequent comments, Hope Solo considered quitting, asking herself, "Why am I playing soccer? My passion was stripped. I was alone in my house. I wasn't taking phone calls. I wasn't eating right."
Father: Solo's parents divorced when she was six, and her father spent time in jail for kidnapping Hope and her brother when they were children. But the two reconnected, and when the 2015 World Cup winner played for the University of Washington, her homeless father attended each game.
Shoulder: Nine months before the 2011 World Cup, in which the USA took second place, the US goalkeeper record holder had successful surgery on a nearly career-ending tear of a muscle in her right shoulder.
Dating: Solo once dated Seattle party promoter Adrian Galaviz but said in May she was single and looking: "I can't be all soccer — go, go, go, go — I need a social life, I need a life outside of soccer. So I very much welcome, you know, new love interests and dating and friends and family."
Position: She was an All-American striker at Richland High School in Washington with 109 goals to her credit. However, University of Washington head coach Lesle Gallimore converted Solo to the goalie position. At first, she rejected the switch: "Who do parents put in the goal? The fat kid."
Crush: In 2011, as the US team was training in Kansas City, C.J. Sapong of MLS' Sporting Kansas City revealed his crush for the two-time Olympic Gold medalist with a spoken poem caught on camera. Said Sapong: "If angels do exist, then girl, you are the proof. So, Hope Solo, Hope Solo, can you make my dream come true? There are no beaches in KC, but a hug from you will do."
Tweets her mind: While playing for the Atlanta Beat in 2010, Hope Solo lashed out at Boston Breakers fans following a loss.
Said Solo, "I will not stand for an organization who can so blatantly disrespect the athletes that come to play. Perhaps the WPS or Boston can finally take a stance on the profanity, racism, and crude remarks that their so-called 'fan club makes.' "
Rise: The former Seattle Reign goalkeeper's popularity surged with her penalty save during the USA team's World Cup quarterfinal victory vs. Brazil. The jump in interest even crashed her website.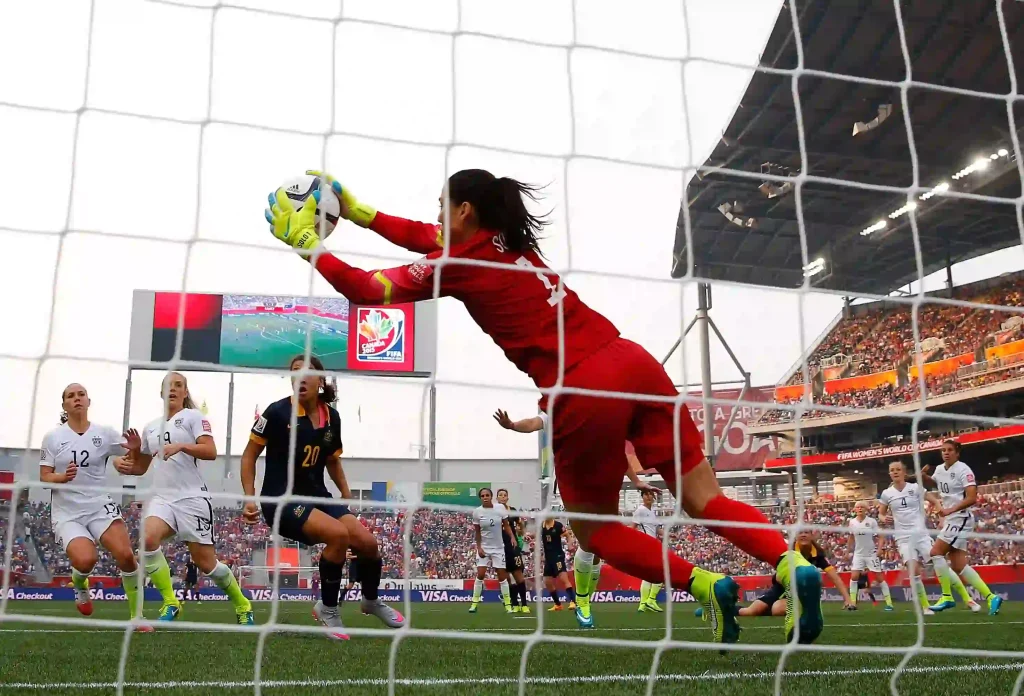 Hope Solo Statistics
Full Name: Hope Amelia Solo
Birthdate: 30/07/1981
Birthplace: Richland, Washington
College Career:
Washington Huskies 1999–2002
Club Career:
Philadelphia Charge 2003
Kopparbergs/Göteborg 2004
Lyon 2005
Saint Louis Athletica 2009–2010
Atlanta Beat 2010
magicJack 2011
Seattle Sounders Women 2012
Seattle Reign 2013–2016
International Soccer Career:
2000–2016: United States (202 appearances, 102 clean sheets)
International Honors:
2005, 2007, 2008, 2010, 2011, 2013, and 2015: Algarve Cup Winners
2008 and 2012: Olympic Gold Medalist
2008, 2012, and 2016: CONCACAF Women's Olympic Qualifying Tournament Champions
2011: FIFA Women's World Cup Runners-up
2015: FIFA Women's World Cup Champions
2016: SheBelieves Cup Winner
Individual Honors:
1999, 2000, 2001, and 2002: Pac-10 Selection
2000, 2001, and 2002: NSCAA All-American
2009: WPS Goalkeeper of the Year
2009: U.S. Soccer Female Athlete of the Year
2011 and 2015: FIFA Women's World Cup Golden Glove
2011: FIFA Women's World Cup Bronze ball
2011 and 2015: FIFA Women's World Cup All-Star Team
2014: CONCACAF Women's Championship Golden Glove
2015: CONCACAF Women's Goalkeeper of the Year
2016: SheBelieves Cup Golden Glove