Julie Foudy was born on January 23, 1971, in California. Although now retired, she has made a great impact in the world of soccer as one of the world's most accomplished female soccer players.
She is most well known for playing midfield for the United States Women's National team, but she has been on other teams as well.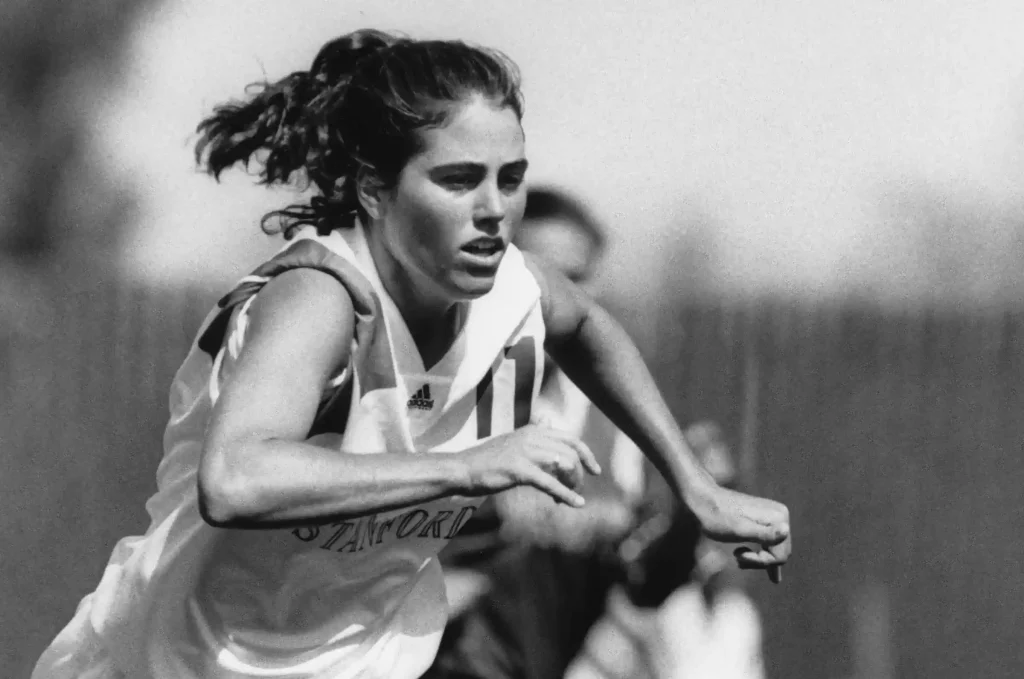 High School Years
Julie Foudy has been a great player, even from a young age. In 1989 she graduated from Mission Viejo High School. While on the school team, she was named the First- Team All- American two times.
Additionally, she won the title of the best High School Player of the 1980s from the Los Angeles Times. Lastly, in 1987, 1988, and 1989, she won the Player of the Year for Southern California.
College Career Of Julie Foudy
For all four years of college, she went to Stanford University, earning a Bachelor's Degree in biology. She was successful both academically and athletically. For three straight years during her time there, the midfielder was named as the Stanford Cardinal Women's Soccer Player of the Year. 
After scoring 52 goals and having 32 assists in total while on the team, she was named the All-American for all four of her college years. Additionally, in 1989, Julie Foudy was the Soccer America Freshman of the Year, and in 1991 she was the Soccer America Player of the Year. In 1991 and 1992, she was a finalist for the Hermann Trophy.
She won the Stanford Outstanding freshman, sophomore, and junior awards in her first three years of college. Lastly, she was named on Soccer America's College Team of the decade for the 1990s.
Julie Foudy played for many club teams in her soccer career. These include Sacramento Storm in 1993 and 1995-1998, Tyresö FF in 1994, and San Diego Spirit from 2001-2003.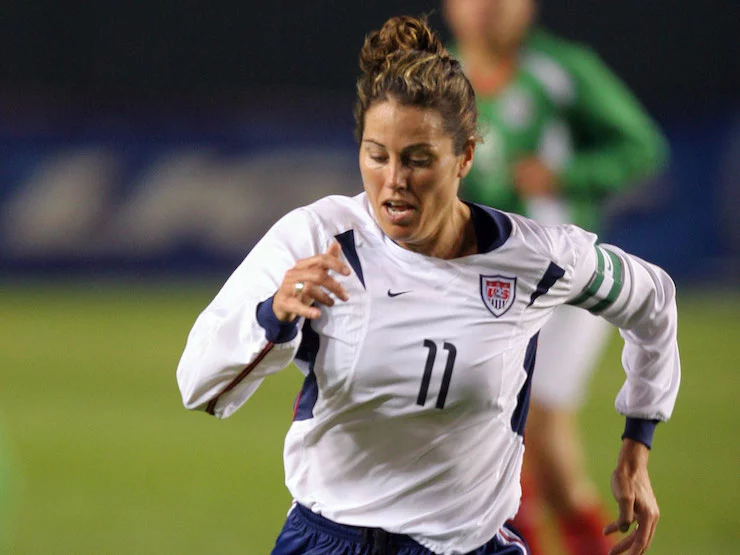 International Career Of Julie Foudy
Julie Foudy had a remarkable international soccer career. She was seen as a widely successful player in the eyes of many around the world, and she is still recognized as being one of the best female players in women's soccer history.
In 1987, at the young age of 16, she began to practice with the US Women's National Team. Although she was on the team, she did not get any minutes until her debut match in 1988 against France.
While on the national team, she was rostered for four Women's World Cups, winning two of them. She was a World Cup champion in both 1991 and 1999. She served as captain of the United States Women's National Team from 2000 to 2004. After her retirement, she had a total of 274 caps.
Additionally, Julie Foudy has participated in three summer Olympics and has earned medals in all of them. She won two Olympic gold medals in 1996 and 2004 and one silver medal in 2000. Shortly after the 2004 Olympics, however, Julie Foudy retired from soccer.
After Retirement
Although she stopped playing soccer, she did not completely disappear. She is now a commentator and the creator of the Julie Foudy Sports Leadership Academy. Additionally, in 2007, she was named into the National Soccer Hall of Fame.
As one of the most successful national soccer teams, the years that she played soccer alongside other legends such as Mia Hamm, Joy Fawcett, and Brandi Chastain was known as the Golden Era of United States Women's football, and it has forever changed the world's view about women's sports.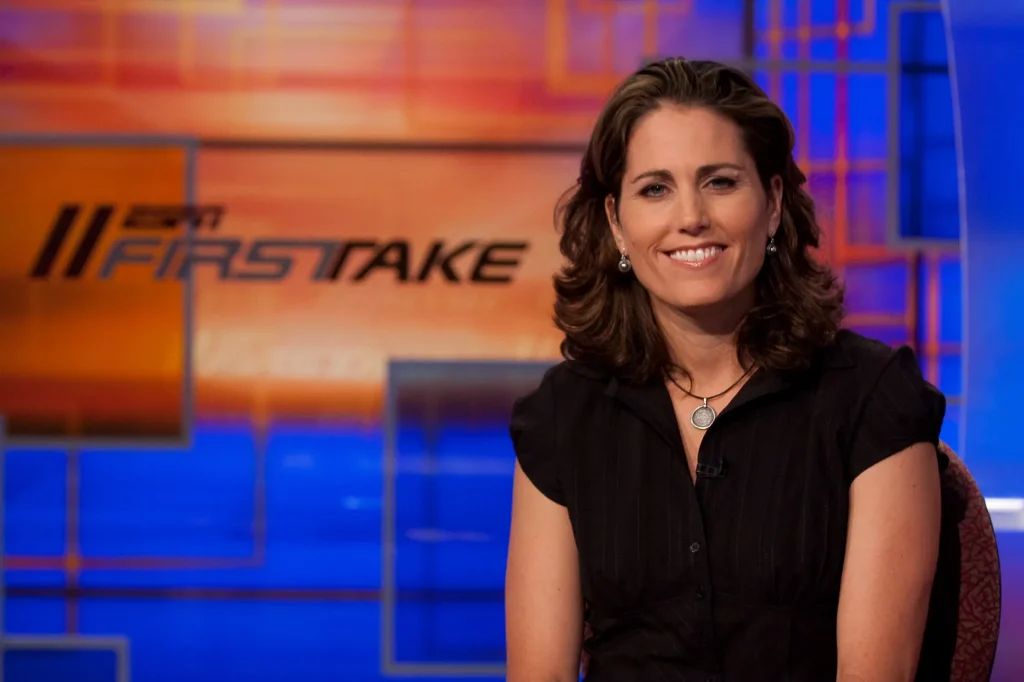 Sports Broadcasting
After her retirement in 2004, she did not stop her involvement with soccer. For many years she has been a sports broadcaster and she is still often in that seat today.
She has been an in-studio analyst and an on-air reporter for major channels such as ESPN, ABC, and NBC. In addition to covering normal games, she has also been a reporter for several World Cups, UEFA Euros, and soccer Olympic games.
Sports Leadership Academy
The Julie Foudy Sports Leadership Academy, also known as JFSLA, was founded in 2006. Created by both her and her husband, it is a business that provides weekly soccer camps for kids and leadership-building classes for teenage girls between the ages of 12 and 18.
The staff working there with the young athletes include Olympic gold medalists and World Cup champions. This academy with help continues to spread the popularity and enjoyment of women's soccer in the United States.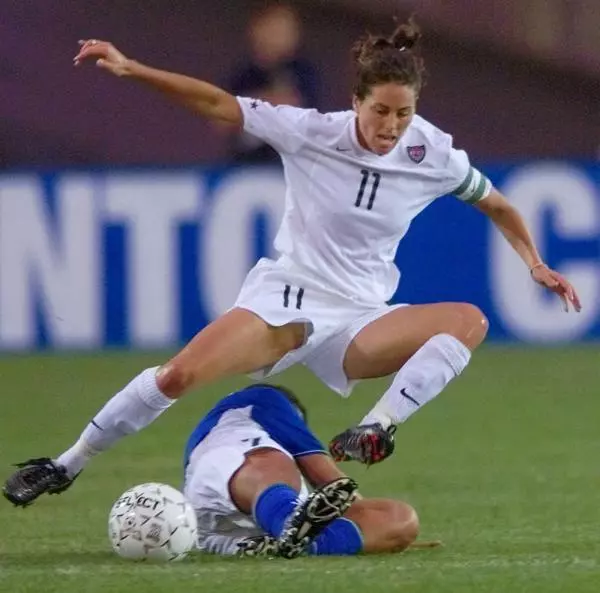 Laughter Permitted
Laughter Permitted is a podcast created by Julie Foudy. In each episode, she talks to "trailblazers," as she calls them, in women's sports. Some well-known people that have been a part of the podcast include Mia Hamm, Simone Biles, and Abby Wambach.
Conclusion
Due to Julie Foudy's amazing soccer talent, she has and will continue to contribute to the way women's soccer is today.
By being a part of the Golden Era as well as just being a great player in general, she has helped increase the popularity and interest in women's soccer throughout both the United States and the whole world.
Julie Foudy Stats
Full Name: Julie Maurine Foudy
Birthdate: 23/01/1971
Birthplace: San Diego, California
College Career:
Stanford Cardinal 1989–1992
College Appearances: 78 matches (52 goals)
Senior Career:
Sacramento Storm 1993
Tyreso FF 1994
Sacramento Storm 1995–1998
San Diego Spirit 2001–2003
National Team Career:
Total National Team Appearances: 273 matches (45 goals)
National Team Honors:
1991 and 1999: FIFA World Cup Champions
1996: Summer Olympic Games Gold Medalist
Personal Honors:
1997: FIFA Fair Play Award
2007: National Soccer Hall of Fame Inductee