By winning the 2014 FIFA World Cup, Philipp Lahm finally became one of Germany's most successful soccer players of all time, having taken his first steps in the sport at a small club on the outskirts of Munich many years earlier.
To mark his achievement, the History Of Soccer team spoke with some of the world champion's former companions on his journey to greatness.
Becoming the first Germany captain in 24 years to hoist the FIFA World Cup Trophy aloft, Philipp Lahm definitively took his place among the pantheon of Mannschaft greats – something that quickly becomes apparent to anyone visiting his home.
"He has a room entirely dedicated to his trophies and medals," his childhood friend Emanuel Jozic enthused in a conversation with historyofsoccer.info, "and it's not a small room."
During his 16 years as a professional, Lahm has amassed eight German championship titles, six DFB-Pokals, and a winner's medal from the UEFA Champions League and FIFA Club World Cup. Then, of course, the German full back added the World Cup winner's medal to his extensive collection in July 2014.
The Bayern skipper laid the foundations for this success at FT Gern, a friendly community club not far from his family home in western Munich. Philipp Lahm began playing football at age five and soon got to know Jozic well.
"He was our man in midfield and is still a fantastic friend today," Lahm told the History Of Soccer. It quickly became apparent that young Philipp Lahm was blessed with exceptional talent that outstripped his teammates and opponents even in these early days.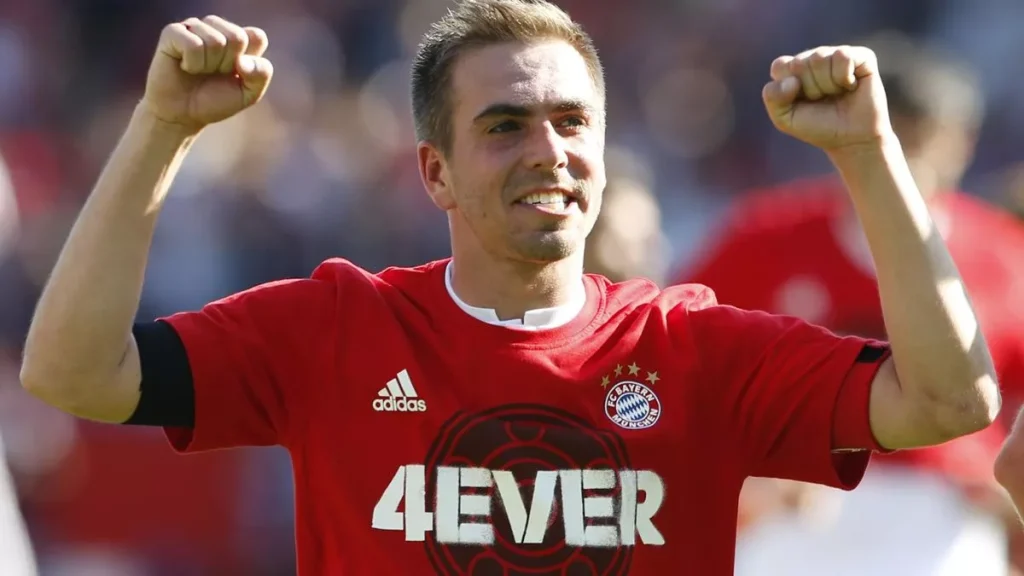 Philipp Lahm Always A Team Player
If Germany's future captain knew of his gift, he did not show it. Jozic recalls that his friend was always a team player who dedicated himself to the side. "The atmosphere at Gern is very down-to-earth and grounded, and that's how Philipp played too," explained Andreas Theilacker, who coached the 12-year-old Philipp Lahm in his final year with his hometown team.
"It's a real family club. Everyone involved with it has been there forever," Karl Kessler told the History Of Soccer. Kessler was one of Lahm's youth coaches and remains close friends with his family, who have also been club members for decades.
His mother, Daniela, is still a youth leader there, while for many years, his father, Roland, played in Gern's first team alongside Kessler, who believes it was very much a case of 'like father, like son.
"His talent comes from his Dad," the Gern youth coach said. He believes Roland could have played at a much higher level were it not for his loyalty to the club – another trait he has passed onto his son. Theilacker recalls that Philipp Lahm's talent did not go unnoticed by scouts from Munich's biggest clubs, who paid close attention to the promising youngster at almost every match.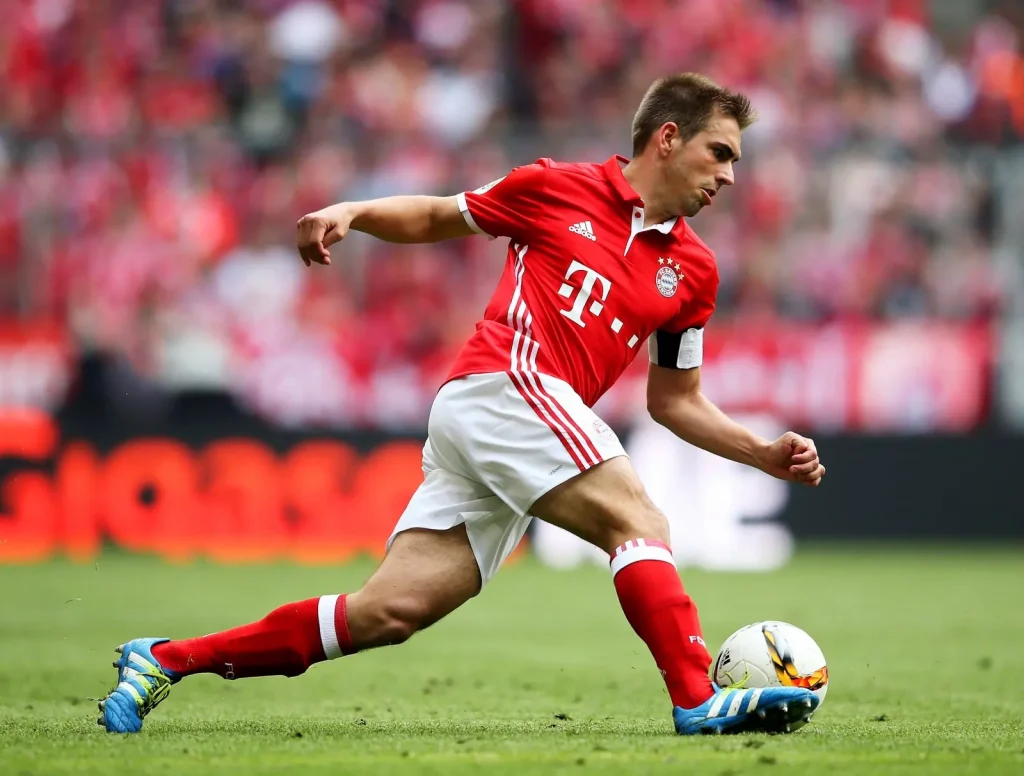 No Parental Pressure
Despite this keen interest, Lahm did not want to go anywhere. "He wanted to stay with his friends, near his home," his former Gern team-mate Sebastian Konigsbauer told the History Of Soccer. Still, Bayern and 1860 Munich's persistence eventually prompted the right-footed player to face up to a tough decision.
His childhood friends and coaches confirm that Philipp Lahm was not a fanatic Bayern Munich fan, preferring to back local rivals 1860 instead, and although his father was a Bayern supporter, he did not want to influence his son's choice. Friends recall that his parents never pressured him, instead opting to support their son in whatever decision he made.
The crucial factor in Lahm's decision to join Bayern came from one match that Jozic still vividly remembers. Gern's youth team played a game at 1860 Munich's training ground, where the promising youngster complained that there were "too many holes in the fence" and said the pitch was in "too poor a condition."
He finally made up his mind after subsequently acting as a ballboy for a Bayern game at Munich's Olympic Stadium, making a move to FCB at the age of 12.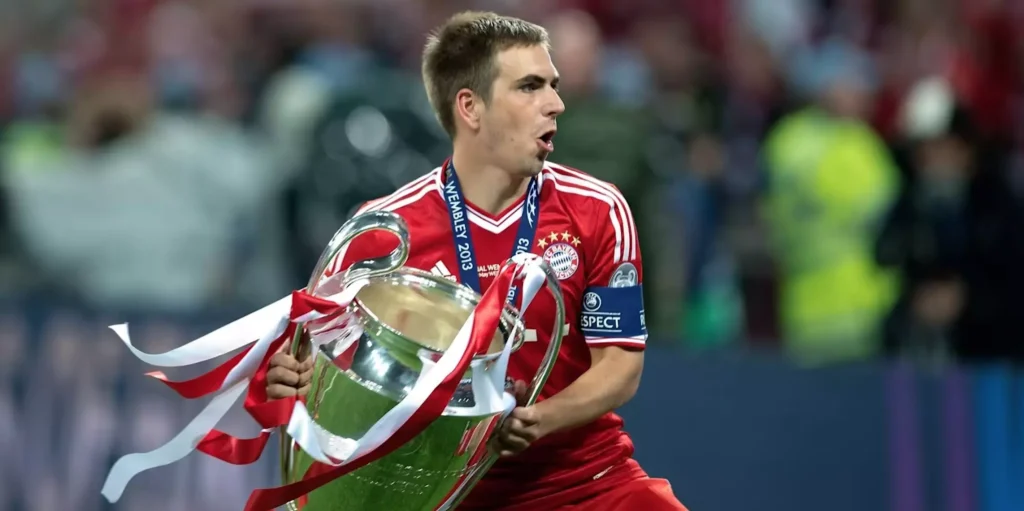 Defeat Not An Option
Lahm thrived in his new environment despite his diminutive stature, something his childhood friends and coaches all attribute to his determination, ambition, discipline, intelligence, and considerable talent.
This same drive and ambition was evident even off the football pitch, and whether playing basketball, billiards, darts, PlayStation, or cards, one thing is sure: Philipp Lahm hates to lose.
"You can tell straight away from his gestures that it frustrates him," said Jozic with a laugh. "He always looked for someone to blame when playing Schafkopf or Watten (Bavarian card games), which would spark a lengthy debate," added Kessler, while Konigsbauer recalled that "he'd sulk and be in a terrible mood whenever we lost a game."
The 2014 world champion worked exceptionally hard to ensure this did not happen too often and has been impressed with his commitment and strong performance at the highest level for many years.
Hermann Gerland, who coached Lahm in Bayern's amateur side, recently summed up his former young charge by declaring: "For me, he was the best 17-year-old footballer I've ever encountered. One of the greatest full backs of all time didn't make a single mistake in either training or matches."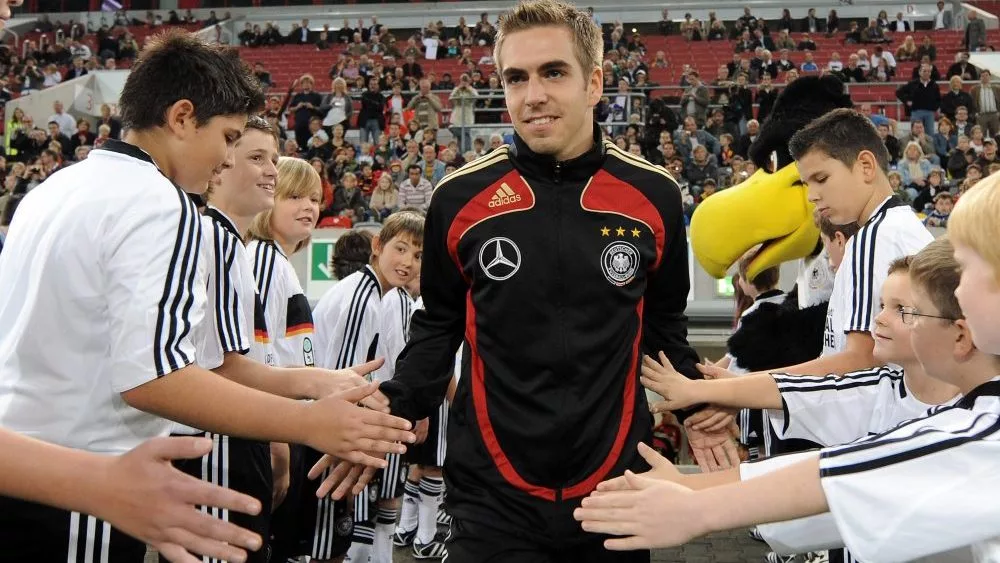 A Refusal To Give Up
Theilacker, however, recalls one match in which Lahm was unable to make his usual impact. His opponent on that occasion was a girl paired against the Bayern youth player because of her pace. "He couldn't cope with that situation; he had no idea how to play against a girl," his former teammate said with a grin.
Despite his meteoric rise, Philipp Lahm has also suffered several setbacks when agonizingly close to success, including defeats in the UEFA EURO 2008 final, the semi-finals of the 2010 World Cup and EURO 2012, as well as the 2012 Champions League final in Munich.
Nevertheless, he never stayed down for long and emerged stronger from these reverses. In particular, Jozic noted that after the disappointment of losing at home in the final of Europe's premier club competition, "he still wanted more and pushed on even harder." These efforts paid off, suggesting that precisely these disappointments ultimately brought the world's best full-back so many titles.
"He could hardly be more successful. I still call him 'world champion' whenever we see each other," Jozic said.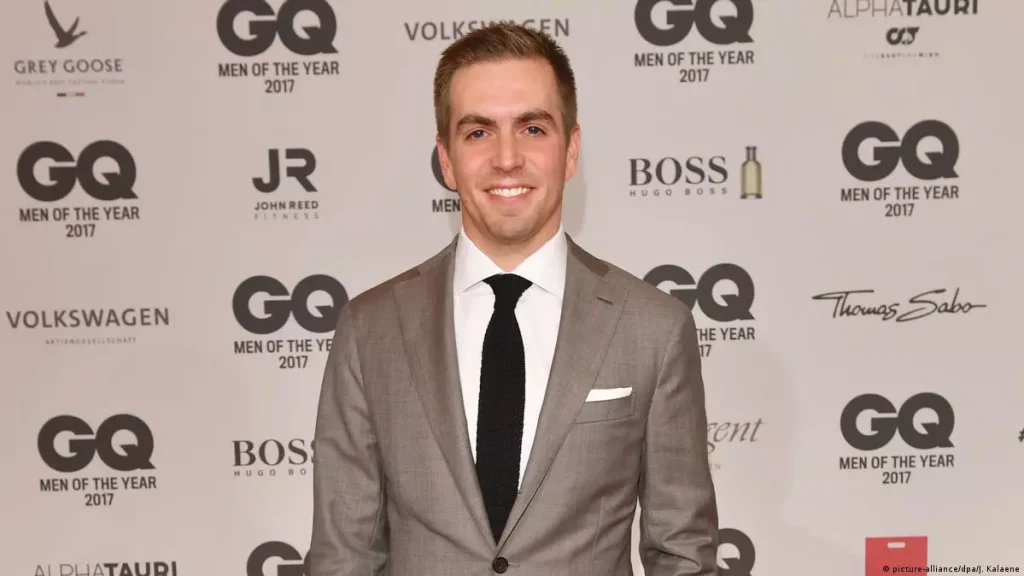 Domestic Bliss The Key To Total Happiness
This summer's triumph at the Maracana provided a perfect opportunity for all of Lahm's former colleagues to reflect on the special moments they shared with the man who was first to hoist the World Cup Trophy into the night skies above Rio.
[Lahm would] sulk and be in a terrible mood whenever we lost a game – Former Coach Karl Kessler
Konigsbauer told the story of a group bicycle ride during childhood during which Lahm's bike broke. Although this required him to put in far more effort than anyone else, he had no problems keeping up. "I think his parents did it on purpose to train him up," he joked.
Kessler recalled a ski trip traditionally undertaken every Christmas Eve until the Bayern captain's son was born a few years ago. Then, when Philipp Lahm was 13, it rained so hard that Kessler decided to turn around and go home – a decision his young charge did not agree with.
"He was so annoyed about that and even called me a wimp," his youth coach said, laughing. Yet, as they recall these anecdotes, the pride these men feel for their former team-mate, protégé, and friend is abundantly clear.
Lahm's decision to retire from international football means he can spend more time with his wife and young son. "He takes his role as a father very seriously; he does a great job and is happy," said Jozic, and although "he's matured more too," the pair can still have fun together "like before."
Indeed, each time one of the History Of Soccer interviewees meets up with the World Champion, they realize that the big name in German football is still the same boy he was back in Gern all those years ago.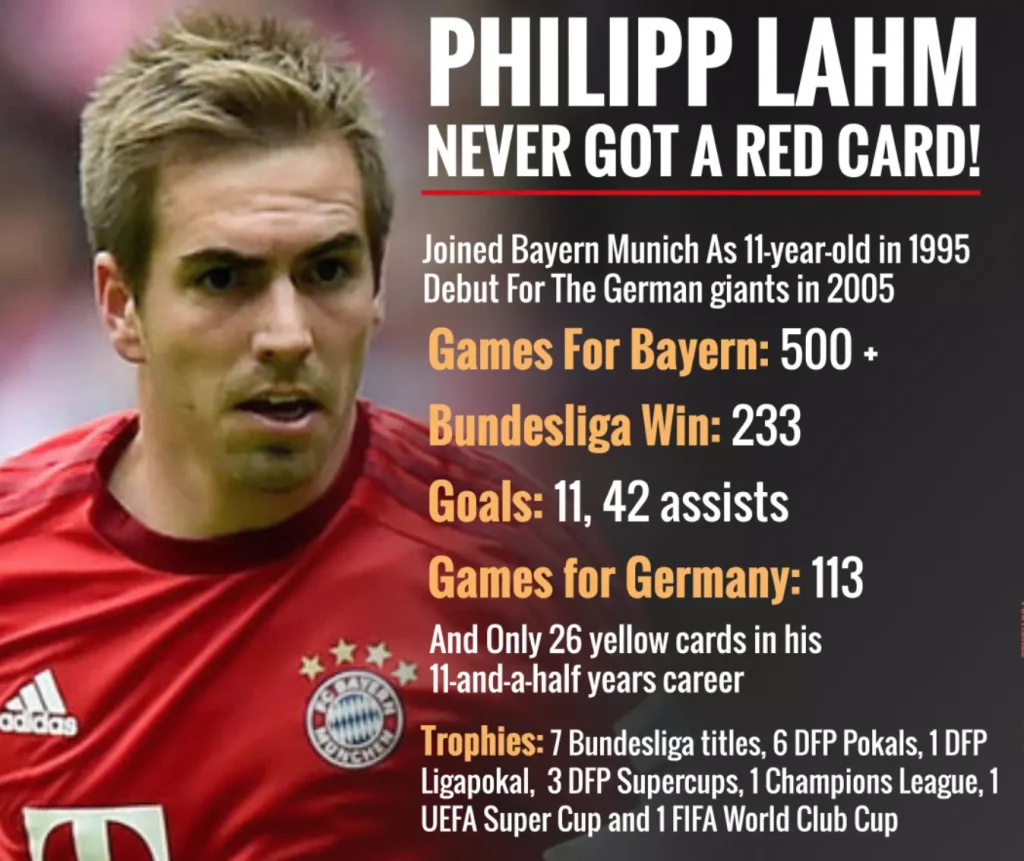 Philipp Lahm Stats And Honors
Full Name: Philipp Lahm
Birthplace: 11/11/1983
Birthplace: Munich, Germany
Club Career:
Total Appearances: 332 matches (12 goals)
International Career:
Total Appearances: 113 matches (5 goals)
Plating Honours:
Bayern Munich
2005–06, 2007–08, 2009–10, 2012–13, 2013–14, 2014–15, 2015–16, and 2016–17: Bundesliga Champions
2005–06, 2007–08, 2009–10, 2012–13, 2013–14, and 2015–16: DFB-Pokal Winners
2010, 2012, and 2016: DFL-Supercup Winners
2012–13: UEFA Champions League Champions
2013 UEFA Super Cup
2013FIFA Club World Cup
Germany National Team
2014: FIFA World Cup Winners
Individual Honors:
2006, 2010: FIFA World Cup All-Star Team:
2006, 2008, 2012, 2013, and 2014: UEFA Team of the Year
2008 and 2012: UEFA European Championship Team of the Tournament
2013–14: UEFA Champions League Team of the Season
2014: FIFA Ballon d'Or: 6th place
2017: Footballer of the Year in Germany
Philipp Lahm Fun Facts
Bayern Munich Squad number: 21
Position: Full Back / Wing Back
Star Sign: Scorpio
Height/Weight/Shoe size: 1.70 m / 65 kg / 38.5
Marital Status: Married to Claudia
Education: High school
Attributes: Confident, determined, ambitious
Hobbies: Tennis, billiards
Favorite Food: Sauerbraten with spaetzle
Personal Website: www.philipp-lahm-stiftung.de
Motto In Life: "Less can be more!"