Franz Beckenbauer is a German footballer who began his professional playing career as a forward and midfielder. In switching to defense, he changed soccer forever, becoming the greatest defender in history and inspiring countless players worldwide to follow in his footsteps.
It is without a doubt that Beckenbauer went on to become one of the greatest soccer players and coaches of all time. In 1974, he won the FIFA World Cup as a captain and again in 1990 as manager.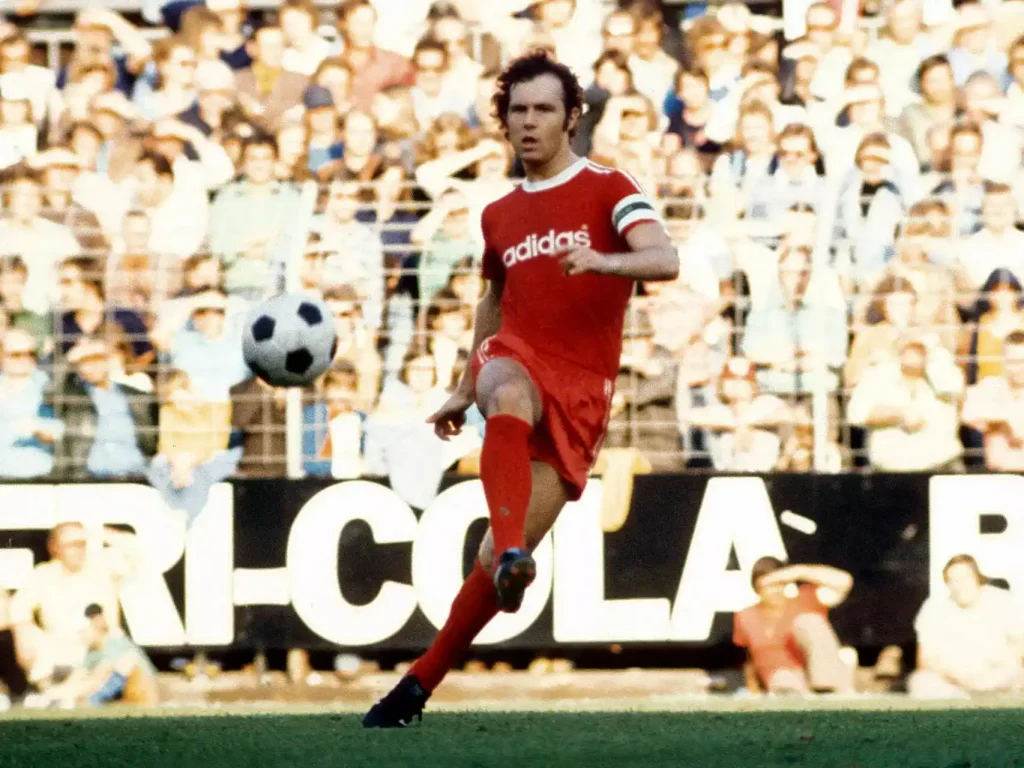 Who Was Franz Beckenbauer?
On September 11, 1945, Franz Anton Beckenbauer was born in Munich, Germany. He had been playing for youth teams since the age of six and attracting the attention of scouts.
The son of a postal depot manager, he joined SC Munchen 06's youth team at nine years old before joining Bayern Munich in 1958 at the age of fourteen.
Franz Beckenbauer, who grew up in post-war Germany, looked up to Fritz Walter, a forward who had led West Germany to victory at the 1954 World Cup.
Using the skills he developed as a midfielder and later a defender, Beckenbauer revolutionized the role of the defender, similar to German soccer legend Fritz Walter.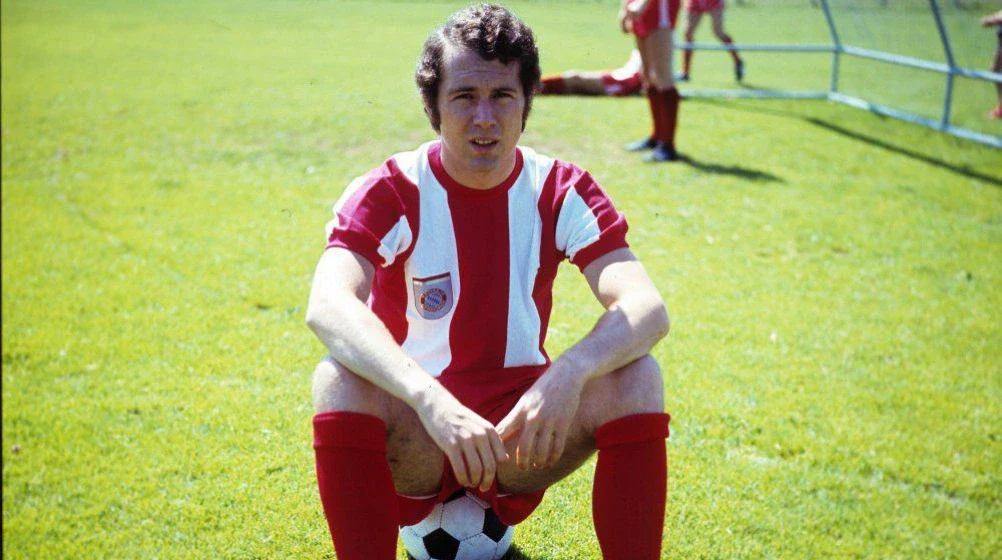 What Made Franz Beckenbauer So Special?
Franz Beckenbauer was a sweeper-defender, a role he didn't create, but 5 foot 11 inch (181cm) soccer player improved upon and made his own. A sweeper would sweep up the ball after it had gone beyond the defense, thereby putting himself as the last line of defense and doing a heroic job of keeping attackers at bay.
It was also the sweeper's responsibility to advance up and down the field, moving as far forward as the defensive midfielder position and as far back as the position just in front of the goalkeeper. Beckenbauer took advantage of this to boss the defense.
In addition to being a great tackler and defender, he was adept with the ball at his feet. Due to his ability to dribble, pass, tackle, and head, he excelled in this role, which wasn't found in many other defenders.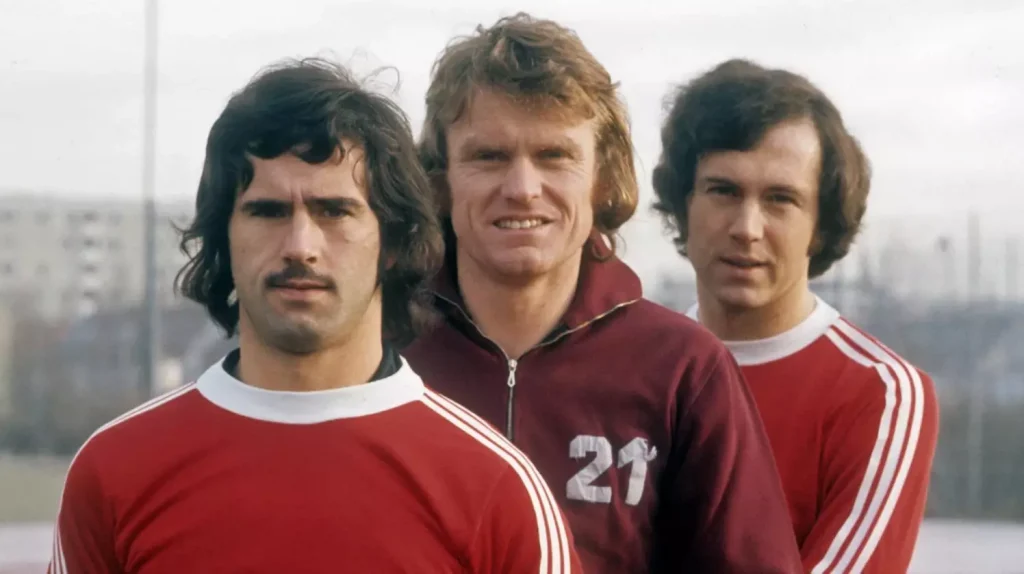 Club Career
Beckenbauer was a youth player for Bayern Munich, then moved to the senior squad when he was 19 and made his debut in 1964 as a left-winger. Four years in the first-team squad, Franz Beckenbauer became Bayern Munich's captain and was credited with the team's success in the German Cup and the Cup Winners'Winners' Cup.
In addition, he began exploring the role of "sweeper" around this time. Before creating this new role, the Kaiser was a natural winger comfortable on the soccer ball could advance forward and defend. Again, Beckenbauer was perfect for the position. He fit in, becoming an infinitely better player as part of a Bayern Munich team that won several league titles.
Bayern Munich won successive league championships in 1972, 1973, and 1974 thanks to Franz Beckenbauer. A Bayern title had been unattainable for over 35 years before their success in 1968 and 1969.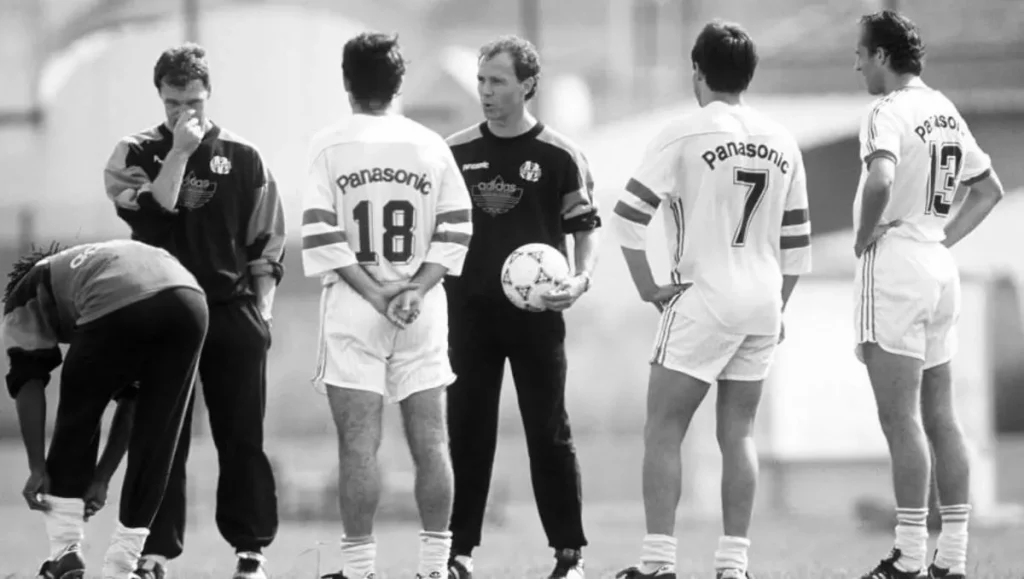 The Golden Age Of Bayern Munich
Bayern Munich went through their first golden age under Beckenbauer, and he essentially kickstarted a winning habit they never lost. In addition to winning three domestic titles, Beckenbauer's Bayern won three European Cup titles from 1973 to 1976, something even the modern Bayern hasn't been able to accomplish.
During his career with the German champions from 1964 to 1977, Franz Beckenbauer played 439 games. The German star won two Ballon d'Orsd'Ors and four German Footballer of the Year honors. Furthermore, he scored 64 goals, including free kicks and shots outside the penalty area.
He went on to help the New York Cosmos win three North American Soccer League titles, and two Trans-Atlantic Cups before his playing career ended. Franz Beckenbauer ended his club career in 1983 after playing 572 games, scoring 83 goals, and receiving many awards and medals.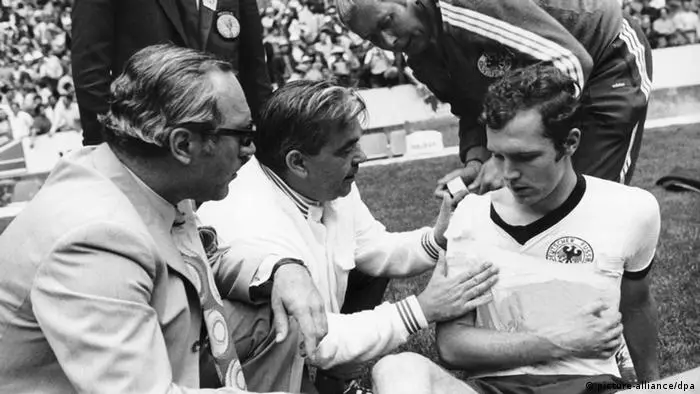 International Career
Franz made his international debut on 26 September 1965 at age 20 and played in three FIFA World Cups. The young Beckenbauer scored two goals in his first game at the 1966 finals, a 5-0 victory over Switzerland.
Another memorable moment of his career was his semi-final match against Italy in 1970, when he played with a dislocated shoulder and was wearing a sling to protect his injured arm. In the end, the Italians ran out 4-3 winners, leaving the Germans in third place.
The German national team won the 1972 EURO Championships and the 1974 World Cup while the Der Kaiser was captain of Bayern Munich. For a country with 50 years of golden ages, West Germany's 1970s team was one of the greatest ever.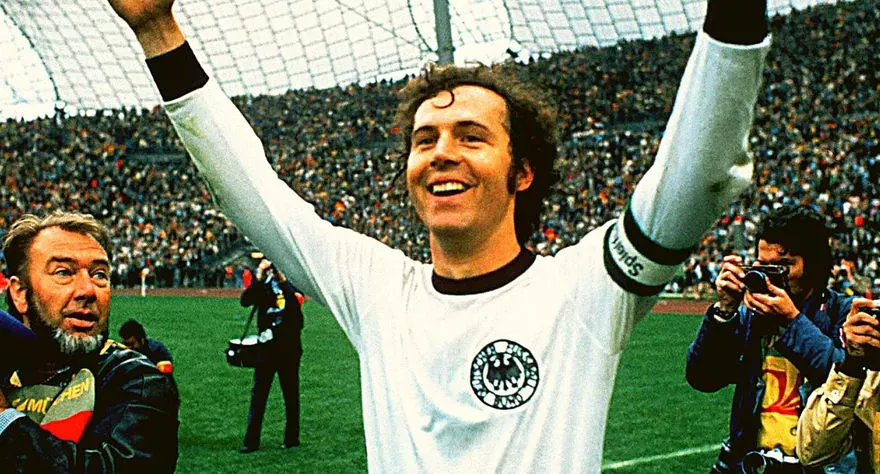 World Cup On Home Soil
The 1974 World Cup was Beckenbauer's finest hour. As a sweeper behind the defense, he played the position he revolutionized. Despite organizing the team from the back, he also advanced when his side was on the attack. He simply could not resist moving forward; it was in his natural instinct.
For Beckenbauer and his team, the 1974 FIFA World Cup in Germany was extra special. No less than victory was demanded by the home fans from the very first whistle. As the first captain to lift the FIFA World Cup trophy since Brazil retained the Jules Rimet trophy in 1970, Beckenbauer lifted the new trophy after their 2-1 win over the Netherlands.
After helping West Germany reach the 1966 and 1974 World Cup finals, Beckenbauer retired from international football at the tender age of thirty-one. Few players have achieved the feat of appearing in three World Cup finals, and although he could have played on for another few years, he felt his time on the world's biggest stage was over.
Beckenbauer won the Best Young Player award, the World Cup Bronze Boot, and the Silver Ball during his time with the German national team during the World Cup. He also appeared in three World Cup All-Star Teams, 1 FIFA XI, and the FIFA World Cup All-Time Team.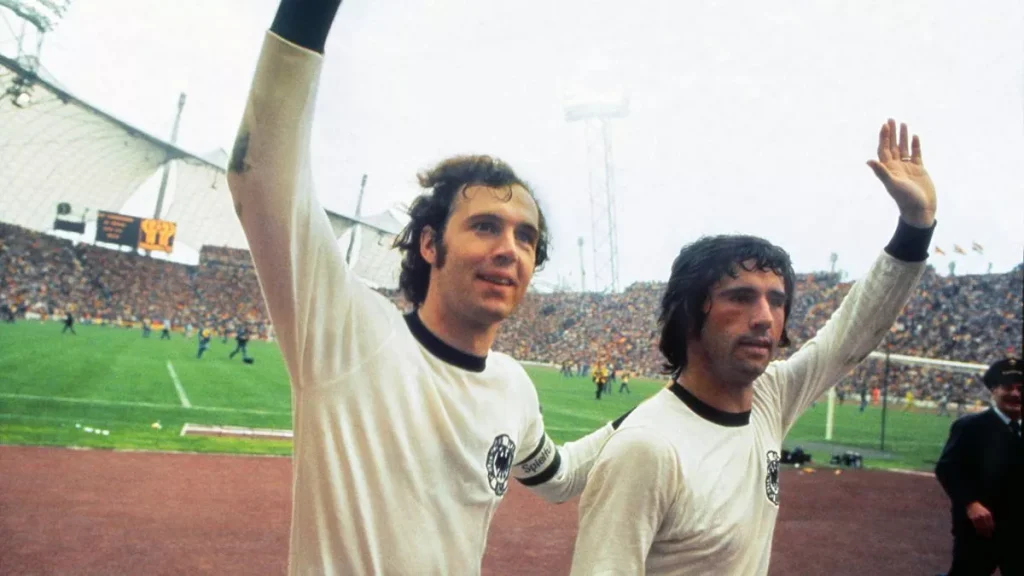 Germany National Team Manager
Beckenbauer was appointed West Germany's national team coach in July 1984 after Jupp Derwall failed at that year's UEFA European Championship. He led his team to the Final at Mexico World Cup in 1986, his first major success. Beckenbauer had come of age as a head coach even though Argentina won the trophy.
During the 1990 FIFA World Cup in Italy, West Germany was undefeated. Beckenbauer became the first man to win a FIFA World Cup as a captain and coach when Andreas Brehme converted the only goal against Argentina from the penalty spot. Franz Beckenbauer has said that managing a team to victory was the pinnacle of his football career.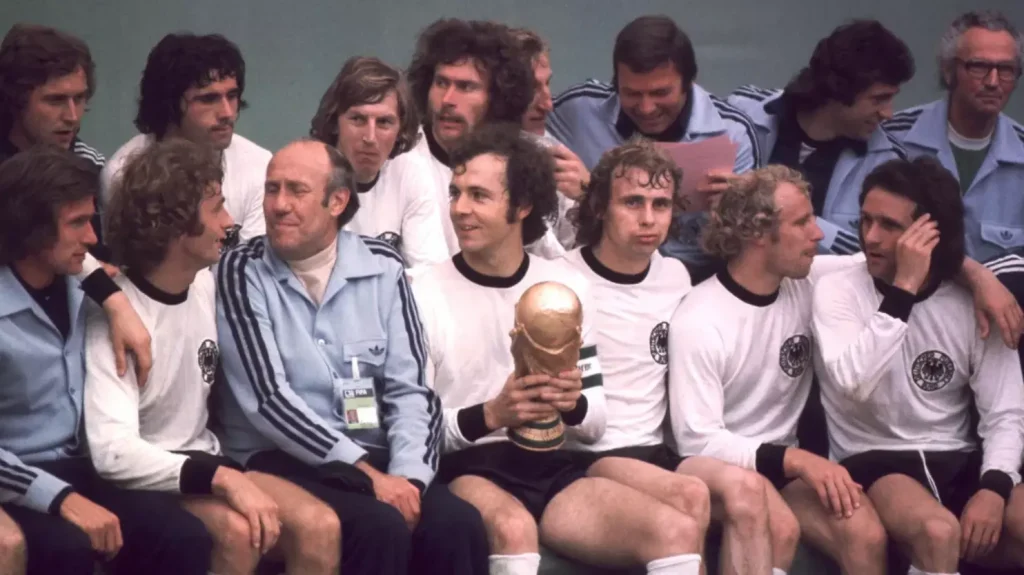 The Legacy Of Franz Beckenbauer
Germany and other top teams utilized the sweeper role throughout the years, and they all sought players with the same versatility Beckenbauer possessed. The position was crucial for Greece's EURO2004 team. The same squad surprised everyone by winning the tournament despite being the improbable favorites.
In the modern game of soccer, this role has somewhat diminished. Coaches and managers today rely on the offside trap rather than playing sweeper. Franz Beckenbauer, however, is still an inspiration to many greats in modern soccer, including Sergio Ramos. Whether he knows it or not, the latter has adopted some of his techniques from this great German.
Usually, the tricky midfielders and prolific strikers score all the goals, so Franz Beckenbauer might be overlooked when discussing the greatest footballers in history. However, most soccer fans worldwide believe Beckenbauer is the greatest defender ever, so he deserves a spot on any Best Eleven team.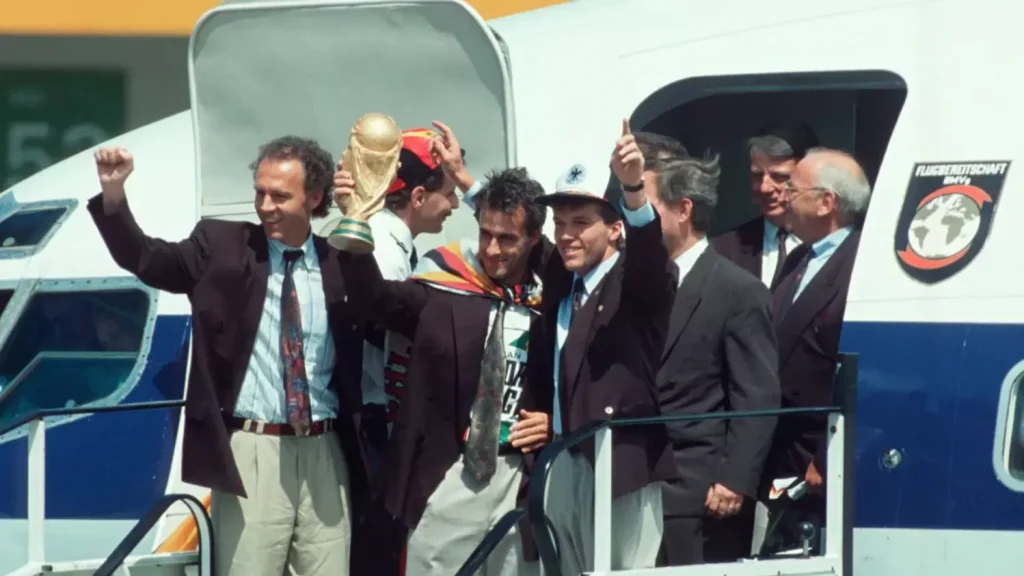 Franz Beckenbauer Stats, Facts, And Figures
Full Name: Franz Anton Beckenbauer
Birthdate: 11/09/1945
Birthplace: Munich, Germany
Playing Career:
Bayern Munich 1964–1977
New York Cosmos 1977–1980
Hamburger SV 1980–1982
New York Cosmos 1983
Total Appearances: 560 matches, 79 goals
National Team Career:
West Germany 1965–1977 (103 international matches, 14 goals)
Managerial Career:
West Germany 1984–1990
Marseille (Sporting Director) 1990–1991
Bayern Munich 1993–1994
Bayern Munich 1996
Playing Honours:
Bayern Munich
1964–65: Regionalliga Süd
1965–66, 1966–67, 1968–69, and 1970–71: DFB-Pokal Winners
1968–69, 1971–72, 1972–73, and 1973–74: Bundesliga Champions
1973–74, 1974–75, and 1975–76: European Cup Winners (Champions League)
1966–67: European Cup Winners' Cup
1976: Intercontinental Cup
Hamburger SV
1981–82: Bundesliga Champions
New York Cosmos
West Germany
1972: UEFA European Championship Winners
1974: FIFA World Cup Winners
Managerial Honors:
West Germany
1990: FIFA World Cup Winners
Marseille
Bayern Munich
1993–94: Bundesliga Champions
1995–96: UEFA Cup Winners
Individual Honors:
1966: FIFA World Cup Best Young Player Award
1966: FIFA World Cup Bronze Boot
1966, 1970, and 1974: FIFA World Cup All-Star Team
1966, 1968, 1974, and 1976: German Footballer of the Year
1972 and 1976: Ballon d'Or Winner
1972 and 1976: UEFA Euro Team of the Tournament
1984: FIFA Order of Merit
1990: European Coach of the Year — Sepp Herberger Award: 1990
1994: FIFA World Cup All-Time Team