Widely coveted as one of the best defenders to ever play the game, there are many aspects of Sergio Ramos' football IQ that are so typically overlooked – don't worry, we'll get on to them later.
Thanks to his knack for goal scoring, he has become one of the sport's greatest ever scorers for a defender and will be etched in that folklore. But more notably, his goals came in crucial moments and that is what made Sergio Ramos one of the most well-documented goal scoring defenders.
Looking at the standards Ramos has set in every aspect of his well-rounded game, it's fair to say the modern-day centre-back needs to be more than 'just a defender'. Thanks, Sergio.
Sevilla: Where It All Began
Born in Seville, a player of Ramos' ability slotted slowly but surely into the club's plans. He began – at age six – at Camas CF but was quickly scouted by the Sevilla chiefs as the next prospect to emerge through the club's youth set-up alongside the likes of Jesus Navas.
His debut came in 2004 as a substitute, though his days spent on the bench lessened as the years past until he became a mainstay.
The season following (2004-05) was the season in which Sevilla realised what a talent they had at their disposal. The young and hungry Spaniard – eager to establish himself in the torrid world of football – played 41 games for Sevilla as they finished sixth, all the while qualifying for the 2005-06 UEFA Cup.
Real Madrid: Where He Became A Monster
To be a Madridista for 16 years should be an accolade in itself.
Way back in 2005, Real Madrid took a punt on a tender professional and, in turn, made him the most expensive Spanish defender at the time.
High-profile as it was, his transfer put European stalwarts back €27m and was interestingly the only native Spanish player that Florentino Perez purchased during his stint as Real president.
Primed with the No.4 shirt, there was no limits to what Ramos could achieve but had to wait a few months before opening his account for Madrid against Olympiacos on the biggest stage of all: the Champions League.
His inaugural seasons saw him deployed at centre-back and even centre-midfield (he could genuinely do it all), though the arrival of Pepe in 2007/08 saw him relocated to the right-back berth. But not for long.
The Portugal international's serious knee injury allowed Ramos an opportunity to shine in a position he would eventually nail down as his own: centre-back.
We've spoken about the Spaniard's exploits in front of goal and for those that do remember will look fondly back on his crucial last-minute header against Atletico Madrid to secure their tenth Champions League triumph – he has even labelled it as his 'most important' goal.
Trophy hauls don't often come more impressive than Ramos', though almost 99% of them came while he earnt his corn in Madrid, with four Champions Leagues and five La Liga trophies to his name.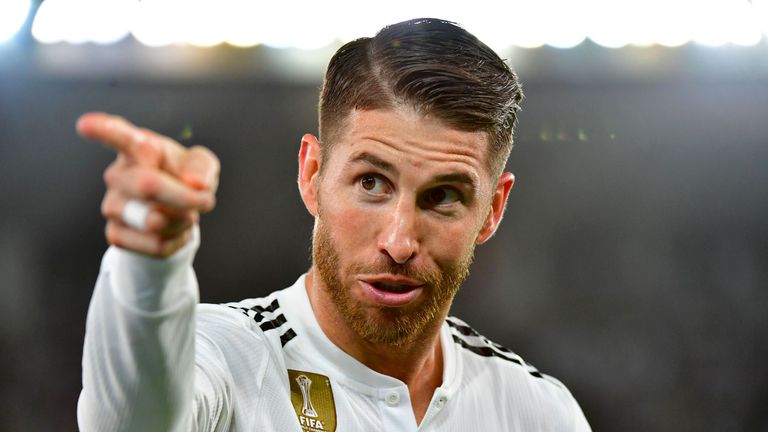 Paris Saint-German: Where He Tailed Off His Career  
Upon his arrival in Paris, the staff were said to be impressed with his outrageously 'young' physique and compared his physical nature to that of someone 10 years his junior.
He has continued his streak of dominating domestic proceedings at PSG by winning two Ligue 1 titles on the bounce, while he also added a French Super Cup to his already-impressive CV last season.
In June 2023, he made the decision to hang up his Parisian-laced boots. The very next day, he opened the scoring in a 2-3 defeat against Clermont in his final game for the club.
Despit the loss, PSG went on to win their record 11th domestic gong. That's what Ramos is made of. Right until the last minute.
Style Of Play
The Spaniard's imposing leap has made him a lethal weapon at both ends of the football pitch during his career.
From a defensive-minded standpoint, his heading ability stood him above the rest and ensured that any centre-forward was fairly contended. But more intriguingly, his aerial prowess has made him a lethal threat from corners and free kicks alike.
On the whole, he was an ever-reliable performer in the high-pressure games and situations and was sometime a clutch goal scorer, despite his position in the pitch.
While a highly competent tackler the majority of the time, Ramos had a tendency to fly into, shall we say, a challenge. His impulsive nature which, in turn, made him prone to the occasional defensive error is his only downfall.
In the grand scheme of things, the most part of defenders of yesteryear were combative in duels and were – typically, at least – classy with the ball at their feet, which means it is the intangible aspects of Ramos' game, most notably his leadership capabilities, that has helped him cement himself into the 'Mount Rushmore of defenders' conversation.
Alongside the excellent communication in his extensive arsenal, his versatility – shown by his ability to ply his trade in all defensive roles – stands him good stead among legends like Paolo Maldini.
And that leads us quite poetically into the next segment: his poor disciplinary record.
His Poor Disciplinary Record
For those blessed to watch Ramos during his glory years, you'll be well aware of tendency to make unjust challenges which, as you can guess, often resulted in a caution and/or an early shower.
Not only for Real Madrid but he holds a plethora of disciplinary records, which include the Champions League, La Liga, El Clasico and in the Spain national team.
To put things into perspective, he was shown 191 cards in La Liga, 171 of those being a yellow. This record strings across all of the top European leagues making him the most booked player in all major European top flights.
Making the Spaniard the most sent-off player in the Spanish top division with 20 early baths under his belt, while his record in the Champions League, while impressive, is relatively of concern.
Unexpectedly, he is also the most-carded and joint-most red-carded player in the history of the competition, with 40 yellows and four red cards – three of which were straight cards.
While they're not exactly records to be super proud of, it'll take some doing to ever surpass them given the extent of his career at the capital club.
His International Career
While Ramos was strutting his stuff for Madrid and rightfully earning plaudits left, right and centre, he also took centre stage internationally and more often than not, was one of Spain's top performers.
He became an instant hit for Spain's Under-19 side – but that was until the senior side came knocking.
Young Sergio was just 18 years and 361 days of age when he donned the famous red and yellow colours for the first time, making him the youngest player – at that time – to do so.
Ramos was a vital cog in Spain's industrious 2010 World Cup-winning side and played every single minute of the tournament, albeit at right-back.
In that sequence, he helped his country maintain five clean sheets and was found at the summit of the tournament's Castrol Performance Index with a monstrous score of 9.79.
And while no accolade can top literally becoming the champions of the football world, Ramos was shifted infield during Euro 2012 to feature alongside rival-turn-teammate Gerard Pique as the two spearheaded their country to more success on the international stage.
El Corazon de Sergio Ramos
Only the most righteous of footballers have a documentary made on them and Ramos is one of them. But looking back at his decorated career, it should come as no surprise.
While captaining two powerhouse teams – the Spanish national team and Real Madrid – the highly anticipated Amazon documentary dropped to give viewers an … insight into the trials and tribulations of being Sergio Ramos.
Documented through the lens of not only himself but the press and fans, too, Ramos' life as a whole is portrayed, and it is a great watch.
Most notable moment from the documentary was during one of Madrid's Champions League Round of 16 contests, one in which he was suspended from.
Watching from the crowd, Ramos' entire reaction was filmed as he helplessly watched his side fall at the hands of defeat. Controversy was sparked, though the defender claimed that "certain commitments made, and it never remotely went through my head that the game could have turned out as it did".
The success of first docu-series, a spin-off was made as he announced in June 2020 that 'La Leyenda Sergio Ramos' (The Legend of Sergio Ramos) which was laser-focused on diving into his best moments during his decorated playing career.
And you know what? Ramos deserved his series. Having your life made into a watchable spectacle speaks volumes of the role model he became during his glory days, months and years as one of the greatest footballers to ever grace the pitch.
"The best defender in the world at the moment." Carlo Ancelotti once described him as, but there are many people who would disagree. Many – rightly or wrongly – would hail him as the greatest defender. Today. Tomorrow. Forever.