Real Madrid, are globally considered one of the most illustrious and successful football clubs in the world.
Their iconic badge and strip captivates fans across the world, with the club so successful fans of Real Madrid outside of Spain outnumber fans of the club inside of Spain. 
The club are serial winners, being one of 3 sides in Spain to have never been relegated and have long been imbued with an undefeatable, indomitable spirit, that permeates deep into the clubs core.
They have won the La Liga title, the top tier of Spanish football, a record 34 times, and the Champions League a record 14 times.
Foundation and Early Years
Real Madrid was officially founded on March 6, 1902. However, the very deepest roots of the club stretch back around 5 years earlier. 
Their origins go back to the late 1890's during a time where football was an underdeveloped primordial soup of amateur teams and barely regulated tournaments.
Football had been introduced to Madrid by the academics and students of the Institución Libre de Enseñanza, which featured Cambridge and Oxford University graduates who introduced football to Madrid. 
Sky Football was the first club of its kind in Madrid, founded in 1897, commonly known as La Sociedad (The Society). Though rest assured the Murdoch family had nothing to do with this.
Playing on Sunday mornings at Moncloa, the club would become a small but passionate society as new members steadily joined. In 1900, conflict between members caused an exodus, as some members left to create a new club of their own: Nueva Sociedad de Football (New Society of Football).
Among the dissenters were Julián Palacios, who would later be recognised as the first Real Madrid president, Juan Padrós, the 2nd president and his brother, Carlos Padrós, the 3rd president.. 
On 6 March 1902, after a new Board presided by Juan Padrós had been elected, Madrid Football Club was officially founded. Three years after its founding, in 1905, Madrid FC would win its first trophy after defeating Athletic Bilbao in the Spanish Cup final. It wasn't a one off either, as they won the trophy 2 more years in a row!
What does "Real" mean?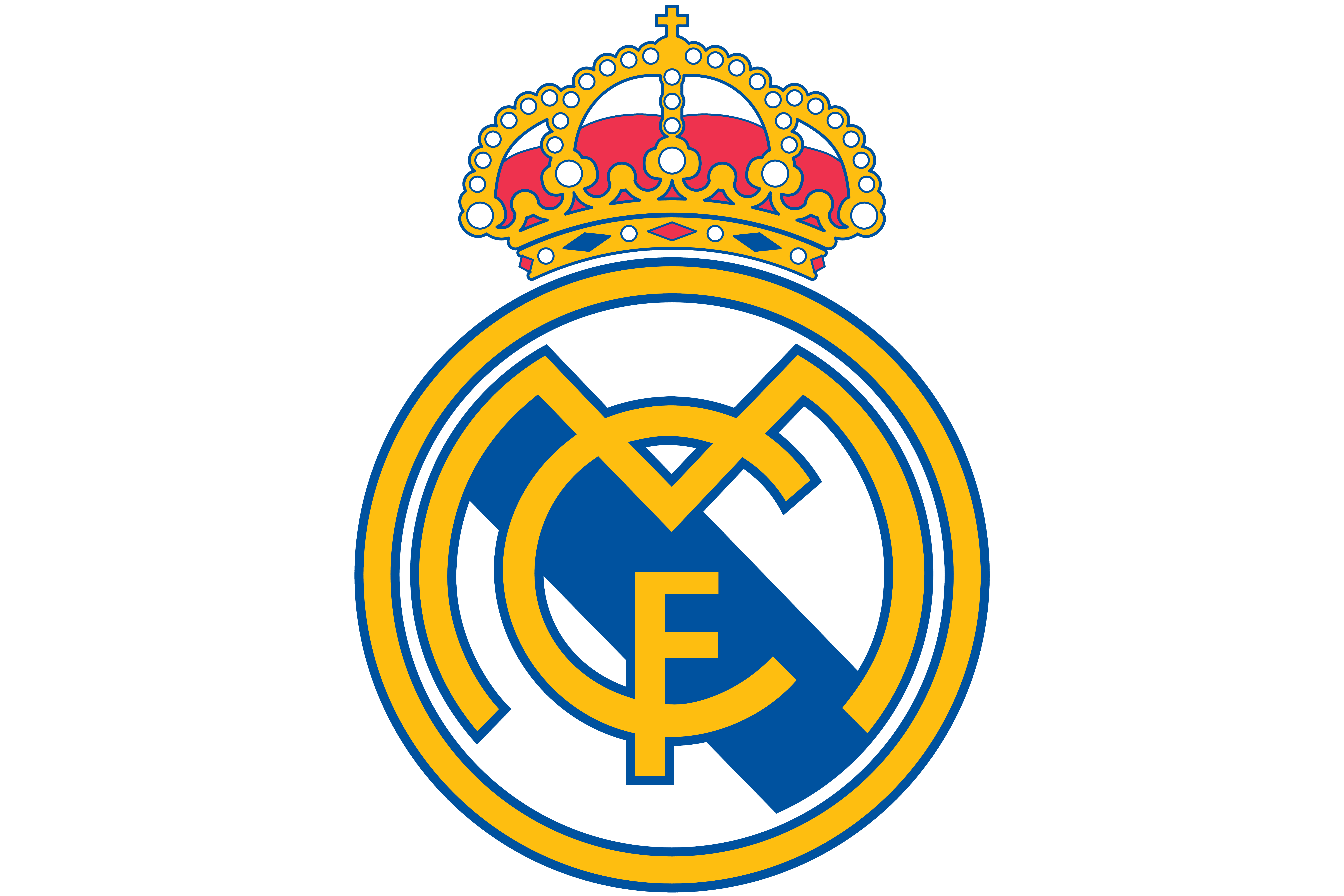 The honorific title real is Spanish for "royal" and was bestowed to the club by King Alfonso XIII in 1920 together with the royal crown in the emblem. 
Real Madrid were among the last of the clubs given the title by Alfonso,  Real Sociedad were the first to be awarded his royal approval in 1912.  The royal patronage bestowed a sense of grandeur and prestige upon the club, and the name has been carried with pride ever since.
Traditionally, a club would offer the current Spanish king a title such as 'Honorary President' and in return would receive a royal patronage, granting them the royal prefix. 
Real Competition

It wouldn't be until In 1929, that Madrid could begin to test themselves on a regular basis as the first Spanish football league was founded. 
No longer limited to cup competition and exhibition matches, Real Madrid would build upon their Copa Del Rey victories, leading the first league season until the last match, where they would fall at the final hurdle.
A loss to Athletic Bilbao, meant they finished runners-up to Barcelona. Glory was inevitable however, with Real Madrid winning their first league title 2 years later in the 1931–32 season and retaining it the season after.
The Birth of the El Classico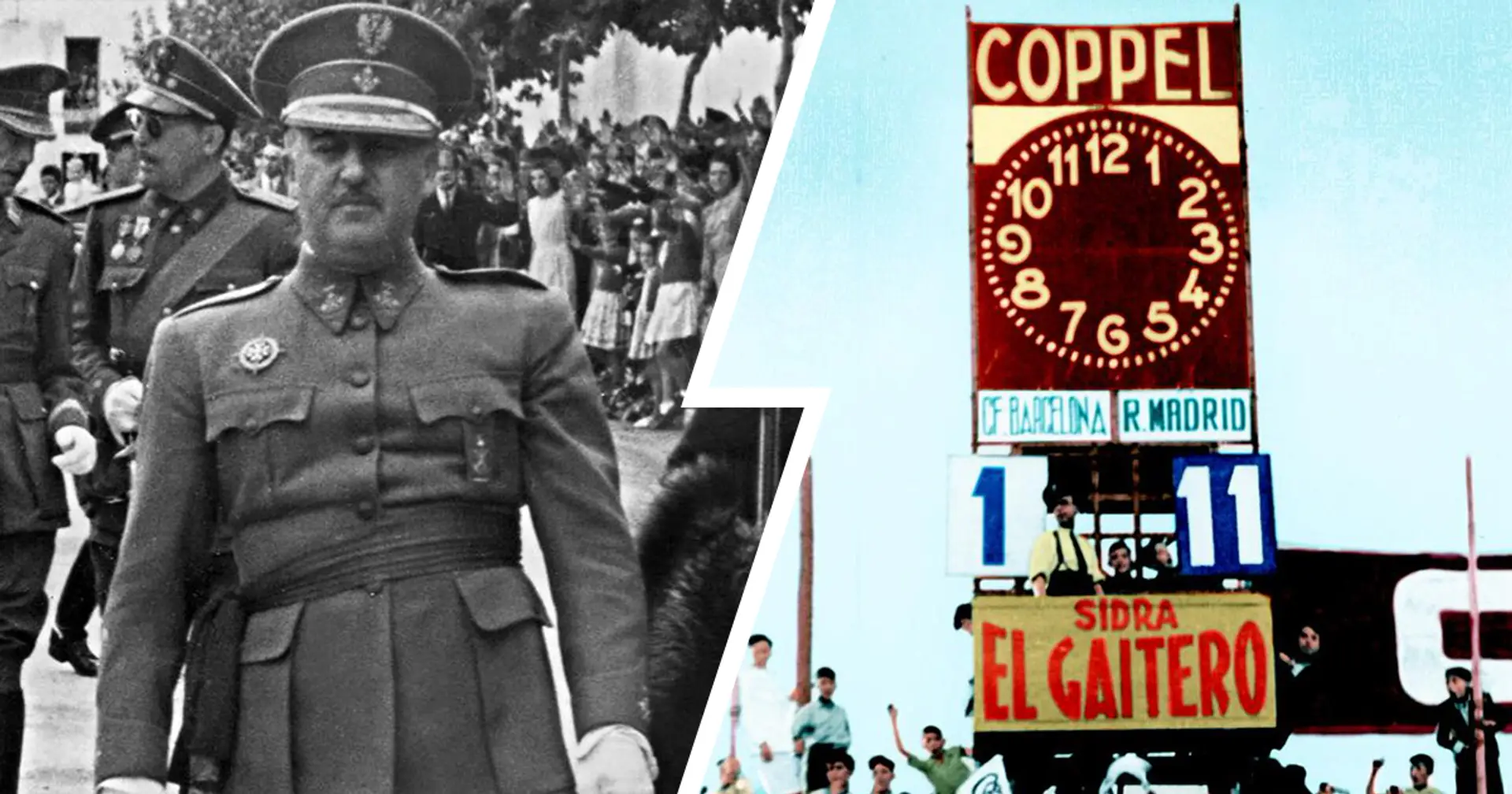 The arrival of the Second Spanish Republic brought the clubs whole identity into doubt, as the club lost the title 'Real' and the royal crown on its emblem, leaving them forced to go back to being named Madrid Football Club. The war would end in 1939, with the Spanish nationalists victorious, allowing Madrid to once again don their badge and royal prefix.
Football continued during the Second World War, unlike in many other countries, and this era was host to one of Madrid's least celebrated El Clasico victories. On 13 June 1943, Madrid beat Barcelona 11–1 in the second leg of the Copa del Generalísimo semi-finals, renamed in honor of General Franco.
The first leg had put Madrid with lots to do, Barcelona taking a 3–0 lead going into the return tie. Madrid had complained about all the three goals that referee Fombona Fernández had allowed for Barcelona, with the home supporters also whistling Madrid throughout.
The newspaper Ya would print that the whistling was "clear intention to attack the representatives of Spain."
At this point the second leg had become much more than just a football match…
Madrid fans came back at the Catalan's 3 times as fiercely, as on the day of the second leg, the Barcelona team were insulted and stones were thrown at their bus as soon as they left their hotel. 
Barcelona's striker Mariano Gonzalvo said of the incident, "Five minutes before the game had started, our penalty area was already full of coins." Madrid fans weren't afraid to make things even more political, calling Barcelona players 'separatists' and 'Communists' hurling whatever they had available to them at the players on the pitch.
Francisco Calvert would describe how "a bottle just missed Sospedra that would have killed him if it had hit him".
Real Madrid went 2–0 up within half an hour. The third goal brought with it a sending off for Barcelona's Benito García after he made what Calvet claimed was a "completely normal tackle". 
It became clear, despite the score tied 3-3 that playing to win was futile.
Following the 2 goal deficit and unfair sending off, Barcelona gave up, Ángel Mur recounts thinking: "at which point, we thought: 'go on then, score as many as you want'." 
Madrid made it 8–0 by half-time; two goals were also ruled out for offside, and proceeded to score a further three goals in the second half, to which Barcelona replied with a late consolation goal as the game finished 11-1.
There have been few mentions of this massive victory over their rivals with even the most fervent of fans accepting the unfairness of the tie.
"It is not a result that has been particularly celebrated in Madrid. Indeed, the 11–1 occupies a far more prominent place in Barcelona's history. This was the game that first formed the identification of Madrid as the team of the dictatorship and Barcelona as its victims."
Madrid were seen as the regime's favorite, whilst Barcelona were rebels fighting against the odds.
The Bernabéu Himself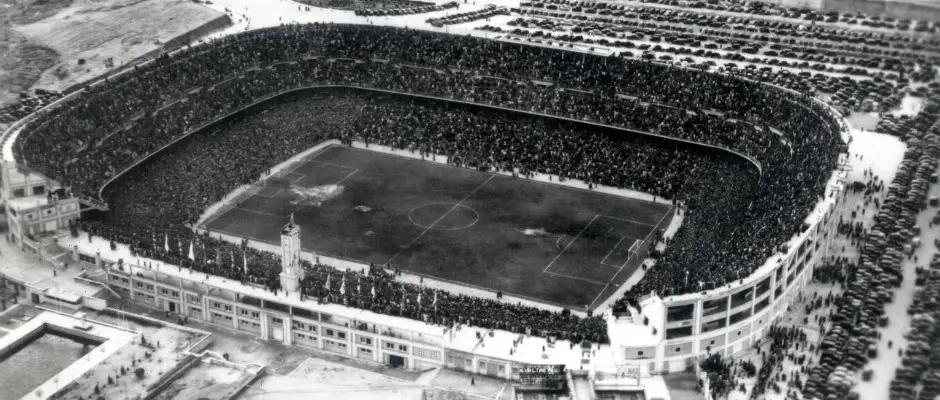 In 1947 Madrid would move into one of the most iconic homes in football, the Bernabéu, named after Santiago Bernabeu who had been club president since 1943.
Bernabeu was the man in many ways responsible for Madrid's rise to global superpower, with his model for success resembling the galacticos era of the early 2000's.
His goal for Madrid was to make the club a global powerhouse, and with his new 81,044 capacity stadium, 8 Spanish Cup wins and 2 League titles, Madrid would seize on their chance to properly establish themselves as a footballing force. They would win the Copa Del Rey in their first season at the Bernabeu, starting as they meant to go on.
50s and 60s: Total Dominance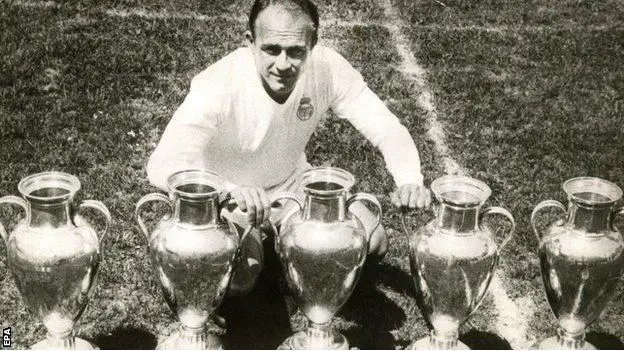 As the 50's dawned, Madrid would take a huge step up, as the landscape of Spanish football began to resemble the state of the game today, some 70 years later.
A duopoly would establish even as far back as the 50's, with Barcelona winning the 1949, 1952 and 1953 league titles, before Madrid came into their own in the mid to late 50's, crushing Barcelona to win the league 4 years in a row.
At the same time, the birth of Europe's most coveted prize would capture the attention of Madrid. No longer content at just being the best in Spain, the logical next step to becoming a Global powerhouse, was to become a European powerhouse. 
By recruiting the likes of Alfredo Di Stefano, Ferenc Puskas, Raymond Kopa and "Paco" Lopez, Madrid would establish an early period of European dominance, winning the inaugural Champions league thanks to a thrilling 4-3 victory over Reims in the final.
Madrid had found a trophy they truly desired, and naturally in response, Barcelona would become desperate to reach the summit of European football, if not for themselves then to stop Madrid from doing it.  
Madrid would comfortably brush off Barcelona's early challenges, Real Madrid achieving a ridiculous, unreplicated feat of winning the European Cup a further 4 times in a row.
In 61, Madrid's European reign was finally brought to an end, and there was only one team that was gonna end it. Yep, Barcelona. Knocking them out 4-3, Barcelona would, like many rebel uprisings, prove to be an annoying thorne in Madrid's side. 
They couldn't stop their successes all the time, but when the task presented itself, Barcelona were well equipped and always up for a chance to inflict misery on the club from the capital.
Barcelona would go on to lose to Benfica in the 60-61 final, making Benfica only the second team to ever win the European Cup, 6 years after the first.
That Barcelona victory, seemed to only poke the hornet's nest, as following their European Cup exit in 61, Madrid somehow became even more dominant, winning 8 La Liga titles between 1960 and 1970. 
Despite such dominance, Madrid would only manage one more European Cup win in this period, coming in 1966 as Amancio and Serena scored two in 6 minutes to overturn a 1-0 deficit against the Yugoslavian Partizan Belgrade.
This would be their last European Cup for over 20 years…
The 70s: A success by Anyone Else's Standards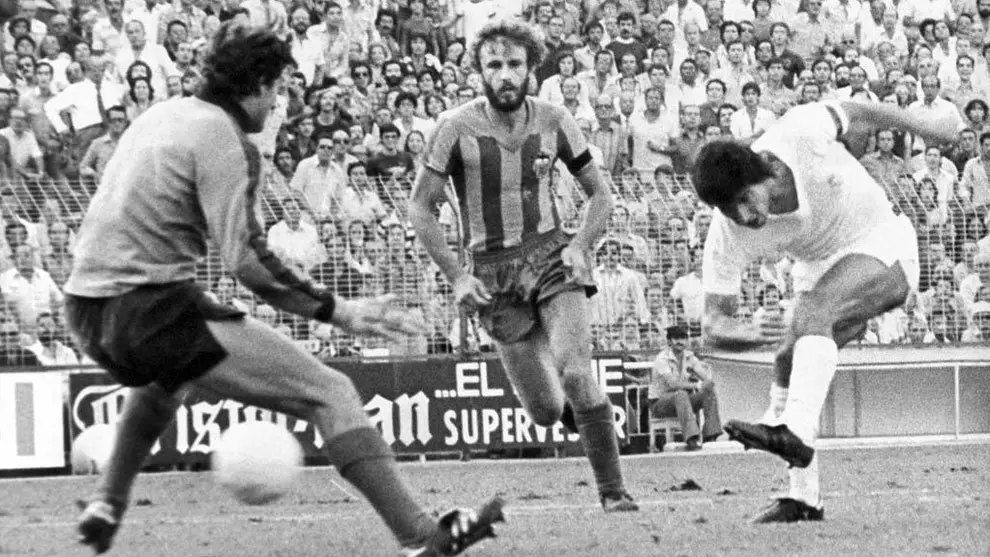 Madrid were still the best team in Spain, and would continue to be so throughout the 70's, taking home 6 League titles and 5 Copa Del Rey's in this decade. 
It was still a shock when Madrid didn't win, as Barcelona struggled to get a foothold on Spanish or European glory, the Catalan side only winning their first league title in 14 years in 1974.
In the 70's Madrid's team was still stacked with talented players. You don't win 11 major domestic titles in 10 years without talented individuals, but tier dominance had began to falter slightly.
In 1978, an era would come to an end. Bernabeu  passed away. His contributions to the club were groundbreaking and not only brought immediate success to a club finding its feet in Spanish football, but brought upon Madrid's greatest period of dominance in their history.
Club treasurer Luis De Carlos was elected as his successor, with his first taste of success coming in the most bizarre fashion. In 1980, Real Madrid had reached the Copa Del Rey final, and in unprecedented circumstances faced off against…. 
Themselves…
The Copa Del Rey Bye-nal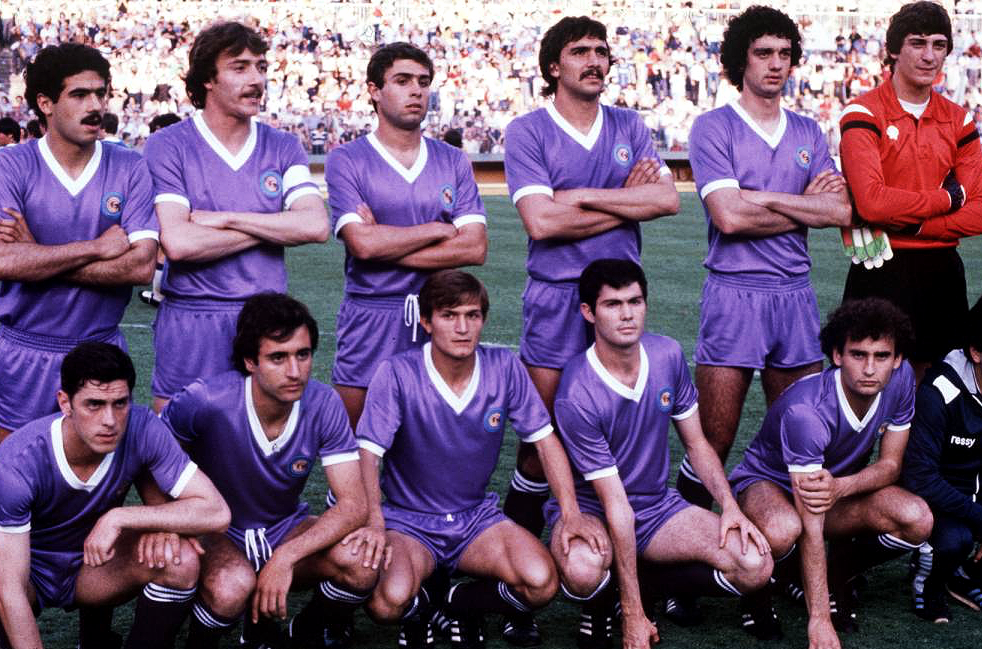 Having beaten several first division teams including Athletic Bilbao and Real Sociedad, Real Madrid Castilla, a B team established in 1972 made it all the way to the final making a bizarre spectacle, made all the more odd by the fact that the B team's 'fans' were always going to support the Real Madrid senior team ahead of them. 
Madrid were essentially given a bye in the final. If you believed that Castilla were going to bring the same form as they had in the rest of the competition you'd be mistaken as the senior team ran out 6-1 winners in what was basically a glorified inter-squad friendly.
To top off this tale, Real Madrid Castilla would qualify for the European Cup Winners' Cup as a result of the senior team winning the league, which meant that the Cup Winners Cup Spanish representative that year was a B team. They beat West Ham in the first round  3-1 at home, but lost over two legs, as they lost 5-1 in the return fixture.
A Tough Act to Follow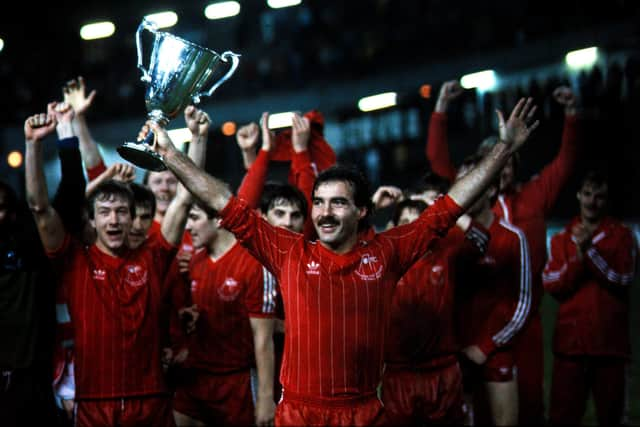 New president Luis Carlos made a good start to life running a football club, Madrid continuing how they left off, winning back to back league titles in 79 and 80.
After this great start however, Madrid would suffer their worst period since before World War Two. Real Madrid would miss out on any major trophies for 5 years, save for a Copa Del Rey picked up in 1982.
In 1983 Real Madrid suffered their last defeat in a European final to date. A 2-1 loss to Alex Ferguson's Aberdeen…
As Real Madrid faltered once again at the end of the 1984-85 season, handing rivals Barcelona their first league title since 1974, Luis De Carlos lost the next presidential elections. 
Despite Madrid winning the UEFA Cup that year, the clubs sudden decline was attributed to his running of the club, and a paltry UEFA Cup win was not in line with the clubs ambitions.
In 1985, Ramón Mendoza became president, and things quickly changed.
La Quinta del Buitre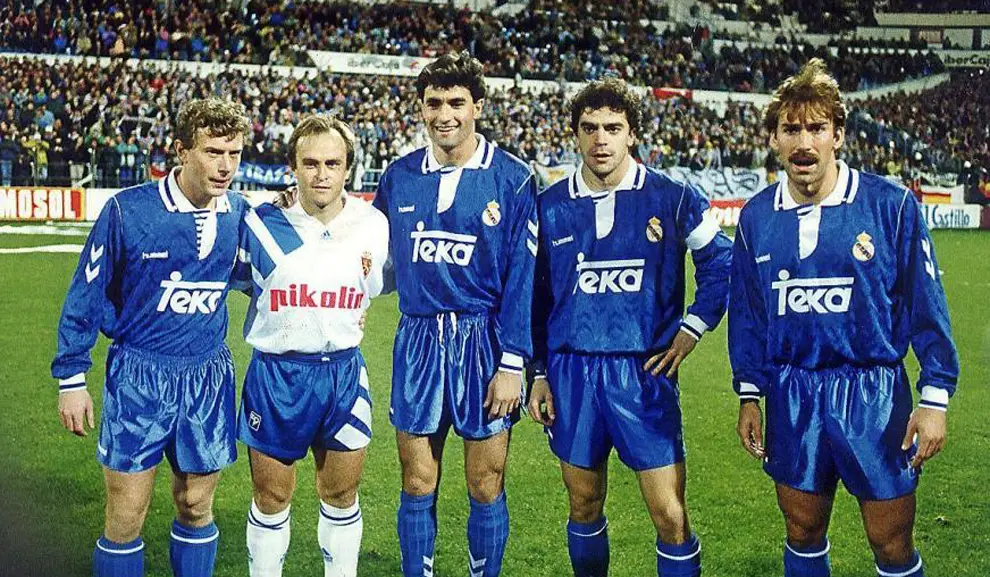 Real Madrid were back with an immediate bang, as following Mendoza's appointment they would win La Liga and take home the UEFA Cup for the second time in a row.
Madrid made up for their 5 year slump, having won more La Liga's than anyone else in every decade since in the last 3 decades, and that wouldn't stop in the 80s.
This streak of 5 titles on the bounce, would come thanks to  La Quinta del Buitre. Translated in English as 'The Vultures Cohort', the name was inspired by Talismanic striker Emilio Butregueno, who was nicknamed El Buitre or 'The Vulture'. This spine of the team consisted of Manolo Sanchís, Martín Vázquez, Míchel and Miguel Pardeza and of course Butregueno himself as The Vulture. 
The fearsome five played across all the pitch, Sanchis a sweeper, Vazquez and Michel in Midfield, with Pardeza and Butragueno up-front. 
A footballing equivalent of a death squad, this core would once again catapult Madrid to the highest reaches of Spanish football, after a period where Real Madrid's dominance was being called into question.
But, despite this rekindled success, there was still no European Cup in sight…
The 90's: A Tale of Two Cities.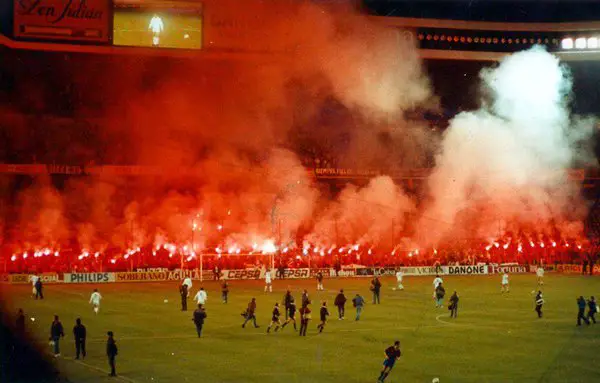 The 90s brought about a huge change in the scope of Spanish football, and football across Europe in general. As more and more sponsored, televised broadcasters and multi millionaire owners and investors were attracted to the game, attracting World Class players became easier, with more investment flooding into European football. 
As Madrid entered the 90's, they were riding a wave of confidence. 5 League titles in a row meant a Champions League was sure to follow soon. Perhaps the dissolution of the La Quinta del Buitre core was a sign of changing winds, but after Vazquez left for Torino in the summer of 1990, the cohort had been reduced to just 3 members, and the team would falter.
In 1991, Madrid suffered a rude awakening, finishing the season 10 points behind champions Barcelona, finishing 3rd, qualifying for the UEFA Cup. It was a disastrous season as they failed to win anything of note. 
Behind the door to the next season lay even worse. Up to now Madrid had been the only Spanish team to ever win a Champions league/European Cup, but this would change, and there was only team that was ever going to take this crown from them.
Barcelona would strike Los Blancos where it hurt the most, winning the 92 European Cup signaling a powershift that had been a long time coming in Spanish football. This coincided with 4 league titles in a row between 1990 and 1994, as Barcelona entered their greatest era so far, whilst Madrid entered one of their worst.
That's not to say Madrid were bad, Barcelona had simply gotten really good. Both the 92 and 93 seasons were decided by just 1 point. Madrid struggled in front of goal in 93, with their top scorer Zamorano managing just 11 in the league.
Change was once again both imminent and necessary to reach the summit of European football again, with it now 20 years since their last European Cup win.
Despite winning the league in his final year as president, Mendoza would resign, handing the position over to Lorenzo Sanz. His short 5 year reign began with the appointment of Fabio Capello, who has just won the Champions League with Milan.  A league title followed his appointment, but the Italian left after just one year, citing an inability to settle in Madrid.
A long Awaited Victory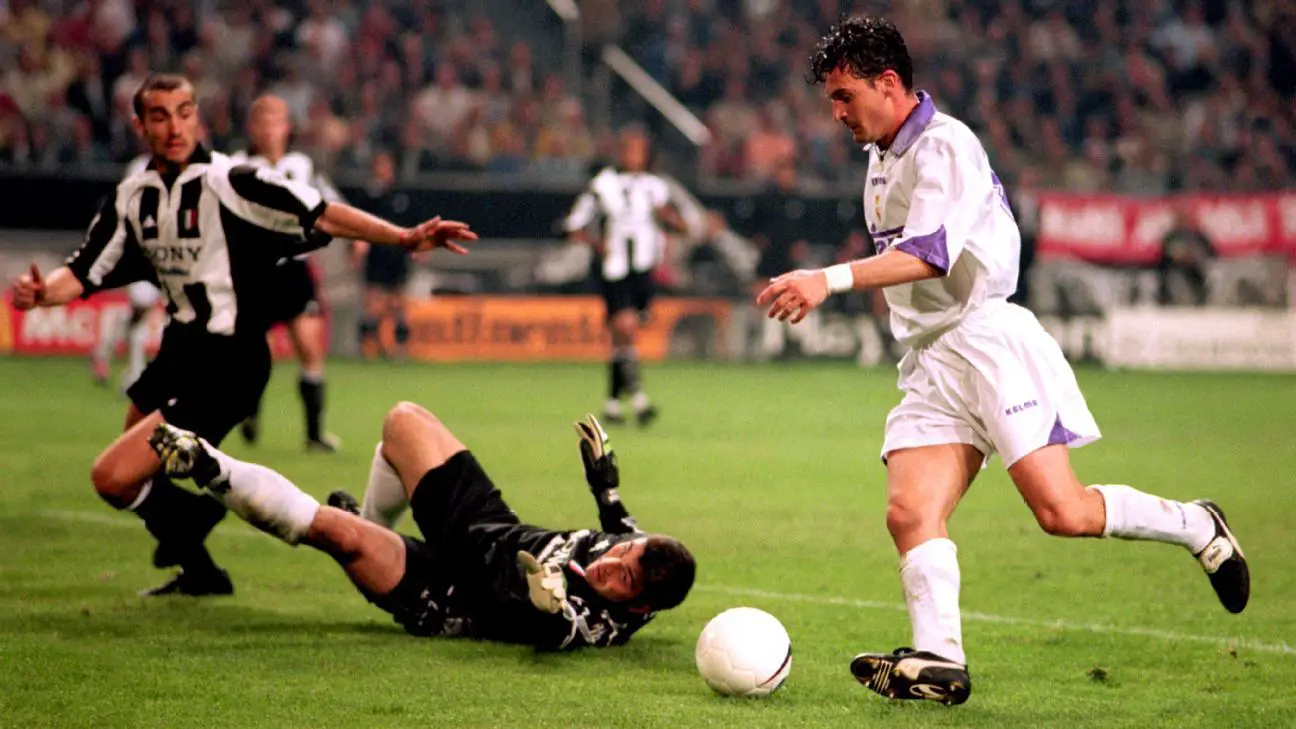 In 1998 the long awaited end to years of Champions league failure would come, Madrid putting an end to their 22 year wait as they grinded out a 1-0 win against a Juventus side filled with legendary players. Mijatovic would score the only goal of the match.
Madrid may have broken their wait for European glory, but Barcelona had firmly established themselves as an equal. Being the first team to win more league titles in a decade than Real Madrid since the 1940s.
Not content with handing over control of the league to their bitter rivals, change would manifest once again at the top in spite of Madrid's Champions League success in 2000.
This change would mark the most impactful since Bernabeu first took the helm and oversaw Madrid's rapid rise to success. A president with a simple vision of taking the club back to the Bernabeu model that was the foundation of Madrid's consistent success over the years.
La Galacticos: Spend it Like Beckham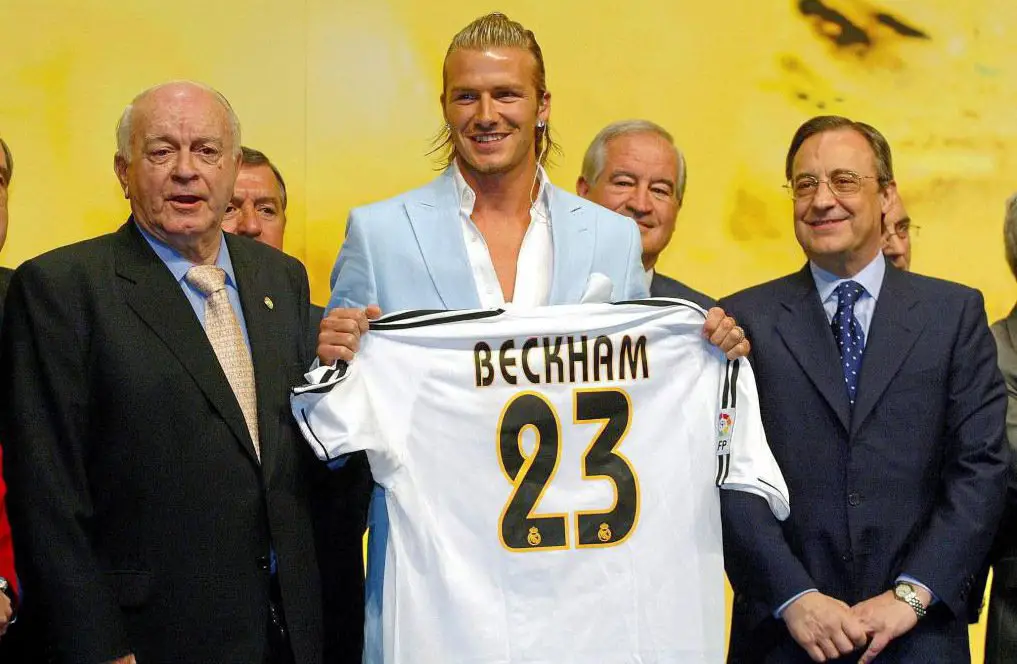 A new, cash rich era of football called for a return to Madrid's classic principles; becoming a global powerhouse, and the man who was going to oversee this would be Florentino Perez.
In 2000, Perez took over, ushering in a whole new identity for Madrid alongside his appointment: La Galacticos. Now hell bent on building a truly unstoppable football team, Madrid set about building one of the greatest teams in history. 
Perez had promised huge signings in the run up to his appointment as he looked to gain popularity, stating if he is elected, Barcelona attacker Luis Figo would sign. Perez won, and a week later, Figo was signed from rivals, prompting a Barcelona fan to throw a pigs head onto the pitch when Figo faced his old club that season.
A league title and Champions league followed in 2001 as Madrid would set about building a dream team. Between 2000 and 2004 the likes of: Claude Makélélé, Ronaldo Nazario, Englishmen David Beckham and Michael Owen,  Zinedine Zidane, Walter Samuel and the aforementioned Luis Figo would all join, cementing themselves as some of the greatest Madrid players to ever wear the white jersey.
In addition academy players such as Raul, Guti and goalkeeper Iker Casillas had all broken through and proved to be world class players in their own right. And I haven't even mentioned Roberto Carlos who had signed in 97 and would become a mainstay within this team for a decade.
Madrid went on to win another Champions league in 2002 with their star-studded squad, but failed to have the dominance they expected, especially a business model dependent on consistent success in order to remain sustainable.
In fact despite the legendary team Madrid had, the 2000-2010 decade proved to be the most competitive decade yet, with Barcelona mirroring anything Real Madrid did. Real and Barcelona both won the league 4 times each in this period, both sides also winning the Champions League twice.
Perez sacked: Impatience or Naivety?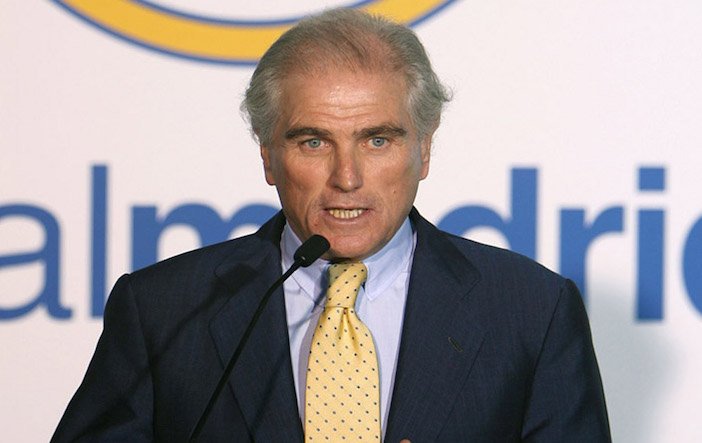 In 2006, Perez was briefly relieved as president following a lack of trophies. Under Ramon Calderon, his successor, Capello was re-appointed as back-to-back league titles were won. 
Nevertheless, The Champions League was all the main goal, and following Barcelona's 2009 Champions League victory, Calderon lost the presidency, just 3 years after his appointment, with many outraged at the clubs 'decline'.
In Calderon's last season, Barcelona were miles ahead of Madrid, with young coach Pep Guardiola at the helm, winning a treble consisting of the league, Champions league and Copa Del Rey. By contrast That season ended up being one of the most disastrous in the Madrid's history: 
Real were knocked out of the Champions League in the round of 16 for the fifth time in a row, losing to Liverpool 0–5 on aggregate. They were embarrassed in the Copa del Rey by third tier side Real Unión, and suffered a humiliating 2-6 loss to Barcelona at the Santiago Bernabéu essentially confirming the league title for their rivals. Madrid even lost their final four league games 
Florentino Perez was subsequently re-appointed. Results and trophies followed suit, as the signing of Cristiano Ronaldo and appointment of one of Real Madrid's best ever managers, Jose Mourinho, ushered in a wave of success, after almost a decade of playing second fiddle to Barcelona. They were back on the Catalan clubs' level, with a  signing and managerial appointment that was the antithesis of the Barcelona model.
Parity in the 21st Century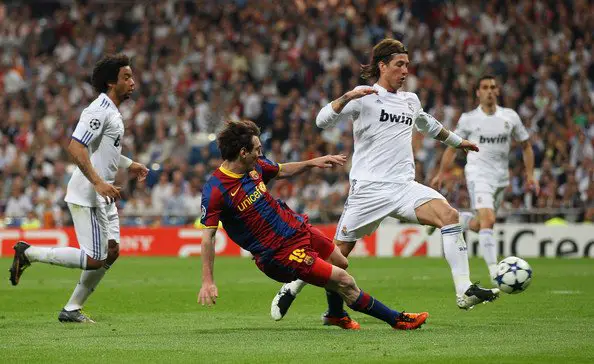 From the 2010s a constant back and forth battle between Spanish football's fierce duopoly developed. Barcelona and Madrid battling over every scrap, every trophy became a must have if it meant denying the other. Copa Del Rey's were more sought after, La Liga titles mattered even more, and the Champions League well it somehow got even more coveted for the two sides.
Since 2010, Barcelona and Madrid have enjoyed similar levels of success, the pendulum swinging back and forth between each side, the two locked in a perpetual see-saw mirroring each other. 
With both sides having amassed considerable debt in the pursuit of absolute power, the future is precarious for both sides. Both sides have found success, but its become more and more costly as neither are willing to give the other an inch.
The history of Real Madrid is entwined in the history of Barcelona, both sides pushing the other in their desperation to deny their rivals success.
Real Madrid – Trophies Won
| Competition | Number of Titles |
| --- | --- |
| UEFA Champions League | 14 |
| UEFA Cup | 2 |
| La Liga | 35 |
| Copa del Rey | 20 |
| Supercopa de España | 12 |
| Intercontinental Cup | 3 |
| FIFA Club World Cup | 8 |
| UEFA Super Cup | 5 |
| Copa Eva Duarte | 1 |
| Copa de la Liga | 1 |
| Latin Cup | 2 |
| Iberian Cup | 1 |
| Copa de Oro Argentina | 1 |
| Pequeña Copa del Mundo | 2 |
| Copa de la Ciudad de Buenos Aires | 1 |
| Mancomunado Trophies | 5 |