Soccer Tennis is a sport that is played with a soccer ball and a net. As the name suggests, this sport works as a hybrid of Soccer and Tennis.
A soccer tennis game consists of a court divided by a net and two teams occupying each side. Teams can consist of one, two, or three players. Like soccer, players can use all body parts besides their hands to play the ball. [1] The primary aim of the game is quite similar to that in tennis.
Players win a point by making the ball bounce in the opponent's half in such a way that the opponents fail to return the ball over the net.
Soccer Tennis is also known by other names such as 'foot tennis,' 'football tennis,' 'tennissoccer,' and 'futnet.'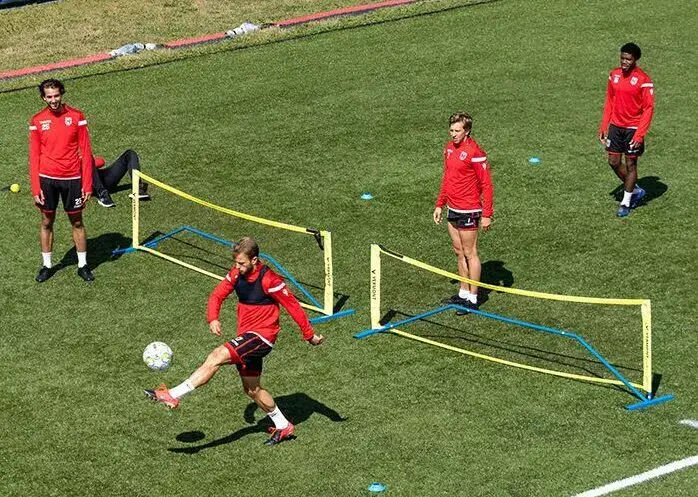 History Of The Game
The history of soccer tennis is at an infant stage when compared to the history of soccer.
The sport was invented in the current country of the Czech Republic. It is believed that in 1922, the players of Czech club Slavia Prague started playing a game called football over the rope. Initially, the game was played with a horizontally stretched rope rather than a net.
The first official rules of soccer tennis were framed in 1940 as the sport's popularity grew beyond the training grounds of Slavia. This growth in popularity also led to soccer tennis tournaments, and the first Futnet Cup was organized in 1940.
The game was particularly popular in the former nation of Czechoslovakia and had its own league called Trampská liga. Tennis Soccer was even recognized as an official sport by Czechoslovak Sports Organisation in 1961.
The sport received a massive boost in the 1990s, as European and World Championships debuted in 1991 and 1994.
Union Internationale de Futnet (UNIF), European Futnet Association (EFTA), and the Federation International de Football tennis Association (FIFTA) are the central governing bodies in the sport.
Currently, the list of UNIF members has nations such as Czech Republic, Denmark, France, Ireland, Italy, Hungary, Poland, Austria, Romania, Slovakia, Spain, Switzerland, Ukraine, Columbia, Costa Rica, USA, India, Iraq, South Korea, Benin, Cameroon, and Mali.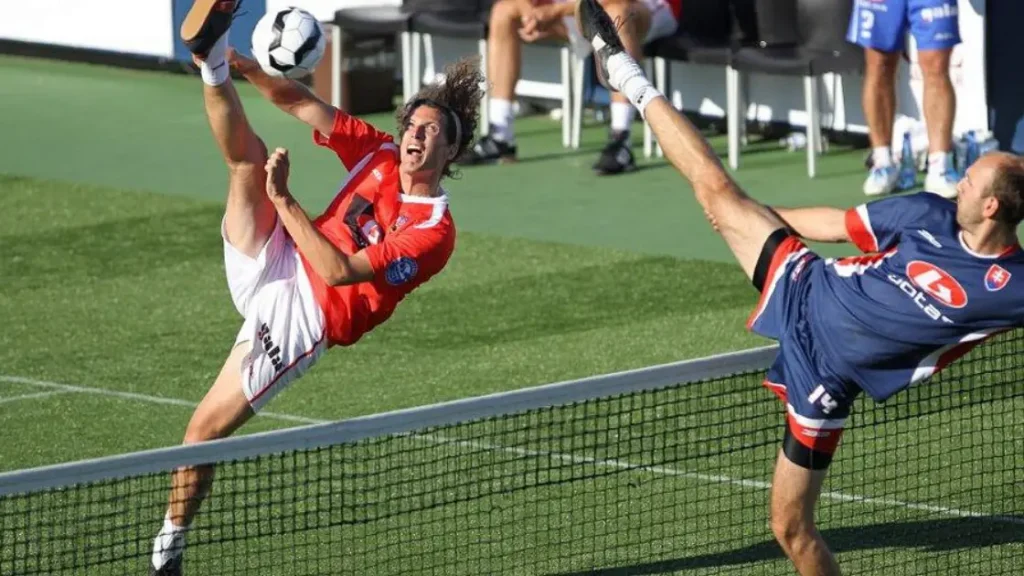 Soccer Tennis Rules
The sport of soccer tennis is mainly played in three categories: single, double, and triple. Single and double are played in a soccer tennis court with dimensions of 3.60 meters × 9 meters (12 ft x 30ft), and the triple is played in a court measuring 9 meters × 12.8 meters (30 ft x 42 ft)
In the single format, a player is allowed two touches and one bounce in their soccer tennis court.
A team is allowed three ball touches in the double and triple categories but no consecutive touches from a single player. Only a single ball bounce is permitted in the men's category, but two bounces are allowed in the women's and junior's.
The sport is played on a best-of-three set format. It takes 11 points to win a set with a margin of at least 2 points. In the case of a tiebreaker, the maximum score goes up to 15-14.
It is foul for players to touch the net, and it ends in a point to opponents. Furthermore, players are not allowed to hit balls reflected back from the net.
Tennis Soccer Ball
Generally, a tennis soccer ball is just like a standard soccer ball but glued. Its outer layer is made of 32 panels, just like a soccer ball, and it's usually made of synthetic leather.
In the 2016 World Championships, balls made of a material named ECOLORICA were used. It's made of polyamide and polyurethane, and it's supposed to have features of natural leather.
Soccer Tennis Shoes
You don't need tennis shoes to play soccer tennis. Usually, any indoor sports shoes would be suitable. Czech sports company Botas has provided shoes for the official soccer tennis tournaments for years. A good sports shoe is the Adidas Samba which is a popular shoe for teenagers.
Soccer Tennis Net
The width of the net varies according to the category of the game: single, double, or triple. The height of the net is set at 1.10m (43.3 inches). The cost of an official net is $160.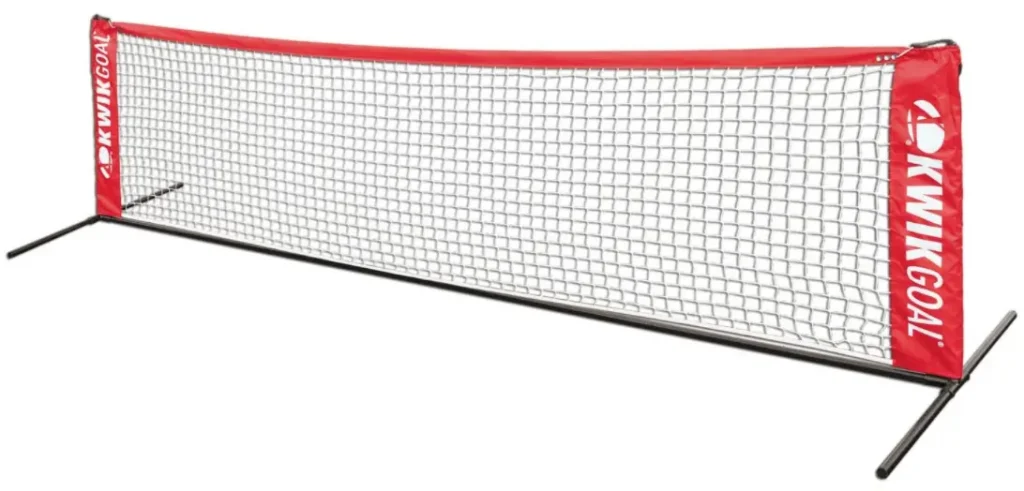 Tournaments
The first World Cup soccer tennis tournament was held at Košice, Slovakia, in 1994. The top-three positions in all three categories were shared by Czech Republic, Slovakia, Hungary, and Romania. These four nations have dominated the medal places ever since.
Since then, the World Cup has moved around, with Brazil hosting the event in 1996 and Cyprus in 2014. The Czechs have hosted biennial event five events. The tournament took a four-year break from 2016 to 2020, and the next edition was planned for 2020. However, the tournament was canceled due to COVID-19.
The next Soccer Tennis World was scheduled to take place in Prague on November 26-28, 2021. The three-day tournament is set to feature more than 250 players from more than 20 countries.
Soccer Practice Games
The game of tennis soccer requires control on a ball in a tight space and the ability to guide it with one touch. Therefore, coaches could employ several soccer drills focussing on ball-control and first-touch to improve their instincts.
It will dramatically improve your control and technique since you must pass, volley, and header the ball in a wide variety of situations. You have to be able to control and judge the weight of your aerial passes to your teammates, as well as return the ball to your opponents powerfully and accurately.
As you must coordinate with your teammate to get the ball over the net and win sets and points, playing the game also helps you work on your teamwork and communication skills.
Variations That You Can Try
Consider increasing the soccer tennis court size and allowing for more touches and ball bounces if it's already a bit tough.
Allowing unlimited ball touches is another fun option. Using this method, you and your team can do tricks, flicks, and kicks like a bicycle.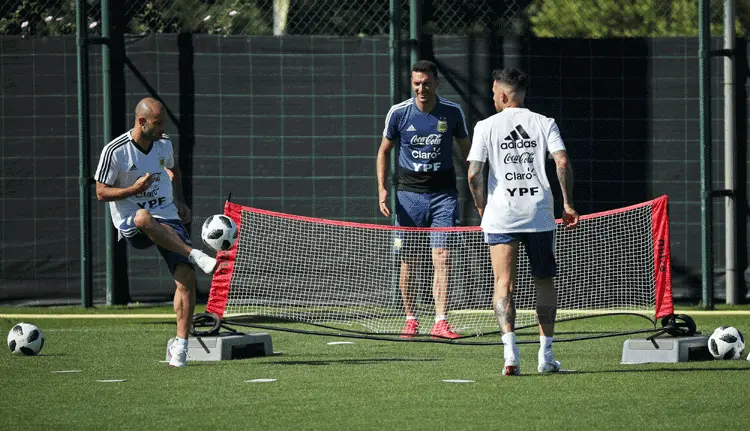 Tips To Become A Better Soccer Tennis Player
To significantly improve your performance on the court, here are a few simple tips and tricks on how to play.
1. Keep your distance from the net
It is naturally tempting for beginners to stand close to the net, but standing a bit farther back is better. The longer you have to react, the better your chances of passing the ball to a teammate or hitting it over the goal.
2. Letting it bounce
The ball should always be allowed to bounce if the opportunity arises. It is then easier to control and pass when it is less powerful and fast.
3. Keep your wits about you
When called into action, your position on the court affects the amount of space you have and the amount of time you have to react. Aim to be nimble and on your toes so that you can pounce and move into position when the time is right.
4. Give time to your teammates
You always want to hit the ball upwards when you pass the ball. By doing so, they have more time to either pass the ball back to you or hit the ball over the net. Set up your teammates for headers over the net as much as possible since this is easier than volleying and increases the pressure on the opposing team.
5. Practise and be patient
Don't worry if you have difficulty practicing or playing soccer tennis at first. It is very different from other sports. More play time will significantly improve your touch and technique in no time at all.
References:
[1]: https://www.btb.termiumplus.gc.ca/tpv2alpha/alpha-fra.html?lang=fra&i=&index=enr&srchtxt=OPPONENTS%20COURT
Images:
https://www.walesonline.co.uk/news/uk-news/premier-league-player-says-sexuality-18580803 (main image)
https://www.forzagoal.com/soccer-tennis-training-net.html
https://www.jugglepro.com/blogs/blog/comment-jouer-au-tennis-ballon?logged_in_customer_id=&lang=en