A fast-growing sport, indoor soccer is becoming extremely popular in the United States and Canada. [1] This version of football is played on a closed field of artificial turf. Indoor soccer shoes come in different types. Each type is designed to boost your performance. Various synthetic turf surfaces require different types of indoor soccer shoes. [3]
The Difference Between Futsal and Indoor Soccer
There are a couple of differences between Futsal and indoor soccer. First, Futsal is a technical, quick-paced game played on a hard, flat surface. As Futsal is played with an optimized ball that does not bounce as much as a traditional football, the game is more about little touches and flicks using the speed of the playing surface to get behind your opponents.
Indoor soccer is played on an artificial grass surface that gives you more of the feel of the outdoor game. [2] You also use a traditional football in indoor soccer. However, the playing surface is slower and relies more on the players to demonstrate individual skills or beat opponents to create space and goal-scoring opportunities.
Find out how to watch soccer games from anywhere in the world!
According to FIFA's (Federation Internationale de Football Association) FUTSAL Laws of the Game, soft leather or canvas training shoes are permitted. Even though it is not stated here, synthetic and textile materials are also allowed. As for the sole, it must be made from rubber or a similar material.
FIFA does not provide laws for footwear for indoor soccer shoes as they don't endorse the game.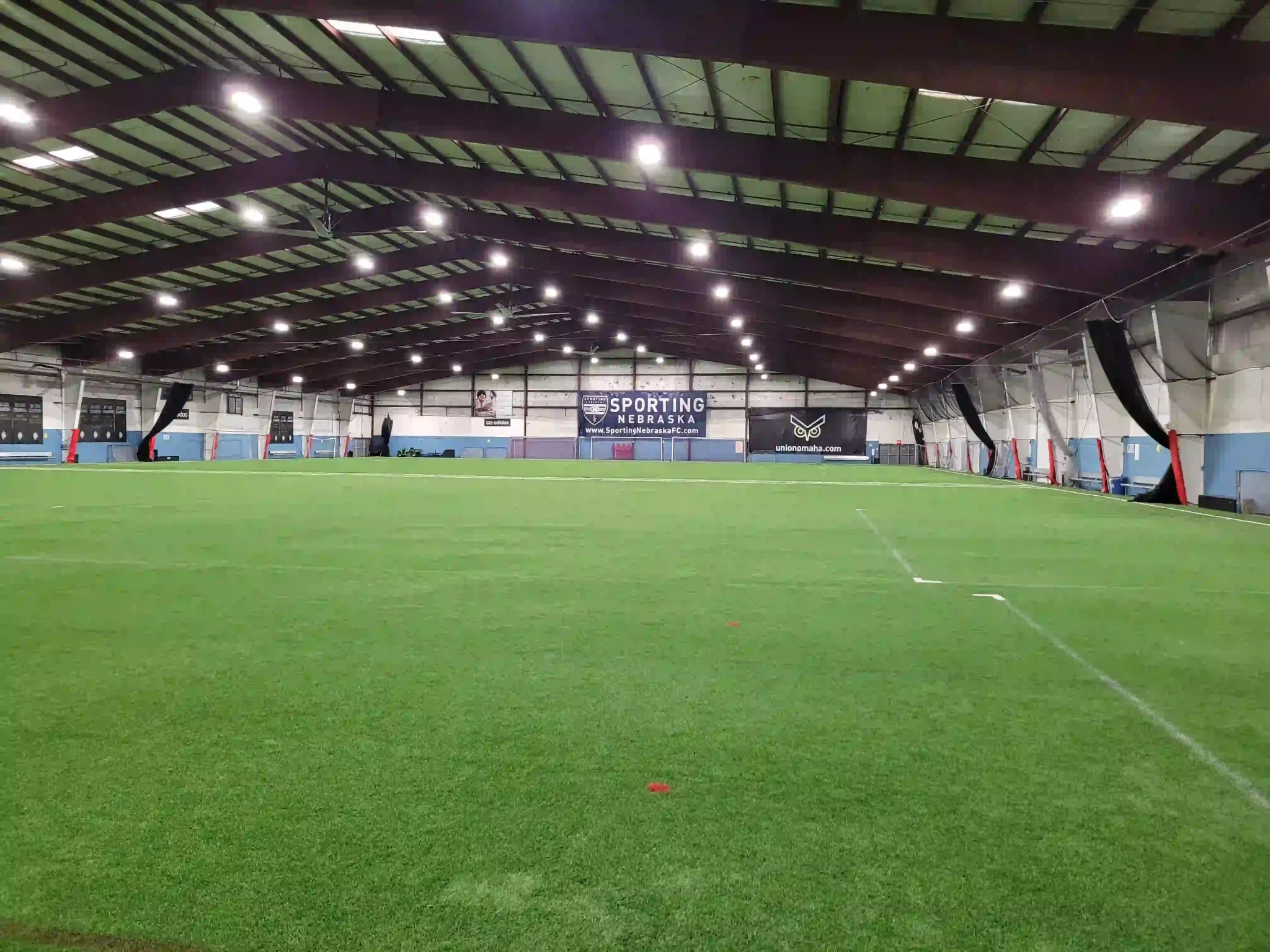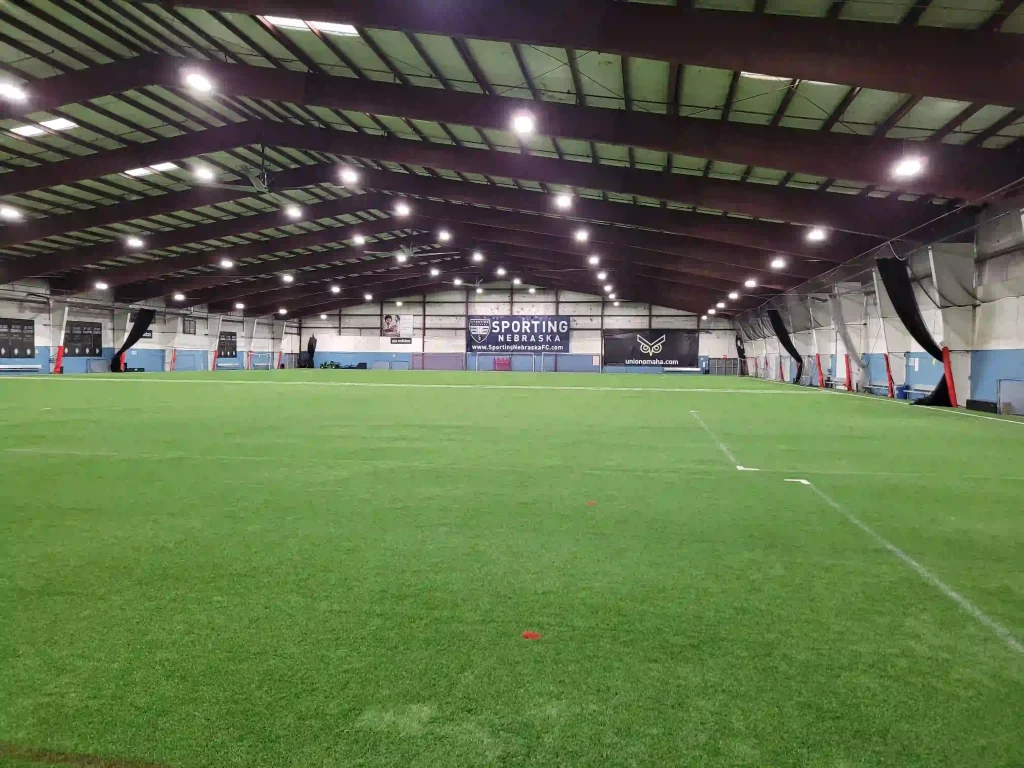 Playing Soccer on Synthetic Turf
Soccer cleats are traditionally made to penetrate the ground. Playing on natural grass requires traction, as this prevents slips and falls. On artificial turf, traditional soccer cleats aren't the best choice. The blades of synthetic grass are much stronger than those of natural grass. In addition, artificial turf is laid on an impermeable mat or a sand-based surface.
The combination of traditional soccer cleats or shoes with synthetic grass is poor, as they will not provide the needed traction. They will also not provide the right level of comfort or support.
As a result, standard soccer cleats are typically prohibited on synthetic turf arenas or fields. Indoor soccer shoes have short rubber studs/dimples to ensure enough grip and comfort on your ankles and knees on artificial turf.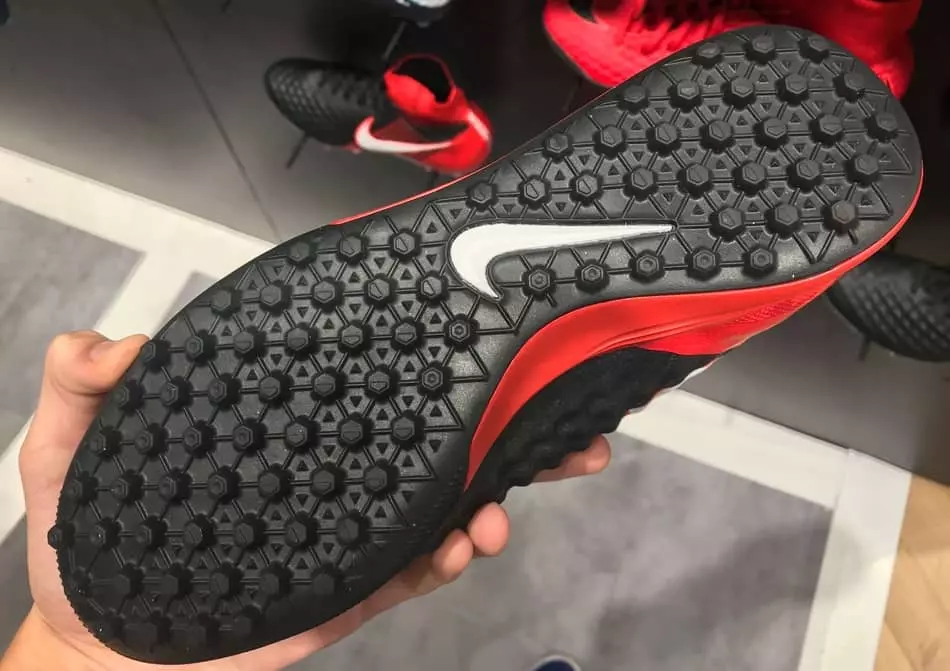 Can You Wear Indoor Soccer Shoes When Playing Futsal
Sure. Although the best futsal shoes are flat sole surfaces, you have a bigger sole surface touching the hard surface. Also, indoor soccer shoes have a unique type of synthetic stud/pattern on the bottom. [4]
Although they will feel comfortable on the harder surface, you will not have maximum contact with the floorboards or concrete, and slightly higher risk of injury as you can't put as much pressure onto the floor.
What Are The Weight Of Indoor Soccer Shoes
Depending on your shoe size, most athletic brands' shoes will be around 11 ounces (311 grams) for a size 10 foot. This is slightly heavier than a standard trainer. Futsal shoes are roughly the same weight.
What Is The Best Material For Indoor Soccer Shoes Uppers
I might be a little biased as I've played soccer professionally, but premium kangaroo-grade leather gives you a better feel and control of the soccer ball. In addition, I find this leather allows me to put more spin on the ball.
The downside is that these are more expensive than synthetic materials. An example of a premium kangaroo grade leather indoor soccer shoe is the Nike Premier 3. So you can expect to pay twice as much compared to synthetic leather.
All indoor soccer shoe soles are made with rubber or similar material. One of the reasons they use rubber is to provide multidirectional traction, and they usually will not leave marks on the playing surface.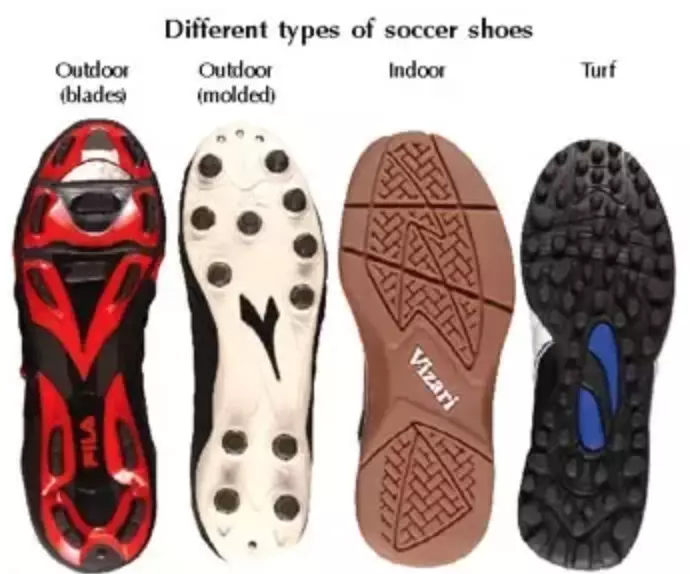 What Do You Wear For Indoor Soccer
Appropriate footwear for the serious indoor soccer player is crucial for performance and injury prevention. Indoor soccer shoes, designed specifically for indoor surfaces, offer the best traction and support for quick movements and sudden stops. These shoes usually have a non-marking rubber sole and a durable upper to withstand the wear and tear of indoor play.
Athletic clothing such as shorts, lock socks, and a t-shirt or a soccer jersey are appropriate. Some players may choose to wear shin guards for added protection. It's also important to consider wearing compression gear such as leggings to support muscles, prevent muscle strains and avoid abrasions from the playing surface or walls.
What Indoor Soccer Shoes Should I Buy?
Before choosing a pair of best indoor soccer shoes, there are certain factors that you should consider. It would help if you considered the following factors to determine which artificial turf soccer shoes are best for you:
The Fitting. Fit is the most crucial factor to consider when purchasing indoor soccer shoes. Toes and heels should fit snugly together. It prevents the foot from sliding on the inside of the shoe, which is essential for comfort and safety. A too-narrow shoe will pinch your foot, causing extreme discomfort.
If You Can Afford It, Go For Genuine Leather. Genuine leather or synthetic leather can be used to make turf soccer cleats. Since kangaroo leather stretches, it allows the shoe to conform to the foot's natural shape. In addition, as the footwear wears, it becomes more customized, increasing its comfort and a better touch of the ball.
Where to Buy Soccer Shoes
Our advice is to visit your local sports shops or warehouse to get special offers or sale prices. This is where you are likely to pick up a genuine deal on last year's models.
We strongly consider the feel of your footwear over how it looks. Everyone wants to have the latest colors or this season's famous brand of soccer shoes. Those fancy cleats are not going to make you a better soccer player. Try the footwear on with thick socks and test them in the shop before purchasing.
Here are a few options:
Sporting goods stores

: Many significant retailers specializing in athletic gear, such as Dick's Sporting Goods and Sport Chek, carry indoor soccer shoes.

Online retailers

: Many online retailers sell indoor soccer shoes, such as Nike.com, Adidas.com, soccer.com, and many more.

Specialty soccer stores

: Some stores specialize in soccer gear and carry a wide selection of indoor soccer shoes, including brands like Puma, Nike, Adidas, and more.

Online Marketplaces

: Online marketplaces such as Amazon, eBay, and others have various indoor soccer shoes to choose from.
It's recommended to check multiple options and compare prices and reviews before making a purchase. Also, it's always good to try on the shoes and walk around to ensure they fit well and provide the right level of comfort and support.
If you cannot visit a sports shop, you can order online. Amazon allows you to return the soccer shoes if they don't fit correctly. Before you place an order online, ask around your soccer club or arena to see if you can try on your friends' soccer shoes.
Our Recommendations For 2023
Adidas Mundial
An indoor soccer shoe for professional-level play. Soccer's biggest stages have been dominated by the design of the Mundial for decades. I love Adidas Mundial indoor soccer shoes because they have two models. One for Futsal and flat hard surfaces and a fine-grained stud pattern for artificial turf. The rubber sole has an excellent grip and is non-marking. They are unisex due to the classic black-and-white look and have been an iconic symbol in the history of the modern game.
Adidas Samba Classic
A reliable indoor shoe for the budget-conscious shopper and suitable for the indoor soccer field. It has a synthetic leather upper that's durable and lightweight compared to the Mundial. It has the same role sole as the Mundial and comes in two traditional colors – Black or White.
PUMA Super Liga
If your foot does not suit the Adidas cut, consider PUMA Super Liga. I've never had a bad experience with PUMA regarding fitting. They are a little wider than Adidas or Nike and have a lower cut around the ankle. I find the tongue of the shoe annoying, depending on the model. Typically durable and long-lasting. It's essential to ensure your heel is tight in this shoe.
Diadora Capitano
Diadora's craftsmanship and shock-absorbing technology have been two of its best-selling features over the decades, and it has never let me down. Always a nice feel and long-lasting soccer cleats. I don't like their indoor futsal range because they only sell soft, polyurethane synthetic uppers. (That is a personal choice).
Nike Mercurial Vapor
If you want to be one of the cool kids, consider wearing Nike footwear. They have the best designs and colors that suit boys and girls. You'll find that Nike footwear is usually a little lighter than other brands but will not last as long. They have an excellent sole for traction that allows you to twist and turn.
References:
[1] and [2]: https://en.wikipedia.org/wiki/Indoor_soccer
[3] and [4]: https://www.tenfeetshoes.com/blog/The-Difference-Between-Futsal-and-Indoor_bid-2784805.html
Images:
www.okc.gov/departments/parks-recreation/athletics/youth-sports-leagues/youth-futsal-leagues(main image)
www.tarkettsportsindoor.com/applications/futsal/
Mastersoccermind
www.thesoccersidelines.com/38-soccer-cleats-your-trip-to-the-soccer-store/
www.dreamstime.com/editorial-stock-photo-top-global-dairy-companies-logos-collection-famous-brands-vectors-white-tablet-wooden-background-image69829043