When we think of players with uncanny longevity, most would think of names such as Ibrahimovic, Gianluigi Buffon or of course Stanley Matthews. But none can compete with the playing career of Football's oldest professional player. Most incredible of all, is he still plays professionally.
If I were to tell you that a 56 year old Japanese forward, who once pipped Gary Lineker to the Most Valuable Player award in the J-league was currently plying his trade in the second tier of Portugal in 2023, I would forgive you for slapping me and calling me a liar. 
Stranger than any sporting story out of fiction, Kazuyoshi Miura is world renowned thanks to his long and illustrious career in the sport. Miura, better known in Japan as 'King Kazu' is a remnant of football history that continues to break records season after season. He featured in the first ever FIFA game, FIFA 94 and  FIFA 22.
Like the deep sea Coelacanth, King Kazu has lived through an evolving footballing world that has changed so drastically since his debut. Born on February 26, 1967, in the Shizuoka Prefecture, Miura began playing football at a young age, quickly developing a passion for the game.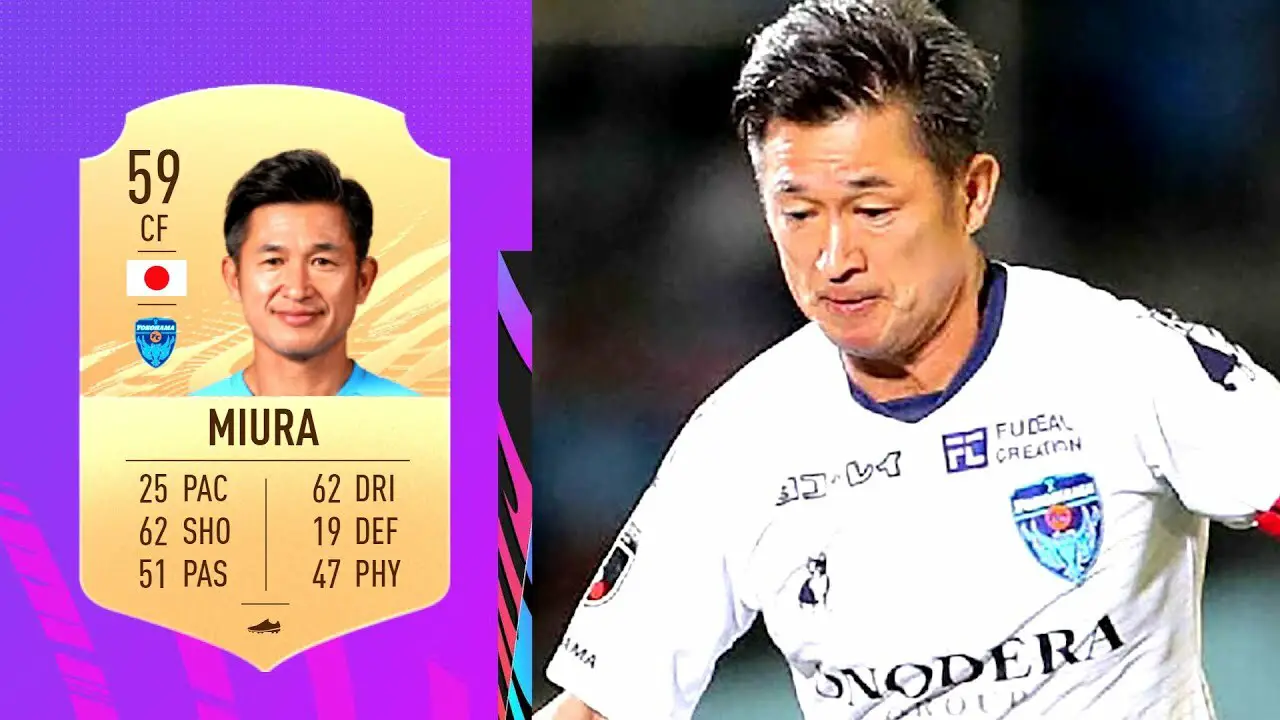 At just 15 he'd leave his Highschool in Japan, travelling alone to Brazil, signing for Sao Paulo's youth squad, Juventus. Impressing during his 4 year stint, he signed his first professional contract with Brazilian giants Santos in 1986; later making his debut in senior football at 19. 
Only able to register 2 appearances in total at Santos, his drive to play football took him to Palmeiras, where he would get regular football, making 25 appearances and even scoring 2 goals, however finding consistent football would prove challenging, as for the next 4 years he would hop from club to club, eventually ending up back at Santos, this time scoring 3 in 11 matches for them.
An Explosive return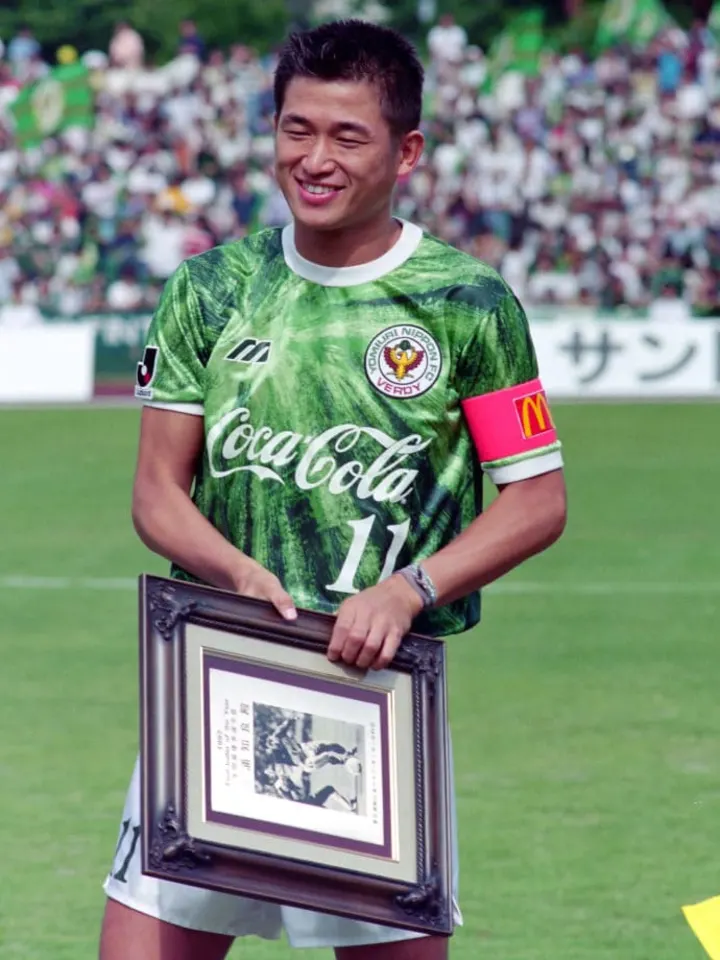 Off the back of his regular appearances in Brazil, Kazu had become a star name in Japan, a return to his homeland seemingly imminent. He had spent his formative years learning where some of football's all time greats had, garnering cult status among Japanese football fans.
Many called for his return. In the end it would be Verdy Kawasaki who tempted the now 23 year old forward. Success would come instantly, Kazu and his side winning two JSL titles in his first two seasons. Individually, Kazu however had not quite had the impact he'd dreamed off, scoring 3 in 18 in his first season, and 6 in 21 his second. 
He had been finding his feet, and many could tell there was a great player there. In 1992, the Japanese Soccer League would dissolve, paving way for the J-league. This new beginning would spark something incredible inside Kazu, as he would have the season of his career, scoring 23 in 40 across all competitions, with 20 coming in the league.
This fine form would not only lead Kawasaki to the title, but earn Kazu the inaugural MVP for the season, pipping the aforementioned Gary Lineker to the award.
The following season would be just as fruitful, with another league title and a prolific goal scoring record of 16 in 22 league games. With a few months left in the season, Kazu's incredible form would pique the interest of Italian Serie A side Genoa. 
Always ambitious, Kazu would cut his prolific season in Japan short for a taste of playing in one of Europe's elite leagues, signing on loan for the season. At the time, he would be the first Japanese player in the history of Italy's top flight. 
A Chance in the Big Leagues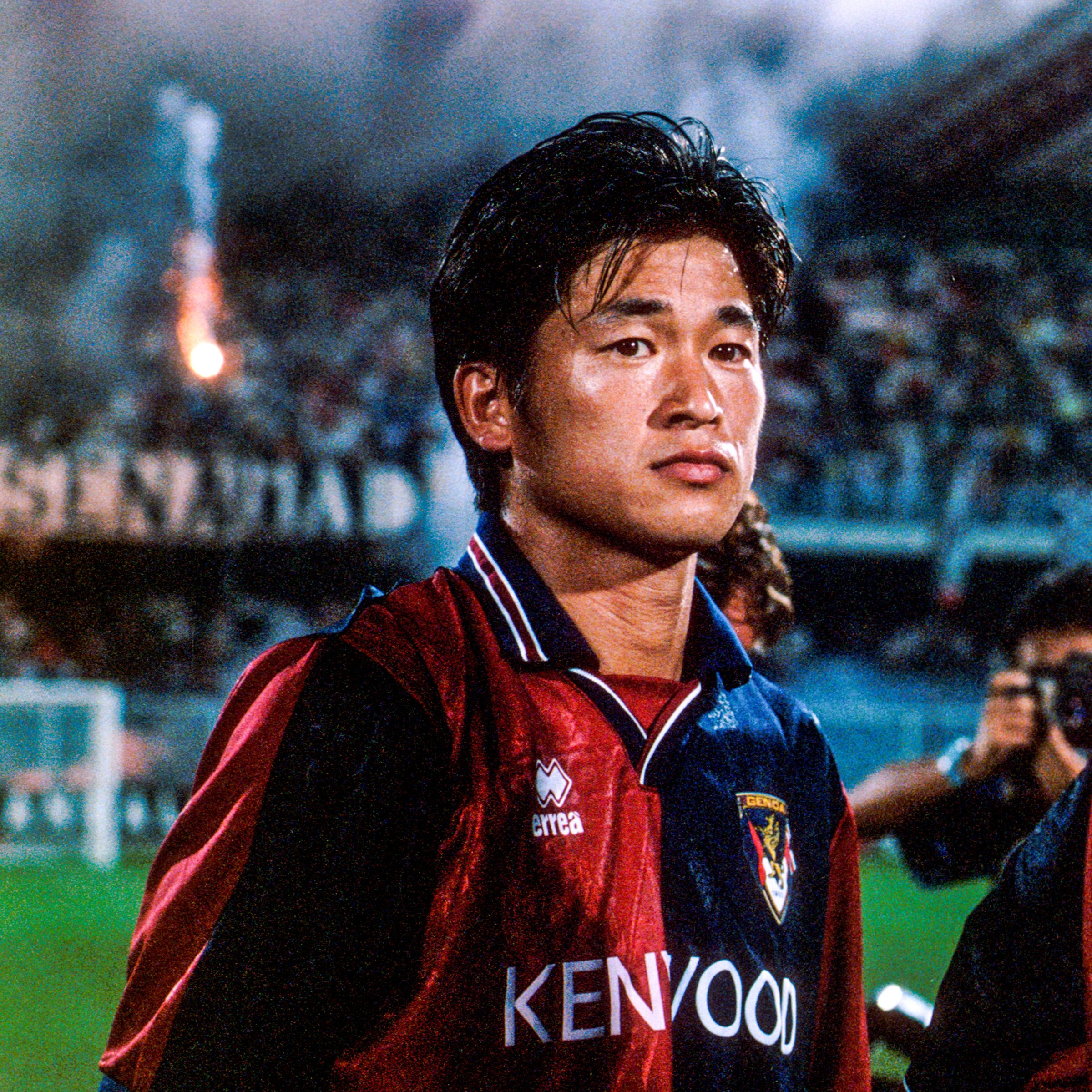 He would struggle to recapture the same form that had lit the J-league up. Despite playing 21 games, he would manage just 1 goal, against Sampdoria; notably also providing a match winning assist against Padova.
It wasn't the rip roaring success he had hoped for, and unable to carry his J-League form into a struggling Genoa side meant come the end of the season, he'd be back at Verdy Kawasaki. He'd re-discover the form that earned him his move to Europe, scoring 23 goals in two consecutive seasons. 
The team's form and quality would significantly dwindle following their second place finish in 1995. It was a combination of more quality players coming through  the league and interest from foreign players thanks to high profile names like Lineker and Salvatore Schillaci.
Playing slightly deeper in the hole, he would continue to impress, scoring much less but frequently making a notable impact in games.
Following Kazu's return, the side would be unable to rekindle their previous success, struggling in the league finishing 7th, 15th and 12th in his final three seasons. His club form may have faltered, but Kazu's real status as a National Icon would develop through his exceptional National team performances. 
National Hero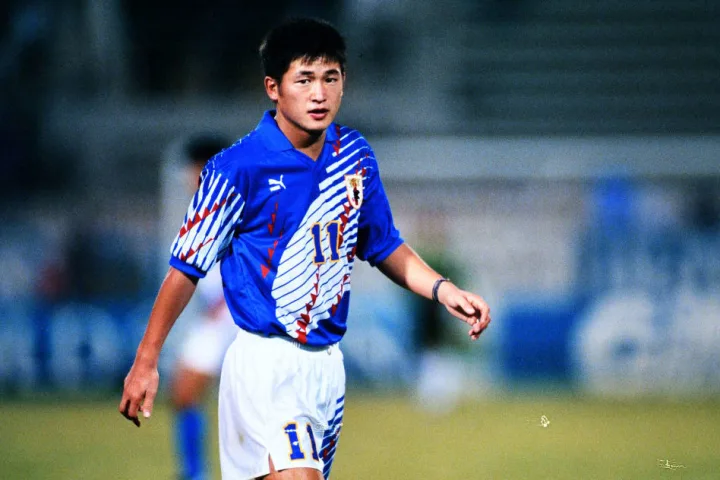 His first cap came 8 years prior to his last season with Verdy Kawasaki, earning it just a few months after his return to Japan. Playing in the 1990 Asian games in which little to no data exists of. Sadly, he did not score, and wouldn't convert for the national team until 1992 against North Korea.
This first goal would come after 10 games in total, and would spark the start of an incredible goal scoring record for the national team. In the following year of 1993, he would score a blistering 16 goals in 16 appearances for Japan. 
Incredibly this isn't even his best year with Japan, 5 years later playing a crucial role in Japan's 1998 World Cup qualification through scoring 18 in 19.  This was their first appearance in the tournament in 40 years
A Haaland-esque record, Kazu by this point coming to the end of what was assumed to be his prime at 31. Little did anyone know, he'd have another 25 years and counting left of his career.  
His last International appearance would come on June 6th, 2000 against Jamaica. He would bow out with the final goal of a 4-0 victory, as he was immortalised as the second highest goal scorer in the Japan teams history, with a fantastic record of 55 goals in 89 caps.
His career was far from over. Following his last season with Verdy Kawasaki in 1998, he would join Dinamo Zagreb to once again chase the European dream. Sadly his time in Croatia would not bear fruit, with no goals in 12 appearances.
Like a Fine Wine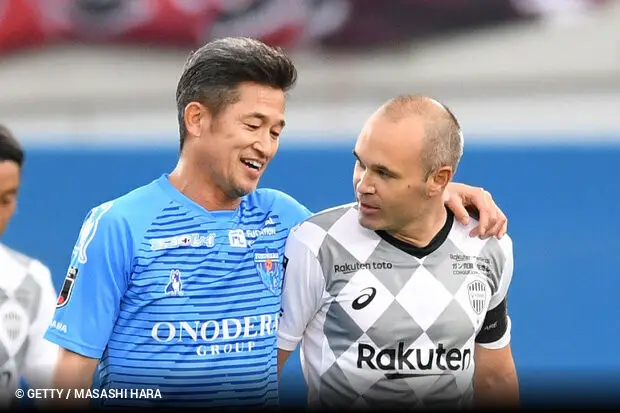 Returning to Japan, he would roll back the years at perennial  yo-yo club Kyoto 'Purple' Sanga, scoring 17 in 30 during his second season there, earning him a transfer to Vissel Kobe. Kyoto Sanga, the side he transferred from, holds the record for the most relegated side in J-League history.
He would spend 4 seasons with Vissel Kobe scoring a handful of goals. But, with game time growing scarcer, and the club struggling in the league, he signed for J2-League side Yokohama FC in 2005, at the ripe age of 38. It would be at Yokohama where he would spend the next 17 years.
At 38 he would continue to perform, appearing 39 times and netting 6 goals in his second season there, helping them on their way to promotion. His next season wouldn't go quite to plan, as he suffered the ignominy of relegation, but he proved at 41 he could still make an impact, with 24 games and 3 goals to his name in the league.
Kazu would appear in the annual J-league All Star exhibition match in 2007, after being voted to appear by fans. Aged 41 he would play exceptionally despite J-East losing to a late J-west winner from J-league all time leading goal scorer Okubo. 
Record Setter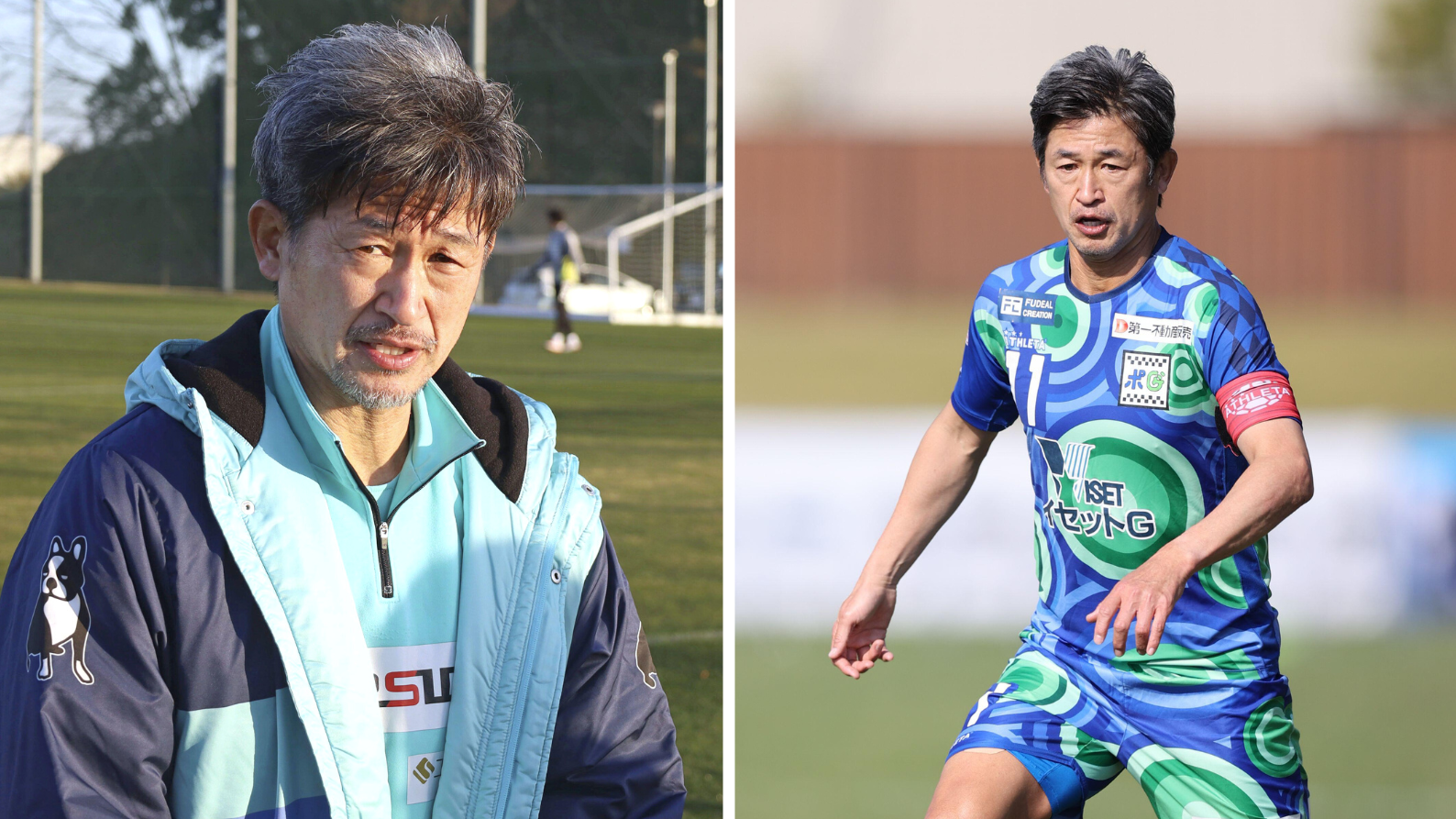 Always striving to push himself, King Kazu would repeatedly play what was surely his last season year after year, surpassing records every year. In 2015 he would break Stanley Mathews record, becoming the oldest ever professional football player by just 2 days at 50 years and 7 days old. 
Just 2 days later he'd break a second record held by Stanley Mathews, as he'd bag a vital winner versus Thespakusatsu Gunma in the second division. To score in modern football and still play decent portions of matches should be impossible
At 53, following Yokohama's promotion to the J1-League, King Kazu would make history being by far the oldest player to appear in the Japanese top flight. He played 57 minutes of the match.
After being loaned out last season to a fourth division side, Suzuka Point Getters, he would break multiple records again. First, being expectedly breaking his own oldest player record as he would on every start, and secondly, attracting a crowd of 16,218 spectators to a fourth division game, comfortably smashing attendance records for the JFL.
His most impressive record was yet to come, scoring a penalty to obliterate the oldest goal scorer record once again. Incredibly, just 2 weeks later he would score from open play with an instinctive poachers finish.
A Place in the Sun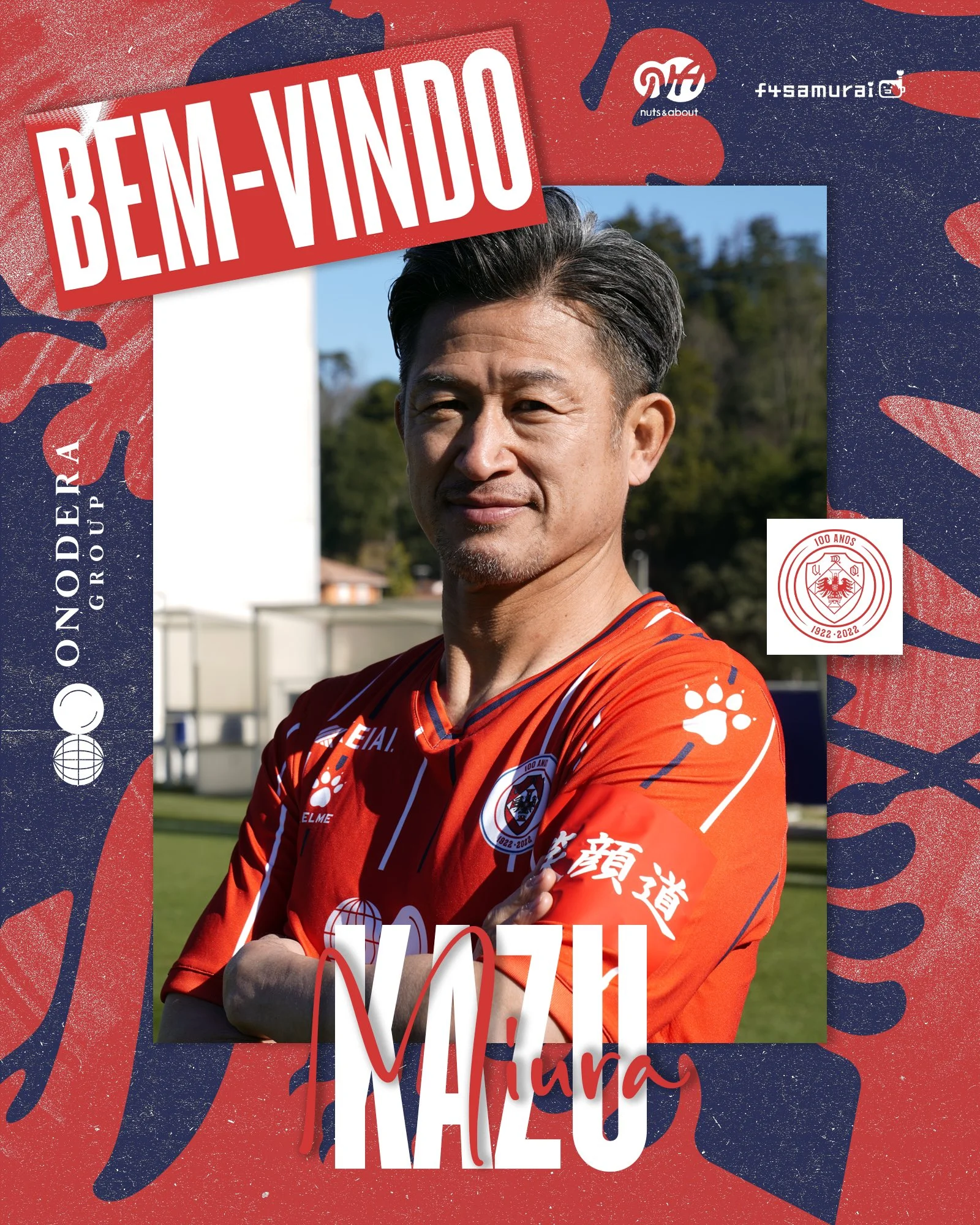 Finally, that leads us to today, where he enjoys life at second division side U.D. Oliveirense. Still employed by Yokohama, he was loaned out in January of this season (2023) and hopes to break into the first team. He passed his medical with 'flying colours' and should he make an appearance would be the oldest sports men to compete in Europe by 8 years.
Kazu attributes his longevity  as simply down to a healthy lifestyle, with a routine including 5am starts and ice baths. At the risk of using a predictable comparison,  Kazu's life is truly straight out of an anime.
His career is stranger than most fiction and I'm personally rooting for him to get on the pitch over in Portugal, and continue to break records. He could probably do a job at Southampton if he's willing to sacrifice the sun filled days and comfortable Villas.
Written by Oscar Bowerman