1976 FA Cup Final Score: Southampton 1-0 Manchester United
Date: 1 May 1976
Venue: Wembley Stadium
Referee: Clive Thomas
Attendance: 100,000
Teams:
Southampton: Ian Turner, Peter Rodrigues, David Peach, Nick Holmes, Mel Blyth, Jim Steele, Paul Gilchrist, Mick Channon, Peter Osgood, Jim McCalliog, Bobby Stokes (Hugh Fisher)
Southampton Goal Scorer: Bobby Stokes 83′
Manchester United: Alex Stepney, Alex Forsyth, Stewart Houston, Gerry Daly, Brian Greenhoff, Martin Buchan, Steve Coppell, Sammy McIlroy, Stuart Pearson, Lou Macari, Gordon Hill (David McCreery)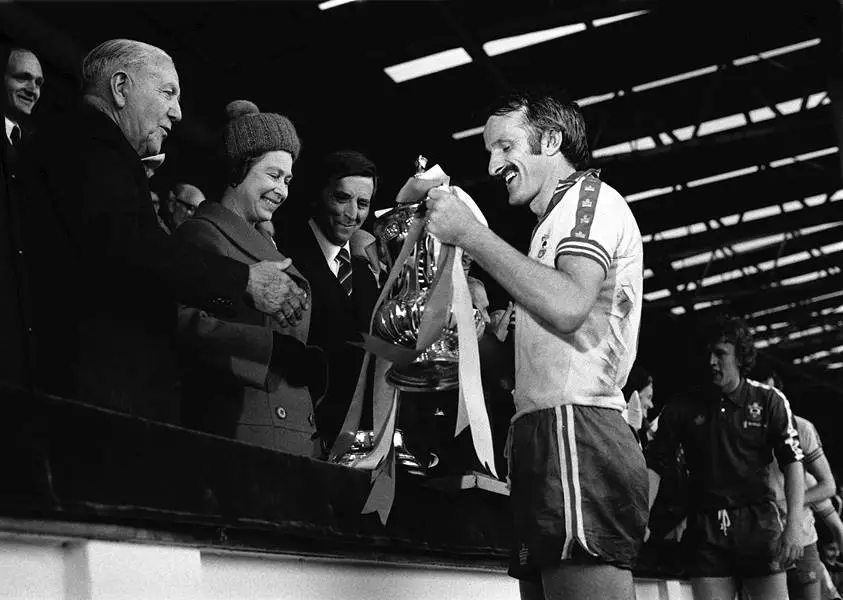 The 104th Football Association Cup
The 1976 FA Cup Final was contested by Manchester United and eventual winners Southampton. The fans of United expected victory; Southampton's had traveled with hope. The club reached its first final at Wembley. No major trophy had ever been won by them.
In 1900 and 1902, the club played in the FA Cup finals at Crystal Palace, losing to Bury and Sheffield United, respectively.
Here we look at the original match report from that match, remembered by many as producing one of the great Cup Final upsets.
As expected in this David versus Goliath contest, Manchester United, from the beginning, played fast, clever football. Neat movements involving four, five and six players were carried out as the ball was maneuvered from defense to attack.
Southampton, on the other hand, possessing few skilled ball players, relied on long passes and clearances and the resulting pressure imposed by Mick Channon and Peter Osgood.
After a shaky start to the 1976 FA Cup final, Jim McCalliog kept up a series of 30-yard through passes to his two powerful colleagues, and though they were invariably out-numbered.
Peter Osgood's work rate was generally below the standard of his teammates, the Saints strikers managed to keep their opponents at full stretch. This tactical contrast was one of the most intriguing features of the game.
The Southamption Vs Manchester United Final
United, as expected, began confidently. Steve Coppell dribbled cleverly at speed down the right wing and hit a good cross shot; Turner failed to catch it cleanly and only pushed the ball a few yards in front of him, where Stuart Pearson and Lou Macari reacted slowly right on the six-yard line.
Gordon Hill again broke clean through, but the ball was bouncing awkwardly. Although he attempted what would have been a perfect lob as Turner dashed out, the Southampton keeper caught the ball brilliantly at two yards range, and United was denied what might well have been the vital goal of the whole match.
That save inspired Southampton, who began to have more of the play. Because Manchester United was delaying their passes, Saints were able to throw the United forwards off-side more and more, and slowly the under-dogs began to function with increasing conviction in the 1976 FA Cup final
Overall in those first forty-five minutes, Manchester had enjoyed most of the play territorially, with many more chances, but they had squandered them by poor finishing against determined opponents.
Second Half Of The 1976 FA Cup Final
The second half began with a dangerous-looking move orchestrated by Channon, but Martin Buchan saved the situation for Manchester, whose final passes kept going astray.
Coppell and Peach had some rare tussles, with honors just about even. On one occasion, the nippy little outside right dribbled past two defenders and passed to the unmarked Stuart Pearson.
Unfortunately for him, the center-back arrived with his foot thigh-high. Despite an acrobatic turn and twist, Pearson's shot flashed wide of the goal.
Holmes and Rodrigues joined the list of players who shot feebly when well placed; the shooting throughout the match was innocuous, and neither goalkeeper had to make the save he must have expected and feared.
United had terrible luck when Sammy McIlroy headed against the woodwork a well-placed corner by Coppell, which Macari nodded backward to the far post.
Almost from the resulting clearance, Channon completed a good move by Southampton when he shot a yard high and wide of the Manchester net powerfully.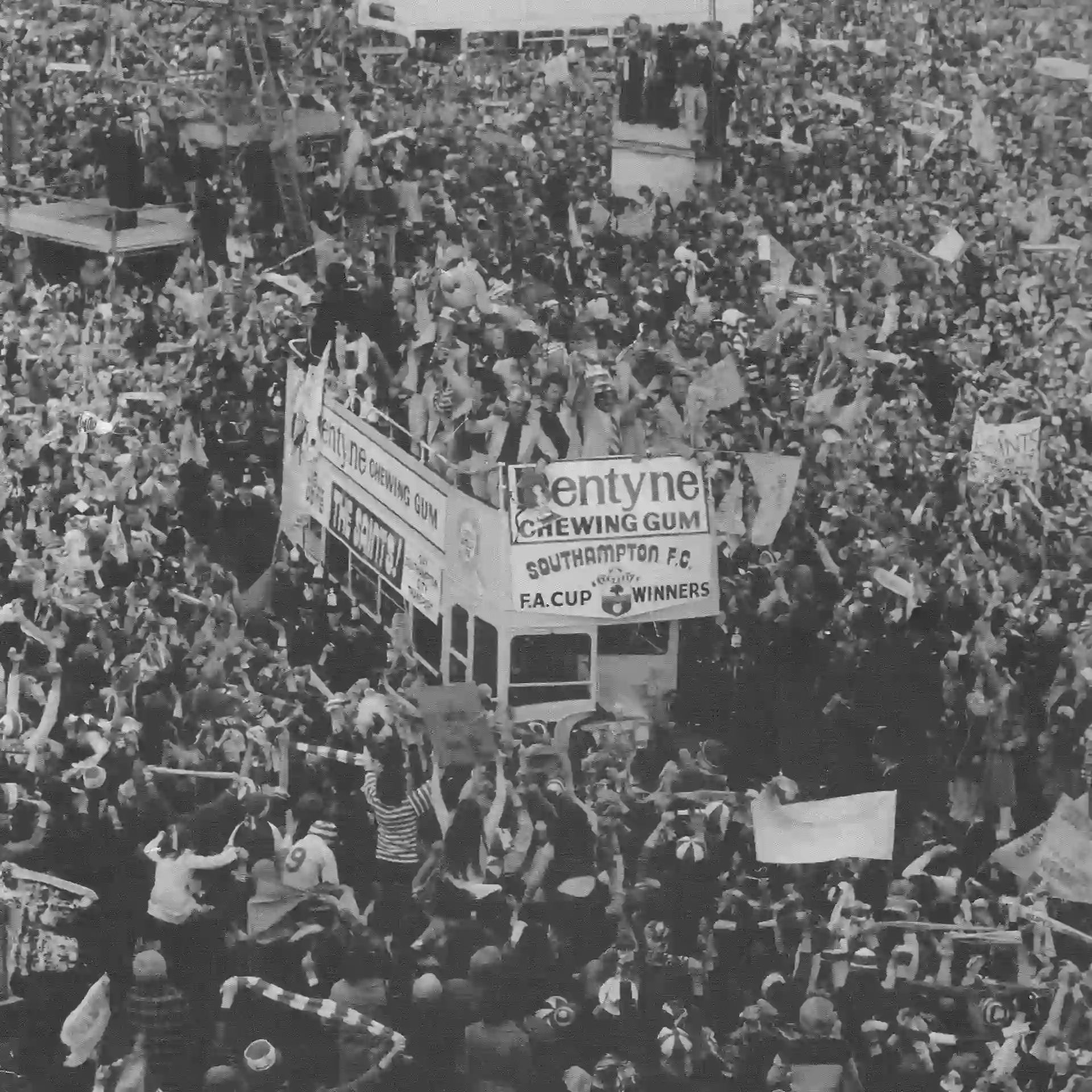 Bobby Stokes Winning Goal
David McCreery came on as a substitute for Hill. Still, in the 83rd minute, Bobby Stokes, who had just shot high over the bar, raced on to a gem of a pass by Jim McCalliog.
Although Bobby Stokes feared he might have been off-side, he placed his shot accurately into the extreme corner of the net. Angled low from outside the penalty area, it sparked controversy and delirium as Southampton won the 1976 FA Cup final.
Television playback showed that both the referee and linesman were correct in their judgment, and it was Stokes' anticipation and quickness off the mark that took him past Buchan and left him with only Stepney to beat. Southampton coolly played out the remaining seven minutes of the game to win the FA Cup.
A Ford Granada was presented to Stokes by the local car plant as a reward for scoring the winning goal.
So the unexpected had happened, and 'the Saints went marching in' to receive their Cup and medals from the Queen. It had been a good football game, played in a splendid spirit and without an unpleasant foul from start to finish.