Champions: Manchester United
Runners-up: Blackburn Rovers
Champions League places: Manchester United
UEFA Cup places: Blackburn Rovers, Newcastle United, Aston Villa (League Cup)
Cup Winners Cup places: Arsenal (as winners), Chelsea
Promoted (from 1992/93): Newcastle United, West Ham United, Swindon Town
Relegated: Swindon Town, Oldham Athletic, Sheffield United
Leading scorer: Andy Cole (Newcastle United) 34 goals
1993 – 1994 Premier League Table
| Pos | Team | Pld | W | D | L | GF | GA | GD | Pts |
| --- | --- | --- | --- | --- | --- | --- | --- | --- | --- |
| 1 | Manchester United | 42 | 27 | 11 | 4 | 80 | 38 | +42 | 92 |
| 2 | Blackburn rovers | 42 | 25 | 9 | 8 | 63 | 36 | +27 | 84 |
| 3 | Newcastle United | 42 | 23 | 8 | 11 | 82 | 41 | +41 | 77 |
| 4 | Arsenal | 42 | 18 | 17 | 7 | 53 | 28 | +25 | 71 |
| 5 | Leeds United | 42 | 18 | 16 | 8 | 65 | 39 | +26 | 70 |
| 6 | Wimbeldon | 42 | 18 | 11 | 13 | 56 | 53 | +3 | 65 |
| 7 | Sheffield Wednesday | 42 | 16 | 16 | 10 | 76 | 54 | +22 | 64 |
| 8 | Liverpool | 42 | 17 | 9 | 16 | 59 | 55 | +4 | 60 |
| 9 | Queens Park Rangers | 42 | 16 | 12 | 14 | 62 | 61 | +1 | 60 |
| 10 | Aston Villa | 42 | 15 | 12 | 15 | 46 | 50 | -4 | 57 |
| 11 | Coventry City | 42 | 14 | 14 | 14 | 43 | 45 | -2 | 56 |
| 12 | Norwich City | 42 | 12 | 17 | 13 | 65 | 61 | +4 | 53 |
| 13 | West Ham United | 42 | 13 | 13 | 16 | 47 | 58 | -11 | 52 |
| 14 | Chelsea | 42 | 13 | 12 | 17 | 49 | 53 | -4 | 51 |
| 15 | Tottenham Hotspur | 42 | 11 | 12 | 19 | 54 | 59 | -5 | 45 |
| 16 | Manchester City | 42 | 9 | 18 | 15 | 38 | 49 | -11 | 45 |
| 17 | Everton | 42 | 12 | 8 | 22 | 42 | 63 | -21 | 44 |
| 18 | Southampton | 42 | 12 | 7 | 23 | 49 | 66 | -17 | 43 |
| 19 | Ipswich Town | 42 | 9 | 16 | 17 | 35 | 58 | -23 | 43 |
| 20 | Sheffield United | 42 | 8 | 18 | 16 | 42 | 60 | -18 | 42 |
| 21 | Oldham Athletic | 42 | 9 | 13 | 20 | 42 | 68 | -26 | 40 |
| 22 | Swindon Town | 42 | 5 | 15 | 22 | 47 | 100 | -53 | 30 |
1993/94 Season Review
Manchester United retained the title finishing on top of the 1993/94 Premier League table. The Red Devils finished the season eight points clear of closest rivals Blackburn Rovers who demonstrated their incredible spending power under millionaire owner Jack Walker. United, though, was also breaking records in the transfer market. Roy Keane's £3.75million move from relegated Nottingham Forest in July made him the most expensive signing ever by an English club.
Meanwhile, newly-promoted Newcastle United was making significant strides under manager Kevin Keegan. In striker Andy Cole they had the league's top scorer with 34 goals, a tally never bettered. Newcastle finished third and made their intentions known early with a 1-1 draw at Old Trafford in the season's second match.
Another high-profile draw involving United came against Liverpool in January. United strolled into a three-goal lead, but two goals from Nigel Clough helped Liverpool earn a 3-3 draw in one of the matches of the season.
United led Blackburn by 16 points in January, but Kenny Dalglish's men turned on the style in the campaign's second half. Some inconsistent form from United coupled with Blackburn's good run meant that the gap between the two clubs was reduced to six points by the time Rovers hosted the Red Devils on 2nd April.
Shearer headed the home side in front and made it 2-0 with an explosive left-footed finish. After that, the gap was down to three points, with each club having played 35 matches. However, a surprise 2-1 defeat at Coventry a month later ended Blackburn's hopes, and United were champions again.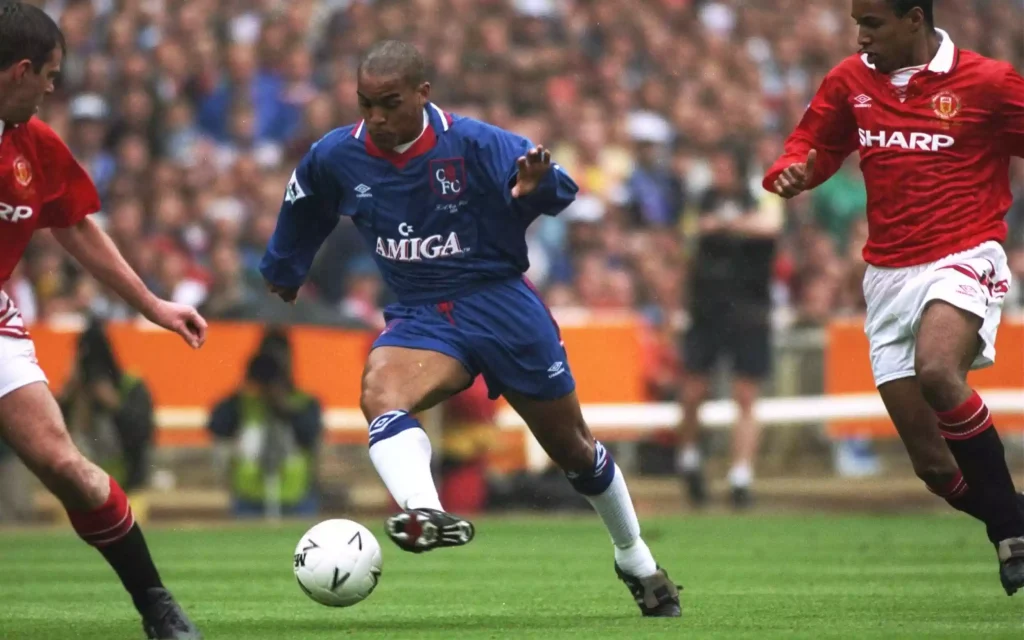 Fight At The Bottom
At the other end of the 1993/94 Premier League table, fans witnessed one of Premier League's most dramatic season finales at the bottom of the table. Mike Walker's Everton looked certain of relegation on the final day when they trailed Wimbledon 2-0 at home. But the Toffees rallied and saved themselves by scoring three goals, and it was Sheffield United who suffered late heartbreak as a last-minute Mark Stein goal for Chelsea condemned them to a 3-2 defeat at Stamford Bridge.
They were several places clear of the relegation zone at half-time but ultimately went down with Oldham and Swindon, the latter winning just five games all season. "It is one of those unbelievable moments in football, but they happen," said Blades manager Dave Bassett of his club's relegation. "When you play Russian roulette, you sometimes get the bullet."
In Europe, Arsenal won the Cup Winners Cup courtesy of an Alan Smith strike against a Parma side featuring the talents of Gianfranco Zola and Faustino Asprilla.
These two would have been happy with Rod Wallace's strike against Tottenham for Leeds United on 17th April. Wallace took the ball from his half around several Spurs players before curling the ball into the far corner. The BBC's Match of the Day panel judged it the Goal of the Season.
1993/94 Cup Results
1993/94 FA Cup Winners: Manchester United [Final – Manchester United 4 v 0 Chelsea]
1993/94 League Cup Winners: Aston Villa [Final – Aston Villa 3 v 1 Manchester United]
1993/94 Champions League Winners: AC Milan [Final – AC Milan 4 v 0 Barcelona]
1993/94 UEFA Cup Winners: Inter Milan [Final – first-leg: Casino Salzburg 0 v 1 Inter Milan], [Second-leg: Inter Milan 1 v 0 Casino Salzburg]
1993/94 Cup Winners Cup Winners: Arsenal [Final – Arsenal 1 v 0 Parma]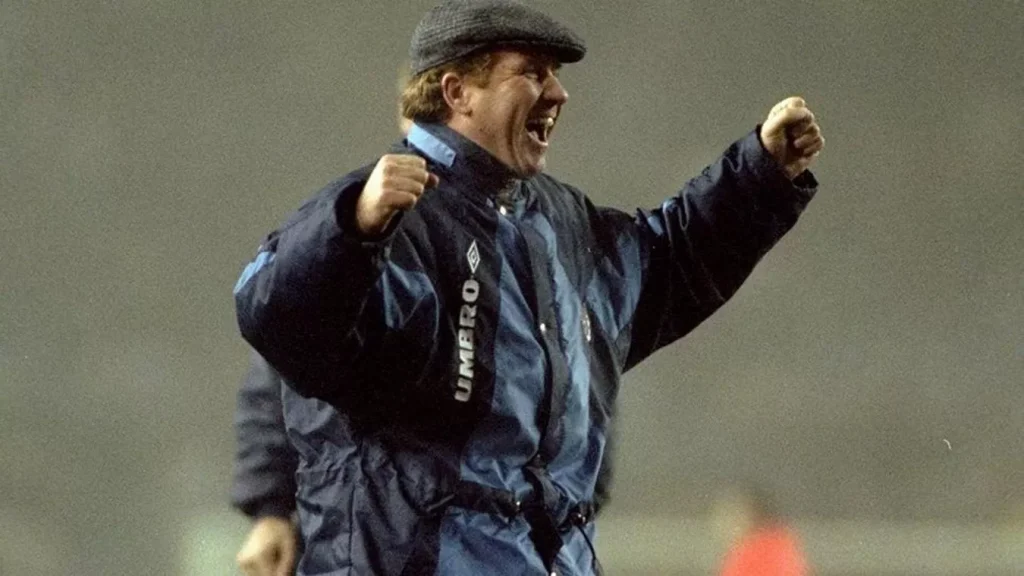 1993/94 Managerial Changes
Chelsea: David Webb out, Glenn Hoddle in
Coventry City: Bobby Gould out, Phil Neal in
Everton: Howard Kendall out, Mike Walker in
Liverpool: Graeme Souness out, Roy Evans in
Manchester City: Peter Reid out, Brian Horton in
Norwich City FC: Mike Walker out, John Deehan in
Swindon Town: Glenn Hoddle out, John Gorman in
Southampton: Ian Branfoot out, Alan Ball in
Tottenham Hotspur: Terry Venables, Doug Livermore, and Ray Clemence out, Osvaldo Ardiles in