Champions: Manchester United
Runners-up: Newcastle United
Champions League places: Manchester United
UEFA Cup places: Newcastle, Aston Villa (League Cup), Arsenal
Cup Winners Cup places: Liverpool
Promoted (from 1994/95): Middlesbrough, Bolton Wanderers
Relegated: Bolton Wanderers, Queens Park Rangers, Manchester City
Leading Scorer: Alan Shearer (Blackburn Rovers) 31 goals
Premier League Table 1995 – 1996
| Pos | Team | Pld | W | D | L | GF | GA | GD | Pts |
| --- | --- | --- | --- | --- | --- | --- | --- | --- | --- |
| 1 | Manchester United | 38 | 25 | 7 | 6 | 73 | 35 | +38 | 82 |
| 2 | Newcastle United | 38 | 24 | 6 | 8 | 66 | 37 | +29 | 78 |
| 3 | Liverpool | 38 | 20 | 11 | 7 | 70 | 34 | +36 | 71 |
| 4 | Aston Villa | 38 | 18 | 9 | 11 | 52 | 35 | +17 | 63 |
| 5 | Arsenal | 38 | 17 | 12 | 9 | 49 | 32 | +17 | 63 |
| 6 | Everton | 38 | 17 | 10 | 11 | 64 | 44 | +20 | 61 |
| 7 | Blackburn Rovers | 38 | 18 | 7 | 13 | 61 | 47 | +14 | 61 |
| 8 | Tottenham Hotspur | 38 | 16 | 13 | 9 | 50 | 38 | +12 | 61 |
| 9 | Nottingham Forest | 38 | 15 | 13 | 10 | 50 | 54 | -4 | 58 |
| 10 | West Ham United | 38 | 14 | 9 | 15 | 43 | 52 | -9 | 51 |
| 11 | Chelsea | 38 | 12 | 14 | 12 | 46 | 44 | +2 | 50 |
| 12 | Middlesborough | 38 | 11 | 10 | 17 | 35 | 50 | -15 | 43 |
| 13 | Leeds United | 38 | 12 | 7 | 19 | 40 | 57 | -17 | 43 |
| 14 | Wimbledon | 38 | 10 | 11 | 17 | 55 | 70 | -15 | 41 |
| 15 | Sheffield Wednesday | 38 | 10 | 10 | 18 | 48 | 61 | -13 | 40 |
| 16 | Coventry City | 38 | 8 | 14 | 16 | 42 | 60 | -18 | 38 |
| 17 | Southampton | 38 | 9 | 11 | 18 | 34 | 52 | -18 | 38 |
| 18 | Manchester City | 38 | 9 | 11 | 18 | 33 | 58 | -25 | 38 |
| 19 | Queens Park Rangers | 38 | 9 | 6 | 23 | 38 | 57 | -19 | 33 |
| 20 | Bolton Wanderers | 38 | 8 | 5 | 25 | 39 | 71 | -32 | 29 |
1995/96 Season Review
The 1995/96 season witnessed one of the most spectacular comebacks in Championship history. Manchester United trailed Newcastle United by 12 points in mid-January on the 1995/96 Premier League table, but that did not prevent them from claiming their third Premier League title and a second domestic Double.
Before the season began, Liverpool broke the British transfer record with the £8.5million signing of Stan Collymore from Nottingham Forest, Arsenal acquired Holland international Dennis Bergkamp from Inter Milan for £7.5million, and Les Ferdinand swapped Queens Park Rangers for Newcastle, who spent £6million on the England striker.
The newly promoted team, Middlesbrough, started the season strong. After occupying fourth place in late October, Middlesbrough's league form plummeted due to an injury crisis, and they finished 12th.
Blackburn Rovers' Alan Shearer finished the season as the top scorer despite these high-profile signings, and he scored a hat-trick in a 7-0 thrashing of Nottingham Forest. However, the following month Rovers were hammered 5-0 by Coventry City as the champions were humbled at Highfield Road.
By this point, Manchester United's Eric Cantona had returned to the game after a nine-month suspension for his assault on a Crystal Palace fan. The Frenchman scored the equalizer from the penalty spot in an entertaining 2-2 draw with Liverpool at Old Trafford on his comeback in September. Cantona, who also netted the winner in the 1-0 defeat of Liverpool in the FA Cup final, went on to win the Football Writers' Player of the Year, with Ferdinand claiming the Professional Football Association version.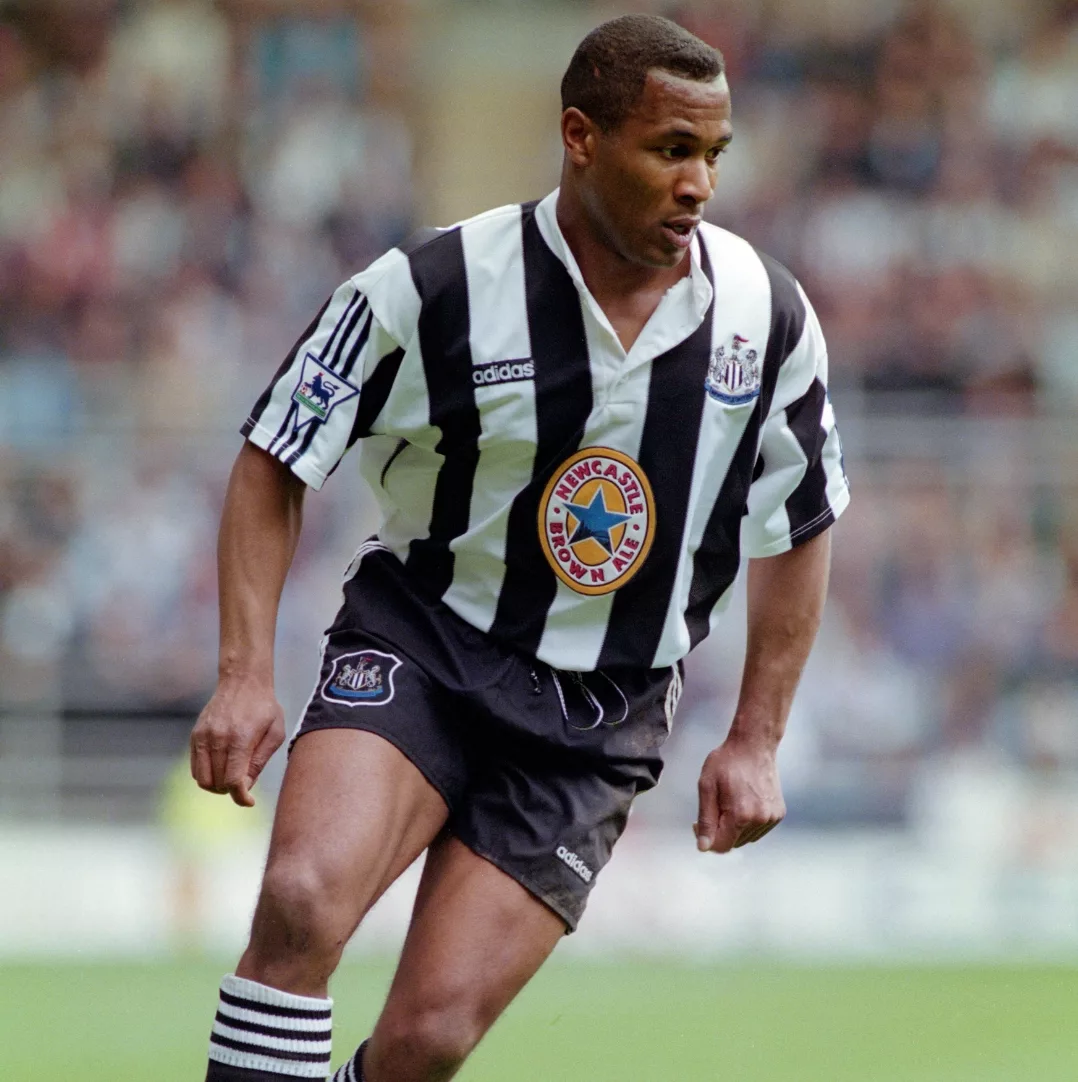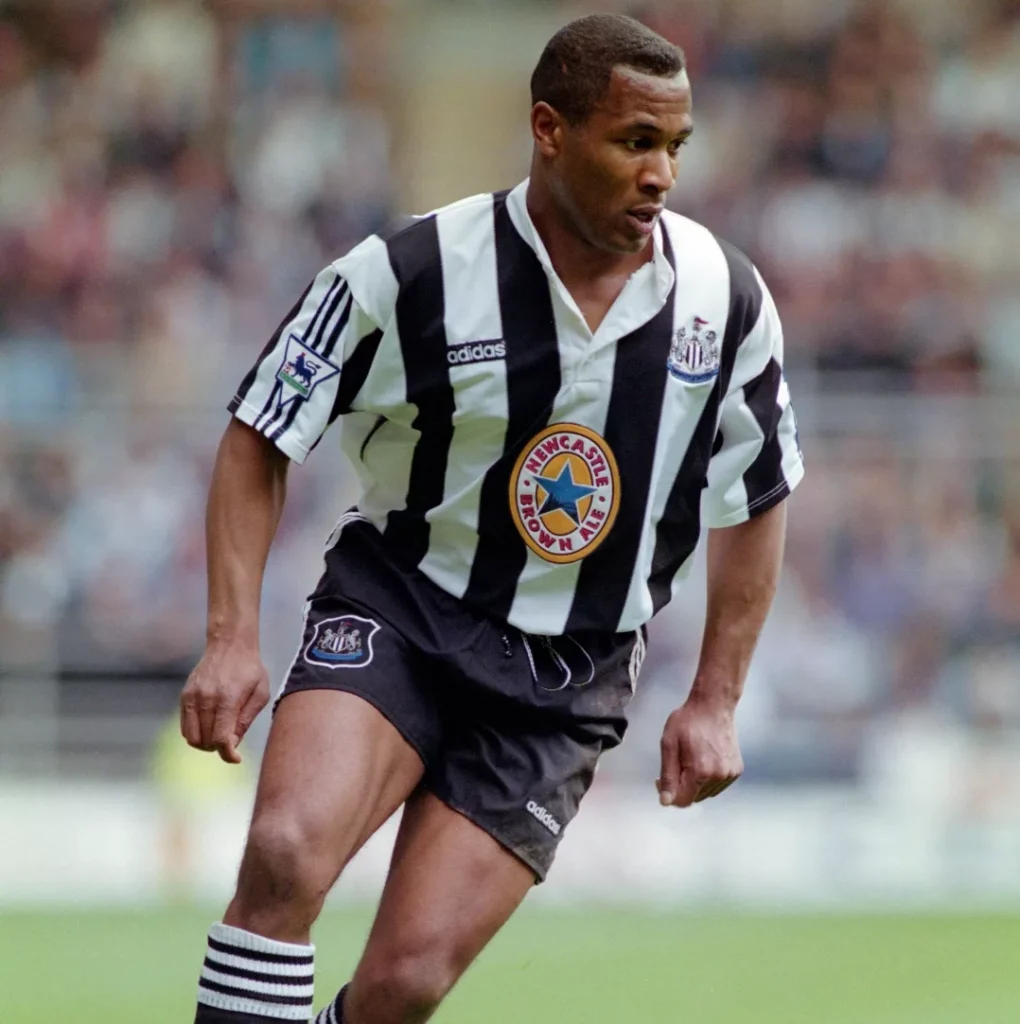 Big Les Ferdinard
Les Ferdinand scored 25 league goals but failed to find the net when United won 1-0 at St James' Park in March. Cantona scored the goal, with Red Devils' goalkeeper Peter Schmeichel delivering a vintage display between the posts.
Liverpool beat Newcastle 4-3 at Anfield in April in what was arguably the most thrilling match of the season. Newcastle fans were left distraught when Collymore scored a late winner.
As United eroded Newcastle's 12-point lead, the pressure of mind games with United manager Alex Ferguson appeared to take their toll on his Newcastle counterpart Kevin Keegan, who famously told Sky Sports: "I will love it if we beat them, love it!"
This was in response to Ferguson's earlier assertion that teams tried harder against United than against Newcastle. However, United's title victory had at least one pundit eating his words. After a side featuring youngsters such as Paul Scholes, Nicky Butt, and the Neville brothers Gary and Phil crashed to a 3-1 opening day defeat to Aston Villa, Alan Hansen asserted on the BBC's Match of the Day program: "You'll never win anything with kids."
The 1995/96 Premier League table shows that Manchester United's neighbors, Manchester City were relegated on goal difference, with Bolton Wanderers and Queens Park Rangers joining them in Division One. Aston Villa and Arsenal qualified for the UEFA Cup along with Newcastle United.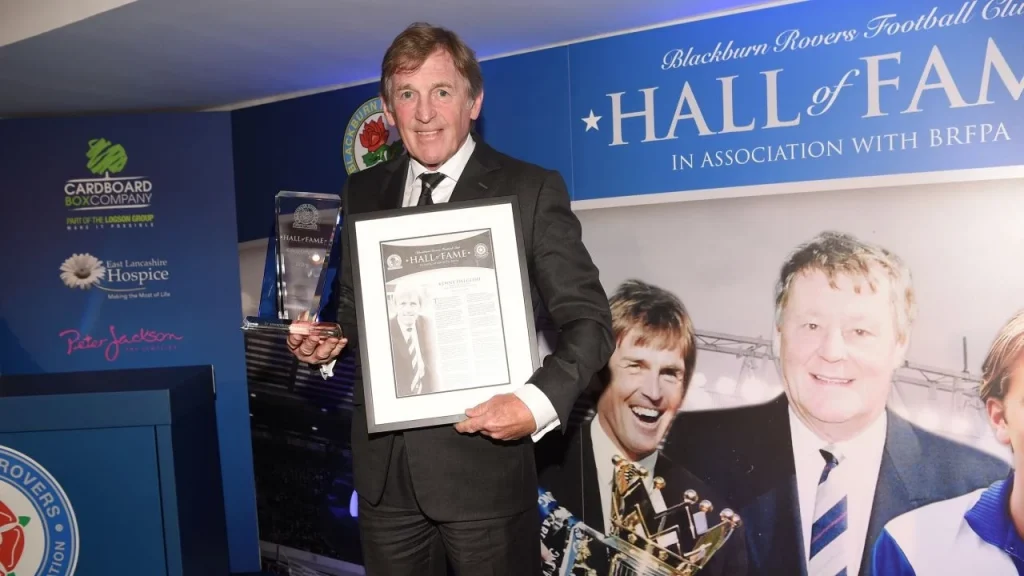 1995/96 Managerial Changes
Arsenal: Stewart Houston out, Bruce Rioch in
Blackburn: Kenny Dalglish out, Ray Harford in
Bolton: Roy McFarland (joint boss) out, Colin Todd in
Manchester City: Brian Horton out, Alan Ball in
Sheffield Wednesday: Trevor Francis out, David Pleat in
Southampton: Alan Ball out, David Merrington in
1995/96 Carling Winners Of The Month Awards
The following managers received the following awards for their achievements in the Carling Premiership 1995/96 season.
August 1995: Kevin Keegan (Newcastle United)
September 1995: Kevin Keegan (Newcastle United)
October 1995: Frank Clark (Nottingham Forest)
November 1995: Alan Ball (Manchester City)
December 1995: Roy Evans (Liverpool)
January 1996: Roy Evans (Liverpool)
February 1996: Alex Ferguson (Manchester United)
March 1996: Alex Ferguson (Manchester United)
April 1996: Dave Merrington (Southampton)
1995/96 Manager of the Year: Alex Ferguson (Manchester United)
The following players received the following awards for their achievements in the Carling Premiership 1995/96 season.
August 1995: David Ginola (Newcastle United)
September 1995 Tony Yeboah (Leeds United)
October 1995: Trevor Sinclair (West Ham United)
November 1995: Robert Lee (Newcastle United)
December 1995: Robbie Fowler (Liverpool)
January 1996: Robbie Fowler and Stan Collymore (Liverpool)
February 1996: Dwight Yorke (Manchester United)
March 1996: Eric Cantona (Manchester United)
April 1996: Andrei Kanchelskis (Manchester United)
1995/96 Player of the Year: Peter Schmeichel (Manchester United)