On 4th July 1926, Alfredo di Stefano was born to a first-generation Italian-Argentine father and an Argentine mother of French-Irish descent. Alfredo's early years in Buenos Aires, Argentina, were spent working on his parents' farm and helping other Italian immigrants,
Being the eldest son, he had the heaviest workload. Life during the 1020s was not easy, but Alfredo held tightly onto his dreams to change football history.
At 12 years of age, Alfredo joined a youth team called Los Cardales, followed by signing for Club Atlético River Plate (nicknamed 'Los Millonarios' in the 1930s after expensive player acquisitions) in 1945.
Once part of their youth system, the youngster took only a year to force his way into the first-team squad. At the time, the team already contained an established attack, so the Argentine was loaned out to Club Atlético Huracán in 1946.
It's believed that his first match was against River Plate, and Alfredo Di Stefano scored the winner just 15 seconds after the start – it was one of the quickest goals in the league's history.
The youngster did not disappoint, ending the 1946-1947 season as the league's top scorer and helping clinch the league title.
A call-up to the Argentina national squad was imminent, and in their participation in the 1947 Copa America, Di Stéfano netted 6 goals in 6 matches, and the La Albiceleste savored victory!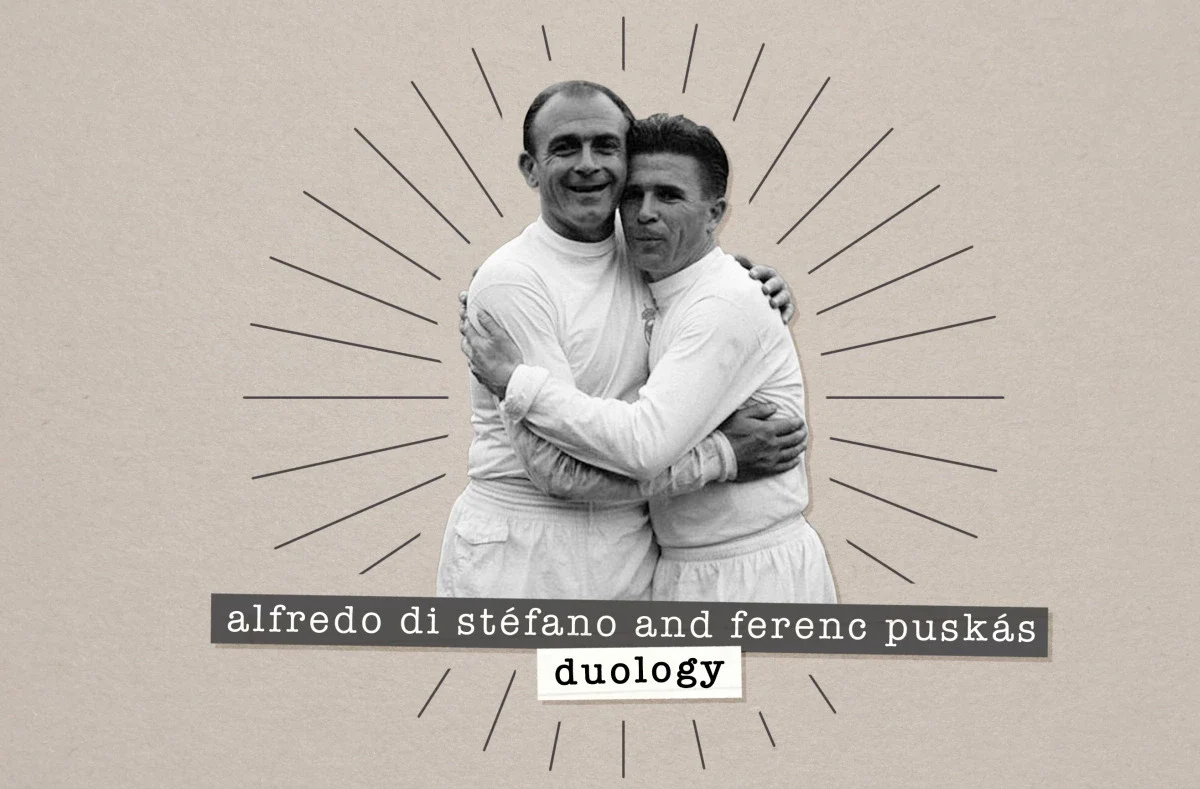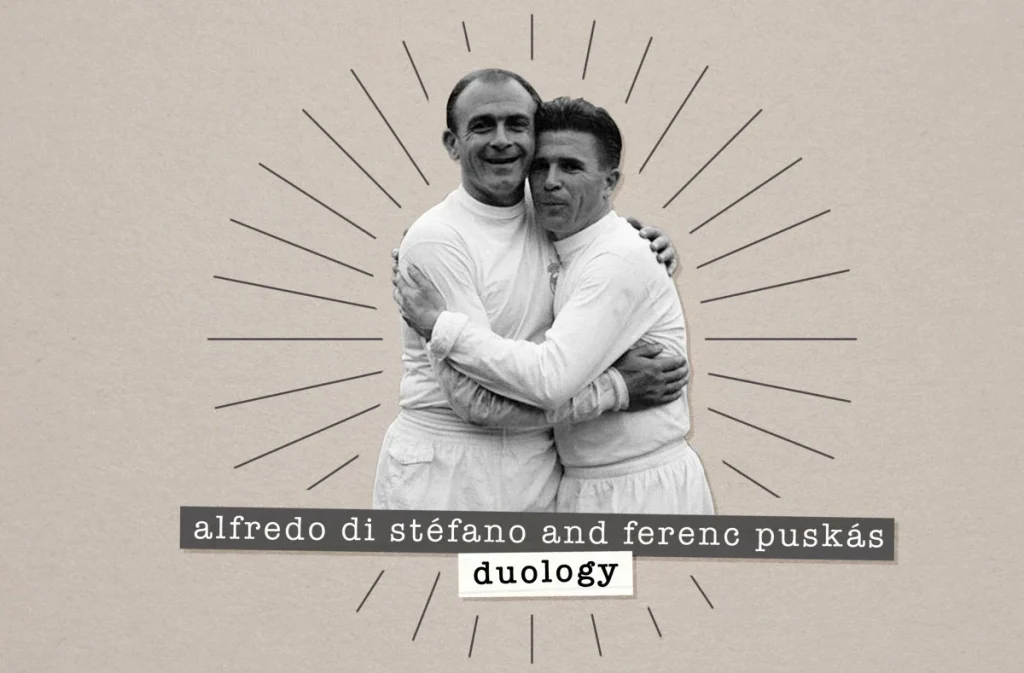 Turbo-Charged!
Alfredo Di Stéfano returned to Los Millonarios and became a member of the legendary attack known as 'La Máquina' (The Machine). The Argentine was powerful, pacey, impossible to track, and had so much tactical versatility that he could play anywhere on the soccer field.
One of the most lethal and dreaded attacks in South America had just been baptized! In 1948, River Plate was considered unbeatable because it had an attack of geniuses – and the greatest genius was a 21-year-old nicknamed 'La Saeta Rubia' ('The Blond Arrow'), such was his speed.
Argentina's players' strike in 1948 forced the domestic championship to a grinding halt, and Alfredo Di Stefano, like many others, packed his bags and moved elsewhere…to Colombian side Millonarios Fútbol Club of Bogotá.
During a highly successful period in the 1950s, the team consisting of the likes of Di Stéfano, Rafael Franco Reyes, and Adolfo Pedernera, was labeled 'The Blue Ballet'. Through their wondrous play, they provided an escape for the fans, who found themselves in a period of political unrest that descended into civil war claiming an estimated 280,000 lives.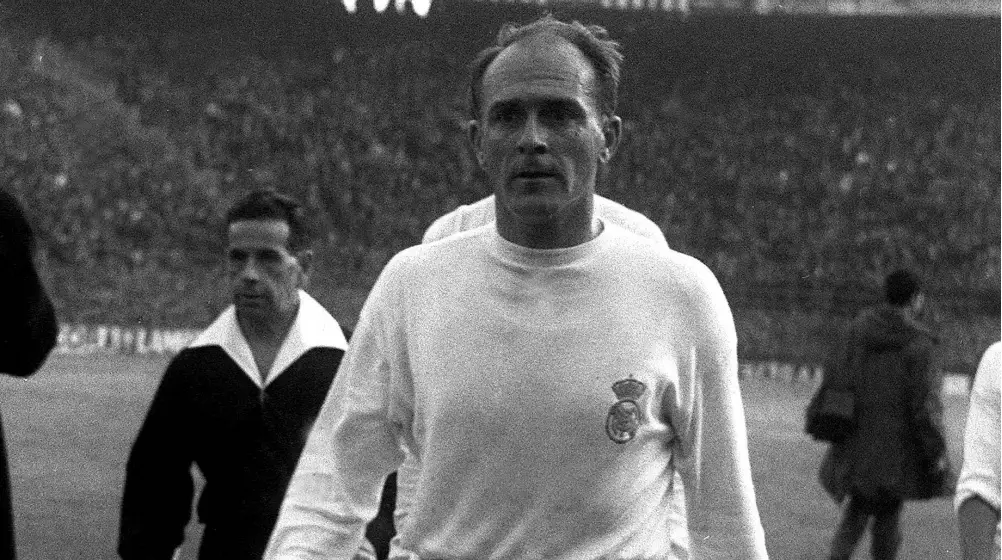 Alfredo Di Stefano Becoming An European Footballer
During Millonarios's tour of South America and Spain, at the Neuvo Estadio Chamartín (later renamed the Santiago Bernabéu), they played in a friendly against Spanish club Real Madrid.
In recalling Alfredo Di Stefano's performance, in which he scored a double in their 4-2 victory, Real Madrid manager Miguel Muñoz said, "He was extraordinary. He appeared in defense, in midfield, and in the attack. Di Stéfano did the running of three players! And when he had the ball, you couldn't get it off him. You just had to hope he passed it."
Both the Real Madrid CF and FC Barcelona scouts were in attendance that day and instantaneously infatuated with this Argentine wonder. Real Madrid president Santiago Bernabéu described Alfredo Di Stefano as 'a toy Real Madrid must have for Christmas'.
Plans were immediately set in motion in both camps and a complicated and intense tug-of-war commenced.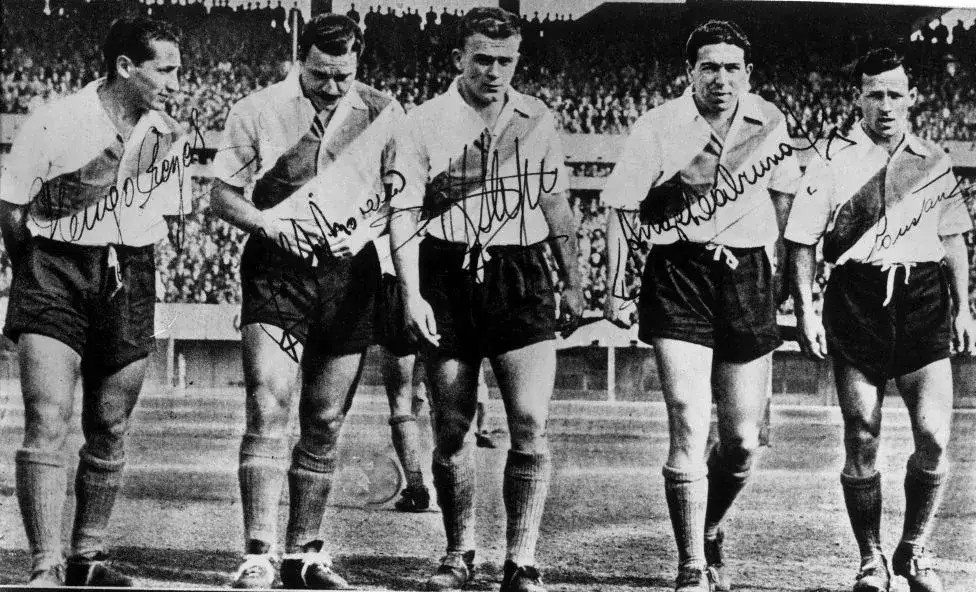 Turbulence With A Serving Of Conspiracy
Initially, most of the negotiating for Alfredo Di Stéfano was done by FC Barcelona to secure a deal with Millonarios and River Plate, who owned the player. Barça's negotiating was entrusted to a lawyer by the name of Fargas.
As time lapsed and nothing finalized, Barça's chief scout Samitier was introduced with his Catalan acquaintance, Busquets-Baró, in tow.
It was suspected that Busquets, director of Bogota club Santa Fe and Millonarios's rivals, may have been sabotaging the deal. Busquets went as far as issuing Millonarios with an ultimatum: either they accepted Barça's offer or, with the player's consent, Alfredo Di Stefano would be taken to Spain. Upon Millonarios's rejection, Busquets set plans in motion.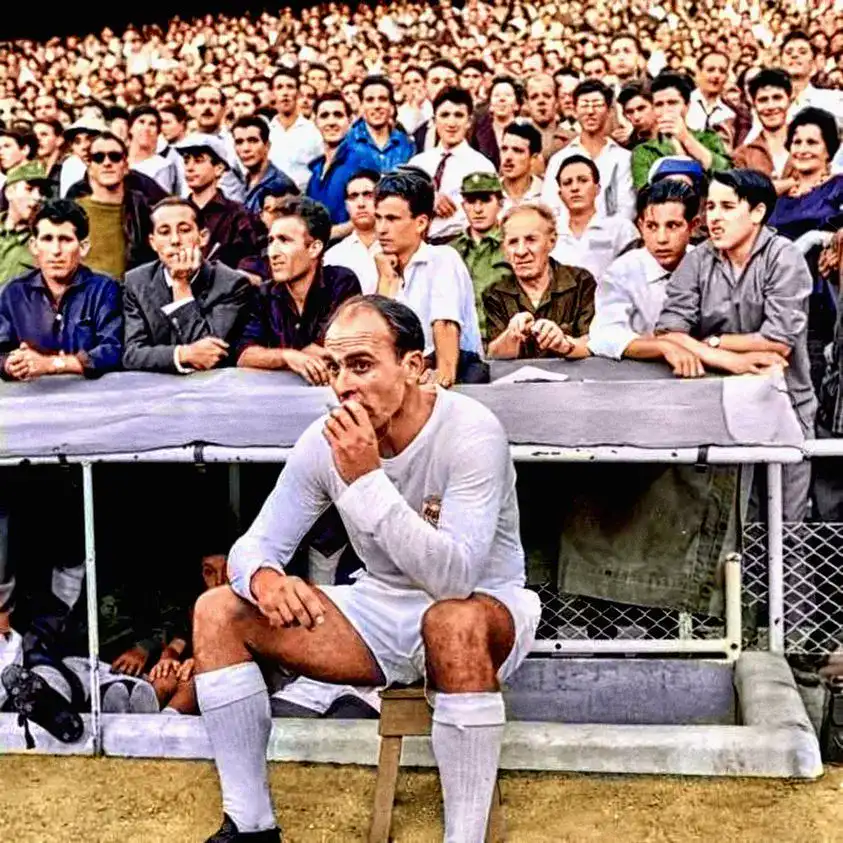 Most Successful Teams Fighting For Signature
River Plate, on the other hand, concurred with Di Stéfano's transfer to Barça, but on the condition that Millionarios was in agreement. But Millonarios was far from impressed with what they perceived as bullying tactics from Barça and the player's unpaid $5,000 debt.
Fargas's relationship with Barcelona was in a tailspin – he believed Barcelona's president, Carreto, was disrupting his negotiations and, although he had been assured that Barça would pay any amount necessary to secure Di Stéfano's signature, each one was rejected.
The closest Fargas came to concluding a deal was when Millonarios's president relinquished the $40,000 transfer fee and was ready to accept Fargas' offer: a $10,000 transfer fee, paying Di Stéfano's debt, and a friendly against Barça, with the Colombians collecting all the proceeds thereof.
Once again, Carreto refused and was only prepared to pay the $10,000 – nothing more.
Ban On Foreign Players Like Alfredo Di Stefano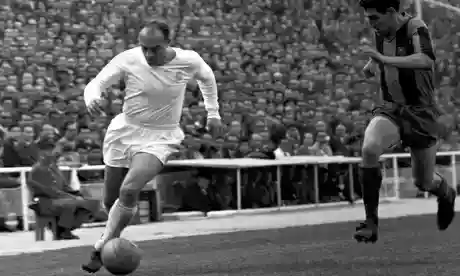 While both Real Madrid and Barça continued negotiating with Millonarios, the Spanish Football Federation introduced a law banning the procurement of foreign players.
Curiously, Alfredo Di Stéfano was excluded from this ban, but only as long as both Spanish clubs agreed to share him. The deal, signed on September 15th, 1953, confirmed that Di Stéfano play 4 seasons in Spain – alternating 2 seasons with each of the clubs.
Thereafter, a decision would have to be made on the player's future. The unusual agreement created a tempestuous climate with protests from FC Barcelona's management, fans, and press. Needless to say, a week later, Carreto resigned.
Barça's interim board agreed to allow Di Stéfano to join Real Madrid for a compensation fee. Alfredo Di Stéfano signed a four-year contract with Madrid after Barcelona sold their half-share.
As part of the transfer, Real Madrid paid 5.5 million Spanish pesetas, plus a bonus of 1.3 million, an annual fee, and a salary of 16,000 for Di Stéfano, along with a double bonus for his teammates, which totaled 40% of the Real Madrid club's annual revenue for those extra two seasons.
The rivalry between the two clubs was greatly intensified by this saga. Many believed that Carreto had fallen prey to Madrid's scheme of snatching the player, and in the process, destroyed Barça's ambition.
Now Time To Win League Titles
On the morning of September 23rd, 1953, Di Stéfano signed his contract with Real Madrid and put the transfer saga to rest.
Moments later, to his amazement, he was led to the training pitch and put through various exercises and drills under the watchful eye of his coach, Fernandez. "I was told I was playing in a match later that afternoon against the French team Nancy", Di Stéfano recalled.
"I wasn't keen at all. I was exhausted and, in the three months I'd been sitting around in Barcelona, I'd only played three friendlies. I scored but we lost 4-2."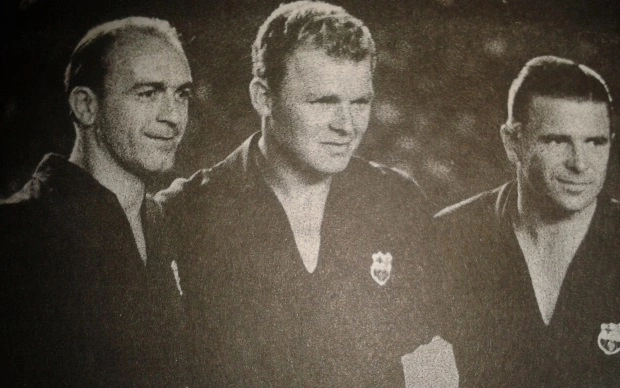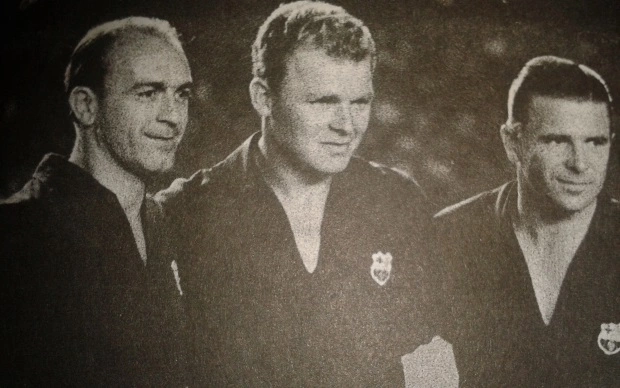 From Despair To Brighter Days
In the post-war era, as Spain emerged from its Civil War wreckage, Real Madrid's president Santiago Bernabéu dreamt of the club's resurgence and building the largest football stadium Spain and Europe had ever seen.
The new 75,145-capacity stadium, inaugurated in December '47, was named the 'Nuevo Estadio Chamartín'. Startlingly, Los Blancos's first season at the new stadium saw them almost relegated! Focused on their new arrival, Bernabéu's plans were coming to fruition, and were sealed with a kiss of sensational surprise…
Straight To The Point!
Alfredo Di Stéfano immediately began entertaining and wowing the fans. In the El Clásico match in October '53, the 'Blond Arrow' scored twice in their 5-0 thrashing of Barça, giving them a boost in their title race hopes.
The press described Di Stéfano's performance as 'brilliantly versatile'. Eduardo Galeano wrote, "The entire playing field fitted inside his shoes. From his feet the pitch sprouted and grew…he ran and reran the field from net to net.
He would change flanks and change rhythm with the ball from a lazy trot to an unstoppable cyclone; without the ball he would evade his marker to gain open space, seeking air whenever a play got choked off… He never stood still.
Holding his head high, he could see the entire pitch and cross it at a gallop to prise open the defense and launch the attack. Di Stéfano was there at the beginning, during, and at the end of every scoring play, and he scored goals of all colors…"
Di Stéfano's '53-'54 season saw Real Madrid won their first La Liga title after a 21-year drought. He rightfully received worldwide acclaim for his exceptional début campaign in Spain.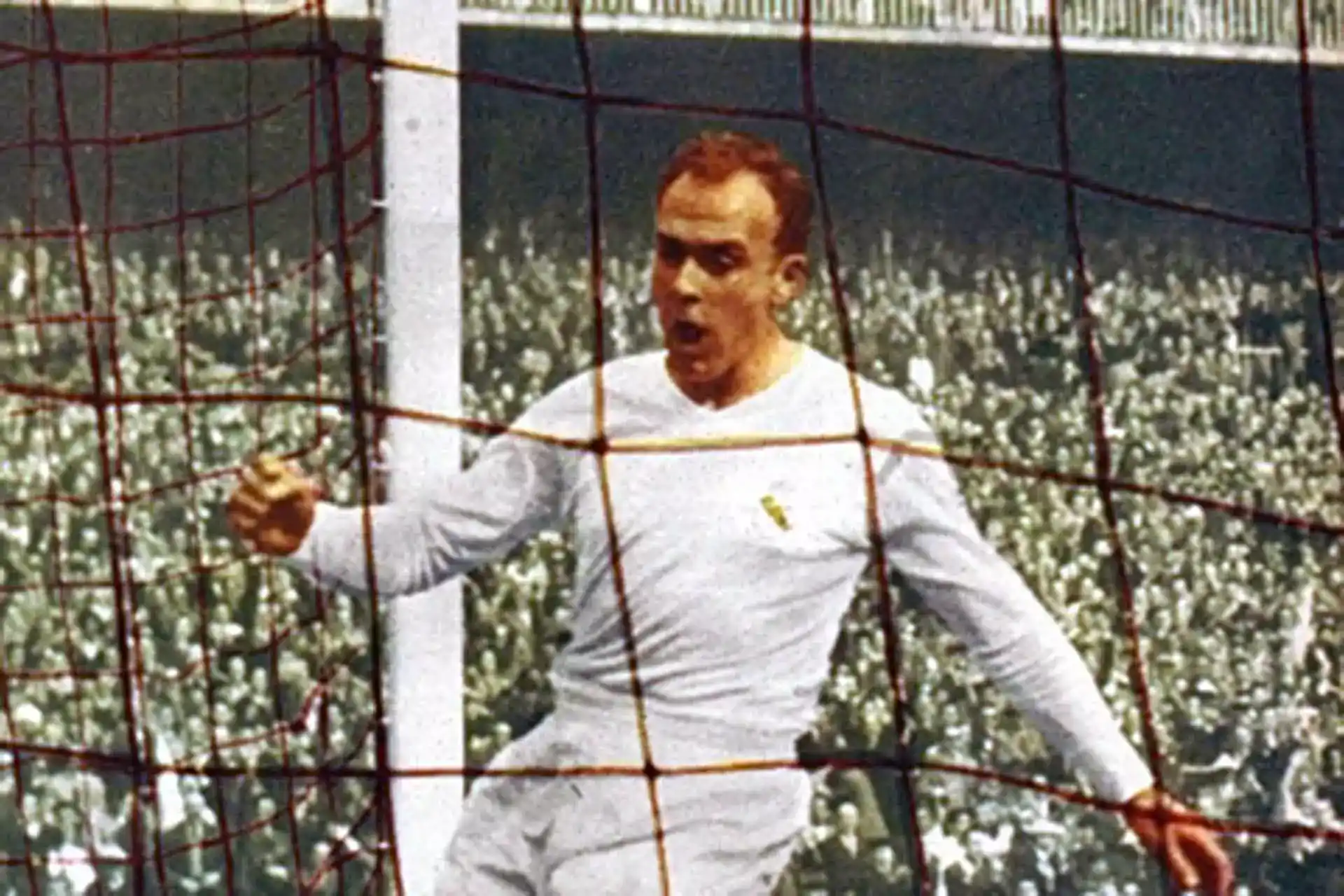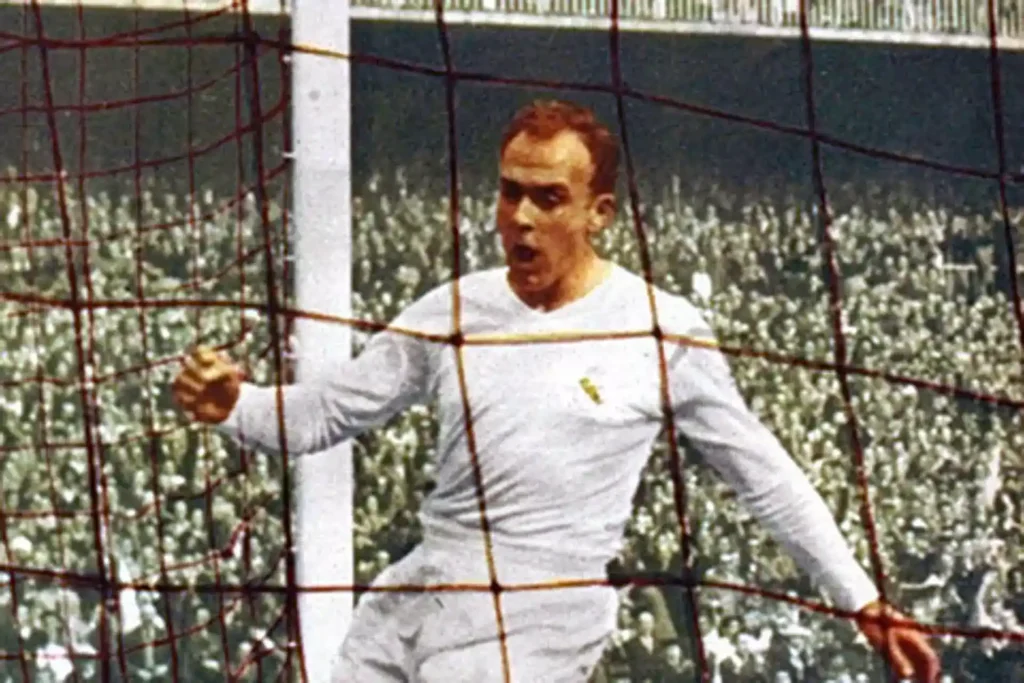 Alfredo Di Stefano Makes Football History
In total, Alfredo Di Stefano's time achieved: 5 European Cup Finals; 8 Spanish league titles, 1 Copa del Rey winners' medal, and 1 Intercontinental Cup. (The Intercontinential Cup takes place every year between the European and South American champions).
In those days, Real Madrid dominated Spanish and European football, and Alfredo was their guiding light. His last official appearance in a Los Blancos shirt was in the European Cup final of 1964. Although his team lost 3-1 at the hands of Inter Milan in Vienna, it remained memorable.
He then played two seasons with Espanyol, and after 485 goals and 664 appearances displayed in his 21-year playing career, he retired at the age of 40.
The Argentine was honored with a match in 1967 between Real Madrid and Celtic, which ended with an emotional standing ovation from a capacity crowd in a glorious Bernabéu.
Disappearance In The Early Hours
The Real Madrid team travelled to Venezuela for the 1963 Pequeña Copa del Mundo (forerunner of the Intercontinental Cup), settling in Caracas's Potomac Hotel. On the night of August 24th, four armed men broke in, blindfolded Alfredo Di Stéfano, and took him away.
It soon became apparent that the guerilla group FALN (Fuerzas Armadas de Liberación Nacionale) was responsible, and they were not looking for a ransom.
Their aim was to attract publicity through their 'spectacular feats', informing the world of what they believed to be government corruption, soon to be enacted by Venezuelan President Betancourt in the upcoming elections. FALN had also made an assassination attempt on Betancourt in July that year.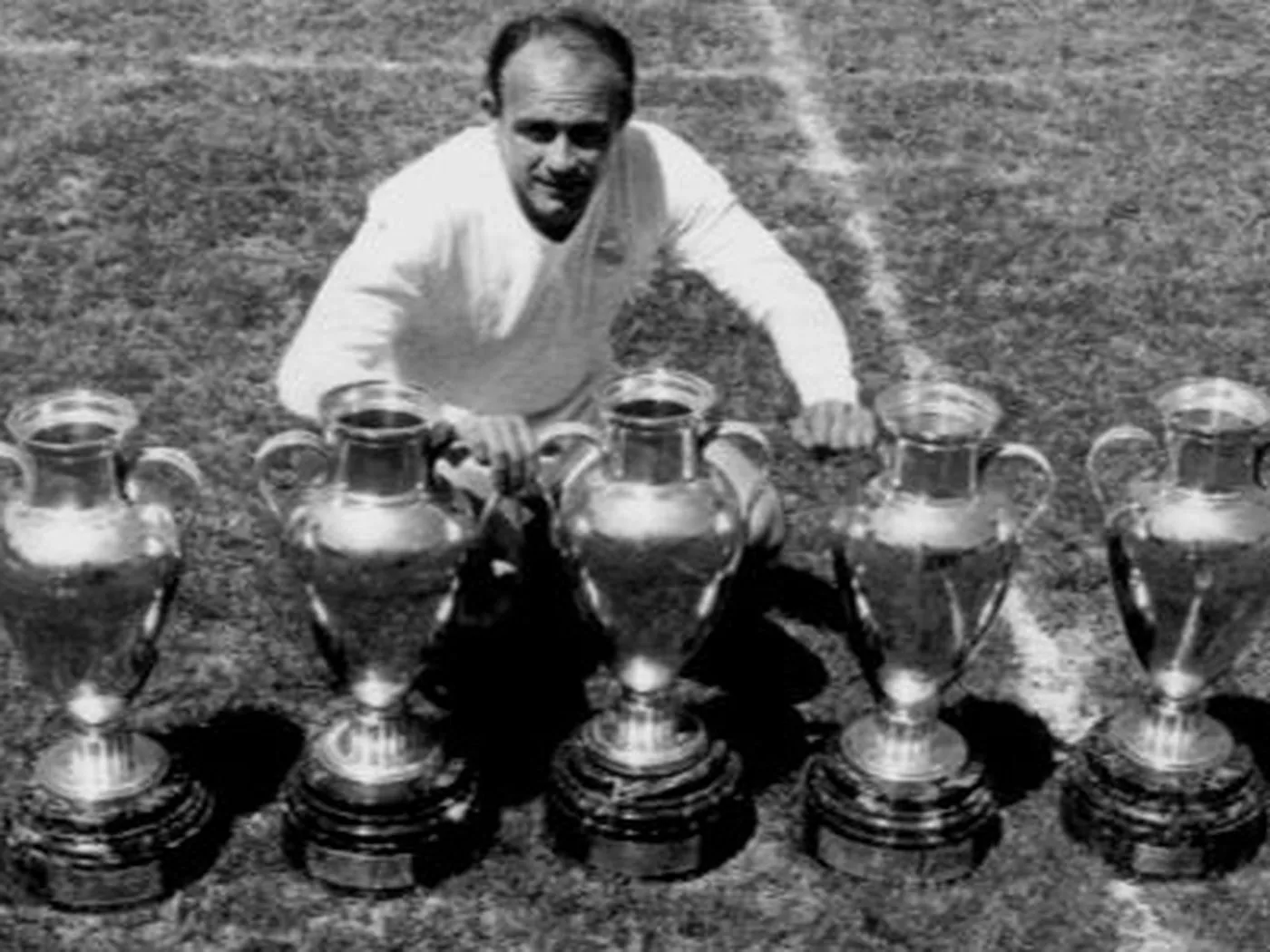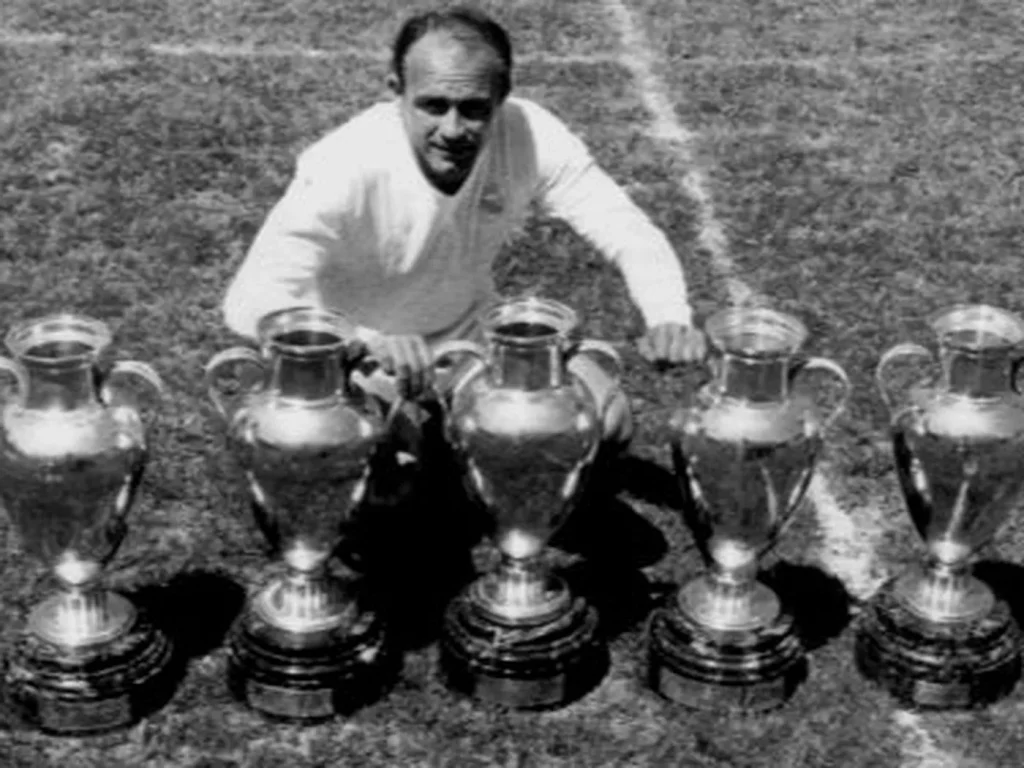 On High Alert
As detectives intermingled with the crowd, uncertain of whether Alfredo Di Stéfano would be released in the stadium, 8,000 police officers searched for the kidnappers.
Di Stéfano's wife Sara told the Daily Express: "The terrorists have achieved their purpose in attracting attention. Now I plead with them to let my husband go."
Although Alfredo Di Stefano thought he would be killed, he soon realized that his captors were not out to harm him, revealing that they played cards, dominoes, and chess together.
Alfredo Di Stefano Released
Two days after his dreadful ordeal, on August 26th, Alfredo Di Stéfano was released and spoke before the awaiting media, "The commander of the rebel group, Maximo Canales, directed the kidnapping and was with me all the time.
He apologized a thousand times for the inconvenience. I was worried because of the anguish it was causing my wife and my 8-year-old son. The day after the kidnapping they let me listen on the radio when my team beat Oporto of Portugal.
They let me out of a car [with sticking plasters over his eyes] on the Avenida Libertador this afternoon. I took a cab to the Spanish Embassy."
In 2005, Canales told sports daily AS: "We kidnapped him because of his fame. His prestige and fame in Real Madrid helped us achieve our ends. The team came to play a friendly and we, sadly, pulled out a red card on him at six in the morning."
Over 40 years later, Del Rio (Canales's new identity) and Alfredo Di Stéfano were bizarrely reunited for a film premiere called Real, La Película (Real, The Movie), which reported these events and was released in August 2005.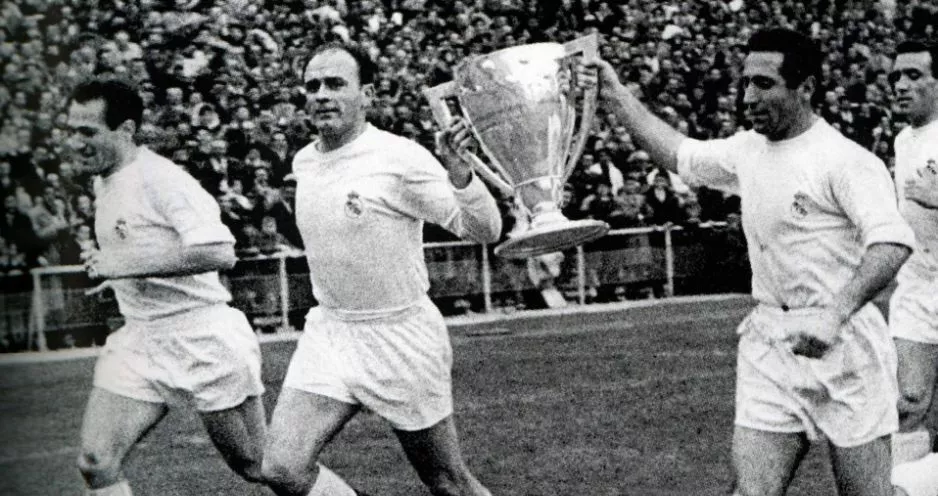 An Unfortunate Run Of Luck
Alfredo Di Stefano played for three different national teams during his career: on six occasions for Argentina, and 4 caps for Colombia (Colombian leagues and national team were not formally recognized by FIFA at the time, so his appearances were deemed "unofficial"), and 31 times with Spain's national team.
It has been said that the one thing missing from Di Stéfano's illustrious career is not having played in a FIFA World Cup final – this eluded him.
There were a few opportunities and some misses along the way. The first came after World War II in the 1950 World Cup in Brazil – unfortunately, Argentina chose to not participate. For the 1954 World Cup in Switzerland, the first to be televised, Argentina failed to qualify.
After becoming a  Spanish citizen in 1956 and playing for La Roja in qualification matches, Spain failed to qualify for the World Cup of 1958 in Sweden.
He was a member of the team that traveled to the 1962 FIFA World Cup in Chile, but injury prevented him from making an appearance on the grandest of stages. Alfredo Di Stéfano retired from international soccer soon afterward, having scored 23 goals in 31 matches for La Roja.
Alfredo Di Stefano Leading The Line
Devoted to the game, after retirement Alfredo Di Stefano tried his luck at coaching, starting with Spanish side Elche in 1967. Later spells took him to South America and back to Spain, during which time he enjoyed varying degrees of success.
His first of two managerial stints at Real Madrid (1982 to 1984) proved to be disappointing.
They not only came second twice in La Liga (1983, 1984), but Los Blancos was a defeated finalist on 4 occasions: the Copa del Rey (1983), Supercopa de España (1982), Copa de la Liga (1983), and the UEFA Cup Winners' Cup (1983).
Real Madrid (Los Blancos) was where Di Stéfano ended his managerial career after his return in 1991.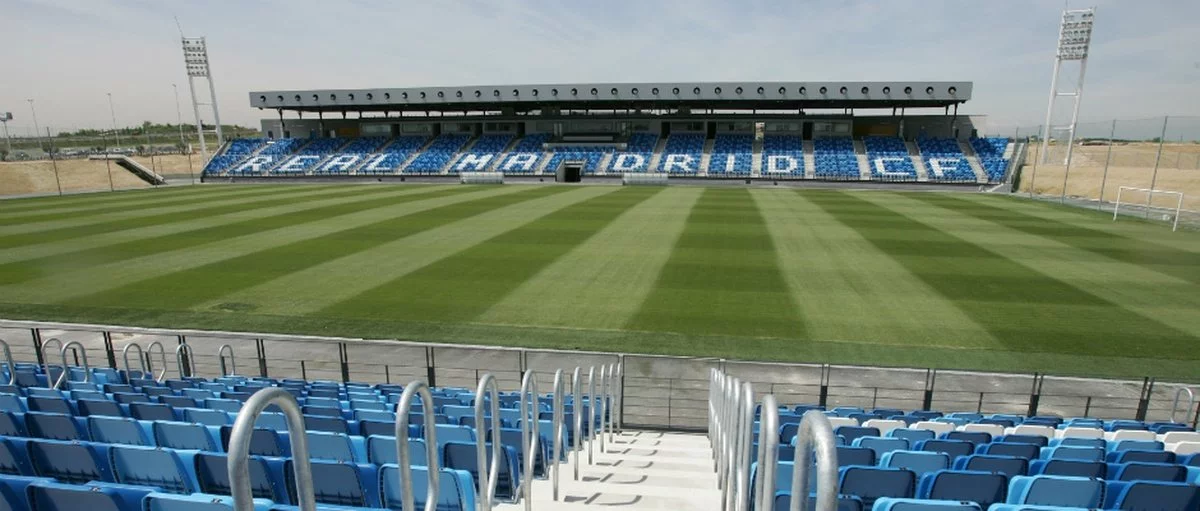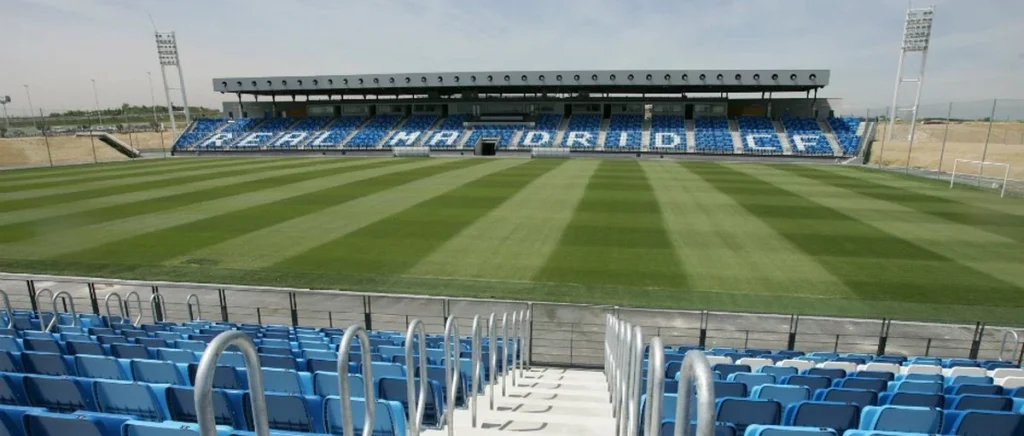 Golden Hero Was Alfredo Di Stefano
As European Footballer of the Year on two occasions (1957 and 1959), Alfredo Stéfano Di Stéfano Laulhé was awarded the Ballon d'Or by France Football magazine. Forever the team player, Di Stéfano insisted that it was thanks to the team surrounding him: "Being a genius won't make any difference if you don't gel with your teammates."
He received many honors such as 5 Pichichi Trophy awards (1954, 1956, 1957, 1958, and 1959); named Honorary President of Real Madrid in 2000; Golden Player of Spain in 2003 by the Royal Spanish Football Federation; and the inauguration of the Alfredo Di Stéfano Stadium at the City of Real Madrid in 2006.
He also received the Gold Medal from the City of Madrid for his "extraordinary achievements in the world of football, which have contributed to Real Madrid's international fame."
The Alfredo Di Stefano Trophy
The Alfredo Di Stefano Trophy is awarded by Marca, the Spanish sports newspaper to the top La Liga footballer each season. The first recipient was Real Madrid's Raúl in 2008.
"I don't want to be idolized, I just want to play". A crowning moment in Alfredo Di Stéfano's story was when, at the age of 81, he was awarded a special president's award from UEFA's Michel Platini.
Platini's words during the ceremony linger: "In the names written in gold in the history of our sport there is a special place for Alfredo Di Stéfano." He continued, "The history of football simply can't be imagined without you. It is the first award I will present as UEFA president and only the greats will receive this honor. A sincere thank you for all you have done for our marvelous sport."
Through football, we as fans dream, celebrate love and shed many tears. Thank you Alfredo Di Stéfano for your glittering contribution to the sport – you have made football an even more beautiful game.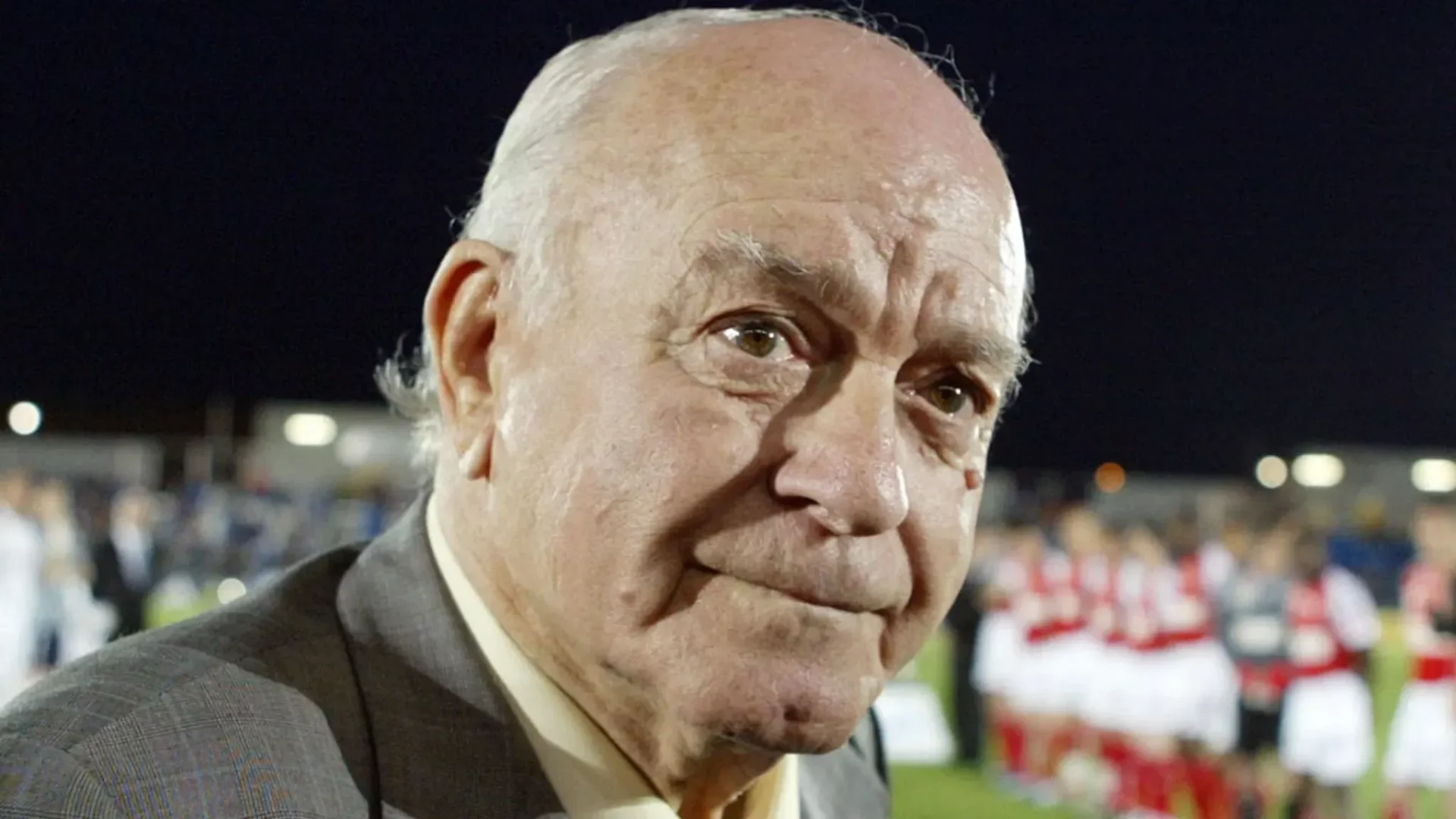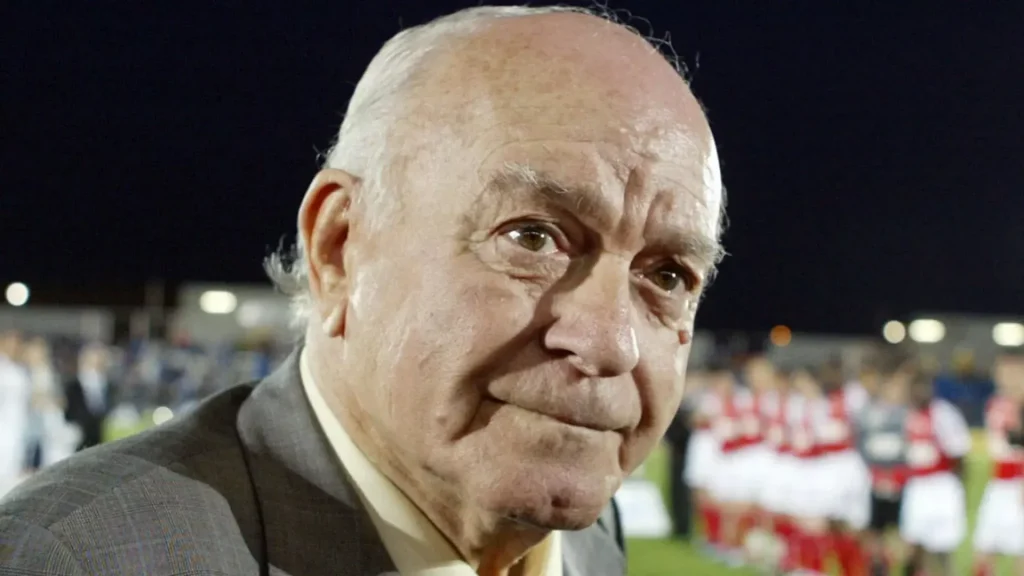 Alfredo Di Stefano Facts And Figures
Full Name: Alfredo Stéfano Di Stéfano Laulhé
Birthdate: 04/07/1926
Birthplace: Buenos Aires, Argentina
Died: 07/07/2014 (88 years old)
Playing Club Career:
River Plate 1945–1949
Huracán (loan) 1945–1946
Millonarios 1949–1953
Real Madrid 1953–1964
Espanyol 1964–1966
Total Appearances: 521 matches, 376 goals
International Football Career:
Argentina 1947 – 6 appearances, 6 goals
Colombia 1949 – 4 appearances, 0 goals
Spain 1957–1962 – 31 appearances, 23 goals
Managerial Career:
Elche 1967–1968
Boca Juniors 1969–1970
Valencia 1970–1974
Sporting CP 1974
Rayo Vallecano 1975–1976
Castellón 1976–1977
Valencia 1979–1980
River Plate 1981–1982
Real Madrid 1982–1984
Boca Juniors 1985
Valencia 1986–1988
Real Madrid 1990–1991
Playing Honors:
River Plate
1945 and 1947: Argentine Primera División
1947: Copa Aldao
Millonarios
1949, 1951, and 1952 Categoría Primera A Champions
1953: Copa Colombia
1953: Small Club World Cup
Real Madrid
1953–54, 1954–55, 1956–57, 1957–58, 1960–61, 1961–62, 1962–63, and 1963–64: La Liga League Title
1955–56, 1956–57, 1957–58, 1958–59, and 1959–60: European Cup Finals Winners
1956: Small Club World Cup
1960: Intercontinental Cup
1962: Copa del Generalísimo
Argentina National Team
1947: South American Championships
Managerial Honors:
Boca Juniors
1969: Primera División Champions
1969: Copa Argentina
River Plate
1981: Torneo Nacional Champions
Valencia
1970–71: La Liga Champions
1979–80: European Cup Winners' Cup
1986–87: Segunda División Champions
Real Madrid
1990: Supercopa de España
Individual Honors:
1954, 1956, 1957, 1958, and 1959: Pichichi Trophy
1957, and 1959: Ballon d'Or Winner
1958 and 1962: European Cup top scorer
1960, 1961, 1962, 1963, and 1964: World Soccer World XI
1989: Super Ballon D'Or Award (only player in the world)
2007: UEFA President's Award