Anson Dorrance is a famous US soccer head coach who is primarily known for his success and influence in women's soccer. Currently, he coaches the University of North Carolina women's soccer team. [1] His coaching record is one of the best in soccer history.
Anson Dorrance Formative Years And Childhood
Dorrance was born in Mumbai, India, on April 9, 1951. His father was a US oil executive. Due to the nature of the job, his father had to frequently move around in Asia and Africa.
As a result, Dorrance spent his childhood in several countries, such as India, Kenya, Ethiopia, Singapore, Belgium, and Switzerland. He graduated from Villa St. Jean International School in Fribourg, Switzerland, in 1969.
However, he attributes his love for soccer to the time he spent in Kenya.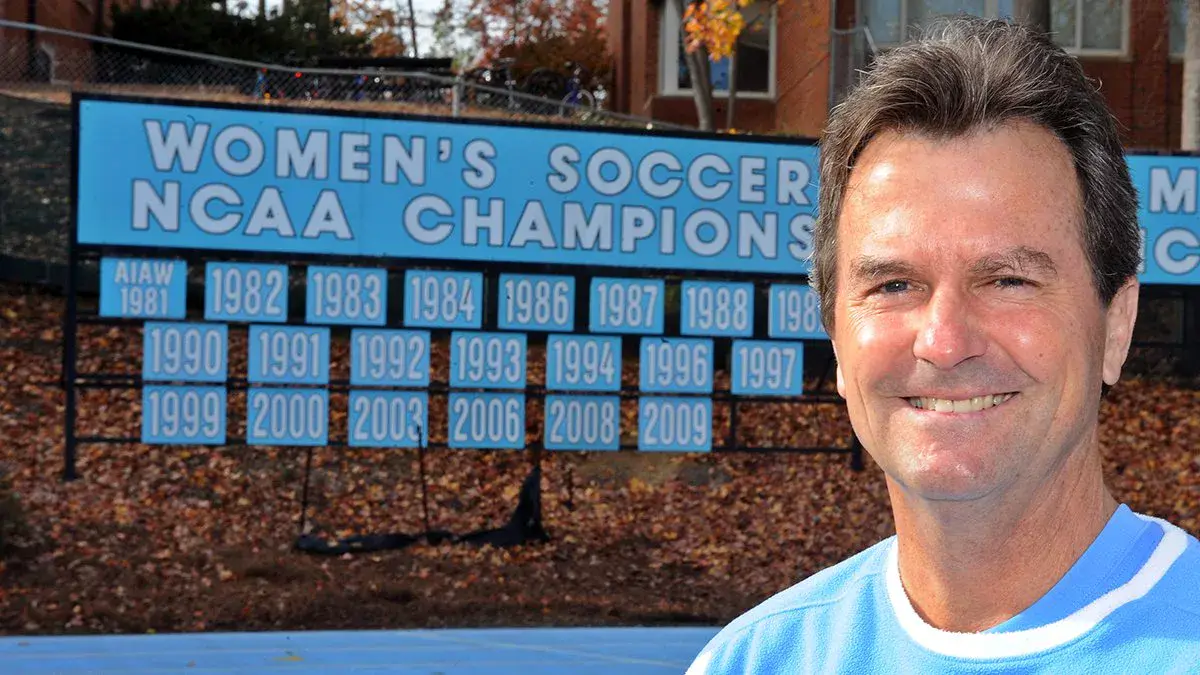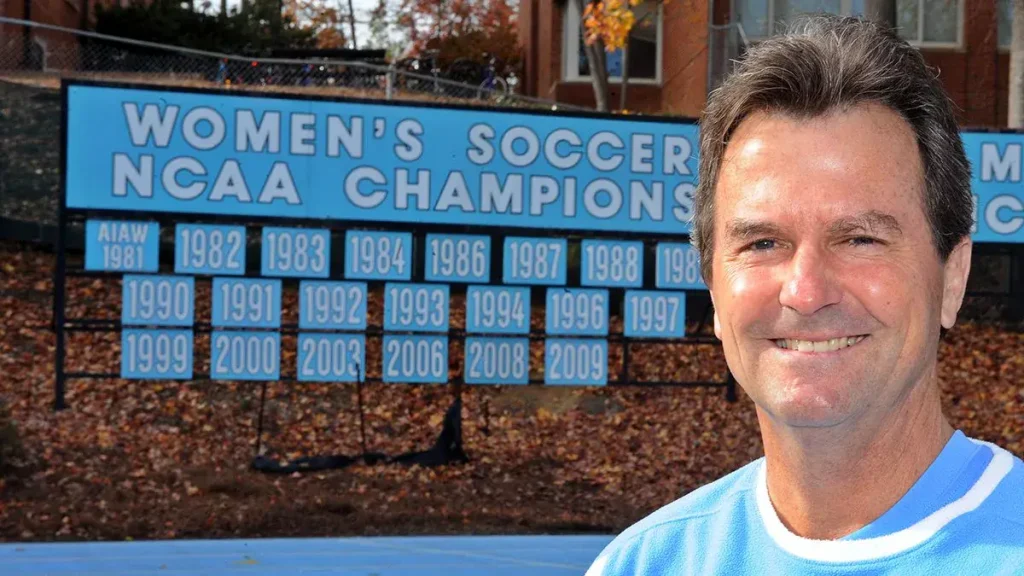 After graduating from school, Dorrance moved to the US for higher education. Firstly, Anson Dorrance attended St. Mary's University in San Antonio, Texas. However, soon after, he got a transfer to the University of North Carolina. [2]
His love for soccer persuaded him to enroll in the University soccer team. He played under head coach Marvin Allen and went on to win three All-Atlantic Coast Conference player honors.
Afterward, Dorrance was persuaded by his father to join the Law School at North Carolina Central University Law School in 1976. [8] The same year marked the beginning of Dorrance's coaching career.
Marvin Allen stepped down from his role at the University of Carolina men's soccer team and convinced Dorrance to take up the role.
Coaching Men
Anson Dorrance oversaw the UNC men's soccer team from 1976 to 1988. His record with the men's team stands at 175–65–21.
The highlight of Dorrance's time in men's soccer came in 1987 when he led his side to their first Atlantic Coast Conference tournament. UNC defeated North Carolina State University 3-2 to win the Championship. [3] 
He also guided his side into the final four of the NCAA Championships in 1987. However, they bowed out to Clemson University. His exploits with the men's side earned him the NCAA Men's Soccer Coach of the Year award in 1987.
Starting UNC Women's Program
Anson Dorrance started his coaching career in men's soccer, but he made a name for himself in women's soccer. [9] As a result, he can be considered one of the primary reasons for the popularity of women's soccer in the US.
In 1979, the University of North Carolina asked Dorrance to take charge of their newly formed women's soccer team. This development led to the birth of the famous North Carolina Tar Heels women's soccer team.
At the time, NCAA didn't have a women's soccer tournament, and they showed no initiative to establish one. [4] NCAA's response compelled Dorrance and University of Colorado head coach Chris Lidstone to approach Association for Intercollegiate Athletics for Women instead.
AIWW welcomed the idea and went on to establish the women's inter-college tournament. In 1981, Dorrance guided the Tar Heels to the AIWW title.
The initiative shown by AIWW forced NCAA to establish its own inter-collegiate women's soccer tournament in 1982. The Tar Heels went on to the very first edition of the NCAA tournament too.
Anson Dorrance continues to head coach the Tar Heels, and under his guidance, they have established themselves as the dominating force in US women's college soccer. They are also one of the most successful collegiate sides in all NCAA sports combined.
National Championships
As things stand, the Tar Heels have won 21 of 38 NCAA national championships held so far. [5] In comparison, no other college has won the Championship on more than three occasions. Furthermore, they have also claimed a massive 23 out of 27 Atlantic Coast Conference championships.
It's not a surprise that a vast number of US soccer stars have come through the Tar Heels program. Some of the many famous players that have played under Dorrance at Tar Heels are: Tisha Venturini, April Heinrichs, Kristine Lilly, Mia Hamm, Heather O'Reilly, Meghan Klingenberg, Sarina Wiegman, Lori Chalupny, Whitney Engen, Tobin Heath, Crystal Dunn, Lucy Bronze, Katie Bowen, Kendall Fletcher, Ashlyn Harris, Lotte Wubben-Moy, Jessica McDonald, and Allie Long.
Seven of his Tar Heels players have also won the famous Hermann Trophy – an annual award given to the US's top college soccer players.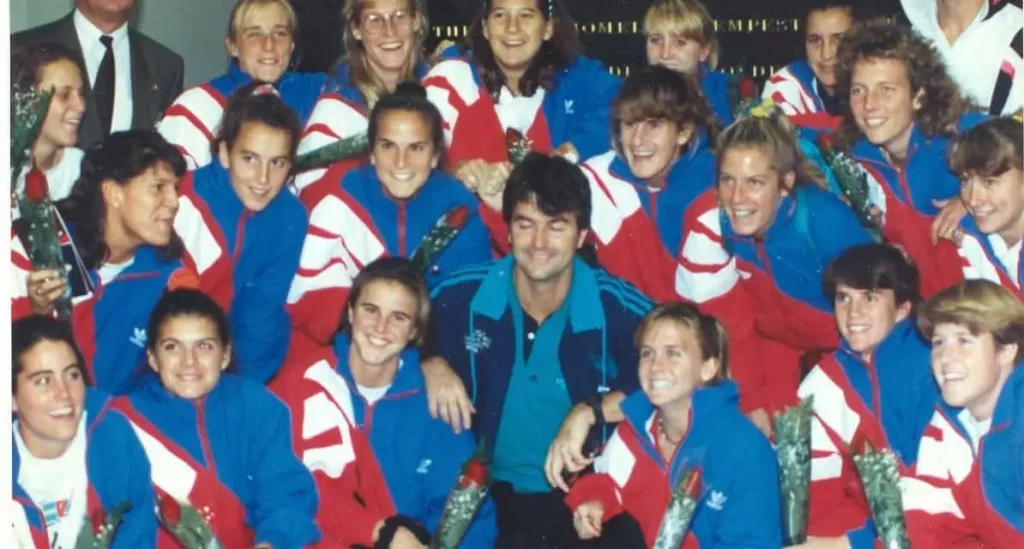 US National Team
Anson Dorrance's success with the Tar Heels convinced the United States Soccer Federation to hand the reins of the national women's side to him in 1986. For the next eight years, he coached the national side and handled his duties at the University of North Carolina program.
Dorrance led the US side to the Gold in the first-ever FIFA Women's World Cup finals held in China in 1991. [10] On their route to the Gold, the US national team won their six games in normal time.
Throughout the tournament, the US national team scored a total of 25 goals while conceding just five. His 18-member squad at the Cup consisted of nine of his Tar Heels players. Furthermore, he was assisted by Lauren Gregg – a former football player of his at the University of North Carolina. (UNC)
Dorrance had a 65–22–5 record with the national side when he stepped down in 1994. In the 1995 women's World Cup, the US national team coached by Tony DiCicco could only manage a third spot. [11] 
Awards/Achievements
Anson Dorrance has a long list of records and awards next to his name. He has been deemed NCAA National Women's Coach of the Year on seven occasions and Men's Coach of the Year once.
Furthermore, he has been ACC Coach of the Year twelve times. He was also awarded the prestigious Werner Fricker Builder Award in 2016. [6] This award is the top honor bestowed annually by the United States Soccer Federation.
He has also been inducted into multiple Hall of Fame such as the North Carolina Soccer Hall of Fame, North Carolina Sports Hall of Fame, National Soccer Hall of Fame, and United Soccer Coaches Hall of Fame. [7]
In addition to individual awards, Dorrance also set up numerous records in his coaching career. Undoubtedly, the most impressive is the winning streak he achieved with the Tar Heels in the early 90s'.
His side won 92 games in a row and went unbeaten for 101 during a period of absolute domination, culminating in the 1994 NCAA championship.
Anson Dorrance Interview
We sit down with Anson Dorrance to discuss his coaching ways, values, style, formations, and the future of US women's soccer.
What motivated you to become a coach. Who has had the most significant influence on your coaching development?
Anson Dorrance: Well, I stumbled into coaching full-time. The guy I played for, Dr. Marvin Allen, must have seen something in me. When Allen was on the verge of retiring, he went in to speak to the athletic director here, and he advised him to hire me as his successor.
I didn't apply for the job. I was a law student, but he must have seen that I had a passion for this. The AD offered me the job, but my only coaching experience was at the rec level. I coached men for three years while finishing law school.
Then I was given the women's soccer job. Marvin Allen was the driving force as to why I got the opportunity to be a college coach.
Describe your style as a coach?
Anson Dorrance: I think everyone who ends up coaching emulates their playing personality. At all the conventions, they recommend that you adopt your coaching mentality. We all had mentors and people we wanted to be like.
You can't assume someone else's persona because it's simply not yours. All coaches must find a part of themselves to coach through. I've always had an aggressive temperament as a player, and I took that into coaching.
The critical element on my teams is for the players to have a blue-collar mentality through their games and hard work in practice.
Do you have certain coaching principles that, over the years, you have refused to compromise? If so, what are they?
Anson Dorrance: As a women's head coach, I thought that you need to start your shape out with three up top because playing with three up top with high pressure and numbers forward will help you.
It creates high defensive pressure early and in the opponent's staging area, generally in the back. Having numbers in the box also is a huge benefit. An area that continues to be weak in women's soccer is the ability to effectively clear balls with our heads or feet.
Since there are more numbers in the box, missed clearances result in more scoring opportunities.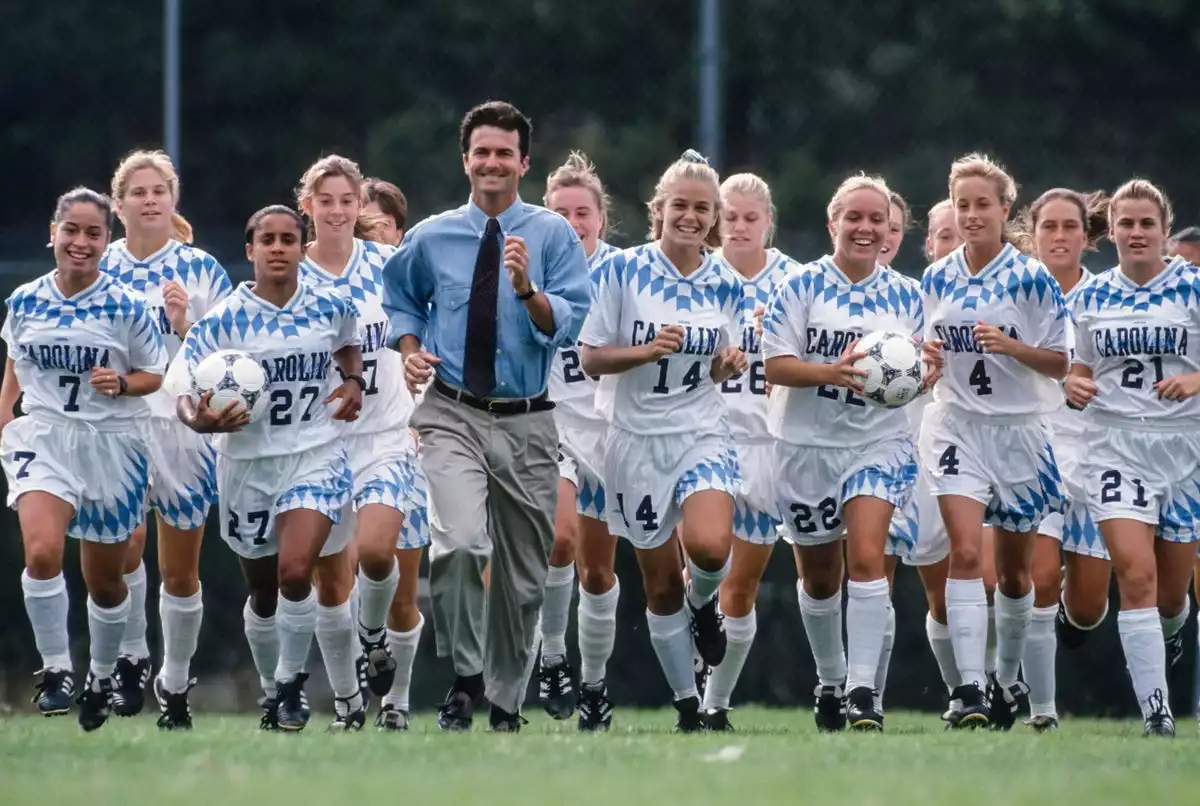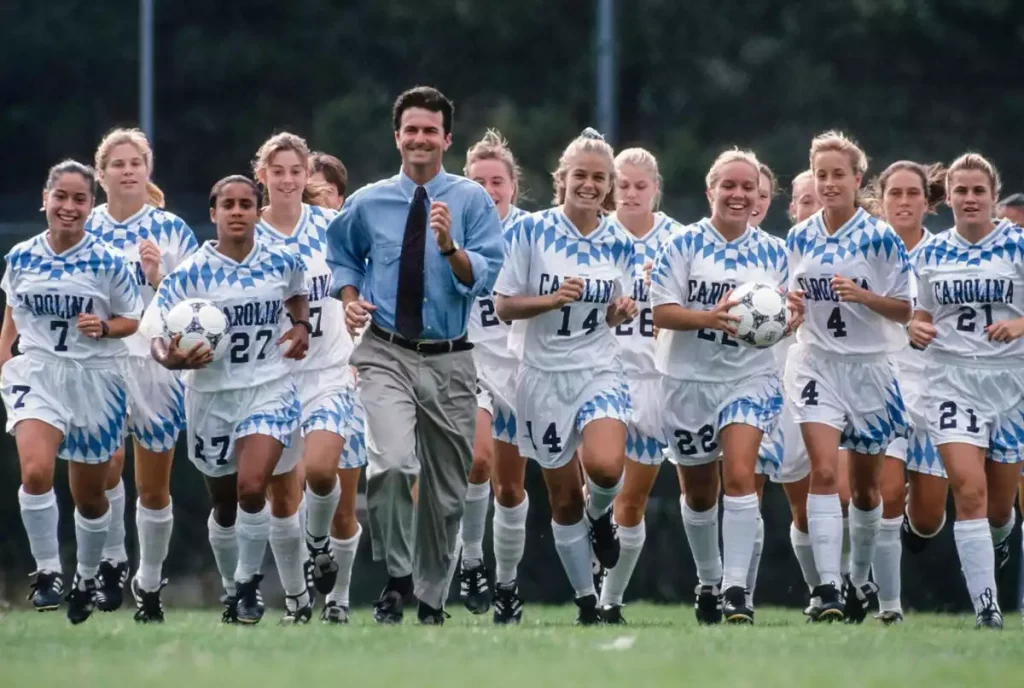 Anson Dorrance Tactics
What is your formation of choice?
Anson Dorrance: My player personality was to work hard to make something happen. I think the 3-4-3 allows you to play with compactness. The semi-flat back three gives you incredible compactness. The four midfielders and three forwards take away the opponent's staging area.
We don't permit the opposing team to stage anywhere. We try and take away the other team's comfort zone. Whenever you gain something, as we do with the high pressure in their back, you're always going to lose something.
We lose our own staging area by having fewer numbers in the back. We are hoping the opponent is less comfortable without one than we are. The semi-flat three works because it's tough for opponents to break down the compactness of it.
The women's soccer game hasn't yet evolved to a level where playing with a flat three in the back doesn't benefit you.
How do you handle teams that try to play the ball over the top of your back three and try to stretch you out?
Anson Dorrance: That is the carrot we're dangling in front of them. We know they see that space over the top, so we spend 95 percent of the time training to defend it.
We know how to protect the space. Just before the service, our defenders go into a full sprint to protect that space. We hope to gain the other team changing their system to whacking long balls and playing in a rhythm they're uncomfortable with.
What do you emphasize in training sessions? Has the training process changed over the years?
Anson Dorrance: If you are not changing your training every year, you are going to become stagnant. Loss permits us to change. After we don't win a national championship, we have the most tremendous change in training.
So last year, when we didn't win, it allowed us to change everything. We revamped our spring training, and our new ideas are thrown in permitted us to do some incredible things. By the end of spring training, we had gone to another level as a team.
One of the worst things about winning is the full permission to change everything. Even though we don't change everything, we try to tweak a lot of the stuff we do regularly. You get less resistance to change because we want to evolve with the teams that are getting better and better.
What are the main qualities that you look for in a young player?
Anson Dorrance: It's hard to quantify what you're looking for in an elite player. We can all talk about technical ability, confidence, and physical advantage. It's the mix or the extraordinary quality that turns your eye.
Herb Greenburg, a guy hired by pro teams to certify whom to draft, gives the athletes a psychological test. It's hard to know and understand why guys who win the Heisman Trophy don't make it in the NFL. Talent isn't the only aspect that allows someone to make it at the highest level.
There must be a mix of self-discipline, competitive fire, and self-belief. The athletes with these qualities will get better every year, and they are the ones who are the margin of victory when the games are close. Those are the types of athletes I want to recruit.
Even though you like quick and fast guys, the margin ultimately comes down to those three qualities. All of us have had players with great athletic ability who made it. But players with these qualities rarely don't make it.
Teamwork
When offering criticism to the team or individuals, how do you handle that at  the University of North Carolina (UNC)? Do you do it individually, in front of the team? How do you handle the critical aspects of coaching?
Anson Dorrance: Every athlete is different and must be led and motivated differently. Even though you don't know their hot button the first time, you coach that player, the top coaches' platform of leadership is the capacity to explore what buttons will work.
Rarely will a coach use the nuclear war button the first time he meets an athlete, which is to come out and dress them down publicly to get a change. Even though the button could be used eventually, coaches must explore the psychology of the athlete we're training.
We must find a way to motivate and drive the player to a higher and higher level. You're in a tag team with the player you're developing, even though every athlete will tell you how they want to be coached.
Most of us would love to be coached with positive reinforcement 90 percent of the time with suggestions for becoming a better player, but this doesn't work well for all.
Head coaches start by spending the summer workout for the athletes we're chasing, and sometimes they come in with physical preparation and technical foundation. But some ignore it.
From the first introduction of this player, when they come into your environment, you can figure out where they are strong and weak. First, we'll be gentle with the athlete, but the standards need to be drawn in the sand, and the athletes must cross the line to join you.
Next, you must figure out how to get the most out of your athletes by pushing different buttons until one's found that works. If nothing does, maybe there's nothing you can do to motivate this athlete, and you turn it over to an assistant or someone else.
That's part of coaching, trying to find out how to drive this unique individual to do their best.
Do you think team chemistry is essential? What do you do on your team to foster team chemistry?
Anson Dorrance: The most critical thing is developing the leadership of upperclassmen and recruiting extraordinary people. There aren't any tricks; it all comes down to personal leadership and the kind of character of the leadership you encourage or recruit into the program.
There are some extraordinary people you want in your program that light up a room when they enter, but there are also negative players that suck all the light out.
We all land somewhere between black holes that destroy chemistry and positive forces that do amazing things just by walking out there. I've been fortunate enough to coach the latter.
These are the types of people who are just amazingly positive. Coaches can impact it to some degree, but you've got to recruit it. Once you've recruited it, the positive energy can take hold as you endorse the correct behavior through the people who serve as examples of that in your program.
You protect bad behavior by dressing down the ones not good for chemistry. At UNC, we do it through a set of core values, of which we have 11. We have the athletes memorize these in the summer before they get here.
The first one, which is "we don't whine," to the last, our responsibility to live a never-ending ascension. We have nine others between the two, with a quote we picked out to try and live. So we encourage the athletes to live a set of standards through the core values that we've picked. I've selected them through the team's leadership from the rising seniors.
We review them every year to try and create an atmosphere that encourages personal growth and allows chemistry. We all treat each other well and work hard to develop and hopefully positive sportsmanship.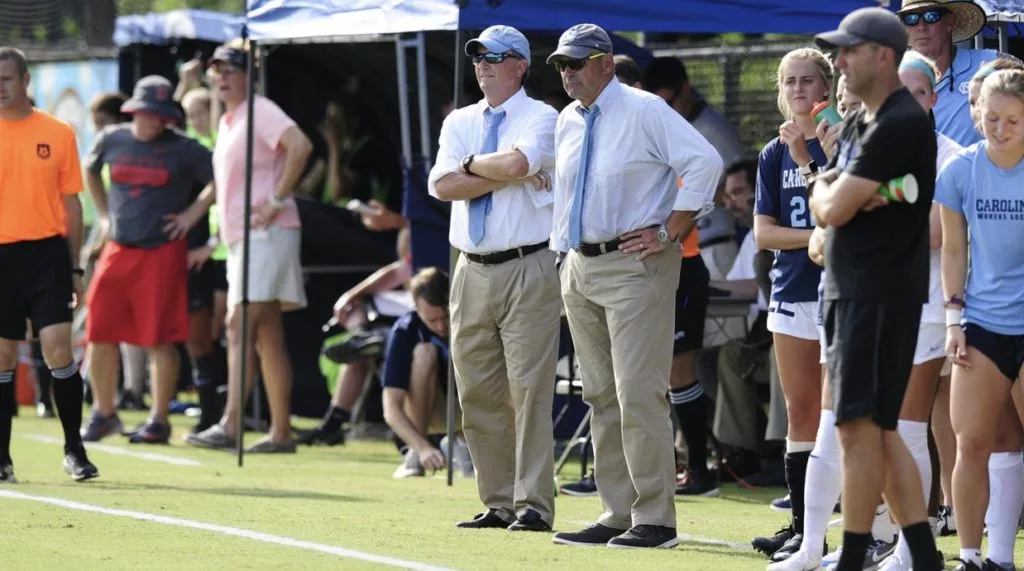 If you could mandate two or three aspects of the game that every youth coach should teach or emphasize, what would they be?
Anson Dorrance: What's critical for very young players is playing in small numbers, even in their matches. For example, playing 3 v. 3's to 6 v. 6's. The youngest should be playing in smaller numbers. As their age increases, so should the number of players on the field.
The more you touch the ball, the more you'll develop as a player.
Another thing that would make a big difference is technical training as a youth. I don't think you can spend any better time as a youth player than hitting a ball against the wall and learning to strike it with power and accuracy with both feet, then when the ball returns, the kid's learning to prepare it with a perfect touch.
Also, play as much as 1 v. 1 as possible. The players who excite us at the highest level are the ones who are comfortable beating and defending players 1 v. 1. So playing smaller numbers with more 1 v. 1 opportunity and any possession game is vital for youth development.
USA Soccer
What concerns you most today about US soccer as a whole?
Anson Dorrance: My main concern with US soccer is that we don't spend enough time creating and maintaining our communities the way we should. I would love for top leadership to embrace this. The extraordinary leaders of US Soccer should spend more time creating a community at the highest level.
The leadership of US Soccer contrasts so radically from that of the NSCAA. I think the NSCAA is the best model for the construction of the community. All the participants in it can see that everyone is serving everyone else.
Our leadership is rotated, and there's not a fight for power in the NSCAA. There is not a preservation of one's personal power at the sacrifice of the game itself. When someone enters the NSCAA at a leadership position, they receive tenure of a few years.
And what's lovely is that everyone who enters into these positions knows they are serving the membership. They know they have their tenure to do positive things for the game and develop and enhance it. You work for a positive legacy for the game itself.
US Soccer could benefit from looking at how the NSCAA functions. There's some extraordinary leadership in US Soccer, but, unfortunately, most of the administration is invested in preserving power and moving up US Soccer and FIFA ranks.
Sometimes, you climb the ranks to the detriment of the game. We need to spend more time creating communities and preserving the best parts of our game.
What tactical trends have you seen in college or international women's soccer the last few years, and where might they be going?
Anson Dorrance: Usually, the team that wins an international competition can dictate the women's soccer game. When I was coaching the national team and won in '91, the platform we brought to the women's game was physical discipline and playing personality.
It showed the world how attractive women can play the game and how wonderfully creative they can be in the attack. The characters we had in 1991 — like Mia Hamm, Michelle Akers, April Heinrichs — they like to attack.
They took the women's soccer game to a fantastic level, where FIFA was convinced it could become a spectator sport. In 1995, the Norwegians brought zonal organization in the back. It showed the world how classically organized the great women's teams could be.
All of a sudden, the women's soccer game became one of total understanding. It continued to evolve into a possession game. The Chinese and US final in 1999 showed a possession game with technical ability continuing to grow. When the Germans won, they used combination play and sophisticated tactics to set a new standard for the women's soccer game.
In the Olympics, Marta Vieira da Silva and her Brazilian teammates proved they could play the game with their flair and creativity.
This has been the evolution of the game. Every team that distinguishes itself on the world platform becomes the exciting team of the period that all of us steal ideas from.
Is there a suitable time for a young player to concentrate solely on the game of soccer?
Anson Dorrance: I believe in a lot of cross-training. I'm not big on early specialization. Here at the University of North Carolina (UNC), we have girls who play other collegiate sports. I see enormous benefits for young girls playing a lot of sports growing up.
The ideal evolution would start in gymnastics as long as it could last. Being a seasonal athlete, playing every sport they can, helps contribute to their athletic ability. As they grow older, basketball and hockey are possibly the best training for a soccer player.
Track and volleyball are wonderful as well. Hopefully, they have another sport they have alongside it that they will enjoy for the rest of their lives.
We encourage our players to take a golf class before they graduate. If they make the national team, the only sport they can play that doesn't risk too much injury or use too much energy is golf. We encourage these athletes to play everything.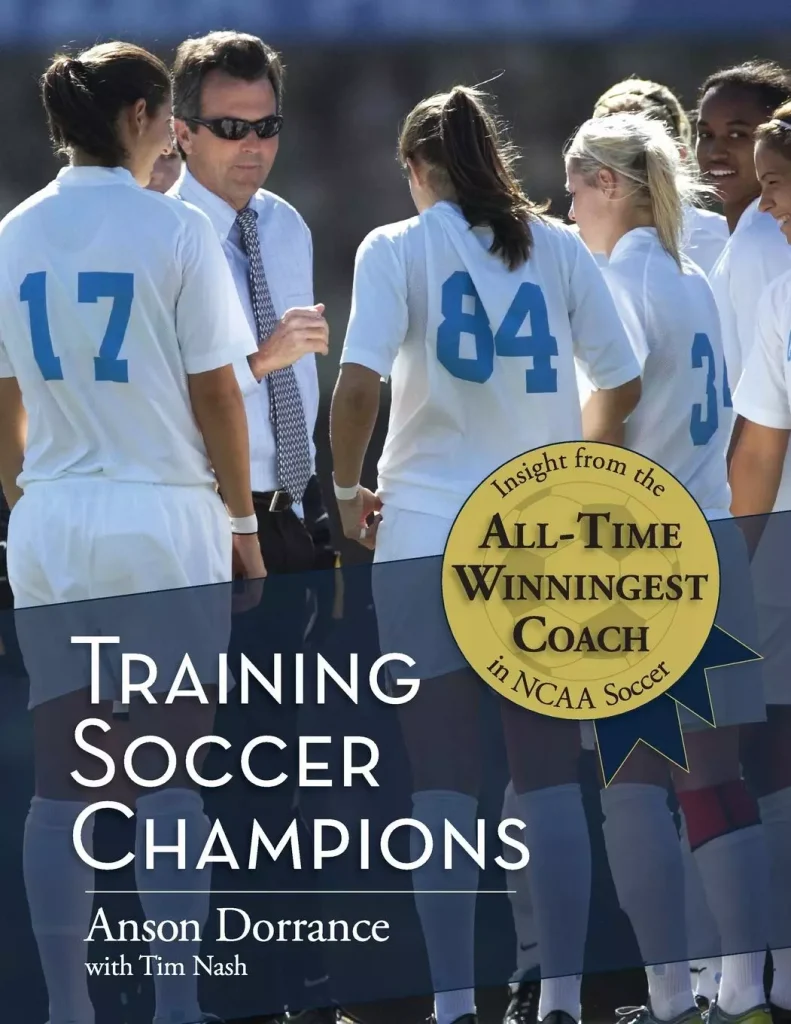 Once again, we thank Anson Dorrance for answering our questions and his contribution to US soccer over the past five decades.
If you like what you hear from Anson and want to learn more about his philosophies and how to succeed, make sure to read his books The Vision Of A Champion: Advice And Inspiration From The World's Most Successful Women's Soccer Coach and Training Soccer Champions.
References:
[1], [2], [3], [4], [5], [6], and [7]: https://en.m.wikipedia.org/wiki/Anson_Dorrance
[8] and [9]: https://peoplepill.com/people/anson-dorrance
[10] and 11]: https://www.ussoccer.com/history/awards/werner-fricker-builder-award/past-award-recipients
Images:
www.whatdriveswinning.com/contributor/anson-dorrance/ (main image)
www.unc.edu/posts/2018/11/26/225-years-of-tar-heels-anson-dorrance/
www.frontrowsoccer.com/2021/11/30/on-top-of-the-world-30-years-ago-today-the-uswnt-captured-the-1st-womens-world-cup/
www.theguardian.com/football/2020/jun/03/anson-dorrance-we-raise-young-women-to-not-be-competitive-what-the-heck-is-going-on