Carin Gabarra, formerly known as Carin Jennings, brought unique skills to the US Women's National Team. Nobody was better on the ball or the dribble than the blonde Southern Californian they called "crazy legs."
History confirms that her masterful showing in the first Women's World Cup was pivotal in the Americans' quick vault to the top of their sport.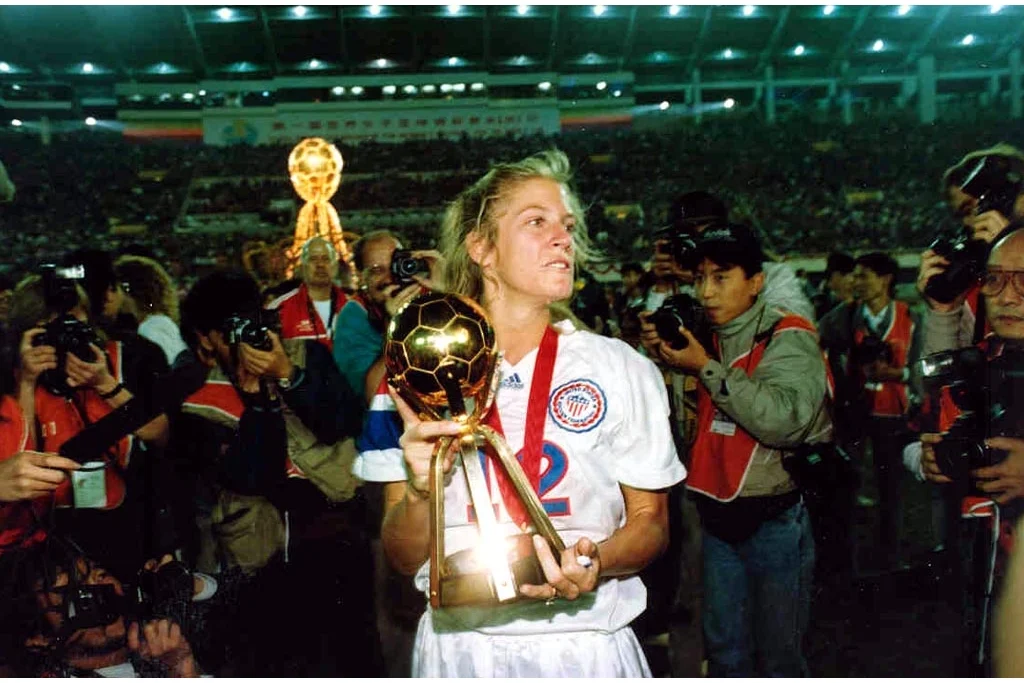 World Champions
Carin Gabarra was the deserving Golden Ball winner and Silver Boot recipient as the No. 2 scorer, behind Michelle Akers, when the US captured the 1991 FIFA World Cup.
She was a vital part of the 1995 World Cup squad that finished third and a chief reserve when the Americans claimed the first Olympic gold medal at the 1996 Atlanta Games, her final action as a player.
Since then, she has sculpted some of the nation's future leaders while building the Naval Academy's women's soccer program into one of the most successful mid-majors in the college game.
She has also contributed to the development of women's talent by chairing a US Soccer task force and has helped out during various Youth National Teams and in training centers – and raising with her husband, former US National Team player Jim Gabarra, three children, two of whom might have a future in the sport.
Carin Gabarra was prized for her serpentine runs around defenders and prowess in front of the goal, most notably as the left side of the USA's "Triple-Edged Sword" (with Akers in the middle and April Heinrichs on the right) that carved up the competition in China in 1991.
She scored six goals in that World Cup, three of them in a semifinal romp against Germany, and netted 53 (with 47 assists) in a 117-game international career.
"Carin was probably the first real take-on artist," said Tony DiCicco, an assistant on the early US teams and head coach from 1995 to 1999. "I mean, she was different than Mia [Hamm]. Mia would make a feint and then blow past you. Carin Gabarra would screw you into the ground with move after move, twisting back and forth."
Gabarra "just created havoc for any organized line of defense," said Anson Dorrance, the WNT's head coach for the 1991 triumph. "Very unpredictable. … Unbelievable one-on-one ability, incredible creativity."
As Carin Jennings, she was "definitely a Title IX baby," emerging in the late 1970s from Southern California's South Bay, then the center of LA's soccer scene.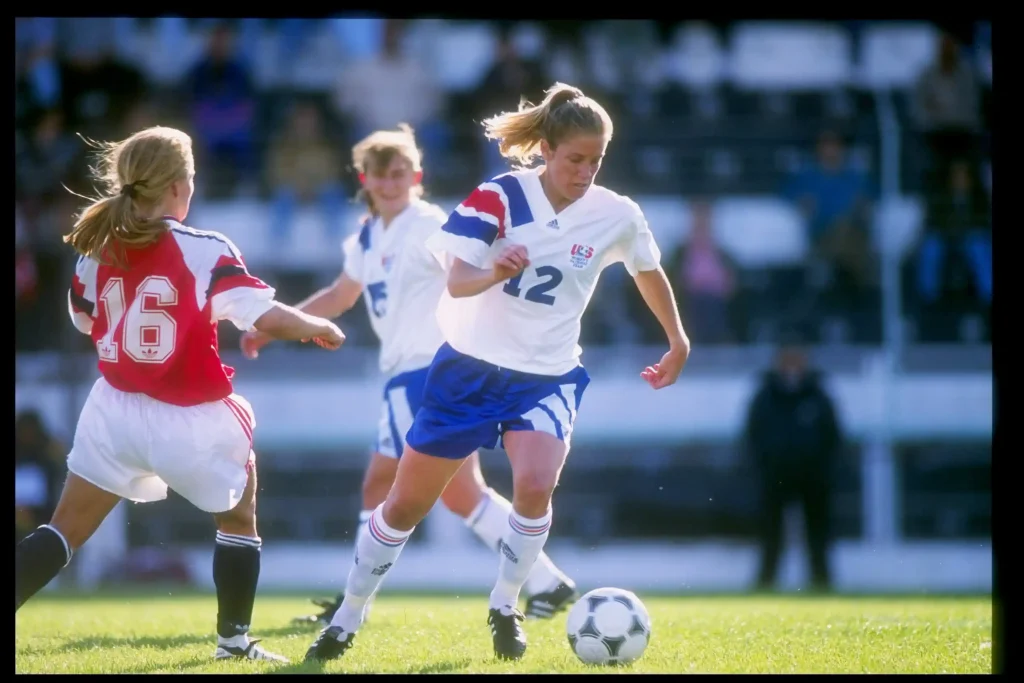 High School Soccer
High school girls' soccer started the year before she entered Palos Verdes High School, where she scored 226 goals in four seasons. The NCAA had taken the sport under its umbrella the year before she started at UC Santa Barbara, where she was a four-time All-American and scored 102 goals, a career record that Hamm broke a few years later.
"It was a different world then," she said. "We had to fight a lot to be able to play and do sports and do what we did. So I spent a lot of time off the soccer field saying, 'No, no, I'm not that soccer player,' because it wasn't popular, and it wasn't accepted to be that kind of athlete when I was little.
"But I always loved what I did, and when we got to do it at a higher level, it wasn't about winning championships or medals or doing the things we did. It was being able to do something I loved, always aspire to get better, and do it with people I respected and loved. That was what we were all about in the early days."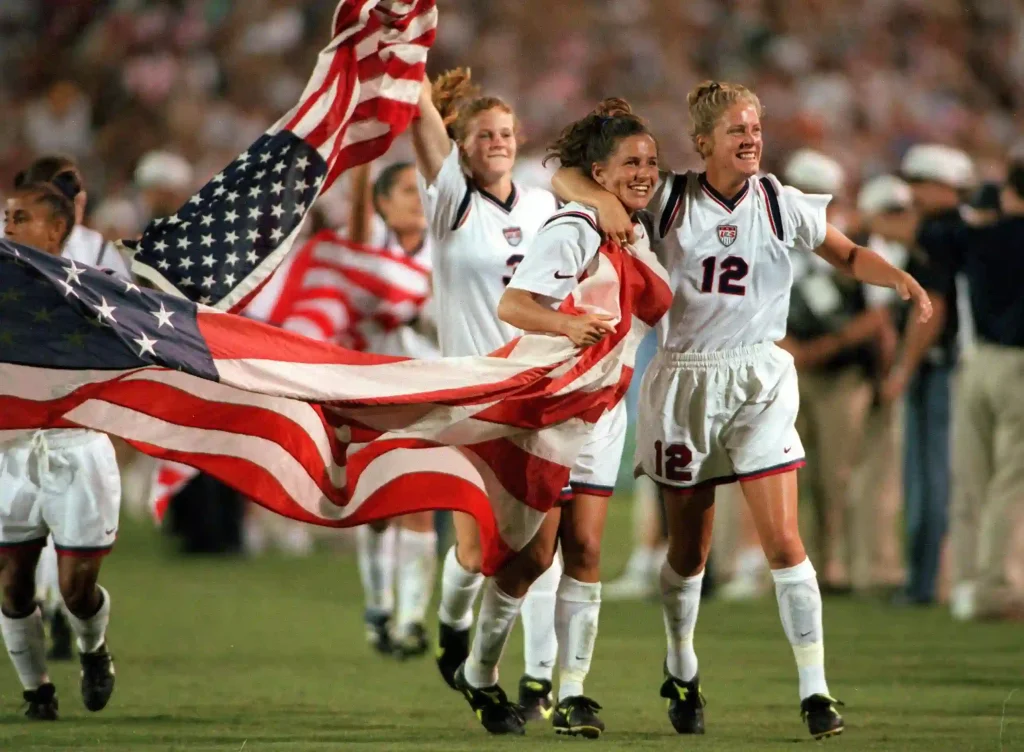 Carin Gabarra International Debut
Carin Gabarra debuted for the US in July 1987, just the 12th international match the Americans had played, and she was a fixture in the lineup for nearly a decade.
She is best remembered for her performance at the 1991 World Cup. She took over the Americans' opener against Sweden, scoring on both sides of halftime to build a lead in a 3-2 victory that made it clear the Europeans were going to have real competition. She was even better against the Germans, scoring a hat trick in the first 33 minutes of a 5-2 victory.
"That was my favorite game ever, of course," Gabarra said. "[Germany's is] a style I like to play against. Norway was never my favorite because they play such long balls – balls in the air, and I'm not good in the air, and it was just running up and back. That's not my style.
Germany is a ball-on-the-floor, possession, move-everywhere type of team. And they were being advertised as No. 1 in the world, and we were very excited to play them."
The Americans followed the win with a dramatic triumph over Norway to win the title. They had played vibrant attacking soccer but pulled through three challenging games because of their grit.
"Anson Dorrance made us tough, and Anson made us find a way to win, no matter what was going on," Carin Gabarra said.
"And we went out, and we competed against anyone. That was the personality of most of the players, and that's how we looked at that tournament. A lot of those teams weren't ready for that. They expected us to be at a lower level but not have the passion that we had for playing."
The team went on an extended break after the World Cup – just two games in 1992, neither involving more than a couple of established stars – and she married longtime boyfriend Jim Gabarra, a 1988 Olympian who won 14 caps, starred for several years on the US futsal team and played professional indoor soccer.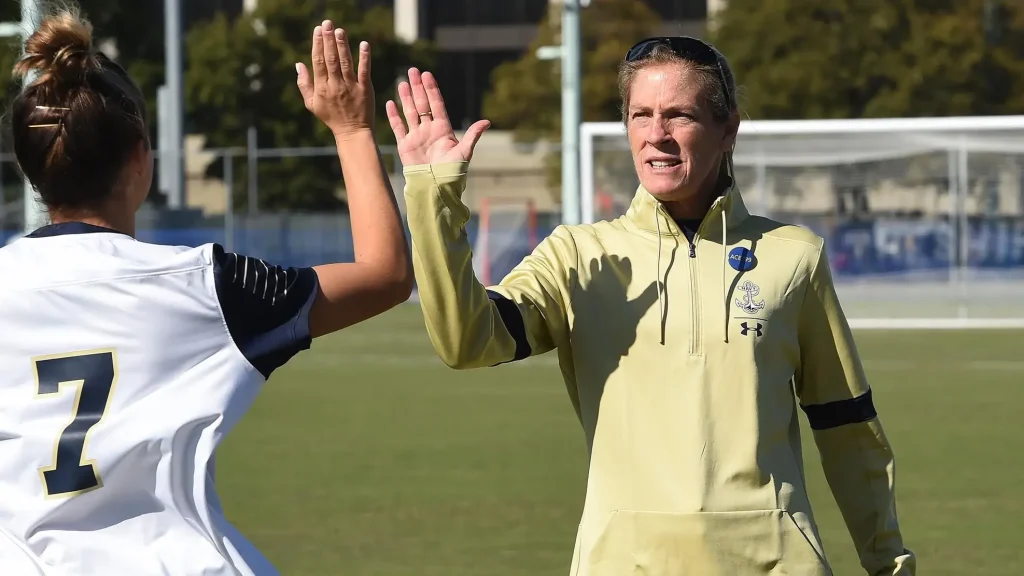 Moving Into Coaching
Carin Gabarra, soon after, was hired to take over the women's program at the Naval Academy. She'd spent a couple of years coaching – she was in charge of Santa Barbara-based Westmont's NAIA program the fall after graduation from UCSB, then served as an assistant coach at Harvard for a season – but found it challenging to find a job that would allow her the time to train on her own and head off when the US National Team came calling. The Navy provided it.
"They accepted me here," she said. "They gave me this job, and I could still travel with the National Team, I went into residency for months at a time, and they were loyal and kept my full salary and helped me develop. And, as a coach, gave me a place to follow my playing career."
She started all but one game for the US at the 1995 WWC in Sweden, in which the US lost in the semifinals to Norway and settled for third place – "of all the successes and everything I've done in my life," that bitter defeat to the Norwegians is "the game I still remember," she said. She transitioned into a reserve role during the run-up to the Atlanta Games. DiCicco had altered systems, changing from the three-player front Dorrance preferred to a 4-4-2.
"Our style of play was different, and I wasn't one of our top forwards at that time," she said. "I didn't have the speed of a [Tiffeny] Milbrett and a Hamm, and we play differently."
1996 Olympics Games
Being part of the Olympics was extraordinary, and the US women received unprecedented attention and acclaim at home. Winning gold – with an overtime victory over Norway in the semifinals – made it a fairytale.
Gabarra saw action in four of five Olympic matches and was on the field after spelling Hamm in the 89th minute of the title-game win over China when the US clinched gold. The decision to retire had not yet been made, but that was her last game.
"I was so close to retiring, and I wanted to start a family," she said. "What a great way to end, and what a phenomenal event. I never even expected to be in an Olympics, much less get a medal with some of my best friends in the world. It's a storybook."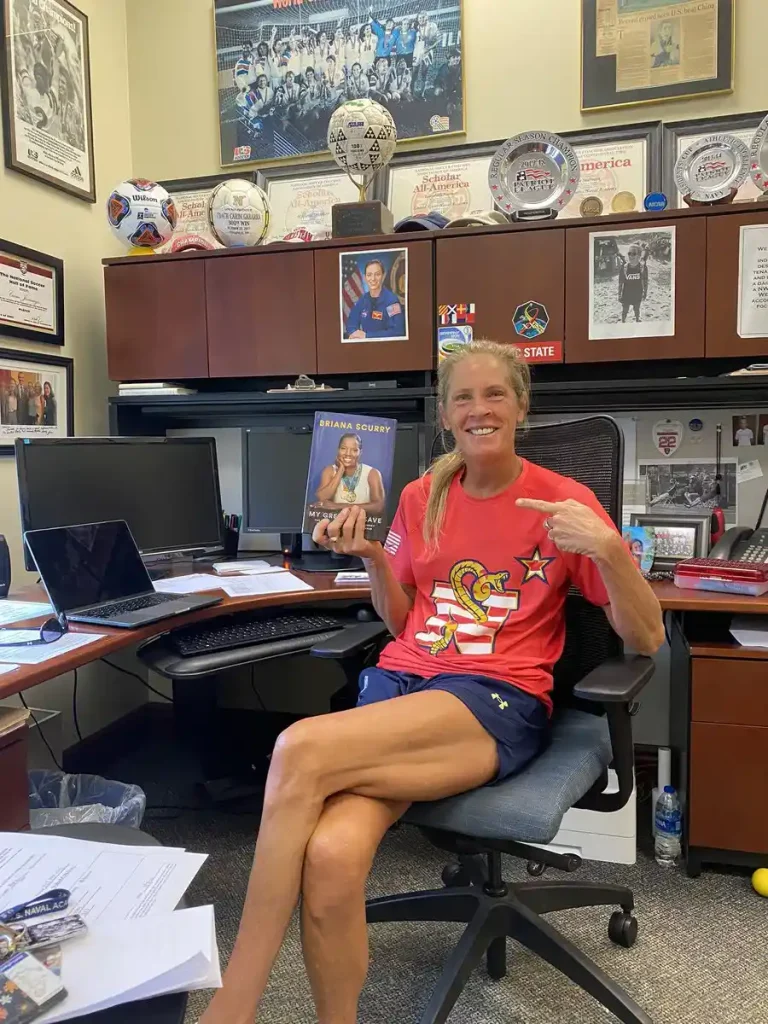 Carin Gabarra Family
Carin Gabarra's husband, Jim, is one of the finest women's coaches in the country, the only person to serve as head coach in all three professional US women's leagues (Washington Freedom in the WUSA and WPS, Sky Blue FC in the WPS and new NWSL), and their children – son Tyler, and daughters Abigail and Talia – have grown up around the game.
All three spent their youths at Navy practices and games and watching the Freedom. Gabarra discovered she loved coaching, posted her first winning season in 1995, her third year in charge, and has yet to have a sub.500 campaign since.
The Midshipmen won their first Patriot League title in 1998 (they've got seven), reached the NCAA tournament for the first time in 2003 (and again in 2006, when they reached the second round, and 2007), and she has a 256-14-34 record in the first 20 seasons.
"The kids I get are so driven," Carin Gabarra said. "You get to a point where they get so good, and you think they're going to get complacent, but they don't. They want more, and they want to keep getting better and keep raising the bar. And there's never a complaint. There's never a bad attitude. It's just great kids. I think if any other coach saw the kinds of kids we get regularly, they'd understand why I've been here so long."
The Navy has had some special seasons under her. They lost just once (in the Patriot League tournament) in 2002, went 21-2-1 (with a victory over national powerhouse Penn State) in 2006, went 19-2-1 in 2012 (when they won the Patriot League), won at least 15 games seven times in the last 15 years.
"We're a quality team. We don't have any superstars, and we don't have the best Division I soccer players, but we have kids that will work and work and work," Carin Gabarra said.
"I'm hard on them all the time, and I expect more and more and more, and they respond to that. They're just those kinds of people. They're more fit, they can play soccer, and we're a hard team to play because we won't give up. And these kids believe they can play against anyone. And that's all that matters."
Navy's program was transformed from a club-level organization in 1993 when she took control in 1993 to one that has claimed at least a share of the Patriot League regular-season title ten times, made five NCAA Tournament appearances, and produced 21 consecutive winning seasons from 1995 to 2015. Since she has led the Midshipmen for 29 years, she has had 25 winning seasons.
Carin Gabarra Achievements
Playing Honors:
1981, 1982, 1983: High School All American
1984, 1985, 1986: NCAA Division I All American
1987 and 1992: US Soccer Athlete of the Year
1991: FIFA World Cup Winner
1991: FIFA World Cup Golden Ball
1992, 1993: US National Amateur Cup
1996: Olympic Gold Medalist
Individual Coaching Honors:
1996, 2006, 2013, 2017, 2020-2021: Patriot League Coach of the Year