Which former England player once sang on the same bill as the Beatles – and earned more money than them?
The answer is winger Colin Grainger, who made over 350 senior appearances and won 7 caps for England.  He had been a club singer for a number of years and in June 1963 he appeared at the Manchester Southern Sporting Club on the same bill as the new sensation at the time, The Beatles. Colin was paid £50, the same as the Beatles, but they had to split it four ways!
"I was in a dressing room with all four of them," he remembered. "I liked John Lennon. He seemed down to earth somehow. But Ringo, well, he was a bit of an idiot – he had a Dinky toy and he was saying, 'I've got a car, I've got a car'. I thought: You dozy pillock!"
He had a varied career, winning 7 caps for England and singing at the London Palladium, and he also wrote an autobiography, not surprisingly called The Singing Winger.
How it all began
Born in Havercroft, just outside Wakefield in June 1933, Colin was born into a footballing family. Brother Jack Grainger, cousins Dennis Grainger, another Jack Grainger and Edwin Halliday, plus brother-in-law Jim Iley all went on to have professional careers. Colin began his footballing career with South Elmsall boys and represented Barnsley boys in 1946/47 alongside future England international Tommy Taylor and Dickie Bird, the future cricket umpire. He got a job as a car mechanic and then signed for Wrexham in 1949. His next move was to Sheffield United in 1953 for a fee of £2,500 and he was paid the maximum wage of £20, which lasted at all clubs until 1961.
Colin said "It wasn't football that provided me with my first audience. I acquired my first taste of fame as a singer. My dad was the concert secretary at Havercroft Working Men's Club and it was his job to make sure the acts all turned up. However, when one failed to turn up, I offered to do my Al Jolson routine (a famous singer from the 1920/30's). I said to the audience as they produced polite applause 'Wait a minute, you ain't heard nothing yet!' (Al's catchphrase) and then I crooned with a confidence that no one knew I possessed. Come on Colin, give us a song, became a catchphrase and I sang more and more."
England come calling
He scored his first senior goal v Spurs in October 1954 after reports claim that he ran England full back Alf Ramsey ragged. In April 1956, Grainger was selected for a Football League representative match against the Irish League in Belfast, which ended in a 5–2 defeat. He earned his first England cap on 9th May 1956 in a friendly with Brazil at Wembley Stadium. He scored within the opening minutes with his first touch of the ball and in the 83rd-minute headed in England's fourth from a Stanley Matthews cross as they won 4-2. After that debut, Colin said: "When you think of the talent in that England team, with Duncan Edwards, Billy Wright and Stanley Matthews, you delight in what might have been. We will never know how good the team could have been because the Munich air disaster in 1958 cheated us. But in 1956, we scored four against Brazil at Wembley and we even missed two penalties. That was how superior we were that day. Two years later, Brazil won the World Cup."
For a winger then, he explained, the duel with the full back was everything. "Today they get the ball and they're looking to pass. When I was playing as a left winger, I'd run your legs off. The job spec was simple: 'Get to the dead-ball line and get the crosses in.' In the dressing room he remembers Stanley Matthews, then 41, taking a swig from a Babycham bottle.
"He said to me: 'Are you nervous, Colin?' I said: 'I am'. He said: 'You'll be alright, don't worry.' And he got this bottle out of his bag and started drinking it and said: 'I'm as bad as you'."
Otherwise, Matthews was a loner. "He ate his food on his own. He had it in his bedroom at the hotel."
A move to Sunderland
Colin then went on tour with England to Scandinavia and after one game Nat Lofthouse cajoled him into singing in a bar in front of many journalists. That is when his singing career really took off and he earned £50 as a support act to the American group, The Hilltoppers, in Sheffield. They offered him a deal to tour America with them but he turned it down as it would have affected his football career. He did appear on ITV though and had a regular column in the Sunday Express.
In February 1957 Sheffield United accepted a bid of £17,000 from Sunderland for Colin and so off he went. Colin was firmly against the move and didn't want to leave Sheffield, but that is how it was in those days, players didn't really have a say! Sunderland were soon embroiled in a financial scandal and were fined £5,000 for making illegal payments to players. He says; "They were all doing it, but they went too far at Sunderland – they bought shops for players. Say you won, they would put 10 pounds in your shoe as an extra bonus." It might not sound a lot, but 10 pounds was half of the weekly wage.
He won 7 caps for England, the last one being in a 2-1 victory over Scotland in April 1957 in which he was deemed to have played poorly despite making one of the goals. His singing was still going well as he went on tour in the summer of 1957 and received voice coaching from Joe Collins, father of actresses Joan and Jackie. He also appeared on TV with Hughie Green, Winifred Atwell and Matt Munro.  In 1958 he was asked to sign for Manchester United after the Munich disaster but didn't feel he could do it after what had happened to many of his friends in the crash. Also in February 1958 he signed a summer singing contract with MCA, worth £250 a week – more than ten times his football contract! He also released a single called 'This I Know'.
Singing 'rebel'
He asked Sunderland for a loan to buy a newsagents shop in 1960, but it was refused so he asked for a transfer, which was also refused. Colin countered that by refusing to play in the 1960/61 season which termed him a 'rebel' in the eyes of the media, but it worked as in July 1960 he was sold to Leeds United for £15,000, a club record in those days. He only stayed for one season, the end of which he struggled with injury which carried over into 1961/62, so manager Don Revie made him available for transfer.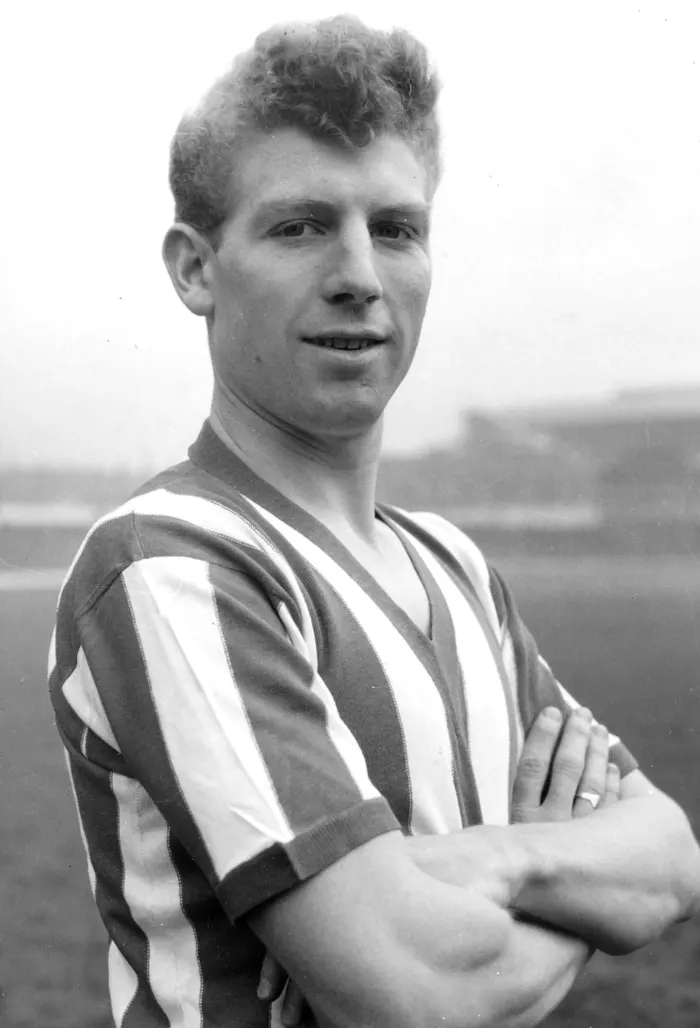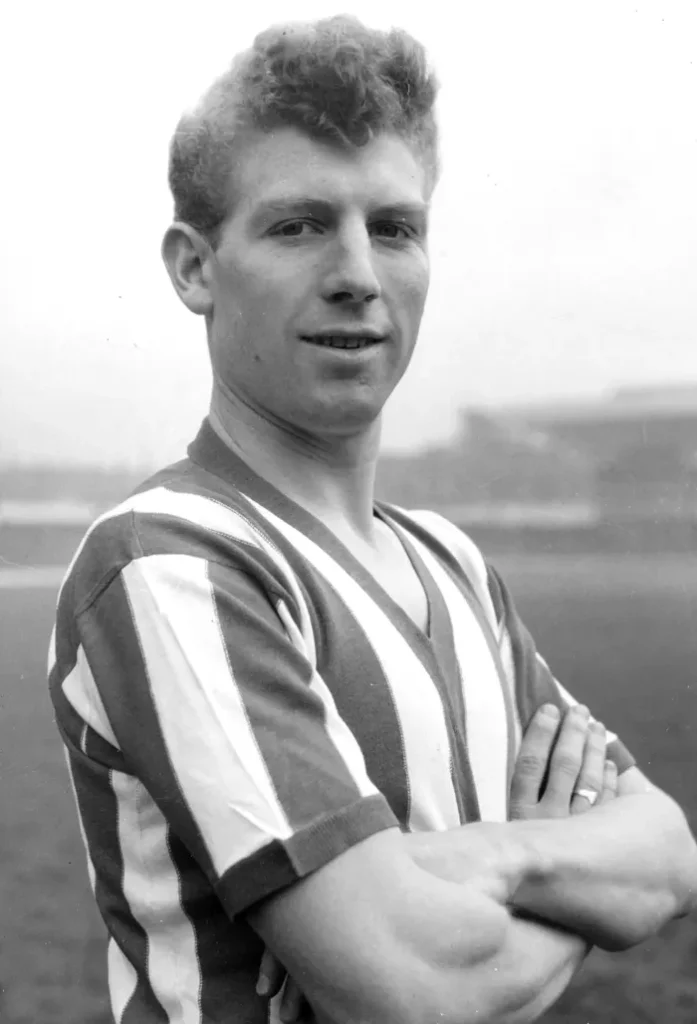 Port Vale and Preston both offered £6,000 for his services, but Preston refused to pay a signing on fee. Port Vale therefore won the day with a £300 signing on fee plus a wage of £30 a week, the maximum wage having been lifted 12 months earlier. He made an impressive start by scoring on his debut against Torquay in a 4-1 win in front of over 10,000 at Vale Park.
The following January he helped Vale to draw 0-0 at Sunderland in the 4th Round of the FA Cup and a few days later they famously won the Vale Park replay 3-1. That earned Port Vale the 'Sunday Pictorial Giant Killers Cup' for that season and Colin rates it his best performance either for or against his old club Sunderland. Colin had a recurrence of injury after the 5th Round defeat at Fulham and missed the rest of the season. In 1962/63 Colin fell out with manager Freddie Steele as he missed games with injury, but his singing career was flourishing and he had the aforementioned concert with The Beatles in June 1963. In 1963/64 he missed seven months of the football season with a groin injury.
The end of an era
He was released on a free transfer at the end of that season. He spent pre-season training with Barnsley but signed for Doncaster Rovers in August 1964. He was a regular that season but lost his place early in 1965/66 and he was freed at the end of that season. He then joined Macclesfield Town but only played 4 times as he retired from football to concentrate on his singing career. He also became a sales representative in Yorkshire, which became his main role after his last professional booking as a singer in Leeds in 1970.
He was player manager of non-league Newmillerdam (near Wakefield) between 1969 and 1972 and then he played for the Woolley Miners Welfare in the Yorkshire League between 1972 and 1978. In 1978 he became the north east scout for Mansfield Town, who were then managed by former Sunderland and Port Vale colleague Billy Bingham. He later scouted for Allan Clarke at Barnsley and Leeds, Mick Buxton at Huddersfield Town and Neil Warnock at Oldham, Bury and Sheffield United.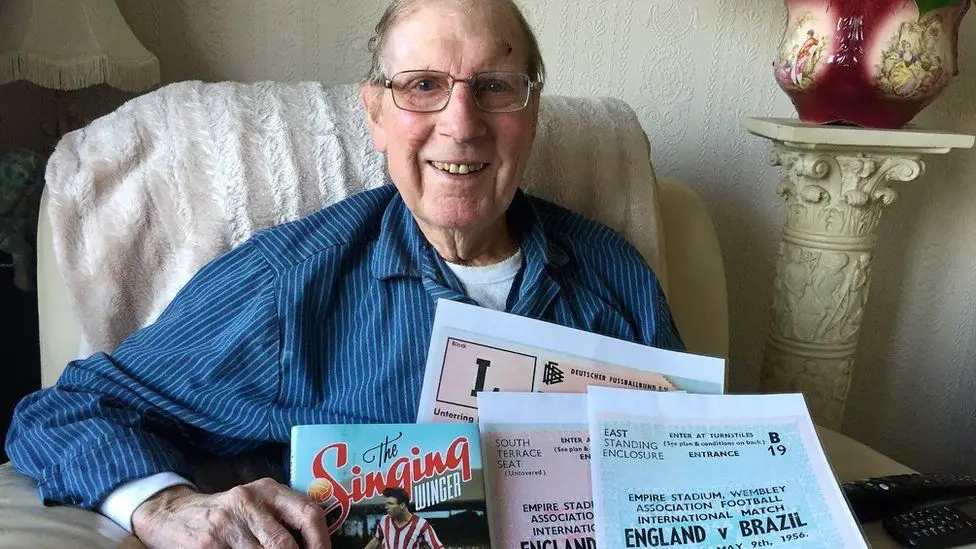 He lived alone near Huddersfield after his wife died a few years ago and had carers who called every day. They asked him what he used to do and when he said he was a singer and a footballer who used to play for England, they thought he was pulling their leg.  When they saw his scrapbooks and England caps, their eyes lit up and they often stayed much longer than necessary to hear his many stories. He moved into a care home in Kirklees in March 2020 and regaled them with many stories until his death in June 2022, aged 89.