Duncan Edwards was an exceptional talent, with little to no flaws in his game. A giant on the pitch, roughing up opponents everywhere he went with his extraordinary physique.
For many fans at the time, Duncan was destined to be England's greatest-ever player, eclipsing the likes of Stanley Matthews. But it all ended before his career could begin, tragedy bringing far more than his career to its conclusion. 
Early Life 
Duncan Edwards was born in Dudley, Birmingham on the first of October 1936. Duncan endured a troubled childhood, living in constant fear of being bombed by the Germans. In the safer times, he would keep himself occupied by his various pets around the house, and of course, football.
Born into a family of footballers – Gladstone, his father, played alongside his brother as an amateur. In addition, his grandfather also played amateur football, until his premature death in his early 30s. His mother, Annie, always encouraged Duncan's football career. She even made him his own kit and bought him his first pair of boots.
He developed his footballing ability in street games, quickly being invited to play against people many years older than him. His first club was Priory Road Boys and after impressing in his local team, was called up for his school. His teacher exclaimed that Duncan – "would play for England one day." A bold statement at such a young age, but there was something different about this boy.
After impressing in various games, he was recommended by his teacher to play for Dudley school boys. Once again, he was far too good for this level, and was quickly selected to play for a Birmingham and District side. 
Unsurprisingly Duncan excelled again, now reaching the pinnacle of English youth football and being called up for the England U-14 side. During his first game England thrashes Northern Ireland 5-2 and Duncan, "stood head and shoulders above the rest".
He received bids from Bolton and Wolves, but he was a Manchester United fan and was desperate to sign for them one day. Duncan had been on United's radar since 1948 before finally signing for them on the 4th of June 1952.
A Busby Babe 
Gladstone and Annie waved Duncan goodbye at the train station in Dudley – next stop, Manchester. His home for the initial stages of his United career was 5 Birch Avenue. It was a lovely house that accommodated several other United stars and was well-kept by Mrs Watson.
 He made his first impressions as a Manchester United player in a training game, where the Youth Team were split in two. He played for the Manchester United "Reds" who won 5-0 over their opponents Manchester United "Blues". Promotion to the "A-team" was imminent.
After a tight 4-3 victory over Ball Haye Green, the boy from Dudley just kept getting better. After Manchester United beat Leeds 4-0 in the first round of the inaugural FA Youth Cup, their next opponents were expecting a tough game. But had any of them foreseen the gulf in class between the two sides, they wouldn't have bothered to turn up…. 
United hammered Nantwich Town 23-0 with Duncan scoring 5, it was a truly magnificent spectacle to watch him play. Sir Matt Busby knew that he couldn't hold him back any longer. On the 4th of April 1953, Duncan Edwards made his first appearance at Old Trafford. 
It wasn't to be the dream debut he'd wanted, United was smashed by Cardiff, 4-1, but Edwards still managed to impress.
A reporter of the Manchester Guardian wrote, "he showed promise of fine ability in passing and shooting but will have to move faster as a wing half". Victory in the FA Youth Cup and a Gylcriss Cup finals, as well as his first team debut, meant that Duncan's first season at Manchester United was a successful one. 
Known Across the Country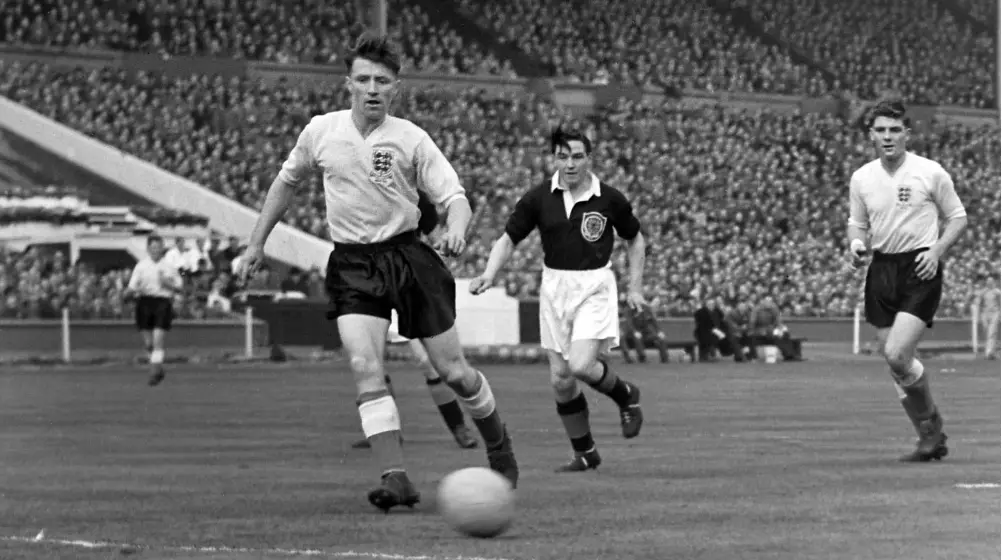 The next season was undoubtedly Duncan's breakthrough season, managing 25 appearances. His powerful engine seemed to last forever, playing alongside United teammate Roger Bryne.
 In April, Duncan Edwards and Manchester United picked up their second FA Youth. In late Spring, United won the Blue Stars Tournament in Zurich, a European under-19 trophy created in 1939. 
The 1954-1955 season would see the next big leap in his career, as Duncan scored his first senior goal for Manchester United, on New Year's Day 1955. 
Late April 1955, still eligible for the FA Youth Cup, he played and scored in the first leg of the final – United won 4-1 on the night. But up till now, he'd shown flashes of brilliance and potential but hadn't yet made himself into the star player he was destined to be.
This changed in 1956, as he enjoyed his first truly incredible year in a United shirt. Countless outstanding performances throughout the season earnt him comparison to the "Gentle Giant" John Charles and was the driving force behind Manchester United's First Division title charge.
The league was decided in an enthralling game against Blackpool. The Seasiders took an early lead through Dave Durie but on the hour mark, Johnny Berry levelled the score. 
With ten minutes to go, Tommy Taylor capitalised on a mistake from the Blackpool keeper, tapping the ball towards a keeper-less goal. In desperation, a Blackpool defender dived in an attempt to save the ball with his hands.
It squirmed from his grasp and rolled agonizingly over the goal line. The United team and fans erupted into celebration. In the pandemonium, Edwards picked up the ball and volleyed it into the Main Stand. 
A World-Class Season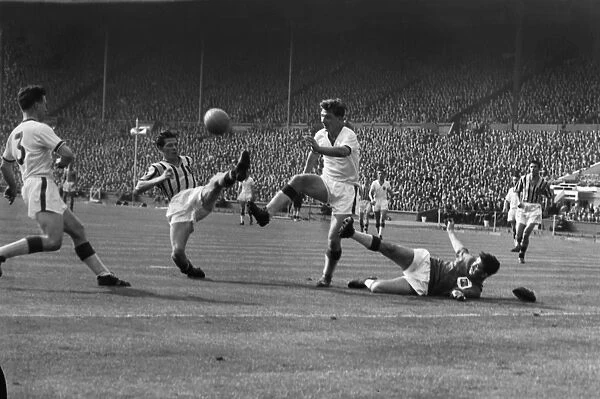 Edwards' penultimate season in a Manchester United shirt was his best. 
The 1956-1957 season was the second season of the European Cup and thanks to winning the league, Manchester United had qualified. Manchester United faced Anderlecht in their first set of European nights. 
In the first game, United beat Anderlecht 2-0, but the second leg was the one to watch. United astonished fans by battering Anderlecht 10-0, Dennis Viollet 4, Tommy Taylor 3, Billy Whelan 2, and Johnny Berry also got on the scoresheet.
Despite two players getting a hat-trick, Duncan took home all the plaudits, due to his extraordinary masterclass in passing.
Any type of pass you could think of Duncan pulled off with the utmost precision during this game. 
By March 1957, Manchester United had won the league for the second time in a row, this time in more dramatic fashion. With two minutes to go Manchester United had a corner. 
Sir Matt Busby ordered Johnny Berry to aim for Duncan in the box. He did so with great accuracy, finding Duncan's head, the ball now zipping towards goal. The keeper saved, but out of nowhere, Bobby Charlton poked the ball home, winning another title for Manchester United. 
Unfortunately, their performances were not mirrored in the European Cup or the FA Cup as they crashed out to Real Madrid and in the final of the FA Cup lost by one goal against Aston Villa. 
A disappointing end to the season but winning the title again gave United real encouragement for next season.
In December 1957 Duncan came third in the Ballon d'Or, behind Alfredo Di Stefano and Billy Wright. 
The Munich Air Disaster
Manchester United were once again favourites in the 1957-1958 season, many even hopeful of European Cup glory. But what was to come, made football trivial. 
After successfully overcoming Red Star Belgrade in the quarter-final of the European Cup, Manchester United were scheduled to fly back to England on the 6th of February 1958. 
They stopped in Munich for refuelling at 13:15, and after an hour had passed, they were ready for take-off. 
Their initial attempt was unsuccessful due to a minor malfunction, and three minutes later they tried again, only for a second malfunction to once again stall the plane. 
By this point, it had started snowing heavily and it was looking very unlikely that the plane would be making the return flight that day. Duncan Edwards sent Mrs Watson a telegram saying: "All flights cancelled, flying tomorrow. Duncan."
Despite Duncan's telegram, they attempted to take off a third time at 15:04.
The plane gathered speed initially, but another malfunction quickly killed the plane's momentum. Unable to gather enough speed to take flight, the aircraft skidded off the end of the runway and crashed into the fence surrounding the airport. 
The fence was not enough to stop the plane, as it careered across a road before crashing into a house and severing its left wing. 
Many passengers were killed instantly, but unlike many of his teammates, Duncan initially survived. He was rushed to hospital.
Over the next fortnight, his condition struggled to stabilise. The day after the crash he asked assistant manager Jimmy Murphy, "What time is the kick-off against Wolves, Jimmy? I mustn't miss that match." 
Doctors did all they could to save the player, even having an artificial kidney brought to the hospital for him. 
Tragically, his condition began to worsen. At 2:15 a.m. On the 21st of February 1958, he was pronounced dead; 15 days after the crash.  
Duncan Edwards was buried at Dudley Cemetery five days later, alongside his sister Carol Anne. Over 5,000 people lined the streets of Dudley for his funeral.
His tombstone reads: "A Day of memory, Sad to recall, Without farewell, He left us all."
Duncan Edwards will forever be a tragic tale of a prodigy taken far before his time. Were it not for such a catastrophic event, Edwards would, without a doubt have been one of England's fabled legends, alongside the likes of Stanley Matthews, Geoff Hurst and teammate Sir Bobby Charlton.