John Charles captained the West Ham team that defeated Liverpool to win the FA Youth Cup in 1962-63 and was capped by England at youth level. John was the first black player to captain a team to win a major trophy.
He established himself as a regular full-back in the Hammers line-up in 1965-66 and was a team member defeated by Borussia Dortmund in the semi-final of the European Cup Winners' Cup that season.
He played most of his games besides the great Booby Moore. He was one of the few black players to appear in top-flight football in the 1960s.
Childhood Memories
John Charles – or 'Charlie The One' as he was known to his family – was born in Canning Town, east London, in 1944. His father was a sea merchant from
Grenada
, and his mother was from east London. He was the eighth of nine children in a large family.
After leaving school, John represented West Ham Boys, London, and Essex, and signed for the Hammers.
The talented left-back came through the West Ham Academy of Football, Essex, and London Boys while growing up. In 1960, he reached the English Schools Cup final with the London boys.
In April 1962, he signed his first professional contract with the Boleyn Ground. In addition to being the first black player to represent West Ham at the First Division level, he was the first black player to play for England's Under-18 side against Israel in 1962. [1]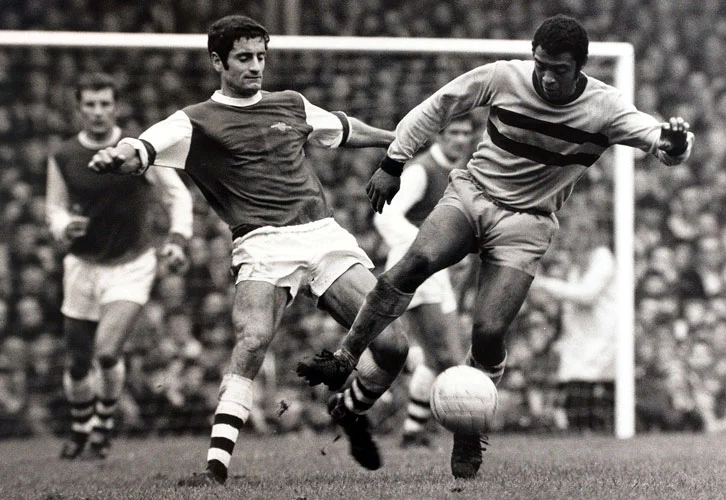 John Charles West Ham Days
Under manager Ron Greenwood, John Charles played 36 times in all competitions during the 1965/66 season, becoming a regular for the first-team. The highlights that season was playing in the League Cup final and scoring his first senior goal in a fifth-round tie at Grimsby Town in November 1965.
His club reached the semi-finals of the European Cup Winners' Cup with him on the team. Charles was unable to be part of West Ham's winning teams in the 1964 FA Cup Final and the 1965 UEFA Cup Winners' Cup Final because of injuries. [3]
As Ron Greenwood's first-choice left-back for most of the next three seasons, Charles was eventually replaced by Frank Lampard Senior, with whom he shared a birthday. A series of injuries forced him to end his career early in the 1969/70 season. [2]
He was just 26 years old. When he finished playing football, he admitted to being a borderline alcoholic.  In his time in the game, he played with his younger brother Clive Charles while at West Ham. Clive was to go on and coach the US National Men's Team.
Retirement
Upon retiring due to injury, John Charles ran a family greengrocery business before moving to Spain. He returned to England before his death from lung cancer at the age of 57.
Charles represented England five times at the youth level, making him a true pioneer for not just West Ham United, but for the country as a whole.
Name: John William Charles
Born: 20/09/1944
Clubs: West Ham United (1962 – 1971) 118 Appearances
Senior Debut: West Ham United vs. Blackburn Rovers – 4 May 1963 (Div 1)
References:
[1]: https://www.whufc.com/news/articles/2020/august/17-august/john-charles-west-ham-united-pioneer-and-englands-first-black
[2]: https://www.whufc.com/news/john-charles-west-ham-united-pioneer-who-would-have-turned-78-today
[3]: https://en.wikipedia.org/wiki/John_Charles_(footballer,_born_1944)
Images:
Peter Robinson / Epics Sport (Main Images)
https://www.lcfc.com/news/2490937/footballs-pioneers-john-charles