Only two years ago, it looked like Thomas Müller was in for a tough season. But when Hansi Flick took over as head coach at FC Bayern, the 30-year-old staged an incredible comeback to become one of the most valuable players on the treble-winning squad.
Thomas Müller Sidelined
In October 2019, Bayern coach Niko Kovac said: "If worst comes to worst, Müller will surely get some minutes of playing time." It was matchday seven in the Bundesliga, and Kovac's words, which he later toned down, were a devastating blow for Müller, who was going through perhaps the most challenging period of his career. Dismissed from the German national team during Joachim Löw's restructuring process after the squad's horrendous performance at the World Cup 2018, Thomas Müller had lost his place in Bayern Munich starting XI.
Both journalists and fans were quick to attest that his career was finished and that Müller had seemingly lost the abilities that'd earned him the nickname "Raumdeuter," an interpreter of space if you will. Long gone were the days when he aptly read the game, anticipated opponents' and teammates' moves to create chances out of nowhere, and often appeared in the right spot at the right time to score one of his famous slapstick-like Müller goals.
Unhappy as a substitute under Kovac, Thomas Müller even considered leaving the club, an unthinkable step, given that the German forward is a Bavarian to the bone.
Changing Of The Guard
In early November, an abysmal 5–1 defeat against Eintracht Frankfurt proved to be the final straw for Bayern's management. Kovac had to go, and Hansi Flick, who had come in at the beginning of the season as an assistant coach, was now at the helm. Suddenly there was someone who knew how to motivate sidelined players like Thomas Müller and Jérôme Boateng. He had worked with them as Löw's assistant coach of the national team and understood what they needed most to regain their self-confidence: trust.
Flick recognized what others did not (or chose to ignore for the sake of their preferred system): Müller needs to run wild and needs a certain sense of freedom. Flick's flexible system benefits Müller, who needs this fluidity to create and find spaces on the pitch. In these moments, he shines.
Since Flick took over, particularly after the break due to COVID-19, Bayern re-emerged as a powerful side. Thomas Müller played a crucial role in the team's forceful performances. Yes, he scores goals and provides assists.
Fun Fact: Thomas Müller is equal 7th on the all-time list of the most World Cup goals. He has scored 10 goals in 13 appearances
But his determination and inexhaustible willingness to run is second to none. This was perhaps never more evident than in his outstanding performance against Barça in the quarterfinal of the Champions League last month. It may be goalkeeper Manuel Neuer who wears the captain's armband for Bayern, but it is Müller who is the most vocal player and the emotional leader and motivator on the field.
Radio Thomas Müller
He is often referred to as "Radio Müller," often affectionately, he relentlessly pushes his teammates to keep fighting and pressing. Thanks to the games being played at empty stadiums at the moment, Thomas Müller's voice resounds clearer and louder than ever, a nice treat for spectators watching the matches on TV.
Thomas Müller has come a long way. Or maybe he was always there. Maybe Thomas only needed someone who understood how to exploit his potential once again entirely. After he clenched his second treble with Bayern, however, one thing is clear: Let Thomas Müller be Müller. The rest will be history.
Main Image: Steindy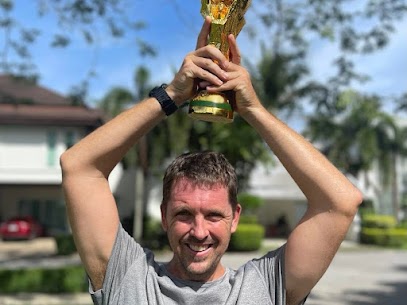 Rhett is an Australian-born, globe trotter who is a UEFA 'A' Licence Soccer Coach. With his family, he has traveled and coached soccer in more than 30 countries, while attending World Cups, European Championships, and some of the biggest local derbies in the world!