Thomas Müller was in for a tough season. But when Hansi Flick took over as head coach at FC Bayern, the 30-year-old staged an incredible comeback to become one of the most valuable players on the treble-winning squad.
Thomas Müller Sidelined
In October 2019, Bayern coach Niko Kovac said: "If worst comes to worst, Müller will surely get some minutes of playing time." It was matchday seven in the Bundesliga, and Kovac's words, which he later toned down, were a devastating blow for Thomas Müller, who was going through perhaps the most challenging period of his career.
Dismissed from the German national team during Joachim Löw's restructuring process after the squad's horrendous performance at the World Cup 2018, Thomas Müller lost his place in Bayern Munich's starting XI.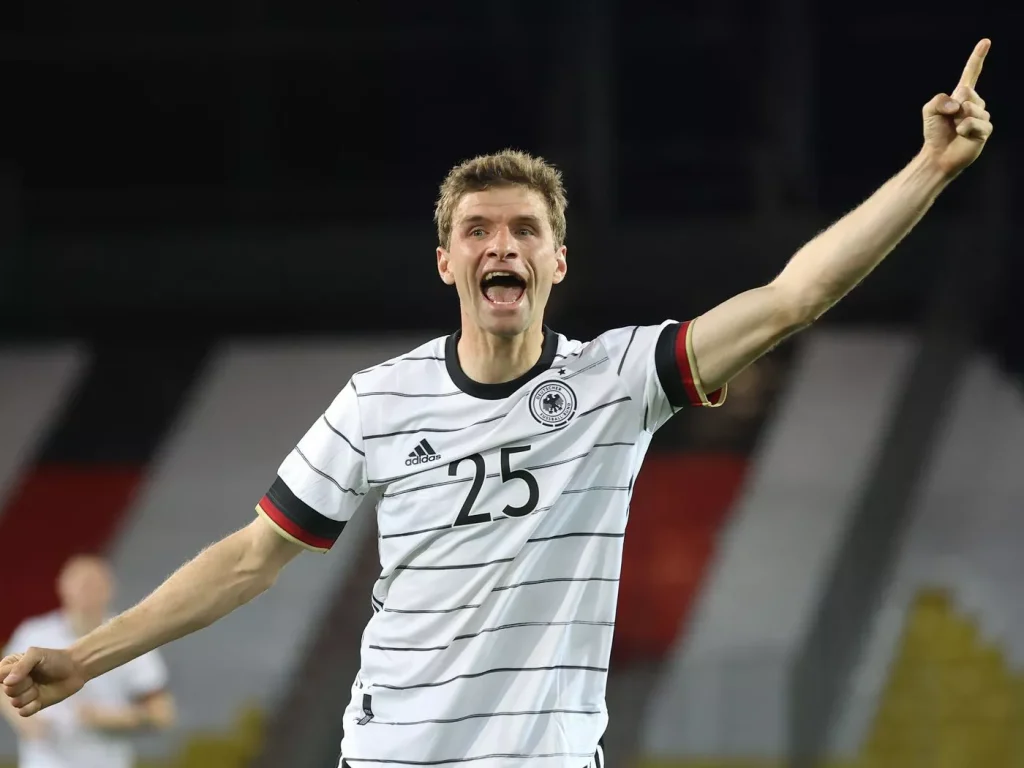 Both journalists and fans quickly attest that his career was finished and that Müller had seemingly lost the abilities that'd earned him the nickname "Raumdeuter," an interpreter of space, if you will.
Long gone were the days when he aptly read the game, anticipated opponents' and teammates' moves to create chances out of nowhere, and often appeared in the right spot at the right time to score one of his famous slapstick-like Müller goals.
Unhappy as a substitute under Kovac, Thomas Müller even considered leaving the club, an unthinkable step, given that the German forward is a Bavarian to the bone.
Changing Of The Guard
In early November 2019, an abysmal 5–1 defeat against Eintracht Frankfurt proved to be the final straw for Bayern's management. Kovac had to go, and Hansi Flick, who had come in at the beginning of the season as an assistant coach, was now at the helm.
Suddenly, someone knew how to motivate sidelined players like Thomas Müller and Jérôme Boateng. He had worked with them as Löw's assistant coach of the national team and understood what they needed most to regain their self-confidence: Trust.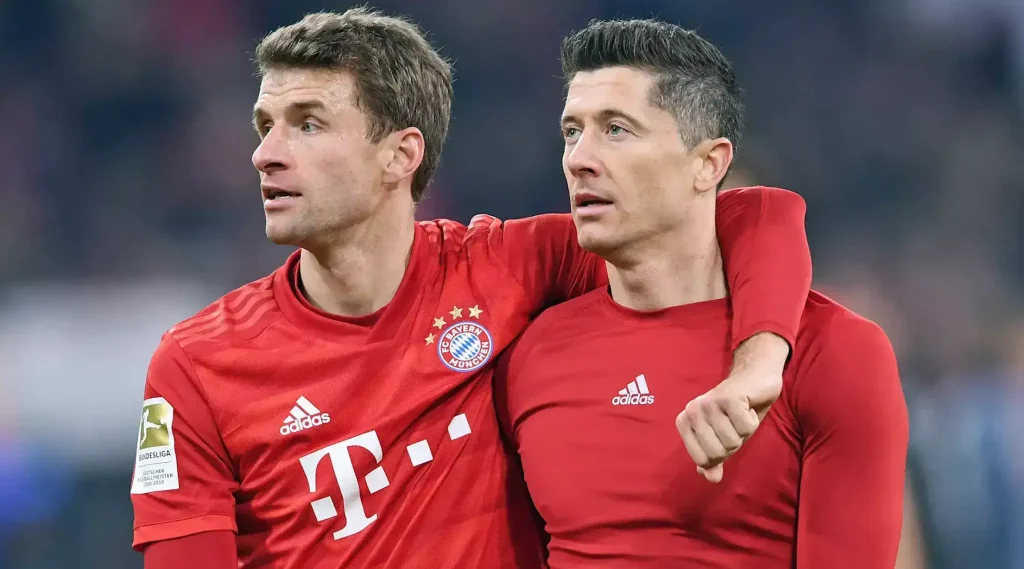 Flick recognized what others did not (or chose to ignore for the sake of their preferred system): Müller needs to run wild and needs a certain sense of freedom. Flick's flexible system benefits Müller, who needs this fluidity to create and find spaces on the pitch. In these moments, he shines.
Since Flick took over, particularly after the break due to COVID-19, Bayern Munich re-emerged as a powerful side. Thomas Müller played a crucial role in the team's forceful performances. Yes, he scores goals and provides assists.
Fun Fact: Thomas Müller is equal seventh on the all-time list of the most World Cup goals. He has scored ten goals in 13 appearances
But his determination and inexhaustible willingness to run is second to none. This was perhaps never more evident than in his outstanding performance against Barça in the quarterfinal of the Champions League last month.
It may be goalkeeper Manuel Neuer who wears the captain's armband for Bayern, but Müller is the most vocal player and the emotional leader and motivator on the field.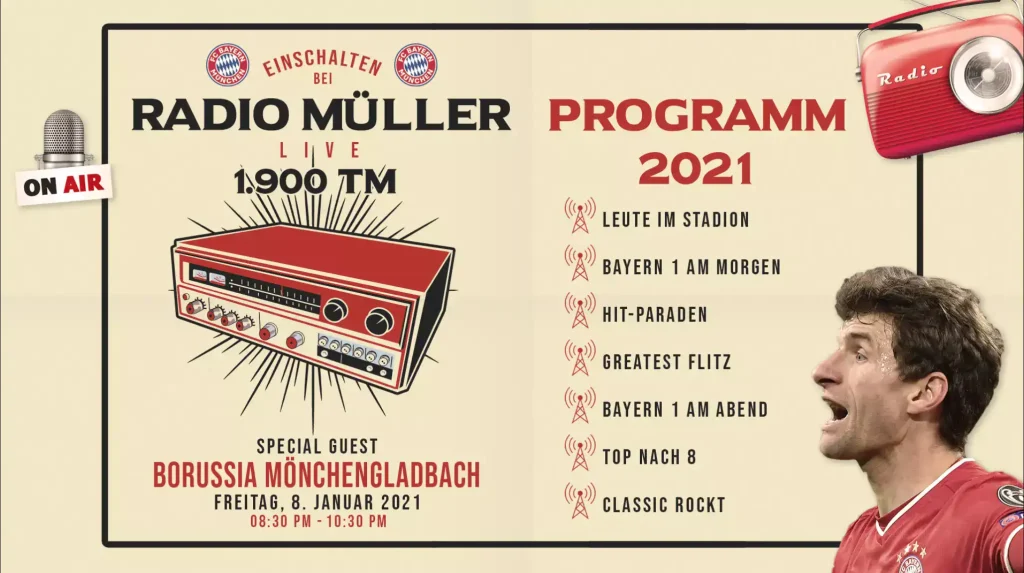 Radio Thomas Müller
He is often referred to as "Radio Müller," often affectionately, he relentlessly pushes his teammates to keep fighting and pressing. The nickname came about for his loud and frequent comments on the soccer field and in the dressing room.
Thanks to the games played at empty stadiums during Covid, Thomas Müller's voice resounds clearer and louder than ever, a nice treat for spectators watching the matches on TV.
A contract extension was signed by Müller in April 2020, tying him to Bayern Munich until 2023. [1] The Champions League final was Bayern's sixth and Müller's second, as the club won 1–0 over Paris Saint-Germain. [5]
Over the course of the tricky personal season for him, he scored eight league goals, two German Cup goals, and four Champions League goals.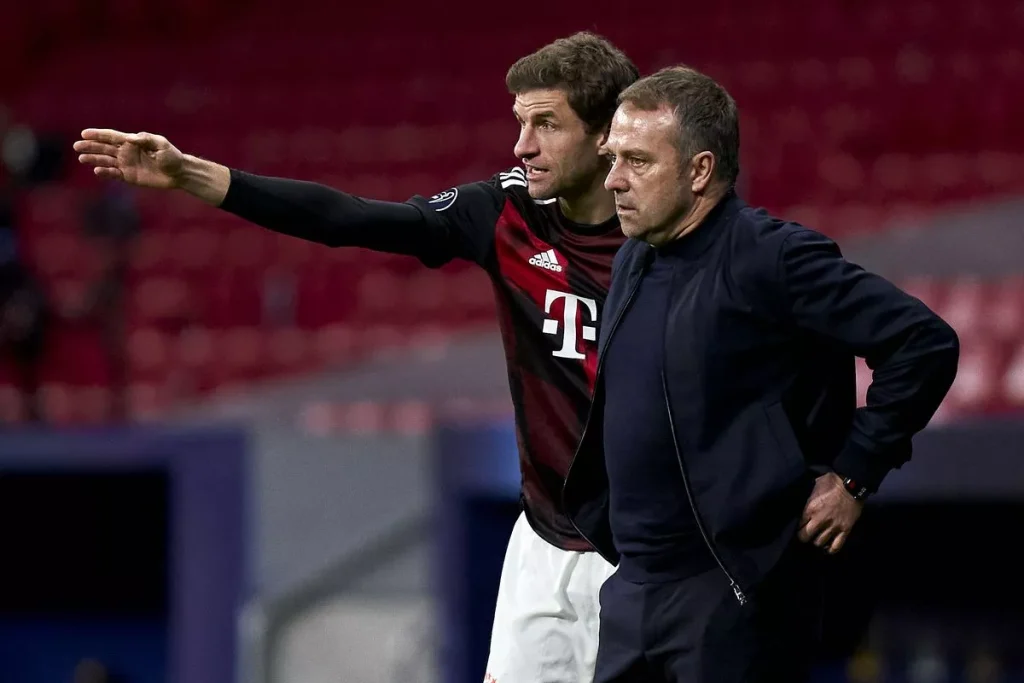 The 27th trophy of his club career came the following season when he won the DFL-Supercup and UEFA Super Cup. With 27 trophies under his belt, he broke the previous record of 26 held by former teammate Bastian Schweinsteiger.
Bayern won his ninth consecutive Bundesliga title in 2020-21 as the Bavarian club again finished the league on top. [7] The title was Müller's 10th in the Bundesliga. [2] Throughout the season, the Weilheim born footballer scored 15 goals in 46 matches.
Müller now holds the record for the most Bundesliga title wins with 11 at the end of the 2021-22 season, which was Bayern's 10th consecutive title. [3] Once again, the 6-foot, 1-inch attacking midfielder contributed to the success with 13 goals from 45 appearances.
Thomas Müller has come a long way since his exclusion from the team in 2019. Or maybe he was always there. Maybe Thomas only needed someone who understood how to exploit his potential once again entirely. After the most decorated German footballer clenched his second treble with Bayern, one thing is clear: Let Thomas Müller be Müller!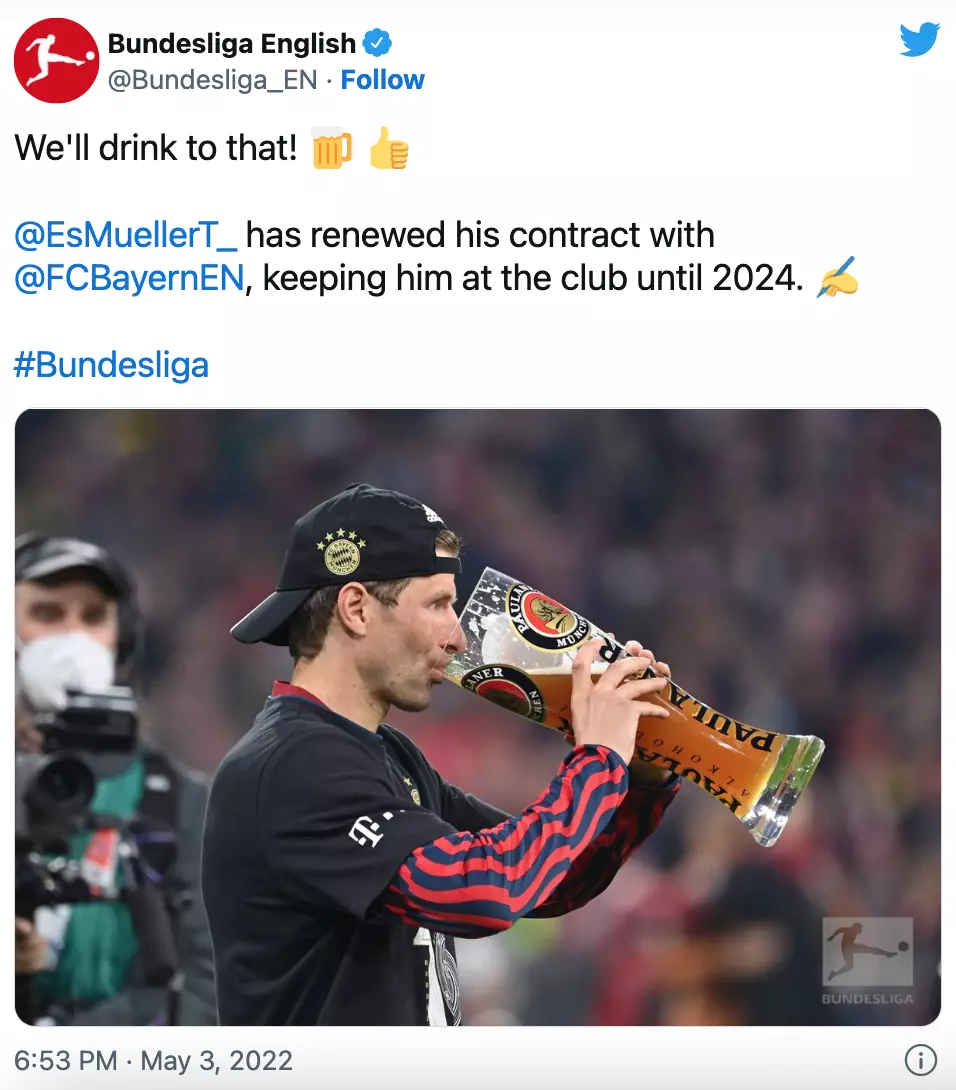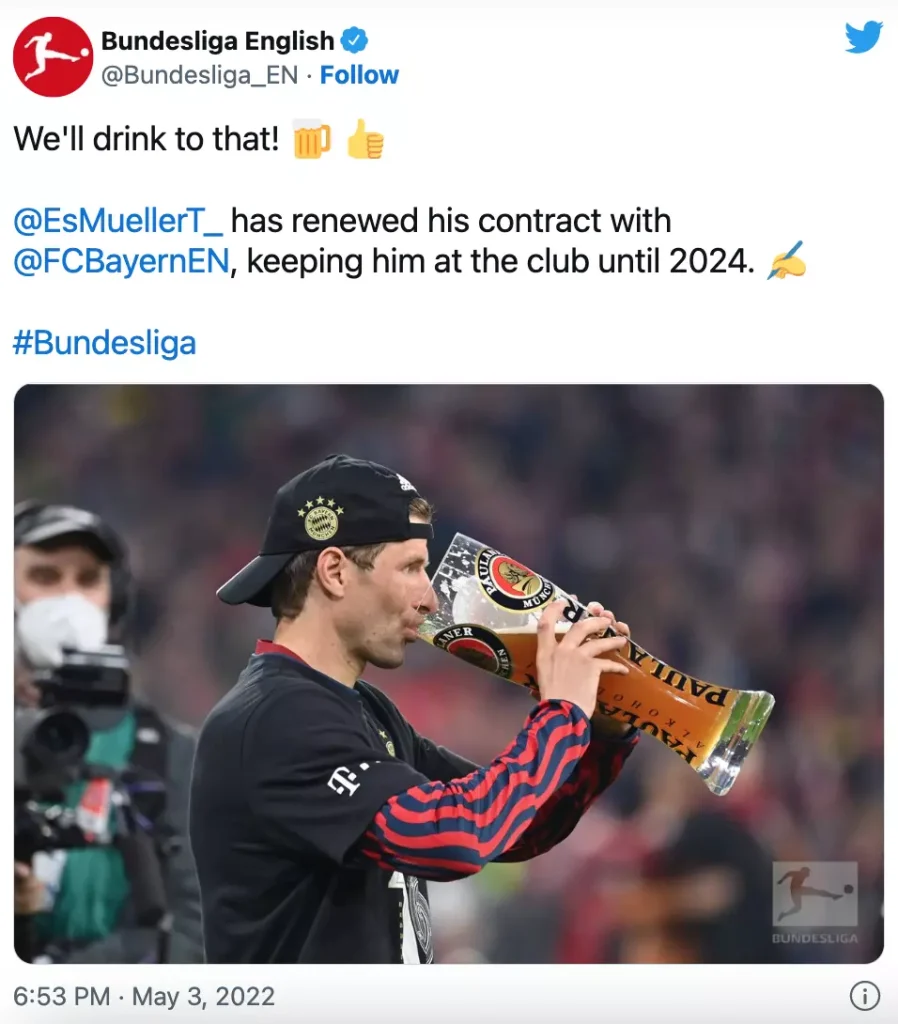 Early Career Of Thomas Muller
Thomas Müller was born on September 13, 1989, in Weilheim in Upper Bavaria. His first club is TSV Pähl, with which Thomas is already champion in the F youth.
As a D youth, he switched to FC Bayern Munich, for which he still plays twenty two years later. [6] In 2007, the teenager became German runner-up with Munich in the A youth and impresses with his efficiency: In 26 league games, he scored 18 goals.
By this time, Thomas Muller had long been a national player: he made six appearances in the U16s, with more to follow in later years.
In 2008 the attacking all-rounder was initially part of the reserve squad, which played in the 3rd division. Müller scored a goal on his debut against Unterhaching, so Jürgen Klinsmann brought him on as a substitute against HSV on the first day of the Bundesliga match in 2008/09.
Although Müller remains in the reserve squad and scores 15 goals there, he is allowed to sniff professional air occasionally. Even in the Champions League – and there, too it "mulled" in the premiere against Sporting Lisbon. Under coach Louis van Gaal, the all-round midfielder with striker blood succeeded in becoming a regular player.
Thomas Muller Achievements
Full Name: Thomas Müller
Birthplace: 13/09/1989
Birthplace: Weilheim, West Germany
Playing Career:
Bayern Munich 2008 – Present
International Career:
Germany National Team 2010 – Present
Playing Honors: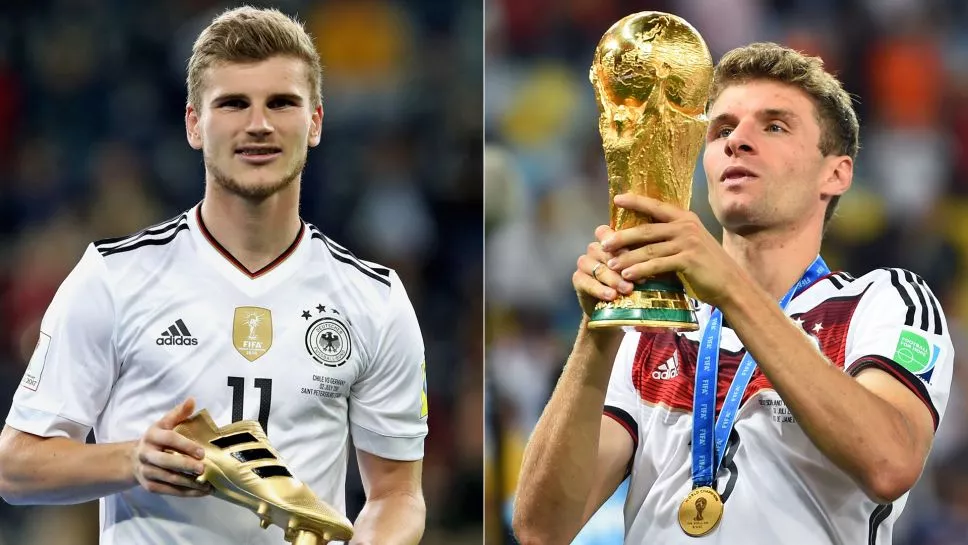 Bayern Munich
2009–10, 2012–13, 2013–14, 2014–15, 2015–16, 2016–17, 2017–18, 2018–19, 2019–20, 2020–21, and 2021–22: Bundesliga Champions
2009–10, 2012–13, 2013–14, 2015–16, 2018–19, and 2019–20: DFB-Pokal Winners
2010, 2012, 2016, 2017, 2018, 2020, 2021, and 2022: DFL-Supercup Winners
2012–13 and 2019–20: UEFA Champions League Winner
2013 and 2020: UEFA Super Cup Winner
2013 and 2020: FIFA Club World Cup Winner
Germany
2010: FIFA World Cup Third Place
2014: FIFA World Cup Winner
Individual
2010: FIFA World Cup Golden Boot
2010: FIFA World Cup All-Star Team
2010: World Soccer Young Player of the Year
2014: FIFA World Cup Silver Boot
2014: FIFA World Cup Silver Ball
2014: FIFA World Cup All-Star Team
2017–18, 2019–20, and 2020–21: Bundesliga Team of the Season [4]
References:
[1], [2], [3], and [4]: https://en.wikipedia.org/wiki/Thomas_M%C3%BCller
[5]: https://kids.kiddle.co/Thomas_Müller
[6]: https://7wallpapers.net/thomas-muller/
[7]: https://en.m.wikipedia.org/wiki/FC_Bayern_Munich
Images:
www.i.pinimg.com/originals/83/c1/ab/83c1ab08b5c49e5166c6e05e66d3bd84.jpg(main image)
www.theguardian.com/football/2021/jun/26/thomas-muller-germany-england
www.indonewyork.com/sports/Yellow-locked-Thomas-Muller-and-Robert-Lewandowskis-absence-in-the-big-game-against-Gladbach-h11178.html
www.fcbayern.com/de/kolumne/rotwild/2021/01/radio-mueller-%E2%80%93-das-programm-2021
Diego Souto/Quality Sport Images/Getty Images
www.imago-images.de / frank hoermann
www.dfb.de/news/detail/the-pokal-final-and-world-cup-loom-its-mueller-time-186926/
Odd Andersen / Getty Images