George Best was undoubtedly one of the finest footballers of all time, certainly the best of his generation, and his good looks, maverick and self-destructive lifestyle made him renowned the world over, even to people who had no interest in football.
How it all began
George was born in Belfast in May 1946, the eldest of six children, and grew up on the Cregagh Estate in East Belfast. He passed his 11 plus and went to Grosvenor High School, but he soon played truant as they were a Rugby Union playing school. He was moved to the Lisnasharragh Secondary School where he could play football as a very tricky winger as well as Cregagh Boys club. As a young boy he supported Glentoran, his local team, and Wolves. When he was 14 Glentoran rejected him for a trial as 'he was too small and too lightweight', a decision they probably still haven't got over!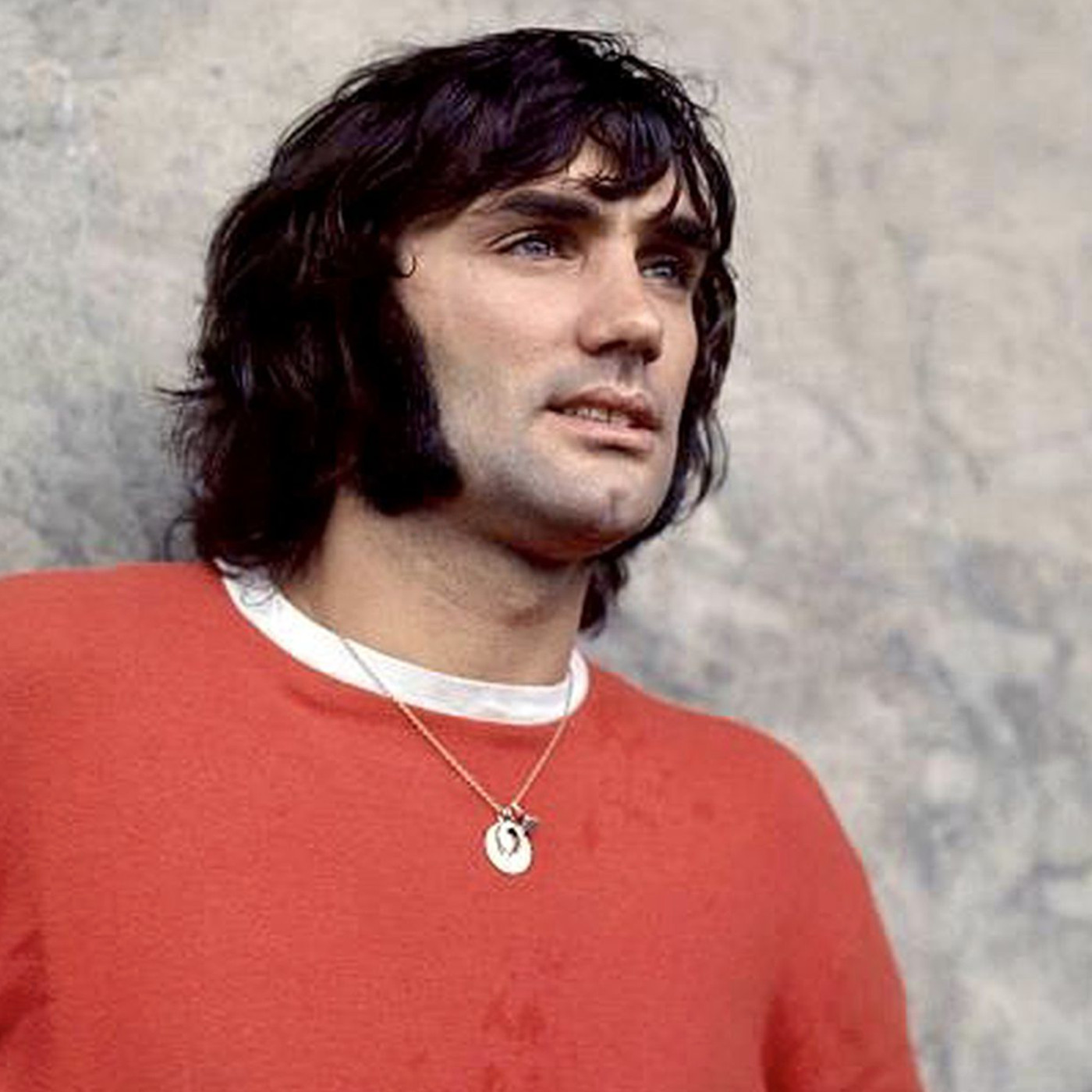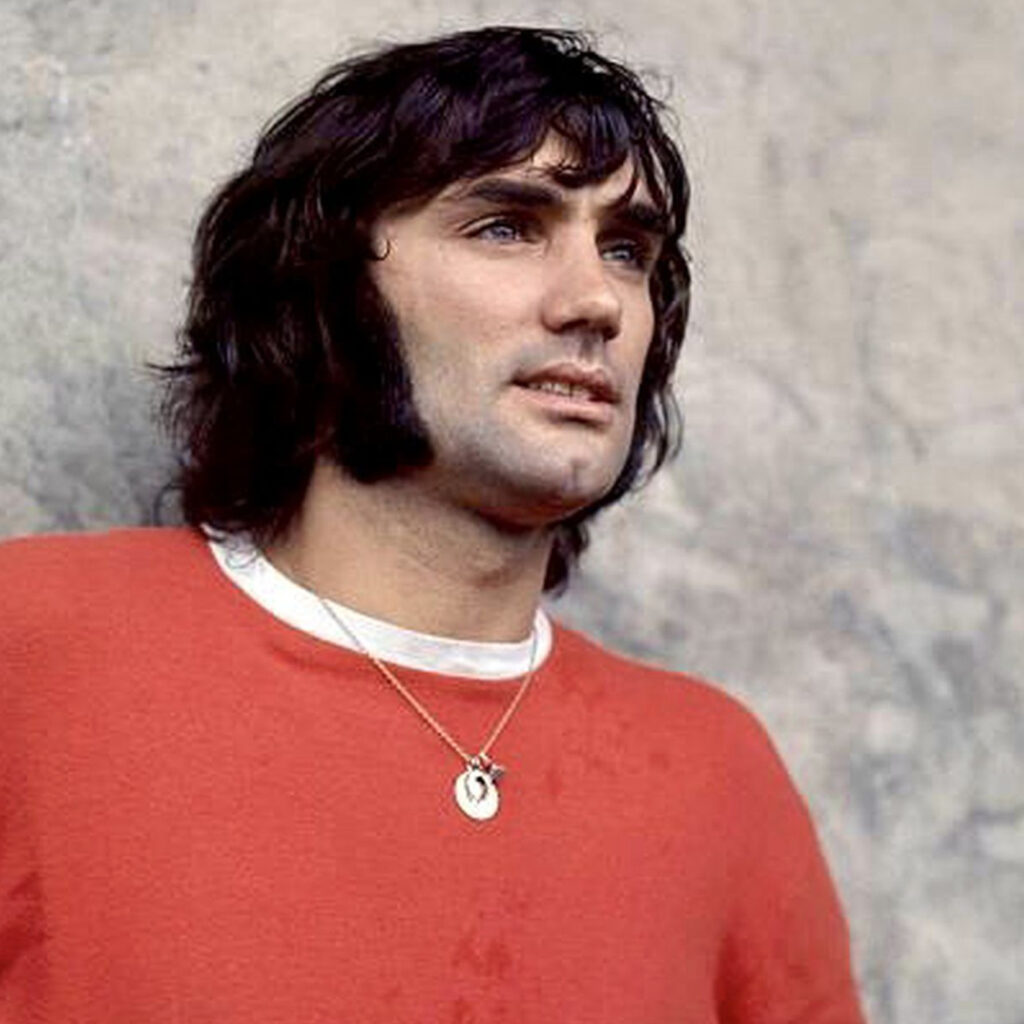 A year later Manchester United's Northern Irish scout Bob Bishop spotted him playing and sent a telegram to manager Matt Busby, saying "I think I've found you a genius".  George and his family agreed that he should go over to Manchester for a trial but he was homesick and went back to Belfast after two days. Matt Busby pleaded with him on the phone to return and rather reluctantly he did.
In those days clubs weren't allowed to sign players from Northern Ireland as apprentices, so he was free to go as he pleased until he was 17 so United fixed him up with jobs at the Manchester Ship Canal and a timber yard but he walked out on all three, as all he wanted to do was train all day. He then agreed to accept a job at an electrical firm which only worked afternoons so he could train in the morning. George dazzled his way through youth team games and Matt Busby told his coaches, "Don't tell George what to do, just leave him to do what he wants."
The start of a professional career
George turned professional on his 17th birthday and made his debut v West Brom in September 1963. He scored in his second game, a 5-1 win at Burnley. He helped the club to win the FA Youth Cup in 1963/64 and the first team's defeat in the FA Cup semi-finals prevented George from being the youngest player to play in an FA Cup Final at the time.
In April 1964 he was chosen to play for Northern Ireland v Wales at the age of 17 years and 359 days, despite only playing 21 first team games for United. A week later he scored his first goal for his country in a 2-1 victory in Switzerland. United won the First Division title in 1964/65 as George's reputation grew and he scored 14 goals. He was filmed in the audience of the Top of the Pops TV Show in 1965.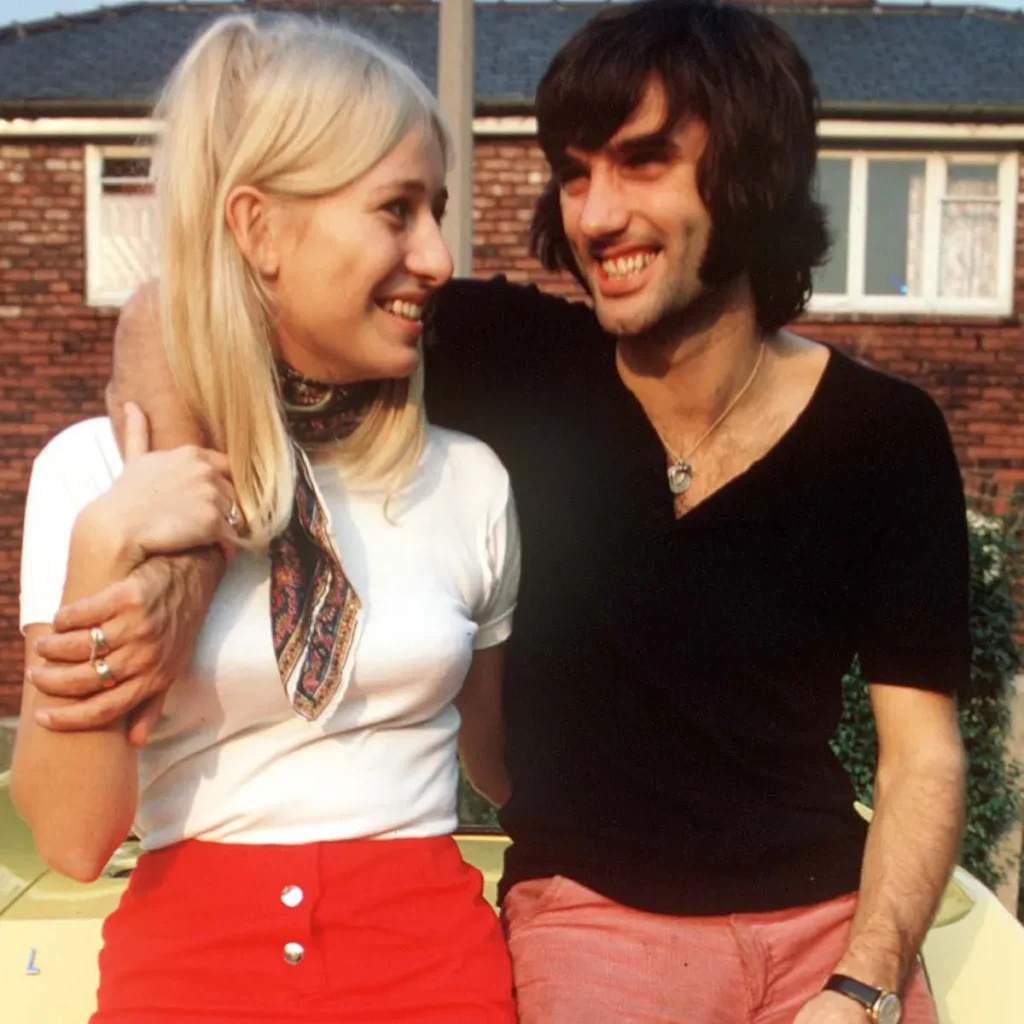 Glory in Europe
A European Cup tie at Benfica in March 1966 was to propel George into the stratosphere. United had won the home leg 3-2, so Busby told his players to keep them quiet for the first half hour to kill the atmosphere. George disagreed and score scored twice in the first 13 minutes on the way to a 5-1 victory against one of the best club sides in Europe at the time. His long hair and dazzling performance led to him being termed the 'fifth Beatle' and the 'Belfast Boy' by the press and he stepped off the plane home wearing a sombrero which adorned many front pages. In those days there were no players agents or people to protect players, they were just left to the mercy of anybody.
George loved the party lifestyle and began to frequent pubs where every man and his dog offered to buy him a drink which was the start of a slippery slope. Matt Busby suspended George for two weeks for mixing with the wrong crowd, and when he returned to the side, he was better than ever.
In the 1966/67 season George was ever present as United won the First Division again and then in 1967/68 he scored a career best 32 goals as United reached their first European Cup Final. It was Benfica again who stood in their way, and United invoked memories of that 1966 meeting as they won 4-1 after extra time, with George scoring a trademark goal to make it 2-1. George also won the Football Writers Player of the Year and the Ballon d'or that year. So, at the age of just 22, he had won the league title, the European Cup and European Footballer of the Year. That moment was probably the high point of his career.
Career begins to wane
In those days football was very tough and tackles that are outlawed nowadays often rained in on George from people like Ron Harris of Chelsea and Norman Hunter of Leeds, but he took it all in his stride. He had outstanding ability, but one ability that didn't have was the one that let him down, the ability to say no.
His charismatic lifestyle led to him doing adverts on TV, opening nightclubs (and spending a lot of time in them), doing many TV appearances and, of course for a good-looking lad, women flocked after him. The only live football on TV in those days was the FA Cup Final, so bar a few highlights the only way to see George was going to the games. Crowds increased wherever United were playing, especially away from home, as thousands flocked to watch the new superstar.
Frustration sets in
By winning the European Cup, United played Argentinian side Estudiantes in the World Club Championship and Best dubbed them 'by far the dirtiest side I played against'. United lost 2-1 on aggregate and in the home leg George was sent off for punching a player who spat at him.
In 1968/69 United only finished 11th, despite 22 goals from George, and then Matt Busby resigned after 25 years. They improved to 8th in 1969/70 under Wilf McGuinness and George's 23 goals included 6 in one game in an 8-2 FA Cup victory at Northampton Town. That was his first game back after a month's suspension for knocking the ball out of the referee's hand.
As the team struggled McGuinness was sacked and Busby returned for six months. Best was becoming increasingly frustrated and missed the train to a game at Chelsea, with the press tracking him down to a flat with the actress Sinead Cusack for the weekend, and they laid siege to the place along with many autograph hunters.
He was also sent off for Northern Ireland in a game against Scotland for throwing mud at the referee, and increasingly began to miss training, although that didn't always mean that he missed games. The club and team mates knew his worth to the side when he played.  In April 1971 he scored the quickest ever hat trick for Northern Ireland, netting three in 12 minutes in a 5-0 win over Cyprus.
Announces retirement
The first half of the 1971/72 season went well as United topped the table, but things began to unravel after George received a death threat supposedly from the IRA. His form declined and he went absent for a week to be with Miss Great Britain, Carolyn Moore.  His drinking increased, and in May 1972 he flew to Spain, and after being United's top scorer for the previous five seasons, he did numerous newspaper interviews to say that he had finished with football.
After four months in the sun, he changed his mind and returned to United. His antics caused a huge rift with Bobby Charlton, who preferred things done by the book, and George was a late withdrawal from Charlton's testimonial in September 1972, spending the evening in a Manchester pub instead. George was not the same player in 1972/73, he went missing in the December to spend time in London nightclubs and was transfer listed at £300,000, which would have been a British record, but there were no takers. Her owned night clubs and restaurants by that stage, but the most he ever earned from football was £11,000 a year.
Tommy Docherty became United manager and George announced that he was going to retire for a second time. His final game for United was a 3-0 defeat at QPR on New Years Day 1974, after which he failed to turn up for training and was arrested for stealing a fur coat and passport from Miss World Marjorie Wallace, although charges were later dropped. Despite all of his troubles and absences, he played 470 times for United, scoring 179 goals, which are remarkable statistics for a ten-year stint.
A downward spiral
George then became a 'gun for hire' having short spells with any club who wanted him. Non-league Dunstable Town were the first, followed by Stockport County, Cork Celtic and Los Angeles Aztecs before he arrived at Fulham, along with Rodney Marsh and Bobby Moore, in 1976 for an entertaining couple of years. He played his final game for Northern Ireland, his 37th, v Holland in October 1977. He was considered for the squad when they reached the World Cup Finals in 1982, but manager Billy Bingham decided it was just too much of a gamble.
After leaving Fulham he went back to America to play for LA Aztecs and Fort Lauderdale Strikers and in 1978 he married Angela MacDonald-Janes in Las Vegas. They had a son, Calum, born in 1981. He surprisingly signed for Scottish club Hibs in 1980, but famously went on a bender with the French Rugby Union team. He returned to the USA after 22 games but came back to play for Third Division Bournemouth in 1983, having separated from his wife and taken up with Miss World Mary Stavin.
It was only for 5 games, as he missed a few, but crowds shot up from 4,000 to 9,000. At the age of 37 he played his last Football League game v Wigan Athletic, who ironically, were managed by Bobby Charlton in a caretaker capacity.
A testimonial game was held for George at Windsor Park in Belfast in 1988 and was a star-studded affair in front a sold out 27,000 crowd. He married second wife Alex Pursey in 1995, later divorcing in 2004. He had various arrests for drink fuelled misdemeanours and then descended into full alcoholism. In August 2002 he had a liver transplant, which caused controversy and was told to stop drinking to save his life, but he simply couldn't.
In October 2005 he was admitted to intensive care with a kidney infection and passed away on 25 November 2005 at the age of 59. 100,000 people lined the streets for his funeral in Belfast which was televised live on many TV channels including BBC1. Belfast City airport was immediately renamed the George Best airport.
Maybe the last word should go to George. "I loved playing football, and all I wanted to do was to entertain people."
George, you certainly did that.