Ernst Happel is one of the greatest soccer managers ever. The name alone brings a smile to the face of every true soccer fan.
A name that makes us all wonder for a moment if there are still such sincere rebels in the soccer world who dared to set significant challenges to themselves, to dream of outstanding achievements. Above all, to muster the courage to embark on a campaign despite not running a club with the most enormous budget.
Ernst Franz Hermann Happel was just like that, both on and off the field. A short man with a big heart and temperamental character, who will forever remain in the heart of soccer, whom soccer has not forgotten, and who will live forever.
There are various stories about Ernst Happel. I will single out this one as an example. An example through which you will understand more closely what he was like. It was the summer of 1962, and heavy rains were constantly covering The Hague.
The Hague is the third-largest city in the Netherlands, home to the ADO Den Haag soccer club. That summer, ADO Den Haag hired a new manager, a short, sensitive Austrian for whom a managerial career will begin.
Walking across the field of his new club, he noticed dissatisfied players who were upset that they had to start training in the rain instead of moving indoors.
It was Ernst's first training, and he was well aware that he had to gain the respect of his players and establish genuine relationships from the beginning. He took a can, placed it on top of the crossbar. From the first attempt, he hit the can from the edge of the penalty area.
The first sentence he addressed to the players was also a challenge: if any players repeat this, they can go inside. All players stayed out in the rain to do the training.
Check out our list of articles on dutch soccer.
We can only wonder for a moment what it would have been like if he had missed, how much ridicule it would have caused among the players how difficult it would have been for him to create a solid working atmosphere after that. Ernst Happel didn't think about it – he believed in himself.
That faith in his work, his players, and interconnectedness radiated from the teams he led and were a significant obstacle to the teams in the twenty-five-year era of soccer in which Ernst participated.
Ernst Happel's Childhood And Soccer Career
Ernst was born in 1925 in Vienna, Austria. Already at a young age, as is the case with all greats, he found his passion. Ernst was obsessed with the soccer ball. He imagined that he was playing for his city, and spend hours kicking into an imaginary goal and then run the circle of honor as if it were Wembley instead of the backyard.
He has always been full of energy and had a rebellious attitude. An attitude that holds to words from which he never deviated.
At the age of 13, he was expelled from the gathering of the SK Rapid Wien Vienna youth team because he was the only one who refused to sing along to Hitler's youth songs and thus remained a persistent opponent of the Nazi regime. At the age of 17, he made his debut for the first team of Rapid Vienna as a defensive player.
Those were difficult years for the world, years of war, which did not miss Ernst Happel either. In 1943 he was recruited and sent to the Eastern Fort. Even if he did not see the action of the war, the Americans arrested him in 1945 and took him, prisoner.
Still, because of his unwavering and optimistic spirit, he didn't want to surrender so easily. Due to the negligence of some American soldiers, he managed to jump out of a moving car and escape into the forest near Munich, Germany.
It took him several months to get to Vienna. He claimed that his biggest motivation in those days was a soccer ball, and he imagined playing for his hometown again, as he used to do in the backyard. He managed to get to the house by smuggling himself into the Soviet occupation zone.
Inside the Ernst Happel Stadion
Devotion To Football
His famous sentence 'that a day without soccer is a lost day' runs through his whole life. As an active soccer player, he devoted a lot of time to training; he would come early to workout, and stay after. He believed in work, and that belief accompanied him throughout his life.
It was something he relied on and trusted. Rapid Vienna, where he grew up, the club he dreamed of as a kid, is where he spent 14 years as a player.
He played in the position of a defensive player, and even if he was of a more petite build, he was an extremely hearty player for whom it was important not to be afraid of anything and succumb to pressure.
He scored 25 goals for Rapid Wien Vienna, won the Austrian Championship six times, one Austrian Cup, and one Zentropa Cup. Ernst didn't spend his entire career at Rapid Wien. He had a one-year break in the period from 1955-1956, in which he played for the French RC Paris.
Ernst Happel was a member of the Austrian national team from 1947 to 1958. He played in two World Cups, the first in Switzerland where he helped his team win third place.
Coaching and Managerial Career
As his playing career drew to a close, Ernst Happel knew he would look for a way to stay in European football. It was something without which he didn't want to imagine his life. The beginning of his coaching career begins right where the first story from the beginning of the text took us, to ADO Den Hague from The Netherlands. With this team, he won the Dutch Cup in 1967-68.
He was not too strict a coach. As a manager, he was a man full of democracy. He often asked the players for their opinions, consulted with them, tried to understand their suggestions and their point of view. Probably that's what made up the chemistry he brought into every team he led.
One example shows this most clearly, when in 1983, just before the European Cup Final, he consulted with the players with Juventus whether to mark Misel Platini. Misel scored 21 goals that year and was Juventus' best player, but Hamburg's players felt they should not mark him but simply stay with their classic defensive zone. Ernst trusted them.
Hamburg celebrated that day with 1- 0 and won the European Cup  Final. Other clubs he managed were San Francisco Gales, Feyenoord (with which he won his first European Cup final), Sevilla, Club Brugge, Harelbeke, Standard, Hamburger SV , and Swarovski Tirol. He won the Championship title several times with the Belgian club.
Ernst Happel Won Two European Cups
Ernest Happel won two European Cups, in 1970 and 1983, with Feijenoord and Hamburger SV respectively. managed Club Brugge to a runner-up finish at the European Cup in 1978, and won a runners-up medal with the Dutch at the 1978 FIFA World Cup.
In 1968, he won the Dutch Cup with ADO Den Haag. In 1969, he moved to Feyenoord, where he won the European Cup and Intercontinental Cup, and the Dutch championship. He won several Belgian Championship titles with Club Brugge in the following years. At Club Brugge, he also led the team to UEFA Cup and European Cup runners-up.
After a short stint with Standard Liege and winning the Belgian Cup, Ernst Happel moved to Hamburger SV and won the German championships in 1982 and 1983, the German Cup in 1987, and European Cup in 1983.
After that, coach Happel returned to Austria to coach Swarovski Tirol. He won two Austrian Championships with the club (1989 and 1990) before becoming Austria's coach in 1992.
National Soccer Coach
While leading the Netherlands at the 1978 World Cup in Argentina, the team reached the World Cup final against Argentina. Just before the match, the Dutch coach entered the dressing room and said only one sentence, "Gentlemen, two points," turned around, and departed. He was like that, a man with few words.
What he wanted the most happened at the end of his career, in 1992, when he became the coach of Austria. Undoubtedly, the success with the Austrian national team and going to a major tournament like the World Cup would put the final crown on Ernst's career, but that was simply not destined to happen.
Ernst Happel contracted lung cancer and died at the age of 66. What he loved and what he was loyal to off the field was something that cost him at the end of his life. People close to him say that they couldn't imagine seeing Ernest without cigars and cognac.
As a result of his death, the National Stadium in Vienna, Austria's largest football stadium, was renamed the Ernst Happel Stadium.
He introduced many innovations in the tactical development of European football. Ernest was a forerunner of many changes. His tactics with three midfielders are something that made a step towards modern soccer tactics. He won almost everything, but most importantly, he won the heart of every passionate soccer fan.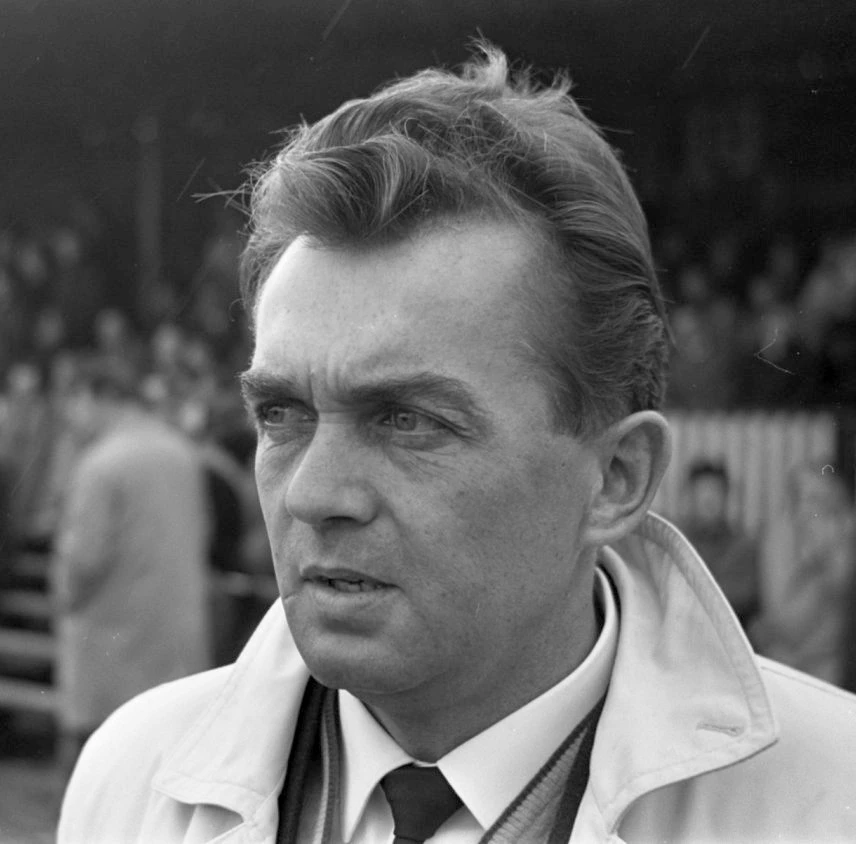 Ernst Happel Facts and Figures
Full Name: Ernst Franz Hermann Happel
Birthdate: 29/11/1925
Birthplace: Vienna, Austria
Happel Died: 14/11/1992
Club Level Playing Career:
Rapid Wien 1942–1954
RC Paris 1955–1956
Rapid Wien 1956–1959
Grand Total: 282 Appearances, 34 Goals
National Team Career:
Austria (51 international game, 5 goals)
Playing Honors:
Rapid Wien
1945–46: Austrian Cup Winners
1945–46, 1947–48, 1950–51, 1951–52, 1953–54, and 1956–57: Austrian Football Bundesliga league titles [1]
1951: Zentropa Cup Winners
Austria
1954 FIFA World Cup: Third Place
Managerial Career:
ADO Den Haag 1962–1969
San Francisco Gales 1967
Feijenoord 1969–1973
Sevilla 1973–1974
Club Brugge 1974–1978
Netherlands 1977–1978
Harelbeke 1979
Standard Liège 1979–1981
Hamburger SV 1981–1987
FC Swarovski Tirol 1987–1991
Austria 1992
Manager Honors:
ADO Den Haag
1967–68: Dutch Cup Winners
Feyenoord
1969–70: European Cup Winners
1970: Intercontinental Cup
1970–71: Eredivisie League Champions
Club Brugge
1975–76: UEFA Cup Runners-Up
1975–76: 1976–77 and 1977–78: Belgian Champions
1976–77: Belgian Cup
1977–78: European Cup Runners-Up
Standard Liège
1980–81: Belgian Cup Winners
Netherlands
1978 FIFA World Cup: Runners-Up
Hamburger SV
1981–82 and 1982–83: Bundesliga Champions
1982–83: European Cup Winners (now known as the Champions League)
FC Swarovski Tirol
1988–89: Austrian Cup Winners
1988–89 and 1989–90: Austrian Champions
References:
[1]: https://en.wikipedia.org/wiki/Ernst_Happel
Images:
https://ko.wikipedia.org/wiki/%EC%97%90%EB%A5%B8%EC%8A%A4%ED%8A%B8_%ED%95%98%ED%8E%A0 (main image)

http://www.arne-mueseler.de