Having failed to make an impression at Southport, Barrow, and Wolverhampton Wanderers, Peter Withe spent 1975 with the USA soccer team Portland Timbers in a season that would revolutionize his career.
When the centre forward got the call from America, Peter Withe was 23 years old and a reserve at Wolverhampton Wanderers. His career was not going as planned in England, and he had been planning on returning to play in South Africa, where he had had a successful two years with the Arcadia Shepherds and Port Elizabeth City.
His appearances in the English football league for Wolves, Barrow, and Southport were a minuscule 21 games before moving over the pond.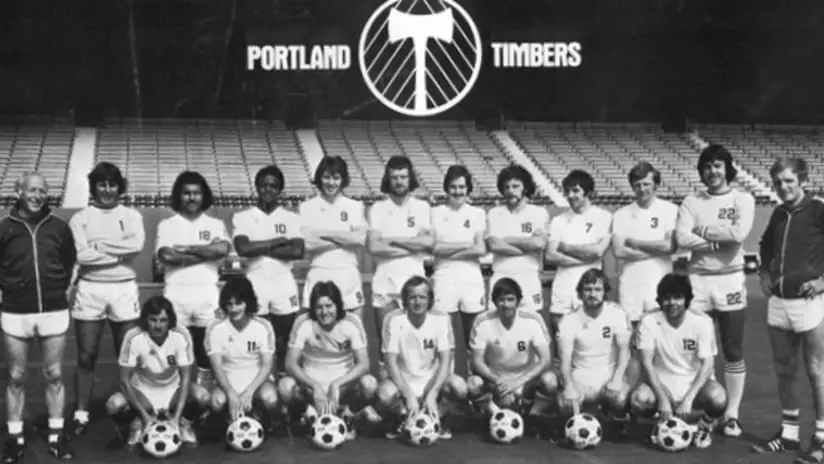 Moving To Portland Timbers
Nicknamed 'The Mad Header' by his Wolves teammates, Peter received a call from the General Manager of a new franchise in the NASL called the Portland Timbers, who started to play in the 1975 summer season. The city of Portland was a new market, not just for soccer but for pro sports in general in America. The management team behind the franchise was eager for it to catch on.
Don Paul (an ex-NFL professional) had tried to establish the Portland Storm in the gridiron World Football League (a rival league to the NFL). Still, he had quit having grown disillusioned with his job and the future of pro sports in Portland.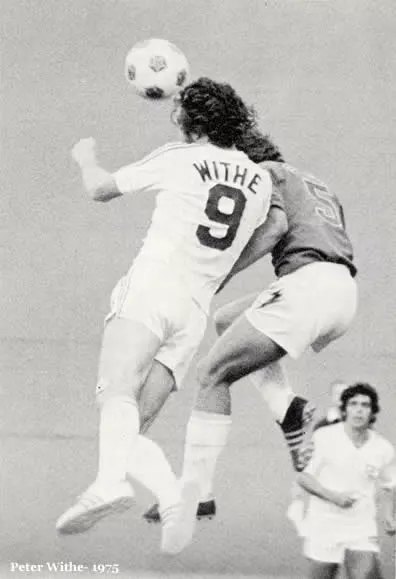 Then, while visiting his mother in Tacoma, he was invited to attend a Seattle Sounders match in the North American Soccer League (NASL), which so excited him he rushed to get investment to set up his franchise, the Portland Timbers.
Ex-Aston Villa manager Vic Crowe was named as Head Coach of the Portland Timbers. Vic quickly set about scouring England to sign up players for the inaugural season. He approached the Wolves manager Bill McGarry about signing Peter Withe on loan.
McGarry was willing to let him go, and Withe was happy just to be playing regular football, having had quite a slow start to his career. However, the 6 foot 2 inch footballer and his colleagues would get a lot more than they bargained with when they agreed to move to America's northwest coast.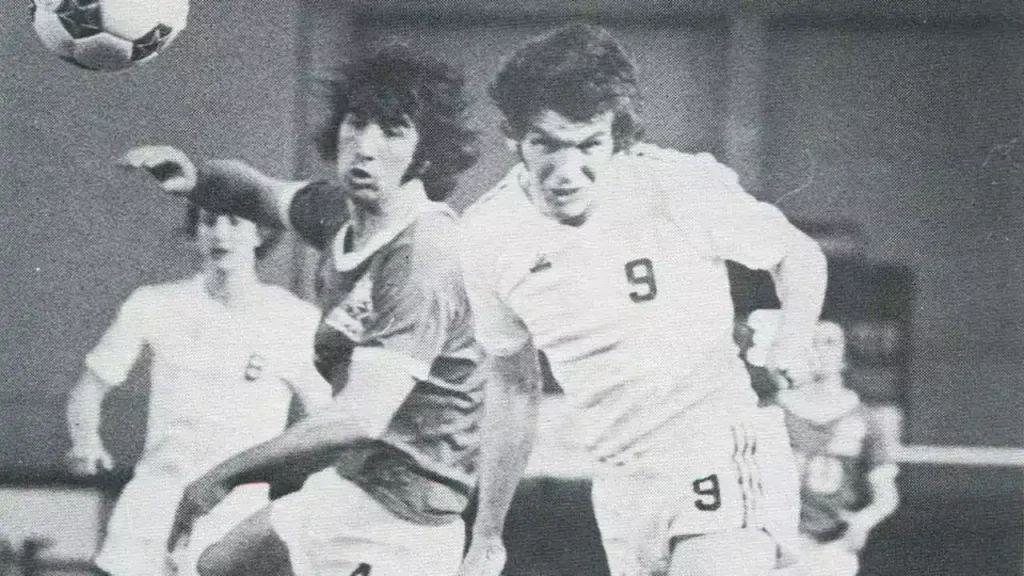 That First Training Session
It started in a fairly mundane manner. The team's first training session was attended by a number of the local sports press – many of whom had never seen soccer before and knew nothing about the game. As there were no other local sports franchises to write about, they decided to go and have a look.
Unfortunately, they seemed unimpressed.  It was just a bunch of English people running around aimlessly, and the camera crew who had turned out to record the first training session didn't have much to focus on. After training, Withe asked fellow Brit Stan Anderson to cross over a few balls for him to head in, pretty standard fare, you would think, but this electrified the press who were in attendance, as this was something they had never seen before.
By the next day, the positive press was appearing, with Withe the centerpiece – he had even acquired the nicknames "The Wizard of Nod" and the "Mad Header."
To put it mildly, the Timbers took off in the NASL, especially in Portland, where capacity crowds would watch them play. Portland was even crowned "Soccer City" due to the game's popularity in such a short time.
Withe was the undisputed team hero with his heading skills, goal scoring, and never-say-die physical style of play. It was undecided whether he would return the following year. Back in the UK, the number 9 moved from Wolves to Birmingham City during the summer. Birmingham City may not let him play summer football in the United States.
By the end of the season, the Timbers had won their division with the joint-best record of wins and losses. Peter Withe had scored 17 goals from just 22 games as the team entered the playoffs.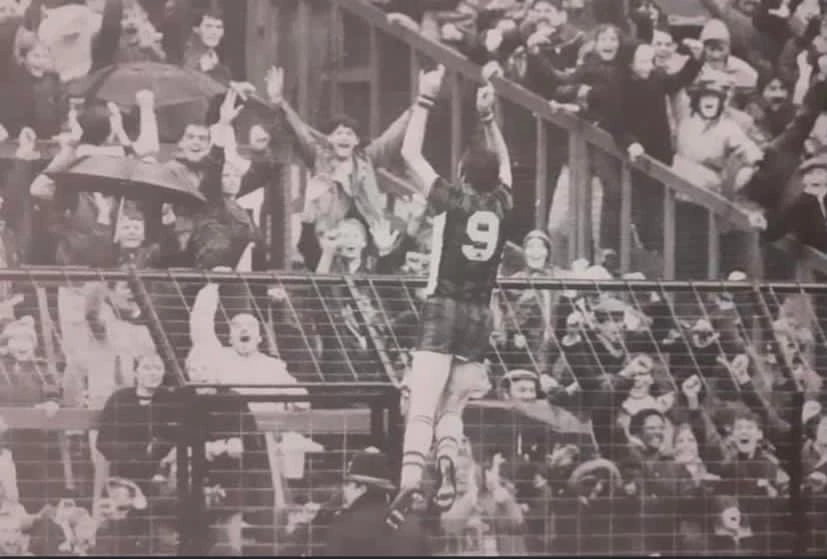 Soccer Bowl
Breezing through the playoffs, the Timbers reached the Soccer Bowl, a fantastic achievement for a new franchise. Over 33,000 fans watched their home semi-final against the St. Louis Stars, and their win signaled a victory lap, a standing ovation, and finally, a pitch invasion by Soccer-crazed fans. With, of course, they had scored the game's only goal in the 55th minute.
However, Withe's appearance in the Soccer Bowl and some of his English teammates in the final was doubtful. Due to the Timbers playoff campaign, there was an overrun between the NASL season and the new season in England.
His new manager at Birmingham City, Freddie Goodwin (who would achieve success in America himself), wanted him back as soon as possible for the English season. Peter Withe seemed hamstrung – the centre forward wanted to play in the Soccer Bowl. Still, he didn't want to jeopardize his future career in England.
Finally, NASL commissioner Phil Woosnam said that the players had to fulfill their contracts in America. Like all the other English players, Withe elected to stay and play against the Tampa Bay Rowdies.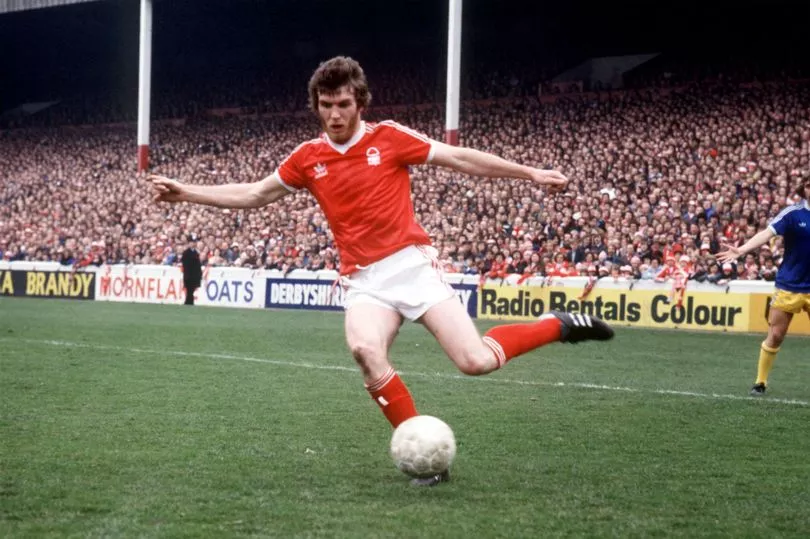 No Happy Ending
However, there was to be no happy ending for the Timbers, with them going down 2-0 in San Jose against the Rowdies. Withe was kept quiet throughout the Superbowl match by the Rowdies rosbif defender, Stewart Jump, who played quite a physical game against the usually burly frontman.
Stewart Jump was voted the Soccer Bowl's MVP, with the Rowdies coach Eddie Firmani saying that the Timbers man threat "was supposed to be good. What did he do today? Nothing, that's what".
The new Birmingham city player countered by saying that the Rowdies' MVP "wasn't all that good." The Rowdies have managed to stifle the supply line by closing down on the Timbers wingers who had set up most of Withe's goals during the season with their wing-play.
Withe return to England, along with some of his teammates, and never returned to the US soccer scene. They left, however, a successful brand that still competes and resonates today and a legacy of Soccer in Portland that was never to go away as it did in some cities. And it all started with Peter Withe's head.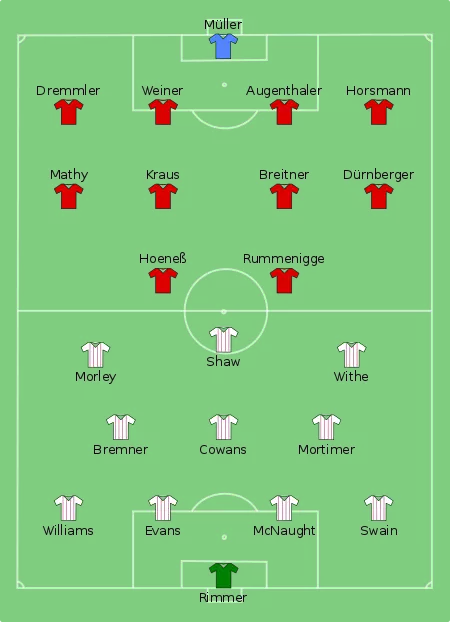 Winning The Football League Title
When Peter Withe returned to the West Midlands in 1975, he joined up with his new Birmingham City teammates. He scored nine goals in just over a season in 35 league games.
Having signed for Nottingham Forest at 25, he made his first appearance on 25 September 1976. Nottingham Forest won the Football League First Division and League Cup in 1977-78. He finished the season with 19 goals after forming a solid strike partnership with Tony Woodcock. Signed by Brian Clough, he became a fans favourite at the River Trent club. He has an executive box named after him.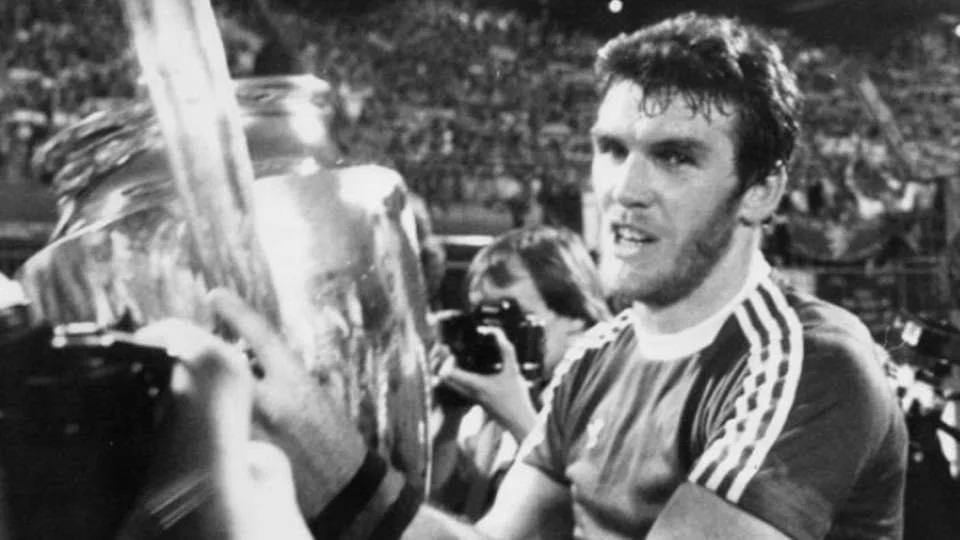 Winning The European Cup Final
For a transfer fee of £225,000, Peter Withe joined Newcastle United in Division 2 before joining Ron Saunders at Aston Villa back in Division 1 on the eve of the 1980–81 season. At the time, it was a club's record signing of £500,000.
Within his first season, Aston Villa and striker Withe won the Football League Division 1 title. He also scored the winning goal against Bayern Munich in the 1982 European Cup Final. His teammates that memorable night was Jimmy Rimmer, Kenny Swain, Ken McNaught, Allan Evans, Gary Williams, Dennis Mortimer, Gordon Cowans, Des Bremner, Gary Shaw, and Tony Morley.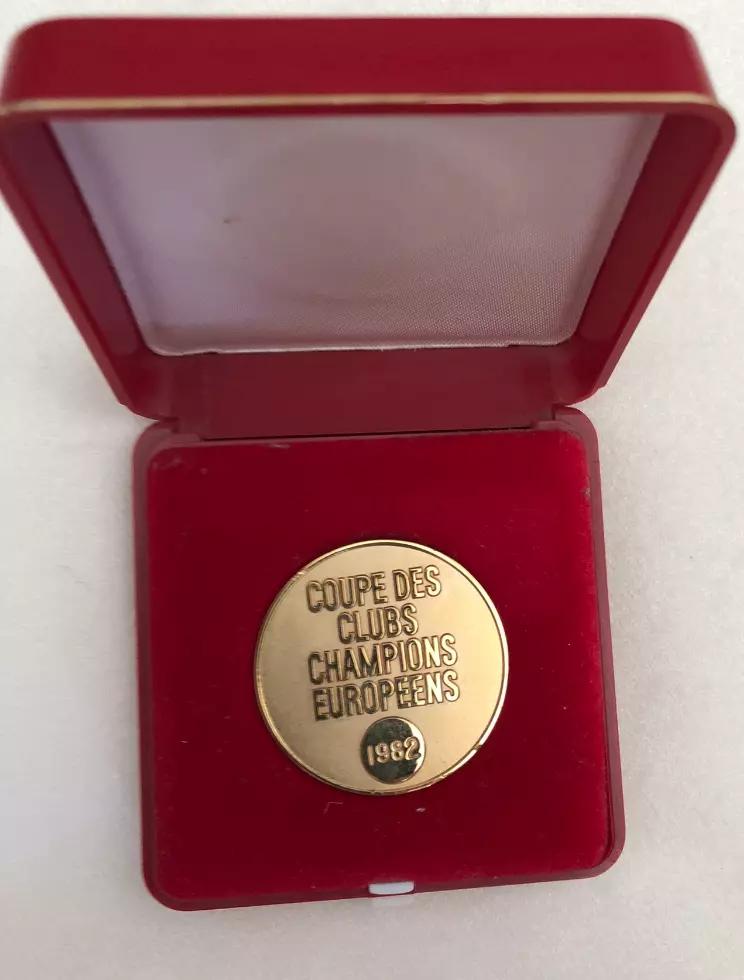 Villa was invited to participate in the European Cup, European Super Cup, and Intercontinental Cup as defending European champions. The team lost to Juventus in the quarterfinals of the European Cup. Despite winning the Super Cup 3–1 on aggregate against FC Barcelona., they lost the Intercontinental Cup 2–0 to Uruguayan club Penarol. The number 9 had the chance against the best team clubs worldwide.
The England international scored 74 goals at Aston Villa in 182 competitive matches. Aston Villa fans will always remember Peter as the striker who scored the winning goal in their only European Cup victory.
During his three seasons with Sheffield United from 1985 to 1988, Withe scored 18 goals in 74 league games. He finished his senior playing days at Huddersfield Town. He's scored 177 goals in 539 total appearances were main scored from his head.
Capped by England 11 times, the centre forward made his England national team debut in Brazil's 1–0 home friendly defeat in May 1981. Not bad for a player who had to move to the USA to get his soccer career rolling.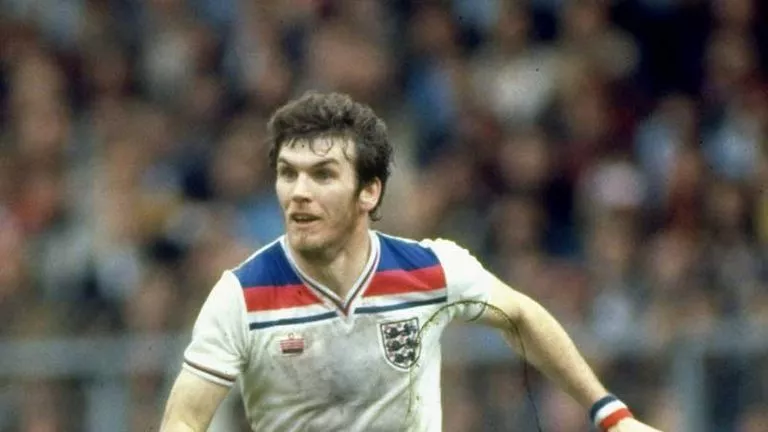 Peter Withe Life After Playing
A managerial career was Peter Withe's career path after retiring from playing football. Withe had a brief spell as manager of Wimbledon FC before being a reserve team coach at Aston Villa.
The ex-England international decided to move over to Asia and coach in Thailand and Indonesia. Among his accolades were winning the Gold Medal with the Thailand National Team at the 1999 SEA Games, winning the Tiger Cup twice in 2000 and 2002, and winning the King's Cup in 2000 for the Thai football association.
In 2017, he released an autobiography called 'Peter Withe: All for the Love of the Game' The center forward played for 14 teams and 25 managers throughout his career, ensuring he has some interesting stories to share.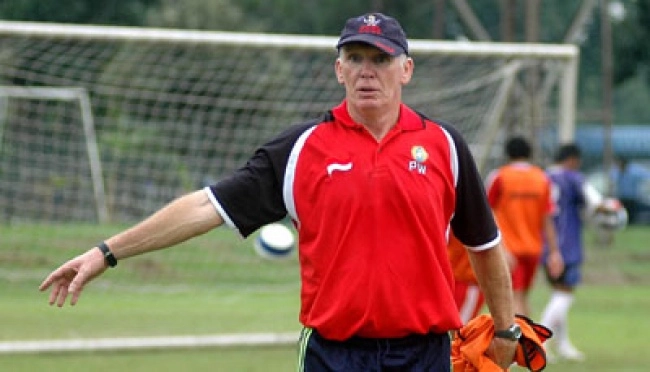 Peter Withe Facts And Figures
Full Name: Peter Withe
Birthdate: 30/08/1951
Birthplace: Liverpool
Playing Club Career:
Southport 1970–1971
Barrow 1971–1972
Port Elizabeth City 1972–1973
Arcadia Shepherds 1973
Wolverhampton Wanderers 1973–1975
Portland Timbers 1975
Birmingham City 1975–1976
Nottingham Forest 1976–1978
Newcastle United 1978–1980
Aston Villa 1980–1985
Sheffield United 1985–1989
Huddersfield Town 1989–1990
Total Appearances: 539 matches, 177 goals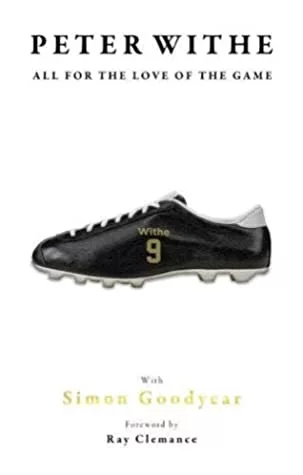 National Team Playing Career:
England 1981-1984 (11 appearances, 1 goal) – Debut:

12th 

May 1981
Playing Club Honors:
Nottingham Forest
1977–78: First Division Champions
1977–78: Football League Cup Winners
Aston Villa
1980–81: First Division Football League Title
1981–82: European Cup Final Winners
1982: European Super Cup Winners
Managerial Career:
Wimbledon 1991–1992
Thailand National Team 1998–2003
Indonesia National Team 2004–2007
PTT Rayong 2013–2014
Nakhon Pathom United 2014–2016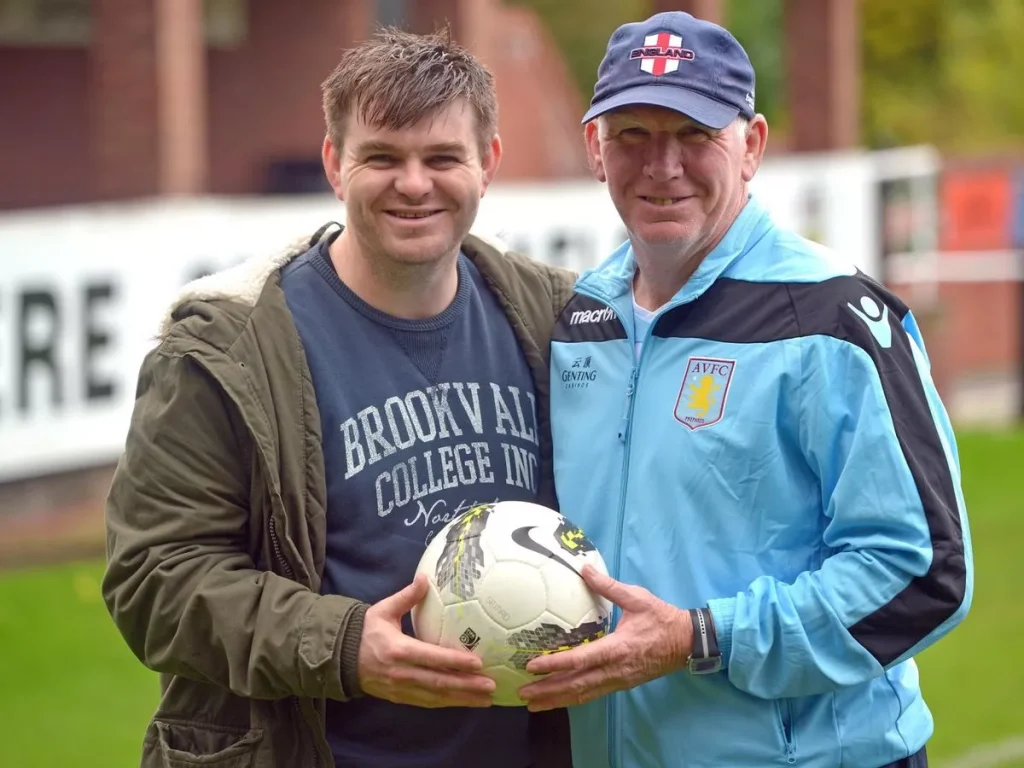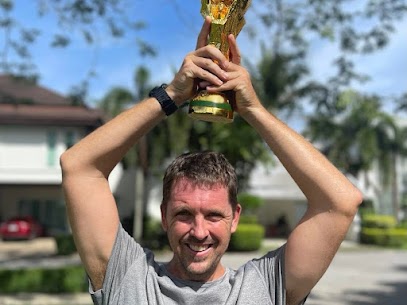 Rhett is an Australian-born, globe trotter who is a UEFA 'A' Licence Soccer Coach. With his family, he has traveled and coached soccer in more than 30 countries, while attending World Cups, European Championships, and some of the biggest local derbies in the world!