There have been a number of professional soccer leagues for men established in the United States and Canada, but Major League Soccer is the most recent. MLS evolved from the North American Soccer League (NASL), which existed from 1968 to 1984.
A successful United States bid for the 1994 FIFA World Cup led to the formation of Major League Soccer in 1993. In 1996, ten teams participated in the inaugural season. MLS's first few years saw financial and operational struggles, with two teams folding in 2002.
Soccer-specific stadiums have been built all over the league, the Designated Player Rule has allowed teams to sign star players like David Beckham, and national TV contracts have made the league profitable since then.
We review the first ten seasons of the Major League Soccer and cover all the main stories. After the 1994 FIFA World Cup, Major League Soccer was founded in 1996 as the top-tier professional soccer league in the United States.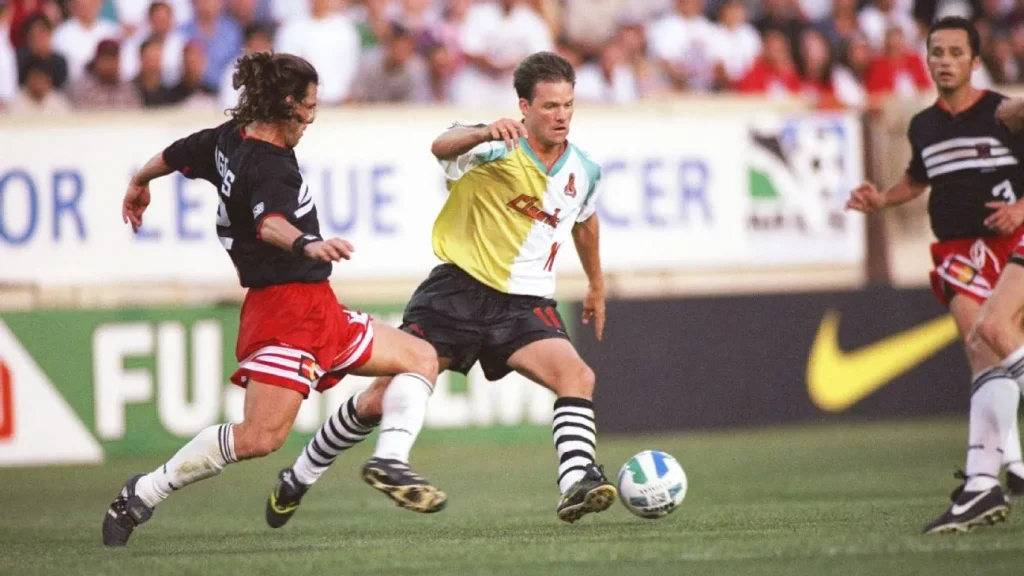 Major League Soccer Chronology
December 17, 1993: US Soccer Chairman and CEO Alan Rothenberg unveils the logo for Major League Soccer (MLS) to fulfill his promise to FIFA.
March 15, 1994: ABC Sports, ESPN, and Major League Soccer announced a three-year broadcast deal, with ten games on ESPN in the first year, 25 on ESPN2, and the championship game on ABC in the second.
May 18, 1994: The Major League Soccer announces 22 bids have been submitted.
June 15, 1994: MLS selects its first seven teams to compete in the league. New York (Long Island), New Jersey, San Jose, Washington, DC, and Boston are the teams announced.
October 12, 1994: Major League Soccer announces its intention to begin to play in 1996 rather than 1995.
November 16, 1994: According to MLS Chairman Alan Rothenberg, MLS' charter investors and team operators include Metromedia partners John Kluge and Stuart Subotnick, the Hunt family, led by American sports entrepreneur Lamar Hunt and his son, Clark; LA Soccer Partners, directed by Los Angeles investor Marc Rapaport; and API Soccer, led by Kevin Payne. Tampa will be the home of the New York/New Jersey team.
January 3, 1995: Major League Soccer announces the signing of Tab Ramos, a star of the US national team.
June 6, 1995: The first international player to sign with Major League Soccer is goalkeeper Jorge Campos (Mexico). Tab Ramos is also assigned to the MetroStars. The Major League Soccer announces Budweiser as its first official sponsor. A new major investor has been added to Major League Soccer's financing, Denver businessman Philip Anschutz, and New England Patriots owners the Kraft family. For the 1996 season, MLS will have ten teams after adding Dallas, Denver, and Kansas City to its existing lineup.
October 11, 1995: Ron Newman is named head coach of the Kansas City Wiz, the first coach hired by a Major League Soccer team. Over the next three months, MLS will name the remaining head coaches.
October 17, 1995: All ten teams unveil their uniforms, logos, and colors at MLS Unveiled at the Palladium in New York City.
November 21, 1995: Douglas Logan was appointed as the first commissioner of Major League Soccer. MLS will also be broadcasted in Spanish by Univision.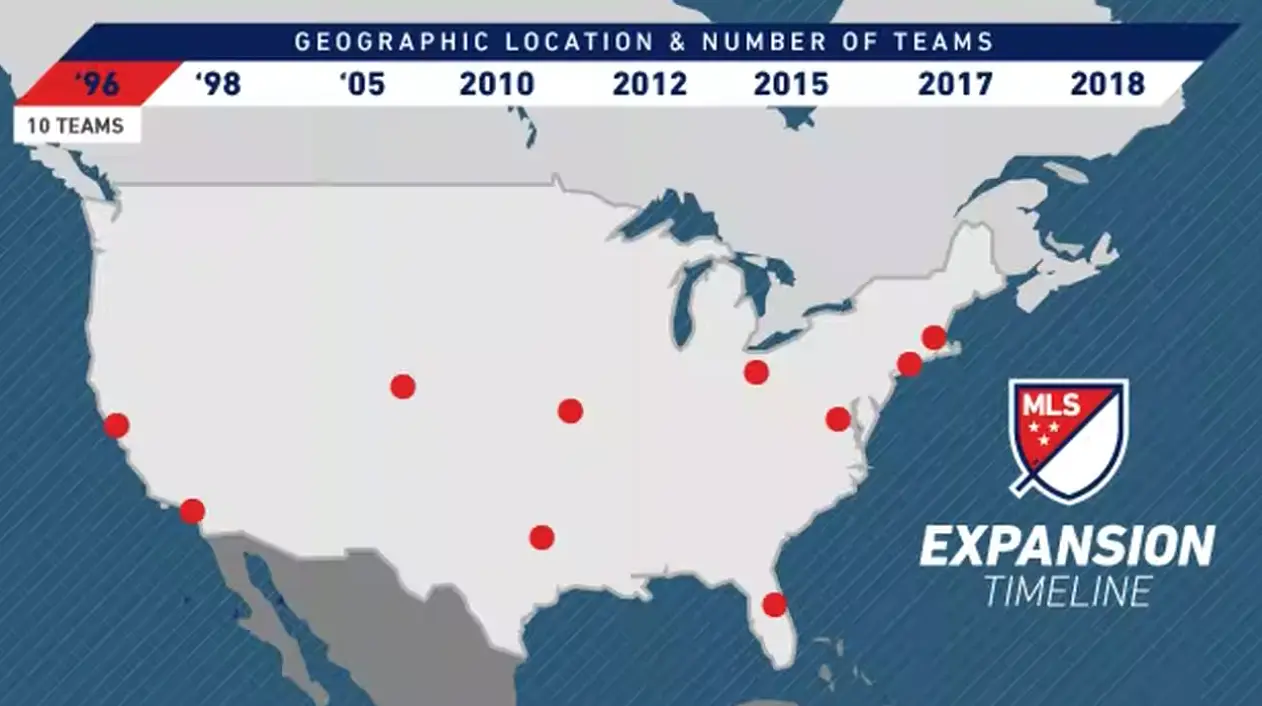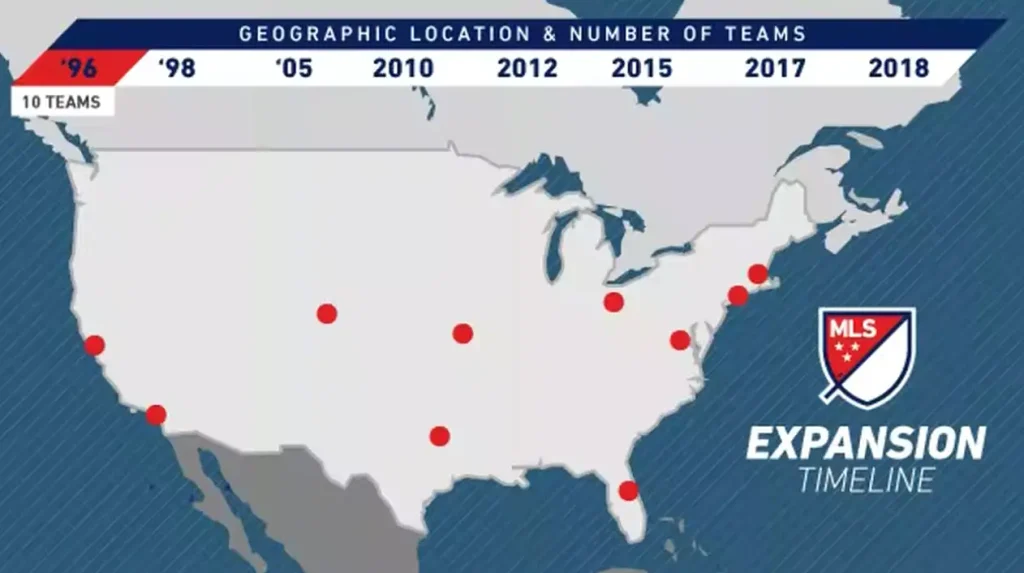 First Season Of Major League Soccer
January 5, 1996: Over 250 players were evaluated by MLS coaches in Irvine, California, during the league's first-ever Player Combine.
February 6, 1996: The first MLS player draft takes place at the Hotel InterContinental in New York City. Brian McBride is the first player drafted by the Columbus Crew.
February 13, 1996: MLS Management Committee announces that games that end in a tie after regulation will go directly to a shootout and that three points will be awarded for a win in regulation, one point for a win in the shootout, and zero points for a loss.
April 6, 1996: Spartan Stadium in San Jose is overflowing with 31,683 fans for MLS's inaugural season. In the inaugural game, Eric Wynalda scores a dramatic 88th-minute goal to give San Jose Clash a 1-0 victory. A national television audience watches the game live on ESPN.
May 15, 1996: In DC United's 5-2 win over Columbus at RFK Stadium, Steve Rammel becomes the first player in MLS to record a hat trick. The same game marks the first time in MLS history that a player has recorded three assists in a game.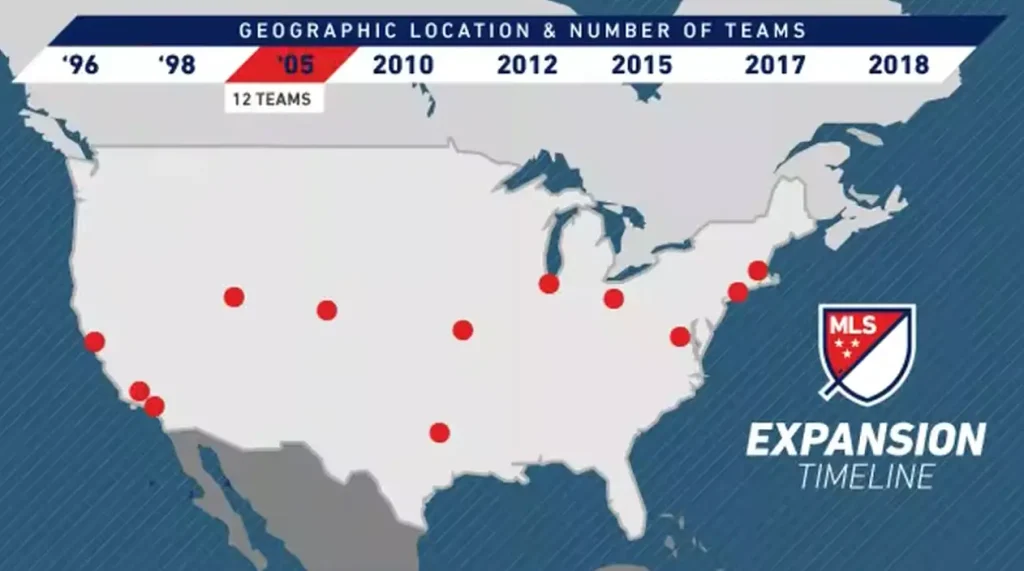 May 22, 1996: In the first international exhibition for an MLS team, Fiorentina of Italy's Serie A defeats the New England Revolution 2-0 at Foxboro Stadium.
June 1, 1996: Falke Verwer, 7, becomes MLS's 1,000,000th fan at Spartan Stadium in San Jose. It is more than a month ahead of preseason projections that MLS will pass one million fans in its 47th game.
June 16, 1996: 92,216 fans watch the US national team play Mexico for the US Cup '96 championship, followed by a game between the conference leaders Los Angeles Galaxy vs. Tampa Bay Mutiny at Pasadena's Rose Bowl. In the history of the US professional soccer league, this was the largest crowd to watch a match.
July 14, 1996: A FIFA All-Stars vs. Brazil match coincides with MLS's first-ever All-Star Game. At Giants Stadium, 78,416 fans watch the games.
September 24, 1996: A shootout ends with the MetroStars winning 3-2 over DC United in the first MLS playoff game.
October 20, 1996: A sudden-death overtime match at Foxboro Stadium in Foxborough, Massachusetts, saw DC United win the first-ever Major League Soccer Cup.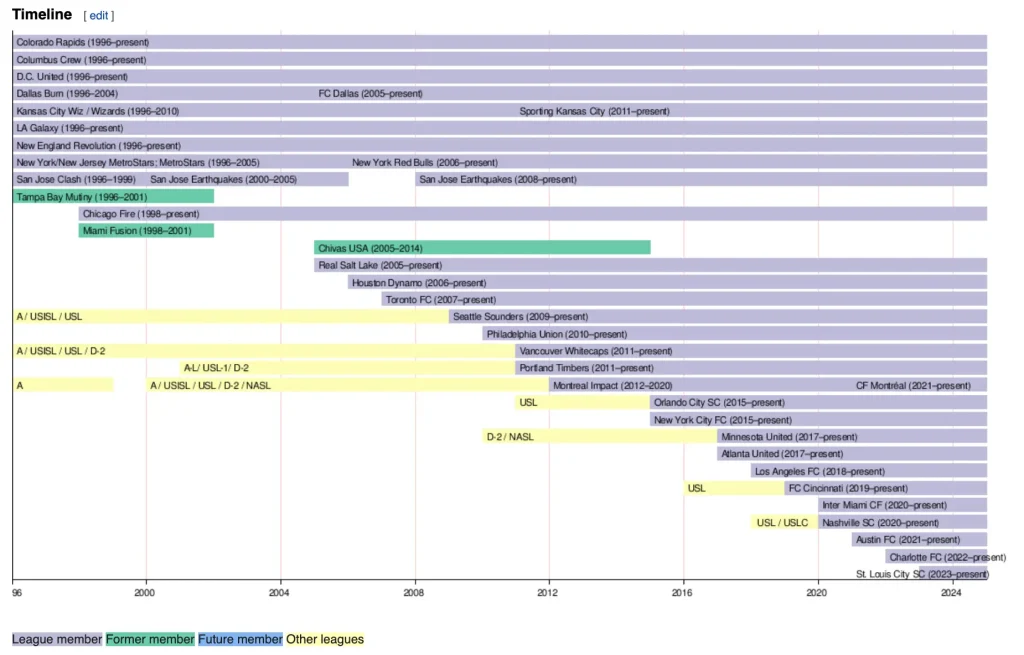 1997 Season
February 14, 1997: Major League Soccer is named Sports Industrialist of the Year 1996 by Sports Business Daily.
March 22, 1997: At Spartan Stadium, the San Jose Clash open MLS's second season against the MetroStars.
April 9, 1997: There will be 12 teams in MLS in 1998, thanks to the expansion of Chicago and South Florida.
June 21, 1997: MLS record unbeaten streak of 22 games in regulation ends with a 6-1 loss to Kansas City Wizards.
July 9, 1997: A second consecutive Most Valuable Player award is won by Tampa Bay Mutiny midfielder Carlos Valderrama at the 1997 MLS All-Star Game.
October 26, 1997: 57,431 rain-soaked fans watch DC United beat the Colorado Rapids 2-1 at RFK Stadium in MLS Cup 1997.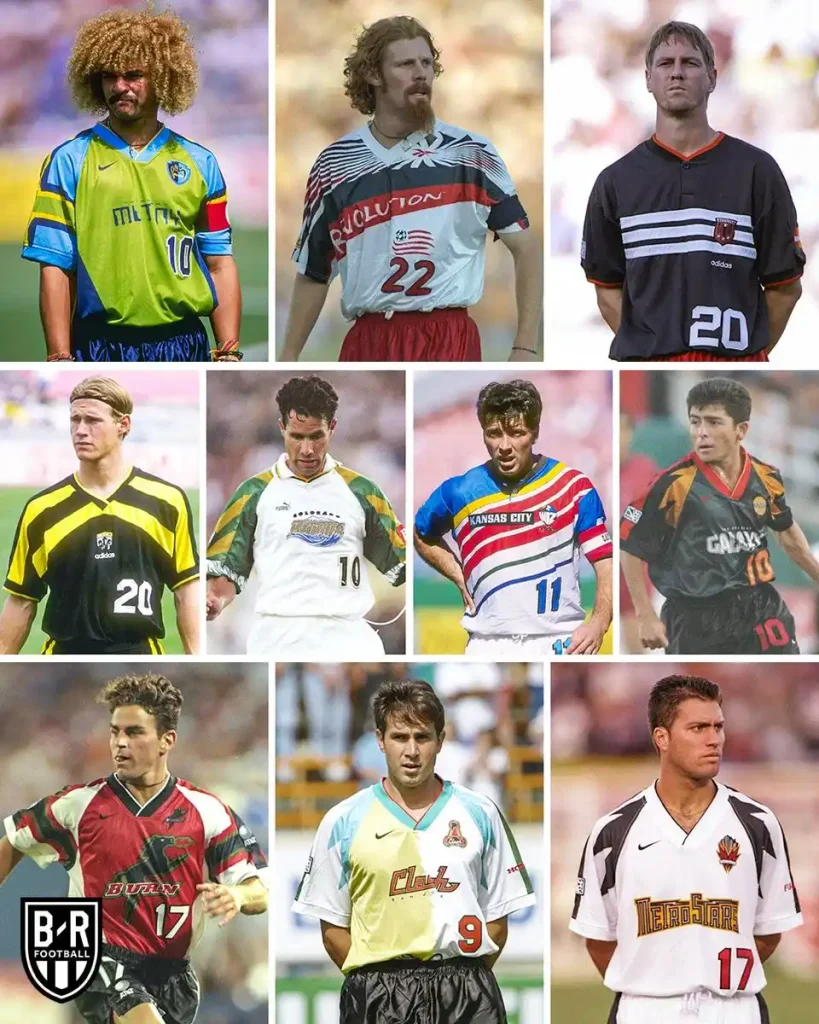 1998 Season
March 15, 1998: DC United defeats Miami Fusion 2-0 in the opening match of Major League Soccer's third season.
April 23, 1998: The Nike Pro-40 Select team debuts against the El Paso Patriots, losing 3-2 following a shootout.
May 6, 1998: MLS's highest-scoring game (11 combined goals) was won by the Los Angeles Galaxy 7-4 thanks to a hat trick from Cobi Jones and two goals and two assists from Welton.
August 2, 1998: At the Florida Citrus Bowl in Orlando, MLS USA All-Stars beat MLS World All-Stars 6-1.
August 14, 1998: The Columbus Crew breaks ground on Columbus Crew Stadium, a soccer-specific stadium with 22,555 seats. Columbus is also awarded the 2000 MLS All-Star Game and MLS Cup 2001 by Major League Soccer.
August 17, 1998: RFK Stadium hosts the CONCACAF Champions' Cup final as DC United beat Mexican first-division club Toluca 1-0.
August 29, 1998: The first female referees in the history of Major League Soccer are Nancy Lay and Sandra Hunt.
October 6, 1998: It was announced that the Tampa Bay Mutiny would play at Raymond James Stadium in 1999.
October 25, 1998: DC United's reign over Major League Soccer ends with the Chicago Fire winning MLS Cup '98 2-0 before 51,350 fans at the Rose Bowl. The Fire won the American "double" five days later, defeating Columbus 2-1 in the US Open Cup Final.
December 5, 1998: In a 2-0 victory over Brazilian power Vasco da Gama at Lockhart Stadium, DC United becomes the first US club to win the InterAmerican Cup. As the North and South American club titlists met in a matchup, the two-time MLS Cup champions emerged as the "Champion of the Americas.". On November 14 at RFK Stadium in Washington, DC, United won the Cup 2-1 on aggregate, while Vasco won 1-0.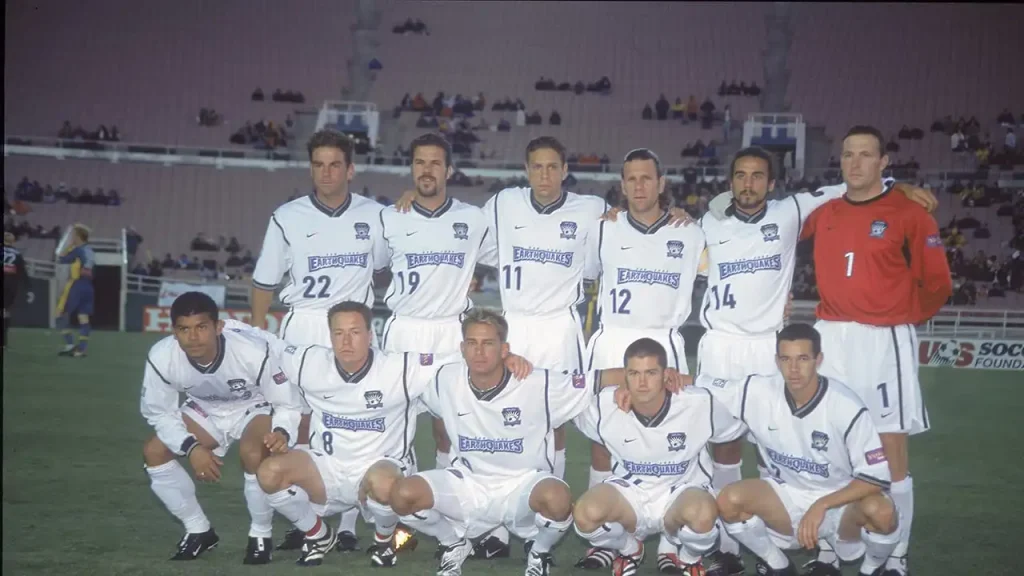 1999 Season
March 20, 1999: A slate of five games kicks off Major League Soccer's fourth season.
May 15, 1999: First Major League Soccer game played at Columbus Crew Stadium is won 2-0 by Columbus Crew over New England Revolution in front of an overflow crowd of 24,471. US Division I pro soccer has never had a stadium built specifically for the sport.
July 17, 1999: In the 1999 MLS All-Star game in San Diego, Calif., Kansas City midfielder Preki scores two goals and an assist to earn MasterCard MVP honors.
August 4, 1999: At its headquarters in New York City, Major League Soccer name Don Garber as its new Commissioner to oversee all business operations. The former NFL International Senior Vice President comes to MLS after 16 years there.
August 17, 1999: German legend Lothar Matthäus signs with Major League Soccer. MetroStars will have the 1999 German Player of the Year in 2000.
October 3, 1999: Jason Kreis scores five points in Dallas' 4-3 victory over Los Angeles. As a result, Kreis becomes the first player in Major League Soccer history to record 15 goals and 15 assists in a single season.
November 17, 1999: Several changes will be made in Major League Soccer for the 2000 season and beyond, according to Commissioner Don Garber. With "Soccer Saturdays" on ABC, ESPN, and ESPN2, and the weekly highlight show on ESPN2 on Monday nights, the most comprehensive television package in MLS history has been unveiled. A controversial shootout was also dropped in favor of sudden-death overtime lasting two to five minutes before ties are decided. In the traditional 0:00 to 90:00 format, the referee will keep the official time on the field and display it on the scoreboard. As part of the realignment, MLS will be divided into three divisions (Eastern, Central, and Western).
November 21, 1999: At Foxboro Stadium in front of 44,910 fans, DC United extends its MLS Cup dynasty by defeating Los Angeles 2-0.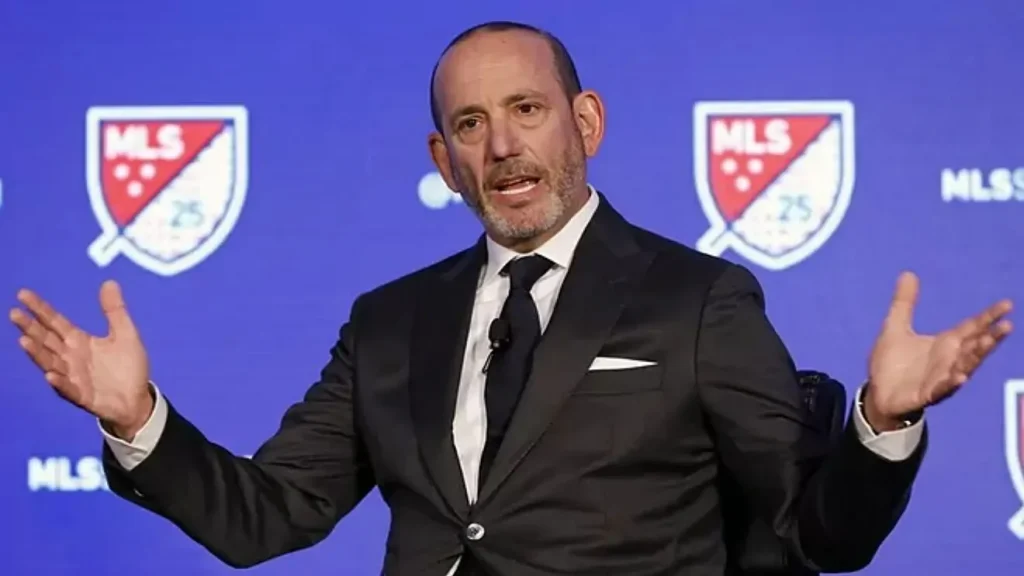 Major Soccer League In 2000
February 18, 2000: As MLS Spring Training 2000 came to a close, DC United defeated the MetroStars 3-2. Lockhart Stadium in Fort Lauderdale hosts three exhibition games for each of the 12 teams.
March 18, 2000: The fifth season of Major League Soccer begins with eight of the 12 teams participating. For the first time in Major League Soccer history, the Miami Fusion and New England Revolution draw 1-1 at Lockhart Stadium.
April 19, 2000: Major League Soccer's "single entity" defense is upheld by Boston Federal Court Judge George O'Toole. MLS's requirement that all players be signed by the League, not individual teams, is not unlawful, according to the Court.
May 16, 2000: Los Angeles Galaxy sign Luis Hernández, the all-time leading scorer of the Mexican national team.
July 29, 2000: In front of a crowd that overflowed Columbus Crew Stadium, the East defeated the West 9-4. In addition to the 13 goals, many offensive All-Star records were broken.
October 15, 2000: In 2000, Kansas City Wizards defeated Chicago Fire 1-0 at RFK Stadium to win the MLS Cup.
December 11, 2000: Soccer players' lawyers had claimed that the MLS was an illegal monopoly after a 12-week trial in Boston.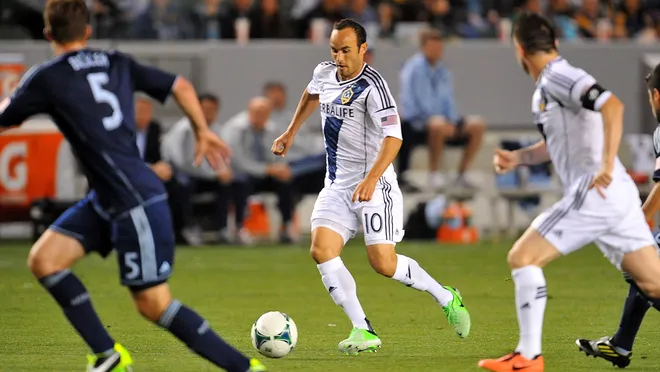 2001
January 10, 2001: In an agreement with the San Jose Earthquakes, Silicon Valley Sports & Entertainment (SVS&E) becomes the team's owner and operator.
January 21, 2001: CD Olimpia of Honduras is defeated by Los Angeles Galaxy 3-2 to win the CONCACAF Champions Cup and advance to the FIFA Club World Championship. A postponement of the tournament was announced by FIFA on May 18.
February 15, 2001: DC United will be operated by Anschutz Entertainment Group, Inc (AEG).
March 6, 2001: In the USL's Super Y-League, DC United will field the first MLS team for under-14 boys. Similar youth development programs were later announced by the New England Revolution (April 17), Chicago Fire (March 15), and MetroStars (March 21).
March 29, 2001: Landon Donovan, 19, will join the San Jose Earthquakes on a four-year loan deal from Bayer Leverkusen of the German Bundesliga.
April 7, 2001: The sixth regular season of Major League Soccer begins. Opening day will feature 12 teams for the first time in league history.
July 28, 2001: San Jose will play host to the sixth annual MLS All-Star Game at Spartan Stadium. Landon Donovan scores the first All-Star hat trick in league history and his fourth goal in stoppage time to tie the game at 6-6.
September 11, 2001: MLS Commissioner Don Garber postpones four regular season matches scheduled for Wednesday, September 12, following the terrorist attacks in New York City, Washington, DC, and Pennsylvania. All ten regular season matches are canceled two days later by Garber. According to the league standings on September 11, the postseason seeding for the MLS Cup Playoffs will be determined based on points per game.
October 21, 2001: In a 2-1 victory at Columbus Crew Stadium, San Jose Earthquakes substitute Dwayne DeRosario scores a sudden-death overtime goal to win their first Major League Soccer title.
November 21, 2001: John Kluge and Stuart Subotnick of Metromedia have sold their operating rights to Anschutz Entertainment Group (AEG). Five MLS teams will now be owned and operated by AEG.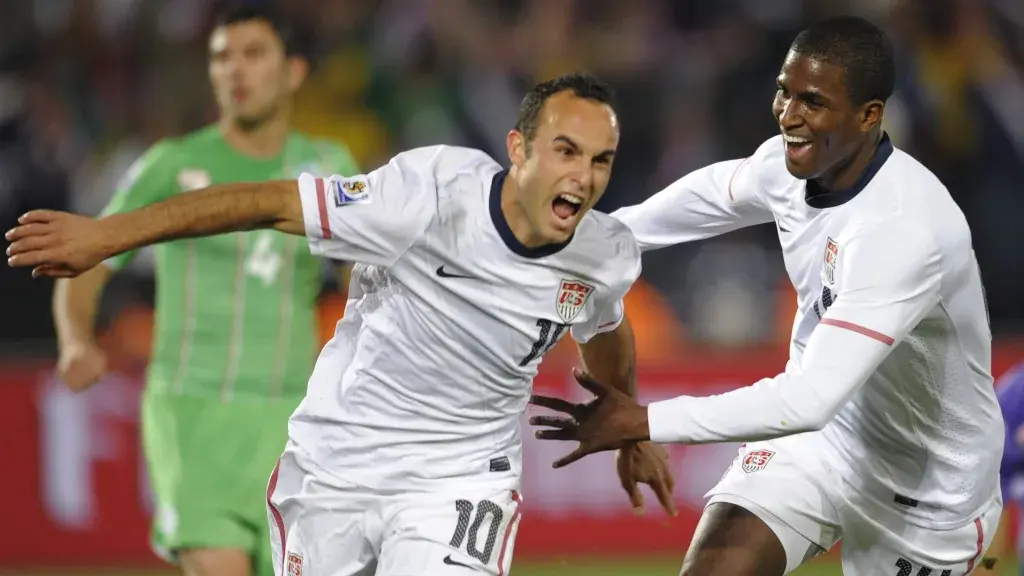 2002
January 2, 2002: A five-year broadcast arrangement for Major League Soccer and two FIFA World Cup tournaments (2002 and 2006) was announced by Major League Soccer Commissioner Don Garber. As part of the agreement, the 2003 Women's World Cup television rights are also included.
January 8, 2002: It has been announced that the Tampa Bay Mutiny and the Miami Fusion will cease operations immediately, according to MLS Commissioner Don Garber. A comprehensive strategic review of the League's operations led to the MLS Board of Governors' unanimous decision to close both teams. DC United's investor-operator option was also exercised by Anschutz Entertainment Group.
January 11, 2002: MLS holds Allocation and Dispersal Drafts in midtown Manhattan to distribute players who previously played for the Tampa Bay Mutiny and Miami Fusion. Allocation Draft top picks Pablo Mastroeni. The Mutiny and Fusion have previously held three picks in the 2002 MLS SuperDraft, so 20 players will be chosen on the day.
February 26, 2002: Los Angeles Galaxy and Anschutz Entertainment Group break ground on the team's new 27,000-seat stadium on the campus of Cal State University Dominguez Hills. A national training center for the US Soccer Federation will be part of an 85-acre sports complex.
March 5, 2002: Soccer United Marketing (SUM) was formed by MLS Commissioner Don Garber. The company will manage sales, service, broadcasts, and international matches on US soil and operate MLS properties and World Cup properties.
March 20, 2002: Major League Soccer and the US Soccer Federation are acquitted in the MLS player lawsuit by the First Circuit Court of Appeals, effectively ending the case.
March 23, 2002: First time since 1997, Major League Soccer will have a 10-team schedule in its seventh regular season.
April 22, 2002: Head coach Bruce Arena selects the final 23 players for the USA's World Cup team in Korea/Japan in 2002. Twelve players from Major League Soccer are included in his selection.
May 15, 2002: First MLS athlete to grace the cover of Sports Illustrated magazine is MetroStars and US national team forward Clint Mathis. The magazine has not featured a male soccer player on its cover since Earnie Stewart (1994). In addition, the trio appears on the cover of ESPN The Magazine (June 10), the first time soccer has been featured on the cover of that publication.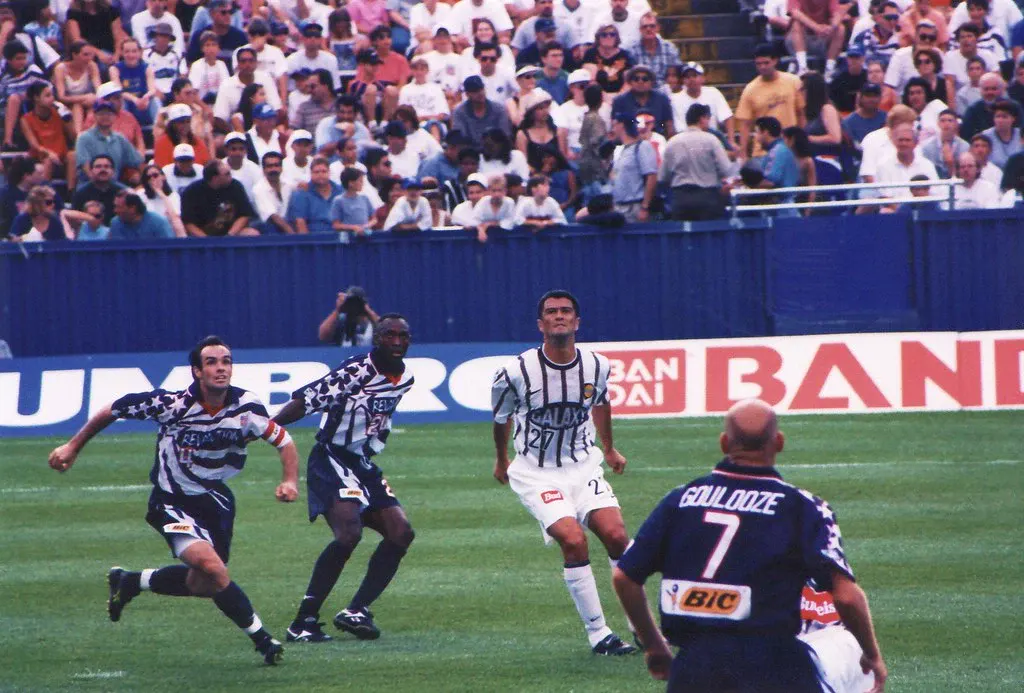 May 24, 2002: With six players exchanging hands in the largest MLS trade ever, the MetroStars have completed a deal with the New England Revolution in which Diego Serna, Brian Kamler, and Daniel Hernandez are traded for Revolution forward Mamadou Diallo, midfielder Andy Williams, and defender Ted Chronopoulos.
June 5, 2002: The United States surprised the world by beating Portugal 3-2 in their FIFA World Cup opener in Suwon, Korea. Brian McBride became the first US player to score in more than one World Cup tournament when he scored the eventual game-winning goal.
June 17, 2002: For the first time in the knockout stage, the US defeats CONCACAF rival Mexico 2-0. In addition to McBride's second goal of the tournament, Donovan added an insurance goal to help the USA beat Mexico in the World Cup knockout rounds.
June 21, 2002: In the quarterfinals, Germany defeated the USA national men's team 1-0.
June 22, 2002: After the US national team reached the quarterfinals of the World Cup, ESPN experienced record ratings. With a 4.36 rating, ESPN's morning telecast of the USA versus Germany quarterfinal match on June 21 was the network's most-watched and highest-rated soccer broadcast ever.
June 25, 2002: In the wake of an impressive performance with the USA National Team at the 2002 World Cup in Korea/Japan, Major League Soccer's best players return home to widespread national media attention. In just one day, players appear on Good Morning America, The Today Show, and The Wall Street Journal! MTV's Total Request Live and Regis and Kelly. The Daily Show and Late Night with David Letterman also feature Clint Mathis and Landon Donovan. From the rooftop of the Ed Sullivan Theater in midtown Manhattan, Letterman prompts the mohawked Mathis to launch a ball across Broadway.
July 9, 2002: In conjunction with California State University, Dominguez Hills (CSUDH), The Anschutz Entertainment Group, and The Home Depot have announced a 10-year partnership to build a multi-sport National Training Center (NTC). Aside from becoming the facility's title sponsor, the world's largest home improvement retailer pledges to support the construction of an 85-acre, $130 million sports campus, including a 27,000-seat soccer stadium.
August 3, 2002: MLS All-Stars defeat the US national team 3-2 despite a drenching thunderstorm that halted play for nearly an hour.
August 14, 2002: Radio Unica will provide Major League Soccer with unprecedented Spanish-language coverage as part of a partnership with Major League Soccer.
September 21, 2002: In his final game with the MetroStars, legendary midfielder Tab Ramos plays his last MLS match. At Gillette Stadium, Ramos celebrates his 36th birthday by leaving the field in tears after the New England Revolution blanked him 3-0.
October 20, 2002: In front of an MLS Cup Playoffs record attendance of 61,316, Los Angeles Galaxy's Carlos Ruiz nets a golden goal in sudden death overtime to capture their first MLS Cup.
November 2002: The season ends with the retirement of international stars Carlos Valderrama and Peter Nowak. He finishes his career as the MLS career assist leader, having been recognized as the Player of the Century in his native Colombia.
December 18, 2002: An agreement has been reached between MLS and Bayer Leverkusen that will allow forward Landon Donovan to stay with San Jose Earthquakes until the end of the 2004 MLS season, ending speculation about a return to the German Bundesliga for the United States soccer icon.
December 20, 2002: After partnering with Silicon Valley Sports & Entertainment (SVS&E) during the 2002 season, Anschutz Entertainment Group (AEG) has exercised its option to become the team's sole investor-operator. The Earthquakes were operated by SVS&E starting in January 2001.
2003 Major League Soccer Season
January 17, 2003: In the MLS SuperDraft, held at the National Soccer Coaches Association of America's annual convention in Kansas City for the first time, DC United takes home the No. 1 pick overall – Alecko Eskandarian.
January 15 and 28, 2003: Former US national team players Earnie Stewart and Joe-Max Moore have returned stateside to play in MLS. Moore returns to the New England Revolution after making his MLS debut with DC United. Stewart will make his MLS debut with DC United.
February 19, 2003: It is the first time that an American male soccer player appears in the swimsuit issue of Sports Illustrated (with girlfriend Shannon Foster) as well as Brian McBride (with wife Dina).
April 1, 2003: As part of its four-year agreement with Major League Soccer, Fox Sports International will nationally broadcast at least 25 regular-season games and at least eight playoff games per season on Fox Sports World and Fox Sports en Espaol. Broadcasts will also be extended to Fox affiliates in Latin America and the Middle East under the agreement.
April 2, 2003: As part of a historic partnership between MLS and the Dallas-based Hunt Sports Group (HSG), the Frisco Independent School District, the City of Frisco, Collin County, and HSG will build a soccer-specific stadium and soccer complex in Frisco, north of Dallas, for $65 million.
April 4 and 5, 2003: In MLS, two of the 'founders' announced their retirement. A stellar professional career comes to an end for both Marcelo Balboa and John Harkes, two former stars of the USA National Team.
April 4, 2003: HDNet and Major League Soccer announce a three-year deal to broadcast MLS games live on HDTV. A total of 28 consecutive Saturday games will be aired on "MLS on HDNet" in high definition for the first time in MLS history.
April 5, 2003: As the eighth Opening Day in the history of Major League Soccer approaches, the Los Angeles Galaxy is tied 1-1 with the Columbus Crew thanks to a Carlos Ruiz goal.
April 17, 2003: MLS Players' Union (MLSPU) serves as the exclusive bargaining representative for MLS players. A request for recognition is sent by the MLSPU following this designation. The MLSPU is recognized by the MLS in accordance with the National Labor Relations Act.
May 7, 2003: In Chicago, Columbus, New York, Dallas, Denver, Kansas City, San Jose, and Washington, DC, MLS, its member teams, official suppliers, and fans are launching an "Iraqi Aid" soccer ball and equipment donation program. AEG Soccer and MLS are coordinating efforts to purchase 10,000 soccer balls for Iraqi children and other equipment like shoes, shirts, and shorts.
May 8, 2003: As 69,582 fans at Houston's Reliant Stadium watched, the US men's national team, composed of MLS players, and Mexico played to a 0-0 draw. Since their historic 2002 World Cup match, this was the first match between the two nations.
May 26, 2003: In support of US Soccer's campaign to bring the 2003 Women's World Cup to the United States, MLS Commissioner Don Garber travels to FIFA headquarters in Zurich, Switzerland. The United States is the next host of the World Cup after the SARS outbreak forced FIFA to move it out of China.
June 7, 2003: In the home opener at the state-of-the-art Home Depot Center, the Los Angeles Galaxy defeated the Colorado Rapids by a 2-0. The ceremonial first kick is also attended by soccer legend Pele to a rousing standing ovation.
July 14, 2003: Manchester United acquires the services of MetroStars superstar goalkeeper Tim Howard. On July 31, Howard played his first game for United at his former home field, Giants Stadium, beating Juventus 4-1.
July 24, 2003: MLS launches MLS Futbolito, an official 4-on-4 soccer tournament targeting the League's Hispanic fan base. As the official MLS Ambassador, Carlos "El Pibe" Valderrama will present at the national MLS Futbolito in nine MLS' 10 markets plus Houston, Texas.
August 2, 2003: As part of a new format for the exhibition, the eighth MLS All-Star Game will bring together the best players in the league and a club from Mexico. A Pepsi MLS All-Star Game at The Home Depot Center was won by the best of MLS 3-1 over CD Guadalajara.
September 23, 2003:The Colorado Rapids are purchased by Kroenke Sports Enterprises from AEG and will play in a new stadium. In addition to owning the NBA Denver Nuggets, NHL Colorado Avalanche, NLL Colorado Mammoth, Pepsi Center, and AFL Colorado Crush, KSE is headed by Stan Kroenke.
October 15, 2003: At Giants Stadium, the Chicago Fire win the 2003 Lamar Hunt US Open Cup 1-0 against the MetroStars.
November 19, 2003: US international and soccer prodigy Freddy Adu, 14, has signed a multi-year contract with Major League Soccer. He turned down lucrative offers from prestigious European clubs to join the league, where he is one of the most recognized young players in the world.
November 21, 2003: A letter of intent has been signed by Cleveland, Ohio-based businessman Bert Wolstein to become the investor-operator of an expansion MLS team. The Chivas owner Jorge Vergara has also signed a letter of intent to enter MLS in 2005, finalizing a deal with the league.
November 23, 2003: A capacity crowd at The Home Depot Center witnessed the San Jose Earthquakes defeat the Chicago Fire 4-2 in MLS Cup 2003.
November 2003: At the end of the season, Brazilian superstar Marco Etcheverry, Salvadoran star Mauricio Cienfuegos, and Bulgarian star Hristo Stoitchkov retire from MLS.
December 8, 2003: Don Garber, Chairman, and CEO of Soccer United Marketing (SUM), announced today that InterLiga, a new qualifying tournament that determines Mexican clubs' automatic berths to the Copa Libertadores, has been acquired by the company for a multi-year period.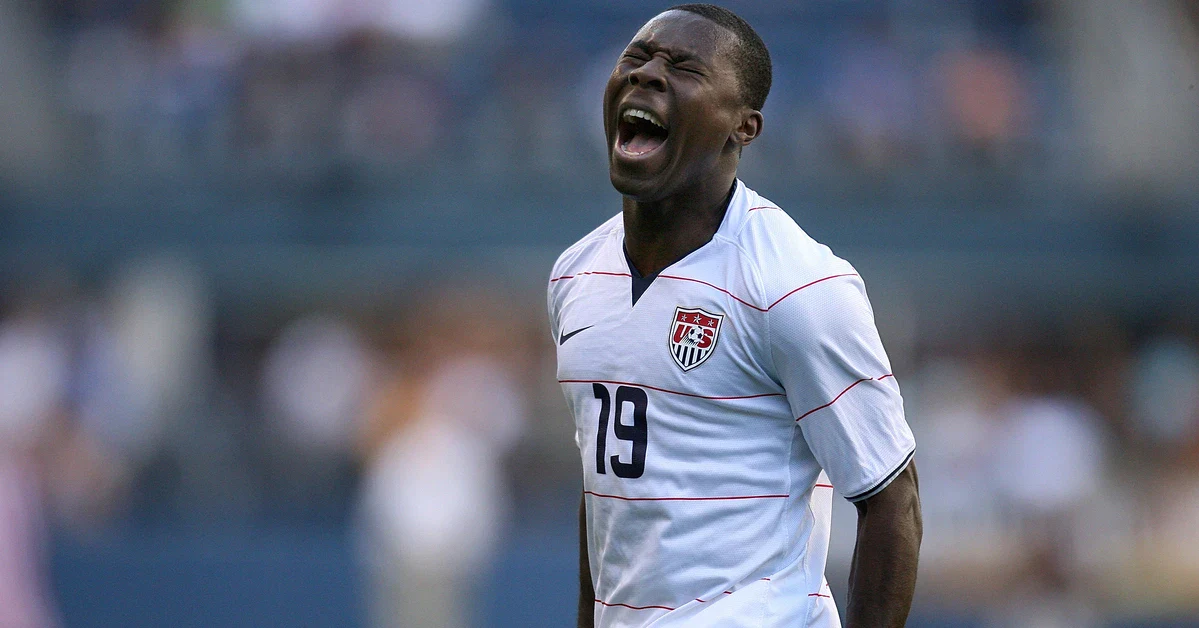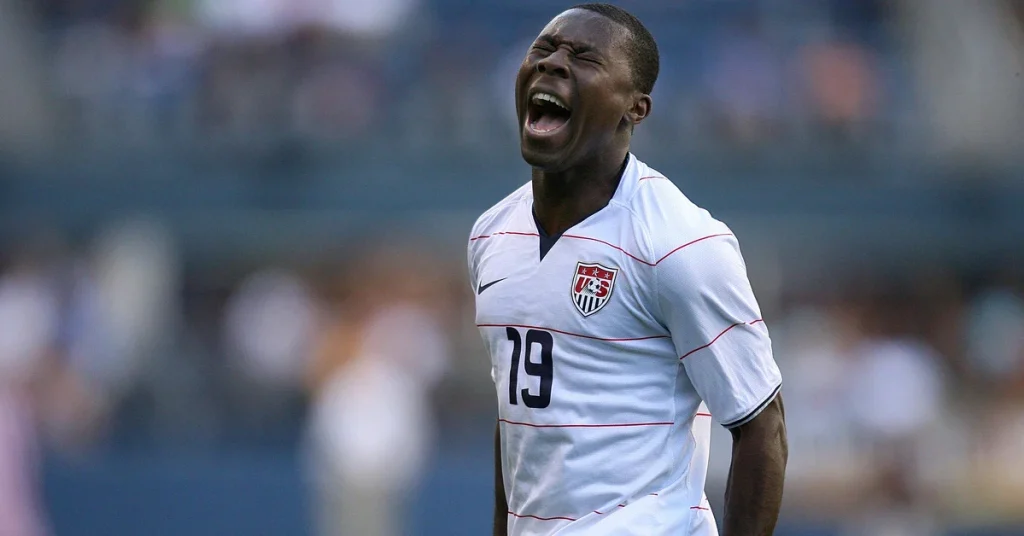 2004
January 16, 2004: DC United selects 14-year-old Freddy Adu with the No. 1 pick in the 2004 MLS SuperDraft at the Charlotte Convention Center.
January 25, 2004: The Chicago Fire General Manager, Peter Wilt, and AEG President and CEO Timothy Leiweke have signed a $70 million, 20,000- to 25,000-seat soccer stadium with the Village of Bridgeview after reviewing stadium proposals from more than 20 Chicagoland communities for months.
January 27, 2004: The San Jose Earthquakes have appointed Alexi Lalas, a former member of the United States national team and seven-year veteran of Major League Soccer, to serve as president and general manager.
February 18, 2004: Hunt Sports Group, the developer of Dallas Burn stadium and entertainment complex, holds the official groundbreaking ceremony.
March 4, 2004: "A list of FIFA's top 100 living footballers, including Galaxy defender Hong Myung-Bo and former MLS players Lothar Matthaeus (MetroStars), Hugo Sanchez (Dallas Burn), Hristo Stoitchkov (Chicago Fire, DC United) and Carlos Valderrama (Tampa Bay Mutiny, Miami Fusion and Colorado Rapids), are included in "The 100".).
March 24, 2004: There will be no overtime periods in MLS regular-season games when they are tied after 90 minutes. Additionally, a team will only be allowed three substitutions per game rather than the old 3 + 1 substitution rule.
April 3, 2004: MLS's ninth season begins with five games. A nationally televised matchup between San Jose and DC United is televised on ABC. The youngest player in American professional team sports comes on as a substitute, Freddy Adu.
May 5, 2004: Paul Caligiuri and Eric Wynalda join Michelle Akers as the first MLS players to be inducted into the National Soccer Hall of Fame.
July 14, 2004: In the league's 10th year, Salt Lake City, Utah, will become an expansion team alongside Chivas USA.
July 27, 2004: The Colorado Rapids will move into a new stadium in spring 2007 as part of a new soccer-specific stadium built by Kroenke Sports Enterprises (KSE) and Commerce City officials. A new civic center, a 20,000-seat stadium, youth soccer fields, and a retail development are all part of the stadium plans for Commerce City.
July 31, 2004: RFK Stadium in Washington, DC, hosted the 2004 Sierra Mist MLS All-Star Game on July 28, 2004. Amado Guevara scored two goals to lead the East to a 3-2 victory over the West.
August 2, 2004: In a joint announcement, Major League Soccer Commissioner Don Garber, Mexican club owner Jorge Vergara (Chivas), and his business partner Antonio Cue announce that Vergara's expansion team, Chivas USA, will share fields with the Los Angeles Galaxy at The Home Depot Center in Carson. It is the first time in MLS history that the league has experienced an intra-city rivalry, or "derby."
August 12, 2004: Following the 2004 season, Hunt Sports Group announced that FC Dallas would replace Dallas Burn as Dallas' MLS team.
September 22, 2004: As a result of winning 1-0 in extra time in the US Open Cup final, Kansas City Wizards became only the sixth club in history to win four or more titles.
October 9, 2004: In addition to unveiling its new logo, colors, and identity, Major League Soccer's Utah-based expansion team has renamed itself Real Salt Lake.
November 10, 2004: In an exclusive 10-year partnership agreement, Major League Soccer, Soccer United Marketing, and Adidas became the official athletic sponsor and licensed product supplier of the United States' Division I professional league. Besides product creation, the partnership covers grassroots programs, television rights, and retail distribution.
November 11, 2004: An agreement has been reached between Major League Soccer and the Players' Union for the first collective bargaining agreement (CBA) in the history of the League.
November 14, 2004: For the 2005 season, Major League Soccer will expand its rosters. Each team can have up to 28 players on its roster, and international players will be allowed on all teams. The limit on transitional internationals will rise from three to four, and the limit on senior internationals will also increase from three to four. Teams are allowed to trade those transitional international spots.
November 14, 2004: A crowd of 25,767 witnessed DC United defeat Kansas City with three goals in seven minutes during the first half of MLS Cup 2004.
November 17, 2004: With Jason Kreis as the expansion team's iconic first player, Real Salt Lake will be Major League Soccer's 12th team.
November 19, 2004: Real Salt Lake and Chivas USA will be selected in an expansion draft by Major League Soccer. Chivas USA and Real Salt Lake picked midfielders Arturo Torres and Andy Williams first in the 10-round draft.
December 9, 2004: The Kansas City Wizards are up for sale, according to owner Lamar Hunt. In his statement, Hunt stated that he preferred the team to remain in Kansas City but would consider relocating if no local ownership group stepped up. For any proposal to be considered, a soccer-specific stadium will have to be funded.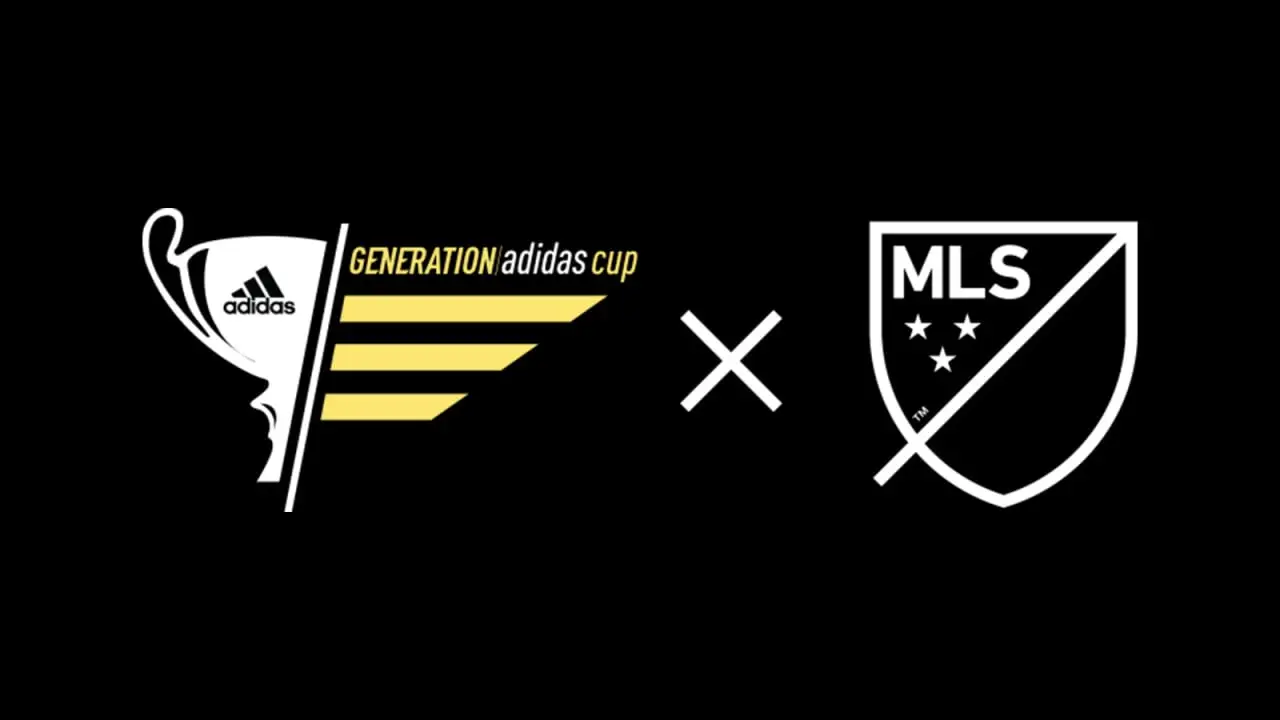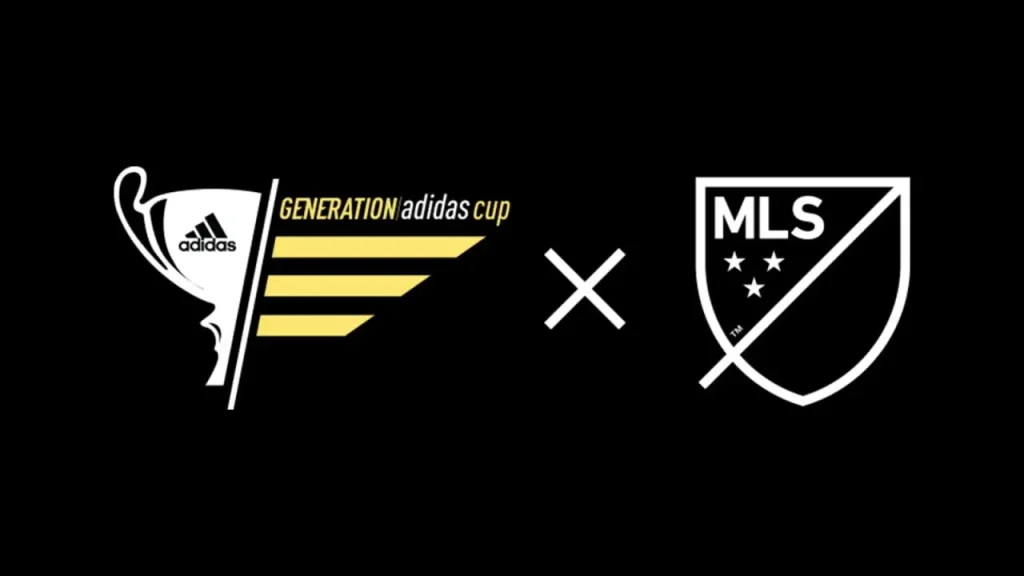 The Tenth Season Of Major League Soccer
January 6, 2005: Generation Adidas, MLS's player development program in partnership with Adidas, seeks to identify and develop young soccer talent in a professional environment. Nike Project-40 has been replaced by this partnership.
January 14, 2005: Nik Besagno, 16, is selected first by Real Salt Lake in the 2005 MLS SuperDraft. With his draft, Besagno becomes the second youngest MLS player ever. Brad Guzan is chosen as the league's second overall pick by Chivas USA, the other expansion team.
February 21, 2005: Youri Djorkaeff joins the MetroStars on the international transfer market.
March 30, 2005: Landon Donovan returns to Major League Soccer. Having briefly reunited with his former club, Bayer Leverkusen, Donovan returns home to Southern California to play for the Los Angeles Galaxy in Major League Soccer. In exchange for the allocation used to acquire Donovan, the Galaxy traded forward Carlos Ruiz to FC Dallas.
April 2, 2005: Six matches are scheduled for MLS's opening day of its 10th season. Chivas USA lost 2-0 to DC United in its first game. MetroStars draw 0-0 with Real Salt Lake in the Meadowlands in the team's inaugural match.
April 9, 2005: Chivas USA defeated the San Jose Earthquakes 2-0 in the first official Reserve Division game.
April 23, 2005: Chivas USA and Los Angeles Galaxy are set to meet for the first time in an intra-city derby, or 'Clasico.' A sold-out crowd cheered on the Galaxy as they won 3-1. Jorge Larios, of Downey, Calif., became the 25 millionth League fan at the game.
July 30, 2005: A sold-out Columbus Crew Stadium hosted the 10th annual MLS All-Star Game, in which the MLS All-Stars defeated Fulham FC 4-1. DC United plays Chelsea, Chicago Fire plays AC Milan, and Los Angeles Galaxy plays Real Madrid at the start of a month of high-profile friendlies between European teams and MLS.
August 6, 2005: FC Dallas will play its first official game at Pizza Hut Park, MLS' third soccer-specific stadium.
August 16, 2005: Chivas USA welcomes Mexican legend Francisco Palencia and rising star Juan Pablo Garcia.
August 23, 2005: In the season-opening game of the Trofeo Santiago Bernabeu, an MLS All-Star selection will play Real Madrid.
September 23, 2005: In MLS's first-ever Copa Sudamericana appearance, DC United loses heartbreakingly to Chile's Universidad Catolica. Despite drawing 1-1 in the first leg and taking a 2-0 lead in the second, United conceded three goals to lose on aggregate.
September 28, 2005: A groundbreaking ceremony for the Colorado Rapids' new soccer-specific stadium was held by Kroenke Sports Enterprises. One of the world's largest soccer complexes will be built in Commerce City, outside Denver.
October 16, 2005: MLS Reserve Division title is won by DC United, with an overall record of 8-4-0.
November 11, 2005: In celebration of its 10th season, the Major League Soccer announced an All-Time Best XI consisting of Tony Meola, Marcelo Balboa, Jeff Agoos, Eddie Pope, Carlos Valderrama, Peter Nowak, Marco Etcheverry, Landon Donovan, Preki, Brian McBride and Jaime Moreno.
November 13, 2005: A standing-room-only crowd at Pizza Hut Park in Frisco, Texas, witnessed the Los Angeles Galaxy defeat New England 1-0 on an overtime goal by Guillermo "Pando" Ramirez. In addition to winning the US Open Cup, Los Angeles also won the domestic double.
December 15, 2005: The San Jose Earthquakes are moving to Houston in 2006 after a prolonged period of failed negotiations between Major League Soccer and a potential venue and ownership group. It is hoped that an MLS team will return to the Bay Area with the Earthquakes' name and records still in San Jose.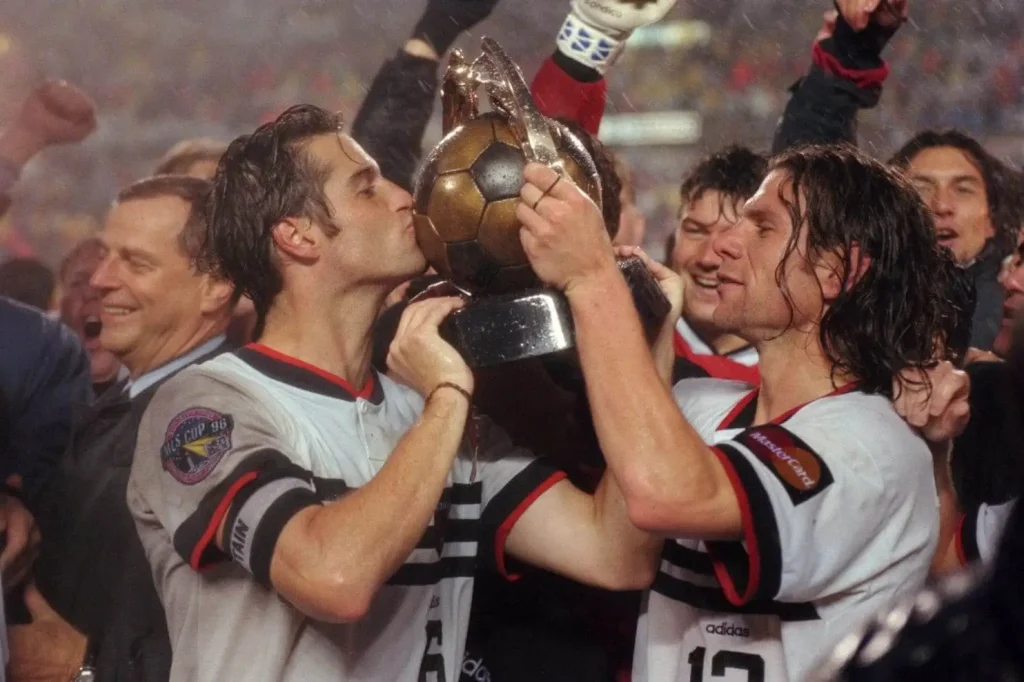 Many Obstacles Initially
The MLS faced many obstacles during its first decade on American soil. In addition, passionate and motivated investors were sought, a more ethnically diverse market was targeted, and soccer's largest fan base was emphasized.
By establishing the Project-40 player development program, MLS has adopted a more globalized approach to its professional soccer structure to avoid mistakes made by the defunct North American Soccer League (NASL).
In addition to increasing the level of play, Major League Soccer hoped this program would improve the league's image and appeal to national and international investors.