Let's admit it. It takes a special kind of mentality like Pierluigi Collina to referee football at the highest level. Enforcing the soccer laws of the game and managing players' tempers while keeping up with play for 90 nonstop minutes is an unenviable task.
On the sidelines, soccer referees deal with harassment from rabid supporters and 24/7 media criticism, aware that any excellent refereeing performance will likely go unacknowledged.
This reality has been the norm for all referees in the game but one. However, nobody has been able to stand out and ascend to the mainstream culture of football quite like Pierluigi Collina, who was recognized by FIFA as the football referee of the year six times.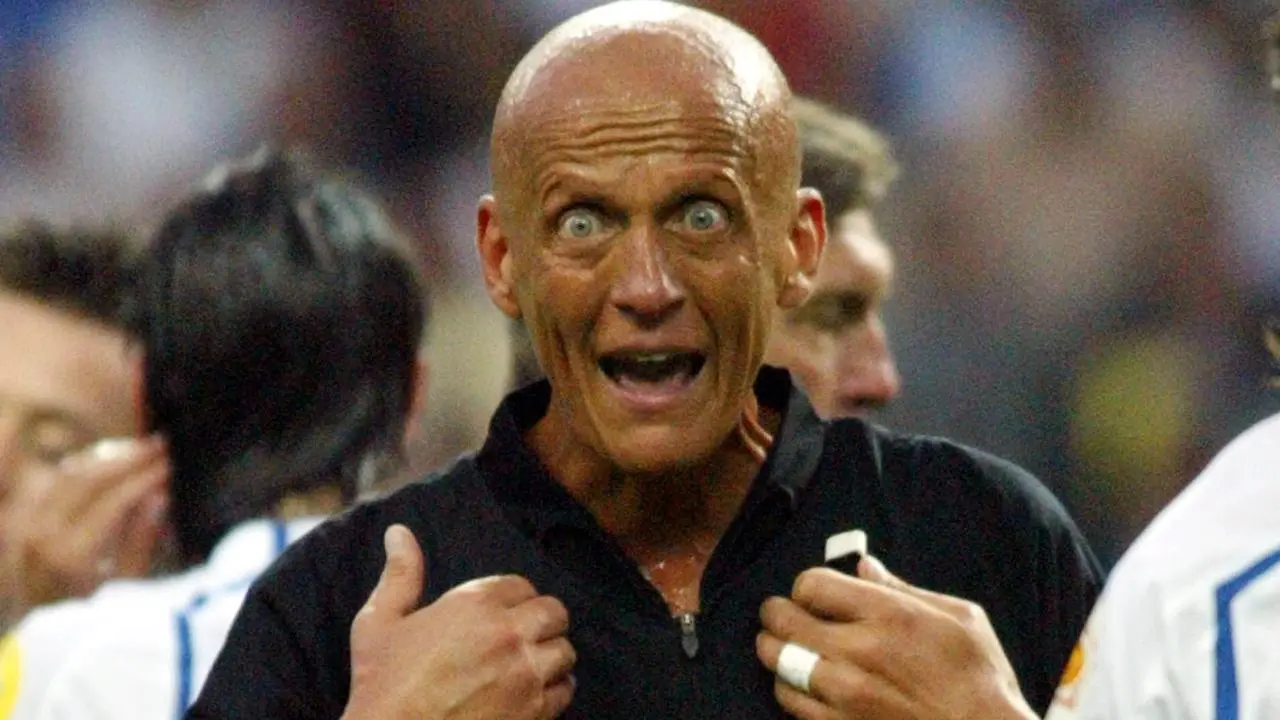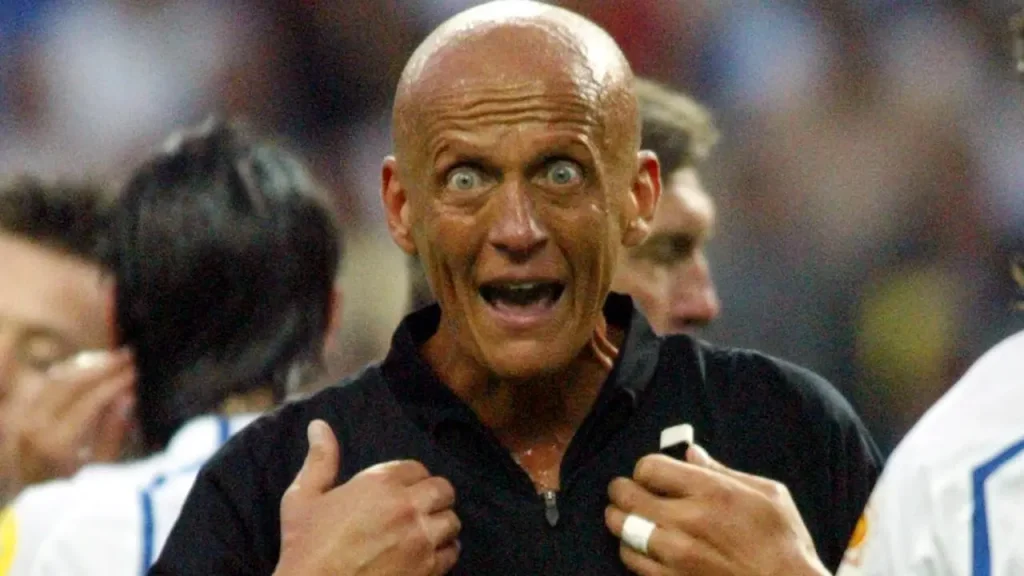 Prodigy
Born in Bologna, Italy, Collina had dreams of making it as a professional footballer when playing for his local team while growing up. By the time he was 17, he had realized that those dreams were far-fetched and, taking a friend's advice, attended a refereeing course instead.
Pierluigi Collina untapped a particular talent for the craft, and it became clear that he was born to officiate. With his tall, imposing appearance and authoritative nature, Collina was the refereeing equivalent of a wunderkind. After honing his skills in the lower leagues, he was promoted to the upper echelons of Italian football in 1991.
His rise coincided with Serie A's emergence as Europe's premier competition, and the world's eyes were fixed on Italy. The peninsula was brimming with elite talent, and in the middle of it, was a distinctive bald appearance.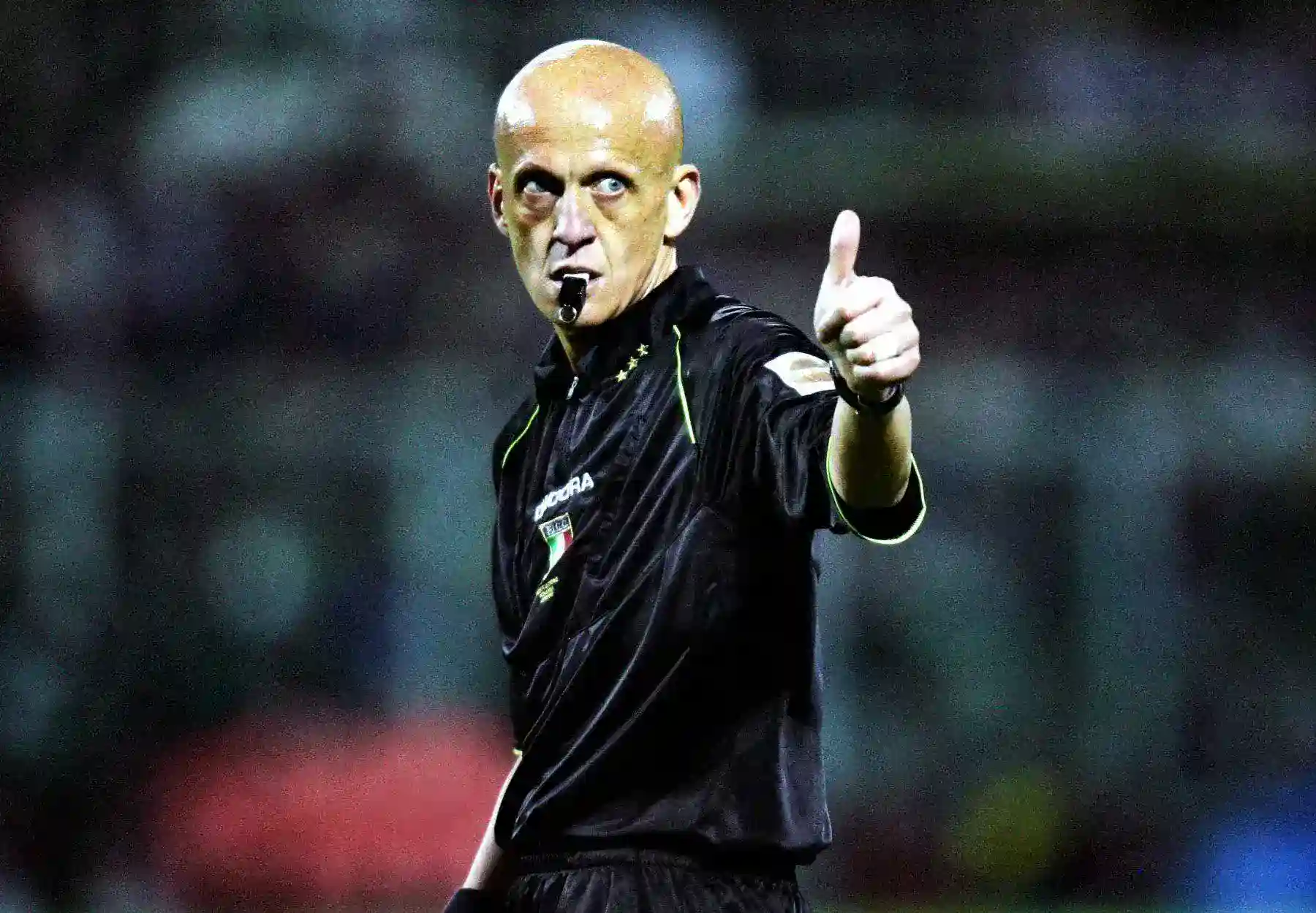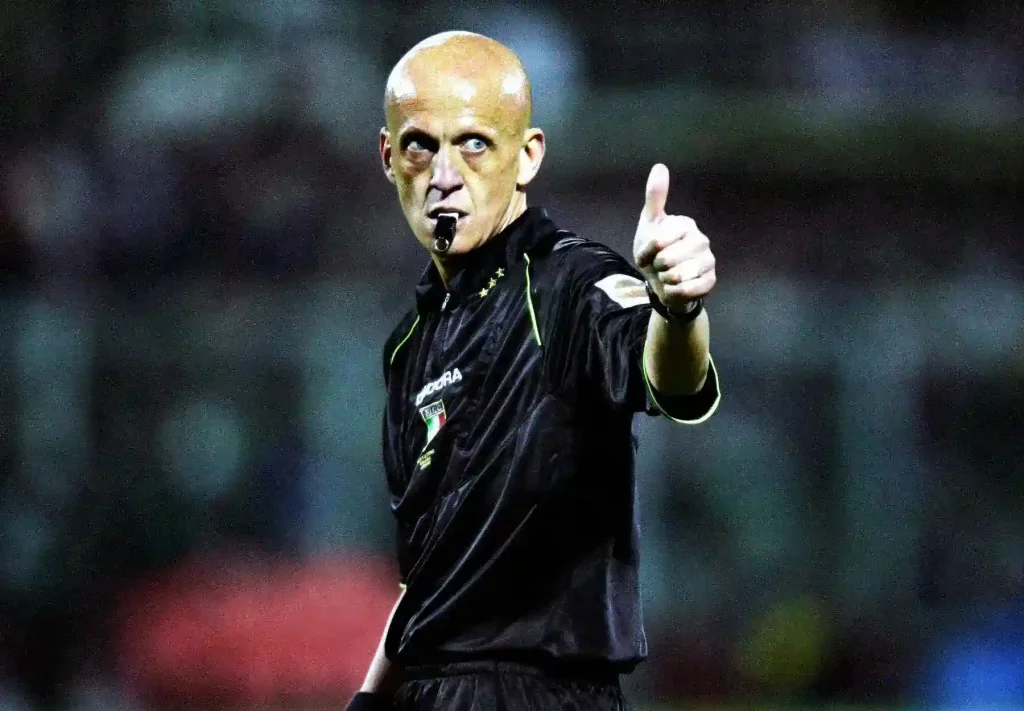 Nicknamed Sergeant Kojak
Standing six foot two (188cm), with a distinctive bald head caused by alopecia early in his life and intense, steely blue eyes, Pierluigi Collina wasn't to be intimidated by the likes of Paolo Maldini and Roberto Baggio.
Instead, through his ability to assert calmness and command respect, he soon established himself as Italy's and FIFA's best referee during the mid-1990s.
At the 1996 Olympics, Pierluigi made his debut at a major international tournament, even refereeing the final. After that, more significant assignments would come thick and fast.
Then, finally, he made his World Cup debut in 1998, and by the time the next cycle rolled around, he had become the best referee in the world and FIFA's most trusted official.
Pierluigi Collina would take charge of the iconic 1999 Champions League final between Manchester United and Bayern Munich and the 2002 World Cup final. He was a key figure in many high-profile games during the early 2000s and rarely put a foot wrong.
Pierluigi Collina Legacy
Collina was so influential that the Italian FA extended the retirement age by a year to football referee one more season and officiate at the 2006 World Cup. Still, following a perceived conflict of interests regarding a sponsorship deal, Pierluigi Collina retired.
On the 24th of August 2005, Collina's final competitive game before retiring was Everton vs Villarreal in a Champions League qualifier.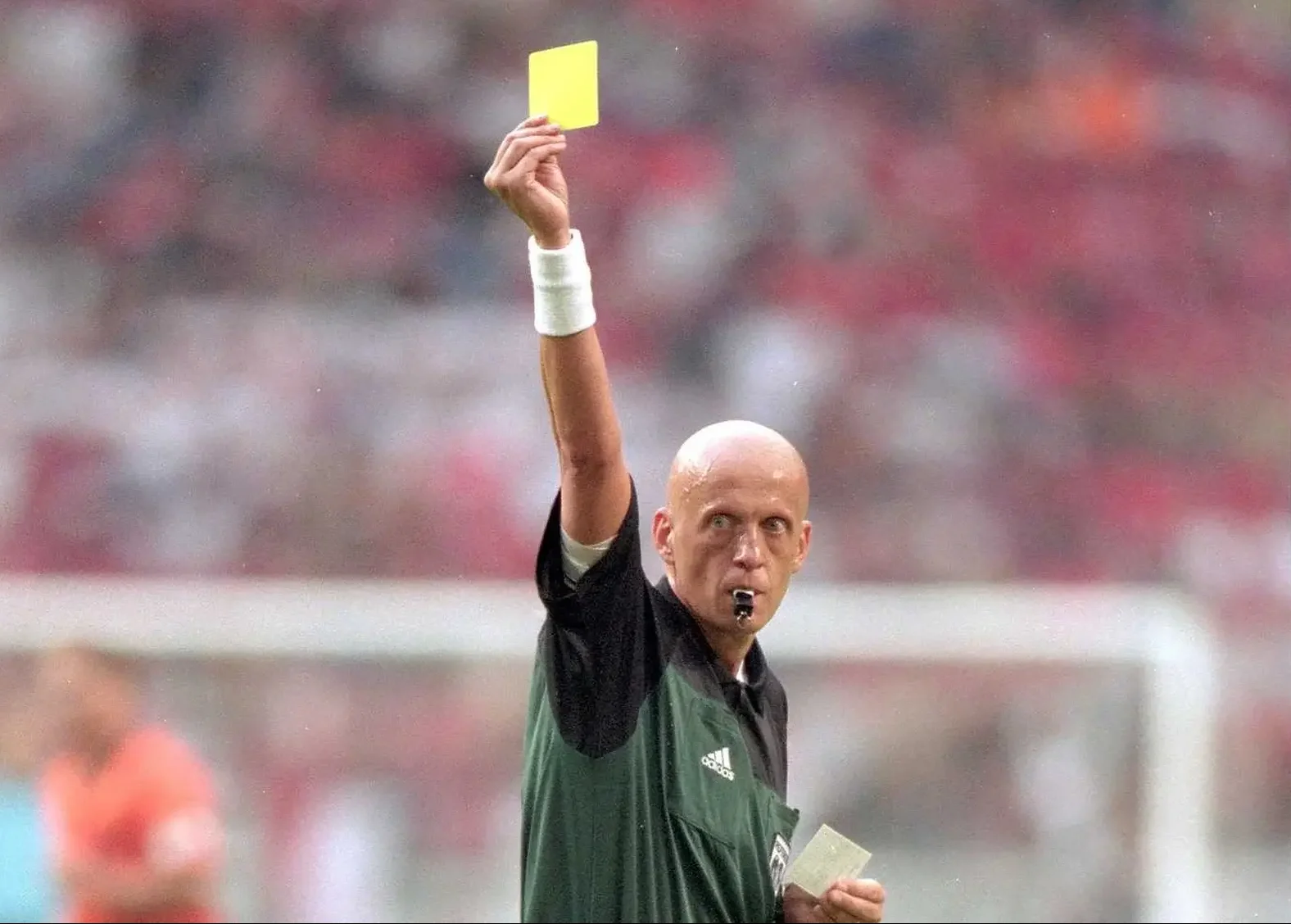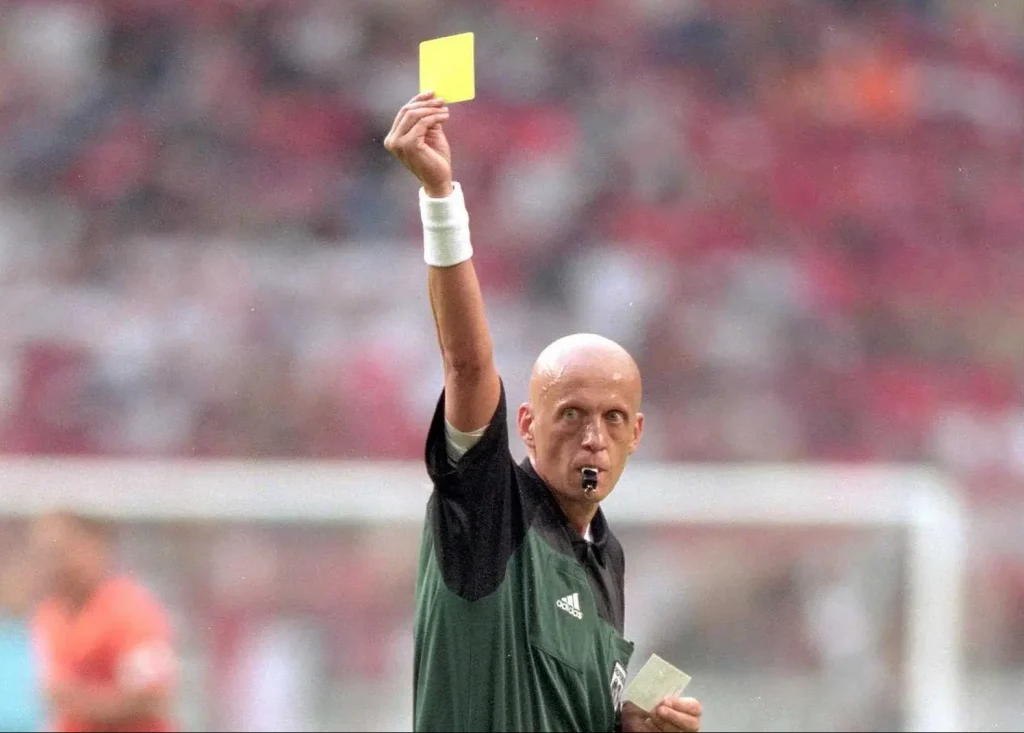 He was named the World's Best Referee by the International Federation of Football History & Statistics for six consecutive years (from 1998 to 2003), the most by any football referee.
As a result, UEFA created the role of Chief Refereeing Officer in 2010 and appointed him to the post, which he held while also serving as a consultant to the Italian Football Referees Association. It is unheard of for an official to be considered a legend, but if anyone deserves that title, it's Pierluigi Collina.
Pierluigi Collina Facts and Figures
Birthdate: 13/02/1960
Birthplace: Bologna, Italy
Italian Referee Career:
1988-1991: Serie C1 and Serie C2 Divisions
1991-2005: Serie A and Serie B Divisions
International Referee:
Italian Football:
240 Serie A matches
36 Serie B matches
29 Coppa Italia matches
2 Supercoppa matches
European Football:
6 EURO championship matches
8 EURO qualifier matches
39 Champions League matches
9 Champions League qualifying matches
13 Europa League matches
2 Europa League qualifiers
1 Cup Winners Cup
1 French Ligue 1 match
International Matches:
5 World Cup matches
8 World Cup qualifying matches
5 Olympic Games matches
5 FIFA international friendlies
Pierluigi Collina Highlights:
1999 UEFA Champions League Final
2002 World Cup Final
2004 UEFA Cup Final (last major international tournament)
Voted Greatest Football Referee Of All Time
Referee Honors:
Serie A Referee Of The Year: 1997-2005
Introduced Into The Italian Football Hall Of Fame: 2011
World's Best Referee: 1998-2003
FIFA Ambassador
Referee Consultant To:
FIFA Referees Committee (chairman)
UEFA Referees Committee
Football Federation of Ukraine (Head Of Referees)
Italian Football Referees Association (Head Of Referees)
Italian Football Federation
Images:
www.belfasttelegraph.co.uk/sport/football/uefas-pierluigi-collina-tells-referees-to-protect-players-from-bad-tackles-36595475.html(main image)
AP News
www.twitter.com/thesefootytimes/status/1183701482576777217
www.rte.ie/sport/soccer/2005/0706/194147-collinap/