Enjoy our top 10 best performing Goalkeepers of the 22/23 season. For more Goalkeeper content click here! 
10. Gianluigi Donnarumma
A keeper whose career could be argued to have slowed down since joining PSG, Italy's failure to qualify for the World Cup and PSG's poor performance in the Champions League has certainly slowed down what was a meteoric rise from youth level at AC Milan.
Marked as the next Gianluigi Buffon from a young age, National and club performances have caused a slight faltering in his career, however by no means is he ready to drop out of the top 10 keepers.
In Ligue 1 he's proved to be very handy, with a save percentage of 78% over the course of 32 games in the ligue. The most important stat in goals conceded is just under games played, at 29. Donnarumma has a good defence ahead of him, and it's that factor that hampers him  from placing any higher this year. 
It's not that a keeper can't be the best in the world with a great defence, but his stats and number of shots faced means he's not been truly unplayable, but rather a reliable top-class keeper able to perform whatever is expected of a top level modern keeper.
His reputation has helped him a little here, but he just holds on to number 10 for now, at just 24 he is one of the youngest keepers on this list and has done enough when called upon to earn his spot.
9. Brice Samba
Another keeper having a monstrous season and helping their side play beyond their means, the Reims keeper, managed by the young sensation Will Still has been the best keeper in Ligue 1 this season.
Playing behind a defence that is objectively worse than the likes of PSG, Samba has thrashed Donnarumma in goals conceded this year, averaging 0.72 goals conceded a game whilst playing every league game so far.
Through the season he has proven to have cat-like reflexes and quite incredible composure, personified in his calmness when he plucked a launched through ball out of the air with one hand, catching it nonchalantly in the palm of his right glove.
Nottingham Forest fans will remember him as an icon for his playoff penalty heroics, many fans considering him the best keeper to play for Forest in decades, but his performances have been taken to another level since joining Reims. 
8. Nick Pope
A fantastic piece of business for Newcastle, in signing a keeper that had been breaking into the England team at a relegation battling Burnley team. Pope has been a wall in the Newcastle defence, leaving most fans to ask "Dubravka who?" despite the Slovakian at one point being well regarded by Newcastle fans.
A key part of Newcastle Champions League charge, Pope has been a reliable force in goal, comfortably outperforming the likes of Title challenging Aaron Ramsdale or Ederson across the season (despite City's success Ederson is having his worst season the the Citizens).
Conceding less than a goal a game, which should be a stat every keeper strives for, Pope has proven to be adept when called upon, saving 71 in 97 across the Premier League season. He's easily made the best case over this season to be England's number 1. 
As much as I love Ramsdale, Pope is a little more consistent, with fewer mistakes over the season, even if Ramsdale has put in some unbelievable performances (see Liverpool and Arsenal's 2-2 draw).
He's a hero on Tyneside, and looks to be part of the Newcastle team that could get Champions League football for the first time since they failed to get past the qualifying rounds in 2003.
7. Jeremias Ledesma
He's been outstanding in a La Liga side battling relegation for 3 seasons, and this season has been his best. It's always important to consider keepers at lesser clubs, as they naturally have more to do. Ledesma has been hauling his team on his back. 
It's no surprise he's needed to play so well, their front line the last few seasons was led by a 36 year old Alvaro Negredo. He's saved 108 out of 147, with a 78.9% save rate. Out of all of the 20 keepers in the Top 5 European leagues who have faced 135 or more on target shots, he has by far the highest save percentage. 4% higher than the next closest.
He's comfortably the best player in the Cadiz team, which is a huge deal as a keeper, but a worrying point for Cadiz fans. He may not be playing in Europe or in a big team, but Ledesma has been the difference in Cadiz staying up for multiple seasons, and if we take only this season alone into account, he is one of the top performing keepers in the world right now.
He also saves more than just goals, hailed as a hero for his quick thinking as he helped save a fans life by sprinting across the pitch to throw a medical kit into the section of the stands with the ailing fan.
6. Emiliano Martinez
The Aston Villa shot-stopper has been on world football's radar for a couple of years now thanks to his penalty shoot-out heroics in both of Argentina's World Cup and Copa America title wins. After winning the golden glove at the 2022 World Cup finals and being voted the best keeper in the world by FIFA it's only right the enigmatic Argentinian makes the list. 
Whilst his ability to save shots from the spot kick are arguably unmatched by any keeper in the world, Martinez has also been in fine form for club side Aston Villa.
Ever since he returned from Qatar, his form for the English Premier League side has been impeccable, keeping nine clean sheets out of a possible seventeen games helping the team in their pursuit of European football next season. 
He is more than worthy of a spot on this list, and has built upon his national performances in the big games, proving he can play at such a high ability consistently. 
5. Allison Becker
Despite their reputation of developing Samba dribbling wizards, Brazil are well and truly spoiled rotten in the goalkeeper department with two of their best keepers playing for top clubs in the Premier League. 
Allison Becker joined Liverpool from AS Roma in 2018 for a £70 million fee that raised eyebrows initially. However, it didn't take long , he is arguably the best in the biz with the ball at his feet and can play out from the back under pressure with ease. 
This season though, things haven't gone to plan for Liverpool, but in my opinion, Alisson's ability as a keeper doesn't deserve to be questioned. 
He's been sold short by some woeful defending time after time this season, attackers finding themselves with clear-cut, un-saveable scenarios when facing Liverpool, through lacklustre defensive displays.
His performances still show he should still be considered an elite goalkeeper. When you look at Liverpool's expected goals conceded for the season, you'll find it sits at 46.4. Allison's' contribution has resulted in a positive 10 goal swing, meaning he has massively out performed what is expected of him.
Liverpool have the highest number of "saved expected goals" in the Premier League and Alisson is obviously to thank, for without him this season they wouldn't even have a sniff of Europe next season, and would be languishing in mid-table with Crystal Palace and… Chelsea.
4. Frederik Rønnow
A name some may not have heard of or expect so high on this list, but anyone who has paid attention to the Bundesliga this season will need no explanation.
Union Berlin find themselves flying as high as 3rd in the Bundesliga this season. Promoted to the Bundesliga after almost 20 years 4 seasons ago, Union Berlin have improved every season, finishing 11th,7th, 5th and currently looking to earn Champions League football for the first time in their history.
A huge part of this success has been built on a rock solid defence, Ronnow being a hero between the sticks. From a purely statistical lense he's the second best keeper in the world, with an 83% save percentage, after facing 102 shots.
Looking at Berlin's results over the season only showcases how important the Danish goalkeeper's performances have been.  9 Clean sheets in the league and 15 across all competitions, for a team that relies on a solid defence to win games.
They haven't won a game all season in which they have conceded 2 or more, and in their two biggest losses ( a 5-0 loss to Leverkusen and 4-1 loss to Freiberg) the 2nd keeper, Lennart Grill was in goal.
It's safe to say without his shot stopping ability and consistency, Union Berlin would find themselves a lot further down the table. He's the kind of keeper that is the difference between a Champions league and Conference league side in a top Division.
3. Ivan Provedel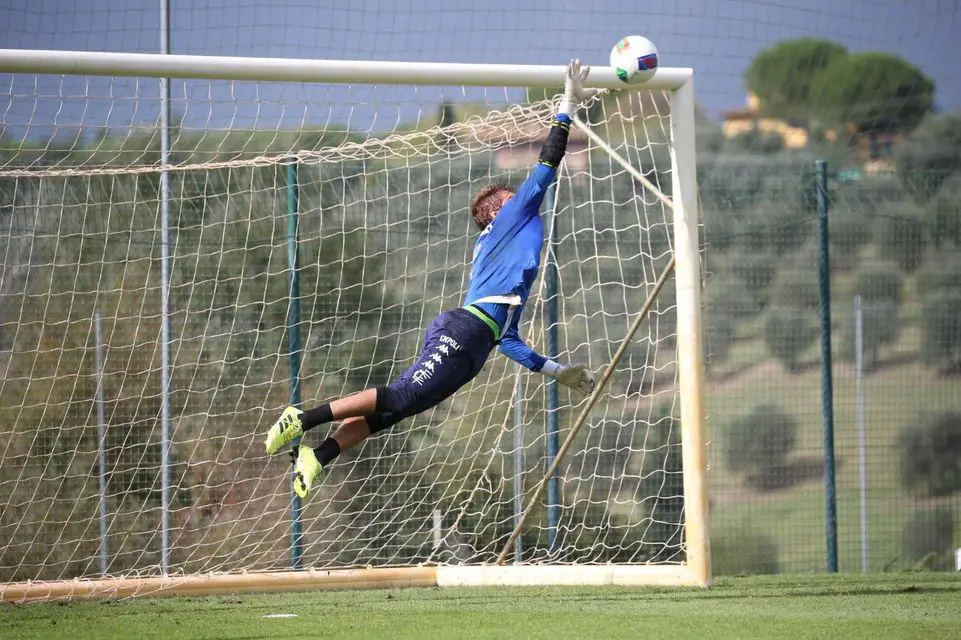 Another surprise for the uninitiated, Provodel has come out of nowhere. Prior to joining Lazio this season, His peak had been a 15th placed finish with Spezia in Serie A. However, he's turned into an absolute monster this season. His contribution of 116 saves in 165 shots at Spezia earned him the move to Lazio.
In a Nick Pope-esque step up to a better side, he built upon his performances at Spezia to become statistically the second best goalkeeper in the world. The second lowest goals against (0.68 per game) in the top 5 European leagues, places him only behind Andre Ter Stegen. 
81 saves in 102 shots and a bonkers 60% clean sheet rate in the league makes his position in this list unquestionable.  At 29, he's still got a good 7 or so years in his goalkeeping prime, and with many fans calling for his inclusion in the Italian national team, Donnarumma ought to be checking behind him.
Lazio sit in second, with 7 games to go. Should they achieve second place they would be finishing in their highest league position since 2000 when Sven Gorann-Eriksson managed them to a Serie A title.
2. Marc Ter Stegen
In an El Classico goalkeeping top 2, it's really hard to pick a winner out of Ter Stegen and Courtois, both excelling for different reasons.
In Ter Stegen's case, he's been faultless. Conceding just 9 in 30 in La Liga, with a save rate of 89.4% and conceding just 0.3 goals per game. He has however, faced the lowest volume of on target shots this season out of anyone else on this list, the Barcelona defence doing an incredible job this season, leaving Ter Stegen to only face 66 on target shots, the German saving 59 of them.
Despite fewer shots faced compared to Courtois, Ter Stegen and Barcelona have the highest rate of expected goals saved, with +7.4 meaning Ter Stegen was expected to concede 7.4 more goals over the season. Compare that to Real Madrid's -2.8 and you can see why Ter Stegen might have a case as the best goalkeeper in the world.
In the end however, he loses out to Courtois. Courtois has  a huge advantage in his uncanny ability to pull out master classes in the Champions League. If Ter Stegen's expected goals saved is impressive over the course of 32 games, then  Courtois' in just 6 Champions League games is inhuman…
1. Thibaut Courtois
Despite being a little bit needy for recognition, there's no denying Thibaut Courtois is a truly world class keeper who deserves a spot on this list. For his performance in his Real Madrid side's 2021/22 Champions League final win against Liverpool alone, he deserves to be heralded as an elite goalkeeper and also studied by medical science to check he is actually in fact human. 
The Belgian keeper made a string (nine in total) of unbelievable saves under the Stade de France lights against a rampant Liverpool side who should have won the game comfortably. The pick of the saves that evening was the fingertip stop onto the post from Sadio Mane's blasted low shot from 10 yards out. 
But Thibaut is not just a great keeper in isolation, he's been one of Real Madrid's most consistent performers since he joined the club in 2018 with a clean sheet rate of over 40% in all appearances and at only 30 years old has room to get even better.  
But of course, previous seasons should only have a nominal influence on the best keepers of 2023, and Courtois' league form has been a little below his own high standards, the aforementioned -2.8 expected goals conceded making it hard to put him above Ter Stegen or even Alisson this season based on league form. 
But you know where this is going. Courtois' Champions League output has been stupid, with +5 expected goals saved in 6 games this season alone… Without Courtois Madrid would be out of the UCL by now, and without him over the last 4 years (first season was a bit dodgy) Madrid wouldn't have had close to the success they have had in the Champions League.
When it comes to deciding the best goalkeeper, stats play a tremendous part in deciding the best of the best. In this instance however, he takes number 1, not for his consistency, or his clean sheet/save percentage but for delivering once in a lifetime goalkeeping masterclasses every season on the biggest stage in club football when it matters most.