Football has become nothing short of a worldwide phenomenon. Two people of entirely different backgrounds and lifestyles can bond for hours over a shared love for the sport, even if they hold vastly contrasting worldviews. 
Football has been popular around the world for well over a century but it wasn't until the advent of television broadcasting that it elevated from a  to a global phenomenon. The ability to watch football games from the comfort of your own home, transformed the face of sport as a whole.
No other product of entertainment can boast such an impact on the world, and capture the hearts of both the super-wealthy and the impoverished. 
Televised Experiments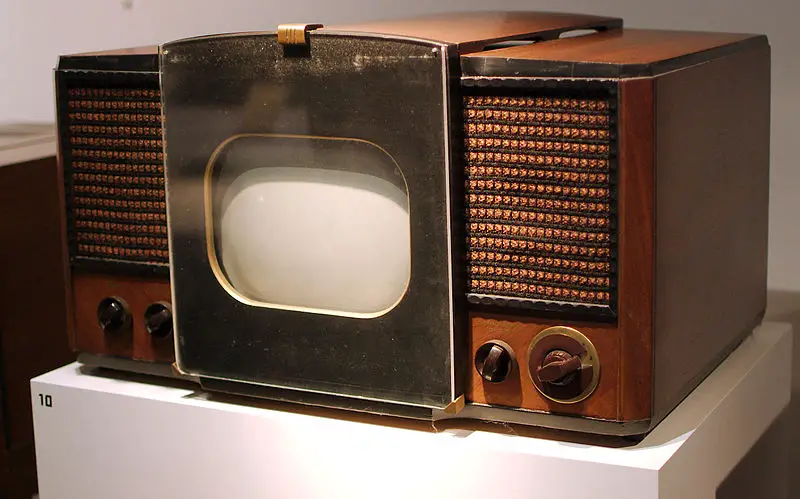 Whilst technically around for Millenia, the game as we know it has been around since the mid 19th century, spanning back many decades before the invention of television.  The television as we know it was invented in 1927, by American inventor Philo Taylor Farnsworth. 
Britain would soon capitalise on this invention, with the BBC established on the first day of the new year, 1927. At this point, TV was very much still an experimental prototype, the BBC being formed to test its capabilities. The British Broadcast Corporation was very much just that, with the invention only available to a very select few, and with literally nothing on, it was more of a curiosity to the public.
Moving pictures were of course not witchcraft, with motion pictures having been in circulation for the last 38 years. The idea of beaming transmissions accompanied with sound and images however was a terribly exciting thought.
After 10 years of broadcasting events, the BBC channel was available to all the 2,000 uk citizens with television sets, and the BBC had a keen eye on sports and football  would be one of their first major broadcasts. In 1937, the first ever match was broadcast. It was a specially arranged match at Highbury between Arsenal's first team and reserves.
Only part of this match was shown, the BBC considering it an experiment, and thanks to its popularity and warm reception, more attempts to broadcast the beautiful game would follow.
On the 9th of April the following year, Britain got a taste of international football, with Scotland facing off vs England in a match that would be shown once again in part. Whilst it would end 1-0 to Scotland in a game that wasn't the best advertisement for the sport, it would set an exciting  precedent, in the chance to see some of football's greatest, such as Stanley Mathews from the comfort of your own home.
Rising Controversy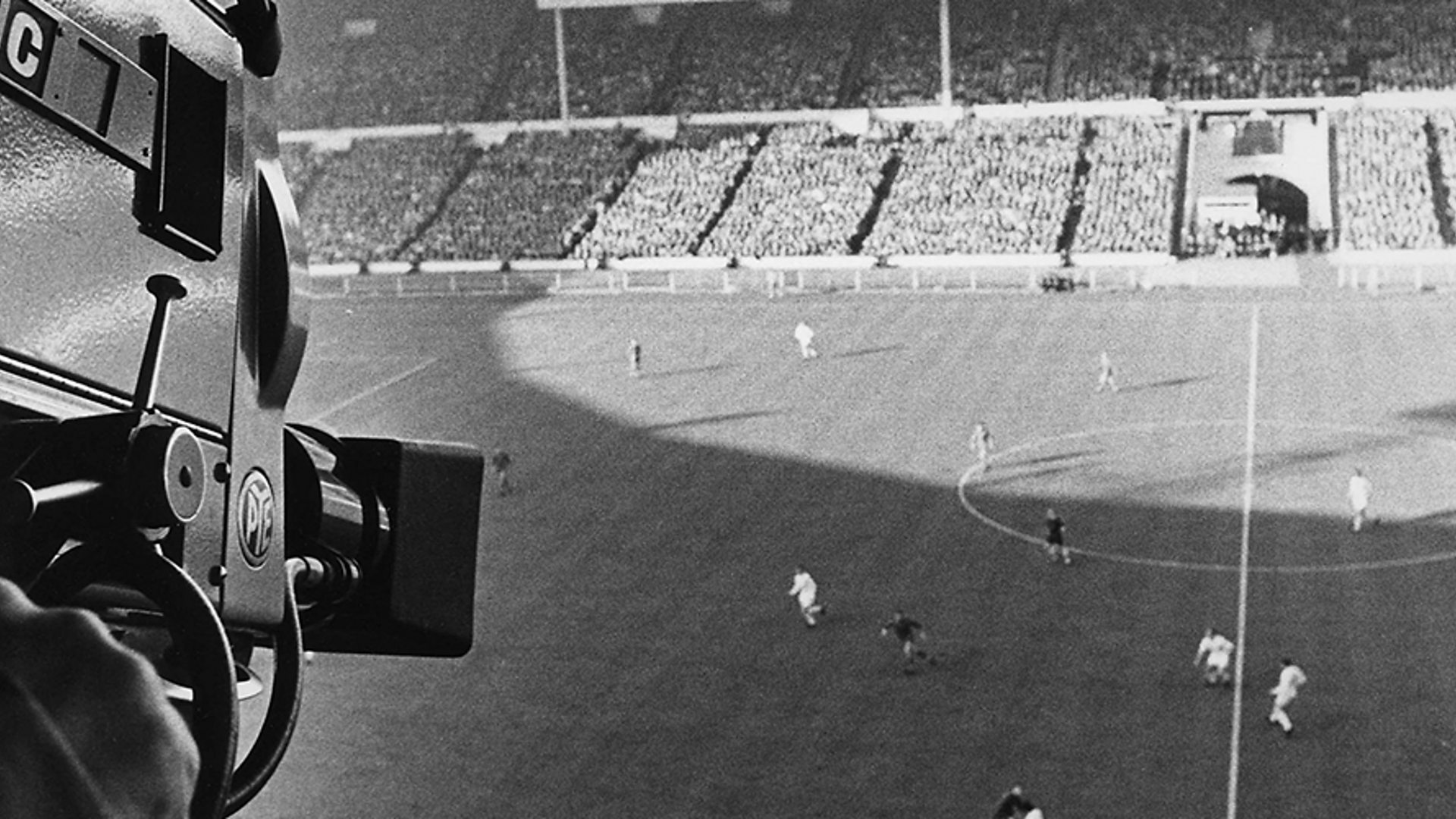 The first full match would come just another year later, the FA Cup final between Huddersfield, and Preston, would be the game worthy of such historic importance. Preston had won the inaugural first division, in 1889 without losing a game all season. It was a relative success, however far more people would have watched the game in the stadium.
Fewer than 10,000 people in England owning the hot ticket item that would set you back £50 pounds at the least, rising all the way up to £500 for the top of the range models. Adjusted for inflation, that £50 would amount to over £4,000 today.
Broadcasting would come to an understandable halt due to the outbreak of the second world war, but post 1945, football on TV would truly start to take off.
There would be a problem however. Well there would be multiple problems, but a major one was the fact that players detested the concept of playing on TV. There was a consensus early on that it would discourage fans going to matches. Even post-match highlights, hours after the games were seen the same. 
Post-war Football Broadcasting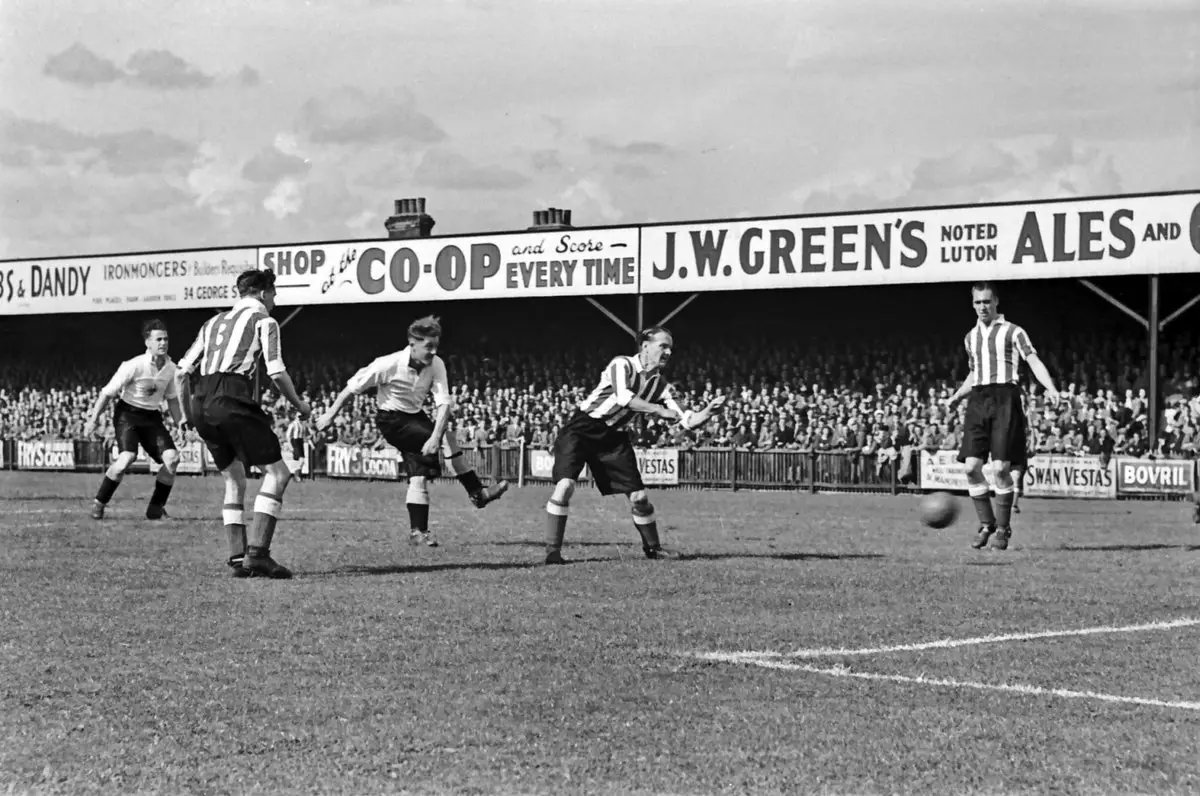 Whilst it may seem ludicrous and sound like older people afraid of technology, they had every right to be concerned. By 1947 modern football was a game that had just started to resemble the playstyles and tactics we know today, formations such as the 4-4-2 triumphing over the 2-3-5 formations of the 30's.
 But football was a delicate ecosystem. Clubs held afloat by regular attendance, and with no conglomerate to swoop in and offer millions to every club, the concern of TV leading to football's ruin was very much real.
After the war, the BBC made regular attempts to secure Football matches for television broadcast, typically showing FA Cup finals and international games. Due to the technical limitations of the time, games could only be broadcast from London, as the BBC's headquarters were stationed in London.
They attempted to show earlier FA Cup games, but due to player and club backlash at football becoming over-televised and killing the clubs, the BBC reverted back to showing cup finals and internationals only.
The first footballing body to agree to a television deal of sorts, was the Athenian Football league, Britain's amateur football league, which in 1946 would agree to let the BBC broadcast a match between Wealdstone and Barnet. It would be considered a great success, despite the match the feed being cut 15 minutes form the end due to dwindling light.
Football broadcasting's greatest innovation would come next…
The Rise of Commentators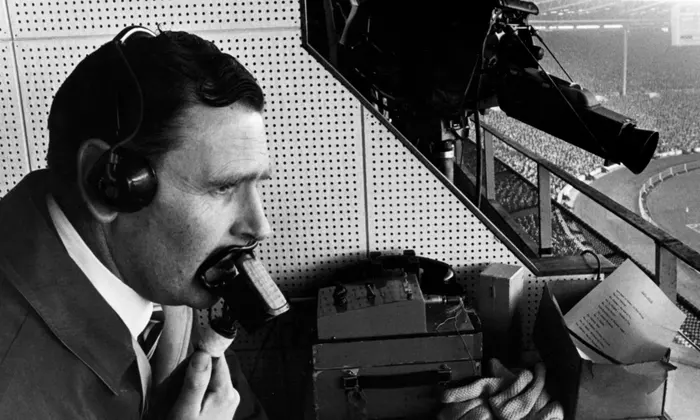 Kenneth Wolstenholm was a former journalist and football fan. A man who had served in the RAF in the war, but had returned to the country without a position at a newspaper. He'd never watched a Television, but wrote to the BBC asking for a job as a commentator, and following his acceptance, football would never be seen the same way again.
For the next 10-15 years Wolstenholm was synonymous with football on TV. There was no one else in commentary rotation like today, so Kenneth would cover every match shown.
His understanding and passion for football, coupled with his dulcet broadcasting voice would make for a huge success, his presence adding considerably to the experience of watching football on TV. He would soon become part of another revolution that would drastically impact football broadcasting. Highlights. 
In 1954, the ingeniously titled Saturday Sports Special was commissioned, the Football League finally bowing to public opinion and the BBC's vision of bringing football to a wider audience. There was naturally only one man to present it. With Gary Lineker not currently alive, Wolstenholme would build on his excellent commentary work, presenting the highlights from the Football League.
After success in its trial period, the BBC would gain the right to show 75 games a season across the Football League, with 5 minutes of highlights permitted in games (10 minutes in exceptional circumstances). 
Highlights weren't enough for the public or the broadcasters. It's hard to get excited about highlights when one likely knows the result, and the excitement of an "anything can happen" live game can't be beat. Something BBC and the soon to be introduced ITV knew all too well.
Another first was teed up, with the first football broadcaster bidding war in effect. There were many scuppered deals and rejected plans, last minute U-turns, but in the end ITV's ability to include advertising campaigns to generate more income seemed a far better deal.
Broadcasting Rights Acquired!
 In 1960 ITV earned the rights to show 26 Football league games in the 60-61 season, paying over £143,000. Signed by American broadcasting company ABC on behalf of ITV Their deal stipulated that any loss of gate receipts would be reimbursed and players would earn an appearance fee for every game they played in on TV.
At the same time, another important rule was introduced as part of all the negotiations. The 3pm blackout. Suggested by Burnley chairman Bob Lord to help protect lower league clubs, the goal was to prevent declining attendances for typical day-to-day matches, saving coverage for games earlier or later in the day that might have less attendance anyway, or special occasions that often started later, and comfortably attract a large attendance anyway.
By this point football was actually declining in popularity. Gate receipts were dwindling, with attendance on an alarming decline. Yet the BBC and ITV saw the sports' great potential, and the Football League were convinced. 
Typical…
Football League Secretary Alan Hardaker claimed this broadcasting deal would "arrest the alarming decline in football gates and extend the game's popular appeal as a spectacle". Even going on to include the potential audience of millions of Women who watch from home, which for the time seems a pretty progressive notion.
On Saturday 10 September 1960, the match between Blackpool and Bolton was broadcast live on ITV. The match kicked off at 6.50pm, making sure no other games were ongoing that might draw viewers away. The match was promoted as a chance to showcase a " taste of the excitement and spectacle of first class football."
If years of commentators and pundits claiming guaranteed entertainment is anything to go by, you know what happened next.  With thousands gathered around their TV sets, in Britain and across the pond football would be advertised to potentially millions. It was inevitable. Typical. Crushingly predictable. The match finished 0-0. In one of football's first of commentator's curses, guaranteed excitement was a promise too far.
 Doubtful of whether football was quite as exciting as it had been made out to be, ITV were questioning their decisions. When clubs and the Football League came asking for 5 times the appearance fee for players, ITV were even more put off the whole thing. Following the 0-0 draw and lukewarm reception, ITV would opt not to show any more live matches that season…
Or the season after…
Nor for the next 5 seasons after…
Or the next 10 Seasons after…
Remarkably it would be 23 years until the next live League game was shown on Television. It would not all be doom and gloom though. There was of course football's biggest stage, a stage that never disappoints. Football's last unsullied bastion was the World Cup, with the first to be televised fittingly taking place in England.
Success On a Global Stage and an Iconic Programme is Born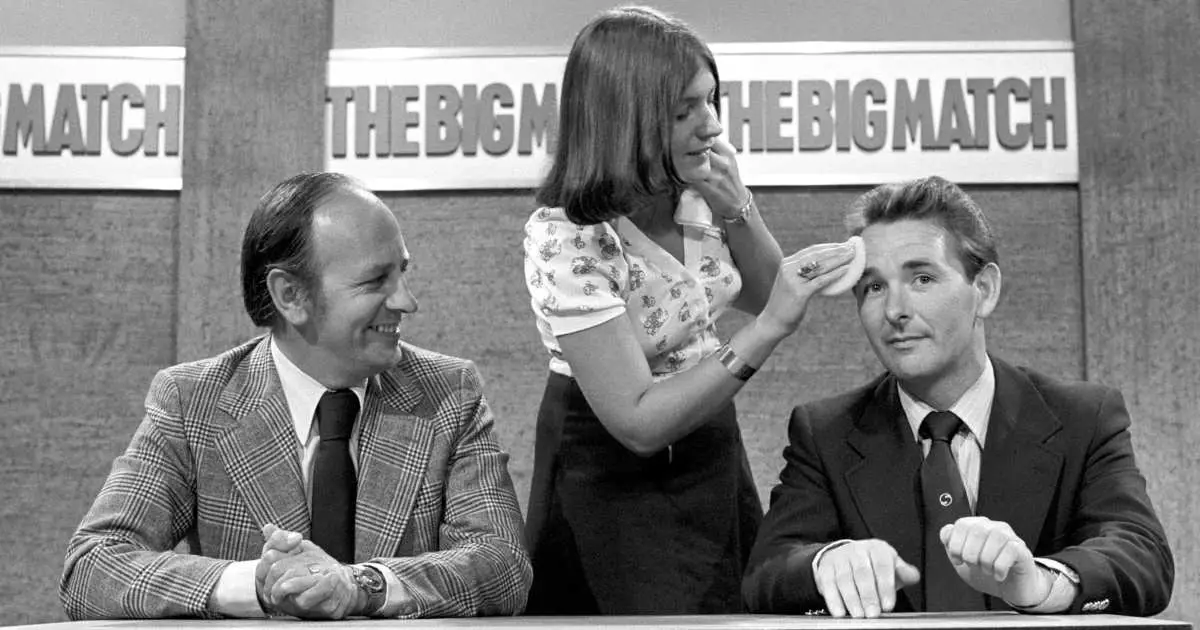 With 400 million worldwide tuning into the 1966 World Cup final, there was still much evidence for football's potential. 2 years earlier in 1964, a new approach to highlight shows was taken. Matches were no longer shot on film, which until now had proved to be a huge problem.
Film couldn't last the 45 minutes of each half, meaning it would have to be changed before the end of each half, meaning if a goal was scored during the changing of the reels, that was it. You missed it tough luck.
That had finally all changed, thanks to the ability to record using video tape, a technology that greatly increased the production speed of highlight packages. With this new found technology, the first iteration of Match of the Day was broadcast. By this point Lineker was 4 years old, so Wolstenholm would continue to carry the torch. 
It would be shown on BBC2, a new channel exclusive to the 625 line of television sets, giving it a limited audience that worked in the show's favour. The cost and therefore lack of 625 television sets in British family homes meant any fears of highlights hampering attendance were unjustified, allowing the program to air at 6:30 pm.
Originally the program very much lived up to its name, showing 55 minutes of highlights from one game. It may seem excessive to show over half of one match as highlights, but this was a huge leap for football broadcasting.
Despite the success in its first year, Match of the Day would be subject to tense negotiations. The BBC and Football League were once again in battle to hammer out acceptable terms, unwilling to risk any potential effect on attendance. Match of the Day returned, but only featuring 45 minutes of highlights. Also falling back into it's 10 pm slot,  a slot it still occupies today.
In 66 Wolstenholme had rooted himself in the foundries of football history, his legendary commentary of Geoff Hurst's final goal against Germany known as transcending generations. Despite this, his career at the BBC was drawing to an end.
Considering his once innovative commentary style as outdated, the young David Coleman would replace him in 1968 as Match of The Day presenter and as the number one Commentator.
ITV Broadcasting Deal- Take Two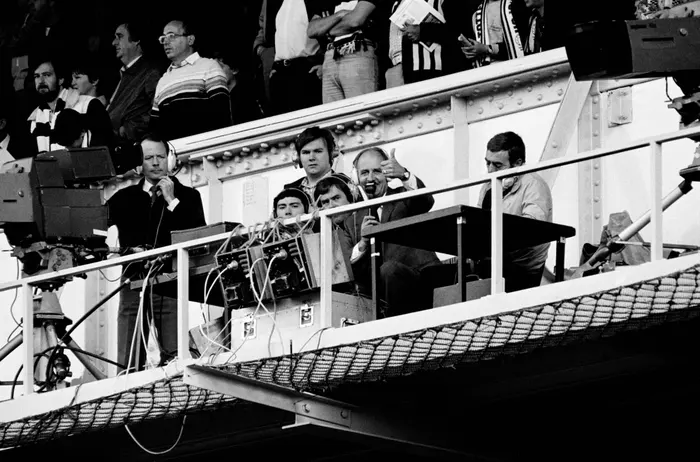 Football would continue to grow steadily throughout the 70's, the explosion of the enigmatic Brain Clough drawing interest through his legendary interviews on programs such as "The Big Match". English football's growing presence in the European Cup and the broadcasting of Cup Finals still being shown annually generated excitement around the game, ensuring interest in the game remained.
Meanwhile the broadcasters continued to bide their time, deals occasionally brought to the Football League but progress seldom made.
By the time a Football League match was shown on TV again, the 70's had been and gone, and the 80's era of Hair Metal, electro-pop and an inescapable commercialism was at hand.
In 1983 ITV would strike a massive deal for broadcasting rights for league games. Paying £5.2 million for a two year contract, ITV had once again acquired the rights for the worlds most exciting game. This time they wouldn't change their minds. On the 2nd of October 1983 English Football changed forever. Tottenham faced Nottingham Forest, a huge game that would kick start a huge change. Football on TV was a huge success. 
Attendances weren't affected. The chairman's and The Football League were happy to continue broadcasting League football. 
Is a Clear Sky Always a Good thing?
It seemed the footballing revolution would be televised. In 1988 a four year contract was etched out, with the 5 biggest teams: Arsenal, Manchester United, Liverpool, Tottenham and Everton taking a larger cut of money, threatening to form a Super League were they not afforded extra funds for being among the better teams.
They would get their extra money, broadcasting would continue, crucially so with what was to come next.  With new money came a need to re-brand. The Premier League replaced the First Division. Identical to the what had come before, save for the reason football is the monetary juggernaut it is today. They moved to let clubs keep all the TV revenues. This was a huge influx of cash for clubs at the time allowing sides to attract exciting foreign players, many who would go on to become legends of the English game.
A leviathan was lurking in the shadows still, waiting to swoop and turn football into an empire. Sky TV, owned by Rupert Murdoch, would pay £304m over five years to show weekly Premier League games. It was a huge success, with the contract renewed in 1997 for £650m.
Football as we knew it had changed, and over the next 20 years would evolve globally, bigger and grander sponsors, worldwide coverage of football across not just Europe but the world. The Premier League was at the centre of it all, with finances other leagues around the world struggled to compete with.
Has A Premier League Match Ever Been Shown on Terrestrial TV?
It would take the pandemic of COVID-19 to loosen Sky and BT's stranglehold on broadcasting the Premier League, with a 32 year gap between the 1-1 draw between Burnley and Wolves and the last First Division fixture shown on terrestrial Television.
This would also be the first Premier League game in history to be available live and for free for any with a TV. The special circumstances surrounding the situation allowed for it to happen. Since the pandemic, football fans without Sky or BT have had to rely on Match of The day for their football fix, having been handed a crumb in the pandemic.
Football's came a long way from its humble beginnings. Players now living the life of movie stars thanks to footballs influx of TV money. Through The Football League's decision to broadcast football again, transfer fees and club finances had rocketed skyward in the space of just 30 years. For many excessively so, the money in football broadcasting filled with its positives and negatives. One thing's for sure however. Broadcasting has made football far more than just a game…