Behind every magnificent football team is an extraordinary leader – someone who is the mastermind in navigating them to realize, what, to many, seems impossible, but which, to him, is possible. For many years, that was Spain's national team manager Vicente del Bosque. He was their heartbeat, the catalyst of their success, and the protector of all that is 'La Roja'.
Vicente del Bosque González was born in Salamanca, Spain, on the 23rd December 1950. He was a former player before becoming a manager and played internationally for his country, receiving 18 caps.
He is regarded as one of the best of all time and the only football manager to have won the World Cup, the Champions League, the European Championship, and the Intercontinental Cup.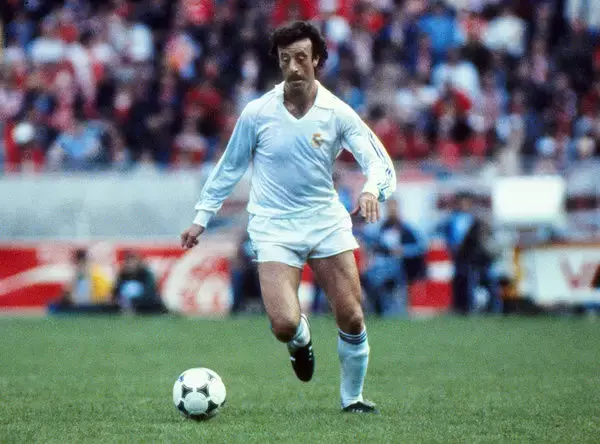 Vicente Del Bosque Coaching Journey
Vicente del Bosque González managerial career started in 1987, eventually became head coach of Real Madrid CF in 1994, 1996, and 1999-2003. The last spell was his most successful, leading Real Madrid to two UEFA Champions League titles, two La Liga titles, the Supercopa de España, the UEFA Super Cup, and an Intercontinental Cup.
Managing the team's development and dealing with some of the biggest stars in the world was challenging, but he made it seem easy, even creating good relations with his players. Just a day after winning the club's 29th Liga title, Real Madrid did not renew Vicente Del Bosque's contract at the end of the 2003 season. A position as technical director was offered to Del Bosque, but he turned it down.
Del Bosque later went on to coach the Turkish side Beşiktaş JK. In 2006, he was offered the opportunity of becoming Mexico's national team coach, which he declined. He belonged in Europe and was destined to become the manager of one of the greatest teams of all time…Spain!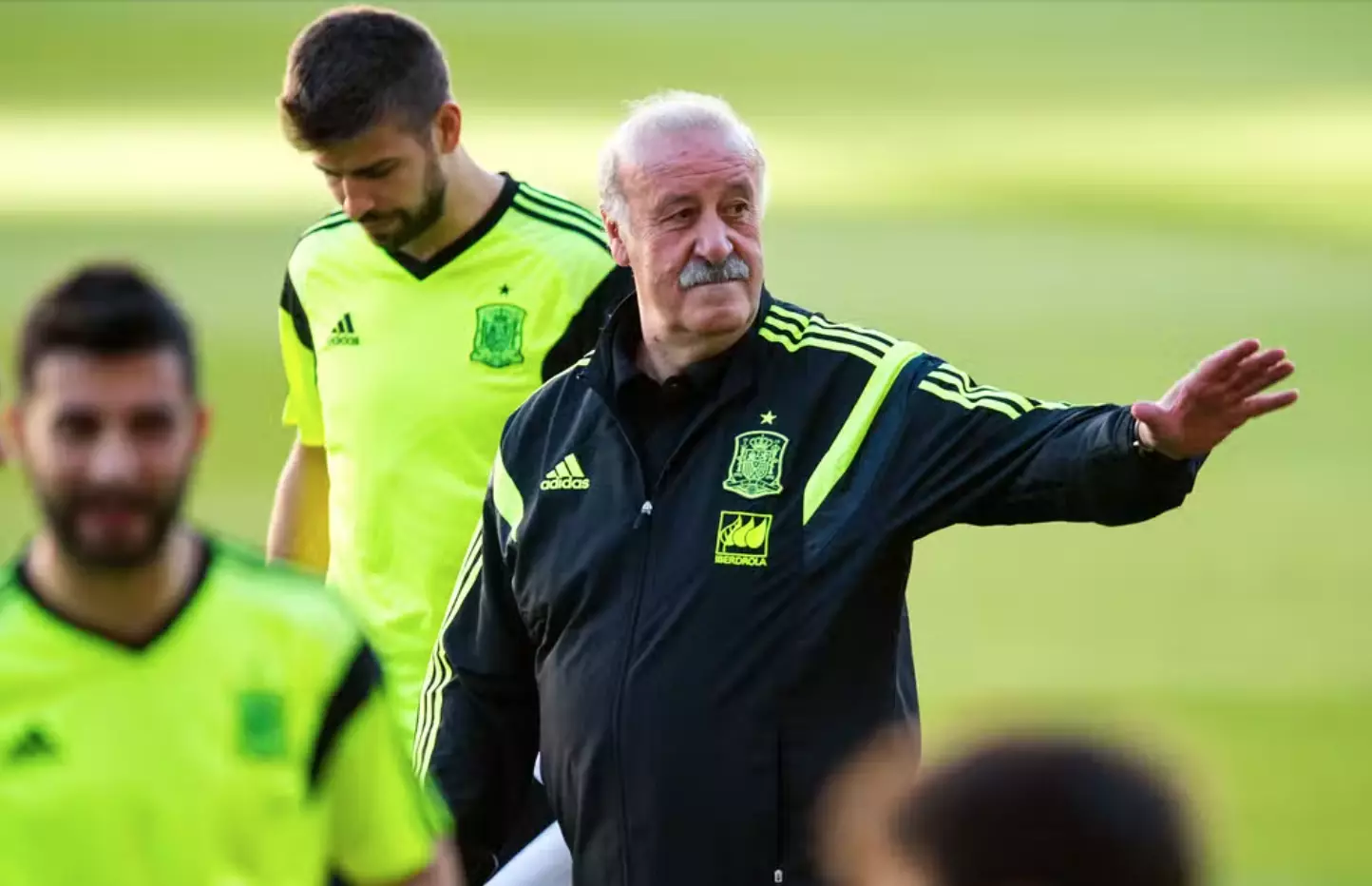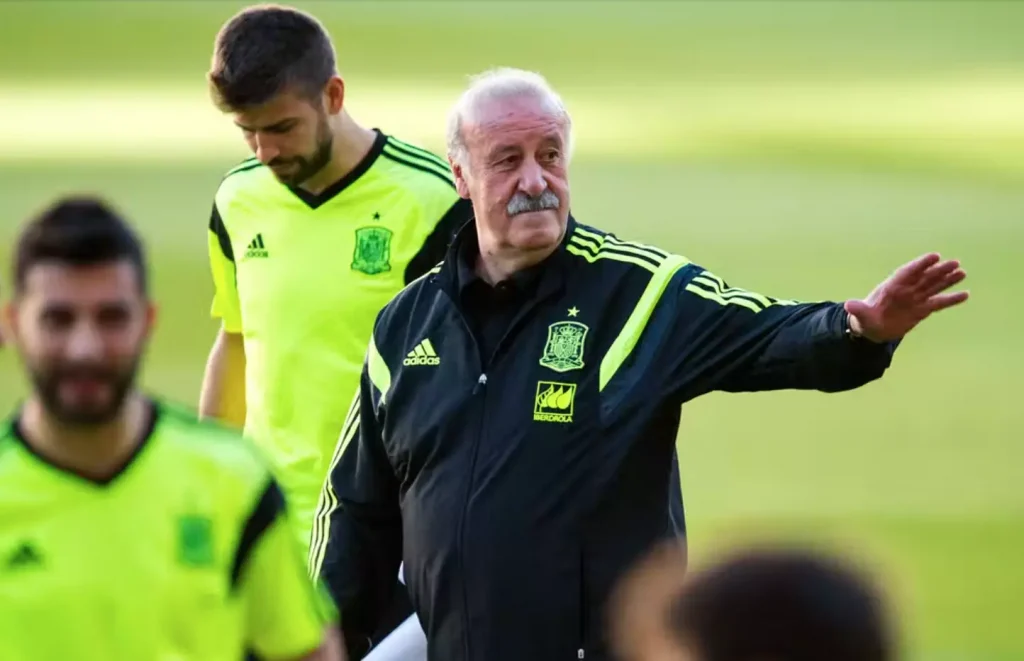 Senior Spain National Team
Coming in at the tail end of Spain's 2008 UEFA European Championship win under Aragonés, Vicente del Bosque was faced with greater challenges, not only having to manage the newly crowned champions but to continue in his predecessor's footsteps in one of their most successful periods.
Like Aragonés, del Bosque eradicated any conflict in the national team between players from rival clubs, Real Madrid and FC Barcelona. Taking charge of 'La Roja', a team blossoming and without limitations, required someone of his caliber to unlock their potential.
With the introduction of tactical modifications, del Bosque led Spain's national team to two further victories: the 2010 World Cup and the 2012 UEFA European Championship titles. With Spain winning three major trophies in a row, 'La Roja' is ready to realize their next dream…their second World Cup title!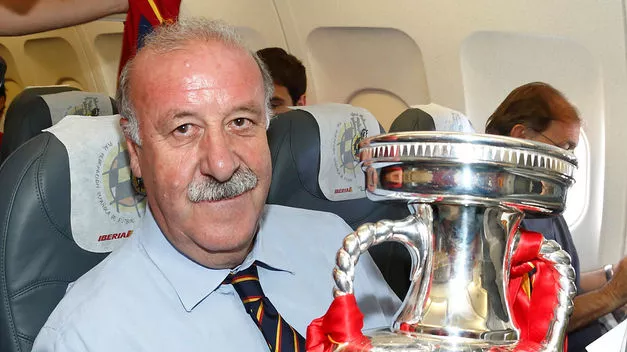 'La Rojas' Tactician And A Spanish Philosophy
As Spain's manager, Vicente del Bosque has all the qualities which make him perfect for his significant role: the manager is hailed for his intelligence and diplomacy; he is calm, analytical, realistic; and humble in victory as well as in defeat.
Del Bosque demands high standards and discipline from his players, always enticing them to persevere and reach their goals, which is reflected in their spectacular over 80% winning percentage.
The coach is a visionary who continues in the tradition of molding and developing champions of the present and future. His coaching methods are based on simple but effective principles: creating an atmosphere where one feels good and where egos don't exist, a tranquil place, and where the individual sacrifices himself for the team.
Vicente del Bosque places complete trust and faith in his soccer players, gladly reciprocated by them all.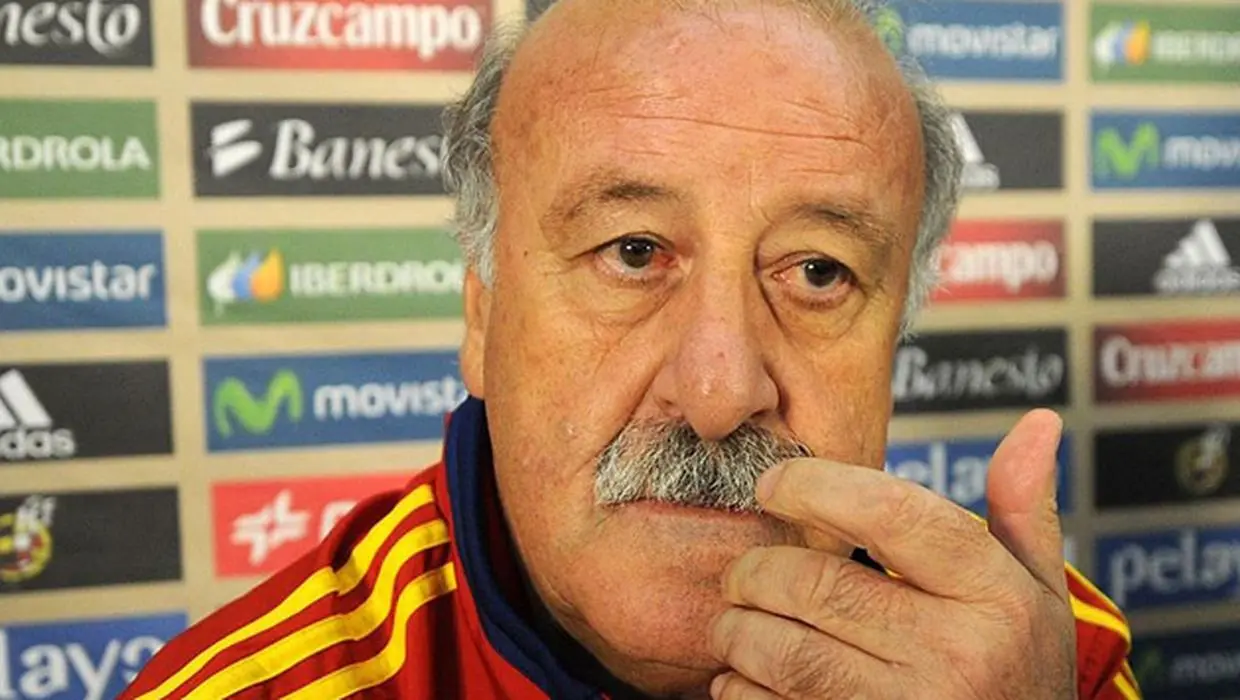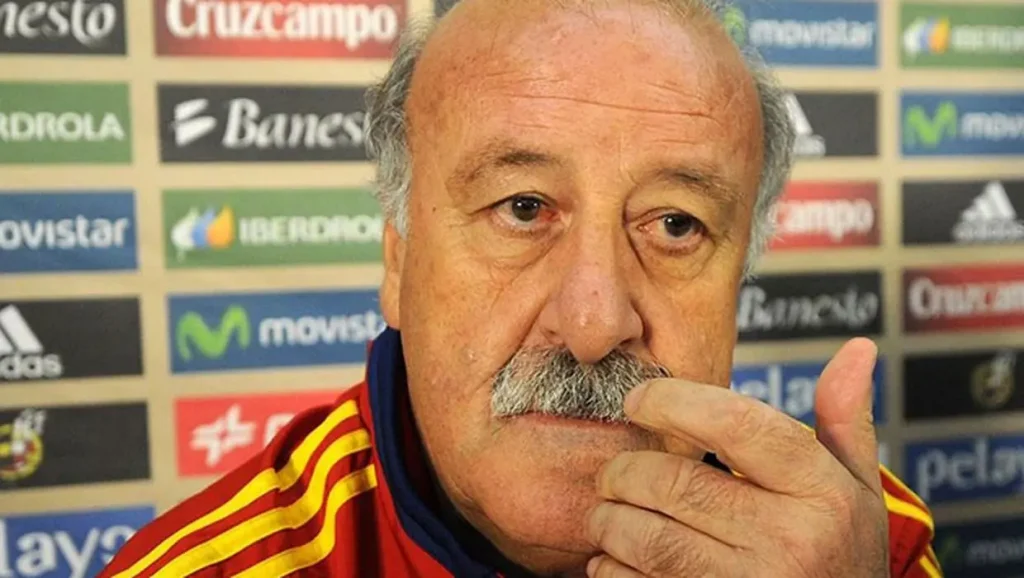 Tactical Genius
There has existed a philosophy that has assured Spain of its success, especially since 2008. Spain has not remained static; its subtle progress has and continues to transpire.
There has been a shift in terms of their technical and strategic approaches over the years, perfecting their flowing game, with ball possession being their most developed area.
Only a tactical genius like manager del Bosque could build on what existed and perfect it – the mastering of the possession game, the patience on the ball, allowing the ball to glide across the pitch with fluidity, an almost hypnotic flow, even enforcing their style on the opposition.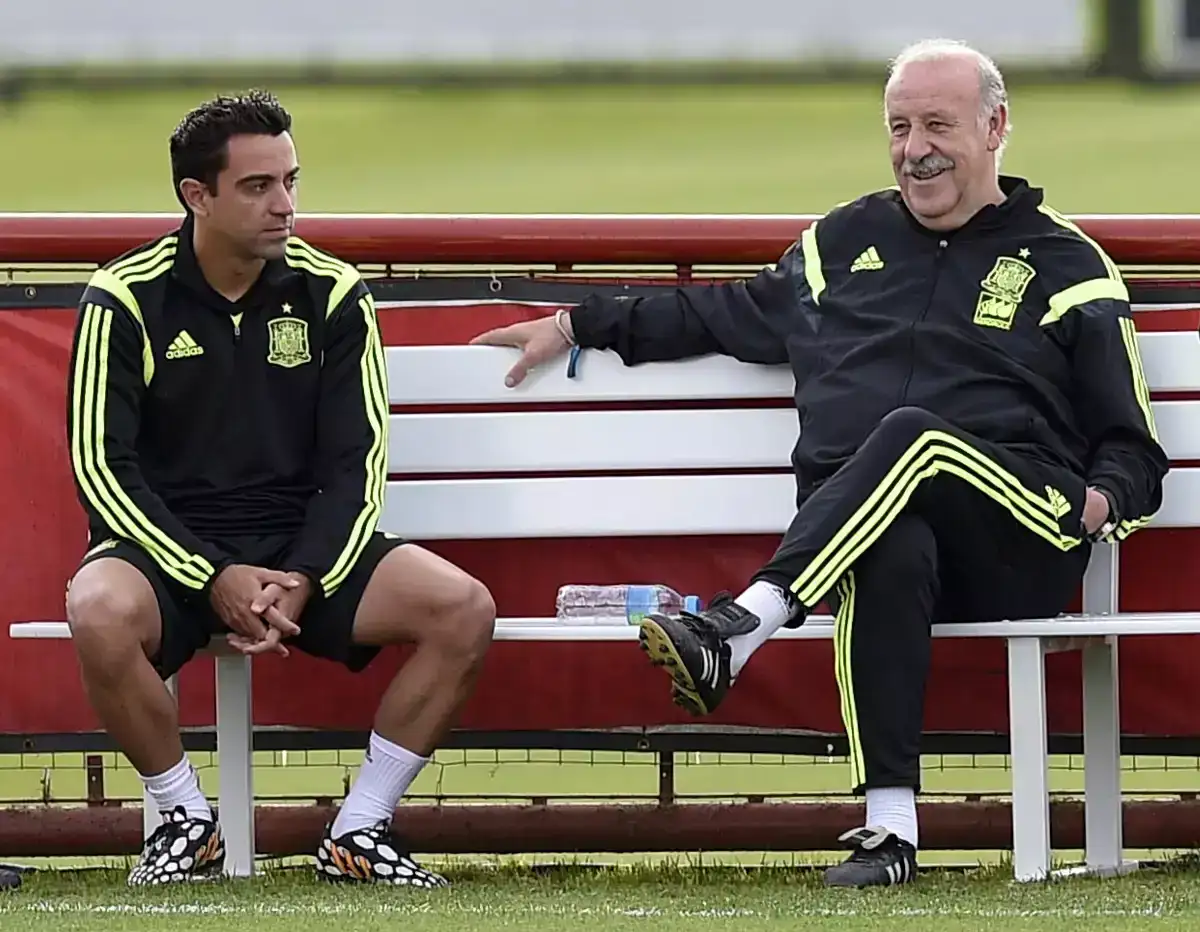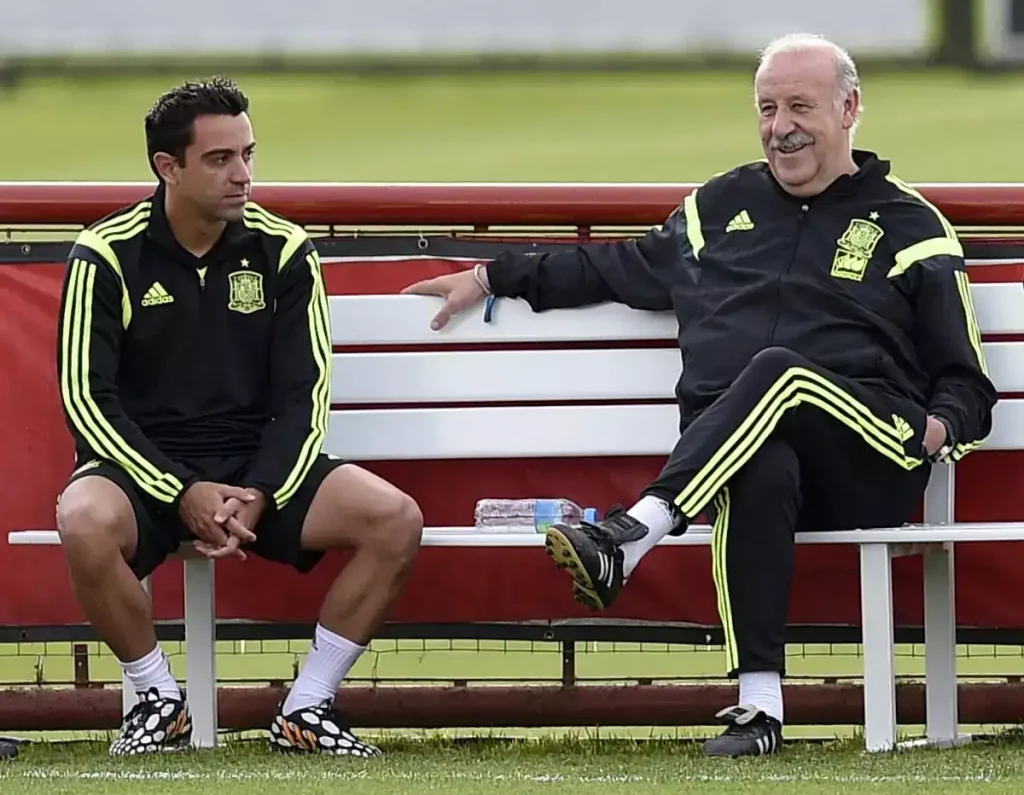 With the modern twist and added vitality brought in by the younger players, the team will continue to be one step ahead of the competition. There is nothing too fancy about it all, just glistening highlights encircling an authentic kind of football.
38 players have made their debut for Spain under del Bosque since the coach was appointed. Andres Iniesta, David Silva, and Iker Casillas made their international debuts under del Bosque.
Past Experiences And A Trial Run
As always, the FC Barcelona and Real Madrid players make up the spine of the national team. How much we can take from both these teams' performances at the club level, which is thought to be transposed to the national team, is somewhat debatable.
Looking at their Champions League campaigns of the 2012/2013 season is only one of the many variables used in determining if, or to what extent, those club performances have on their national side.
In the competition, both German sides, Bayern Munich and Borussia Dortmund beat their Spanish counterparts on aggregate after their semi-final matches, making it an all-German Champions League final.
Can we, therefore, deduce that Germany will have a stronger national side as a result? It's a multi-dimensional argument. Individual player performance affects a national coach's decision-making process to the extent of player selection and how players are utilized.
However, by no means will a premature Champions League exit by FC Barcelona and Real Madrid disrupt Spain's chances at the international level. However, what was interesting about Barça's defeat to Bayern Munich was the extent to which Bayern interfered with and obstructed Barça's passing game.
The Germans dominated, used counter-attacks, and sprung on any errors made by their opponents over both semi-final legs. Any weakness in the opposition's armor will be punished in critical matches like these ones, and FC Barcelona was beaten.
Defending The World Cup Title
In just under a year, Spain will have to defend their title. The last tournament in which 'La Roja' participated was the Confederations Cup in Brazil. After Spain's loss at the hands of the home side, many thought they were showing symptoms of decline, which is seriously far-fetched.
As a trial run in preparing for the 2014 World Cup, it revealed areas in which coach del Bosque's team must improve.
If I earned a Euro for each time I heard that Spain's national team run is over, whenever they happen to lose a match, I could have already bought my own private jet, gone on a round-the-world trip, and bought a car collection to rival Cristiano Ronaldo's!
Seriously though, this could not be further from the truth. A reign like theirs does not just disappear or end abruptly, not with someone like Vicente Del Bosque at the helm. With his finger firmly on this team's pulse, the manager continues to ensure they stay competitive.
Spain could even be the exception to the rule, perhaps never really slipping out of contention as international giants, maintaining their high standards, and always instilling fear in their adversaries.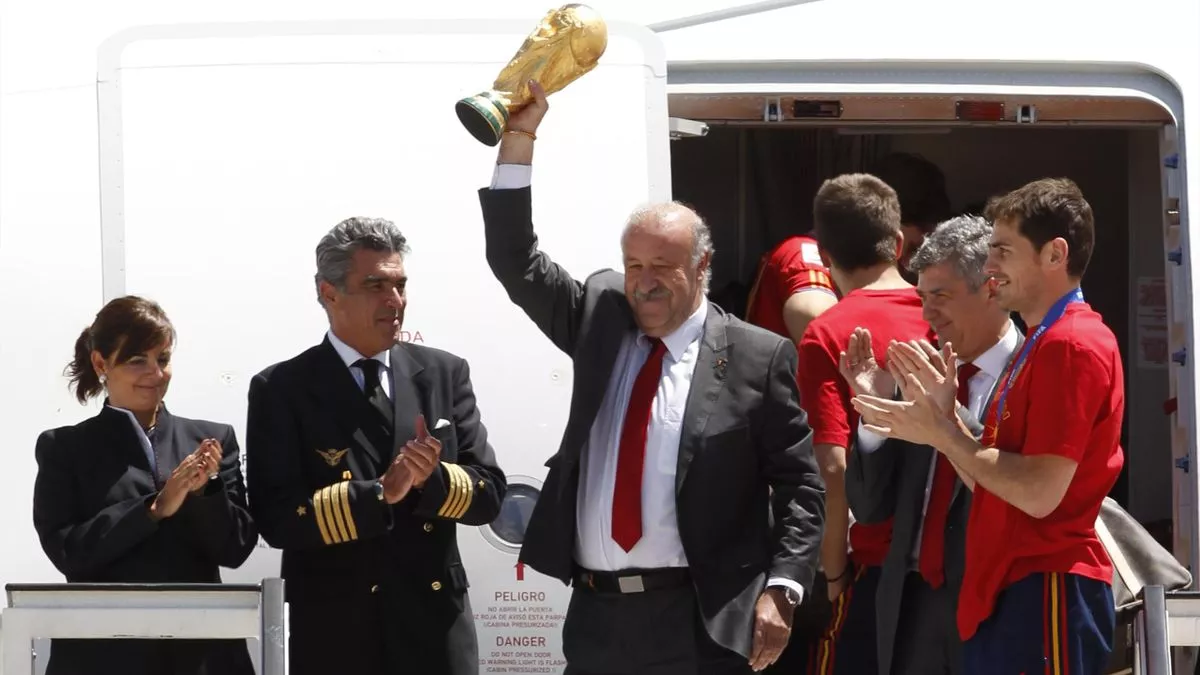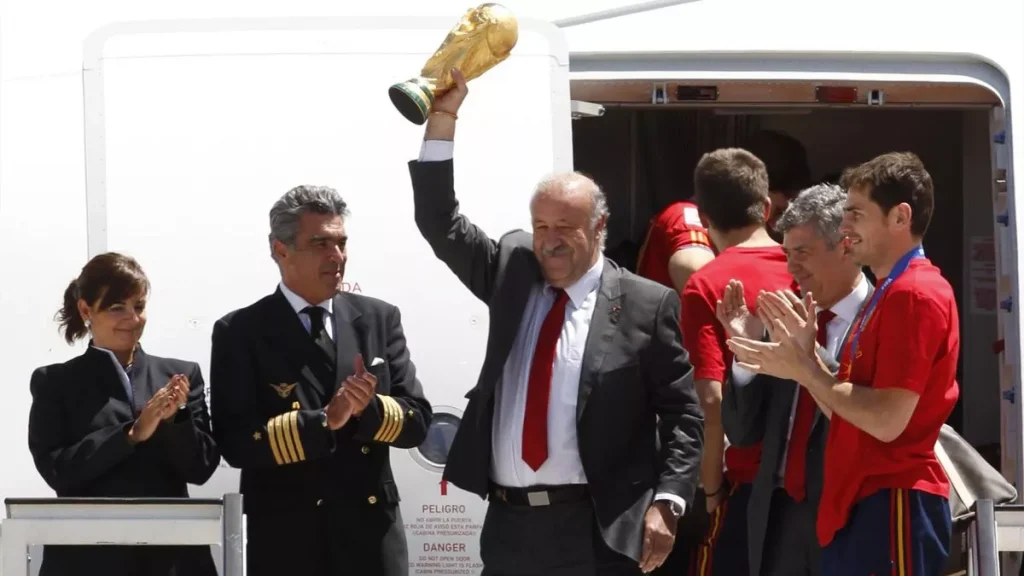 Bring On The World Cup
Spain was more than determined than ever to make more history and become the first team to win back-to-back European and World Cup titles. In the interim, the 'La Roja' manager has already been experimenting with several new players and youngsters to find the winning formula.
Vicente Del Bosque was aware of the threat that the Brazilian team poses in having the home advantage and who will be unyielding in getting their hands on this prestigious FIFA trophy. Everyone will want to beat 'La Roja,' and although Spain was one of the favorites going into the competition, they cannot write any opposing teams off.
Del Bosque wanted his team to stay true to their game and not succumb to pressure. They must play with courage, bravery and without fear – respecting their identity and playing style.
Being the inspirational person that Vicente del Bosque González is, coach has said that to keep realizing one's dreams is a positive way of going through life's journey. The manager stays true to his beliefs and decision-making processes and always shows complete faith in his players and their abilities.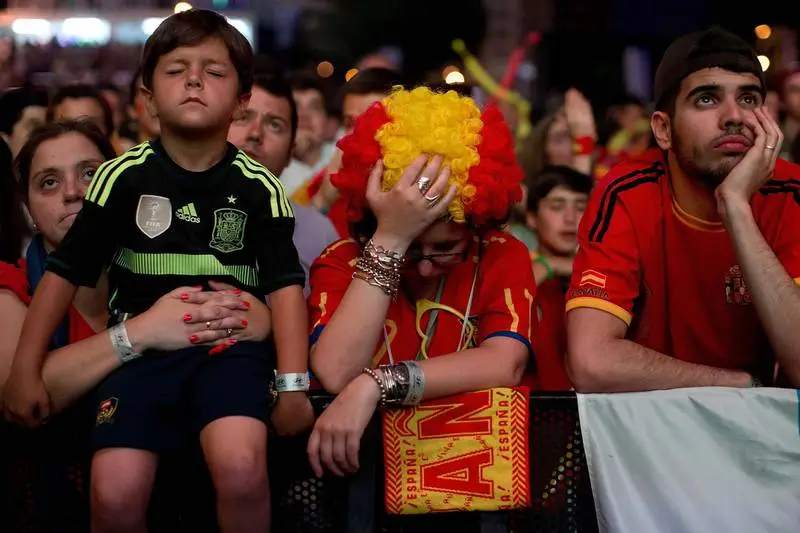 2014 World Cup Hiccup
It was the fifth time in World Cup history that the holders were eliminated at the first stage. Del Bosque's team posted their worst finish in the finals since the
1998 World Cup in France
. Chile defeated them 2–0 and the Netherlands 5–1 in the group stage.
Spain struggled to cope against teams with unorthodox formations, conceding seven goals in two games. It proved to be a mistake to keep faith in Iker Casillas. It has been a loss to lose the inspiration of Carlos Puyol.
The Spanish have generally been guilty of over-relying on a system that has worked well in the past. Pep Guardiola's Barcelona style has provided the basis for La Roja's style of play. Spain finished 23rd out of 32 teams at the 2014 tournament, its lowest finish at a World Cup.
Following the dreadful World Cup exit,  coach Del Bosque agreed he would resign as Spain's national team coach after UEFA Euro 2016.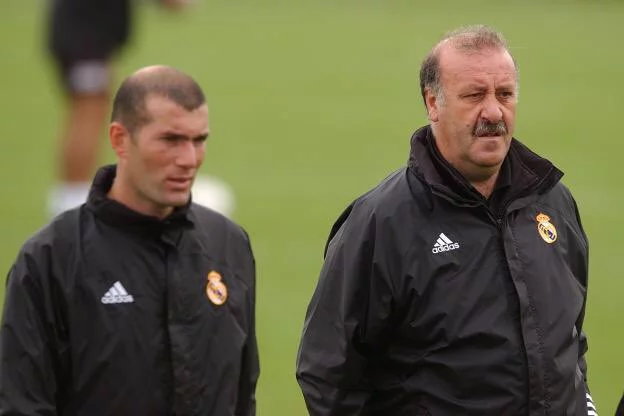 Honoring Vicente del Bosque
Vicente del Bosque was the FIFA World Coach of the Year award in 2012, clinching the prize over Pep Guardiola and Mourinho. The Spaniard said that it was not an individual award but rather for the work of the entire team.
It was recently mentioned by former Real Madrid player and Spain captain, Hierro, that the key to del Bosque's accomplishments is his emotional intelligence – this intelligence, combined with his people management skills, are the reasons for all Spain's triumphs.
Vicente Del Bosque is charismatic, modest, and gives credit to all those around him, from his players, the Spanish Football Federation, and even previous coaches, but never takes the credit for himself.
Vicente Del Bosque announced his retirement from the sport in June 2016 at 65, straight after being knocked out by Italy at Euro 2016. The coach encompassed everything that this team represents and has earned respect on a global scale.
Spain's Regal Reign
'La Roja', as the most dominant power in football, is much more than just a football team – they represent the pride of a nation, the love for this beautiful game, and making a difference in the world around them.
An inherited style of play that has become a national treasure, a legacy for future generations to be guided and inspired by, all upheld and defended by one of the greatest managers of our time…del Bosque.
Vicente del Bosque managerial philosophy could not be more fitting, as the coach once said in an interview with British football magazine World Soccer: "Soccer has changed a lot but the essence remains the same. The joy, the hope, the emotion – that's still there. Things have changed, life changes. Some things remain."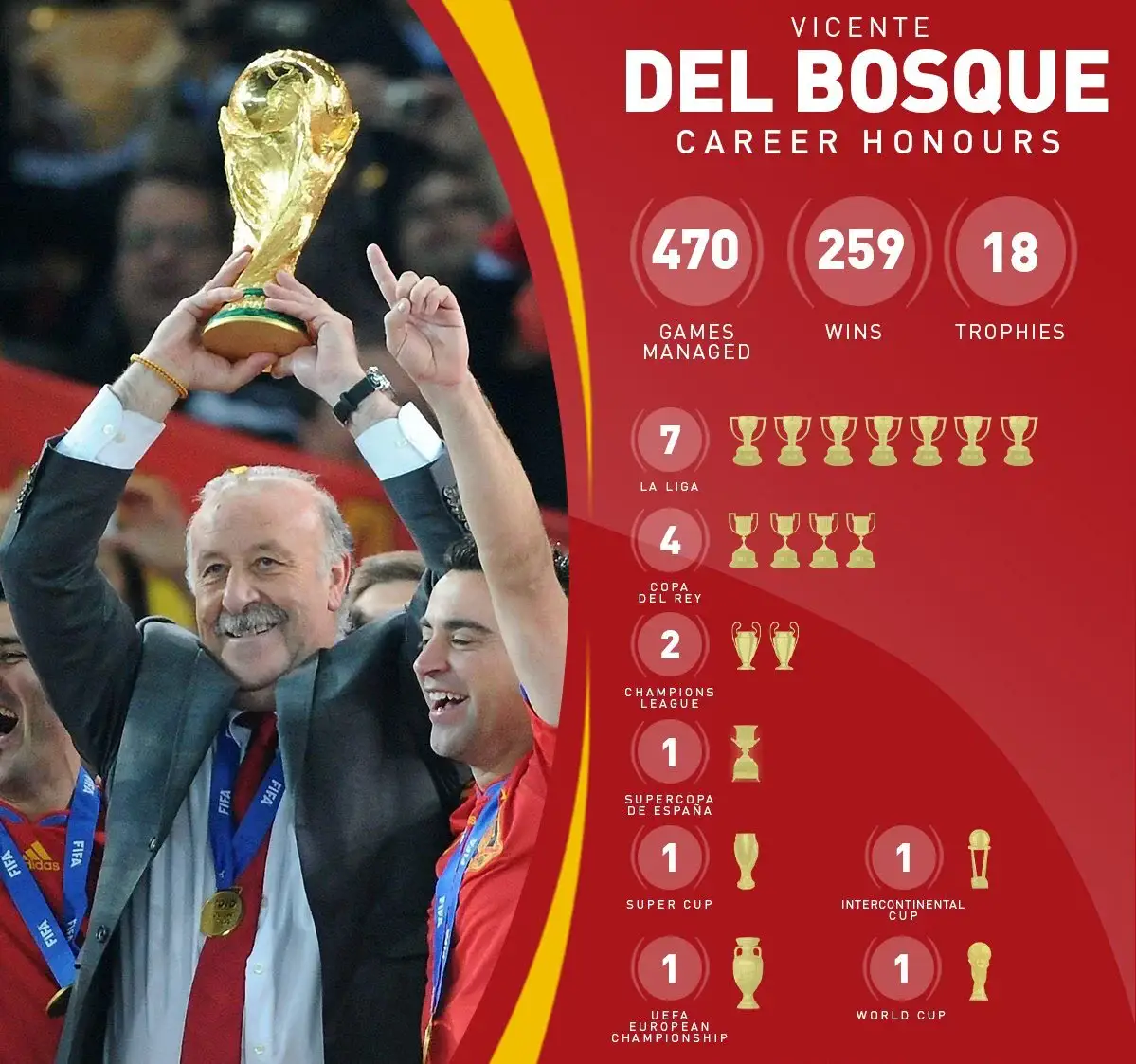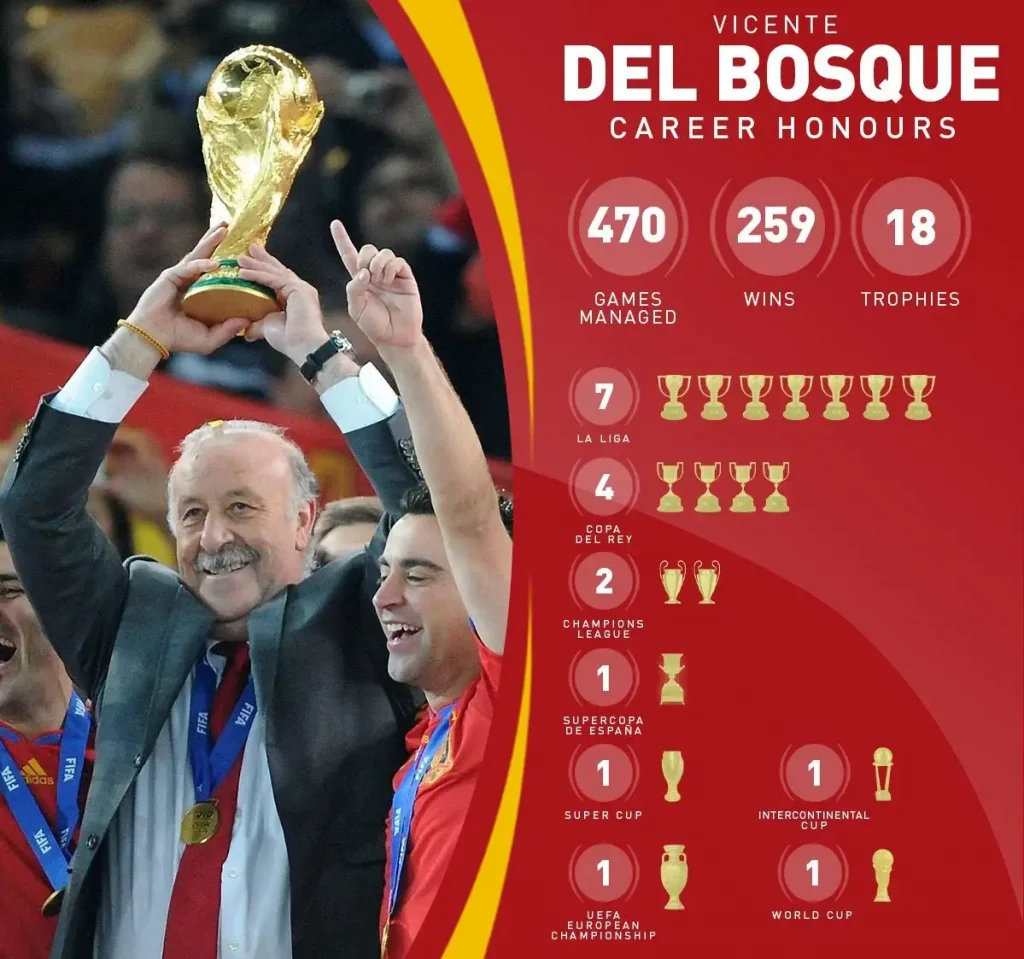 Vicente del Bosque Facts And Figures
Full Name: Vicente del Bosque González
Birthdate: 23/12/1950
Birthplace: Salamanca, Spain
Playing Career:
Plus Ultra 1967–1968
Real Madrid 1968–1984
Castellón (loan) 1970–1971
Córdoba (loan) 1971–1972
Castellón (loan) 1972–1973
Total Appearances: 518 games, 45 goals
International Playing Career:
Senior Spain National Team (10 appearances, 1 goal)
Teams Vicente Del Bosque Coached:
Real Madrid Castilla 1987–1990
Real Madrid (caretaker manager) 1994
Real Madrid (caretaker manager) 1996
Real Madrid 1999–2003
Beşiktaş 2004–2005
Spain National Team 2008–2016
Playing Honors:
Real Madrid
1974–75, 1975–76, 1977–78, 1978–79, and 1979–80: La Liga Five League Titles
1973–74, 1974–75, 1979–80, and 1981–82: Cuatro Copas del Rey Winners
Football Manager Honors:
Real Madrid
1994: Copa Iberoamericana
1999–2000 and 2001–02: Two Champions League Titles
2000–01 and 2002–03: La Liga Titles
2001: Supercopa de España Trophy Winners
2002: UEFA Super Cup
2002: Intercontinental Cup
Spain National Team
2010: FIFA World Cup Champions
2012: UEFA European Championship