One of our office staff's most frequently asked questions is, 'where was the last World Cup held and who won?'
From 14 June – 15 July 2018, Russia hosted the 2018 FIFA World Cup, also known as Russia 2018. In the World Cup final held in Moscow, France defeated Croatia 4–2, claiming their second championship.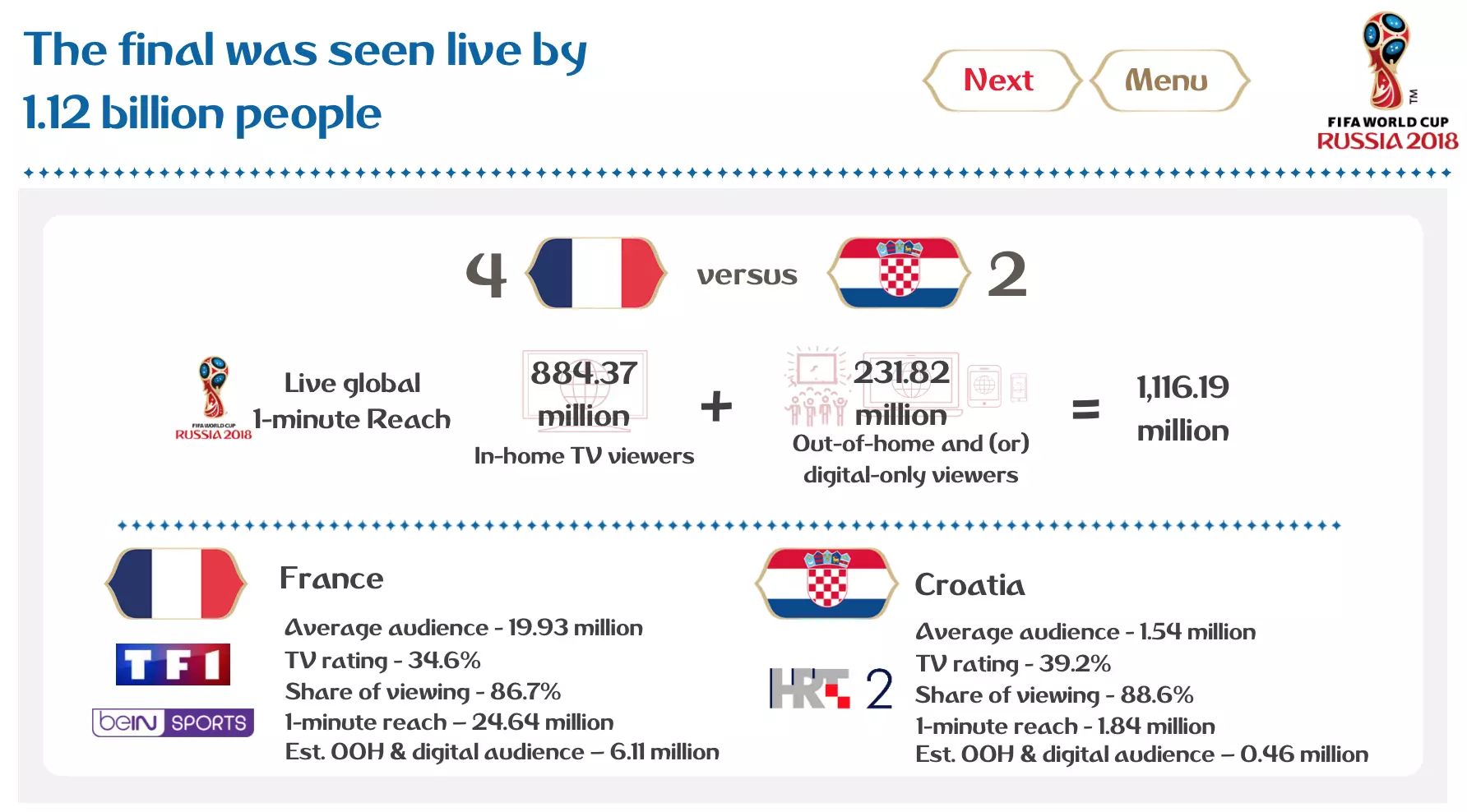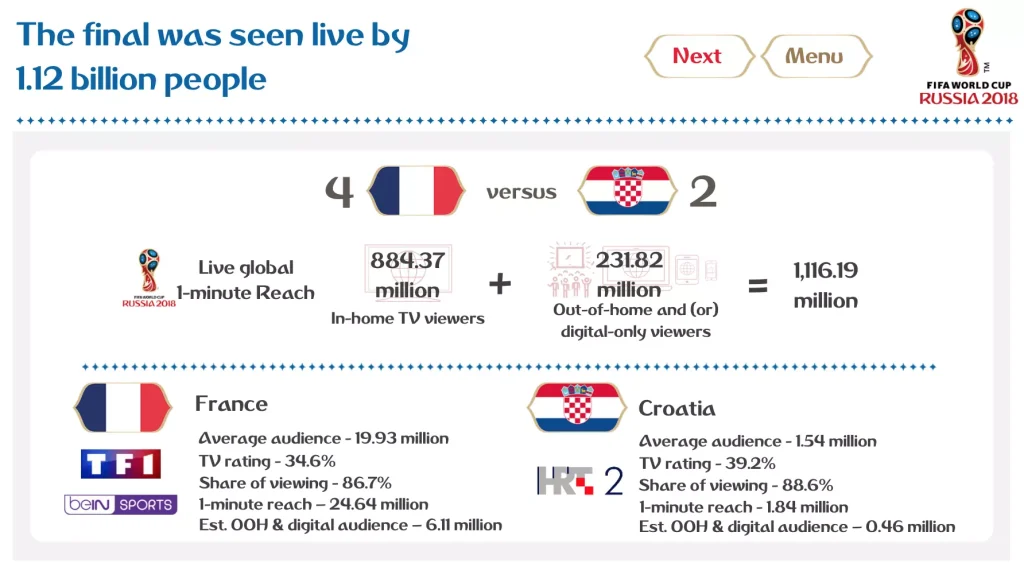 The Best World Cup Yet!
The FIFA president has called Russia's World Cup the best in history, citing match attendance, organization, and football entertainment. FIFA president Gianni Infantino has proclaimed Russia 2018 "the best World Cup ever."
The finals have primarily been considered a significant success by visitors and viewers worldwide, particularly in light of concerns about Russia's suitability as host.
Organizers have been praised for efficiently running the tournament across the 11 host cities. In contrast, there have been few recorded incidents of traveling fans being subjected to racial or homophobic harassment that was initially feared.
With football primarily engaging throughout the tournament, Infantino had no hesitation in describing 2018 as the World Cup's finest year.
"A couple of years ago, I said this would be the World Cup ever. Today, I can say that with new conviction. It is the best World Cup ever," he told a news conference in Moscow.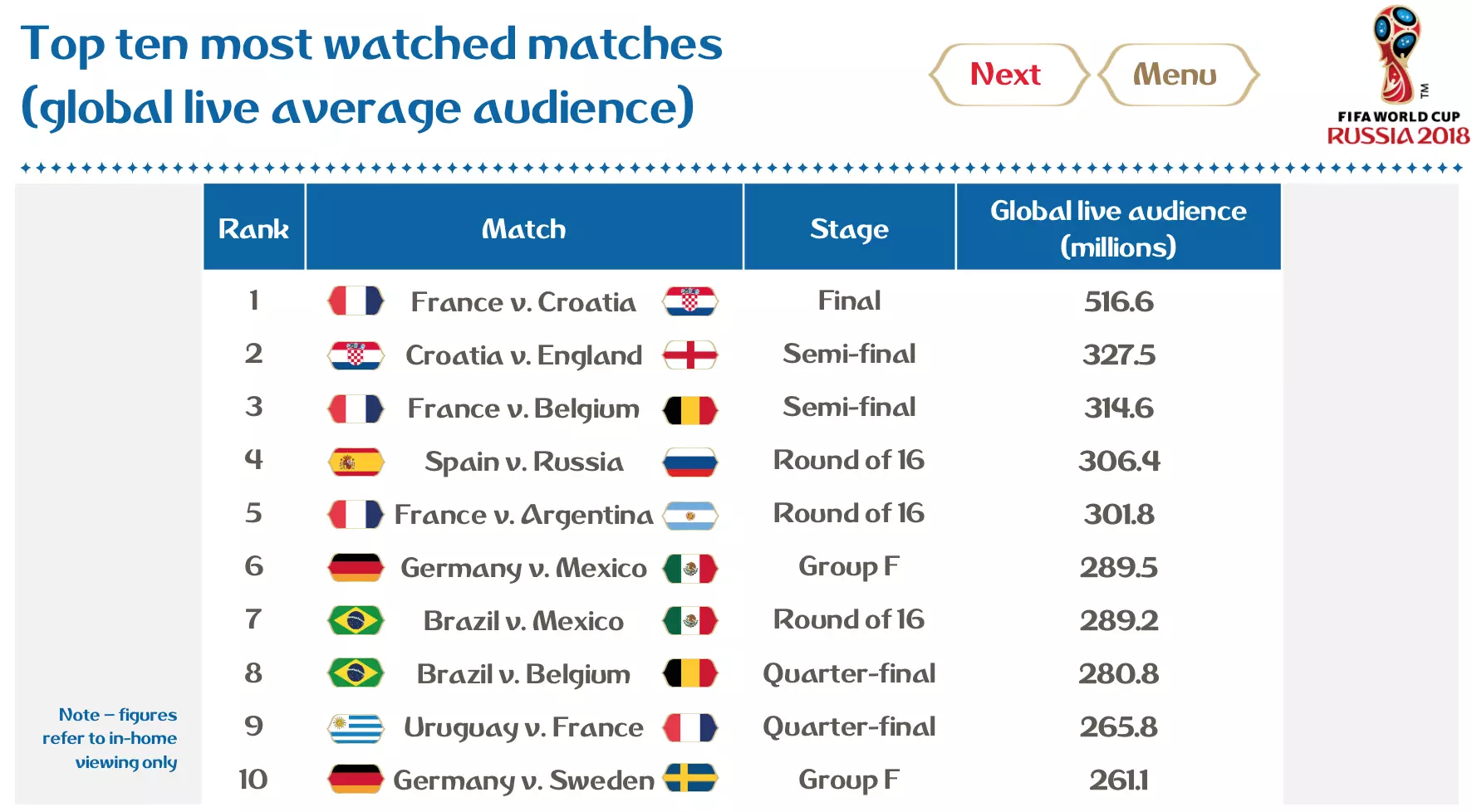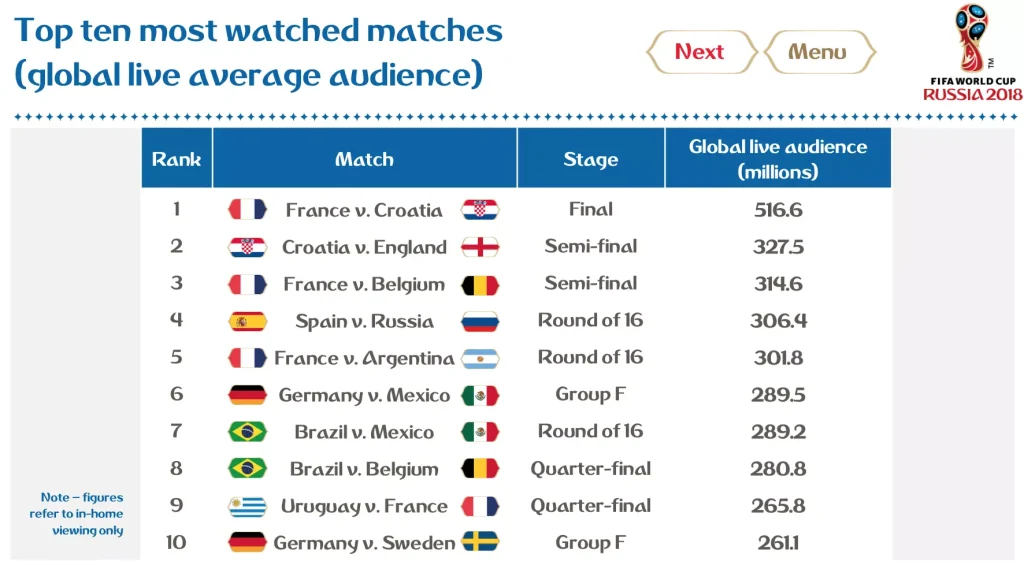 Massive Audiences
"We had 98 percent stadium occupancy, more than one million fans traveling from abroad, and more than three billion viewers on TV.
In FIFA's digital channels, content has been viewed more than 11 billion times. There were seven million visitors to the fan fests, great success with VAR, and anti-doping has delivered unprecedented tests and, so far, touch wood, zero positive results.
"We have been acting against discrimination with a new way of operating with FARE and others.
"But there is the football side, and we had only one game that ended 0-0, and we had some great games, all had a lot of emotions, and on the organizational side, the level of excellence in the infrastructure in the stadiums, airports, hotels, transportation, security, the level of operational excellence has been unprecedented, and that's not only me saying it, but it's also others who have been at several World Cups and championships.
And a great party, an extremely friendly atmosphere, from beginning to end."
VAR At A World Cup For First Time
One notable aspect of this tournament has been using VAR at a World Cup for the first time, which Infantino considers a resounding success.
Indeed, the former UEFA general secretary believes the days of goals scored from an offside position or red cards for violent conduct could both be coming to an end due to the video assistant technology.
"The results are extremely clear and extremely positive," he said. "Over 440 checks so far, 19 reviews in the 62 matches, there were 16 decisions changed from a wrong decision to a right decision, so when you check vocabulary and the word 'progress,' progress means to make things better compared to the past. So this is progress. This is better than in the past.
"VAR is cleaning football, helping referees to make the right decisions in a challenging job. Of the checks we made, 95 percent were already correct, and thanks to VAR, we increased to 99.32 percent. It's not 100 percent, but it's 99.32 percent, which is better than 95 percent.
"The offside goal is finished in football, at least in football with VAR. Either you are, or you need to be onside. And this is over. How often have you written in the past whether he was offside or not? It's finished.
"Look how many red cards there were for violent conduct in the last World Cups. In this World Cup, so far, zero. Why? Not only for VAR, but everyone knows if you do this [elbow] in the face, someone will see it, and then you will be sent off. It isn't easy to think about the World Cup without VAR. We'll see what we can improve in the future."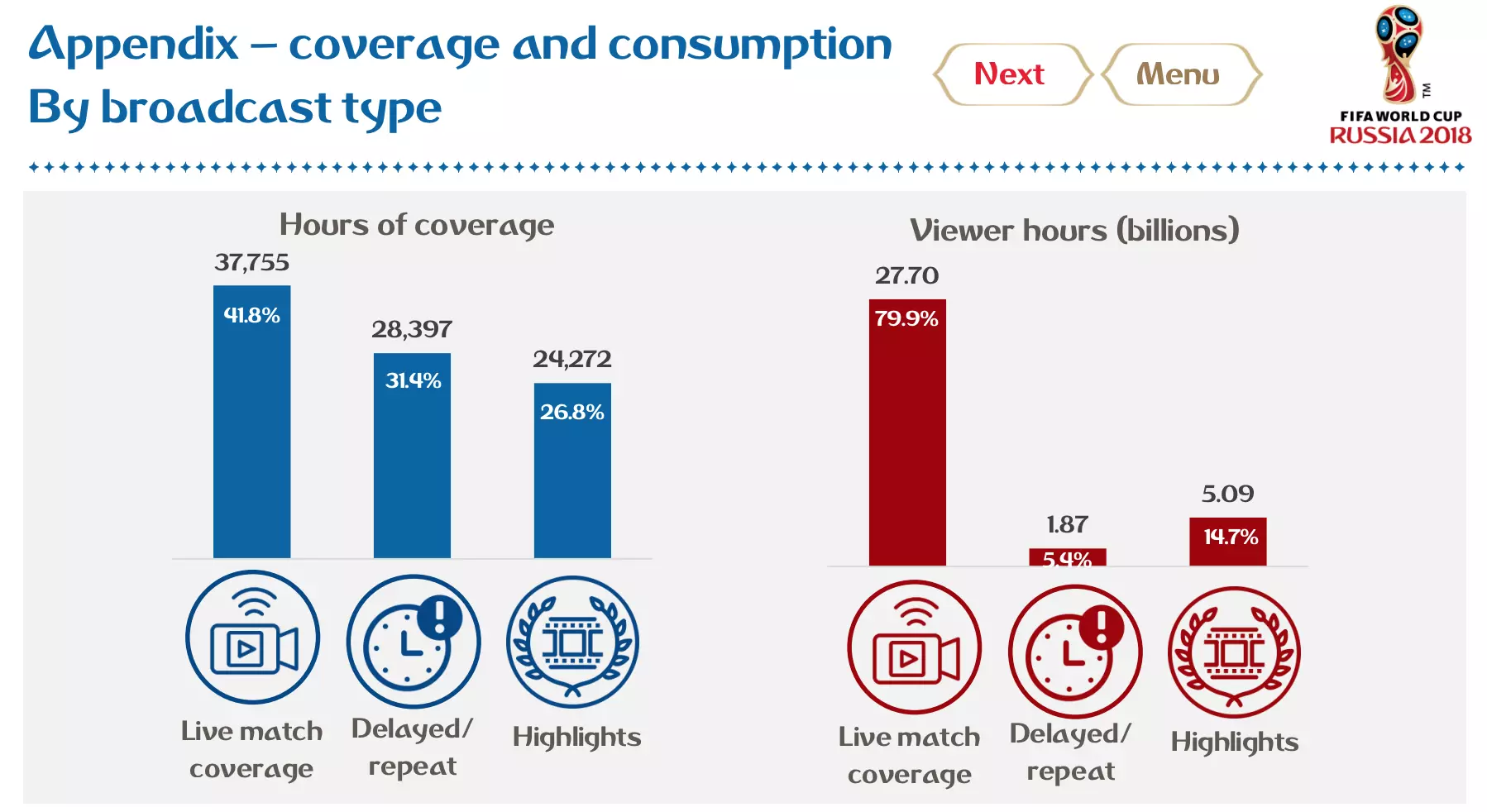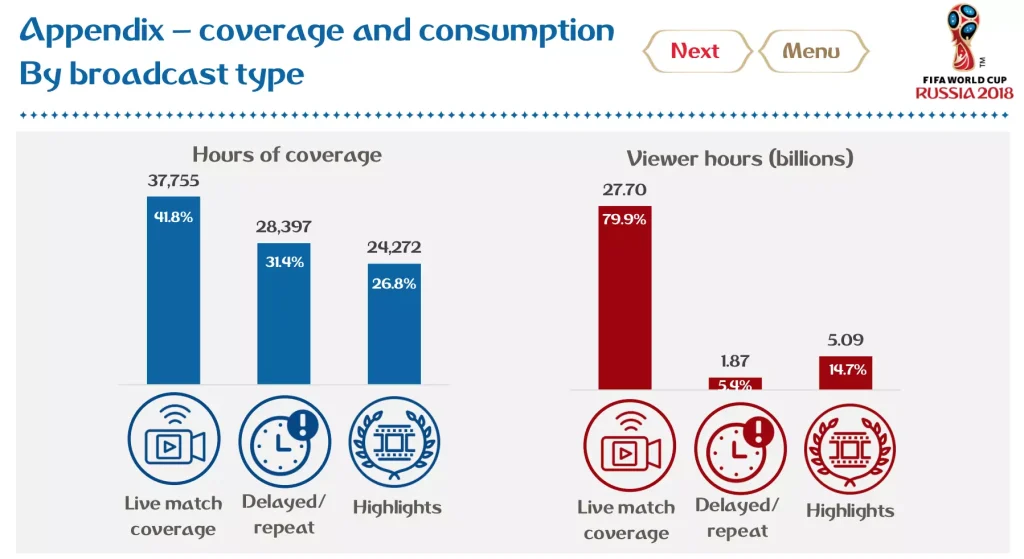 The Stadiums
The host cities, FIFA, and the Russia 2018 Local Organising Committee agreed on the official names to ensure easy recognition in Russia and worldwide.
There are eight stadiums named after cities, while the remaining four are named after other aspects of local culture or football.
As the venue of the opening and closing matches of the 2018 FIFA World Cup, the iconic Luzhniki Stadium is named after the district of Moscow where it is located. As for the other arena in the Russian capital, Spartak Stadium is named after the trendy football club that plays there.
The Mordovia Arena in Saransk was named after the Republic of Mordovia. In 2018, fans from all over the world had the chance to learn more about the Mordovians – one of Russia's more significant indigenous peoples with a rich linguistic and cultural heritage.
A mountain called Fisht in the Caucasus inspired the name of the Fisht stadium in Sochi – the stadium's silhouette resembles the mountain, and Fisht is a word that means white or gray in the local Adygeyan language.
FIFA World Cup 2018 stadium names were:
Ekaterinburg Arena – Ekaterinburg
Fisht Stadium – Sochi
Kazan Arena – Kazan
Kaliningrad Stadium – Kaliningrad
Luzhniki Stadium; Spartak Stadium – Moscow
Mordovia Arena – Saransk
Nizhny Novgorod Stadium – Nizhny Novgorod
Rostov Arena – Rostov-on-Don
Samara Arena – Samara
Saint Petersburg Stadium – Saint Petersburg
Volgograd Arena – Volgograd