Zinedine Zidane was always a player that oozed class. So composed and skillful on the ball, the player is, in my eyes, France's best-ever footballer. But, despite his talent, his most memorable moment lies in a split second of madness and disgrace. Zidane's legacy will always be tainted by a decision he took in the final game of his career, having already chosen to retire after the 2006 World Cup before a ball was kicked. 
For the vast majority of football fans, I dare say that Zidane's infamous headbutt in the World Cup final is what he's most remembered for. Some would say that's fair, and his own doing, but others might point to another fiery Frenchmen, Eric Cantona, who Karate kicked a fan and is still fondly remembered for his football, with the moment having been turned into an example of Cantona's unpredictable decisionmaking, that some even celebrate as simply part of him.
Well… The key difference is when Zidane did what he did, with just 10 minutes of his football career remaining
The State of the Game
To make such a decision at the last minute when the game was already lost would still be a disgrace, but at least it wouldn't affect his country's chances of a World Cup win. Since he was retiring anyway, had he done what he did when the match was lost, the headbutt would make some sense, even if it would still be an atrocious decision. If there was nothing on the line for him or his team, many people might have even been fairly understanding.
But Zidane lost his cool with 10 minutes of extra time to go, the score at 1-1 thanks to a Zidane panenka. Funnily enough, Materazzi had scored Italy's equaliser, getting under Zizou's skin for much of the game.
With 10 minutes left, Zidane easily had enough time to change the game. Even failing that, he, no doubt, was Frances's best penalty-taker, having literally been assigned to penalties from open play.
This was a Zidane who had, up till now, bled for his team and played his heart out. He was retiring and wanted to leave football as a player without regrets. But instead of a triumphant, Messi-style last World Cup, Zidane's whole career would end in a rash moment, in retaliation to a comment about Zidane's sister.
What comment could illicit such fury in a seasoned professional, in the biggest game in World Football, during his last ever game? A player who had kept a cool head under serious pressure many times before and wanted to end his career on a World Cup high was brought beyond all reason by a 'diss' that is on the same level as a 'your mom' joke. 
Zidane vs Materrazzi
After the end of normal time, Italy coach Marcelo Lippi instructed Materazzi to mark Zidane out of the game, asking him to stick as tight as he could to him.
After 20 or so minutes of a battle between the two, Materazzi had pulled Zidane's shirt in a jostle with the midfielder, prompting the Italian to actually apologise, initially (though this is according to Marco Materazzi himself) explaining to Zizou that he couldn't afford to give him any space.
 Zidane was not having it, and responded by exclaiming the Italian could "have his shirt after the game if he wanted it so much". Then came the remark that provided the catalyst for probably the most memorable moment in Word Cup history. Materazzi, replied in kind, with a disrespectful but minor escalation, exclaiming he'd "rather have his sister than his shirt".
It's not a great thing to say and has no place in football, but it's the kind of retort a teenager would make. Materazzi even claimed he had no idea Zidane even had a sister. It's a disrespectful comment, but as a public figure, you've got to expect Zidane to have dealt with so much worse. 
Marco's small escalation in this war of words would bring a disproportionate escalation to put it mildly, as Zidane went straight for the nuclear option. Jogging past the Italian, turning to face him and swiftly driving his head into Marco's chest.
Materazzi fell to the floor, and the ref was left with no choice but to live what must have felt like a nightmare scenario the night before. He would have to send Zidane off during his final game, in a World Cup final.
Zidane would leave the field, with no fuss. It was nothing short of surreal, he said nothing to the ref, handed his captain's armband over to his teammate and walked off the pitch, creating an iconic image, as he walked past the World Cup trophy he would not be lifting regardless of the result.
To end your career in such disgrace, over what can only really be described as a playground insult is still baffling to this day. What's somehow worse, is that it was one of the most underwhelming headbutts you'll ever see. Not to condone it, but it looks almost comical as he intentionally aims for his chest which only makes the whole thing all the more of a truly baffling incident.
Zidane's Biggest Regret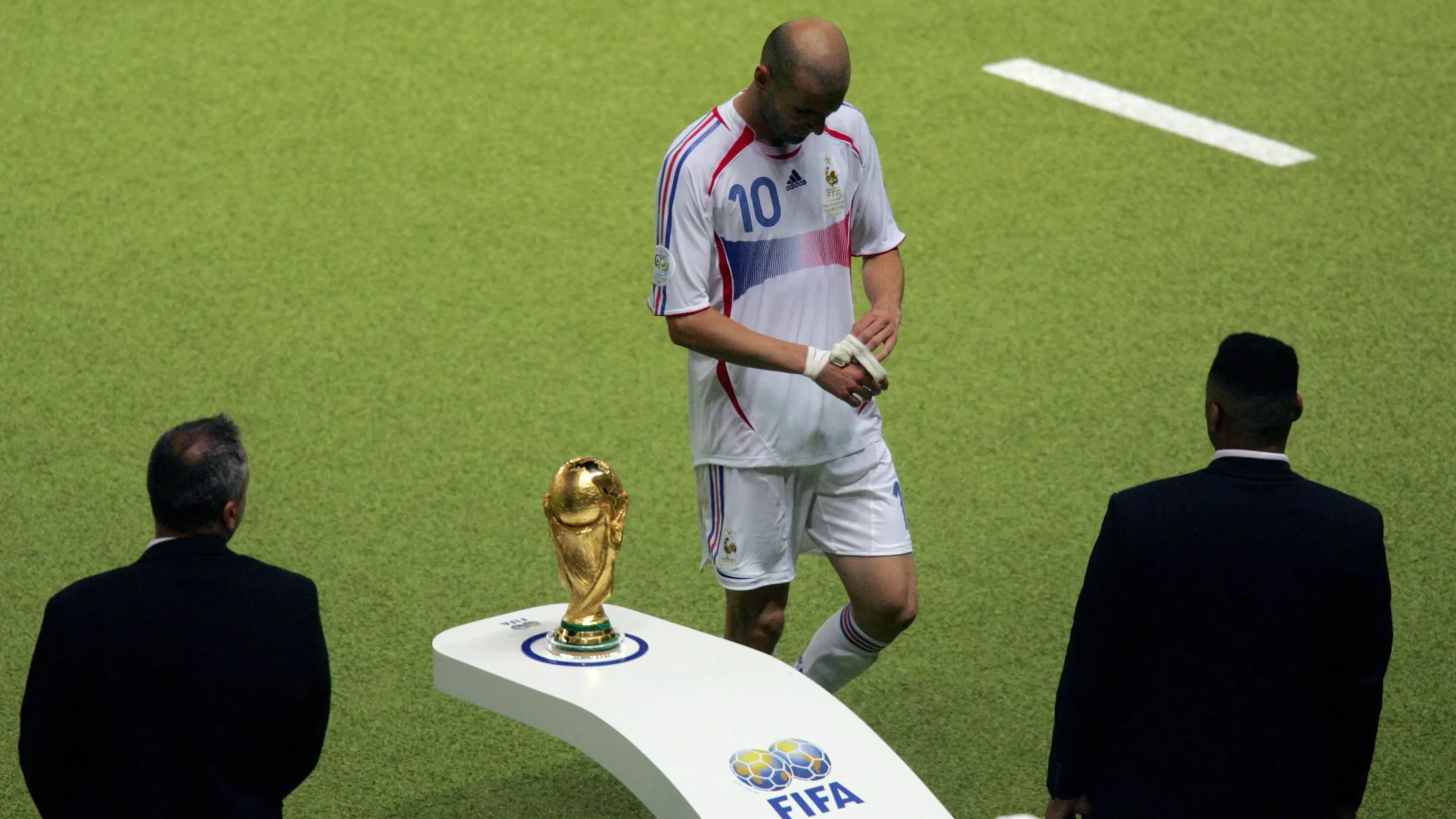 Zidane explained his side, clearly feeling remorse, and rightly so. He stated – "He provoked me by talking about my sister Lila. I'm not proud of it, but it's part of my career. At that time, I was more fragile. He didn't insult my mother, but he did insult my sister."
He added, "It was seen by two or three billion people on television and millions and millions of children were watching. It was an inexcusable gesture and to them, and the people in education whose job it is to show children what they should and shouldn't do, I want to apologise."
Surprisingly, French fans were very forgiving, as a poll of 802 people in 'Le Parisien', 61% forgave him, and 52% understood why he responded after finding out what Matterazzi had said. He may be too loved in France to tarnish his reputation, but it certainly has affected it worldwide. This is no better shown through 'headbutt' being the number one suggestion after typing 'Zinedine Zidane' into Google.
We'll never truly know quite what happened in Zizou's brain in that fateful moment, but regardless of what led him to such a decision, it will forever, remain a huge indelible blot on his career