Zinedine Zidane is one of the greatest soccer players in the game's history, a true legend who achieved all there is to achieve and did it in style. But what made this French attacking midfielder special, and why has a single incident marred his legendary playing career?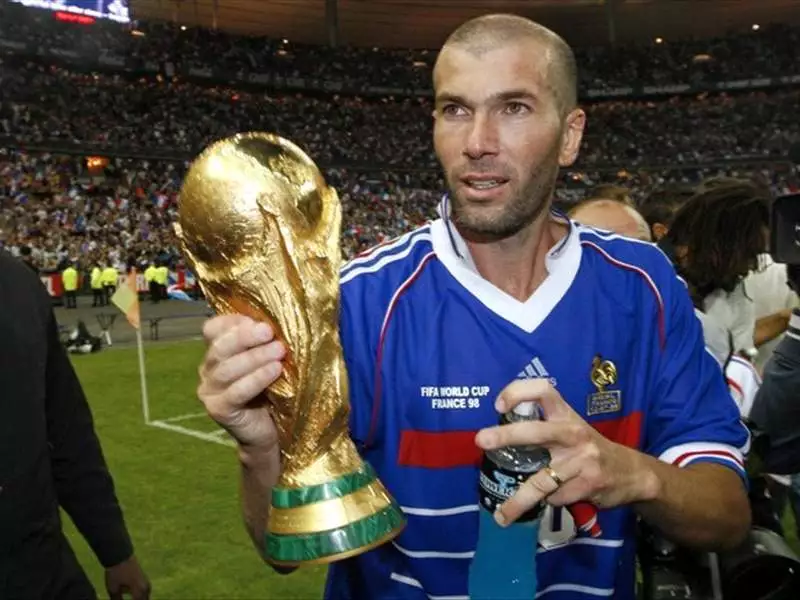 Who Is Zinedine Zidane?
Zidane was born Zinedine Yazid Zidane (nicknamed Zizou) in Marseille on the 23rd of June 1972. He is of Algerian descent, with his parents emigrating to France two decades before his birth. He grew up in a rough area known for a high rate of crime and unemployment.
This upbringing, as well as his family (he had four siblings), would remain close to his heart throughout, even playing a role in the incident that would come to define the end of his soccer career.
Zinedine Zidane is said to have been introduced to soccer around the age of 5 when he played on the streets with friends. He would move on to play for junior teams at the age of ten before steadily working his way up and quickly getting noticed.
After all, while many talented soccer players go unnoticed in the lower ranks, Zidane had precisely the skillset that football scouts are told to look for.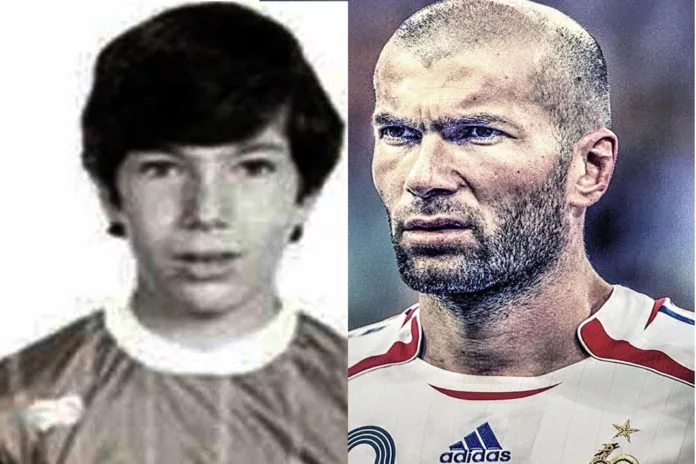 What Made Zinedine Zidane So Unique?
As a soccer player, Zidane possessed various talents and unique abilities combined into one particular player. These were:
Two Feet: Very few modern players can play equally well with both feet. They rely on one foot, limiting them in certain situations and making them easier to defend against, but the French player was equally gifted with both feet.
Cometh the Hour, Cometh Zinedine Zidane: Big players don't always show up on the biggest stages, and the thing that differentiates a great player from a legend is whether they can take their club form to European finals and World Cup finals. Zidane did just that, playing some of his best soccer when the pressure was on.
Technique: Zidane didn't look like your average skillful, showboating soccer player. He wasn't small and slight like Leo Messi and Neymar da Silva, but he possessed an unrivaled technical ability that made him a great dribbler as well as the first person you'd want on the end of a volley.
Leadership: Zinedine Zidane could carry an entire team on his shoulders, and if you ask many French soccer supporters, he did just that during the 2006 World Cup when he took France to the final.
Vision: Zidane could play a pass that no one else in professional football saw. He had a unique soccer brain that allowed him to read the game in the blink of an eye, which meant he was always one move away from a killer pass or strike.
Finishing: He knew how to strike a ball and finished with the aplomb of a prolific striker. He scored 31 goals from 108 appearances for the French national team from midfield.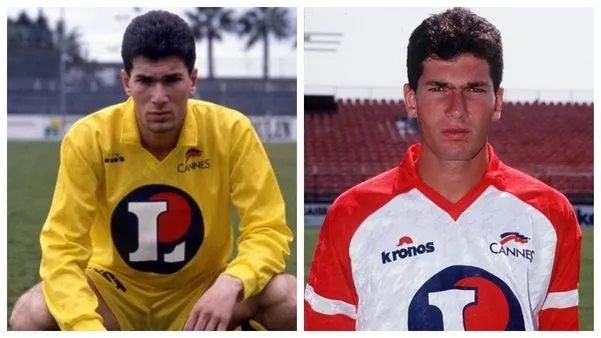 Club Football Career
Zinedine Zidane started professional soccer playing for AS Cannes, making his full debut just a few weeks before his 18th birthday in 1989. Over three years, he would play 61 times for Cannes, making himself known in the French division but not catching the world's attention.
He left his mark in the AS Cannes record books by helping them to their highest league finish, but he would ultimately move onto Bordeaux. During this time, in 1996, he was said to have been offered to Premier League side Newcastle United for a fee of £1.2 million, only for Newcastle United to turn him down, believing that he just wasn't ready for the English top flight.
That would prove to be a costly mistake for the Tyneside club. Juventus weren't going to make the same mistake, and they snapped him up. Zidane joined the Italian giants in the same year. By that time, Zinedine Zidane had scored 28 goals in 131 appearances for Bordeaux and won his first caps for the French team, but it was at Juventus that he became a household name.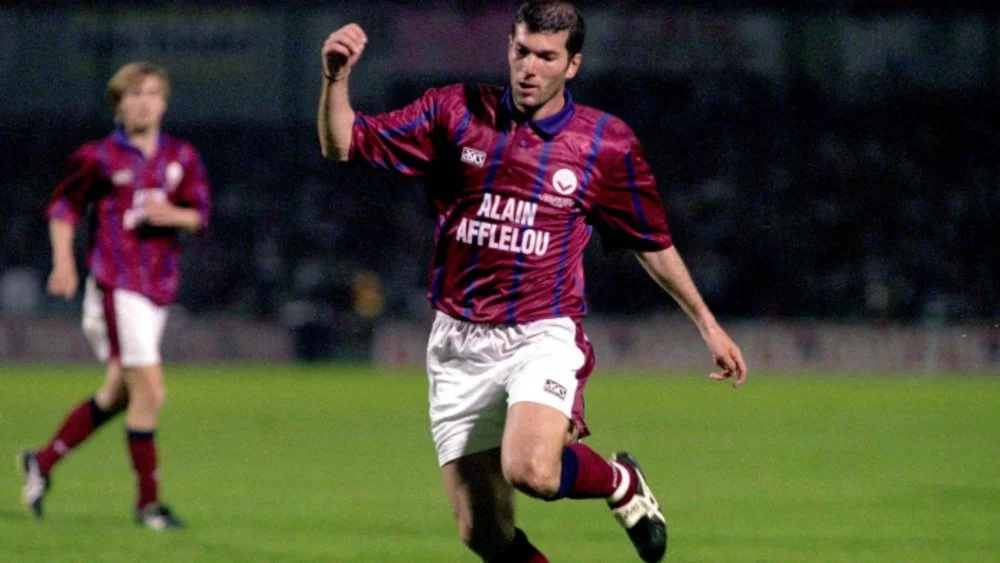 He instantly impacted Italy, helping Juve to a Serie A title, before repeating that success the following year. In 1998 Zinedine Zidane won the Ballon d'Or and made sure that everyone in the world knew his name.
In 2001, he transferred to his final club, Real Madrid, for a world record fee of around €77 million, playing 155 games for Madrid and winning the La Liga, the Champions League Final (also known as the European Cup), the UEFA Super Cup, and two Spanish Super Cups. He would also eventually make it into the all-time Real Madrid first 11 , a huge honor when you consider how many great players have worn the Madrid shirt.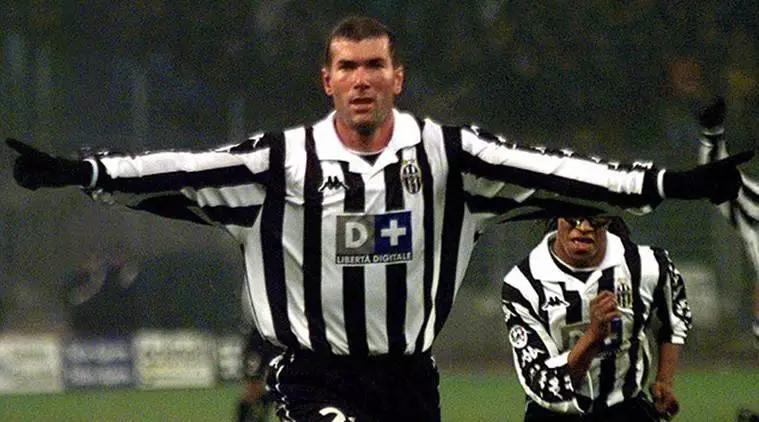 International Career
Newcastle United made a big mistake not signing Zinedine Zidane in 1996. Still, Algeria is reported to have made an even bigger one by refusing Zidane entry to the Algeria squad because he wasn't fast enough. The French national team did let him play, and they didn't regret it.
He played in 108 games for the Les Blues and scored 31 goals. Zinedine Zidane was the main force in securing the 1998 World Cup title and the 2000 European Championship while also taking them to the final of the 2006 World Cup.
He was one of the best football players ever to wear the French shirt, if not the best, and has been voted in most all-time 11 lists, while also being bestowed with the Legion of Honour by France and the National Order of Merit Algeria.
Zidane always maintained a passion for his heritage and the country of his parents' birth, so it's fair to assume that he would have shown up to play for Algeria if he had been allowed. But you have to wonder just how successful he would have been on the world stage playing for Algeria.
Playing for the Les Bleus is probably better for all of us and the history of soccer.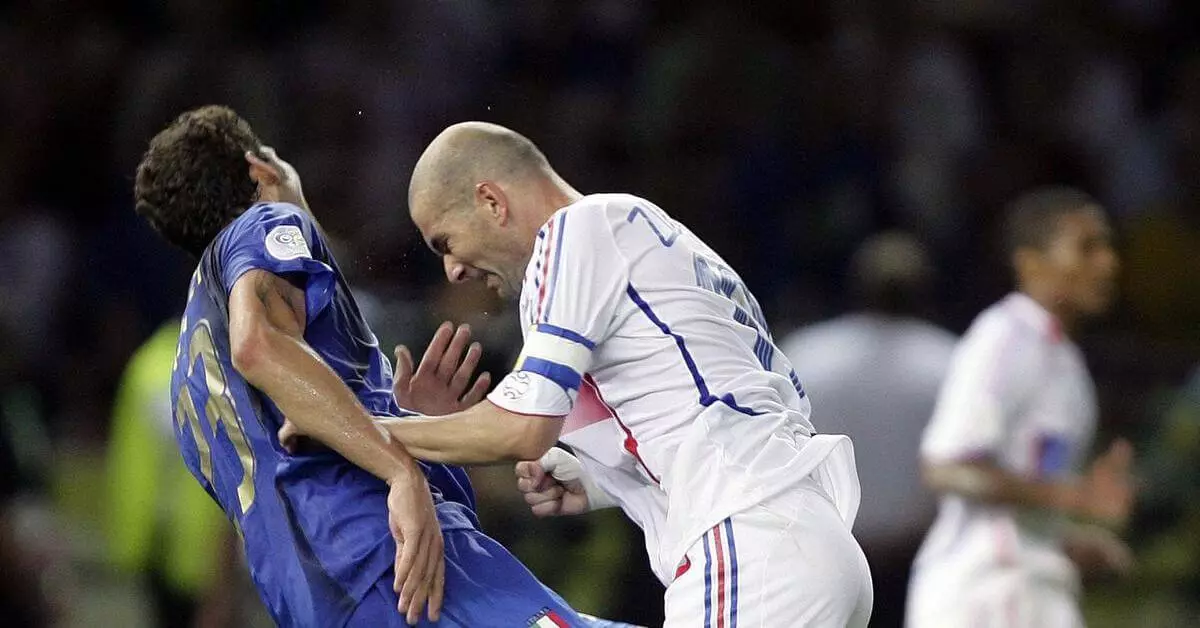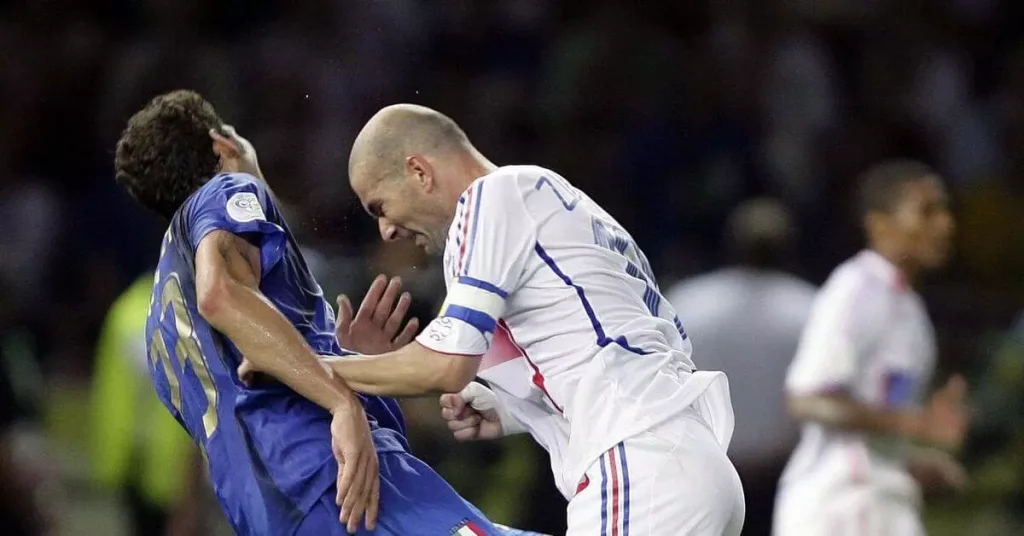 The Materazzi Incident
Zinedine Zidane had one weakness throughout his playing career: his family. Whenever someone insulted his family or his heritage, he was quick to anger.
This was noticed while he was playing for Cannes, with the coaches saying that while he had the talent, he also needed to control his rage when spectators and fellow players mocked his family or his race.
He was suspended early on for punching a player who mocked his origins, and in later years, he would be pulled up for a headbutt. This anger would eventually subside, but football players would try to use his family against him throughout his career, inciting him to anger, and this worked in the World Cup final when France met Italy.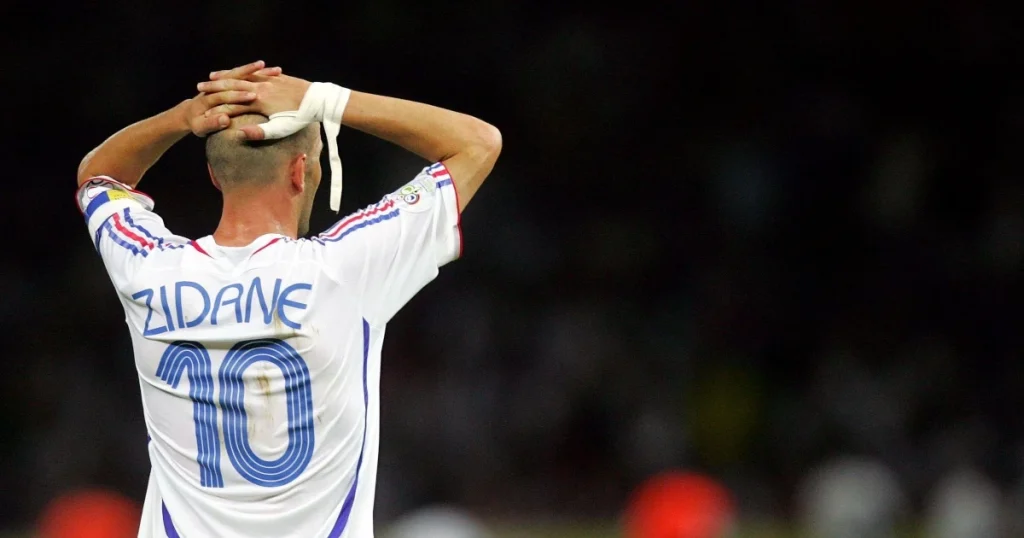 World Cup Moment
It was Zidane's last ever match, and as he had carried the French team to the World Cup final, it should have been a match that saw him leave on a high. But when Italian defender Marco Materazzi provoked him, Zidane attacked.
According to reports, Materazzi had been pulling Zinedine Zidane's shirt, leading the Frenchman to offer the Italian his shirt after the game. To this, Materazzi is said to have quipped, "I would prefer your sister."
What followed was a moment that would spoil France's World Cup and leave a red mark next to Zizou's name. Zidane lowered his head and charged at Materazzi, headbutting him in the chest and sending him sprawling to the ground. He was immediately red-carded, leaving France with ten men.
Fortunately, this occurred in extra time and is unlikely to have had much of an impact on the outcome, but it did mean that Zinedine Zidane wasn't there to take a penalty during a shootout that Italy won 5-3. This was vital considering Zidane was the leading penalty taker and had scored a spot-kick to open the scoring in regular time (the game finished 1-1, with Materazzi getting the equalizer).
The image of Zidane with his head down, charging at the Italian, endured following the World Cup, taking up more front and back pages than the images of Italy holding the trophy. But within a few months, people quickly forgot and focused more on the positive highlights of Zidane's national team career.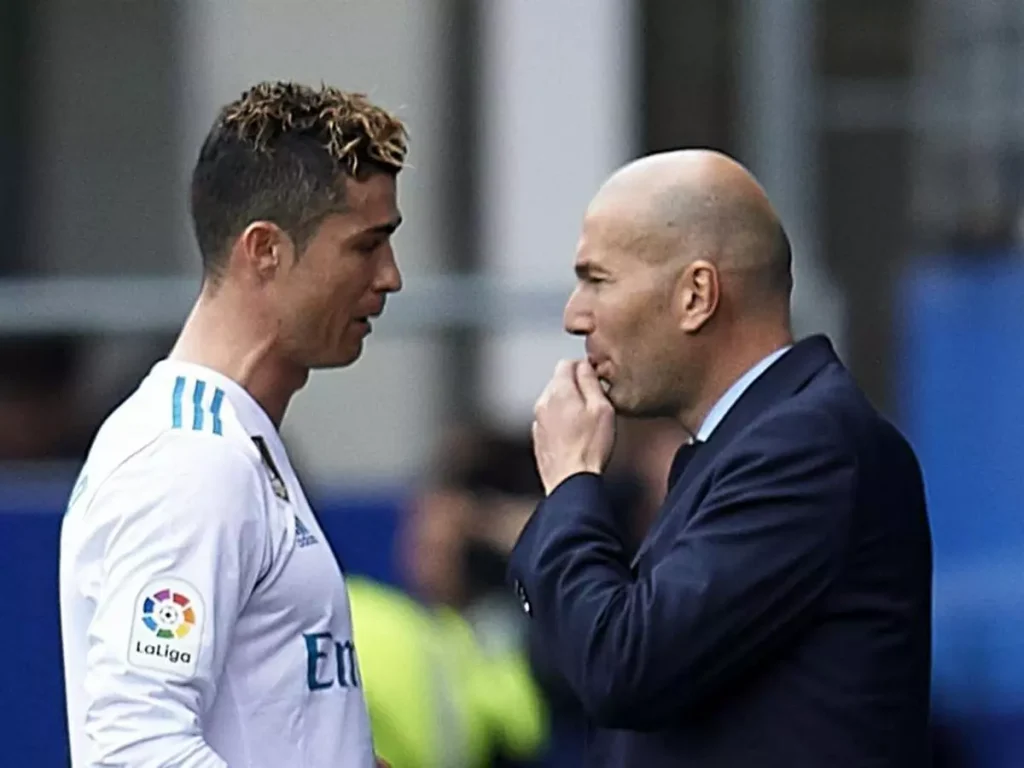 Zinedine Zidane Becoming A Coach
Zinedine Zidane's soccer brain was put to good use when he retired as a player and moved into management. First, he spent two years managing the Real Madrid Castilla (B) team, getting accustomed to some of their talented youngsters, including Zidane's son Luca, who played as a goalkeeper. Then, in 2016 he moved onto the Real Madrid senior side and quickly made an impact.
By the end of the 2017/2018 season, he had won countless individual awards (including Manager of the Month, Manager of the Year, Best Coach, and French Manager of the Year). In addition, he had led Los Blancos to an impressive three Champions League titles in a row and one La Liga title, two UEFA Super Cup titles, and two FIFA Club World Cup titles.
In other words, he became a record-breaking, highly decorated, legendary football manager in just three short years.  In addition to winning the European Cup three times, he became the first coach to win it three consecutive years, joining Bob Paisley and Carlo Ancelotti.
The Real Madrid head coach cited the club's "need for change" as the reason for his resignation five days after winning the Champions League final for the third time.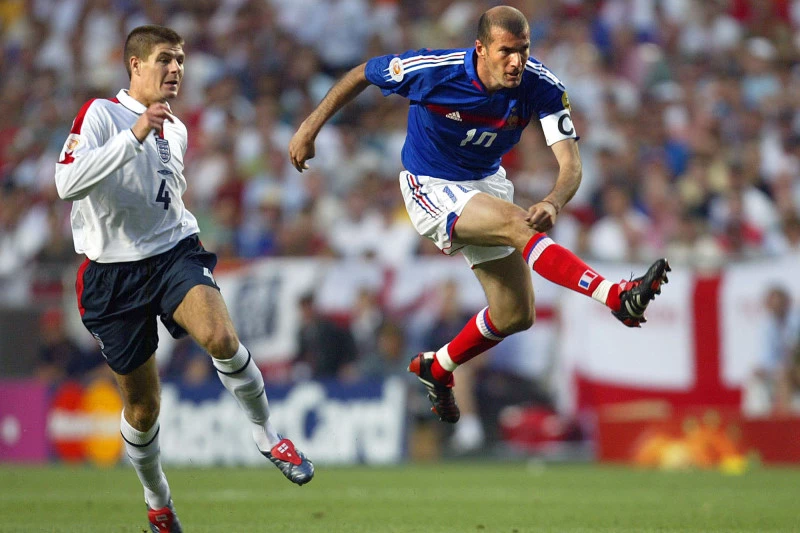 Returning To Real Madrid
After being out of management for nine months, Real Madrid persuaded one of their all-time football heroes to come back and be reinstated as head coach. The first thing he did was spend €350 million on quality footballers and start working on making them a champion team.
In his first season back, the won the La Liga and Supercopa de España against arch-rivals Atletico Madrid.  With the difficulties of COVID and playing behind closed doors with no supporters, one of the greatest player/manager in football history decided to resign for a second time.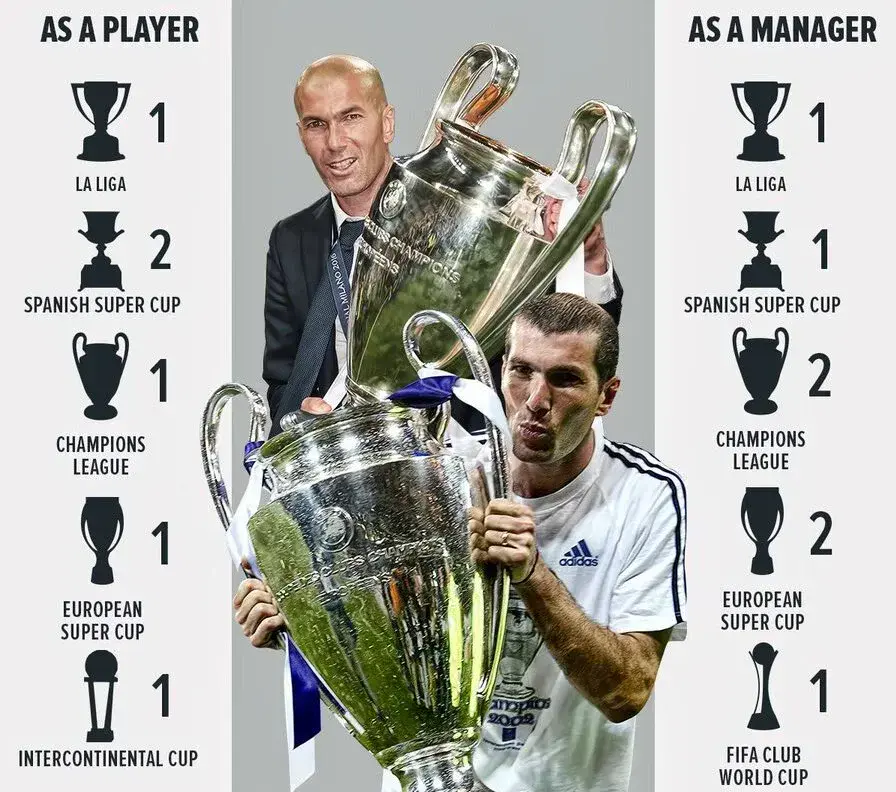 Will Zidane Manage France?
Before France's lost to Argentina in the 2022 World Cup final, it is expected for DD to resign and for Zinedine Zidane to replace him as the France national soccer team manager. 
Zidane has been shortlisted as a potential long-term replacement for Tite by the South American giants Brazil.
Zinedine Zidane Biography
In 2018, Penguin Random House released the biography of Zidane. It reveals details of one of the modern football's most brilliant players. The 352 page paperback authored by Jean Philippe and Patrick Fort explosively when shares details of the head-butting incident with Marco Materazzi in the 2006 World Cup final.
If you are looking for an inspiring read, make sure to check it out below.
Zinedine Zidane Stats, Facts And Figures
Full Name: Zinedine Yazid Zidane
Birthdate: 23/06/1972
Birthplace: Marseille, France
Religion: Muslim
Net Worth: Estimated $125 million (US) His last head coach salary was US $14 million/year.
How Old Is His Sons: Enzo is 26, Luca is 23, Theo is 19, Elyaz is 16
Club Football Playing Career:
Cannes 1989–1992
Bordeaux 1992–1996
Juventus 1996–2001
Real Madrid 2001–2006
Total Appearances: 506 matches, 95 goals
National Team Career:
France 1994–2006 (108 appearances, 31 goals)
Managerial Career:
Real Madrid Castilla (B Team) 2014–2016
Real Madrid 2016–2018
Real Madrid 2019–2021
Club Honors:
Bordeaux
Juventus
1996–97 and 1997–98: Serie A Champions
1996: UEFA Super Cup
1996: Intercontinental Cup Winners
1997: Supercoppa Italiana Winners
1999: UEFA Intertoto Cup Winners
Real Madrid
2002–03: La Liga Champions
2001 and 2003: Supercopa de España
2001–02 UEFA Champions League Winners
2002: UEFA Super Cup
2002: Intercontinental Cup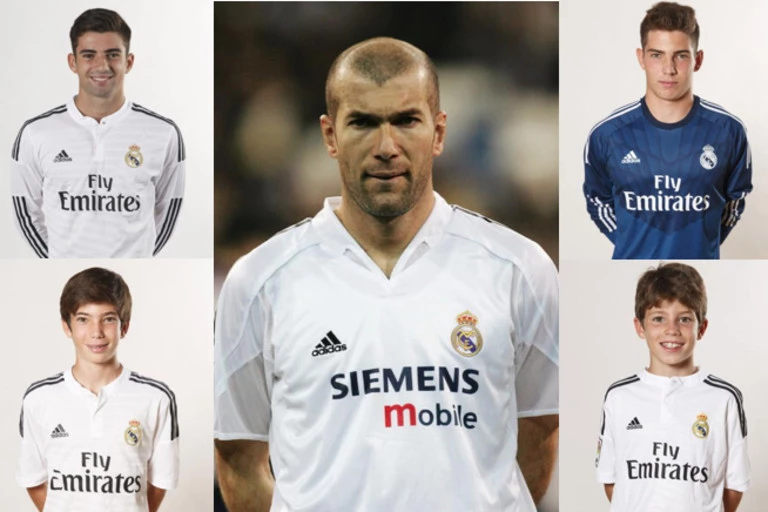 International Honors:
France National Team
1998: FIFA World Cup Winners
2000: UEFA European Championship Winners
2006: FIFA World Cup Runners-Up
Individual Playing Honors and Awards:
1998: Ballon d'Or Winner
2000: Ballon d'Or Runner Up
1998, 2000, 2003: FIFA Player of the Year
2000: UEFA European Championship Player of the Tournament
2001, 2002, 2003: UEFA Team Of The Year
2002: UEFA Club Footballer Of The Year
2017 and 2018: FIFA Football Coach Of The Year Award
Managerial Honors:
Real Madrid
2016-17 and 2019-20: La Liga Champions
2015-16, 2016-17, 2017-18: Champions League Winners
2016, 2017: FIFA Club World Cup Winners
Honorary Orders:
1998: Knight of the Legion of Honour
2006: National Order of Merit
2008: Officer of the Legion of Honour