Champions: Arsenal
Runners-up: Manchester United
Champions League places: Arsenal, Manchester United
UEFA Cup places: Liverpool, Leeds United, Blackburn, Aston Villa
Cup Winners Cup places: Chelsea (defending champions), Newcastle (FA Cup finalists)
Promoted (from 1996/97): Crystal Palace, Barnsley, Bolton Wanderers
Relegated: Crystal Palace, Barnsley, Bolton Wanderers
Leading Scorers: Dion Dublin (Coventry City), Michael Owen (Liverpool), and Chris Sutton (Blackburn Rovers) – 18 goals
Premier League Table 1997 – 1998
| Pos | Team | Pld | W | D | L | GF | GA | GD | Pts |
| --- | --- | --- | --- | --- | --- | --- | --- | --- | --- |
| 1 | Arsenal | 38 | 23 | 9 | 6 | 68 | 33 | +35 | 78 |
| 2 | Manchester United | 38 | 23 | 8 | 7 | 73 | 26 | +47 | 77 |
| 3 | Liverpool | 38 | 18 | 11 | 9 | 68 | 42 | +26 | 65 |
| 4 | Chelsea | 38 | 20 | 3 | 15 | 71 | 43 | +28 | 63 |
| 5 | Leeds United | 38 | 17 | 8 | 13 | 57 | 46 | +11 | 59 |
| 6 | Blackburn Rovers | 38 | 16 | 10 | 12 | 57 | 52 | +5 | 58 |
| 7 | Aston Villa | 38 | 17 | 6 | 15 | 49 | 48 | +1 | 57 |
| 8 | West Ham United | 38 | 16 | 8 | 14 | 56 | 57 | -1 | 56 |
| 9 | Derby County | 38 | 16 | 7 | 15 | 52 | 49 | +3 | 55 |
| 10 | Leicester City | 38 | 13 | 14 | 11 | 51 | 41 | +10 | 53 |
| 11 | Coventry City | 38 | 13 | 14 | 11 | 46 | 44 | +2 | 52 |
| 12 | Southampton | 38 | 14 | 6 | 18 | 50 | 55 | -5 | 48 |
| 13 | Newcastle United | 38 | 11 | 11 | 16 | 35 | 44 | -9 | 44 |
| 14 | Tottenham Hotspur | 38 | 11 | 11 | 16 | 44 | 56 | -12 | 44 |
| 15 | Wimbledon | 38 | 10 | 14 | 14 | 34 | 46 | -12 | 44 |
| 16 | Sheffield Wednesday | 38 | 12 | 8 | 18 | 52 | 67 | -15 | 44 |
| 17 | Everton | 38 | 9 | 13 | 16 | 41 | 56 | -15 | 40 |
| 18 | Bolton Wanderers | 38 | 9 | 13 | 16 | 41 | 61 | -20 | 40 |
| 19 | Barnsley | 38 | 10 | 5 | 23 | 37 | 82 | -45 | 35 |
| 20 | Crystal Palace | 38 | 8 | 9 | 21 | 37 | 71 | -34 | 33 |
1997/98 Season Review
Few could have predicted such success for Arsene Wenger's first full season as Arsenal manager finishing on top of the 1997/98 Premier League table. Having recruited the likes of Ajax winger Marc Overmars, Frenchmen Emmanuel Petit, and Nicolas Anelka in preparation for the 1997/98 campaign, as well as keeping together the famous Gunners back-five, Wenger's side entered the new season with plenty of optimism.
Elsewhere in the division, other key moves saw England's Teddy Sheringham leave Tottenham Hotspur for Manchester United, Leeds United sign Jimmy Floyd Hasselbaink from Boavista, and Brazilian box of tricks Juninho move from Atletico Madrid back to Middlesbrough.
Career Threatening Injury
The season began on a low note, with Alan Shearer suffering a career-threatening knee injury before a ball had been kicked in the FA Carling Premiership. Dion Dublin was the leading headline maker on opening day, scoring a hat-trick for Coventry City in a surprise 3-2 win against Chelsea. Later, in August, the Blues got back on track with a 6-0 thrashing of new-boys Barnsley.
The following month Ian Wright broke Cliff Bastin's record as Arsenal's all-time leading goalscorer as he notched up his 180th goal for the club, scoring a hat-trick in a 4-1 victory over Bolton Wanderers at Highbury. September also witnessed a fantastic match between Blackburn Rovers and Leeds United. Rovers won 4-3, but all seven goals came in the first 35 minutes of play.
The end of 1997 was significant for Chelsea sacking Ruud Gullit and replacing him with Gianluca Vialli. Arsenal's promising early form had also tailed off, and on 13th December, they were beaten 3-1 at home by Blackburn.
Arsene Wenger held a crisis meeting with his players, and the club's fortunes would improve in the second half of the season. But only after Manchester United had held an 11-point lead over the Gunners, with many bookies having paid out on Alex Ferguson's side to win the title.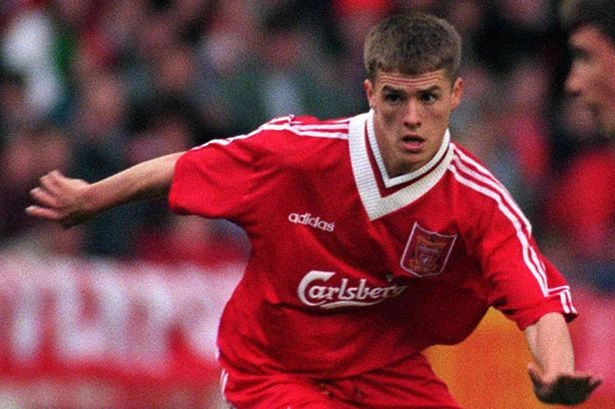 Match Of The Season
On 7th March, United lost 2-0 at Sheffield Wednesday, and the Gunners began to make inroads a week later when they came away from their summit clash at Old Trafford with a 1-0 win courtesy of a Marc Overmars strike.
This was just the second encounter in a league-record ten-match unbeaten run, culminating in the Gunners winning the title by beating Everton 4-0 at Highbury on 3rd May. They completed the double with a 2-0 FA Cup win over Newcastle United at Wembley thirteen days later.
Liverpool finished third behind United on the 1997/98 Premier League table, with 18-year-old Michael Owen excelling. The FA Carling Premiership's joint-top scorer, he backed up an impressive 18 goals in 36 games by going on to feature prominently for England at the 1998 World Cup.
"People go on about his age, but what does it matter?" enthused England striker Alan Shearer. "He's 18, but you would never guess. If he continues as he is, England has a hell of a prospect on their hands."
Alongside Arsenal's Dennis Bergkamp, who won the Professional Football Association and Football Writers' Player of the Year awards, he was one of the season's revelations.
Promoted sides Crystal Palace, Barnsley, and Bolton Wanderers, were all condemned to relegation in their first season back in the top flight.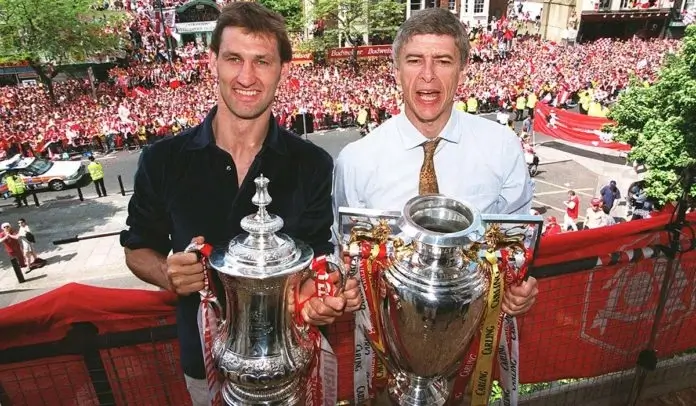 1997/98 Cup Results
1997/98 FA Cup Winners: Arsenal [Final – Arsenal 2 v 0 Newcastle]
1997/98 League Cup Winners: Chelsea [Final – Chelsea 2 v 0 Middlesbrough]
1997/98 Champions League Winners: Real Madrid [Final – Real Madrid 1 v 0 Juventus]
1997/98 UEFA Cup Winners: Inter Milan [ Final – Inter Milan 3 v 0 Lazio]
1997/98 Cup Winners Cup: Chelsea [Final – Chelsea 1 v 0 Stuttgart]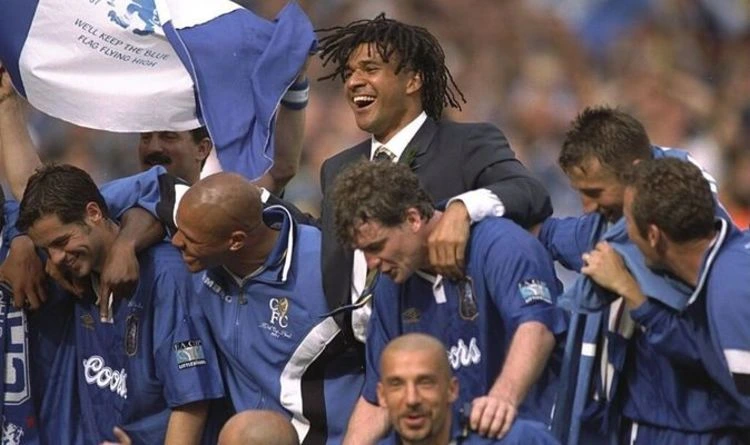 1997/98 Managerial Changes
Aston Villa: Brian Little out, John Gregory in
Blackburn Rovers: Tony Parkes out, Roy Hodgson in
Chelsea: Ruud Gullit out, Gianluca Vialli in
Crystal Palace: Steve Coppell out, Attilio Lombardo in
Everton: Dave Watson out, Howard Kendall in
Sheffield Wednesday: David Pleat out, Ron Atkinson in
Southampton: Graeme Souness out, Dave Jones in
Tottenham Hotspur: Gerry Francis out, Christian Gross in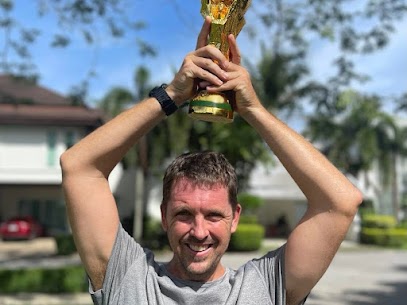 Rhett is an Australian-born, globe trotter who is a UEFA 'A' Licence Soccer Coach. With his family, he has traveled and coached soccer in more than 30 countries, while attending World Cups, European Championships, and some of the biggest local derbies in the world!