Emmanuel Petit is a retired soccer player representing the French national soccer team and some of the biggest European clubs, such as Arsenal, Barcelona, Chelsea, and Monaco. Petit became worldwide prominence with the midfield partnership he developed with Patrick Vieira for Arsenal and France. [2]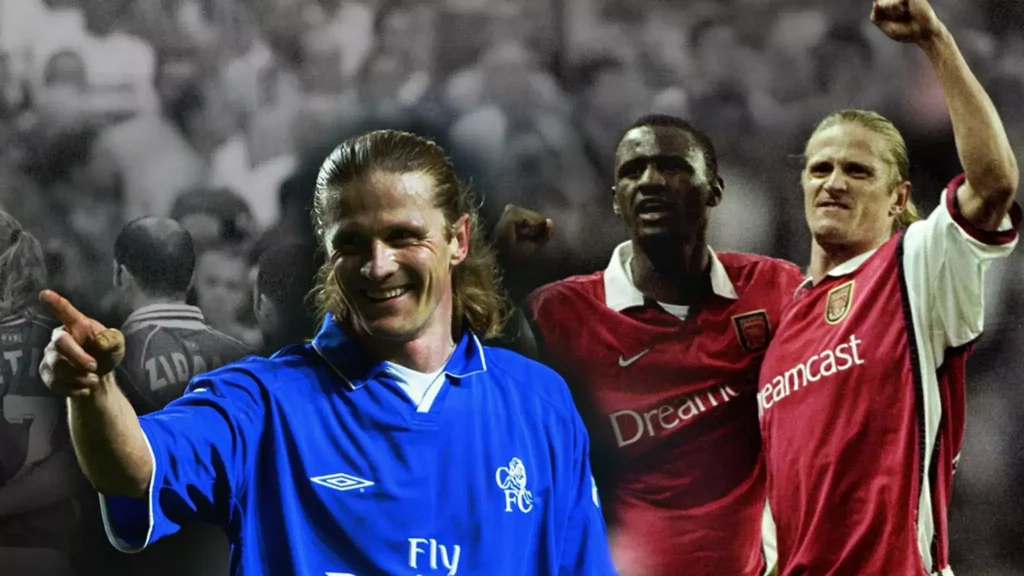 Early Days
Emmanuel Laurent Petit started his youth career with Arques-la-Bataille, a small club in the Normandy region in northwest France. Petit grew up in awe of soccer players like Franz Beckenbauer, Tresor, and Battiston. He played most of his career as a defensive midfielder.
At his peak, the Frenchman was one of the best defensive midfielders in soccer. He not only had the positional intelligence required for this role but was also known for his physical prowess and athleticism. Petit's flexibility is also assisted by his ability to pass with either foot.
In 1988, Petit signed for French top-tier side Monaco. The principality club was managed by Arsène Wenger, who would later sign Petit again at Arsenal. The French midfielder was only 18 years old when he joined the giants of French soccer.
However, it didn't take him long to break into the senior squad, as he made 18 appearances in his debut season with the club.
Emmanuel Petit spent a total of nine seasons with Monaco. During his time with the Monégasques, he won Coupe de France in 1990-91 and the Division 1 title in 1996-97 and became the captain in his final season.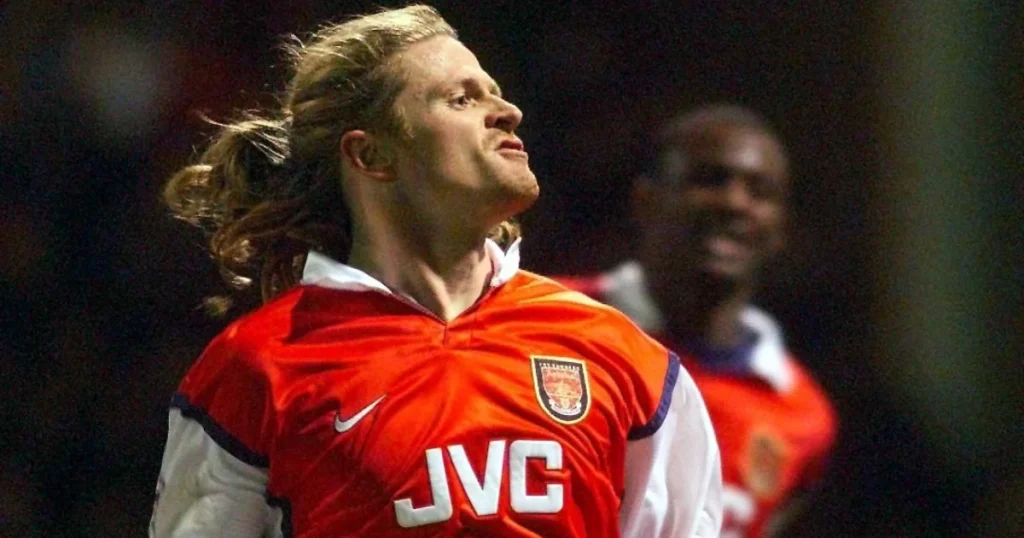 Move To England
When Arsène Wenger took over the reins at Arsenal, Emmanuel Petit became one of his first signings and a premier league player. The French midfielder joined the Gunners in a 2.5 million pound deal in June 1997 and took over the no.17 jersey.
The long blonde ponytail playmaker immediately impacted English football stadiums throughout the country as Arsenal did the double of the Premier League title and the FA Cup in his debut season. Laurent Petit made 32 premier league appearances as the North London club lifted the Premier League title in 1997-98.
His good form for Arsenal helped him get selected for France and achieve success on the international stage.
He was an integral part of the Golden Generation of the French national team that won the 1998 World Cup and EURO 2000. Furthermore, he was one of the goal scorers for France in their historic World Cup final over Brazil in 1998.
From the day of his arrival, the French soccer player made it clear that he was openly unhappy with both English fans and the tabloid press. He almost fell out with the English players in the dressing room when they threatened to cut off his ponytail.  The midfielder initially struggled with the laid-back attitude of the English players in the Arsenal squad.
It always seemed inevitable that the World Cup winner would get his wish in the summer of 2000 when FC Barcelona came in with a double swoop for him and Marc Overmars.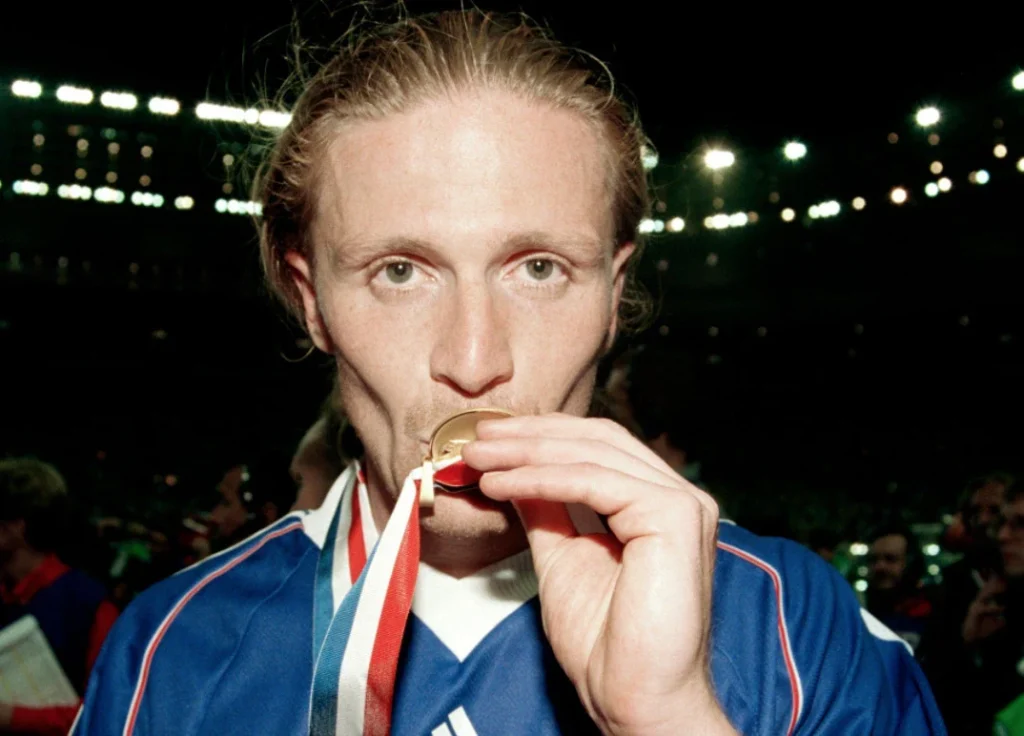 FC Barcelona Bound
As a star player at both club and international level, Emmanuel Petit was highly sought after by multiple teams. In 2000, he decided to join FC Barcelona, with the Spanish club paying £7 million for his services.
However, his time in Spain was not successful. Petit struggled to secure a spot in the starting lineup, and when he did, he was often played out of position in defense. After just one year, Petit returned to the Premier League, this time signing with Chelsea, one of Arsenal's London rivals. [1]
Chelsea had beat Manchester United for his signature. Despite his lack of playing time at Barcelona, Petit's transfer fee was £7.5 million.
Emmanuel Petit had a decent run with Chelsea in his second stint in the Premier League. The French midfielder made his Chelsea debut in a 1-1 draw with Newcastle United at Stamford Bridge, but injuries plagued him in the 2003-04 season.
Petit was also a member of the French national team that competed in the 2002 World Cup, where they were eliminated early on without scoring a goal.
Unfortunately, Petit's knee injuries proved too much, and he announced his retirement from professional soccer on January 20, 2005. He has since moved on to work as a soccer commentator and has made appearances on various channels such as RMC, BT Sport, ITV, Cannes, and SBC.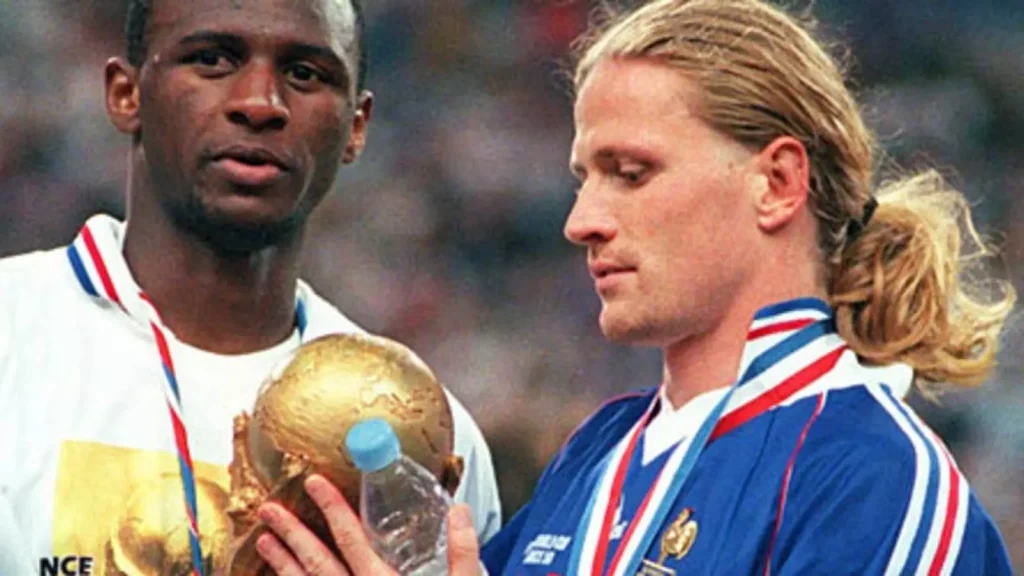 Interview With Emmanuel Petit
Our lead writer sits with Emmanuel Laurent Petit to relive the 1998 France victory.
History Of Soccer: What is your first memory of the FIFA World Cup?
Emmanuel Petit: The famous semi-final between Germany and France in 1982, when Harald Schumacher came out of his goal. It's a bad memory because we lost after Maxime Bossis missed his penalty. A more pleasant memory is 1986 when France beat Brazil thanks to Luis Fernandez's penalty.
HOS: Michel Platini called you up to the France team in 1990, but you weren't part of the squad in 1994. What did you feel when you found out you had been selected in 1998?
Emmanuel Petit: It was my dream to climb back on board. In 1990, at 19, I was a bit ahead of the rest of my generation. Then, in 1992, I went to the European Championship in Sweden. But in 1993, we lost to Bulgaria and Israel while needing just a point to qualify for the World Cup in the USA. After that, I spent two or three years in the wilderness.
HOS: The squad list came in for criticism in 1998, and Aime Jacquet was under attack. Did that affect the team at all, and what was your attitude at the time?
Emmanuel Petit: It didn't affect us. We understand how the press works; I don't think that's a purely French phenomenon. In every country where soccer is important, the press always does the job they feel they need to do.
HOS:  Your aggression comes through when watching those matches again, and you were often one of the first to congratulate a fellow Frenchman who had just scored. Was that your trademark?
Emmanuel Petit: At the English premier league team Arsenal, my teammates nicknamed me 'the Lion,' For France, it was all to do with my position on the field. I started as a defender. Then I was moved up into midfield. If you don't have a solid physical presence, you disappear from the game because you're the link between defense and attack. As for the goal celebrations, if I was the first person to congratulate the scorer, I was happy, not just for him, but above all for the team.
Working On Set Pieces
HOS: You were often involved at crucial moments in the World Cup Final, particularly during corners. Did you spend a long time working on those in training?
Emmanuel Petit: All six or seven teammates involved in a corner knew precisely where they should be in the area. The player taking the corner had to consider the other team's aerial strength. If you have good technique and can distribute the ball well, you can put it exactly where you want seven times out of ten. Of course, sometimes you miss completely: maybe the ball isn't high enough, or it's too high, or perhaps the goalkeeper can grab it too easily. In general, you know where you want to put it when you play at a high level.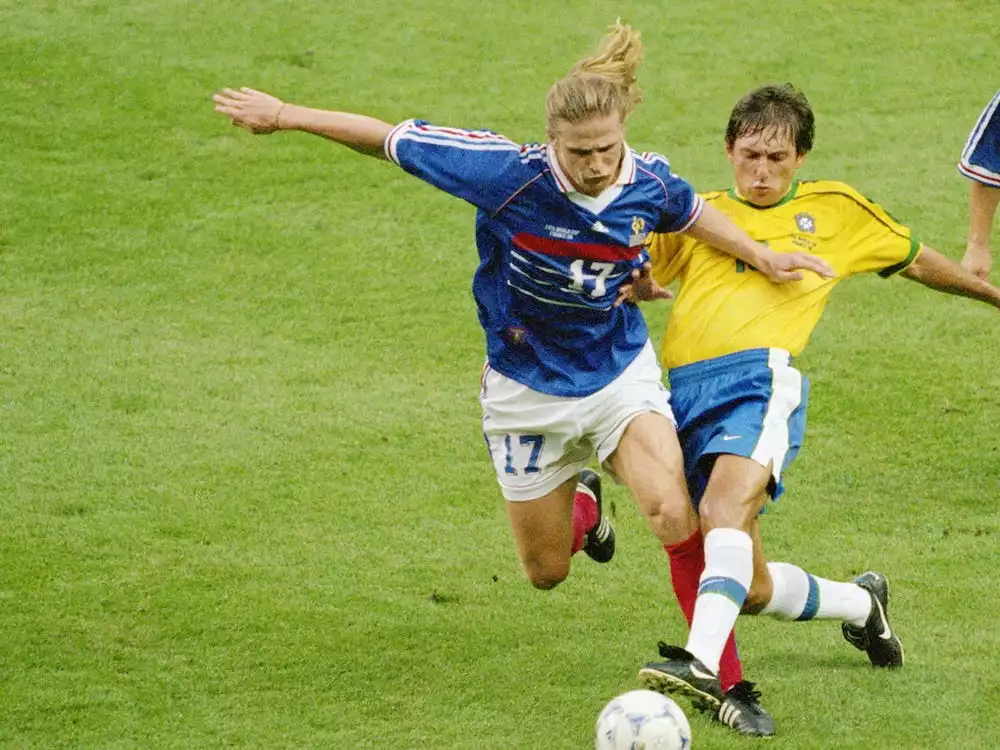 HOS: So, were you deliberately aiming for the head of Zinedine Zidane?
Emmanuel Petit: Yes, I aimed for the near post because I knew Zizou had a great leap. When people talked about his skills, they never mentioned his aerial game because he rarely scored goals with his head. I also noticed that the Brazilians always put a player on the back post for corners but often left unguarded near the post. So I needed to send the football in relatively high and with enough power to stop it from intercepting by the goalkeeper or a defender.
HOS: What instructions did you receive at half-time after Zinezane Zidane had put you two goals up?
Emmanuel Petit: There was massive excitement in the changing room. The Brazilians looked a bit lost out there. Some of them were even screaming at each other. When you're 2-0 up, and your opponents are shouting at each other, you know you've taken a massive step towards victory. We were so excited that Aime told us to "calm down and carry on as if it were 0-0". It's never over until they're on their knees.
Second Half
HOS: Indeed, in the second half, the Auriverde looked eager to mount a comeback.
Emmanuel Petit: Yes, I think they had five forwards on the pitch. What's more, we lost Marcel Desailly to a red card. So there was tremendous pressure on our goal in the last 15 minutes. Luckily, we could rely on Fabien Barthez, who was in great form. Above all, I remember the point-blank shot he managed to keep out from Ronaldo. At that moment, the footballing gods were smiling at us because at 2-1, and with ten men against 11, the last ten minutes had been tough.
HOS: Brazil won a corner towards the end, the ball fell to you, and you resembled a center-forward as you sprinted like crazy.
Emmanuel Petit: Like a madman! Everything happened so quickly. Our defense cleared the ball, and as I'd replaced Marcel Desailly in central defense, I felt I could make something happen. We made our way up the field in the space of two or three passes, and then Patrick passed the ball through the middle.
HOS: After that, you finished like a forward too. Could you take us through that third goal?
Emmanuel Petit: When Patrick was about to give me the ball, I spotted Cafu halt his run because he watched Patrick Vieria. I took advantage of making a run a couple of meters before him to stay onside, heading through the middle, almost level with the near post of Claudio Taffarel's goal. Patrick put the ball into space. I quickly glanced at Cafu's positioning and saw he was in trouble, protecting the near post well but leaving the far post completely open. The more I ran towards him, the more that space began to close down. If I'd been an out-and-out striker, maybe I would have tried dribbling around the keeper, but seeing as I'm not a striker, I chose to hit it straight away, instinctively, above all to surprise him. He wasn't expecting me to shoot at all.
HOS: You were not to be seen holding the Trophy aloft during the ceremony afterward. Why was that?
Emmanuel Petit: No, I did get to hold it, but, indeed, I didn't lift it during the official presentation ceremony. I must have been behind everyone else. I touched it afterward in the changing room.
HOS: Does this bring back any memories after 24 years? ( handing him the World Cup Trophy)
Emmanuel Petit: Is it the real one? Come on, all kidding aside, is this the real one? How did you manage to get it?
HOS: How does it make you feel?
Emmanuel Petit: It's magnificent! How does it make me feel? Well, it's a childhood dream. Like all the other kids, I collected the photos in the Panini albums, which we used to swap at school. It was so challenging to get the tournament, by which I mean the sticker, of course. Of all the cups I've ever had a chance to touch or see, this is the most beautiful because of what it represents, with the figures holding the world at their fingertips. For a footballer, this is the Holy Grail!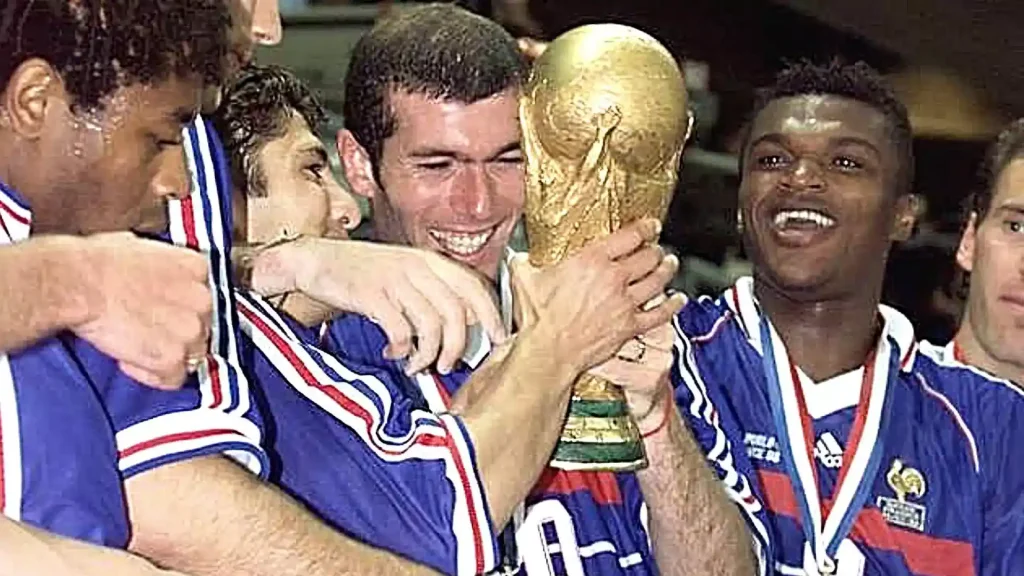 Emmanuel Laurent Petit Stats, Clubs, And Honors
Personal Details:
Full Name: Emmanuel Laurent Petit
Birthplace: Dieppe, France
Date Of Birth: 22/09/1970 (current age: 51)
Club Career:
1988–1997: Monaco
1997–2000: Arsenal
2000–2001: Barcelona
2001–2004: Chelsea
Club Honors:
1 French (Ligue 1) Championship
1 Coupe de France Trophy
1 English Premier League Championship
1 FA Cup Trophy
International Career:
France National Team
66 Appearances
6 Goals
2 World cup tournaments (1998, 2002)
1 Euro Championships (2000)
International Honors:
1998 World Cup Winners
2000 Euro Championship Winners
References:
[1]: https://www.angelfire.com/blues2/chelseaccw/squad/17.petit.html
[2]: https://allfamousbirthday.com/emmanuel-petit/
Images:
Getty Images (main image)
www.skysports.com/football/news/11938/8984556/my-career-emmanuel-petit
www.football365.com/news/petit-slams-arsenal-transfer-policy
www.facebook.com/FIFAMuseum/photos/a.1562585890725778/2725971624387193/?type=3
www.arsenal.com/historic/players/emmanuel-petit
www.fifa.com/tournaments/mens/worldcup/1998france
Pool/AP