Champions: Manchester United
Runners-up: Arsenal
Champions League places: Manchester United, Arsenal, Newcastle United, Chelsea
UEFA Cup places: Liverpool (League Cup), Blackburn Rovers, Southampton (FA Cup finalists), Manchester City (Fair Play Draw)
Promoted (from 2001/02): Manchester City, West Bromwich Albion, Birmingham City
Relegated: Sunderland, West Bromwich Albion, West Ham United
Leading Scorer: Ruud van Nistelrooy (Manchester United) 25 goals
Premier League Table 2002 – 2003
| Pos | Team | Pld | W | D | L | GF | GA | GD | Pts |
| --- | --- | --- | --- | --- | --- | --- | --- | --- | --- |
| 1 | Manchester United | 38 | 25 | 8 | 5 | 74 | 34 | +40 | 83 |
| 2 | Arsenal | 38 | 23 | 9 | 6 | 85 | 42 | +43 | 78 |
| 3 | Newcastle United | 38 | 21 | 6 | 11 | 63 | 48 | +15 | 69 |
| 4 | Chelsea | 38 | 19 | 10 | 9 | 68 | 38 | +30 | 67 |
| 5 | Liverpool | 38 | 18 | 10 | 10 | 61 | 41 | +20 | 64 |
| 6 | Blackburn Rovers | 38 | 16 | 12 | 10 | 52 | 43 | +9 | 60 |
| 7 | Everton | 38 | 17 | 8 | 13 | 48 | 49 | -1 | 59 |
| 8 | Southampton | 38 | 13 | 13 | 12 | 43 | 46 | -3 | 52 |
| 9 | Manchester City | 38 | 15 | 6 | 17 | 47 | 54 | -7 | 51 |
| 10 | Tottenham Hotspur | 38 | 14 | 8 | 16 | 51 | 62 | -11 | 50 |
| 11 | Middlesbrough | 38 | 13 | 10 | 15 | 48 | 44 | +4 | 49 |
| 12 | Charlton Athletic | 38 | 14 | 7 | 17 | 45 | 56 | -11 | 49 |
| 13 | Birmingham City | 38 | 13 | 9 | 16 | 41 | 49 | -8 | 48 |
| 14 | Fulham | 38 | 13 | 9 | 16 | 41 | 59 | -9 | 48 |
| 15 | Leeds United | 38 | 14 | 5 | 19 | 58 | 57 | +1 | 47 |
| 16 | Aston Villa | 38 | 12 | 9 | 17 | 42 | 47 | -5 | 45 |
| 17 | Bolton Wanderers | 38 | 10 | 14 | 14 | 41 | 51 | -10 | 44 |
| 18 | West Ham United | 38 | 10 | 12 | 16 | 42 | 59 | -17 | 42 |
| 19 | West Bromwich Albion | 38 | 6 | 8 | 24 | 29 | 65 | -36 | 26 |
| 20 | Sunderland | 38 | 4 | 7 | 27 | 21 | 65 | -44 | 19 |
2002/03 Season Review
The title had seemed destined for Highbury, but Manchester United proved that the Premier League race is a marathon, not a sprint. Arsenal started where they left off – extending their unbeaten run to 30 matches. Arsene Wenger believed they were edging "nearer and nearer to perfection and wanted to stay at the top of the 2002/03 Premier League table.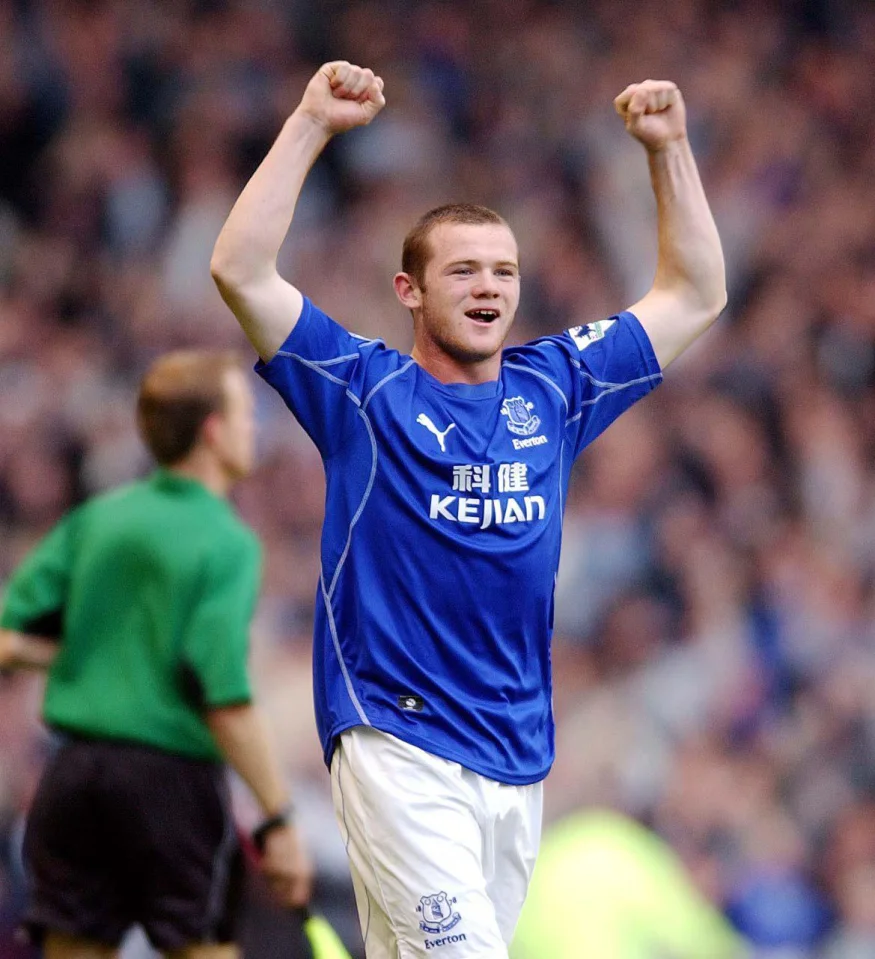 Enter Wayne Rooney
The Gunners eventually lost on 19th October to Everton, with a certain Wayne Rooney scoring the last-minute winner. The 16-year-old's first goal made him the youngest ever Premier League goalscorer and prompted commentator Clive Tyldesley to exclaim, "Remember the name – Wayne Rooney!"
Arsenal swiftly recovered – winning four of their next six matches before slipping to a 2-0 defeat at Old Trafford. The Red Devils' performance in the first half of the season was unremarkable compared to Arsenal's dominance – prompting Arsene Wenger to comment about "a shift in power from Manchester to North London."
The Gunners swiftly racked up points in the title race and by March were eight points clear. Some bookmakers even began to pay out on bets on Arsenal retaining their crown. But they were to ignore United at their peril.
United Find Form
A 3-1 defeat to Middlesbrough on Boxing Day was the turning point for the Red Devils. They didn't lose another match all season, and a 4-0 thrashing of rivals Liverpool in April saw them draw level on points. A week later, United overhauled Arsenal into the top spot thanks to a 6-2 mauling of Newcastle United. Manchester United opened a nine-point gap on 3rd May, beating Charlton 4-1. Arsenal's shock 3-2 defeat to Leeds United the next day saw United confirmed as Champions and top of the 2002/03 Premier League table.
That result also ensured Leeds' safety. Their season had poorly started with the sale of star defender Rio Ferdinand to Manchester United for a British record of £ 30 million. And soon, it went from bad to worse as key players such as Robbie Fowler, Lee Bowyer, and Jonathan Woodgate headed for the door – showing the true depths of the club's financial problems.
Nevertheless, Mark Viduka kept them up almost single-handedly – scoring 11 goals in eight Barclaycard Premiership matches.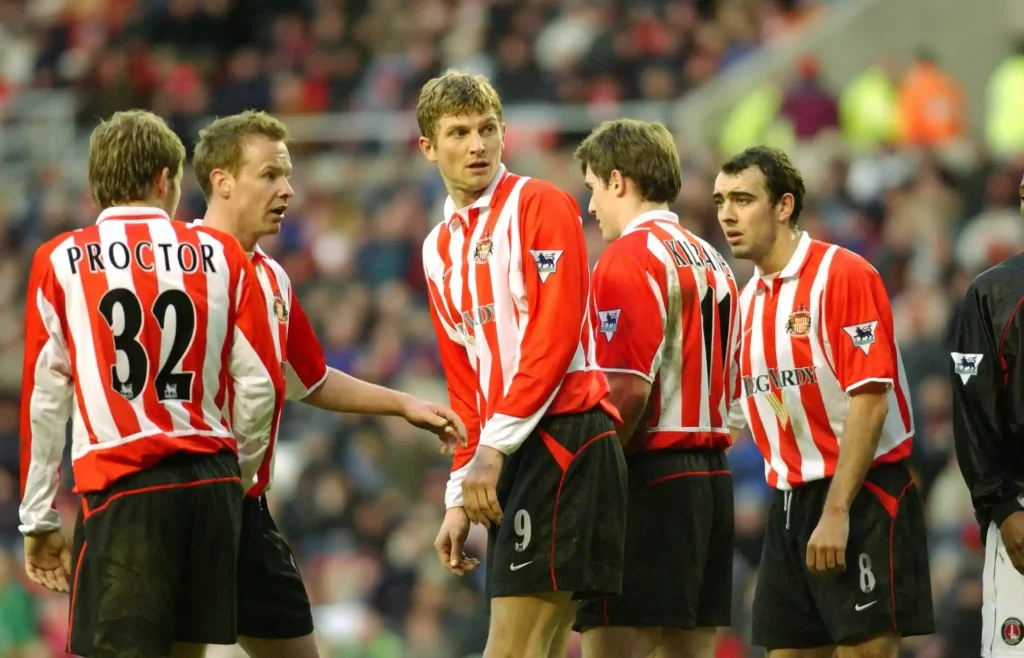 Relegation Dogfight
Sunderland was in the relegation zone almost from the off, and it was no surprise to see them finish the season there. A new Premier League low of 19 points completed their humiliation at the bottom of the 2002/03 Premier League table.
A late surge by West Ham United saw them nearly avoid the drop, but the curse of being the bottom club at Christmas time prevailed, their 42 points being the highest tally for a relegated side under the 20-club format. Worse, manager Glenn Roeder collapsed in April and was discovered to be suffering from a brain tumor.
West Bromwich Albion also went down in their first season back in the top flight for nearly 20 years.
Retirement Of A Premiership Great
In other matters, Manchester City played their last season at Maine Road before their move to the City of Manchester Stadium. They also celebrated a 3-1 victory over rivals Manchester United – their first derby win in nearly 13 years. Peter Schmeichel helped them to the ninth spot before calling time on his football career.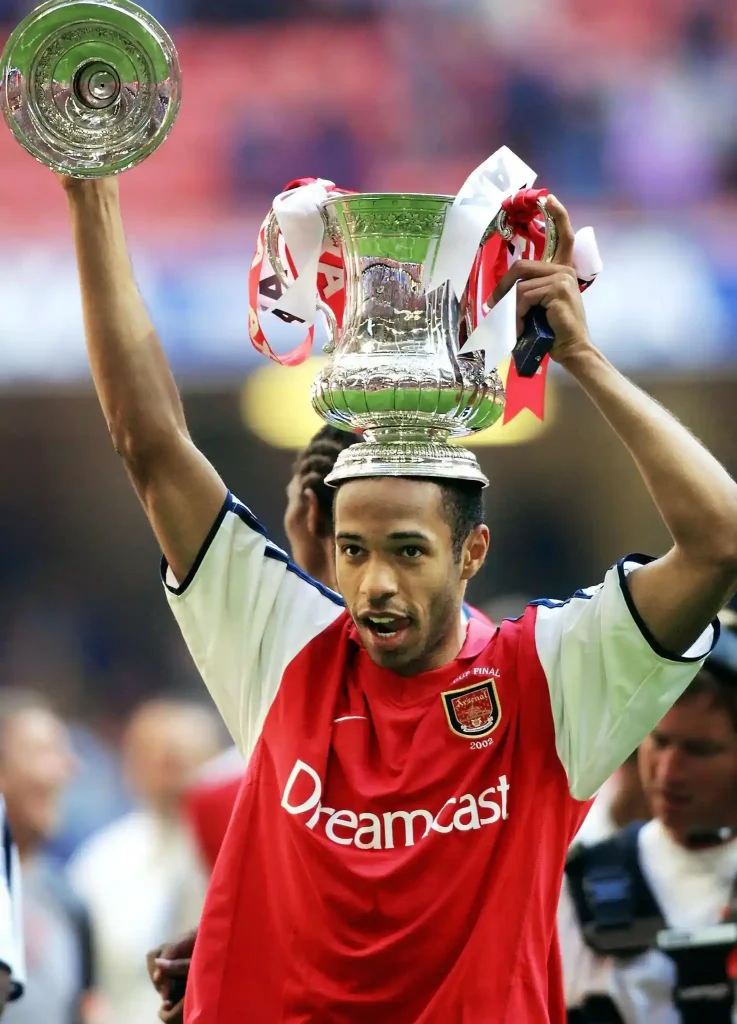 2002/03 Cup Results
FA Cup Winners – Arsenal [Final – Arsenal 1 v 0 Southampton]
League Cup Winners – Liverpool [Final – Liverpool 2 v 0 Manchester United]
Champions League Winners – AC Milan [Final – AC Milan 0 v 0 Juventus (aet). AC Milan win 3-2 on penalties]
UEFA Cup Winners – Porto [Final – Porto 3 v 2 Celtic (aet)]
2002/03 Managerial Changes
Fulham – Jean Tigana out, Chris Coleman in
Leeds United – David O'Leary out, Terry Venables in, Terry Venables out, Peter Reid in
Sunderland – Peter Reid out, Howard Wilkinson in, Howard Wilkinson out, Mick McCarthy in
West Ham – Glenn Roeder out, Sir Trevor Brooking in (caretaker) Trevor Brooking out, Alan Pardew in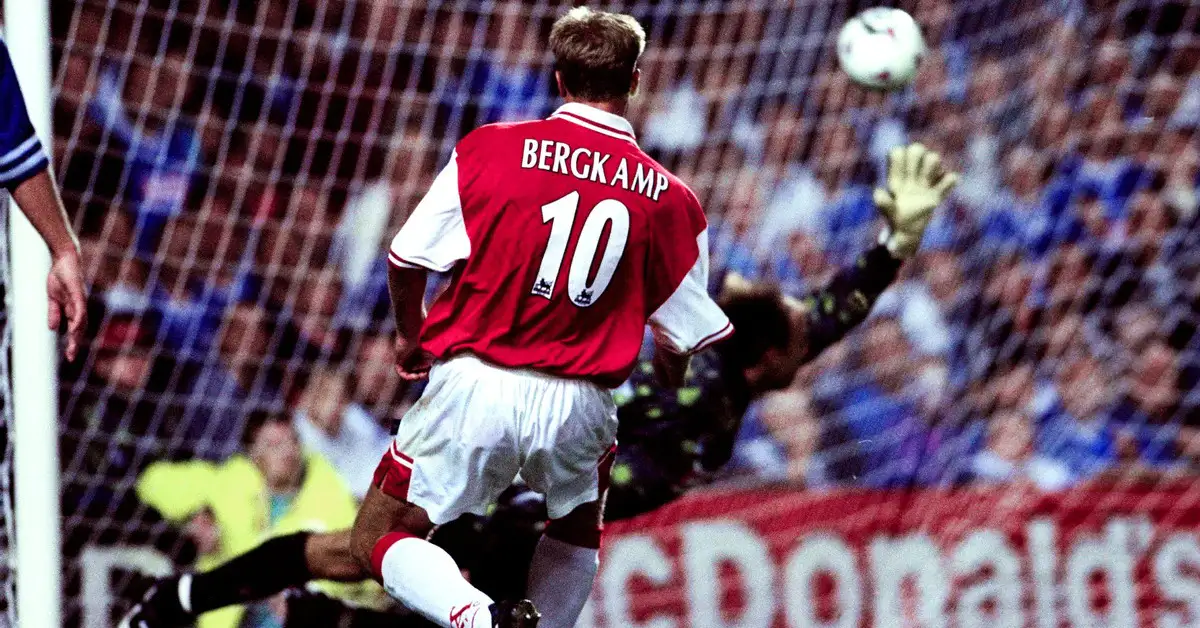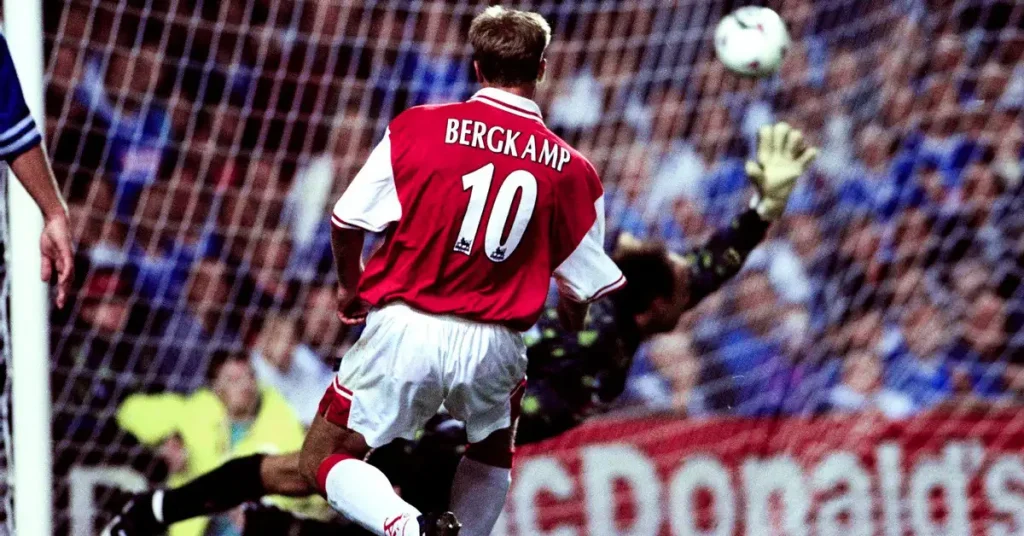 2002/2003 Premier League Player of the Month Awards
The following soccer players received the award for their achievements in the Premier League Player of the Month 2000/2001 season.
August 2002: Sylvain Wiltord (Arsenal)
September 2002: Thierry Henry (Arsenal)
October 2002: Gianfranco Zola (Chelsea)
November 2002: James Beattie (Southampton)
December 2002: Alan Shearer (Newcastle United)
January 2003: Paul Scholes (Manchester United)
February 2003: Robert Pires (Arsenal)
March 2003: Steven Gerrard (Liverpool)
April 2003: Ruud van Nistelrooy (Manchester United)