The world's best header in women's football history, Abby Wambach was the top goal scorer for both the men's and women's national teams in the United States, with 184 goals at the international level. The all-time great scored 77 of these goals with her head.
When Wambach was a student, her school coach recalled that she would often practice diving headers after practice – which became one of her signature skills as an international player.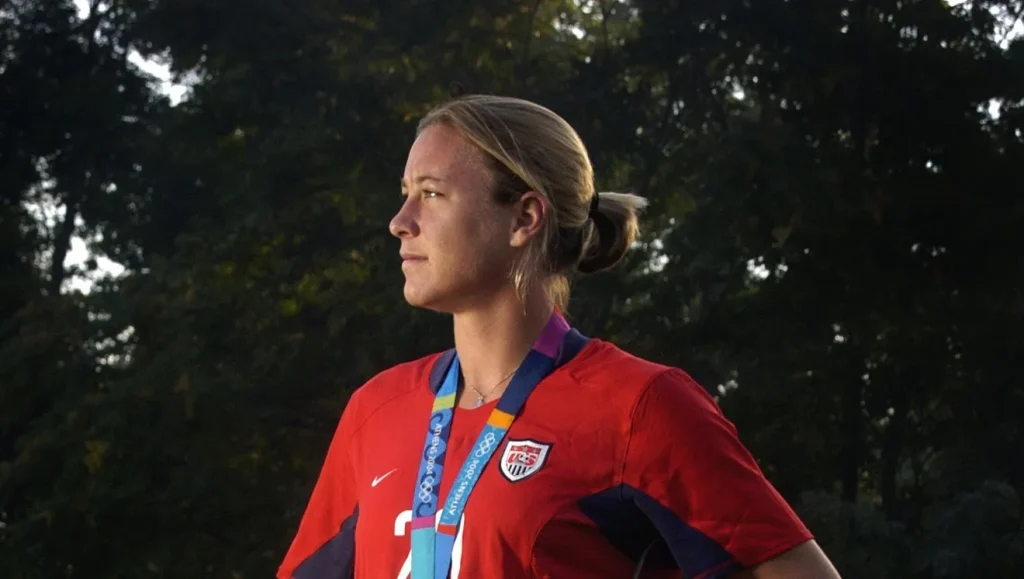 Because of her height and physique, she excelled in the air and was renowned for her diving headers, which frequently produced goals.
Wambach was awarded the 2012 FIFA World Player of the Year and a six-time US Soccer Female Athlete of the Year. Her ability to wear down defenses with her physical play, aerial game, and hard running has long been a key to the USA's soccer success.
In addition to four FIFA Women's World Cups, Wambach competed in two Olympics. During these five international tournaments, she played 29 matches and scored 22 goals.
Making 255 appearances for the US Women's National Soccer Team, the striker announced her retirement on October 27, 2015.
2011 FIFA Women's World Cup Quarter Final
Known for scoring goals with diving headers, this was evident with her 122nd-minute goal in the 2011 FIFA Women's World Cup quarterfinal match against Brazil.
The towering striker's importance to the USA was never more aptly on display against Korea DPR in Chengdu. Shortly after putting the Americans into the lead, Abby Wambach found herself on the losing end of one of many aerial battles, meeting Ri Kum-Suk's head instead of the ball.
Pumping blood on the pitch, she never entertained the thought of quitting the fray. Instead, she hauled herself up and began a 125-yard sprint to the locker room with the team doctor to receive stitches.
Even before she reached the tunnel – located behind the goal and beyond the large running track at the Chengdu Sports Center Stadium – the Koreans had equalized through Kil Son-Hui. "I was bleeding like crazy, and the ref wouldn't let me play on," Wambach told the History Of Soccer team. "Even before I got to the locker room door, I could hear they scored."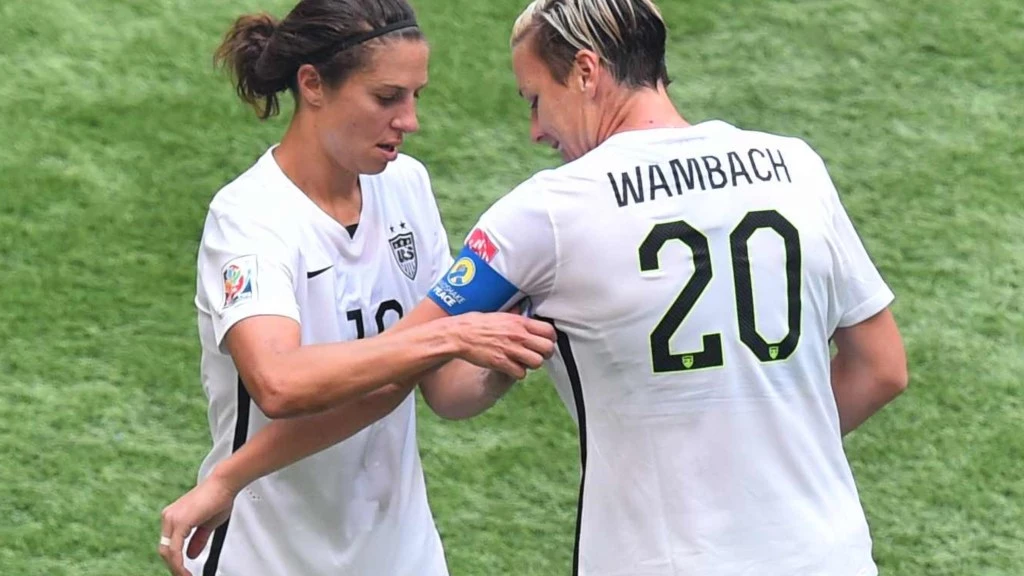 Abby Wambach Height
At 1.80cm (5ft 11in), Wambach is well known for her ability in the air. Known as the best header in women's football, her determination, and fighting spirit are also second to none, as the US team doctor found out the hard way. "I was screaming at him to hurry it up, which probably wasn't helping things much," she said almost apologetically about receiving five stitches without any local anesthetic. "I heard the crowd roar for the second Korean goal as the doctor finished up, and I was desperate to get back out there."
Even though she was only out for ten minutes, the lead Abby Wambach had forged now become a 2-1 deficit. However, her return helped revive the team, and she played a part in Heather O'Reilly's opportunistic equalizer.
It was only too evident why head coach Greg Ryan was never going to substitute Abby Wambach, as he revealed after the match. "She's too important to take out," he said. "It's too bad those two goals went in while she was off the soccer field, and we were down to ten, but I would make the same decision to keep the best header in women's football again."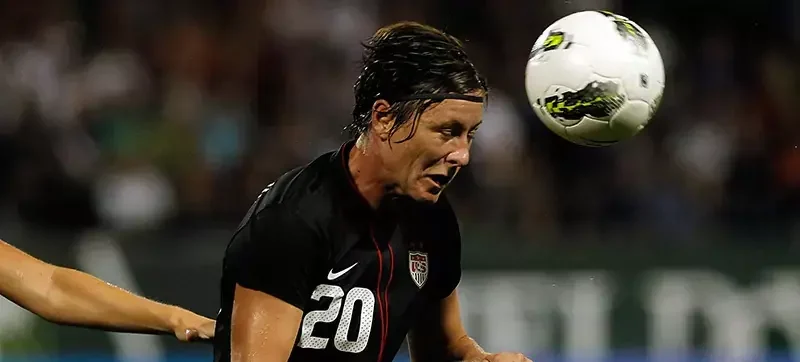 Known As The Best Header In Football
Compared by some to former USA men's striker Brian McBride, Wambach is a battler to the core. She strikes fear into opposing defenses on the field and amassed a remarkable 184 goals in 255 international games, including the United States' winning goal when they beat Brazil for Olympic gold in 2004.
Like McBride, Abby Wambach had to contend with her fair share of knocks and bruises throughout her soccer career, though she is quick to play it down.
"For me, it's just part of the game," she said. "I'm a big girl, and I like to throw my body around. So when you do that, you always know you'll get a bump here and there. It's no big deal."
No big deal, perhaps, but she was moved to add: "I am a lot bigger than most of the girls I play against, so I'm not sure it's a coincidence when I get head-butted. So many of them try competing with me in the air and not always within the rules."
The US Women's team continued in the tournament until the semi-finals, where they were beaten 4-0 by the Brazilians.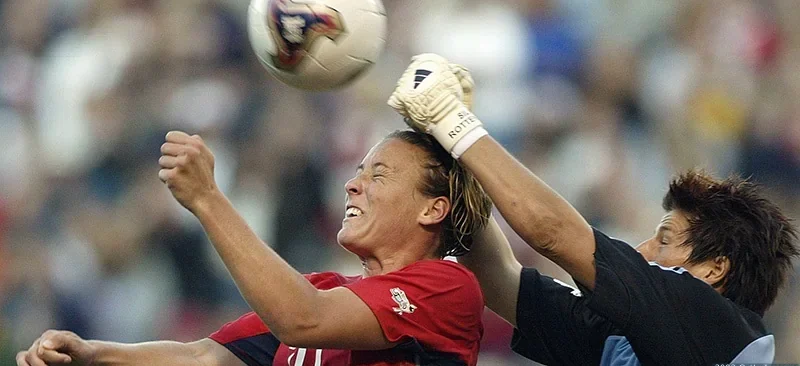 Record Breaking Goal
The talismanic center forward Abby Wambach became the greatest goal scorer in women's international soccer during a 5-0 victory against the Korea Republic on June 20, 2013.
Wambach scored four goals in the first half, but the third strike in the 29th minute gave her 159 goals for her soccer career and moved her past former US Women's National Team forward Mia Hamm to become the all-time leading leader in international career goals.
Fittingly, she scored the record-breaking goal was a trademark diving header off a perfect corner kick from Megan Rapinoe. Wambach's teammates engulfed the best header in Women's football as her teammates and the USA bench players sprinted onto the soccer field to join them in a joyous celebration.
Wambach was subbed out in the 58th minute to cheers of "Abby" from the crowd and received more congratulatory hugs from teammates. This moment in women's soccer history will stay in fans' minds for a long time.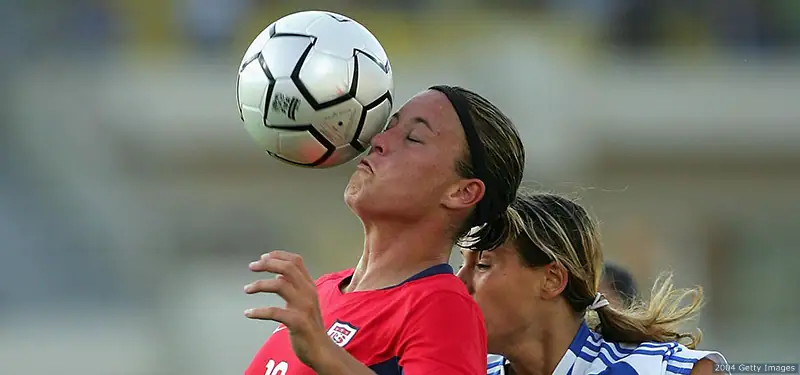 Abby Wambach Statistics
Full Name: Mary Abigail Wambach
Birthdate: 02/06/1980
Birthplace: Rochester, New York
College Career:
Club Soccer Career:
Washington Freedom 2002–2003
Ajax America Women 2005
Washington Freedom 2009–2010
MagicJack 2011
Western New York Flash 2013–2014
Total Appearances: 119 matches, 75 goals
National Team Career:
Total Appearances: 255 matches
Total International Goals: 184 goals
International Team Awards:
Personal Honors:
2002: WUSA's Rookie of the Year
2003, 2004, 2007, 2010, 2011, and 2013: US Soccer Athlete of the Year
2011: FIFA Women's World Cup Bronze Boot and Silver Ball
2011: Associated Press Female Athlete of the Year
2012: FIFA World Player of the Year
2015: Time 100 list of the most influential people in the world
2016: ESPY Icon Award