Former Argentine soccer player Daniel Bertoni played on either the left or right-wing. During his successful career in Argentina, he dominated the soccer field at Club Atlético Independiente, where he won three Copa Libertadores, one Intercontinental Cup, and three Copa Interamericana trophies.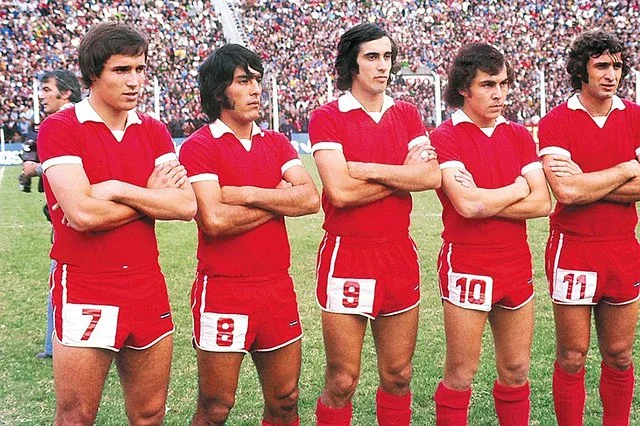 Daniel Bertoni Early Career
The future World Cup champion was born on March 14, 1955, in Bahía Blanca, Buenos Aires. Days after turning 17 years old, he debuted in the First Division (category "B") with Quilmes. Eventually, he was transferred to Club Atlético independiente, an Argentinian first division team. There he met Ricardo Bochini.
It was as if they had played together all their lives. In the first practice match, Daniel Bertoni dazzled coach Rubén Bravo. Then, a few days later, at the Vélez Sársfield Stadium, Ricardo Bochini and Bertoni put on an unforgettable display that wowed the crowd.
Daniel Bertoni scored three goals and Ricardo Bochini two. They formed the fearsome duo that inflamed the opposition soccer fans. In the four seasons he played for Club Atlético Independiente, Bertoni won a national league championship and several international titles. These included three Copa Libertadores cups, one Intercontinental Cup, and three Inter-Americana.
He concluded his stay at Independiente in the historic match in Córdoba, against Talleres, on January 25, 1978, when Independiente became champion playing with only eight soccer players. His speed and ability to score goals earned him general recognition that culminated in his selection for Argentina in the 1978 World Cup.
He went on to score the third goal in the 1978 World Cup final against the Netherlands that defined the title.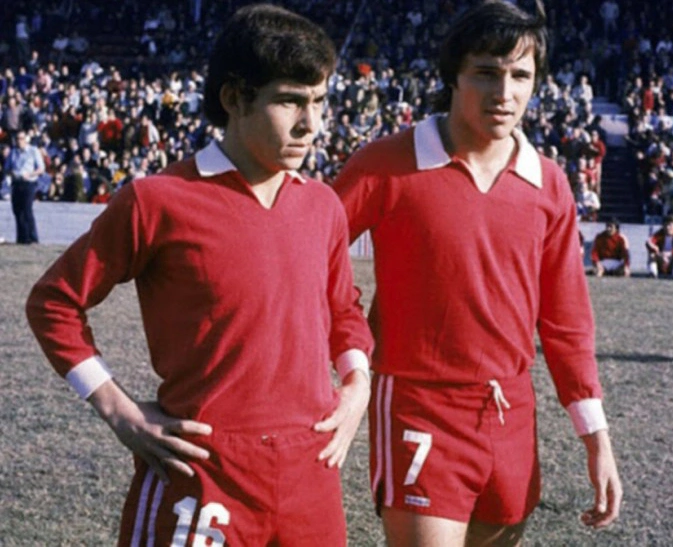 Move To Europe
After the World Cup in Argentina in 1978, he was transferred to Sevilla. His time in Spanish soccer did not meet the expectations he had. Daniel Bertoni cost Seville seventy million pesetas (the most expensive signing in the history of Sevilla at that time). He went on to play 57 times and scored 24 goals.
In 1980, he was transferred for 140 million (double what Sevilla) to the Italian league club, Fiorentina. He instantly became one of the idols of the team. He remained at La Fiore for four seasons and shared a changing room with Daniel Passarella.
Later in 1984, Daniel Bertoni became a teammate of Diego Maradona at Napoli, a team he remained with until 1986. Then, he departed for Italian league team Udinese at the age of 31. He played one season in 1986/87 and retired from professional soccer.
Upon his retirement, he dedicated himself to representing soccer players as an agent and a sports commentator.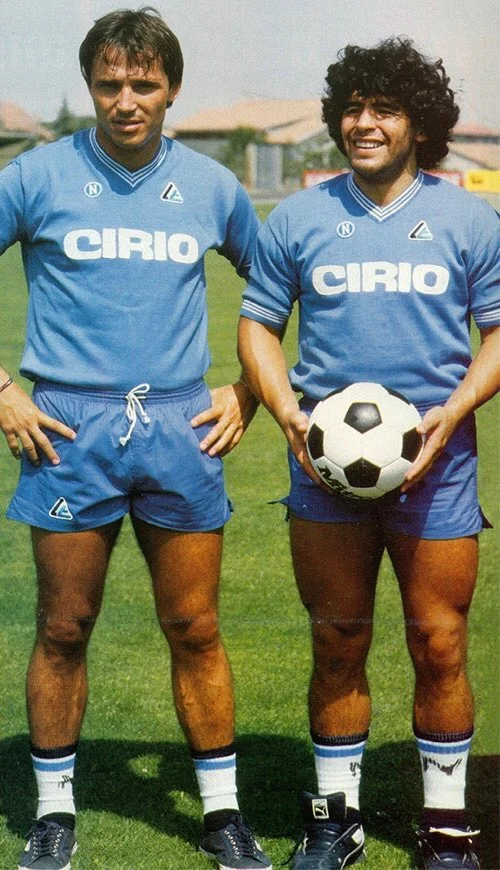 Our Interview With Daniel Bertoni
We are fortunate to sit down with Daniel Bertoni to discuss the 1978 World Cup and becoming World Champions.
The honor of appearing at two World Cup finals was yours, Senator Bertoni. What impact did the competition have on your successful career?
Daniel Bertoni: I was on the preliminary squad list for the 1974 team in Germany, and I missed out at the last minute. Then I redressed the balance by playing in the World Cup in Argentina in 1978. Truth be told, just being called up to play at an international tournament means a considerable amount to any soccer player. And it's doubly satisfying if you end up winning.
For me, wearing the Argentina shirt was the ultimate honor. Later on, to score in the Final and win the world title for the first time in our country's history was as good as it gets.
Argentina had a great team at Spain in 1982 but did not come away with the title. What do you remember about that tournament?
Daniel Bertoni: It's true, we had a great squad, but we couldn't get our game going. There were great soccer players like Diego Maradona, Ramon Diaz, and Juan Barbas, who were added to the core of the 1978 team, including Mario Kempes and Daniel Passarella. The results didn't go our way, but taking part meant a lot to me.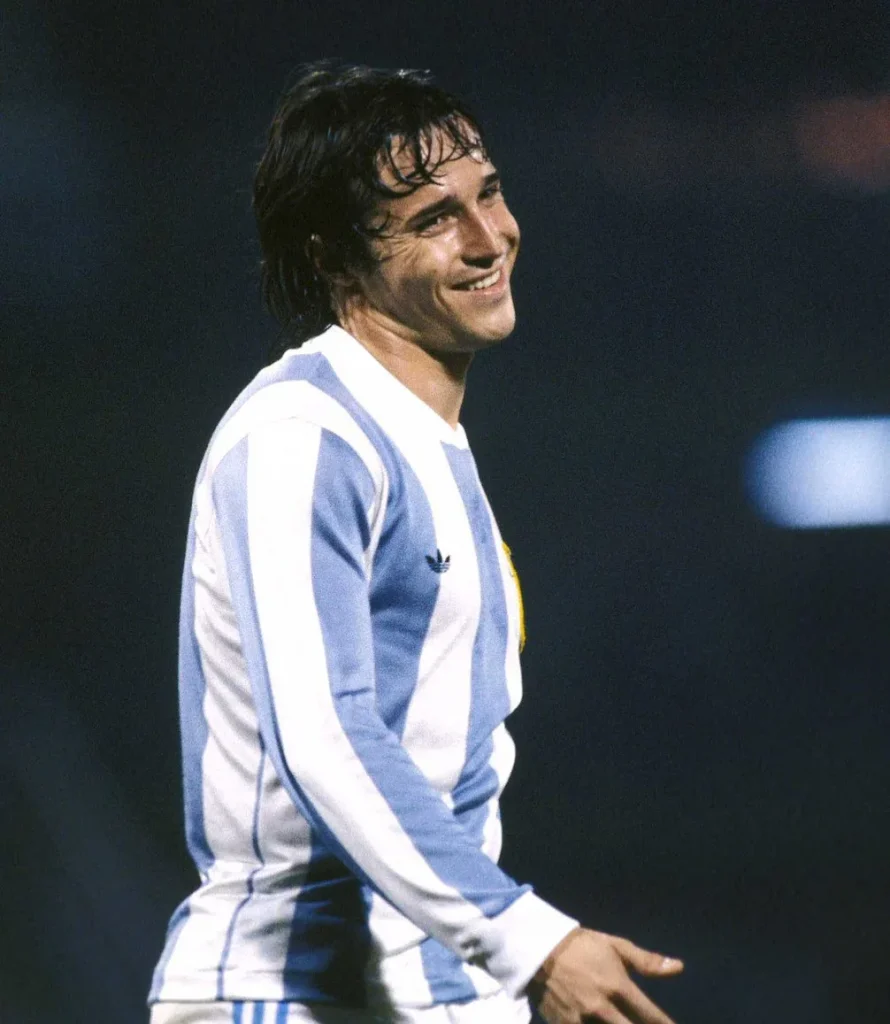 Now I'm able to say that I played at two World Cups. I was also on the preliminary squad list for 1986, but Carlos Bilardo had to choose between Gabriel Calderon, Jorge Valdano, and myself at the last minute. Well, he finally went for Valdano.
I would have liked to have played in Germany in 1974 and Mexico in 1986 so I could say I've played in four. But to have played in two and worn my country's shirt, which I love and adore, were defining moments in my successful career.
Proud Nation
Argentine footballers always mention how proud they are to wear the national team shirt. Can you tell us how it feels to do so at the highest pinnacle in our sport?
Daniel Bertoni: I imagine that every player from every country feels the same. It's a great honor, even just being at an event that pits the best Argentine footballers from the best soccer nations against each other. Therefore, winning the title, as we did in 1978, or just taking part in 1982, were the highlights of my soccer career.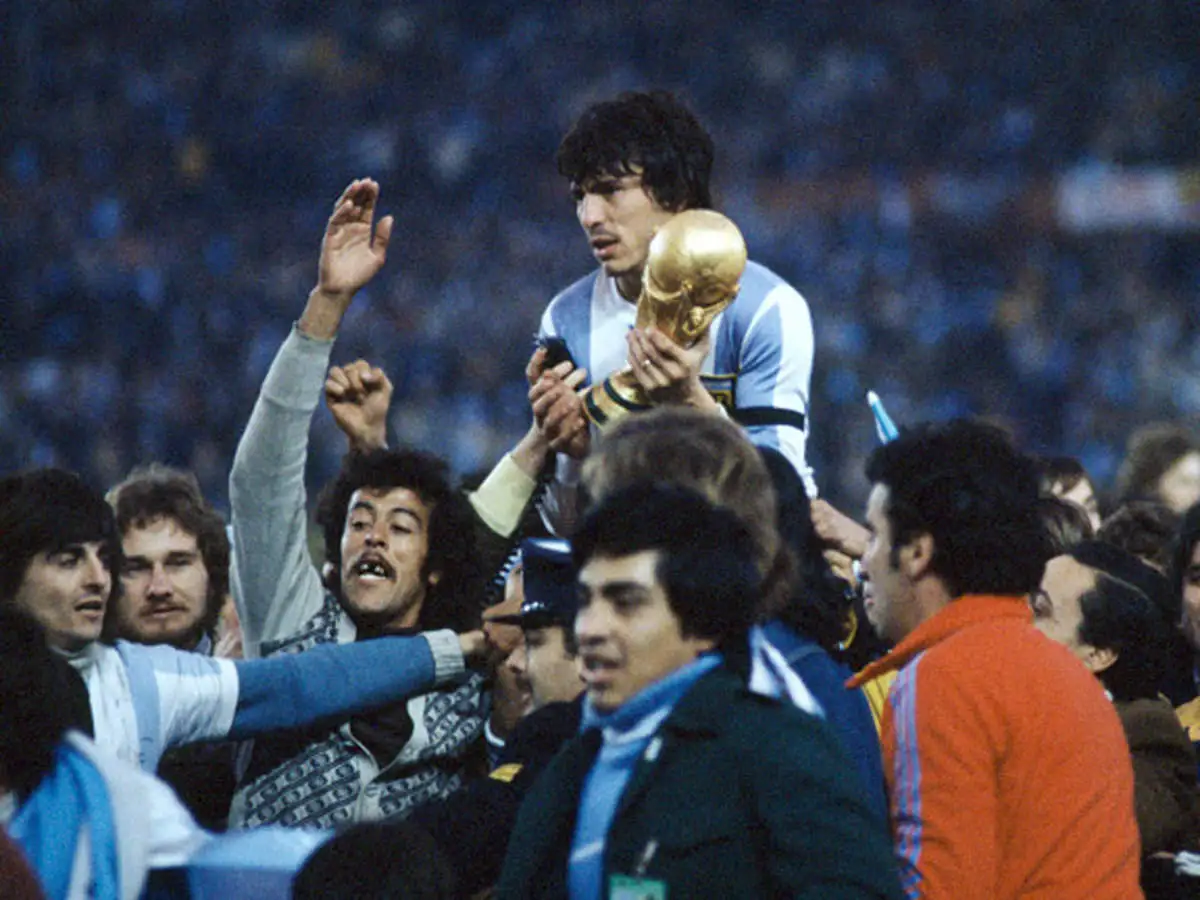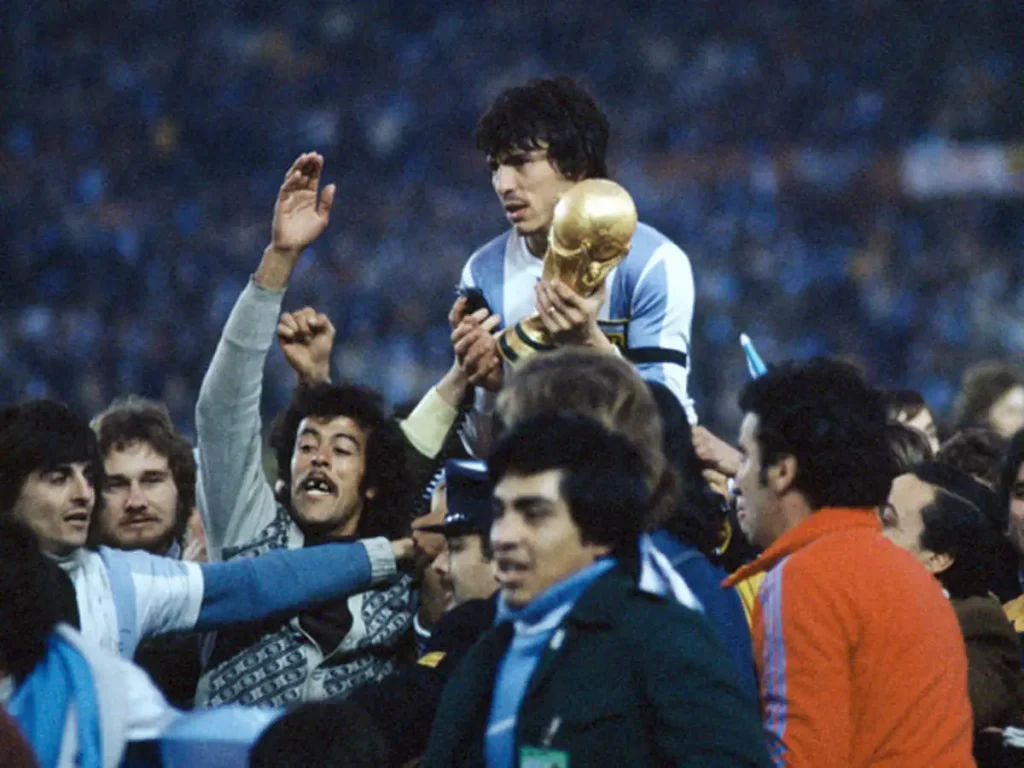 What is your fondest memory from the 1978 tournament?
Daniel Bertoni: Well, I've got lots of memories. We worked hard on our game and getting in shape physically, and we spent a long time together before the tournament. We more or less put our family life to one side for four months because we had one objective: to perform well in the World Cup, not win it. Nobody gave Argentina hope.
They just put us among the favorites because we were playing on home soil. But the opposite happened to other host nations like Mexico in 1986 or Italy in 1990, who were disappointed when they didn't win. Our goal was to finish in the top four, and we ended up winning it. It was amazing.
You were not in the starting eleven for the opening match against Hungary. What were your thoughts at the time?
Daniel Bertoni: Logically, as a player, I'd set my hopes on starting the game. I'd been a regular starter since 1977, although I picked up an injury just before the start of the tournament and had to fight to get my place back. So, as soon as Menotti decided to put me on the field, I fought to win a starting role by playing my best soccer.
Luckily I scored the second goal of that particular game, and it proved to be the winner. I was still on the bench for our second game against France. I remember saying to myself, "well then, I need to keep battling hard in training and show the coach that I'm up to playing in this World Cup." And I ended up playing! I played six games, not the one against France, but I'd realized that I was going to have to fight for a starting place.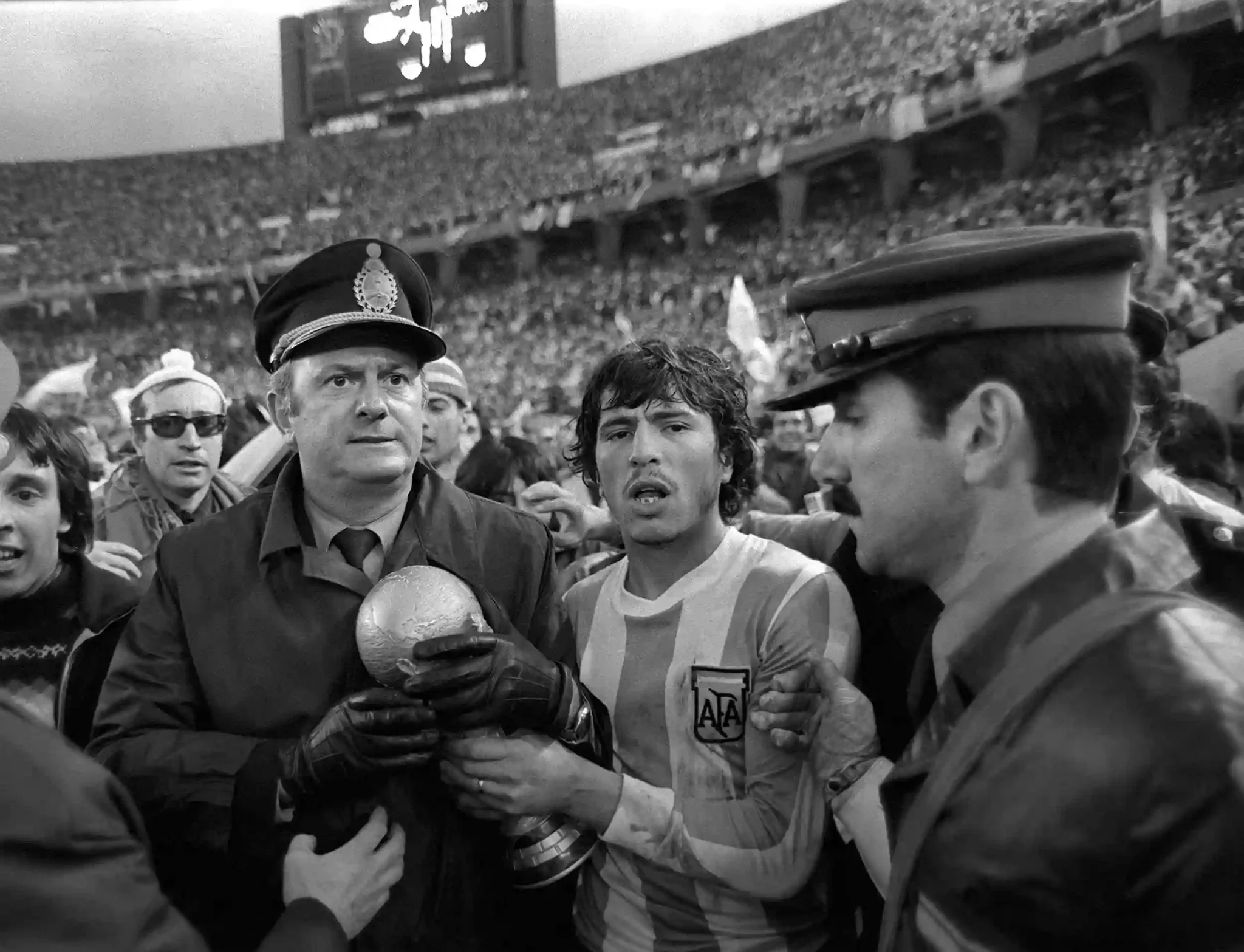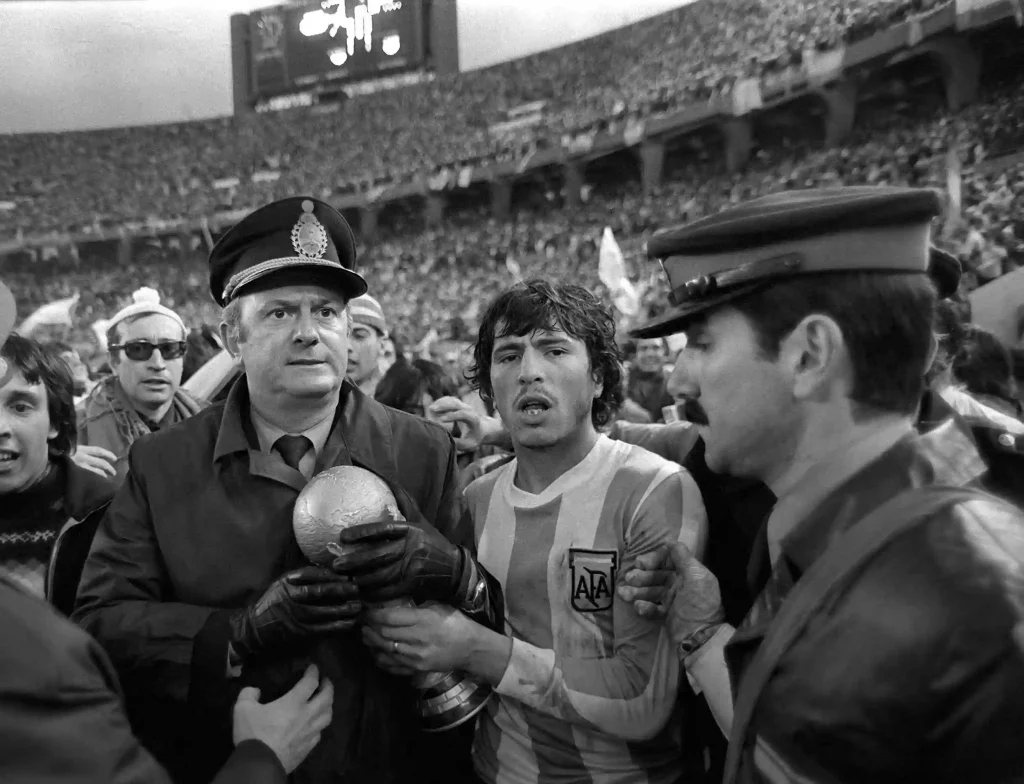 Daniel Bertoni On The Bench
Can you describe how it felt when Cesar Menotti told you he would bring you on in that game?
Daniel Bertoni: I jumped up from the bench and said to myself, "This is my chance, and I've got to make the most of it." I came on with Osvaldo Alonso. He back-heeled the ball, and I put it away when it came to me. That made it 2-1, and we won the game. It's always essential to start a championship with a win.
Then we beat France, and that put us through, so we just had to face Italy to decide whether we'd play our subsequent games in Buenos Aires or not. Italy had a great side and beat us, which meant we had to head off to Rosario.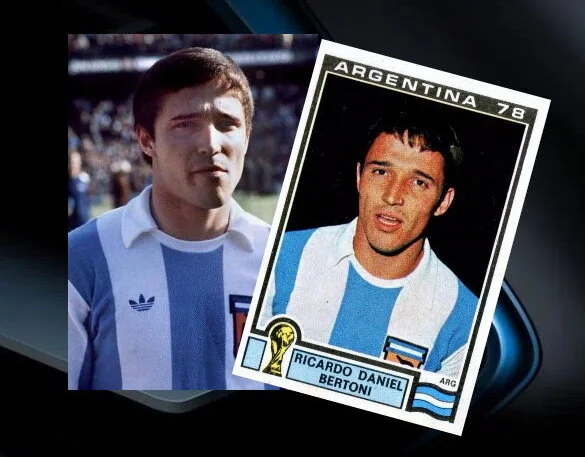 After that loss, how was the atmosphere within the team? Did the trip to Rosario have any negative repercussions?
Daniel Bertoni: After the game, we were down because we didn't want to leave where we were. We were left feeling very bitter and fed up. As I remembered all the people who cheered us on, that gave us the motivation to go to Rosario and make sure we made it.
Did you think qualifying for the Final was a realistic goal?
Daniel Bertoni: Yes, but we knew we had some tough teams barring our way. If we'd stayed in Buenos Aires, we'd have faced Germany, The Netherlands, and Austria. But Italy went there. And in our group were Brazil, Peru, and Poland. A Polish side that had taken the 1974 tournament by storm.
How did the national team cope with needing a heavy win against Peru to reach the Final?
Daniel Bertoni: I think we played Peru just before the international event and beat them three or four-nil. Then we beat them again at the La Bombonera 3-1. We had the team to beat Peru. Although we needed to win by four clear goals, we won by six in the end. The media started questioning things, but the fans never doubted us. We'd drawn 0-0 with Brazil in a callous game and had played very well to beat Poland 2-0. We deserved to go through and proved that in the Final.
Argentine Fans
A lot has been said about the fans' impact on each game. How would you describe the sheer passion of Argentina fans?
Daniel Bertoni: I think witnessing that level of support and enthusiasm would shock any player who wasn't familiar with the Argentine scene. The fans became our 12th man. I remember that the support we got in Rosario was terrific, with the bonus that the fans were closer to the field of play.
Over in River Plate's stadium, the crowd pressure eases a little because of the distance separating the fans and the pitch. But there's no doubt that the fans were in electric form during the Final.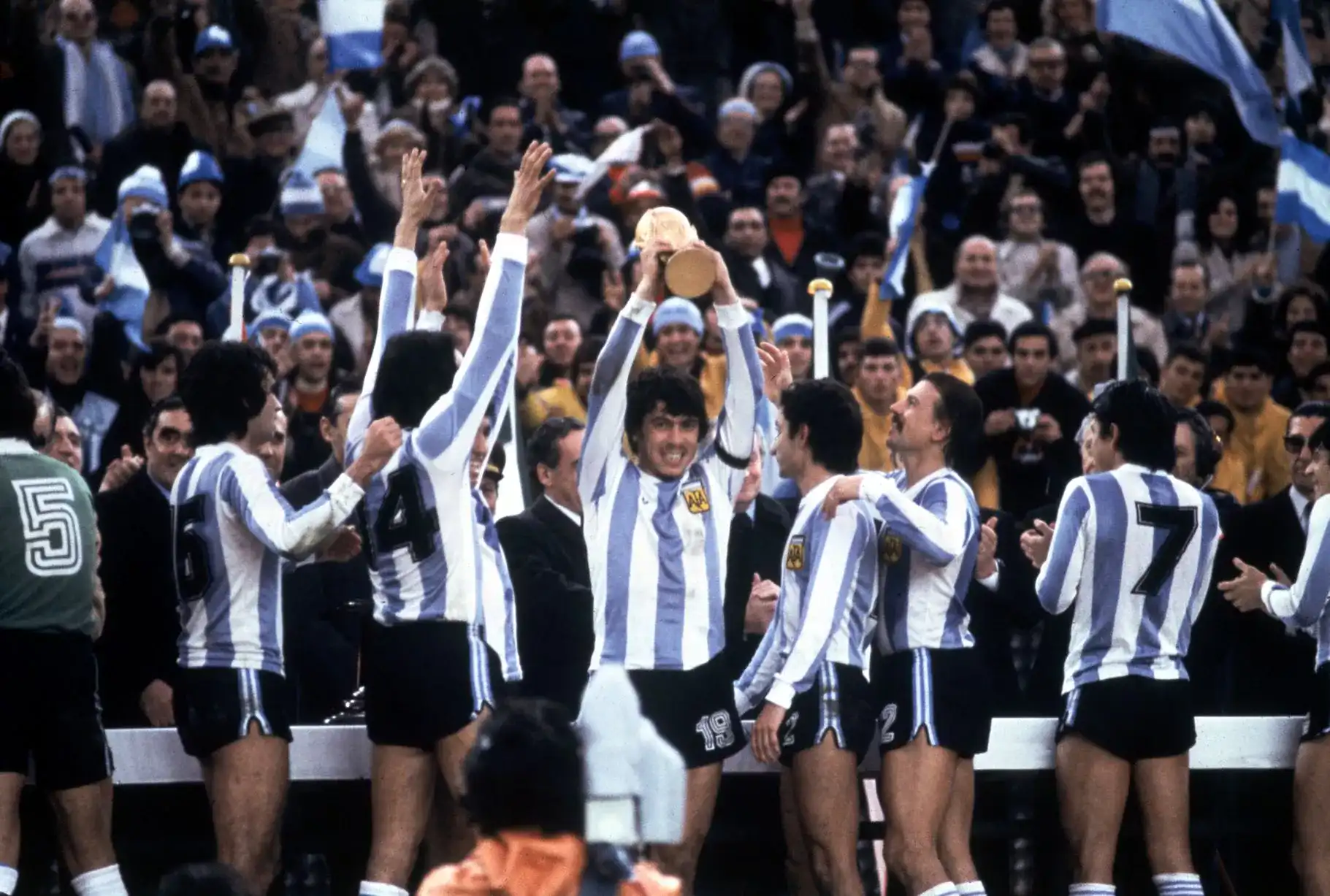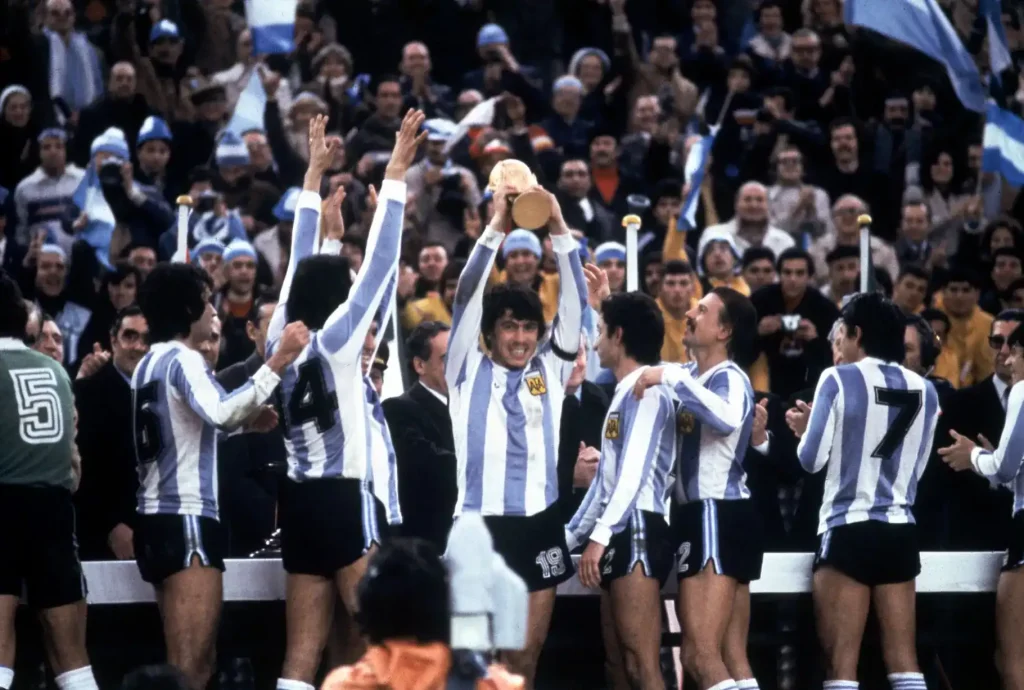 How was Cesar Menotti's relationship with the players?
Daniel Bertoni: It was perfect. Menotti is a guy who has a lot of confidence in his soccer players, the kind of guy who motivates you. He would bump into you in the corridor and tell you, "Tomorrow's going to be your big day. Tomorrow you're going to be the best. We're the best, and tomorrow you're going to show that." He motivated you so much that you went out onto the pitch believing you were better than the rest.
Was the Final against the Netherlands the most challenging game of the competition?
Daniel Bertoni: They were all challenging games. The first game against Hungary was tough because they were a powerful side and had some great soccer players. Meanwhile, France had the inspirational Michel Platini and was an extraordinary national team. Then you have Italy, who was everybody's favorite to reach the Final. The Netherlands, of course, was also a formidable opponent. They weren't considered the team of the 70s for nothing.
Team Of The 1970s
You just mentioned that the Netherlands were the national team of the 1970s. Did you believe you could beat them to the title?
Daniel Bertoni: Look, I will tell you a story that proves how much faith we had in ourselves. Whether we won the Final or not, we would still be obliged to go to a party afterward, and I'd forgotten my suit. So my wife and dad brought it to our training camp and asked me how I felt. I remember saying to them that they shouldn't worry, that we would be crowned world champions. The team was feeling incredible; you could sense it in the air.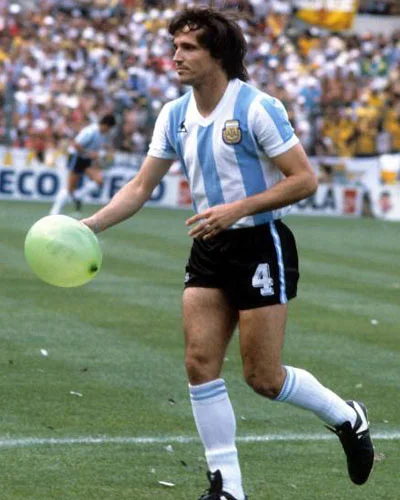 How do you think things would have turned out if you had not made it to the Final or won the world title?
Daniel Bertoni: My career was going brilliantly. I was playing for Independiente, and I'd won three Copa Libertadores, three Inter-America Cups, and in the lead-up to the tirnament, we'd won the domestic title. My son had just been born too, so I don't think I could have asked for any more at that moment in time.
How did you win the Final?
Daniel Bertoni: A national team needs to be right physically and mentally and be in good spirits ahead of a game of that magnitude. We met all those requirements. We got better as the tournament progressed. That's why I was so confident.
What do you remember about your goal in that game?
Daniel Bertoni: Having that goal in the history of world soccer meant a great deal to me. Playing in a World Cup Final and scoring isn't something you see every day. Argentina was leading 2-1, but the Netherlands was pushing hard. I linked up with Kempes in the middle of the pitch, but then we found our paths blocked by a posse of Dutch soccer players. We only had about a meter or so to play a one-two in, but we pulled it off. He stumbled and ended up facing back down the pitch, and I found myself in front of the keeper. From there, I was able to find the back of the net.
What was going through your head at that point?
Ricardo Daniel Bertoni: So many things were happening that it's difficult to put them into words. But now, after so many years, I can say that scoring the last goal of that World Cup and sealing the title for Argentina was like being touched with a magic wand.
Would you say that goal was the most important goal of your career?
Daniel Bertoni: Yes, by some distance. Of a total of goals I scored over my career for the national team, in European and domestic club action, and without counting friendlies, that was one of the stand-out strikes.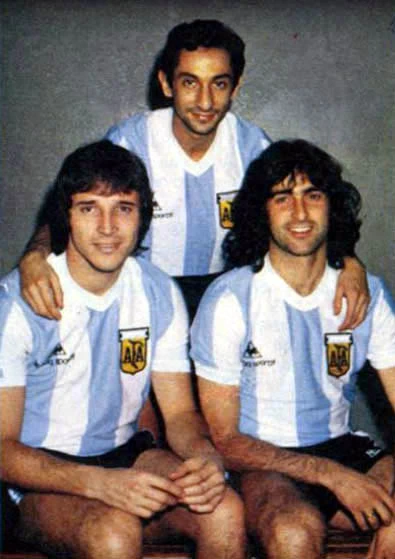 Daniel Bertoni World Cup Feelings
At the end of the game, how did you feel?
Daniel Bertoni: Argentina was only moral victors before, even though we had some great sides. The 1930s and 1966 World Cups eluded us. Winning the first-ever World Cup for Argentina was like touching the sky with your hands. There were so many thoughts running through my head: my first child, my parents, my friends, the people of Argentina, who had endured so much. It meant so much to my teammates and me to bring all that joy into their lives.
Can you remember what the atmosphere was like in the stadium at the time?
Daniel Bertoni: Everyone was shouting and hugging each other. Even strangers. We were hugging each other on the field before receiving the soccer world cup trophy. Lifting the World Cup is not something you do every day. To touch it and be able to say it's the fruit of four years of sacrifice, of three months of intense training together – that's the ultimate for me and all Argentinians.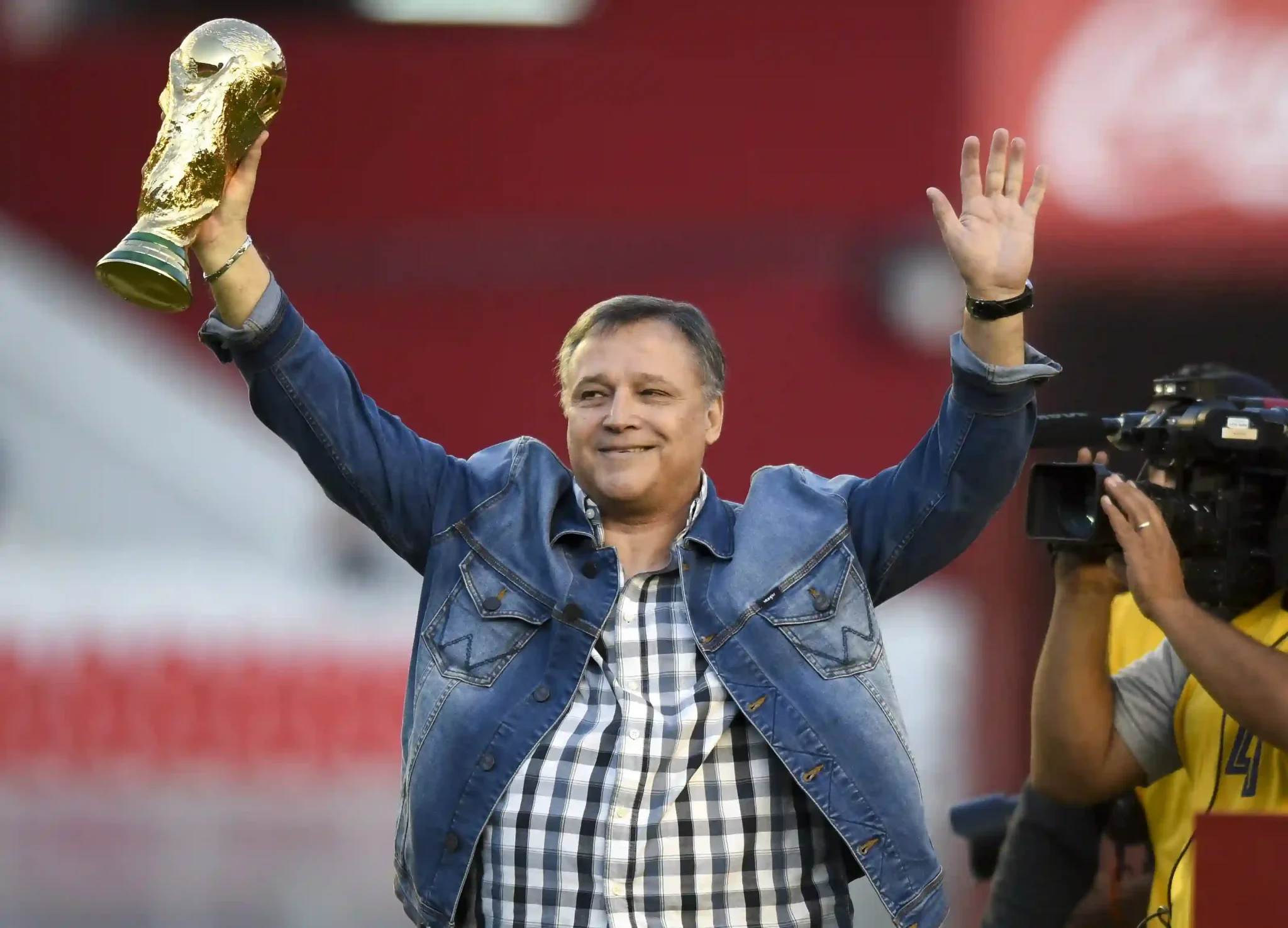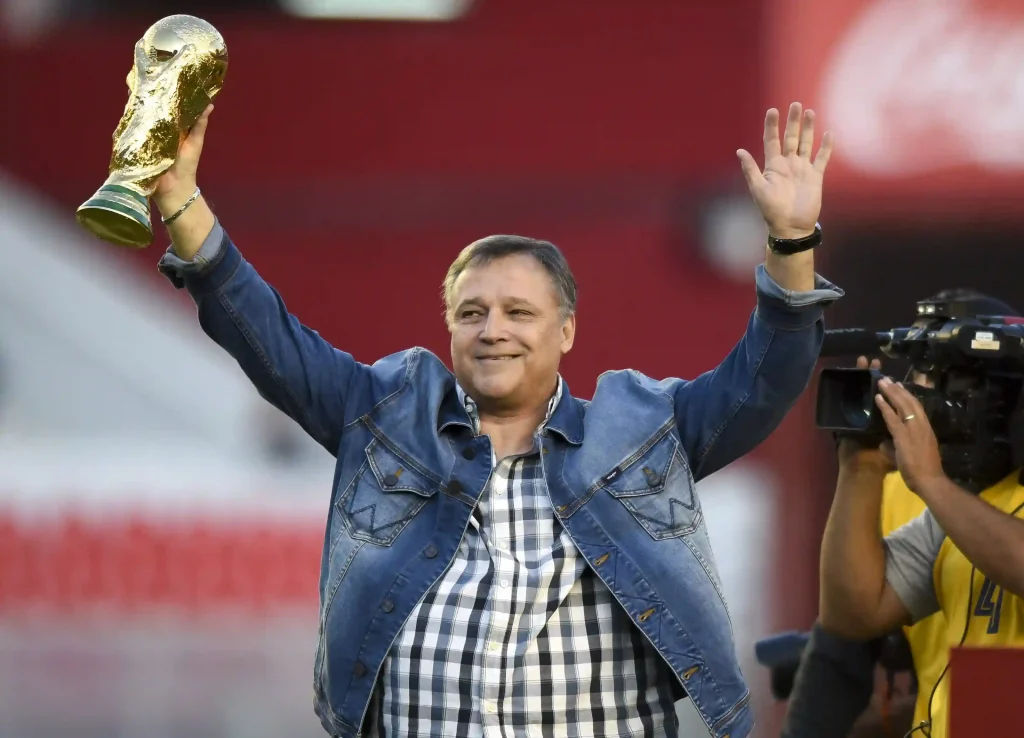 Can you describe how it felt to be handed the Trophy?
Ricardo Daniel Bertoni: It was heavy. We were so desperate to lift the Cup that we all did it simultaneously. It was a bit disorganized, to be honest. It would have been better for each player to take turns lifting it for the photo.
Once the World Cup Trophy was taken into the dressing room, what went on? How were the members of the squad feeling?
Daniel Bertoni: People reacted differently – some were crying, some were laughing, and others were bouncing around. I felt thrilled, and I was laughing out loud. Everyone responded in their way. There's no doubt that memory will live with me forever.
Daniel Bertoni Facts And Figures
Full Name: Ricardo Daniel Bertoni
Birthdate: 14/03/55
Birthplace: Bahia Blanca, Buenos Aires
Club Career:
1971-72 Quilmes (30 appearances, 12 goals)
1973-77 Independiente (179 appearances, 80 goals)
1978-80 Sevilla (57 appearances, 24 goals)
1980-84 Fiorentina (97 appearances, 27 goals)
1984-86 Napoli (53 appearances, 14 goals)
1986-87 Udinese (20 appearances, 1 goal)
Club Domestic League Appearances: 446 matches, 158 goals
Club Honors:
1973: Intercontinental Cup
1973, 1974, 1975: Copa Libertadores
1973, 1974, 1976: Copa Interamericana
1977: Argentine Primera División: Nacional
National Team Career:
1974-82 Argentina (31 appearances, 12 goals)
Country Honors:
1978: World Cup Winner
1982: Played In World Cup